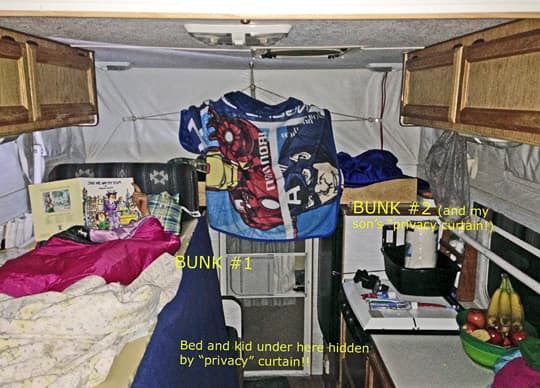 Above: The bunks that Kerry made for the kids
We only have the bunks out when the kids are sleeping.  While I'm making dinner, Kerry might put the bunks up.  If it's rainy outside, we have a table in the camper.  We also have a makeshift awning made out of a tarp and some old tent poles for extra outdoor space to relax.
Here in southern California it doesn't rain too much.  It's usually nice weather when we're camping.  If we do get wet in a rain storm, we'll go for a hike.
We have a limited amount of space, so we only pack what we need.  We can be 100% off-the-grid and as comfortable, as if we were at home.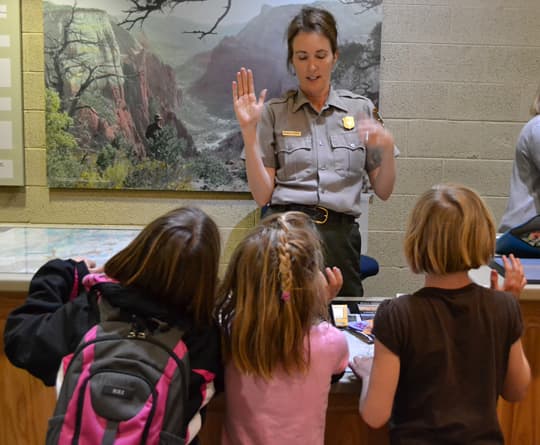 Above: Becoming Junior Rangers at National Parks is something the kids enjoy
TCM: You're packing style is certainly a model of efficiency.  What does your family like to do when you're out truck camping?
Amy: We love to explore new places.  We hike, bike, swim, take hundreds of pictures a day, explore off the trail, climb around, and look for amazing animals and rocks.  The kids enjoy becoming Junior Rangers at every park, and we like to attend interpretive talks and learn more about the amazing places we visit.  Mostly, we love to pick an area to visit and fully explore that area and spend time with good friends there.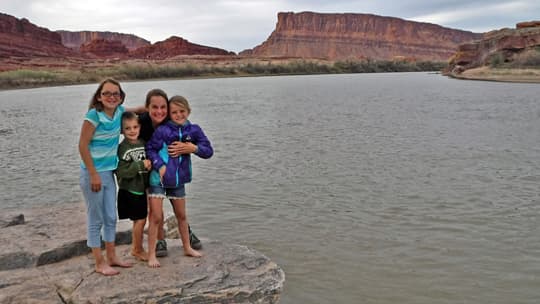 Above: Amy, Hannah, Luke, and Ryann at the Colorado River, Utah
Camping has definitely brought our family closer, literally.  If someone's feet stink, we're all feeling it.  We are a tight knit family, and camping helps to cultivate that.  Being on the road also gets us away from the internet and screens, and gives us family time.  People need to take time and get away.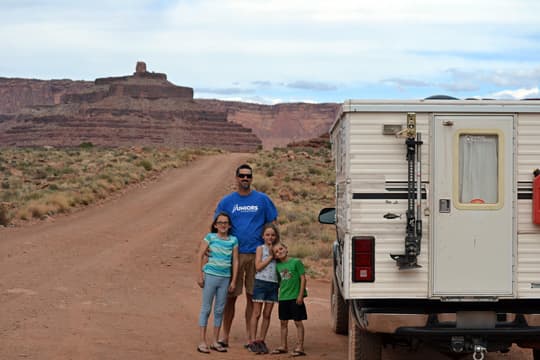 Above: Hannah, Ryann, Luke and Kerry with their Hallmark pop-up camper on the White Rim Trail, Canyonlands, Utah
TCM: I agree about stinky feet in a truck camper, and the need to get away from screens.  Tell us about your kids and their perspective on truck camping.
Amy: Hannah is my ten year old, Ryann is eight, and Luke is six.  They've been camping since they were little.  They think we are the luckiest people in the whole world to have a truck camper.  My husband will pop-up the top on the weekend and they will hang out in the driveway.  We'll make lunch and they'll eat it in the camper.  It's a home away from home for them.
Before we had the truck camper, we stayed in a hotel once near Yosemite.  It was not a desirable place with bars on the windows, but it was a cheap place to sleep for a few hours.  Well, my two older kids ran into the room like it was the Hilton.  All they had done up to that point was tent camping.  Now they love the truck camper.
My friends at work ask how it works and how big it is.  Everybody is amazed.  People can't resist peeking in.  They want to see what it's like, and then they want one.  Everyone becomes a kid when they see our truck camper.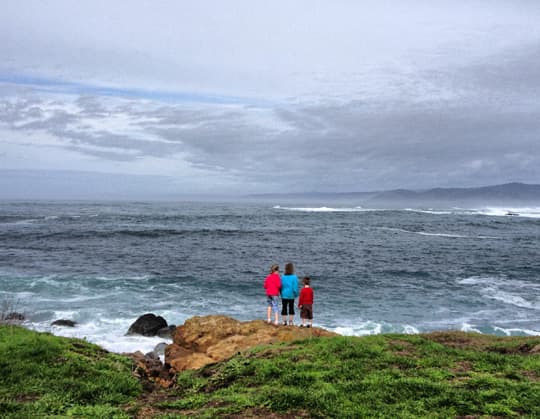 Above: MacKerricher State Park, California