Other favorites are the Oregon Coast, Eastern Oregon's John Day Fossil Beds National Monument units, the Eastern Sierra Nevada in Autumn, and Dinosaur National Monument.  Silver City, Idaho, is a living authentic mining town accessed by a bumpy washboard of a road. We also enjoy a special place in Nevada off Highway 6 that I am keeping secret.
Above: Their dog, Toller, loves camping – click to enlarge
TCM: I see you travel with your dog, Toller. How does he like traveling in a truck camper?
Judy: He seems to enjoy just being with us. Anywhere we are is fine with him.  He occupies the extended cab seat amongst his pack and our camera gear.  He sleeps on the bed with us.
Since dogs aren't allowed on National Park trails, we have taken turns at the viewpoints so one of us is always with him.  In the national forests and BLM lands, he is usually on a leash due to rattlesnakes and bears.
Once we check out an area for snakes, we allow him to run like we did at Nevada's Lunar Crater or Eastern Oregon's Flook Lake in the Hart Mountain area.  Dogs are welcome to run along the beach at Long Beach, Washington.  That is one of his favorite stops.
A new addition joined us last November: a young black Standard Poodle we renamed Blitzen (Bear is too common).  Both dogs were discovered on Craigslist.  He needs to develop better manners and then he will be allowed to keep Toller company since they are best friends.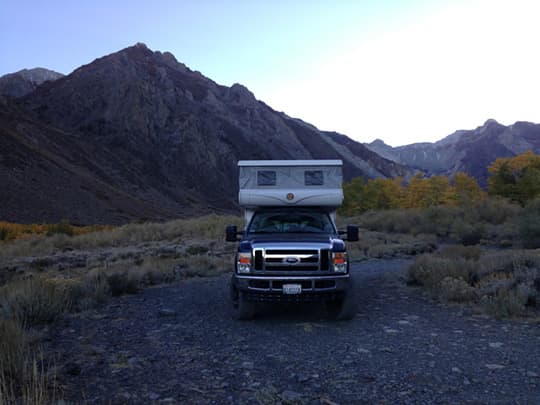 Above: Camping in McGee Canyon, California
TCM: What are your future truck camping plans?
Judy: Long range plans include exploration of Vancouver Island's west side, Banff and Lake Louise, and several provincial parks in interior British Columbia. I used to commercial fish in Southeast Alaska, so I would love to take the Alaska ferry through the Inside Passage to show my husband. Then we will revisit many of the memorable places we have passed through to discover what we missed the first time.
This Fall we leave for a three to four week trip into western Wyoming as my husband has yet to see the Yellowstone/Teton area. Fall is the prime time to catch the aspens in their golden dress up foliage. Then, we will explore western Wyoming like Beartooth Pass, Sunlight Basin, Bighorn area, Plume Rock, Pinedale's Green River Lakes region, the Red Desert and some backroads.  We will be passing through Southern Idaho (City of Rocks, Mesa Falls, Craters of the Moon, etc.) and Eastern Oregon (Steens Mountain Loop, etc.).  We need to return for fall garden chores for a week and then we'll head south and east toward Monument Valley, Canyon de Chelly, revisit Grand Canyon, Zion, Bryce, Burr Trail Road, Valley Of the Gods, and anywhere interesting in between.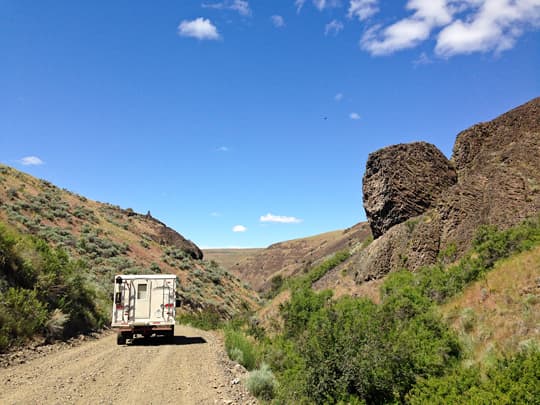 Above: For Judy and Tony having a truck camper is about accessing some of the most remote and scenic areas
TCM: Is there anything else that you'd like to add to your interview?
Judy: The next few years will see some changes in our lives. We may be moving out of the area, possibly to Oregon. Like many empty nesters, our home is becoming too large for the two of us and we need to downsize to lower expenses, upkeep costs, and time. We are unsure at this point. I always thought that when we retired, life would be less complicated. Hah, fooled again.
One of the best parts of camping is meeting like-minded folks.  A nice couple we met on the Olympic Peninsula asked us to photograph their daughter's wedding in August, which was so much fun.  Others have shared special places and favorite campsites.
I want to add my thanks to our civil servants, the National Park Rangers, BLM and USFS staff, and state and county park employees who are working with smaller budgets every year.  They have been very helpful and courteous.  If the public would quit abusing and trashing our public lands, their jobs would be easier.
Truck: 2008 Ford F250 Super Duty, extended cab, long bed, single rear wheel, four wheel drive, diesel
Camper: 2013 Hallmark Ute
Tie-downs/Turnbuckles: Torklift Fastguns
Suspension: Firestone Ride Rite airbags with interior controls
Gear: 2×70 watt flat solar panels/roof rack/High Lift Jack/Ranch Hand Sport front replacement bumper winch ready/inflatable boat