Above: The Fall colors in McGee Canyon, California
TCM: That's a neat gig and a great application for a truck camper. How do you pick the places you want to visit and photograph?
Judy: There are so many stunningly beautiful places to visit and photograph in the United States that to choose where and when to photograph isn't easy.  I have several favorite photographers so I visit their websites to see where they have chosen to venture.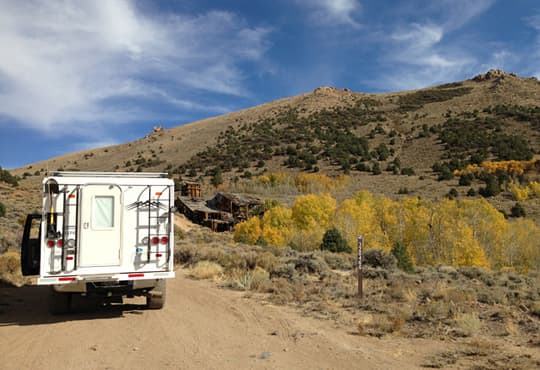 Above: Eastern Sierra ghost town, California
As Chief Navigator and Travel Coordinator, I usually choose an area based on the seasons, for example the Grand Tetons and the Eastern Sierra Nevada for Fall color, and plan around that.  Or, we choose places we haven't been and discover nearby locations that look promising.  Our Benchmark maps are worn out from the research to discover new places as many geographical and historical features are included.
A search online for Plume Rock in Wyoming showed a photogenic rock formation that the early settlers used for route finding.  Hopefully, we can access it, but there are no roads that lead near it.  Google maps also assists me in finding unusual geologic formations, usually in remote areas.  It is challenging to find a route to them.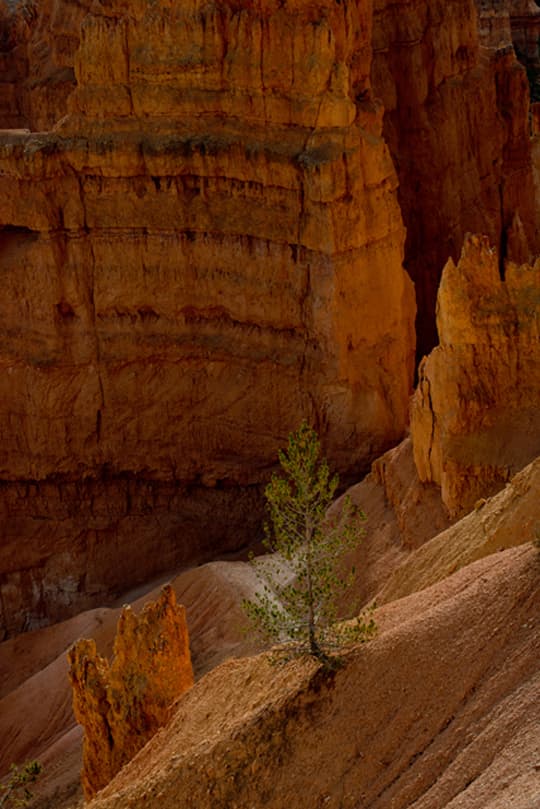 Above: Bryce Canyon National Park, Utah
TCM: Your pictures of the desert/red rocks are amazing. I always find photographing red rocks to be a challenge. What are some tips for taking pictures of red rocks?
Judy: Thank you for the compliment.  Since we are natives of the Pacific Northwest's wet side, the geology of the Southwest fascinates us.  Instead of green, grey, white, and blue, the Southwest displays the warm colors of the spectrum.  There the geology is laid bare to see while it is covered in brambles and other vegetation in our home turf.
The best times for photography are in the early morning or late evening hours, the golden hours, when the sunlight is slanted for that special glow.  With the advent of higher ISO in the latest generation of camera bodies, I am discovering that before sunrise and after sunset can yield some fine photos without the noise or grain that higher ISO levels were previously famous for.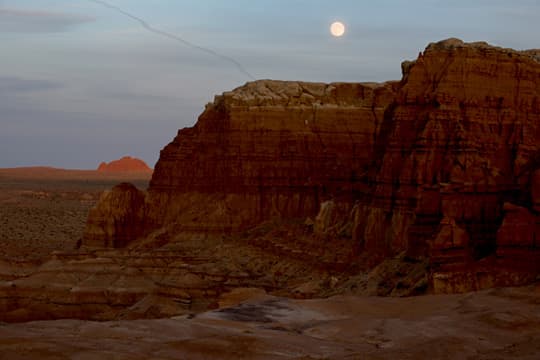 Above: Goblin Valley, Utah
Also, I don't mind overcast days for a softer look, especially for forest scenes, flowers, waterfalls, or red barns surrounded by green fields.  Of course, stormy weather trumps a sunny day anytime for drama and impact.  If it is a blue sky day, the red rock canyons look their best when the light is reflected off the walls, like at Zion or Longs Canyon on the Burr Trail Road.
There are many rules for photographic composition such as leading lines, S curves, rule of thirds, etc., but don't be afraid to break some.  Side and back lighting are preferable to the flat light from straight on or from behind.  Besides, a polarizer is most effective when the sun is at a ninety degree angle to your lens.  The best idea is to look at other photographers' images for inspiration.  Then, shoot and shoot until you have that "aha" epiphany moment and discover your own innate talent and special way of viewing the world.
Unfortunately, we can't arrange the weather to suit our artistic pursuits.  Being there at the right time and place is part research and part luck.  I was at a photography workshop in the Tetons at Mormon Row.  It was raining, a drizzly liquid that can dampen your spirits as well as ruin expensive electronics.  But, our workshop leader told us to be patient because he was here with the same conditions and, after other photographers left, a rainbow appeared over Moulton Barn resulting in a fabulous image.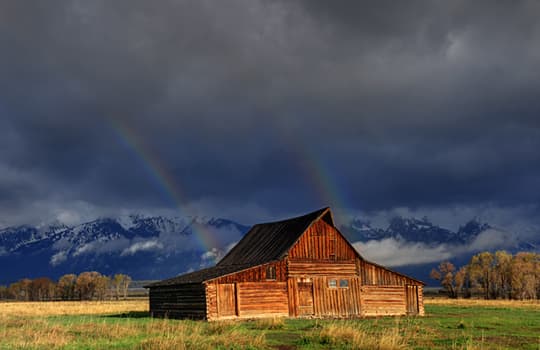 Above: Rainbow above Moulton Barn
We, too, were rewarded with a double rainbow over the barn and they are some of my best shots.