Above: Manifold burritos being heated up on the exhaust manifold
TCM: Please explain the tin foil on the engine picture.
Ron: On the trail, obviously, there are no microwaves.  Quite often we make burritos.  We wrap them in aluminum foil and put them on the engine.  The burrito heats up while you're doing your trail run.  By lunch time we have hot food to eat.  We call these manifold burritos because we heat them on the exhaust manifold.  A lot of people do it.  In Jeep Magazine last month they had a whole article on recipes you can cook on the manifold.
While traveling to a destination, we will often eat out just for the ease.  When we are camping, I will cook meals in the camper.  I like to fix pancakes, french toast, or maybe a sausage and egg scramble, and sometimes just oatmeal and fruit.  For dinner, depending on when we get back to the camper, it might be pasta, or we make something on the grill.  Often our group will do a potluck dinner and we never know what we might get.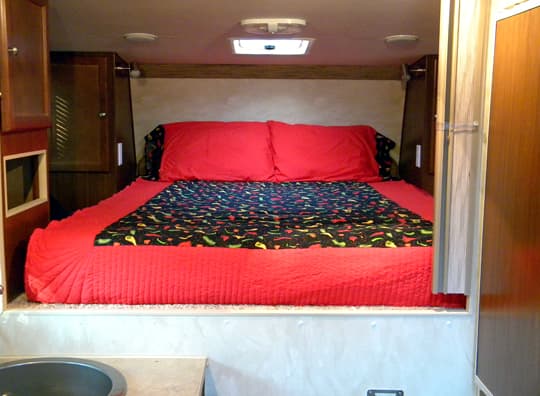 Above: A full size chili pepper quilt for a queen size bed
TCM: That's hysterical.  Manifold burritos!  Love it.  I also love the bedspread.  It looks like it's fitted for a camper.
Ron: My wife made the quilt for my bed.  I had the chili pepper theme going after I went to Taos, New Mexico.  She bought potholders and made the bedspread.  It's a full size instead of queen so it fits the bed better with no overhang.  It makes the bed easy to make.
TCM: What's the story behind the rig photo at Flying J?
Ron: That was taken in southern Idaho.  Flying J had a big power failure and none of the gas pumps were working.  A lot of people were sitting in cars waiting for the gas pumps.  We climbed in our truck camper and took about a three hour nap until the pumps were ready to go.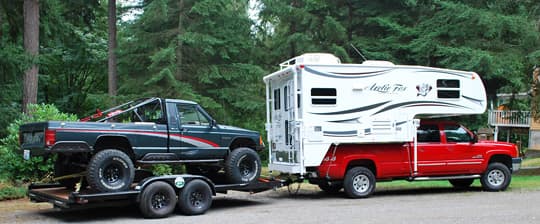 Above: The new Arctic Fox 865 is ready to go out jeeping and camping
TCM: What's next for you and your Jeeping and truck camping lifestyle?
Ron: We want to go to the northeast United States, near your area.  Neither one of us has been to the northeast.  We also want to go across southern Canada.  We want to plan a trip to see the Fall colors.  We want to spend a month and a half driving so we don't feel rushed.  That way we can enjoy it and take our time.  When we take long road trips, we listen to books on tape and talk.  It beats the heck out of flying on a plane.
I enjoy truck camping it because we get to stay with friends and club members.  On the last trip we camped with people from southern Washington.  We didn't know them before last weekend.  It's amazing how friendly and helpful people are on the trail and at the camp.  Everyone steps out and helps.  I would have never done any of this if I hadn't bought a Jeep.  I wouldn't have gotten into truck camping either.  Jeeping and truck camping make it possible.
Camper: 2014 Arctic Fox 865
Tie-downs/Turnbuckles: Torklift
Suspension: Airbags
Gear: Factory Hitch
Tow: 1992 Jeep Wrangler YJ
Do you travel with a Jeep and go to neat off-road locations?  If you do, please share your story.