Last year I sold the Jeep to another Jeeper.  He's retired.  He buys Jeeps, strips them down, and sells them piece by piece.  The next time I saw my yellow Jeep Wrangler YJ it was in a hundred different pieces at a four wheel drive swap meet.
TCM: That had to be a strange feeling.
Ron: To me it's just a vehicle.  A funny thing is that two weeks ago at a trail called Fortune Creek we had pulled off the side of the trail to let another group go by.  As the group went by a fellow club member noticed yellow doors on this black Jeep.  I stopped the guy and asked where he got the doors?  He had purchased them from the guy who bought my old Jeep.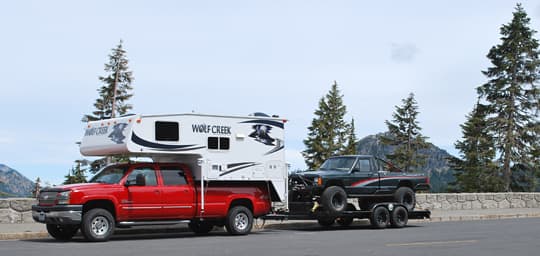 Above: The 1992 Jeep Comanche MJ pickup being towed behind their truck camper rig
TCM: In your pictures there's also a pickup truck that you're towing.
Ron: That's a 1992 Jeep Comanche MJ pickup that I bought last November.  Jeep only made that model for six years.  They quit making them in May of 1992 and only made 951 of them that year.
Whenever you go four-wheeling, everyone has a Wrangler.  I wanted something different.  You don't see many Comanche pickups out on the trails.  The bed space allows me to store and carry more stuff.  I wanted the longer wheel base, which is 119 inches.  It climbs up steep hills better and I don't have the roll over factor as much.
TCM: Did you modify the 1992 Jeep Comanche MJ like you modded out the 1992 Jeep Wrangler YJ?
Ron: Yes.  I made the same types of mods, but I did all the work myself on the Comanche with the help of friends.  With the Wrangler, I mainly took it to shops.  I bought the Comanche, drove it for two weeks, brought into my shop, and started tearing it apart.
Above: Ron is part of the Cascade 4×4 Club in Tacoma, Washington – click to enlarge the above photos

TCM: That must have been an incredible learning experience.  Tell us about the Jeeping lifestyle you mentioned earlier.
Ron: I am in the Cascade 4×4 Club in Tacoma, Washington.  I went and visited their club because they are close to where I live.  There are meetings once a month and an organized trail run once a month.  They have at least twelve trail runs a year, usually more.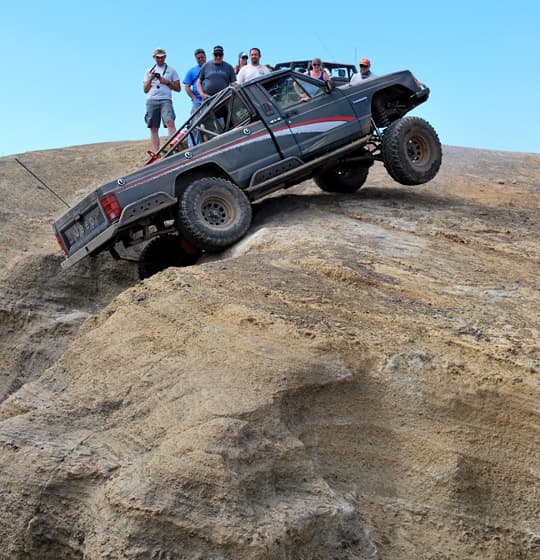 Above: Fellow Jeepers spot each other during the trail runs
This Friday I'm leaving for the weekend for a run.  Some trail runs will be for the day, and some for a week.  We get pretty good participation with our club.  We've been to Moab with the club twice.  A lot of the pictures are from the Jeep Jamboree, which happens every year in July.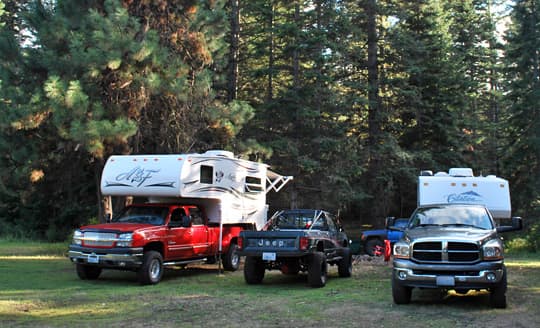 Above: Camping with his truck camper buddy who has a Citation camper
TCM: Do you see many truck campers in your club?
Ron: Yes, I have a buddy with a truck camper who has put it on gooseneck trailer just like the article you ran in TCM, "Truck Camper on a Gooseneck".  My friend, Willy, has been doing this for eight to ten years.  I just recently helped him put on a Citation camper on his trailer.  That was quite the feat.  We also have club members that have Lance and Arctic Fox truck campers.
It's a family oriented club.  My kids are older, but I enjoy the eight to nine year olds running around.  We go out on a trail and we'll see a ten year old driving with his or her dad, sitting there next to him, going slow.  It's a great time.