Retired and ready to overland across The American West, Guy Tokunaga ordered a very custom Alaskan Camper and hit the road.  For what he wanted to do, anything more would have been a compromise.  Stunning off-road red rock truck camping adventure photos ahead!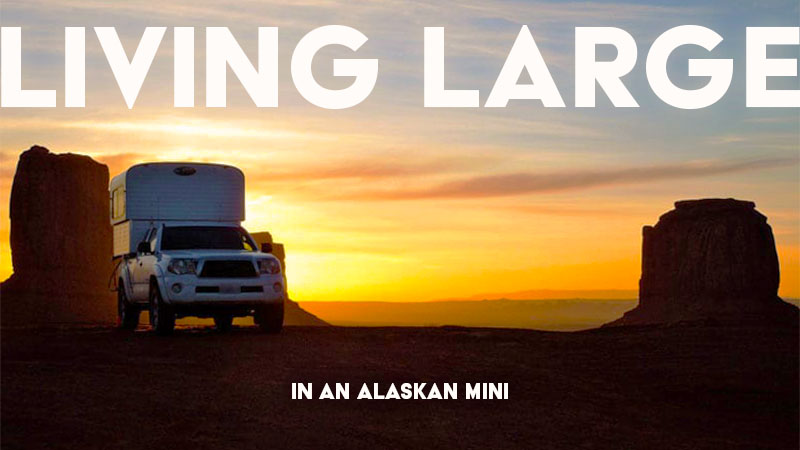 In an era when truck campers are becoming more sophisticated with multiple slide-outs and sprawling lists of luxury features and technology, it's easy to forget that all some people want is a solid roof over their heads, a place to sleep, heat, electric light, and a few places to put their stuff.  For these folks, the big campers with all their bells and whistles are actually a turn-off sending them searching for a truck camper with exactly what they need, and nothing more.
Guy Tokunaga definitely fits this description.  At first blush, his Alaskan Camper appears to be a simple hard-side pop-up camper box, devoid of even the most basic creature comforts, including a cabover bed.  But when we learn about Guy and what he needs, the Alaskan Mini becomes the perfect solution for Guy's active and extremely adventurous lifestyle.
Anything more would have been a compromise.
As a magazine, we have often wondered if the truck camper marketplace will eventually turn back and away from larger slide-out units to more simple dinette-slide and non-slide campers.  Will there be a return to simpler and lighter campers to accommodate the payload of future trucks, and to meet the ever present demand for fuel efficiency?  Could the consumer move back to truck campers with less sophistication and complexity to reduce maintenance and simplify their truck camping experience?
We doubt the core of the truck camper marketplace will ever be satisfied with anything as basic as Guy's Alaskan, and we're sure that multi-slide truck campers and their customers are here to stay, but we believe there will continue to be a very viable marketplace for simpler, lighter, and yet luxurious truck campers.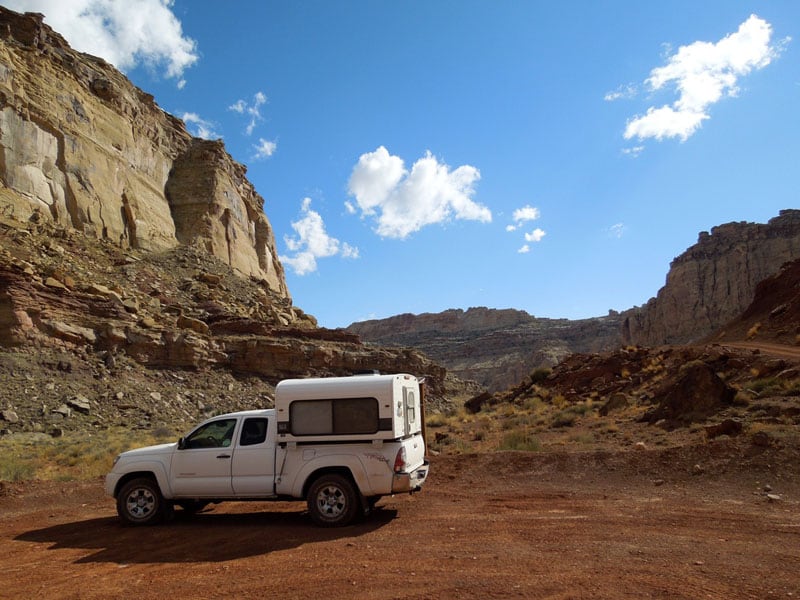 How did you get into truck camping?
When I was about thirteen years old, my family went camping at a place called Huntington Lake in California.  We ran into some neighbors at the campground who had a truck camper and a ski boat.  My family got excited about the truck camper and bought one.  For the next few years I went camping with my family for family trips.
In college I moved to Santa Barbara and then started working.  On weekends I enjoyed going to the beach and mountains behind Santa Barbara, but I wanted to explore further.  That's when I bought a tent and sleeping bag, put it in my car, and began traveling the Oregon Coast.  I fell in love with that type of travel.
I went to the beach in Santa Barbara one day and on the way home I was thinking, "Why am I still living here?  I want to be in the mountains".  So I moved to Port Townsend on the Olympic Peninsula.  Moving to Port Townsend has given me lots of opportunities.
When I first moved here, I was still car camping and going on extensive day hikes.  Eventually my knees started to go from sleeping on the ground and the rigorous hikes.  Before setting out, I'd sit and think about the destination I was about to go to and say to myself, "Do I really want to pull all the gear up there and set it up in the mud?  Do I really want to deal with all the wet gear in the morning and put it back in the car?"
Realizing that I needed to stop sleeping on the ground, I started staying in motels.  That was no good.  Finally, I got my truck camper.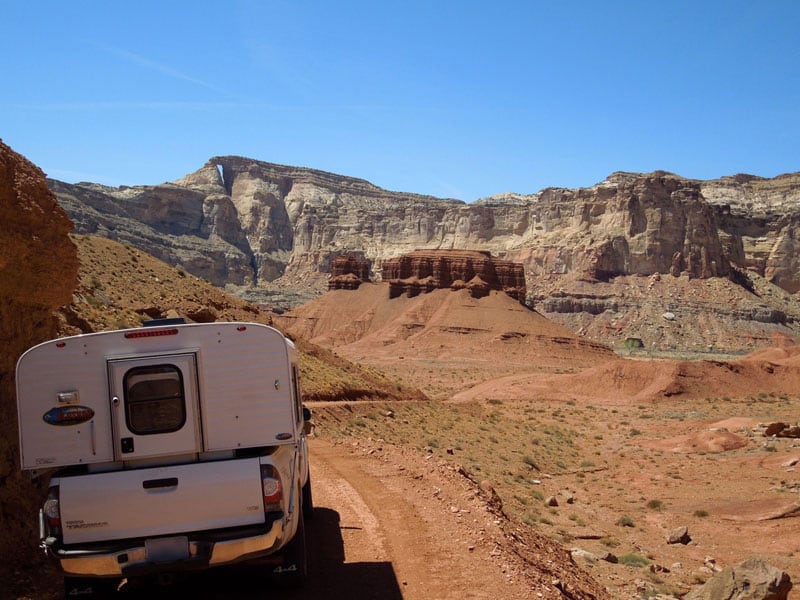 Above: Guy wanted a camper where he could keep his tailgate up during travel.
Tell us about the process you went through to get a truck camper.
I retired and wanted to travel.  At first, I didn't think I could afford a truck camper.  It was affordable because I held back on a lot of the design elements and extra options on the camper.
I believe it was Truck Camper Magazine where I first saw Alaskan Campers.  I also went to some expedition shows.  I was so lucky in the research process to run into the Alaskan Mini.
Bryan Wheat, President of Alaskan Campers, came up with the idea for the Mini.  It was like it was made for me.  It's perfect.  All they had to do was make it a little shorter so that it fits in the bed of my truck with the tailgate.  I lost five inches of the camper, but now I have a front porch.  Coming from backpacking, I wanted to be able to access lots of different areas.  I call it truck packing.
"With a truck camper wherever you are, you are home."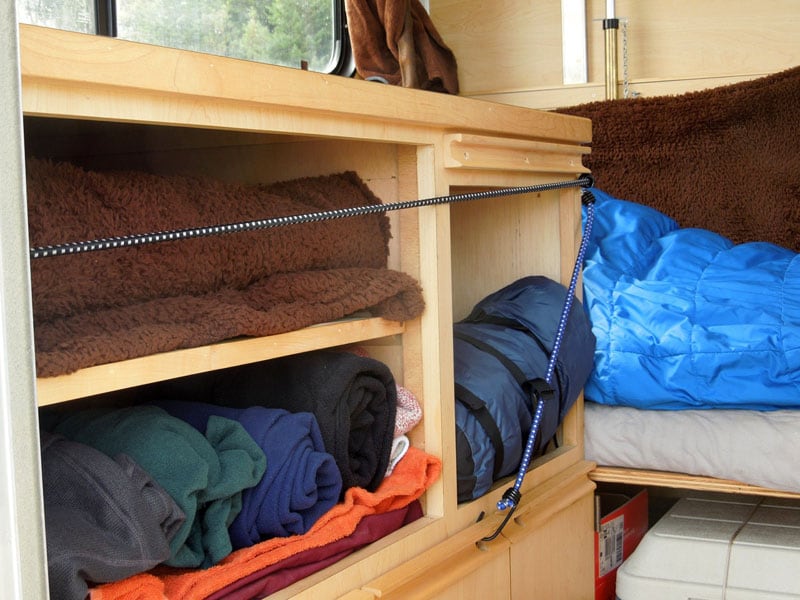 Alaskan is factory direct and custom ordered.  How did you custom order your Alaskan Mini?
I didn't want a truck camper like my parents had.  I didn't want upholstery, or a couch, or a dining table.  I wanted something really basic.  I asked Bryan to build a box.  He told me that the cabinetry had to be in it because it's part of the structure.  My bed is a sleeping bag, along with a passive mattress and a self inflating mattress for backpackers.
I don't have a fresh water tank.  I only have city water.  I have a one-gallon plastic  can for my grey water that goes outside.  There is a six-foot hose that I wrap around the turnbuckle and place the grey water's can behind the rear wheel.  That can happens to fit perfectly in a spot where I want to put it.  There is a porta-potti in the camper.  Bryan even left a storage space for it.
I also carry a tent with me that fits diagonally in front of it with it bungees strapping it in.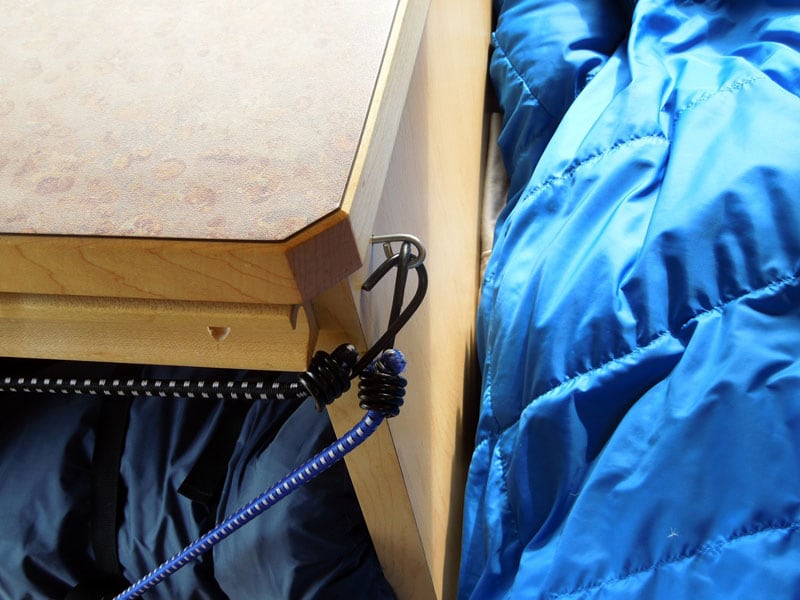 For me, the Alaskan Mini didn't need a bed on each side.  With the original Mini, they have the kitchen, sink, stove, and refrigerator on the front wall, which means you must sleep with your head at the back of the camper where the door is and your feet go under the counter.  You lose the storage because the bed is above wheel well.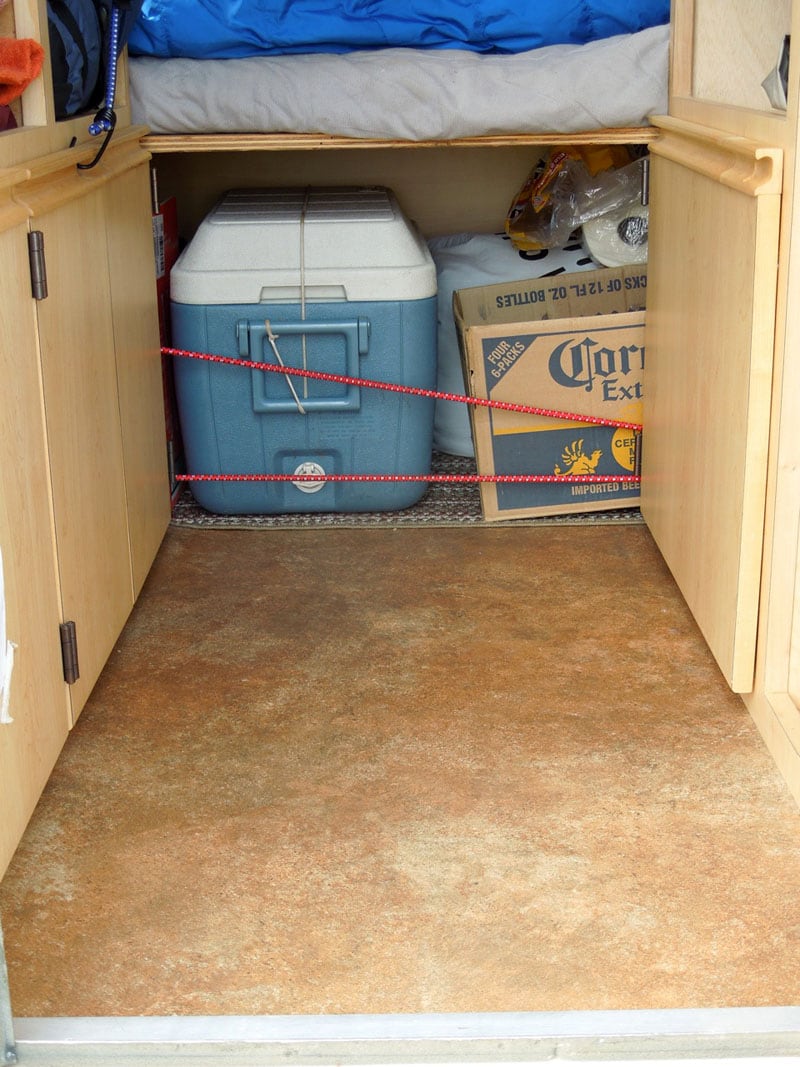 This camper is perfect for me.  I have so many toys that I take with me, so I wanted more storage space.  In my custom Mini, the bed goes sideways along the front of the camper.  By doing this, I more than doubled the storage capacity.
Also, I left out the water tanks, refrigerator, and propane tanks.  All I have is a battery, a sink, storage, circuit breaker panel, the hydraulic unit, and accessories for hydraulics.
Above: The portable Buddy heater
With all this storage space, I am able to carry four fishing rods, four reels, eight boxes of flies, snow shoes, waders, wading boots, float cube, three pairs of boots, a spare sleeping bag, an ice chest, and a cardboard box with dry food in it.  I also have an electric guitar and two amplifiers, a rifle, and spotting scope.  I also bring the portable Buddy heater with me.  It fits in the cabinet and runs off propane.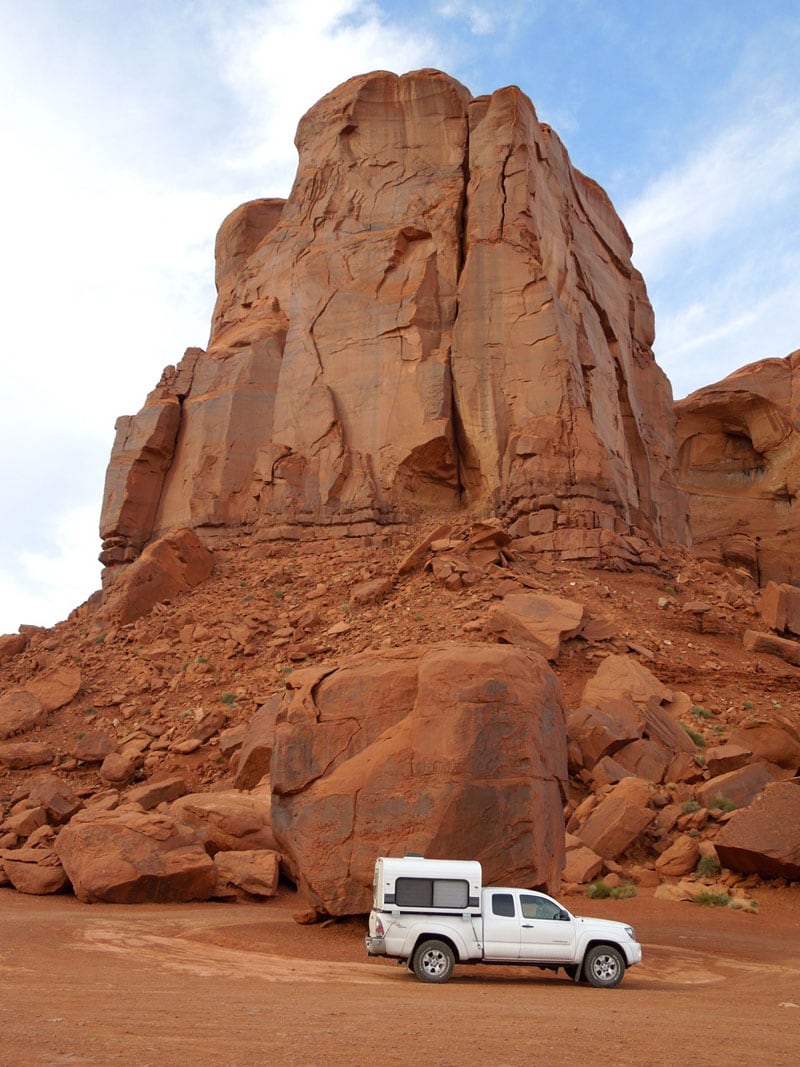 Above: Monument Valley, Utah
We don't see many campers without cabovers.  Why did that appeal to you?
The reason I didn't get a cabover is for weight.  A cabover truck camper model would weigh too much for my Toyota.  For that reason, Alaskan doesn't make a cabover camper for this size truck.
I wanted a hard sided pop-up because of cold weather and snow.  A pop-up, hard sided camper also gives me more insulation than a soft wall pop-up camper.  There's only one of me, so there's no reason to have the cabover.
The wind resistance is actually probably better with a cabover than my non-cabover model.  On my Alaskan mini, the wind comes over the windshield and the roof and then hits camper.  That's the only downside.
"The area of northern Arizona and southern Utah is a miraculous place."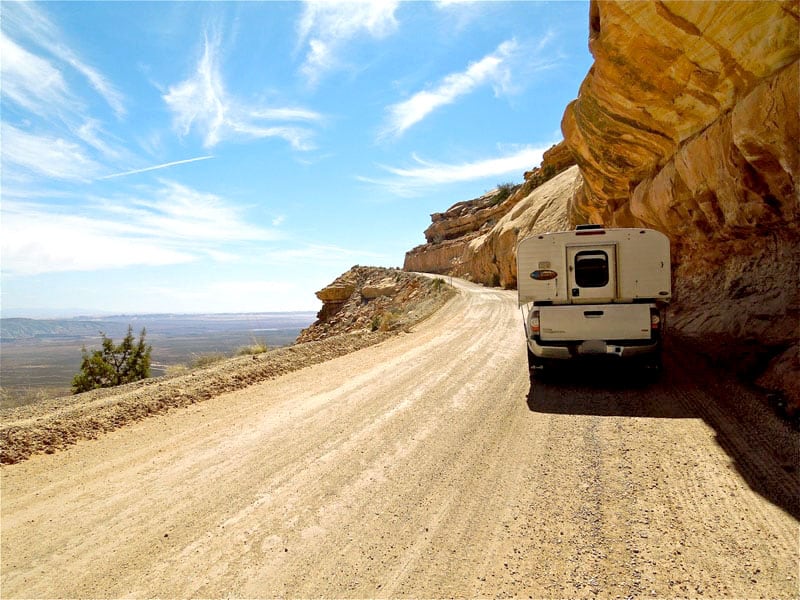 Above: The Moki Dugway
We love your pictures.  Tell us about the places you've been and where you like to go with your Alaskan.
The area of northern Arizona and southern Utah is a miraculous place.  During a recent trip with the Alaskan I went to Colorado, Oregon, Idaho, New Mexico, Arizona, Wyoming, Montana, and Utah.  Basically I went all around the American West.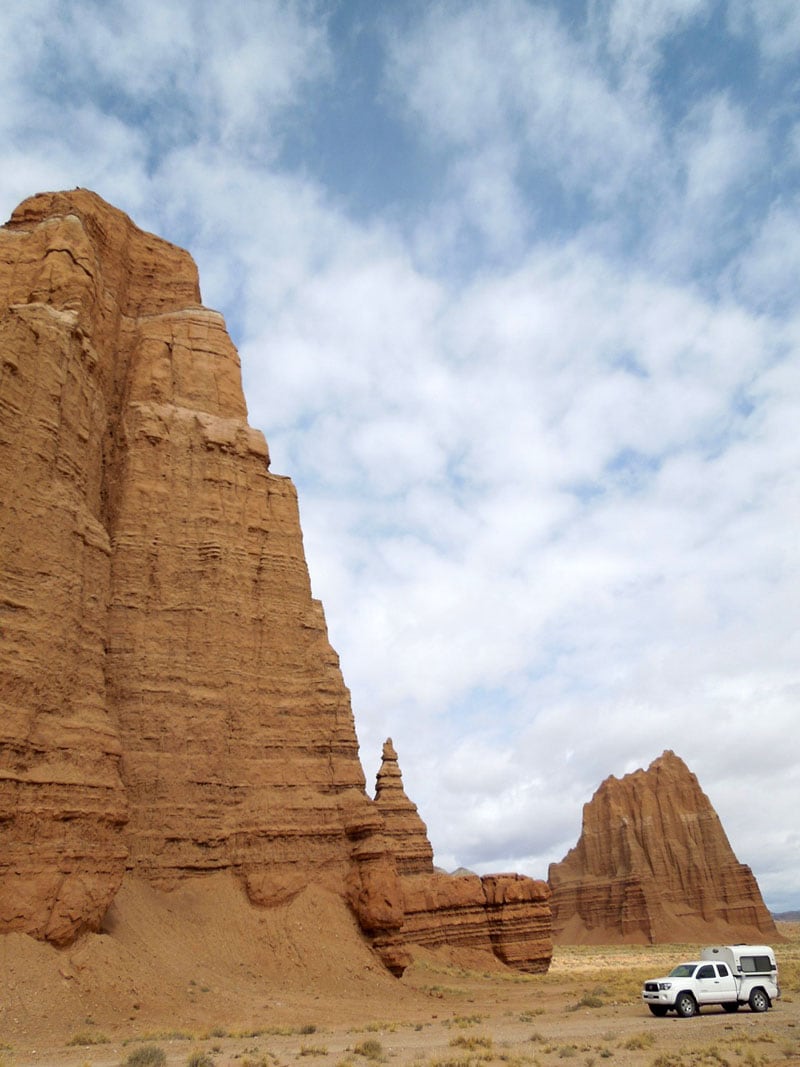 I definitely recommend Canyonlands National Park and suggest you go to all three areas in the park; the Pinnacles in the southeast, the Island in the Sky in the north with the White Rim trail, and the Maze, which is the most inaccessible part.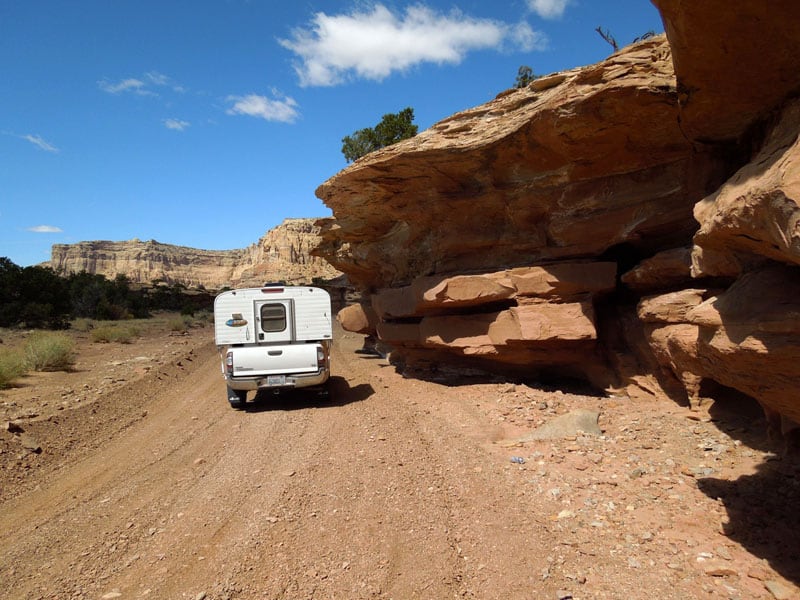 With the White Rim Trail you are on the Colorado river and the Green river.  It's a three or four day trip.  Reservations are almost required because the season is so short.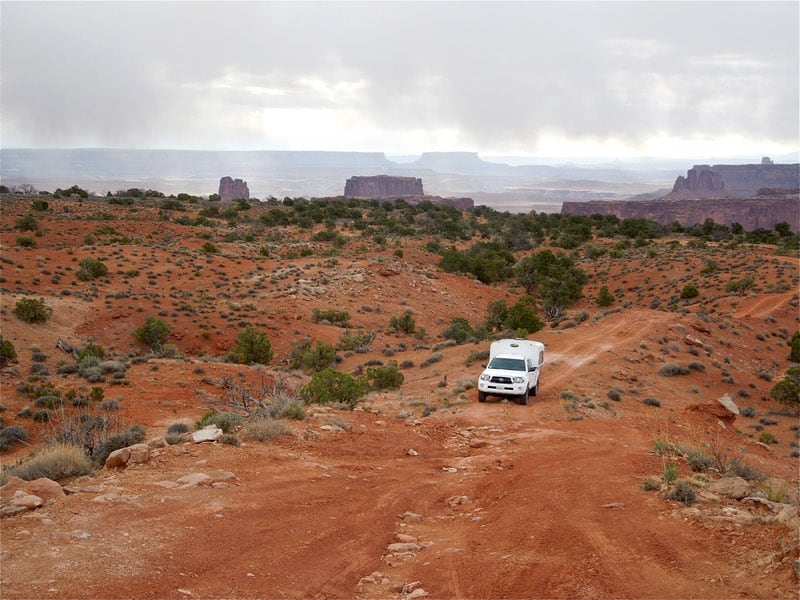 I sent a picture to you of a road in the Maze that shows the truck going down the hill and then up the hill 180 degrees.  That was incredible.  High Spur Campground is in the Maze.  The whole time I was out there I was worried because I was by myself, even about silly things like flat tires.
Did you research your trip before setting out?
I got a book on the national parks, monuments, recreational areas, and natural wonders.  It's a National Geographic book called, "Complete National Parks of the United States" by Mel White.  Reading that book really helped me plan for where I wanted to go and what I wanted to see.
In the southwest I enjoy seeing how native ancient cultures built and survived within the surrounding natural wonders.  The ruins are incredible.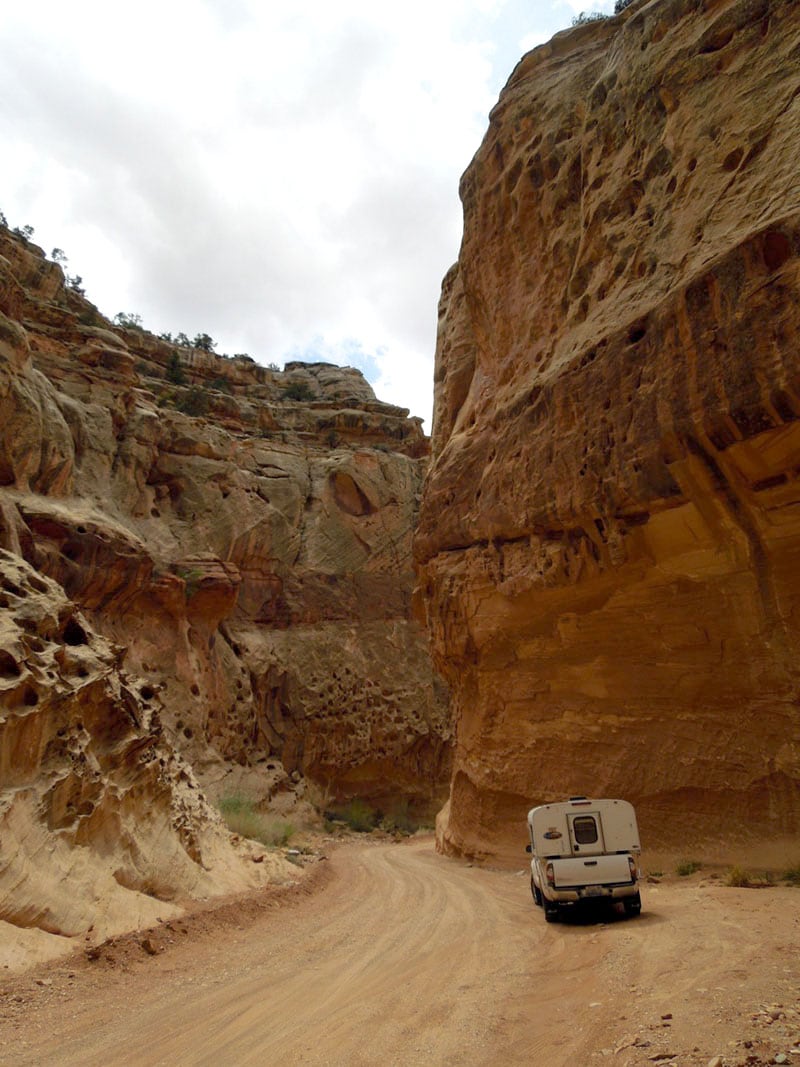 Capitol Reef National Park looks like a neat place to drive off-road.  Were there a lot of off-road trails at Capitol Reef?
Yes, there are.  For example, Waterpocket Fold Road is awesome.  There is a self pay campground called on Waterpocket Fold Road called Cedar Mesa.  It's total backcountry.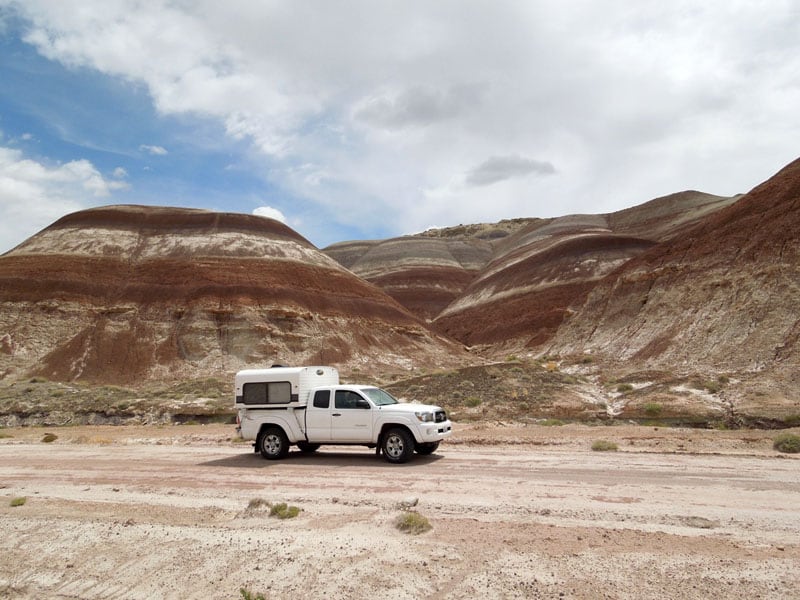 Capitol Reef was formed when two plates came together and pushed one of the plates up.  The park is called Capitol Reef because the rock formation looks like the Capitol Dome in Washington, DC.  The "reef" is a waterpocket fold that looks like a reef in the ocean, but it's not under water.  The pioneers gave it the name of a reef because they had to go around it.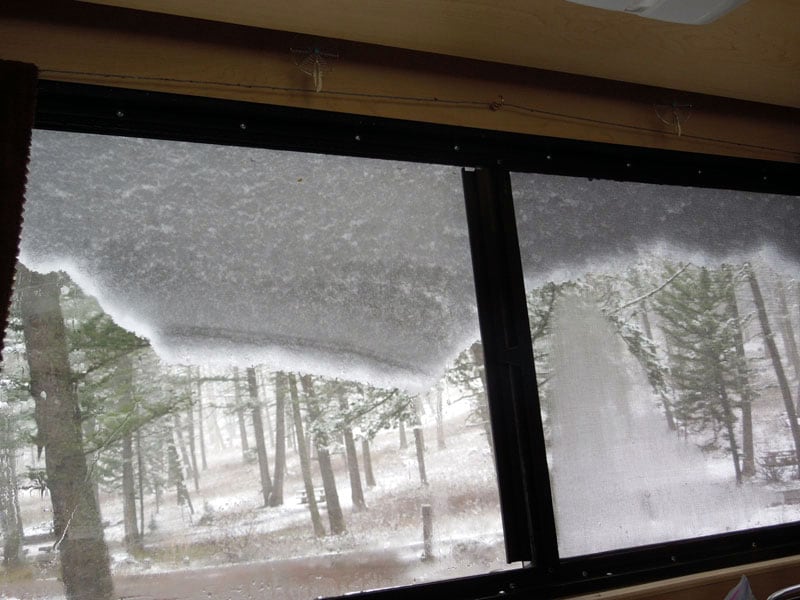 I see you were in a snow storm in Montana.  How was it in your Alaskan Mini in the cold?
The snow storm in Montana was nothing in compared to what I experienced in Colorado.  I was in several blizzards in Colorado.  I stayed in Rocky Mountain National Park, and got the best spot for my camper.
I was on a bluff and there were sixty to seventy mile per hour winds that were rocking the truck, then it snowed.  I was warm inside the camper with the portable propane heater I have.  I have to be careful with ventilation, but I do have a roof vent with a fan.
How does boondocking work without water holding tanks?
If I am out for more than three or four days, fresh water will become a problem.  I'm bringing about 4.5 gallons of water with me, all in jugs.  If I was truly boondocking, I wouldn't use the porta-potti.  I do it like the backpackers do.
Tell us about your truck camping lifestyle.
I live on the Olympic Peninsula, and have access five national parks and monuments here.  There's an incredible amount of forestry roads where I can camp and go to the beach.  In the spring I catch sea run cut throat in the ocean, and rainbow trout in the lake.
"Eliminate the hotels and replace them with RV parks for laundry and showers."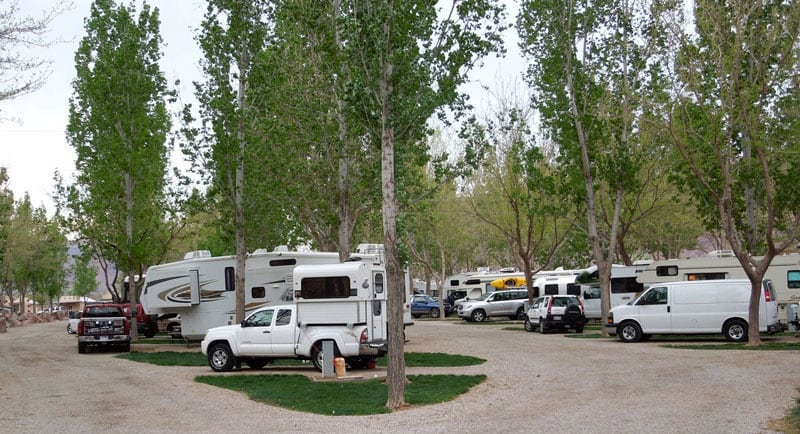 I see in one of your pictures that you were in an RV park with fifth wheels and larger RVs.  How did they respond to your Mini?
The campground in the picture is in Moab.  That was the same weekend as the Easter Jeep Safari.  It was very social time and there were lots of people looking at my rig.  I remember a family was walking by and one of the kids said, "Mommy look at that weird camper!"  That was funny.
When I picked up the camper at Alaskan, Bryan gave me some brochures.  Bryan told me people would be asking me about the camper.  Well, fifteen minutes after I left Alaskan, I pulled over in a rest area.  Two people came up to me and asked me about the camper.  That was my first brochure.  There have been many since.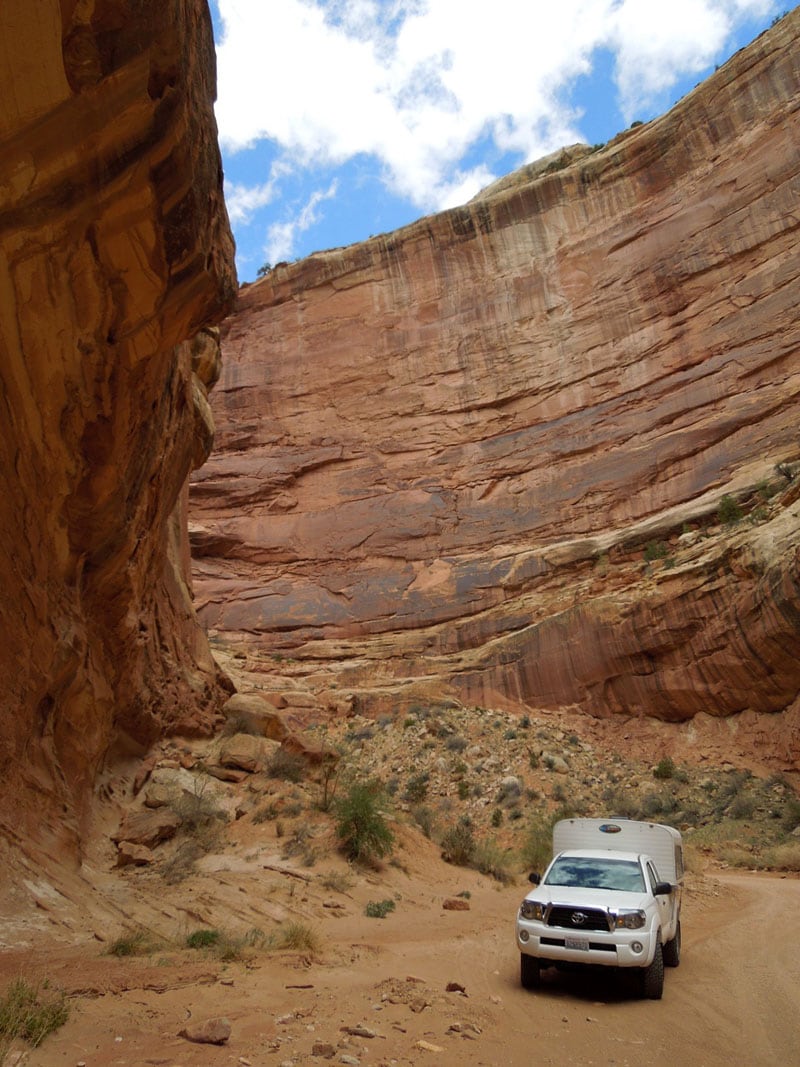 Is there anything else that you would like to add that we haven't talked about already in the interview?
Every place I went on my trip was different, and significant, and had its own beauty and magic.  I say to everyone, "With a truck camper, when you get somewhere you don't have to move a whole bunch of stuff".  You really don't have to set up.  Eliminate the hotels and replace them with RV parks for laundry and showers.  With a truck camper wherever you are, you're home.
Guy Tokunaga's Rig
Truck: 2011 Toyota Tacoma, access cab, single rear wheel, standard bed, 4×4, gas
Camper: 2011 Alaskan Mini
Tie-downs and Turnbuckles: Happijac
Suspension Enhancements: TRD off-road package, added heavier duty tires
Gear: Towing package, hitch, transmission cooler (factory option package) that's good for altitude changes