Retired and ready to overland across the American West, Guy Tokunaga ordered a very custom 2011 Alaskan Mini for his Toyota Tacoma, and hit the road.
In an era when truck campers are becoming more sophisticated with multiple slide-outs and sprawling lists of luxury features and technology, it's easy to forget that all some people want is a solid roof over their heads, a place to sleep, heat, electric light, and a few places to put their stuff.  For these folks, the big campers with all their bells and whistles are actually a turn-off sending them searching for a truck camper with exactly what they need, and nothing more.
Guy Tokunaga definitely fits this description.  At first blush, his 2011 Alaskan Mini appears to be a hard-side pop-up camper box, devoid of even the most basic creature comforts, including a cabover bed.  But when we learn about Guy and what he needs, the Alaskan Mini becomes the perfect solution for Guy's active and extremely adventurous lifestyle.  Anything more would have been a compromise for Guy.
As a magazine, we have often wondered if the truck camper marketplace will eventually turn back and away from larger slide-out units to more simple dinette-slide and non-slide campers.  Will there be a return to more simple and lower weight campers to accommodate the payload of future trucks, and to meet the ever present demand for fuel efficiency?  Could the consumer move back to truck campers with less sophistication and complexity to reduce maintenance and simplify their truck camping experience?
We doubt the core of the truck camper marketplace will ever be satisfied with anything as basic as Guy's Alaskan, and we're sure that multi-slide truck campers and their customers are here to stay, but we believe there will continue to be a very viable marketplace for simpler, lighter, and yet luxurious truck campers.  We'll meet you half way Guy, in the future.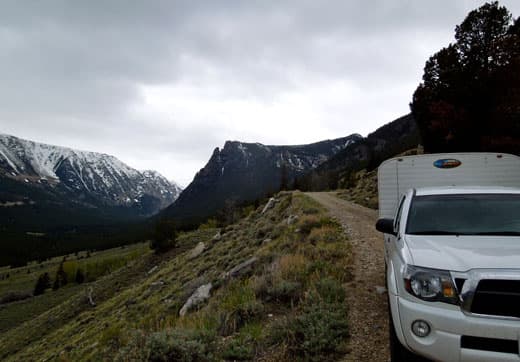 Above: Beartooth Highway, Montana
TCM: How did you get into truck camping?
Guy: When I was about thirteen years old, my family went camping at a place called Huntington Lake in California.  We ran into some neighbors at the campground who had a truck camper and a ski boat.  My family got excited about the truck camper and bought one.  For the next few years I went truck camping with my family for family trips.
In college I moved to Santa Barbara and then started working.  On weekends I enjoyed going to the beach and mountains behind Santa Barbara, but I wanted to explore further.  That's when I bought a tent and sleeping bag, put it in my car, and began traveling the Oregon Coast.  I fell in love with that type of travel.
Then I went to the beach in Santa Barbara one day and on the way home I was thinking, "Why am I still living here?  I want to be in the mountains".  So I moved to Port Townsend on the Olympic Peninsula.  Moving to Port Towsend has given me lots of opportunities.
When I first moved here, I was still car camping and going on extensive day hikes.  Eventually my knees started to go from sleeping on the ground and the rigorous hikes.  Before setting out, I'd sit and think about the destination I was about to go to and say to myself, "Do I really want to pull all the gear up there and set it up in the mud?  Do I really want to deal with all the wet gear in the morning and put it back in the car?"
Realizing that I needed to stop sleeping on the ground, I started staying in motels.  That was no good.  Finally, I got my truck camper.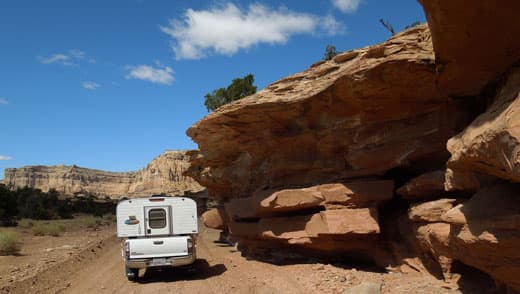 Above: As you can see in the picture, Guy's tailgate is up during travel.
TCM: Tell us about the process you went through to get a truck camper.
Guy: I retired this year and I want to travel.  At first, I didn't think I could afford a truck camper.  I was thinking it would be $50,000 for a truck and $30,000 for a camper.  I wound up getting my whole truck and camper package for $40,000.  It was $30,000 for my truck and $10,000 for my camper.  That's because I held back on a lot of the design elements and extra options on the camper.
I believe it was Truck Camper Magazine where I first saw Alaskan Campers.  I also went to some expedition shows.  I was so lucky in the research process to run into the Alaskan Mini.
Bryan Wheat, President of Alaskan Campers, came up with the idea for the Mini in 2008, and it was like it was made for me.  It's perfect.  All they had to do was make it a little shorter, so that it fits in the bed of my truck with the tailgate.  I lost five inches of the camper, but now I have a front porch.  Coming from backpacking, I wanted to be able to access lots of different areas.  I call it truck packing.