For 2019, Eagle Cap launches new keyless entry system, thermoformed counter tops, interior and exterior mood lighting, more 12-volt and USB charging stations, and a list of model-specific changes.  Good bye, Eagle Cap 850.  Hello…

Perhaps more than any other truck camper manufacturer, the management team at Adventurer Manufacturing intently listens to their dealer network, customer base, and even the survey results and reviews published in Truck Camper Magazine.
What do inquiring Adventurer Manufacturing managers want to know?  How to make their truck campers even better.  Adventurer Manufacturing doesn't make changes for change sake, but they don't hesitate to update what their dealers and customers suggests needs attention.
Making updates based on feedback may sound like an easy process, but it can be quite complex.  Many facets of production are fixed and/or extremely difficult to improve.  Cost, availability, and strict building and safety codes can thwart even the most compelling suggestions.
This often answers the question, "Why don't they just (obvious camper idea here)?"
Likely Answer 1: It would violate a build or safety code.  Likely Answer 2: They can't get those parts in consistent enough quantity, or quality.  Likely Answer 3: The material/component/concept would be prohibitively expensive.
In the face of these challenges, some truck camper manufacturers don't update or change their campers year to year.  Fortunately, that's not the culture at Adventurer Manufacturing.  If there's a way to make their campers better, they're going to find it and do everything they can to put into production.
For 2019, Adventurer Manufacturing has a nice list of upgrades and improvements for Eagle Cap campers.  Most of the changes are a direct result of listening.  How did they decide to make the following changes?  Enough of us said something, and they heard you.
For the official 2019 Eagle Cap product announcements, we talked to Greg Tucknies, National Sales Manager for Adventurer Manufacturing.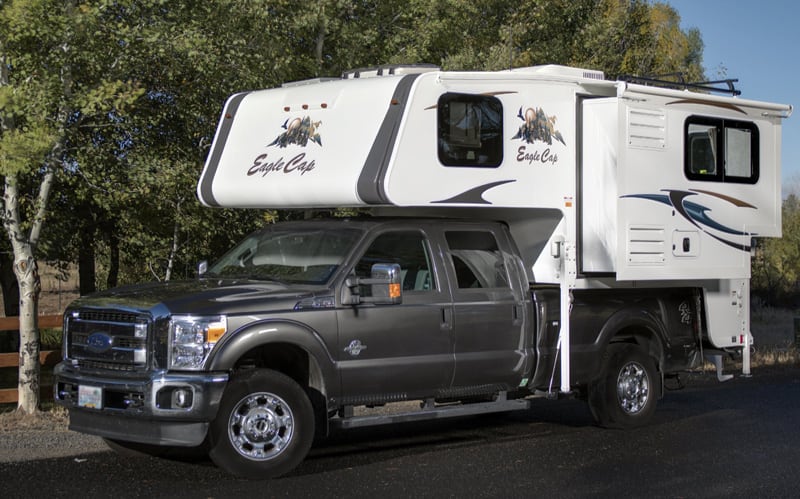 Above: 2019 Eagle Cap 811.  All photography provided by Adventurer Manufacturing.
Are there any Eagle Cap models being discontinued for 2019?
We have discontinued the 850 for 2019.  As our standard operating procedure goes, we let the market tell us what goes, and the 811 has now replaced the 850.  The 850 was also the last model under the Eagle Cap styling.  We made some tweaks, like the full-wall slide, but now the 850 is gone.
For the debut of the Eagle Cap 811, you suggested that it might beat the 850 in the marketplace. Why do you think the 811 sold better than the 850?
The 811 floor plan is a more open floor plan.  It is larger than its size dictates.  With the 811, you can fit a generator in a long or short bed configuration.  It opens up more of the market to this camper.  We always try to fit long or short bed trucks.  The 811 also has a bigger bathroom.  The 811's design was built off the success of the Adventurer 89RBS.
For 2019, you are continuing with the two interior choices that were announced for 2018; Domino (brown tones) and Denim (grey tones).  Why are you staying with these two interiors?
Last year was the first time we hired interior designers to design our decors.  The resulting two Eagle Cap interiors – Domino and Denim – have been very well received.  While we are always looking to improve our campers, the new Eagle Cap interiors are still performing extremely well.
The Domino decor features a leather accent.  People either love it or hate it.  Of our customer sold units, about 60-percent are Domino and 40-percent are Denim.  It really seems to come down to liking the leather look, or not.
"As a manufacturer, we need to pay attention to this younger demographic. That is where keyless entry and other electronic features are coming from."
Adventurer Manufacturing is installing the Bauer keyless entry door lock and deadbolt on all 2019 Eagle Cap models. Why did you choose the Bauer system?
Before upgrading to the Bauer keyless entry system, Eagle Cap campers had a standard door lock and keyed deadbolt.  For 2019, we are announcing keyless entry for the first time; a feature many customers and dealers have asked for.
When selecting a keyless entry system, we looked at two or three different styles and versions. The Bauer system had a better quality than the others.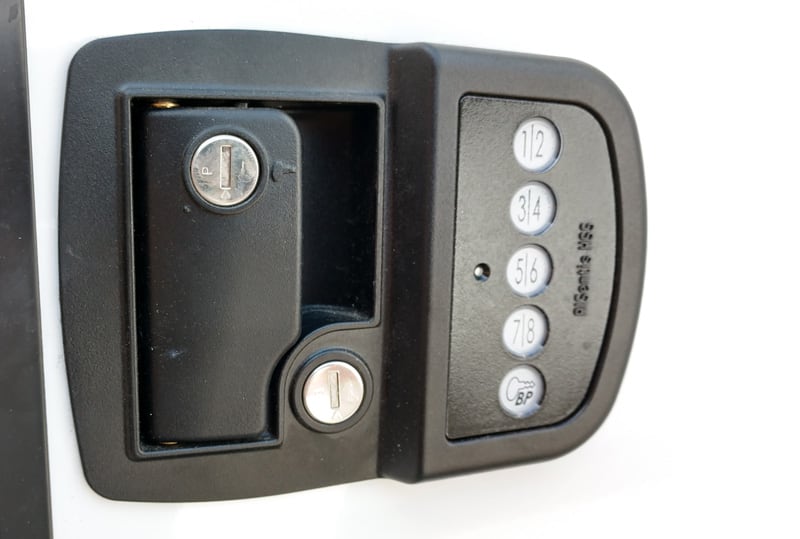 What happens to a keyless lock when the camper batteries are low or disconnected?
We know campers often sit all winter.  When you go to open the camper in the spring, the battery power might be low.  You can treat the Bauer system like a standard old-school lock.  You can ignore the keyless entry part completely and just use a key.  Or you can use the keyless entry feature.
Do the Bauer keyless locks come with a fixed lock code, or can a customer come up with their own?
Customers can program in their own lock combination.  There are instructions with the unit.
In previous years, our average customer age was typically 55 to 65 years old.  Now we're seeing a younger demographic including customers between 35 and 55 years old.
The younger buyers want more electronic features like keyless entry.  As a manufacturer, we need to pay attention to this younger demographic.  That is where keyless entry and other electronic features are coming from.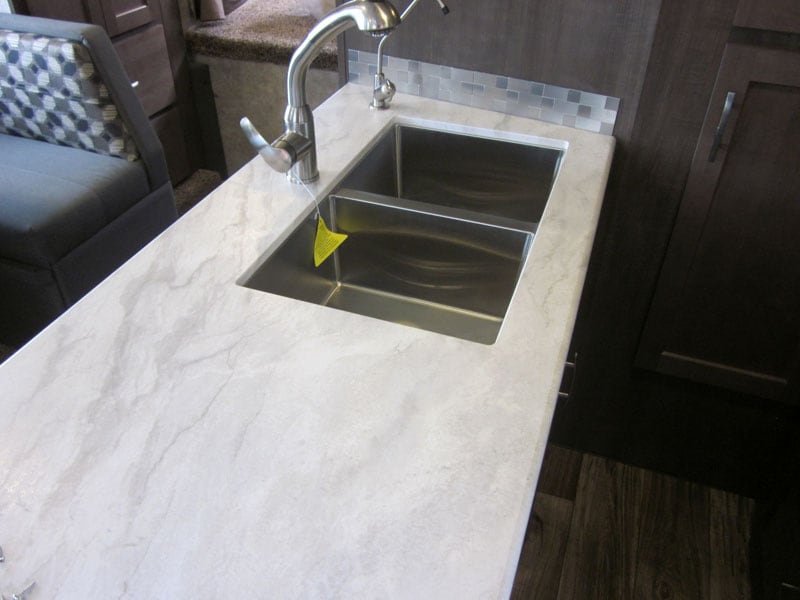 Above: The new thermoformed countertops in an Eagle Cap 1165 triple-slide
Thermoformed countertops have been in Adventurer truck campers for a few years now.  Why are you now introducing thermoformed countertops in the Eagle Cap line?
For the 2016 model year, we upgraded to stainless steel sinks and thermoformed countertops with our Adventurer line.  Customers and dealers loved the upgrade and started to ask if we would put the thermoformed countertops and stainless sinks into our Eagle Cap models.
Last year we debuted the Eagle Cap 811 with thermoformed countertops to see what the customer response would be.  That model was our test.  Well, the customer and dealer response was so positive that we decided to go ahead with thermoformed countertops across the entire Eagle Cap line.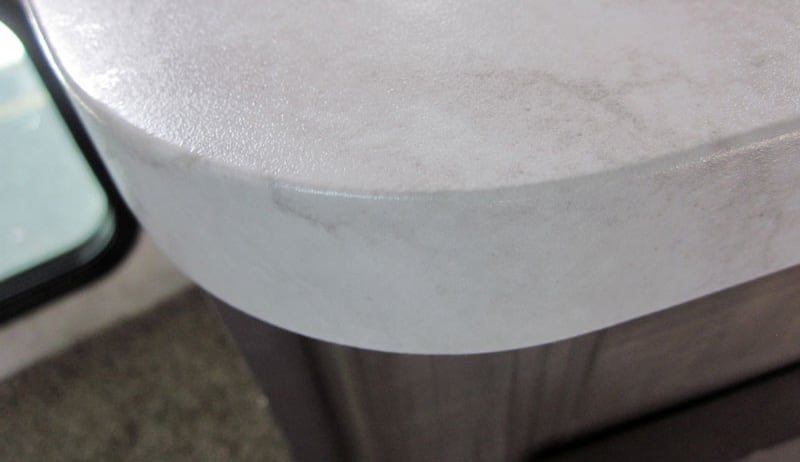 How are thermoformed countertops a better solution than the one-piece granicote fiberglass countertops Eagle Cap had before?
The granicote fiberglass countertops were lighter weight and had the hard surface granite look.  We also had molded bowl sinks incorporated into the countertop.  The granicote counters and sinks were very popular with customers.
The downsides of the granicote fiberglass countertops were two fold.  During production, the fiberglass would sometimes warp if the plywood base wasn't applied just right.  For customers, granicote was more susceptible to scratches, and would melt if a customer put a hot pot or pan directly onto it.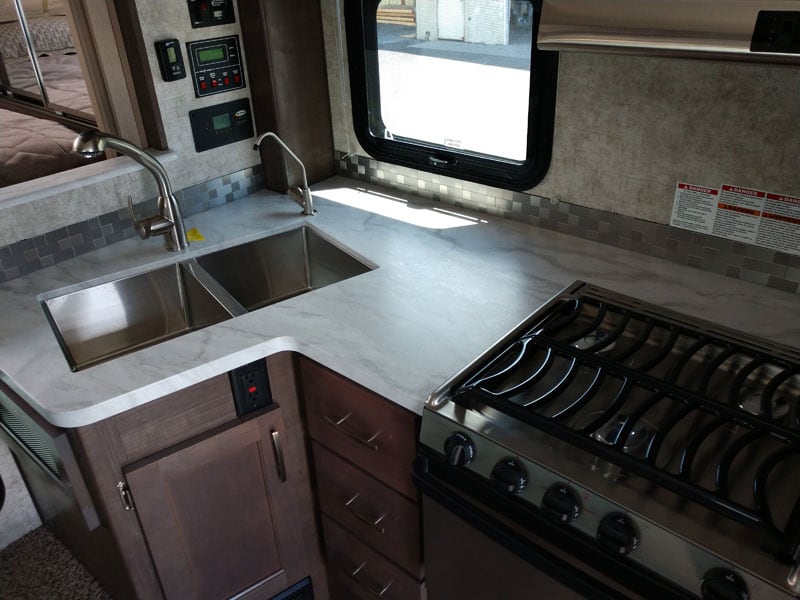 Above: The new thermoformed countertops in an Eagle Cap 811
Thermoformed countertops are much more durable and heat resistant.  The new countertops will not warp during production, are extremely scratch resistant, and don't melt like fiberglass.  If you put a hot pot on the thermoformed countertops, you'll get some discoloration, but it won't melt.  You should always use hot pads with anything hot on any truck camper.
The downside to the thermoformed countertop is weight.  Each Eagle Cap with the new counters and sinks gained between 12 to 18-pounds, depending on the model.  That's the trade-off.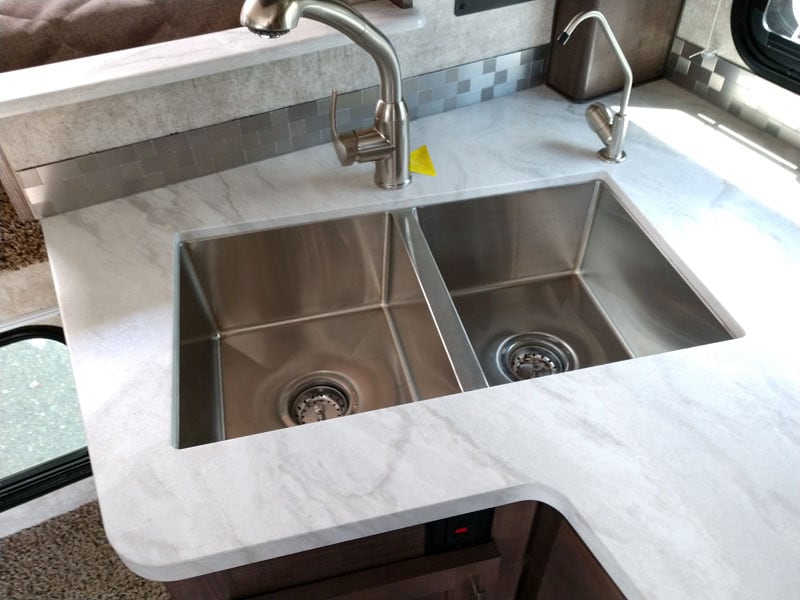 The new under-mount sinks are quite striking. Did you do any testing to make sure the sink and counter will hold together?
Yes, we did a lot of research and testing to make sure they would hold together; especially with long-term use and road bouncing.  We actually put a countertop on a vibration machine for several weeks. Then we tried to warp the table, and tweak it.
We were pleasantly surprised that the counter never cracked or warped, and the sink never broke loose.  After our testing, we're confident that we have it dialed in.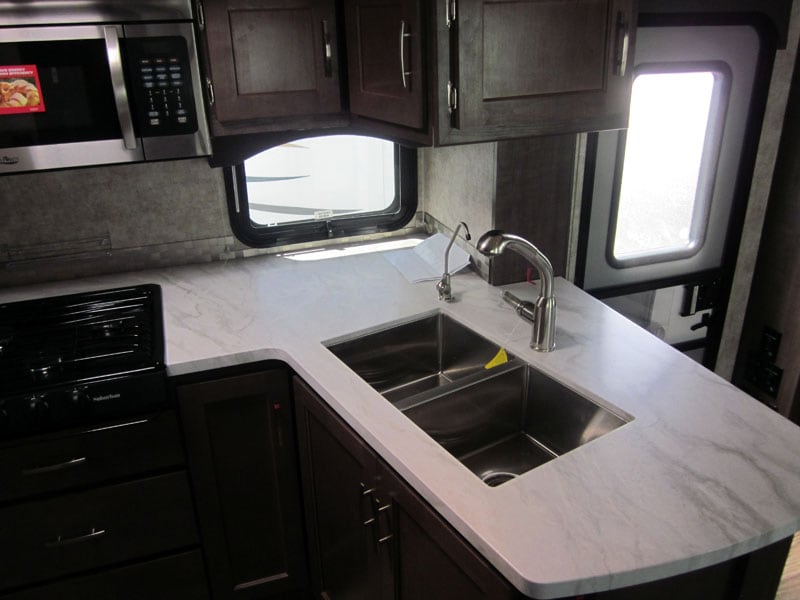 The overall counter and sink look is definitely more modern. Was that the goal?
It was. The thermoformed counters use a quartz foil.  It's a higher-end look, especially with the under-mounted stainless steel sinks.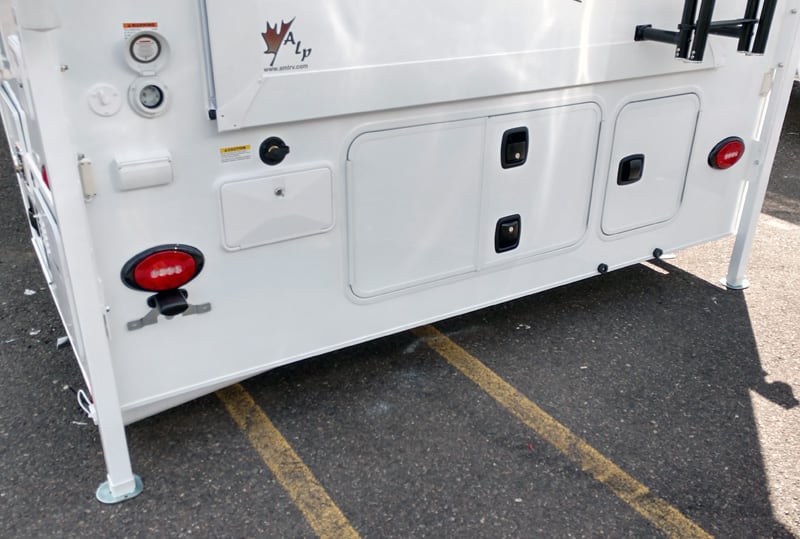 The Adventurer line changed to a new oval-shape LED tail light for 2019.  Now you're also announcing the same tail light for Eagle Cap.  Why is this the right component for both brands?
We looked into different tail lights for the Eagle Cap line, but the oval tail light is the best we've found.  There are cost and production efficiencies of running with the same product for both brands – if it's the right one.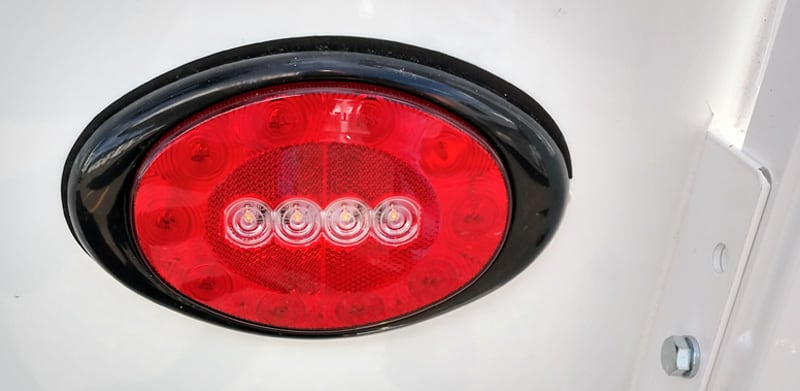 The first benefit of the new tail light is that it's 100-percent sealed.  Second, they are smaller, so there is more room for larger doors and awning arms.  The new tail lights are higher quality, brighter, and make design easier.
Eagle Cap is also getting the same Jensen audio/video system as the 2019 Adventurer line.  With HDMI connectivity, USB outlet, and alarm clock it's a nice system, but why not kick it up a notch for Eagle Cap?
Again, the high quality of the new Jensen audio/video system is right for both lines.  Our focus for the Adventurer line is competitive price and low weight.  For Eagle Cap, our focus is about the latest and greatest of everything.  It just so happens that the Jensen satisfies both brand requirements – same as the oval LED tail lights.
To put things into perspective, Eagle Cap offers a major step-up from our Adventurer line.  For example, Eagle Cap campers include two triple-slide floor plans, digital probe-less tank sensors, molded fiberglass nose caps, frameless-windows, and slam latches just for starters.  Adventurer is all about value and low weight.  Eagle Cap is 100-percent high-end luxury.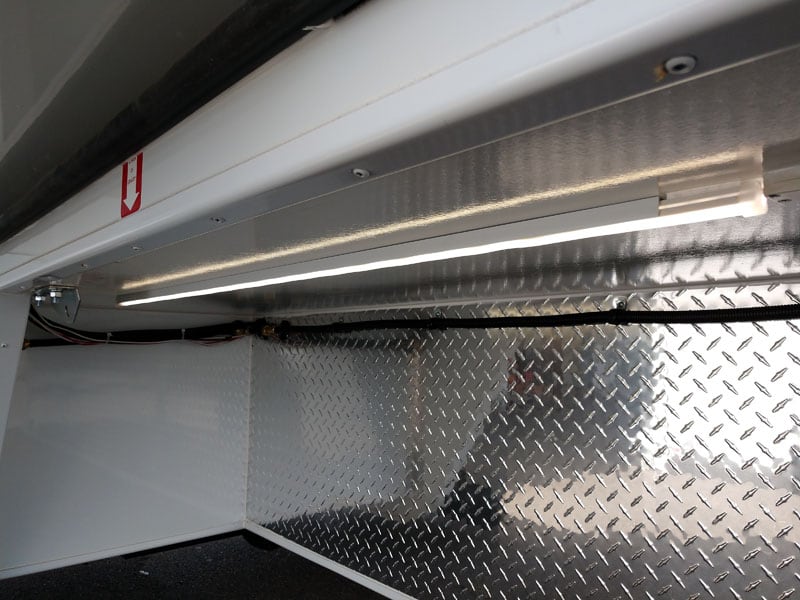 Above: The weather sealed exterior ambient LED lighting
Exterior ambient lighting is being touted as a standard feature across all 2019 Eagle Cap models.  Tell us about the exterior ambient lighting.
In the evening, customers like to have ambient light at their campsite.  The ambient light is also useful for seeing your turnbuckles and the area around your camper.  Walking back to your camper at night, you'll be able to see your camper more easily.
How do you turn on the exterior ambient lighting?
There's a switch inside the camper.  It's near where you turn on your entry light.  If you are inside and hear a noise outside, you can turn on the entry and ambient light and see better.  The ambient light is not as bright as the entry light, but it creates a nice glow around your camper.  It's not going to blind a neighbor at a campsite.
Is the exterior ambient lighting weather sealed?
Yes, it's completely sealed.  We tested it to make sure it would stay sealed as you drive down the road.  We evaluated other exterior ambient light options, but this was the best.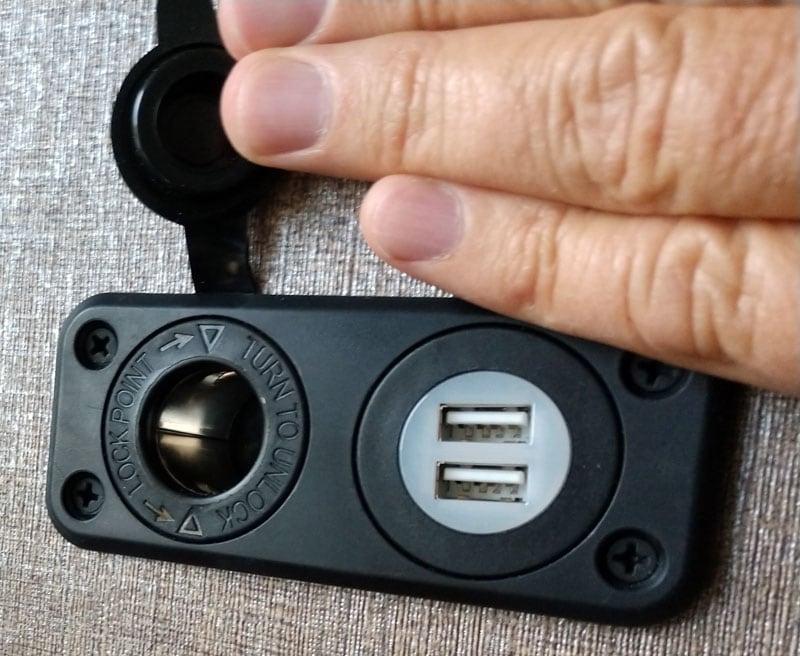 Our readers tell us again and again that having 12-volt and USB outlets is important to their truck camping lifestyle.  For 2019, Eagle Cap is installing an improved 12-volt and USB charge point in all Eagle Cap cabover bedrooms and dinettes.  How did you select this particular charge point?
First, the new power point offers both a 12-volt outlet and two USB outlets.  The USB outlets are rated for full-power charging of devices.  According to customer feedback, full-power USB charging was important.  Our previous charge points had one full-power USB and one low-power USB.
The new Jensen stereo also has a one amp (low power) USB outlet.  All totaled, there are now four high-power USB outlets, one low-power USB outlet, and two 12-volt charge points in every 2019 Eagle Cap truck camper.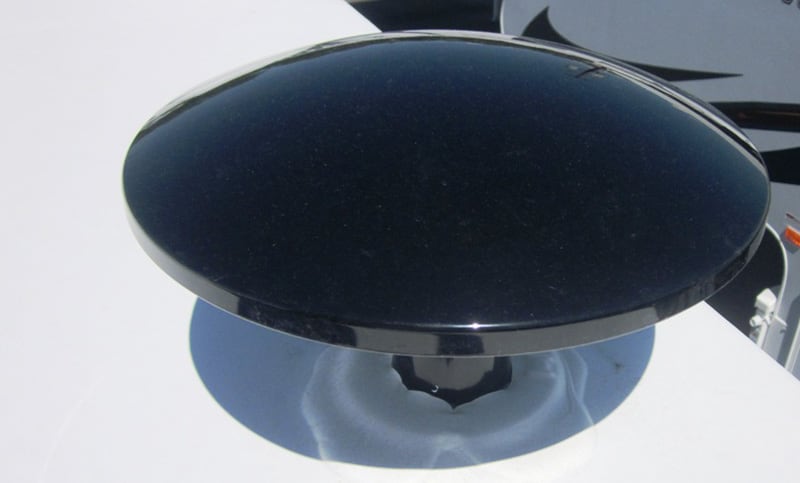 For the 2015 model year, Eagle Cap went to a flat Winegard Rayzar HDTV antenna mounted inside the camper.  By most accounts, these antennas worked great, or not so great, depending on the location and orientation of the antenna.  Is that why Eagle Cap is changing to a new omni-directional antenna for 2019?
The flat Winegard antenna was a great upgrade because it eliminated the roof mounted antenna and its related seals.  In most cases, it worked better than a roof mounted antenna.  It was a big plus.
The downside was that – when parked in certain directions – you would get weak signals, or none at all.  We heard this complaint from about 6-percent of the customers who purchased a Eagle Cap with the flat antenna.  To eliminate this issue for 2019, we implemented a new omni-directional antenna.
Tell us about the new stove and oven.
For 2019, all Eagle Cap campers will feature a new Dometic stainless stove and oven.  The stove has a residential style grate which can also act as additional counter space.  It also eliminates the bi-fold stove top cover.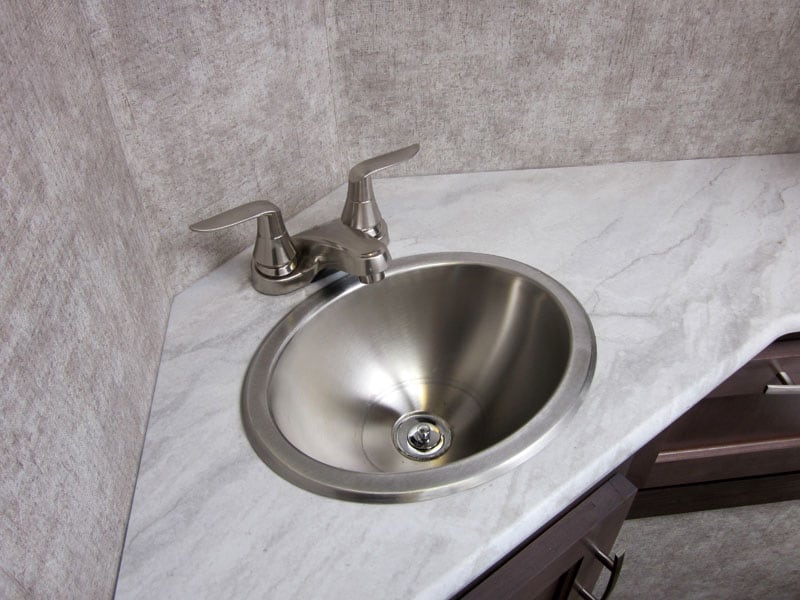 Tell us about the model specific updates.
The Eagle Cap 1160 double-slide and 1165 triple-slide have been upgraded with stainless steel vanity bowl sinks for their dry baths.  This completes the stainless steel look we introduced for 2019.
We also relocated the water hook-up on the 1160 and 1165 triple-slide.  Now the water hook-ups are on the driver's side.  Customers told us the previous locations were inconvenient, and required a long hose.
The RVIA also required this change with a new build code.  If you're building to RVIA code, all hookups must now be on the driver's side.
We are also in the process of improving the cabover padding under the carpet on the Eagle Cap 1160, 1165, and 1200 triple-slide.  Customers suggested that improved padding would be more comfortable when crawling in and out of bed.  We haven't quite dialed that in yet, but we'll have it done for 2019 models.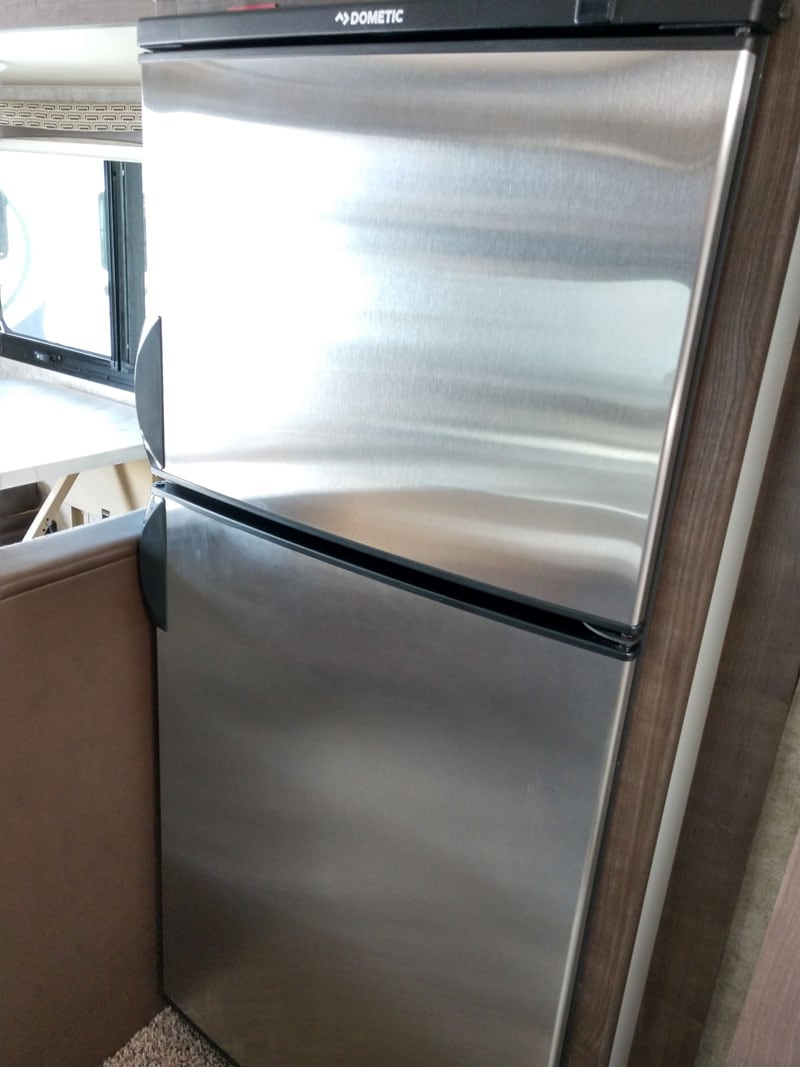 You also reversed the refrigerator door on the Eagle Cap 811.  We commented on that orientation for the Adventurer 89RBS review, a camper that shares the exact same floor plan as the Eagle Cap 811.
Truck Camper Magazine was one of many voices that commented on that door being too tight to the dinette.  For last year's introduction of the 811, we reversed the door which made it difficult to open and use with the left hand hinge.  This year we reversed the refrigerator door back to the right hand hinge on the Eagle Cap 811.  We made minor dinette adjustments to make the handle easier to open on both models.
"Our focus is truck campers.  That's what we do.  We develop and innovate with truck campers.  We want to be the leading manufacturer in the truck camper industry.  That's our mission."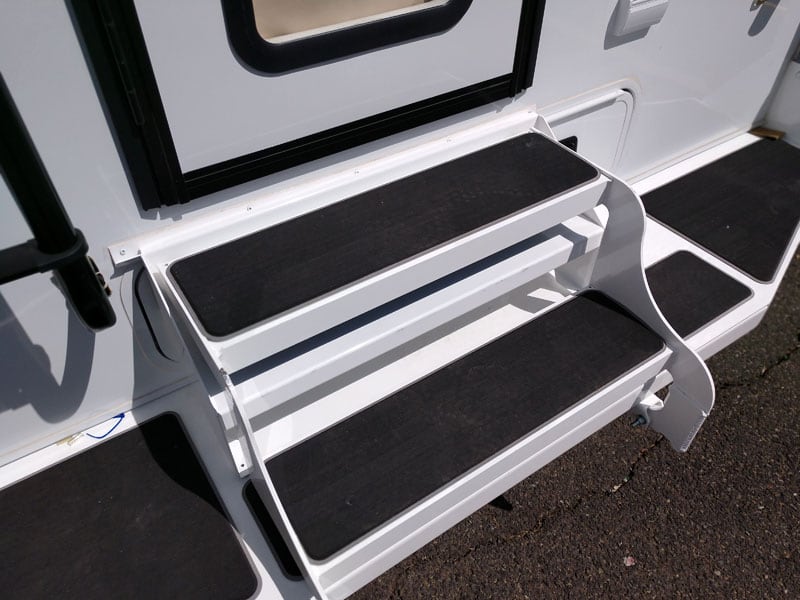 Above: Note the tread on the underside of the steps in the up/travel position.
Adventurer Manufacturing's Comfort Step bumper led the trend for deluxe camper bumpers by several years.  For 2019, Adventurer is putting tread on both sides of the Comfort Step. How does this new feature work in practice?
If you're towing, you can step on the tongue of the trailer, and then step up on the Comfort Step in the travel position.  For folks who tow, the new steps are a big plus.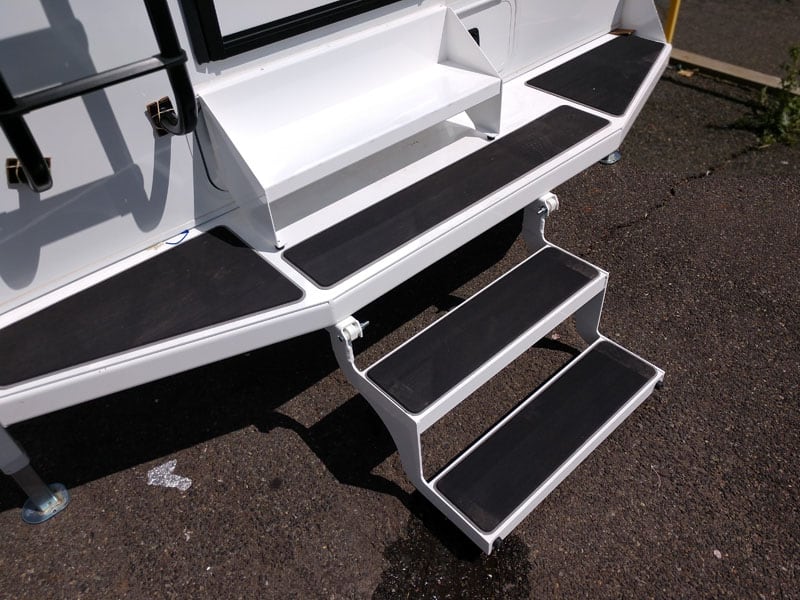 Customers always say, "We love the Comfort Step bumper!". We hear that all the time.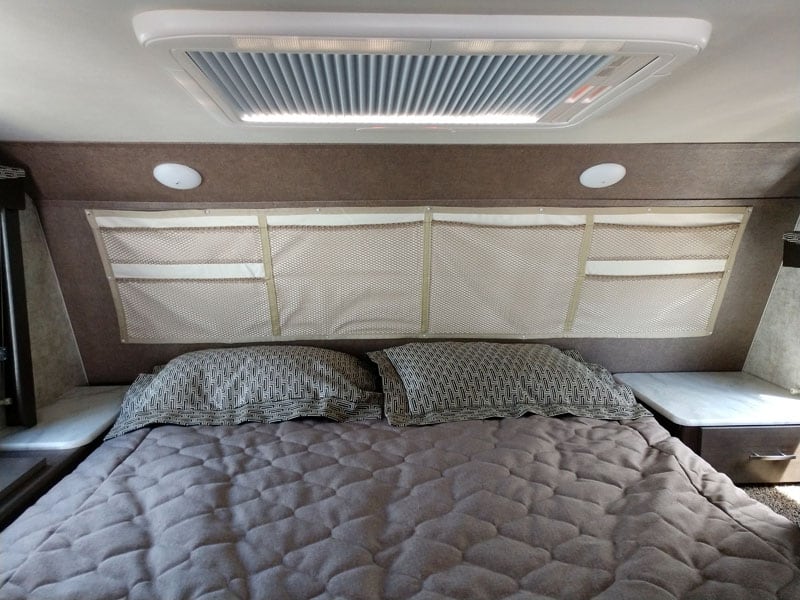 The Camper Caddy storage system is a unique and functional storage solution for the inside cabover nose area.  For 2019, it's now standard on the 960.  What other models feature the Camper Caddy as standard?
It's standard on the Eagle Cap 811 and now the Eagle Cap 960.  We previously had a shelf in the 960, but some people didn't like that feature.  The Camper Caddy adds more storage for maps, iPads, phones, and books.  You can even zip and secure these items for travel.  It's a nice upgrade.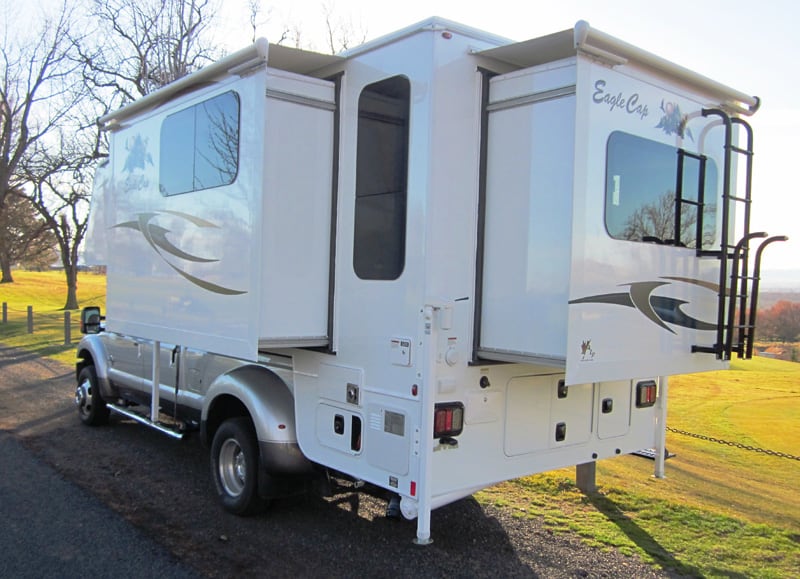 One of the hallmark features of the Eagle Cap 1200 was the free standing table and chairs.  For 2019, the table and chairs option is being dropped for a standard rear sofa.  Why was this change done?
The 1200 was designed and developed for customers who wanted to downsize from fifth wheels or motorhomes.  These customers wanted the room and amenities they were accustomed to, but in a truck camper.
They specifically asked for three slides, access to the bedroom on both sides, the table and chairs, theater seating, a large convection microwave, king size bed, under bed storage, and other features designed into the Eagle Cap 1200.  All of this was done for that buyer.

Above: The rear sofa and theater seating in a 2019 Eagle Cap 1200 triple-slide
Well, the table and chairs were appreciated, but the customers really wanted a rear sofa.  They wanted to sit in a sofa and watch the 32-inch television from across the room.  To meet this request, we redesigned the rear sofa depth to fit the slide and available interior space.
Subsequently, the rear sofa was ordered 80-percent of the time.  People would order two sofas or the theater seating and sofa.  Many customers said they didn't want a dinette.  That's when the swing away tables for theater seating came into place.
For 2019, we have dropped the table and chairs.  You can put in your own table and chairs. Just order your camper without a sofa.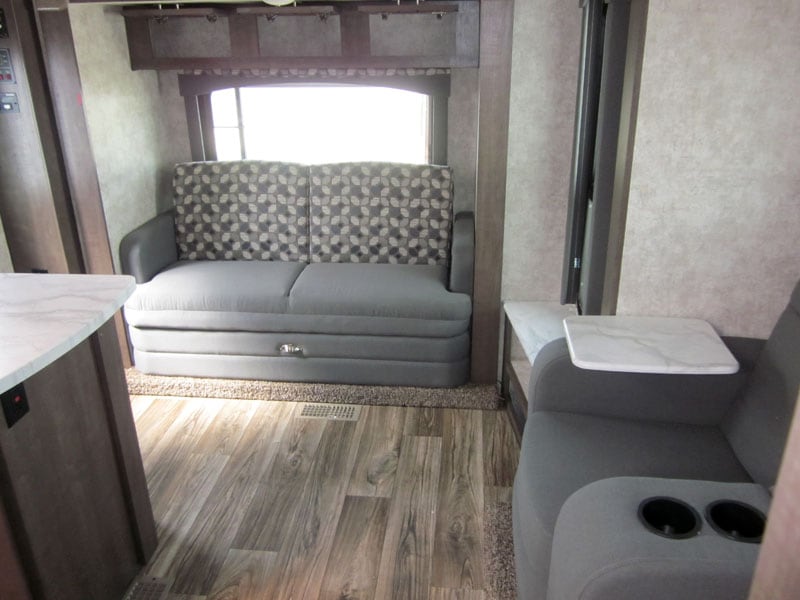 Since we started to offer a rear sofa in the Eagle Cap 1200, sales of that model have picked up dramatically.  We now produce three times as many Eagle Cap 1200 models. The first year it was our number three seller behind the Eagle Cap 850 and 1165.  The next year it beat the 850 to become number two.  This year it's continuing to rise, but the 1165 is still the favorite.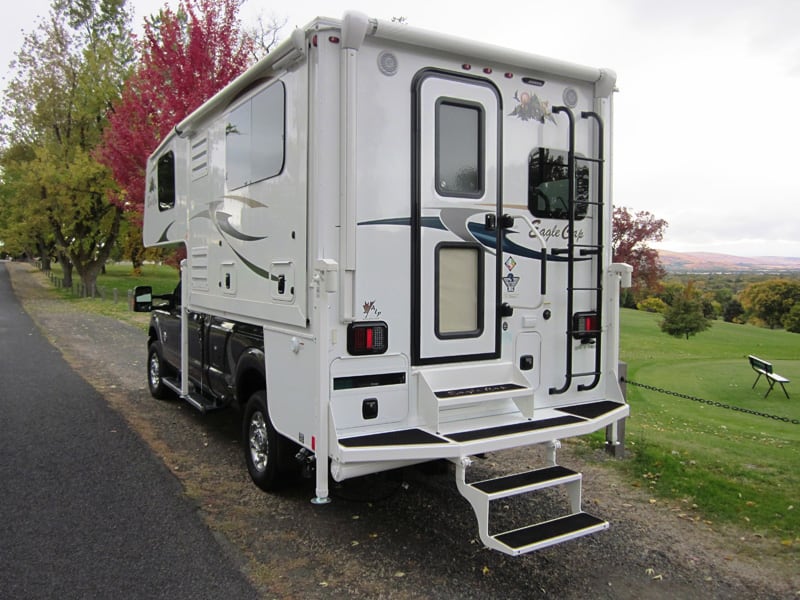 Above: The 2019 Eagle Cap 960 with the comfort step bumper
Are Eagle Cap prices increasing for 2019?
There is less than a 2-percent increase across the board.  We are seeing increases in material costs because of the tariffs.  We have found better pricing on electronics, which helps to keep the price down.
Has Adventurer Manufacturing been affected by the tariffs on steel and aluminum?
Yes.  We have seen steel, aluminum, and to some degree lumber come up in price.  Aluminum has had five price increases this calendar year and they are talking about a couple more.  That impacts our profitability and pricing.
We're hoping to hold our pricing through 2019, but we may need to look into increases mid-year.  I don't think there will be big price increases for the camper as a whole.  The parts are all individually affected, but the material prices do add up.  At this point we are trying to hold our own.
If you order today and there's a price increase tomorrow, you are price protected.  We had a customer who was concerned, and I told him what I just said.  He ordered right away because he was concerned about a price increase.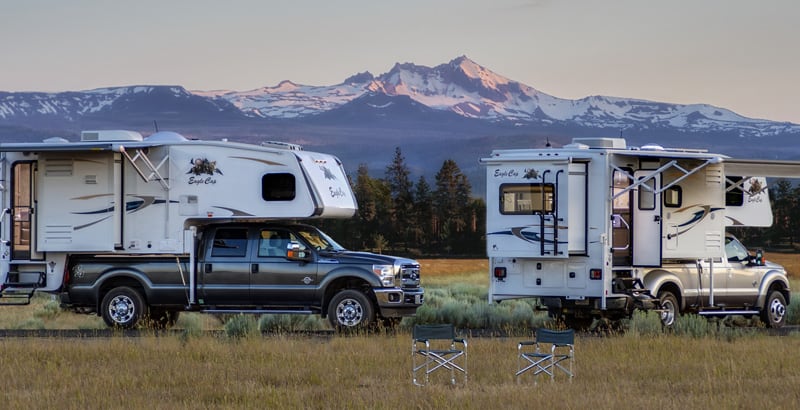 Will we see any new Eagle Cap models through the end of the year?
We've had discussions about building a non-slide model.  There is an opening for a high end, high quality, heavily featured non-slide model.  Does it make sense to do that with Eagle Cap?  Maybe your readers can comment.  It's on the table for 2020.  We're always looking to do something different, but nothing is carved in stone at this point.
Right now the RV market is red hot.  Manufacturers are building campers to get them out the door.  They are getting as much sold as they can to improve their bottom line for their shareholders.
When you do that, you're not innovating and developing new products because you're mass producing.  You get in that mentality and you get behind.  When the industry slows down, they will be behind the eight ball.
We're always looking at what we can do differently.  Our focus is truck campers.  That's what we do.  We develop and innovate with truck campers.  We want to be the leading manufacturer in the truck camper industry.  That's our mission.
For more about Eagle Cap Campers, visit their website at amlrv.com. Click here to request an Eagle Cap brochure.