Eagle Cap debuts all-new interiors, changes the 1160 and 1165 dry baths, eliminates U-shape dinettes, and unveils an exciting update to their popular theater seating.  Could this be the 2017 innovation of the year?  And what's this about a new model?

A few months ago, Greg Tucknies, Director of Sales and Marketing for Adventurer Manufacturing, teased us about an innovation the Eagle Cap team was developing.  As is often the case, he was light on specifics and left us curious.  The industry likes to do that.
To put us out of our misery, Greg is ready to reveal the news as part of the 2018 Eagle Cap model year update announcement.  So what is this innovation?  It's time to put this question on the table.
To learn about all of the 2018 Eagle Cap camper updates, including the mysterious innovation, we talked to Greg Tucknies.
TCM: Are there any new Eagle Cap models being announced for 2018, or older models being discontinued?
Greg: The entire Eagle Cap camper line remains in production for 2018.  There are no models being discontinued.
There will be a new Eagle Cap model debuting this year.  The new model is going to be staying with our theme of new products; both short bed and long bed compatible, and generator ready in either configuration.  And it has some very cool features.
TCM: When should we expect to see that announcement?
Greg: We are aiming to be in production with the new Eagle Cap in late August.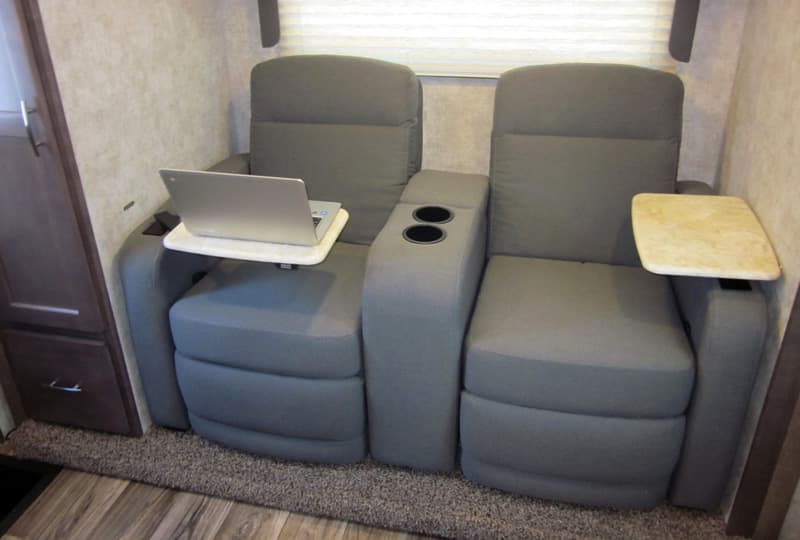 Above: The new Extended Swing-Away Dining Laptop Table is available in Eagle Cap and Adventurer double and triple-slide campers with theater seating.  All photography provided by Adventurer LP.
TCM: Tell us about the new theater seating table.  How did that come about?
Greg: We are calling it the Extended Swing-Away Dining Laptop Table.  The new table stemmed from our modular furniture winning 2014 Innovation of the Year.  With that introduction, we had many customers with double and triple-slide models who wanted two sets of theater seating.

Above: Denim decor (left) and Domino decor (right) for 2018
TCM: Two sets of theater seats in a truck camper?  That's something we have never seen.
Greg: The feedback from our dealers and customers revealed that even more folks would want two sets of theater seats if they had a place to eat and use their laptops.  With that information we started looking into TV tray and table options.  After reviewing the available trays and tables, we started working on our own solution with our furniture manufacturer.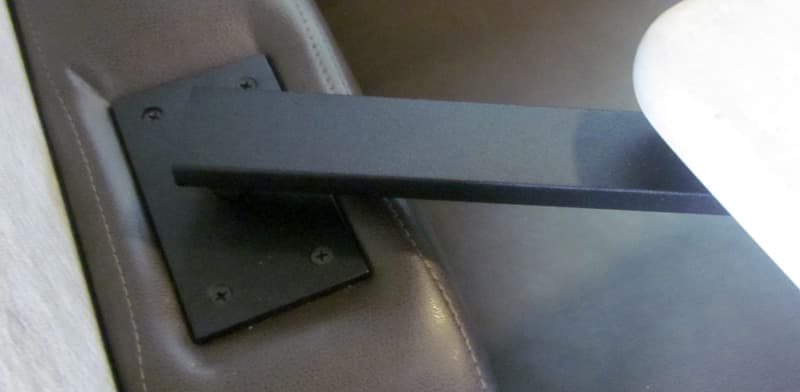 Above: The triple-pivot bracket fits into a steel articulating arm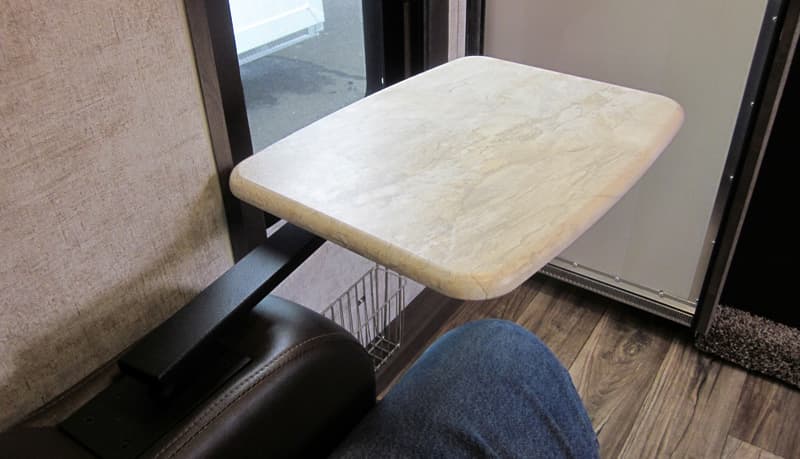 After several prototypes, we ended up with a triple-pivot bracket that fits into a steel articulating arm.  The whole table system is removable, sturdy, and very easy to use.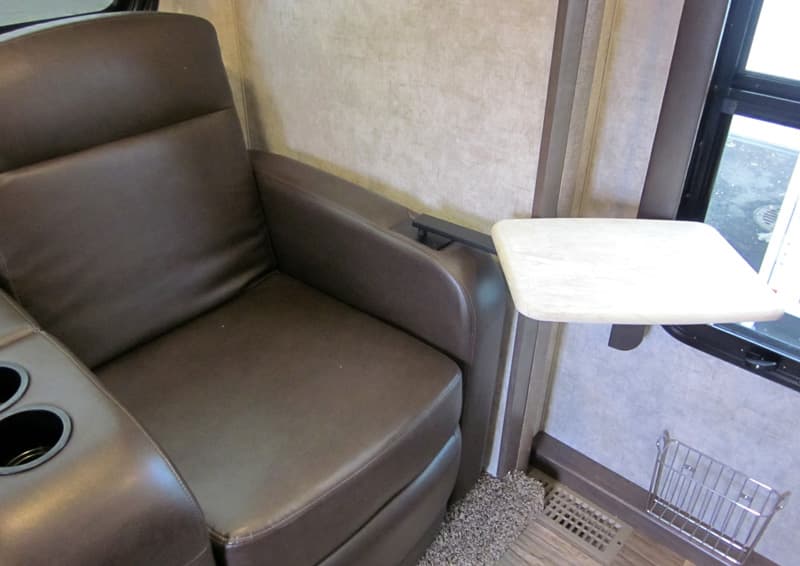 It was a real challenge to get something that hit the mark.  We're very excited about the final production table.
TCM: What are the dimensions of the table?
Greg: 12-inches by 16-inches.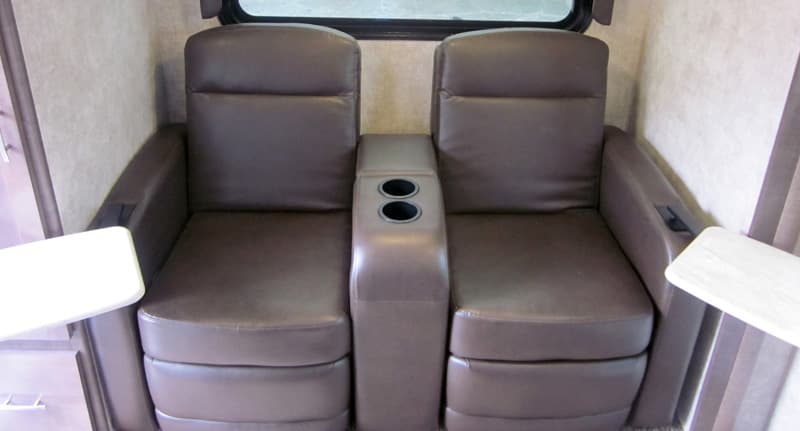 TCM: How does the table work?
Greg: The table and arm simply pulls in and pushes out.  You can also swing it out of the way.  The tables are very easy to use.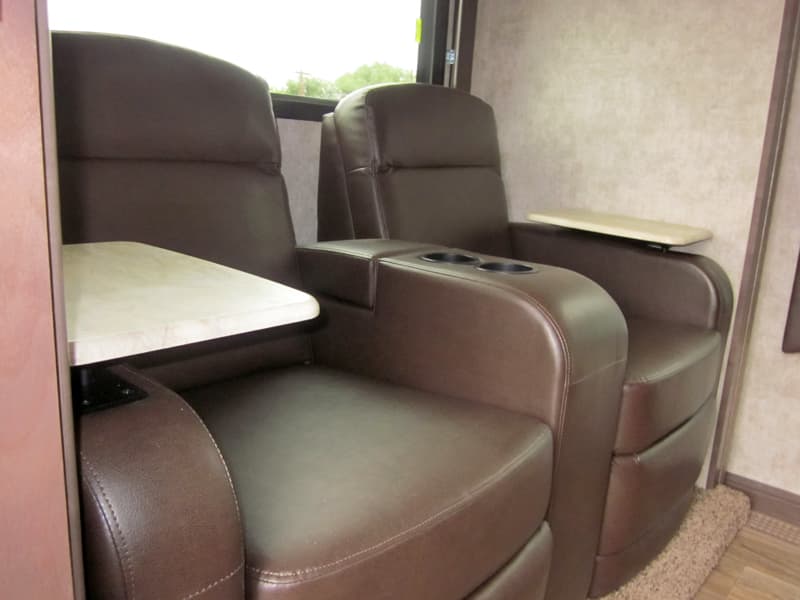 Above: 2018 Eagle Cap Theater Seating – Domino Decor – tables in travel position
When it's time to travel, you can remove the arm and store it, or leave it in place.  It's designed to stay put when you're driving down the road.  You simply rotate it in toward the chair.  It won't swing while you're traveling.  Or, you can completely pull them out if you want the chairs open.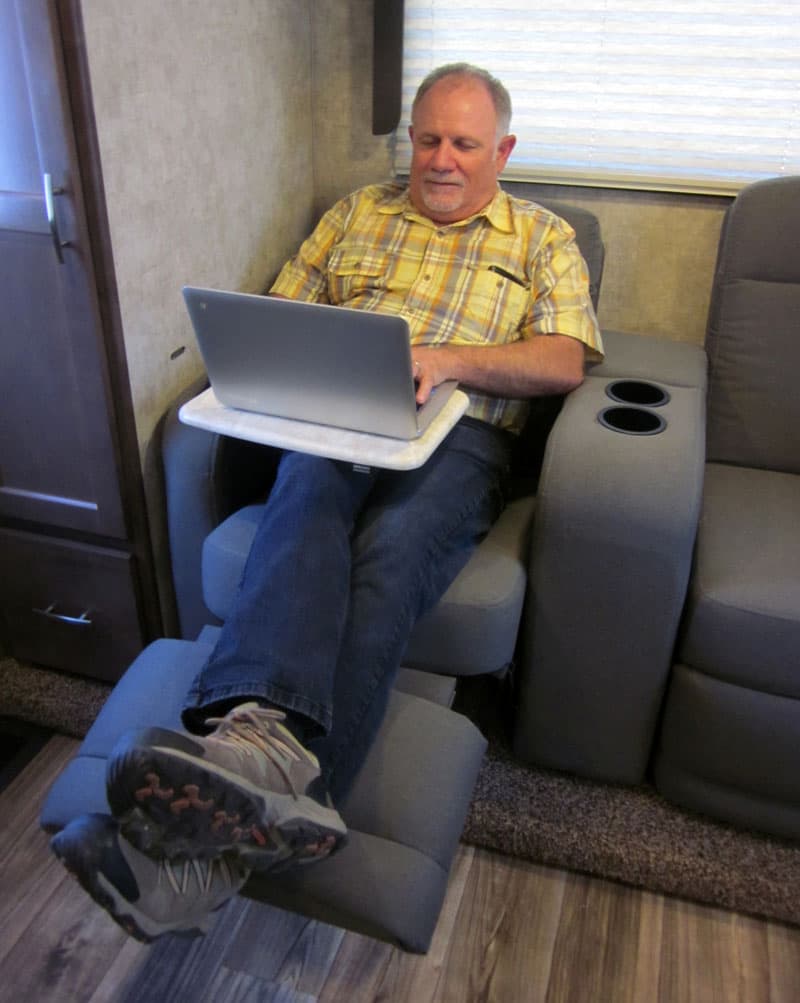 TCM: How sturdy are the tables?
Greg: Sturdiness was essential.  The first design was too flimsy.  The second version was sturdy, but tweaked if you leaned on it.  The third and final version has a much stronger bracket and a steel socket for the arm.  We are very pleased with the sturdiness of the new table system.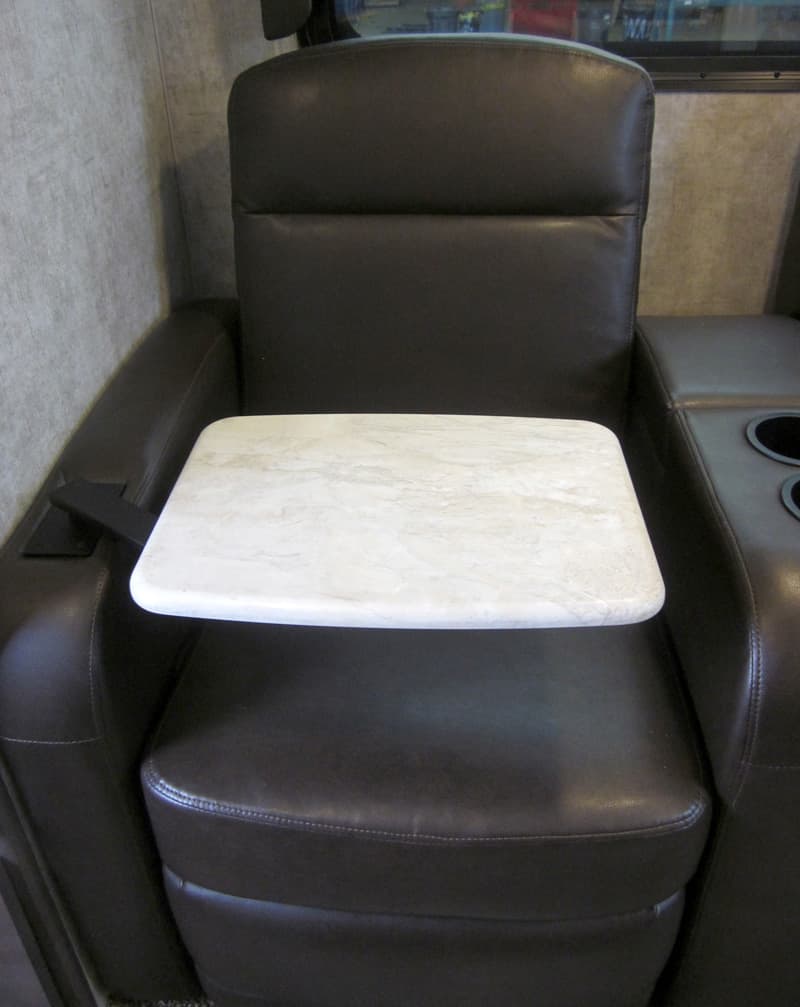 TCM: Are the tables standard or optional with theater seating?
Greg: They are standard with the theater seating option for 2018.  Anyone who orders theater seating in a 2018 Eagle Cap camper will have it included.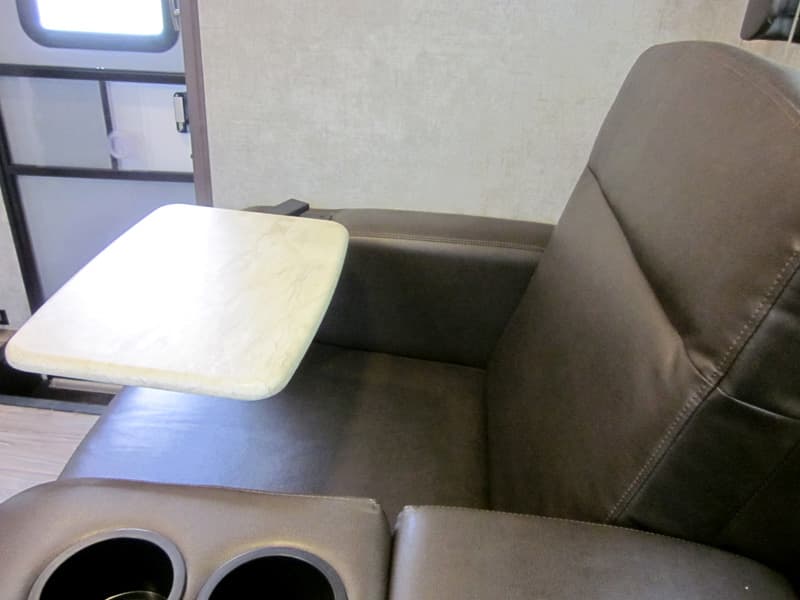 TCM: Will the Extended Swing-Away Dining Laptop Table be available on any 2018 Adventurer models?
Greg: Yes, the 2018 Adventurer 116DS will have the table option.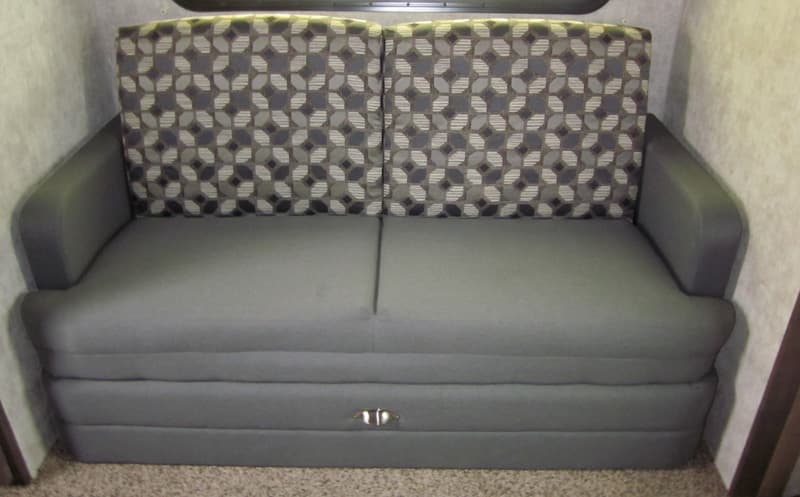 Above: The sofa can be ordered in the Eagle Cap 1200, 1165, and 1160, pictured in Denim
TCM: Could the new table system work with your sofa option as well?
Greg: We looked into adding the table system to our sofas, but the sofa arms are too thin and don't have enough structure.  You would also have to pull the table apart for the sofa to convert into a bed.
Additionally, the sofa is part of the base price and weight of our truck campers.  We don't want to add weight and cost to our units unless there's demand for the feature.  We'll wait to get feedback on the theater seating tables before we consider proceeding with the sofa.
TCM: Can someone with theater seating from previous model years get the the new tables?
Greg: Unfortunately, no.  Our furniture maker integrated the required structure to support the arm and tables into the new 2018 theater seating.  The previous versions of the theater seating lack that additional structure.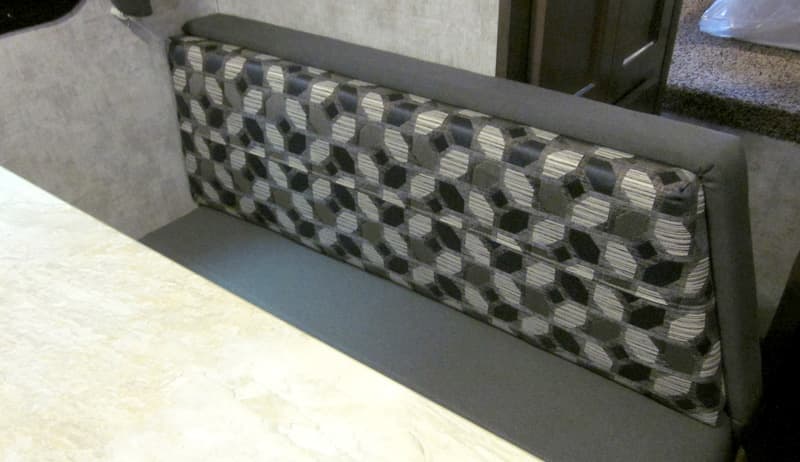 Above: The new Denim decor for 2018 Eagle Cap Campers
TCM: Before we get to the two all-new 2018 Eagle Cap interiors, which 2017 Eagle Cap interiors are being discontinued, and which are being continued for 2018?
Greg: All of the 2017 Eagle Cap interiors have been discontinued.  We now offer two color choices for 2018 Eagle Cap Campers.  They are Domino (brown tones), and Denim (grey tones).
We hired high-end interior home designers to come in for both products.  James Epp, Owner of Adventurer Manufacturing, wanted to see us get into a younger and more modern mindset.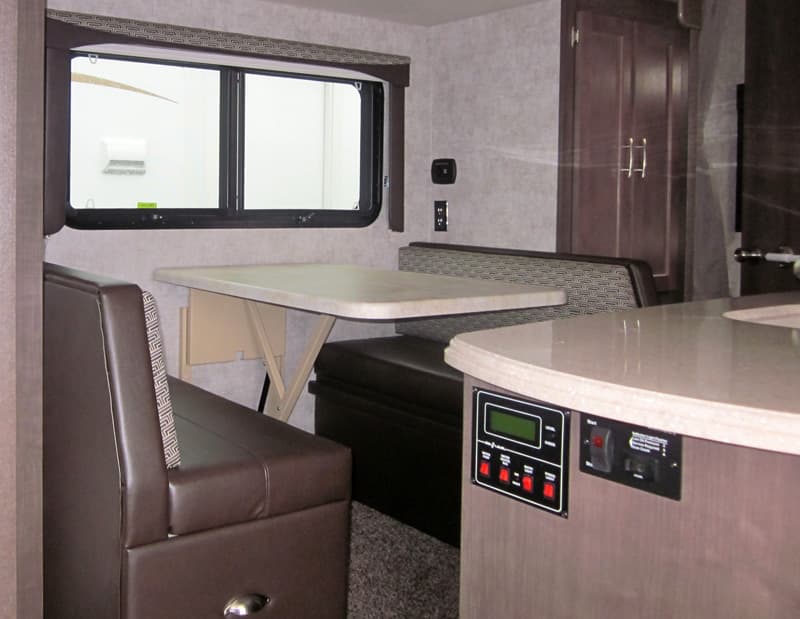 Above: The new Domino decor for 2018 Eagle Cap Campers
TCM: The new interiors appear to be more neutral than the previous interiors.
Greg: They are more neutral.  The designers selected a more neutral look so the interiors don't conflict with the customer's choices.  They demonstrated that these are the fabrics, colors, and materials that you will find in high-end home designs.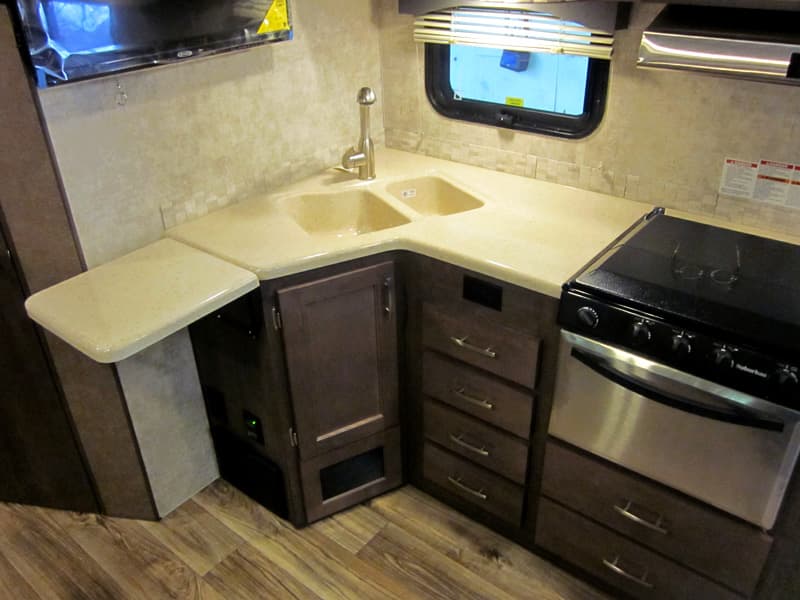 So far the new interiors have been successful.  We currently have over 250 orders for units.  When we sent out the 2018 color boards showcasing the new interiors, only four of the 250 customers asked to stay with the 2017 interiors.  All of the other customers chose one of the two new interiors.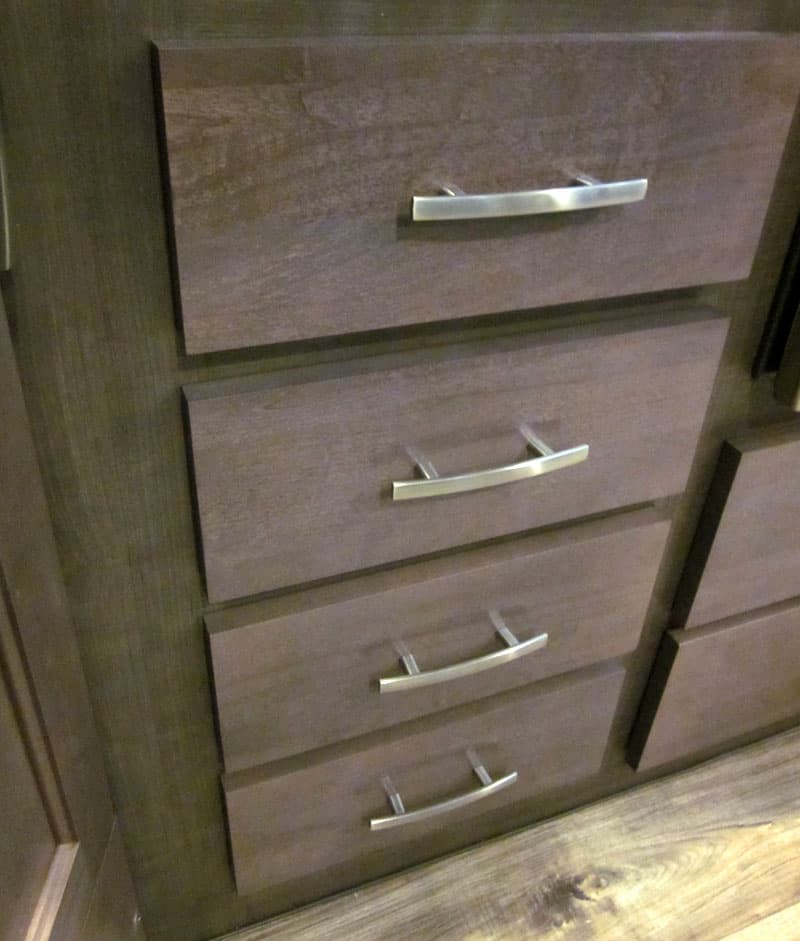 Above: For 2018, there is new brushed nickel hardware on drawers and cabinets
TCM: Is the change to brushed nickel fixtures and cabinet hardware part of the updated interiors?
Greg: That was part of the update.  The designers changed all of the faucets and hardware fixtures.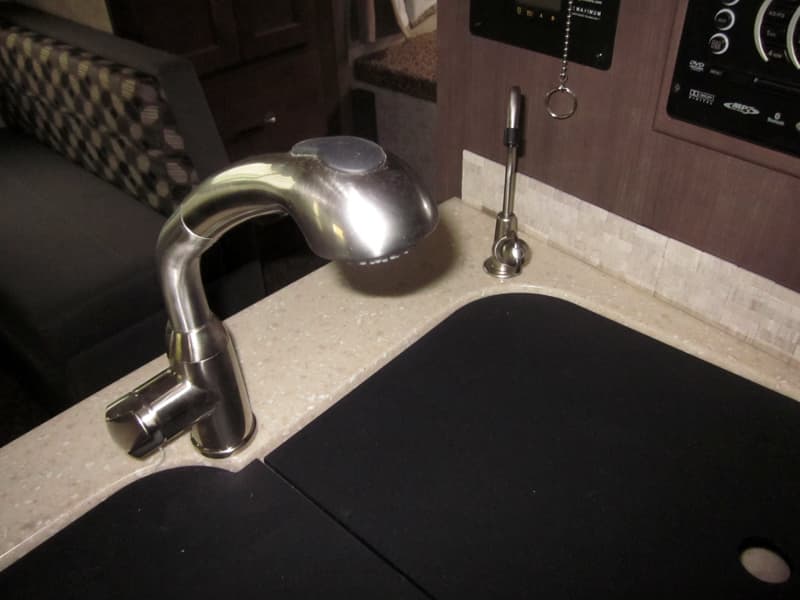 Above: New brushed nickel faucets in the kitchen

Above: The new brushed nickel sink, faucet, valve, and hose fixtures
The bathrooms have also been updated with that brushed nickel for a higher-end look.  For example, the 1160 double-slide and 1165 triple-slide now have brushed nickel sinks and faucets, valves, and hoses.  It gives the bathrooms a richer and more modern look.
TCM: What led to the elimination of the U-shape dinette for 2018?
Greg: There's always been a love-hate relationship with the U-shape dinette.  Customers love it because they can fit a family of five or six around the table.  While that's true, in reality there isn't enough room for everyone's feet.  That was always the complaint.
Furthermore, out of the hundreds of orders last year for the 1165, 1200, and 1160 Eagle Caps, only three asked for the U-shape dinette.  That fact made the decision easy.
For 2018, we are eliminating the U-shape dinette in favor of a larger full-booth dinette.  By utilizing the space the U-shape dinettes occupied, we were able to expand the dinette 2-inches deeper and 3-inches wider.  The additional dinette room is a nice bonus.
TCM: Are there plans to design a better U-shaped dinette in the future, or will only full-booth face-to-face dinettes be available moving forward?
Greg: The sales numbers told us that U-shape dinettes don't make sense.  We may revisit the decision in the future but, for now, we're moving on.

Above: New magnetic exterior door catches for 2018 Eagle Cap Campers
TCM: Some of the 2018 Eagle Cap updates are identical to the 2018 Adventurer updates including the new magnetic exterior door catches, new interior magnetic drawer catches, new full-extension soft closing drawer guides, new brushed nickel hardware, and new wider anti-billowing slide toppers.  Why are these updates being implemented across both lines?
Greg: Sometimes a feature upgrade makes sense for both lines.  For example, the Lamilux 4000 fiberglass for the laminated sidewalls.  Originally, Lamilux 4000 was an Eagle Cap feature only, but the volume pricing made it a no-brainer to include it with Adventurer a couple of years later as well.  If it makes sense to upgrade both lines, we do it.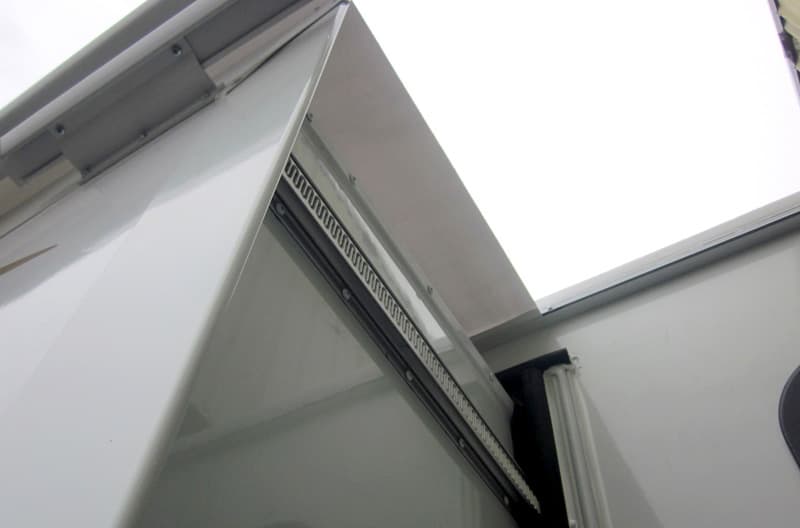 Above: New wider anti-billowing slide toppers are standard for Adventurer and Eagle Cap campers in 2018
By having some overlapping materials and parts, we can buy in greater volume and get better prices.  That savings is passed on to the consumer by not needing to raise our prices.  We also don't need to have to separate inventories for these materials and parts.  From a production standpoint, there are lots of benefits.
Overall, both Eagle Cap and Adventurer have benefited from the design and material efficiencies.  Our Adventurer line has really stepped up as a result of its connection with Eagle Cap.  And when we integrated our TCC construction for Eagle Cap in 2015, the quality and perception of that brand improved dramatically.  Adventurer continues to be our value oriented line, like Toyota, and Eagle Cap continues to be our high-end luxury line, like Lexus.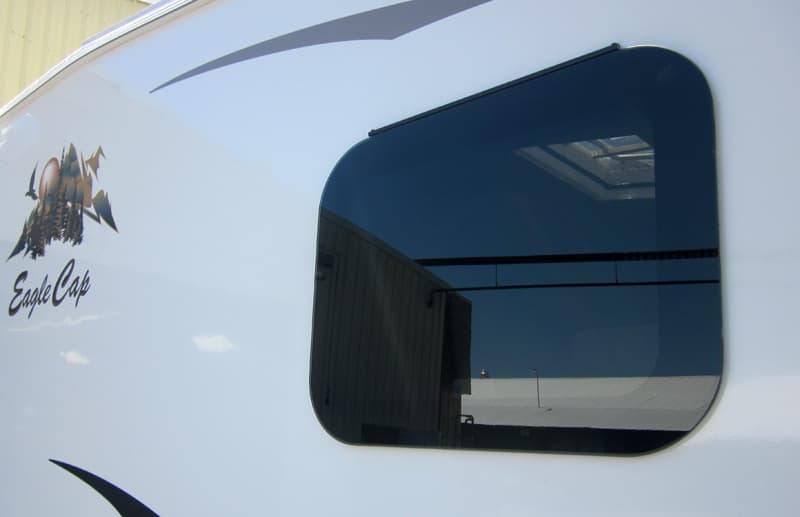 Above: Eagle Cap campers exclusively feature frameless gas-filled thermal pane windows
Eagle Cap Campers have upgrades like frameless gas filled thermal pane windows, mood lighting, solid surface grani-coat countertops, modular furniture, and one-piece molded fiberglass nose caps.  With Eagle Cap you also have the option of getting a triple-slide.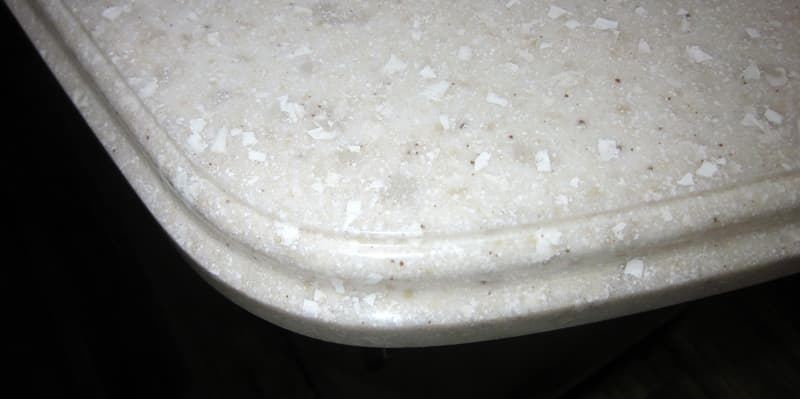 Above: Solid surface grani-coat countertops are standard in Eagle Cap Campers
TCM: That's true.  Speaking of triple-slide Eagle Cap models, how has the unique table and chairs option on the Eagle Cap 1200 been received in the marketplace?
Greg: A good number of triple-slide truck camper owners are coming out of motorhomes and fifth wheels.  These customers are accustomed to a table and chairs and wanted to see that feature in a truck camper.  In fact, the 1200 was designed to satisfy the motorhome and fifth wheel customers.
These customers wanted a king bed, cabover access from both sides, a large convection microwave, a large television, a private bath and dressing room, and free standing table and chairs.  We designed all of these requests into the 1200.  As soon as the 1200 was announced, it became our number two seller behind the 1165.
The first comment from dealers was that they didn't want the table and chairs.  They believed customers preferred the theater seating.  Unfortunately, theater seating would not fit in that space because of the required depth.  Once the slide is brought in, the chairs would hit the kitchen island.
For the 2017 model year, we redesigned our rear sofa to be shallow enough to fit this space.  Now you can order a 1200 with a table and chairs or a rear sofa.  We attempted to redesign the theater seating, but there wasn't enough depth to make the seats comfortable.
What's interesting is that 80-percent of Eagle Cap 1200 customers still order the table and chairs.  We even have seen dealers replace the rear sofa with the table and chairs for customers.  It's actually a very popular option.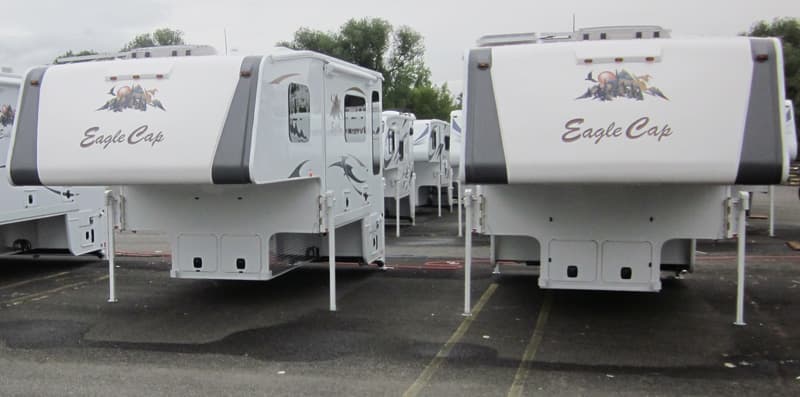 Above: Campers ready to be shipped, one-piece molded fiberglass nose caps are exclusive to Eagle Cap Campers
TCM: That is interesting.  You have to look at it from the motorhome and fifth wheel perspective – something we are admittedly not able to do.  Is there any other news to share about the 2018 Eagle Cap updates or Eagle Cap in general?
Greg: Eagle Cap is still rocking.  The 1165 continues to be our number one model.  With a ton of truck camper orders on the books, we are very excited about 2017.
For more information on Eagle Cap Campers, please visit Adventurer's website at eaglecapcampers.com.  Click here to request a free Eagle Cap brochure.