Eagle Cap debuts all-new interiors, changes the 1160 and 1165 dry baths, eliminates U-shape dinettes, and unveils an exciting update to their popular theater seating.  Could this be the 2017 innovation of the year?  And what's this about a new model?

A few months ago, Greg Tucknies, Director of Sales and Marketing for Adventurer Manufacturing, teased us about an innovation the Eagle Cap team was developing.  As is often the case, he was light on specifics and left us curious.  The industry likes to do that.
To put us out of our misery, Greg is ready to reveal the news as part of the 2018 Eagle Cap model year update announcement.  So what is this innovation?  It's time to put this question on the table.
To learn about all of the 2018 Eagle Cap camper updates, including the mysterious innovation, we talked to Greg Tucknies.
TCM: Are there any new Eagle Cap models being announced for 2018, or older models being discontinued?
Greg: The entire Eagle Cap camper line remains in production for 2018.  There are no models being discontinued.
There will be a new Eagle Cap model debuting this year.  The new model is going to be staying with our theme of new products; both short bed and long bed compatible, and generator ready in either configuration.  And it has some very cool features.
TCM: When should we expect to see that announcement?
Greg: We are aiming to be in production with the new Eagle Cap in late August.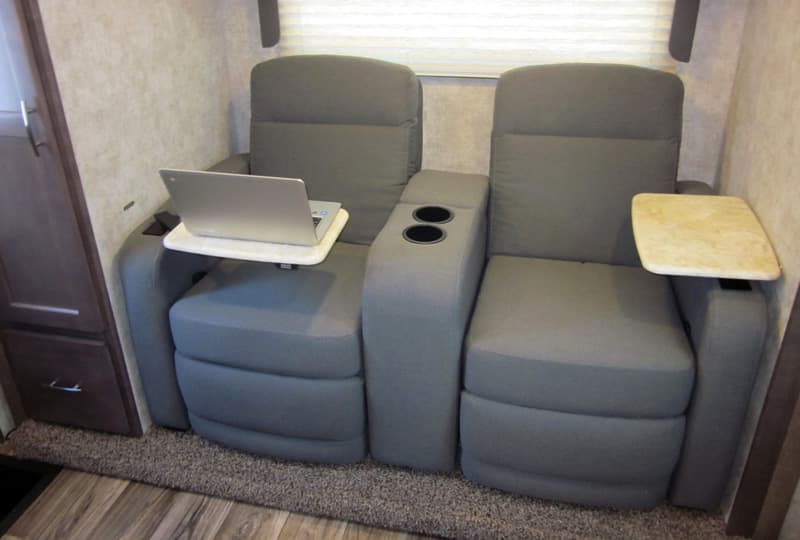 Above: The new Extended Swing-Away Dining Laptop Table is available in Eagle Cap and Adventurer double and triple-slide campers with theater seating.  All photography provided by Adventurer LP.
TCM: Tell us about the new theater seating table.  How did that come about?
Greg: We are calling it the Extended Swing-Away Dining Laptop Table.  The new table stemmed from our modular furniture winning 2014 Innovation of the Year.  With that introduction, we had many customers with double and triple-slide models who wanted two sets of theater seating.

Above: Denim decor (left) and Domino decor (right) for 2018
TCM: Two sets of theater seats in a truck camper?  That's something we have never seen.
Greg: The feedback from our dealers and customers revealed that even more folks would want two sets of theater seats if they had a place to eat and use their laptops.  With that information we started looking into TV tray and table options.  After reviewing the available trays and tables, we started working on our own solution with our furniture manufacturer.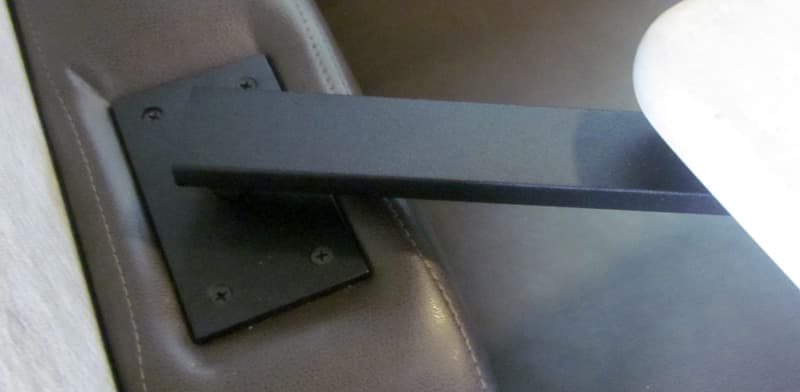 Above: The triple-pivot bracket fits into a steel articulating arm