Adventurer debuts three all-new decors, magnetic interior latches, soft-closing drawer guides, brushed nickel hardware, anti-billowing slide-toppers, and more.  New model tease alert!

If you were to visit every truck camper manufacturer from coast-to-coast in the United States and Canada right now, you would discover these companies at peak production.  This is a welcome challenge compared to the previous decade of recession.  It wasn't too long ago when the bottleneck was not on the production line, but rather on dealer lots and consumer demand.  Those days – at least for the moment – are over.
With consumer demand firing on all cylinders, the industry's attention has shifted to where it's needed; increasing production capacity while maintaining quality control.  Focusing on production and quality means cutting back on anything that sacrifices these two objectives.
All too often, the first thing that hits the pause button in this environment is new model development.  The design teams are still working on new model development, but the management and production teams simply don't have the capacity to devote to the effort.  When you are months out in deliveries of sold truck campers, why slow production with a new model?
The answers to this question are to avoid (1) being blindsided by your competition, (2) falling out of step with the marketplace, and (3) otherwise having your product line go stale.  As the ancient Greek adage goes, "Don't rest on your laurels".  If we were to update this saying for truck campers, it might be, "Come out with a new and awesome camper soon or your competition will, and your customers will buy that instead."
In the truck camper marketplace, Adventurer Manufacturing might just be that competitor.  Adventurer is notorious for releasing new models to compete with an aging floor plan in their own line-up, while simultaneously targeting a model or two from their competition.
Today we find Adventurer at peak demand for their hard-side camper line, focused on production and quality, announcing a list of 2018 updates, and they are in development of at least one new model to announce later this year.  They have shifted gears to meet demand, but remain driven to design and build better truck campers for the immediate future.  Full speed ahead.
To learn more about these model year updates, we talked to Greg Tucknies, Director of Sales and Marketing for Adventurer Manufacturing.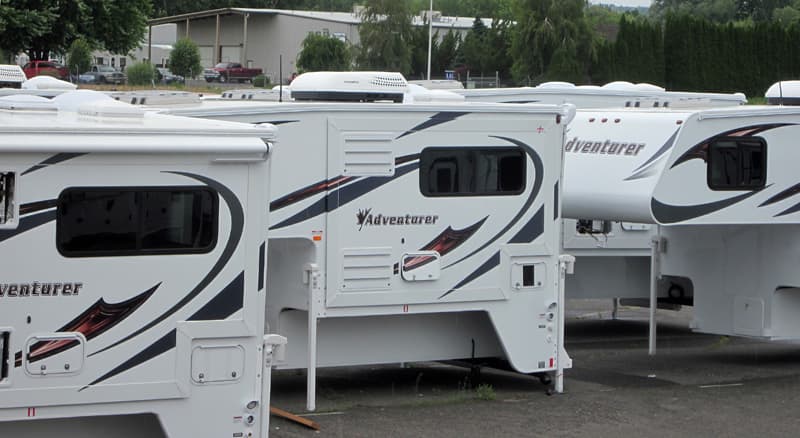 Above: 2018 Adventurer truck campers at the factory, all photos provided by Adventurer LP
TCM: Is Adventurer adding any new for 2018 models, or discontinuing any existing models?
Greg: There are no Adventurer models being discontinued.  All Adventurer floor plans remain in production for 2018.
TCM: Should we be expecting any new Adventurer models to be introduced this year?
Greg: Yes.  The big news for Adventurer is that we are working on an all-new half-ton slide-out model.  We are aiming to release that model in the fall.
TCM: We'll look forward to that.  Before talking about the new interior changes, tell us about the update to the 80GS.
Greg: The 80GS has always had a plastic molded shower pan base.  One of the things that we've always wanted to do was a one-piece molded fiberglass base.  It fits in better and it is easier to build.  It's also easier to clean, maintain, and has less leak potential.
Originally we thought we would discontinue the 80GS for 2018, but the sales for that model have stayed solid.  That surprises us because that model has an east-west bed.  Evidently some customers still like that design.
Since we are going to keep it going, we decided to move forward with a fiberglass shower base.  It's a nice upgrade for the 80GS.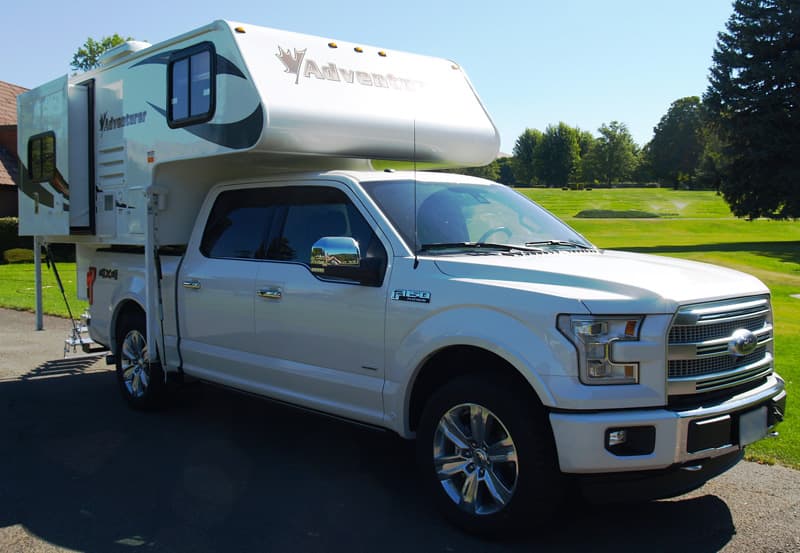 Above: The 80GS is a hard side, single-slide, wet bath camper for short bed trucks.
TCM: The 80GS has been in production since 2009, but hasn't received much attention in TCM since its debut.  Have there been any changes to that model other than the new fiberglass shower base and model year updates?
Greg: The biggest change to the 80GS was the electric slide mechanism.  The original 80GS design called for a manual slide-out.  The owner had to physically push the slide in and out.  It worked, but it was difficult.  In 2010, the 80GS got an electric slide.  Now the slide is push button simple, and the 80GS has been a success ever since.
The 80RB was designed to supersede the 80GS, but there's a market that prefers the east-west cabover and short bed design of the 80GS.  The real appeal is having a slide-out on a lightweight 8-foot camper.  The 80GS fills a niche.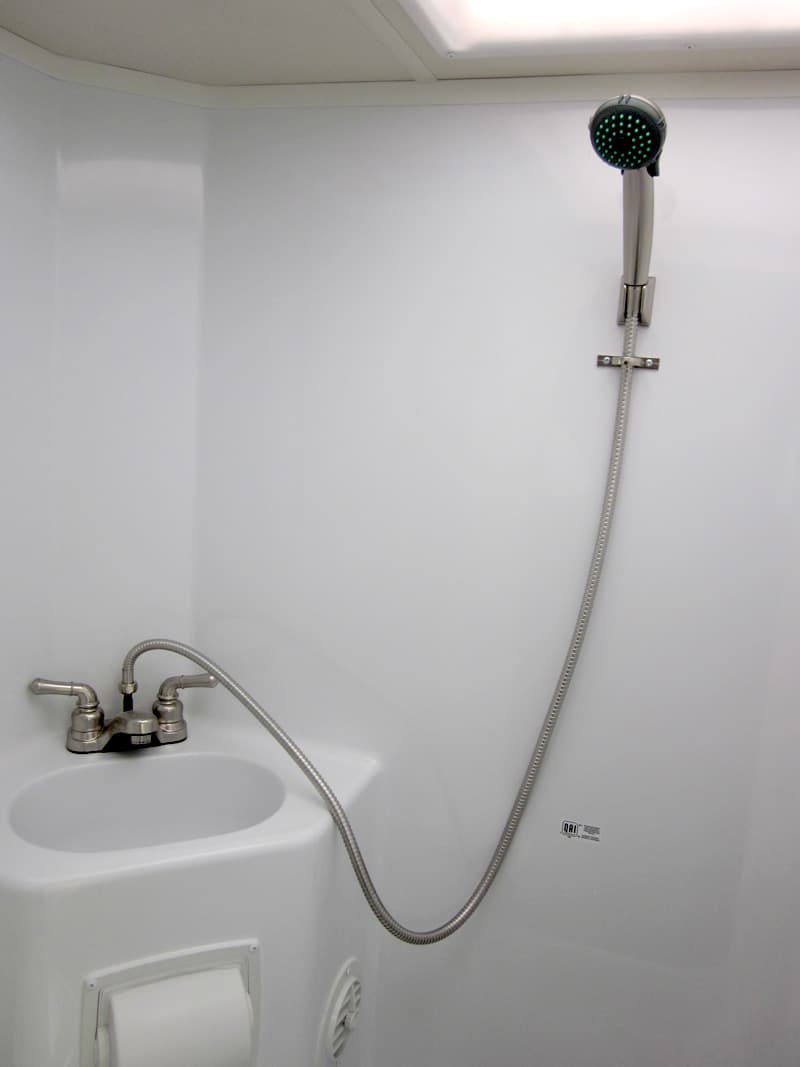 Above: There are now brushed nickel fixtures in all Adventurer camper bathrooms
TCM: Do all Adventurer truck campers now have fiberglass shower bases or full-booth fiberglass stalls?
Greg: The 80RB and 80GS have lower half one-piece fiberglass showers.  The other models including the 116DS, 910DB, 86SBS, 89RBS, 89RB, and 86FB all have full height one-piece fiberglass shower stalls.

TCM: The Dometic Penguin II low profile air conditioner is a new option for 2018.  What are the benefits of this air conditioner?
Greg: It's more efficient and has less amperage draw at start-up.  The increased efficiency makes it more compatible with a Honda eu2000i generator than other low-profile air conditioners.
TCM: What's the BTU rating for the Penguin II?
Greg: The Penguin II is rated at 9,800 BTU and seems to cool as well as the 11,000 BTU high profile units we had been using.  It's also more attractive as a low profile design.
We had customers requesting low profile air conditioners to reduce the overall height of their rigs, and to fit their campers into garages.  The lower height is also a big advantage for delivering units to the east coast where there are more height restrictions.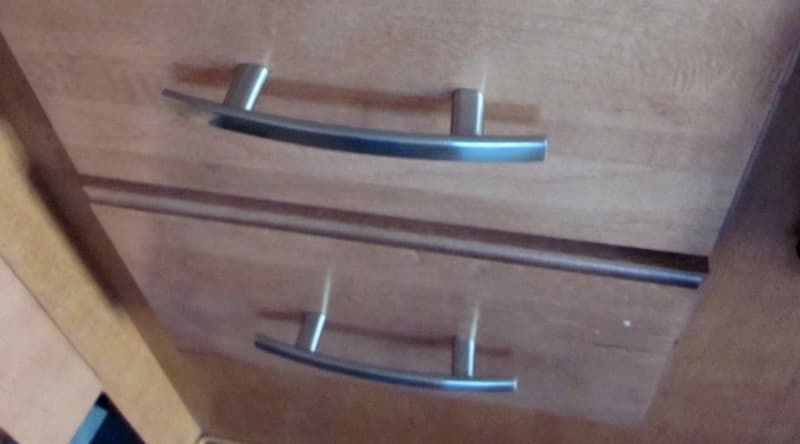 TCM: For 2018, Adventurer is changing to brushed nickel interior fixtures and cabinet hardware.  Why did Adventurer choose brushed nickel instead of stainless steel like the stainless steel appliances?
Greg: It's a better aesthetic match with the camper.
We hired a new interior design team to redesign the interiors of both Adventurer and Eagle Cap campers for 2018.  The designers showed us hardware with chrome, stainless, and brushed nickel finishes.  They explained that stainless chrome hardware was too industrial, like something that belonged in a restaurant's kitchen.  Also, the stainless didn't match the new interior design.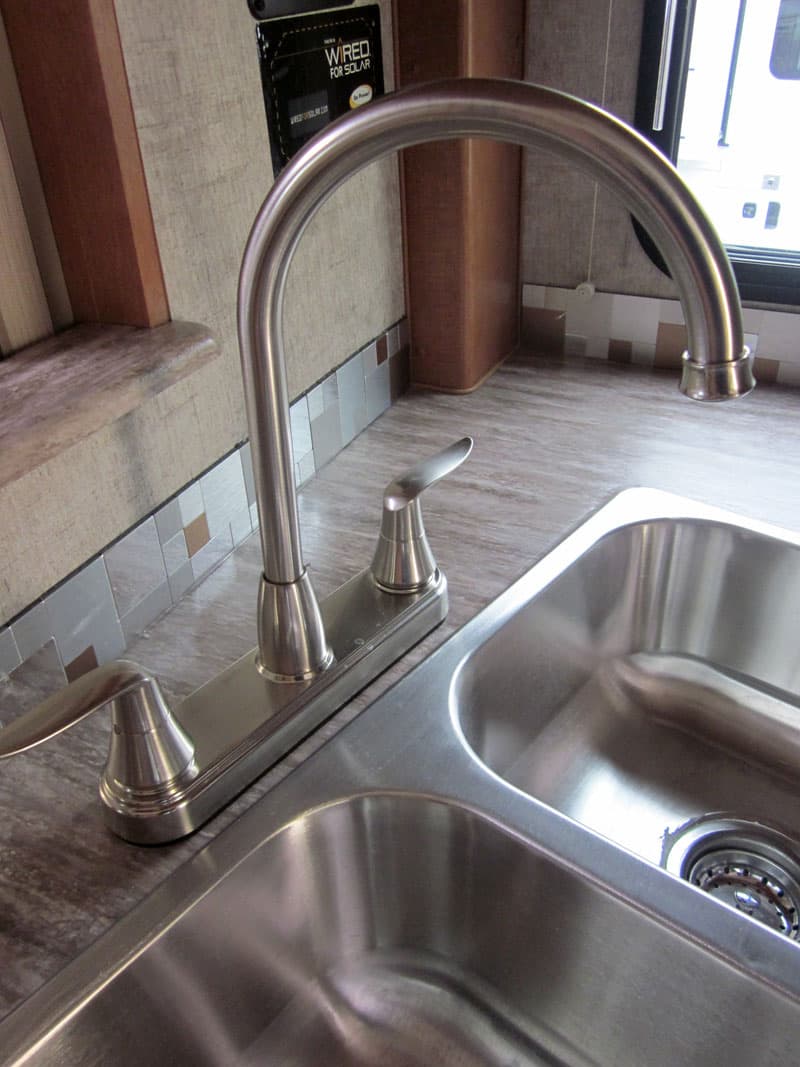 Above: Brushed nickel high faucets in the kitchen
The brushed nickel gives the interior a softer and more refined look and matches well to the new interior design and stainless appliances.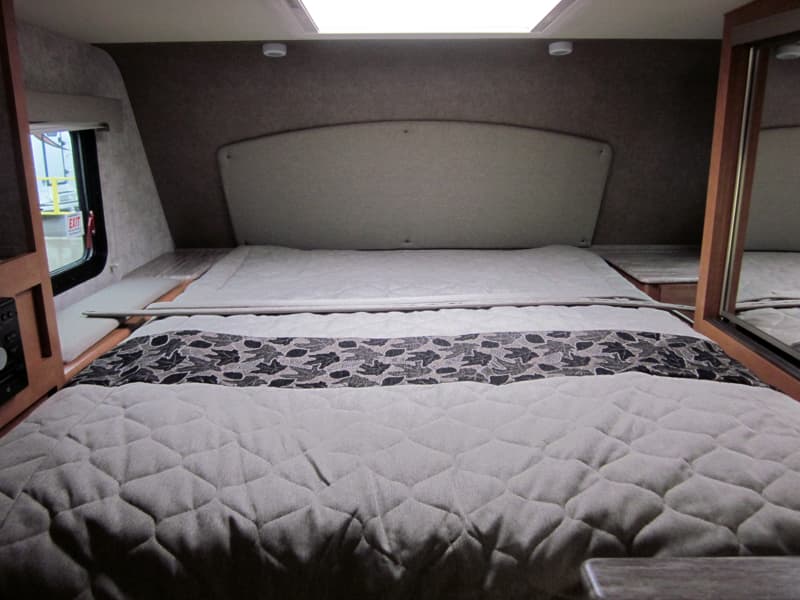 Above: The cabover of the Adventurer 89RBS with the new Carbon interior
TCM: How did a design team that doesn't work in the RV marketplace go about designing RV interiors?
Greg: After giving them a tour of our factory and campers, we showed them what other RV manufacturers are doing.  They followed-up by visiting a local RV dealer and attending the RV show in Tacoma.  They design high-end interiors for homes in Yakima and normally have customers spending thousands for their work and recommendations.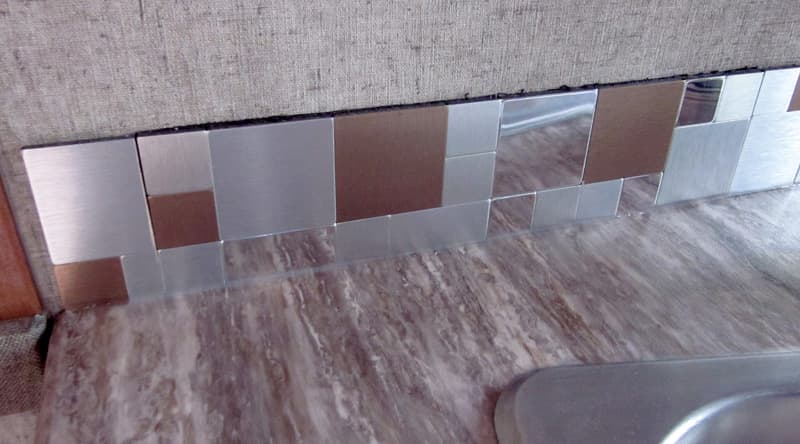 Above: The new back splash in the 2018 Adventurer campers
After studying our campers and the market, they came back with five proposed interiors and drawings.  They literally worked on a different interior design for each model.  It's a big difference.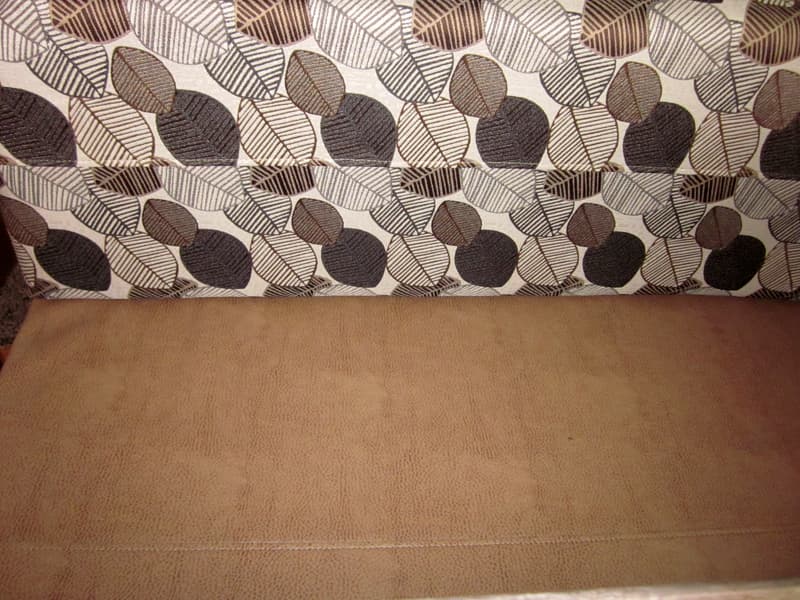 Above: The 2018 Adventurer Chestnut decor
TCM: We can't wait to see these new interiors in person.  Are the 2017 interiors being continued alongside these new 2018 interiors?
Greg: No, all three Adventurer decors from 2017 are discontinued.  The new interiors are the ones selected by the new design team; Carbon, Bark, and Chestnut.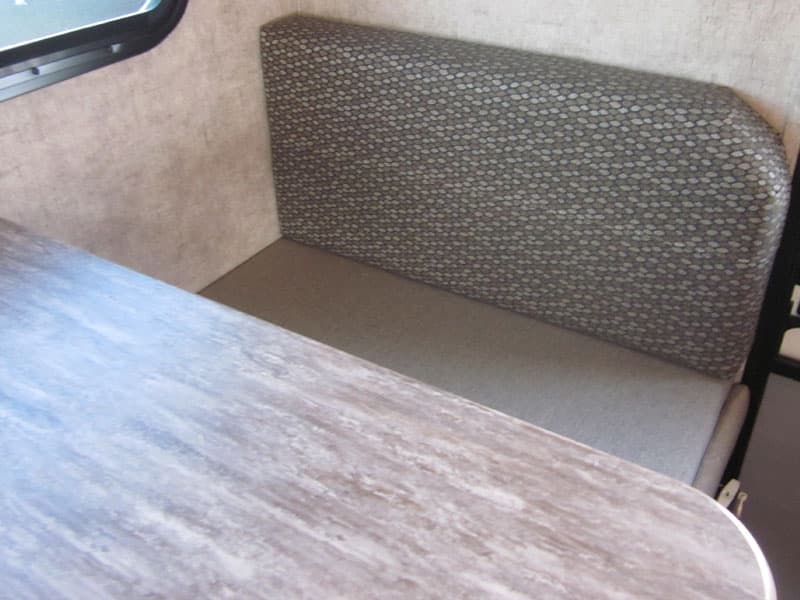 Above: The 2018 Adventurer Bark decor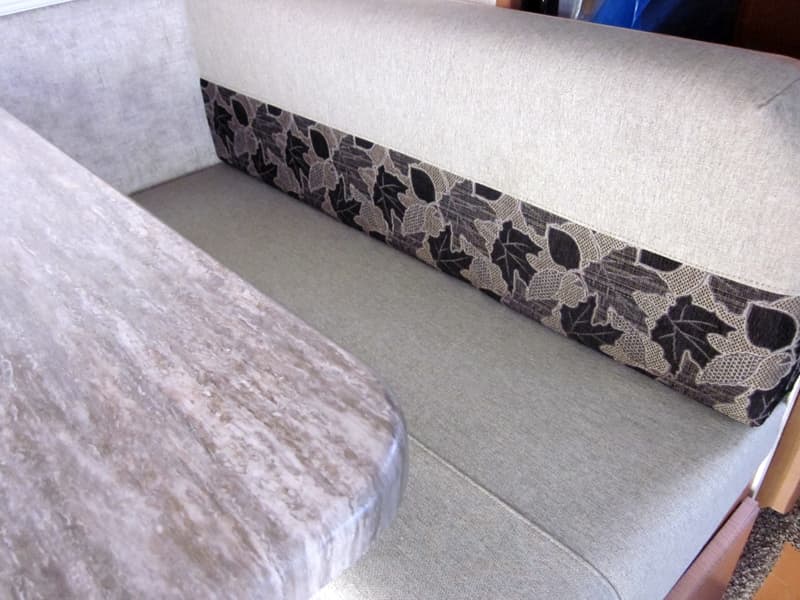 Above: The 2018 Adventurer Carbon decor
TCM: Tell us about the magnetic interior and exterior catches.  Why are they better?
Greg: We've been looking at magnetic catches for four years now.  We would have been one of the first if we had done it when we first considered the change.
Above: Exterior magnetic catches are standard on all 2018 Adventurer campers
We are also using the magnetic latches on the interior drawers.  They work extremely well with the new soft-closing drawer guides.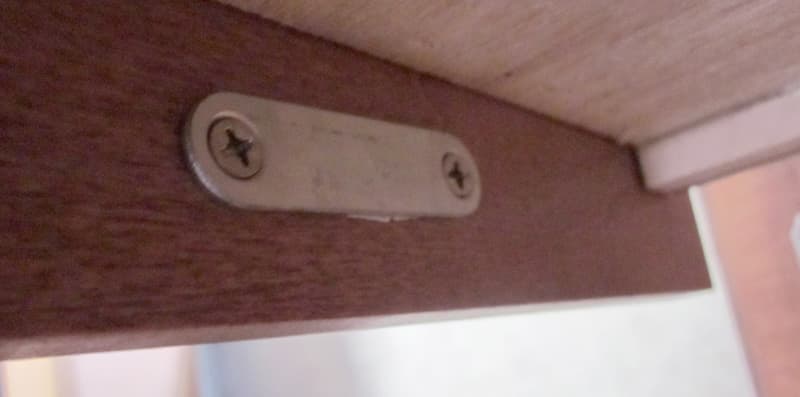 Above: The magnetic plate on the inside of the drawer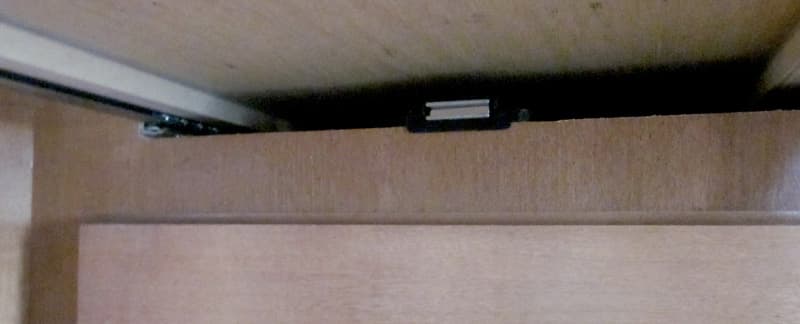 Above: The magnetic catch on the underside of the cabinet
We first installed the magnets on interior drawers for a Class-B van we manufactured for the rental market.  Once installed, Dave Catron, Design Engineer for Adventurer Manufacturing, loaded the drawers with 22-pounds of heavy items and drove like a maniac to test the magnets.  He eventually got the drawers to open with his insane driving, but they immediately closed themselves again.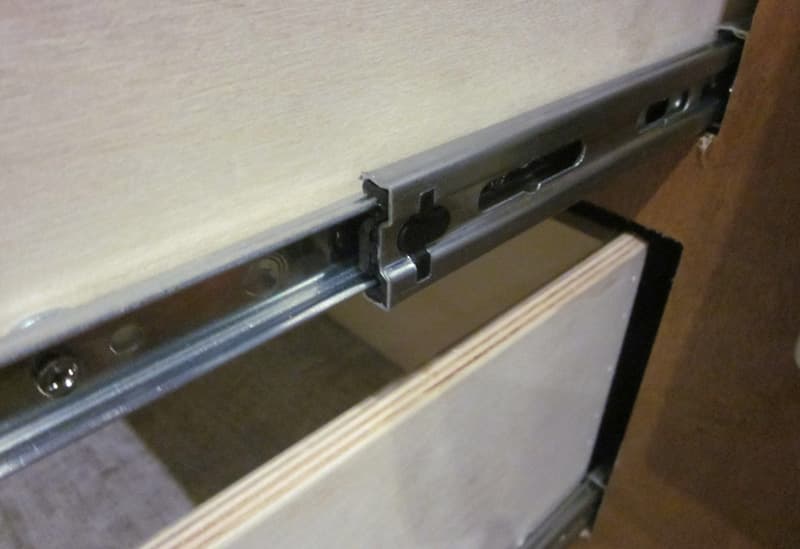 Above: Sloping roller guide with soft-closing system
TCM: How would you describe the new soft-closing drawer guides?
Greg: They have a sloping roller guide that draws the drawer in to close.  If the drawer is within a couple inches of closed, the soft-closing system will gently pull the drawer in.  Then the magnet catches the drawer and holds it tight.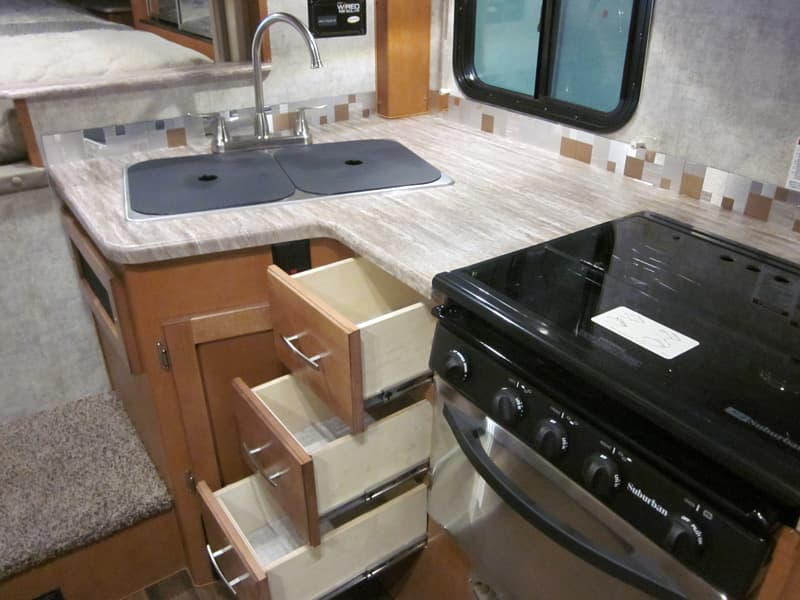 Above: The soft-closing system and magnetic catches keep drawers closed for travel
TCM: Once closed, are the magnetically held drawers hard to open?
Greg: There's some good strength holding the drawer closed, and it's easier to open than with the grabber catches we're all used to.  No more banging the drawers to get them to close or open.
With the magnets, you quickly become accustomed to the amount of force needed.  It's a much better and easier to use solution.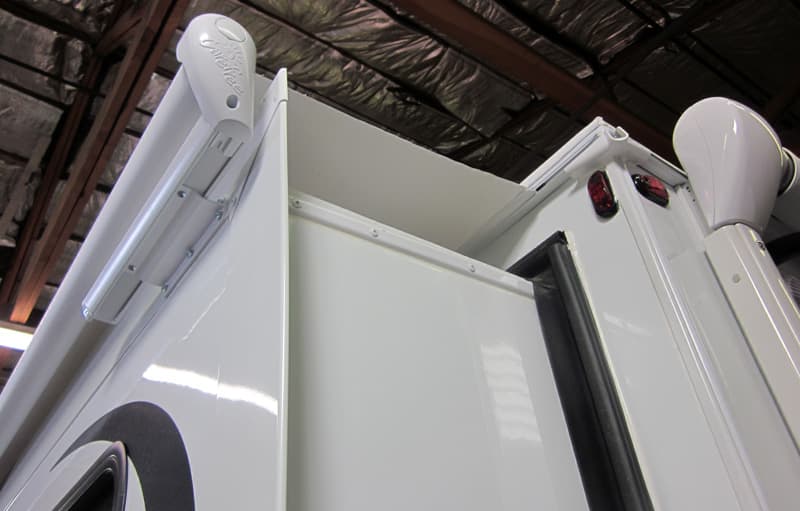 Above: The wider awning slide toppers feature an anti-billowing feature
TCM: For 2018, you are adding new wider awning slide toppers with an anti-billowing feature.  Why are these better than the slide toppers Adventurer had been using?
Greg: The new slide toppers are better across the board.  The new slide toppers are wider and cover more of the slide-out room sides from potential water intrusion.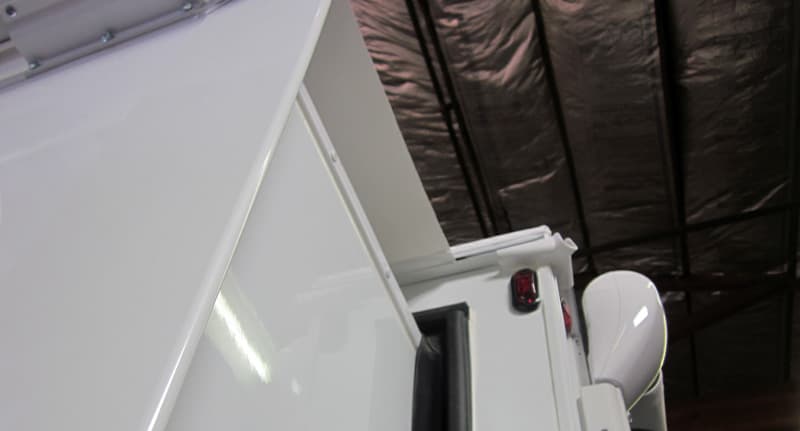 Above: The anti-billowing mechanism locks the awning slide toppers into place
The anti-billowing feature is another important upgrade.  In the past, awning material could become lose during travel if they weren't properly installed and maintained.  We have all seen a motorhome going down the road with flapping awning material.  Over the years, we've had two or three cases of this problem.  The anti-billowing mechanism locks the awning into place preventing the material from coming loose.
TCM: Five of eight Adventurer models feature slide-outs, including the 80GS.  Do all of them get the new wider slide-out awnings with the anti-billowing feature?
Greg: The 80GS does not get a slide topper because we want to keep the weight down.  All the other slide-out campers, including the 116DS, 910DB, 86SBS, and 89RBS, have the new slide toppers.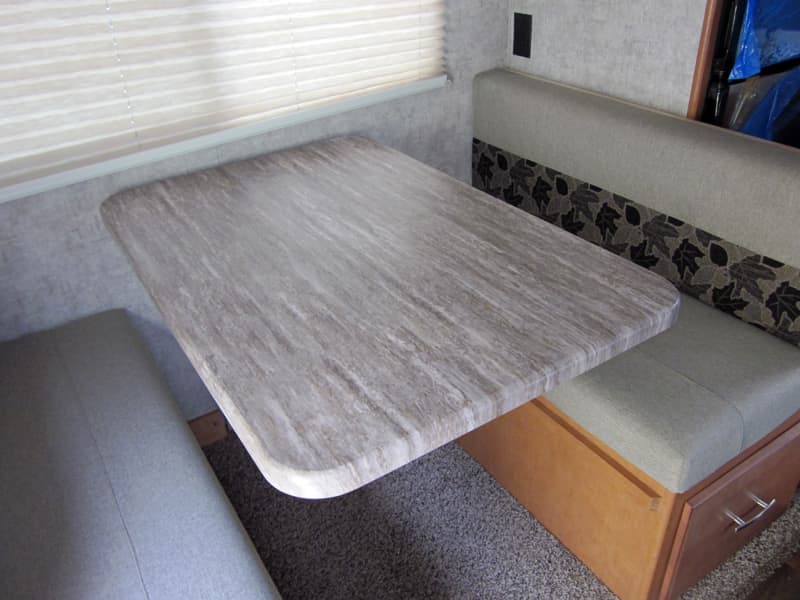 Above: The dinette of the Adventurer 89RBS with the Carbon decor
TCM: Is there any other news to share about the 2018 Adventurer updates, or Adventurer in general?
Greg: We are in the process of updating our website and adding social media.  Both of those changes will happen this summer.  When we launch the new website and social media, we'll announce it in Truck Camper Magazine.  We'll also launch our new Adventurer truck camper model here in the fall.
For more information on Adventurer Campers, please visit their website at adventurercampers.com.  To request a free Adventurer brochure, click here.