Adventurer debuts three all-new decors, magnetic interior latches, soft-closing drawer guides, brushed nickel hardware, anti-billowing slide-toppers, and more.  New model tease alert!

If you were to visit every truck camper manufacturer from coast-to-coast in the United States and Canada right now, you would discover these companies at peak production.  This is a welcome challenge compared to the previous decade of recession.  It wasn't too long ago when the bottleneck was not on the production line, but rather on dealer lots and consumer demand.  Those days – at least for the moment – are over.
With consumer demand firing on all cylinders, the industry's attention has shifted to where it's needed; increasing production capacity while maintaining quality control.  Focusing on production and quality means cutting back on anything that sacrifices these two objectives.
All too often, the first thing that hits the pause button in this environment is new model development.  The design teams are still working on new model development, but the management and production teams simply don't have the capacity to devote to the effort.  When you are months out in deliveries of sold truck campers, why slow production with a new model?
The answers to this question are to avoid (1) being blindsided by your competition, (2) falling out of step with the marketplace, and (3) otherwise having your product line go stale.  As the ancient Greek adage goes, "Don't rest on your laurels".  If we were to update this saying for truck campers, it might be, "Come out with a new and awesome camper soon or your competition will, and your customers will buy that instead."
In the truck camper marketplace, Adventurer Manufacturing might just be that competitor.  Adventurer is notorious for releasing new models to compete with an aging floor plan in their own line-up, while simultaneously targeting a model or two from their competition.
Today we find Adventurer at peak demand for their hard-side camper line, focused on production and quality, announcing a list of 2018 updates, and they are in development of at least one new model to announce later this year.  They have shifted gears to meet demand, but remain driven to design and build better truck campers for the immediate future.  Full speed ahead.
To learn more about these model year updates, we talked to Greg Tucknies, Director of Sales and Marketing for Adventurer Manufacturing.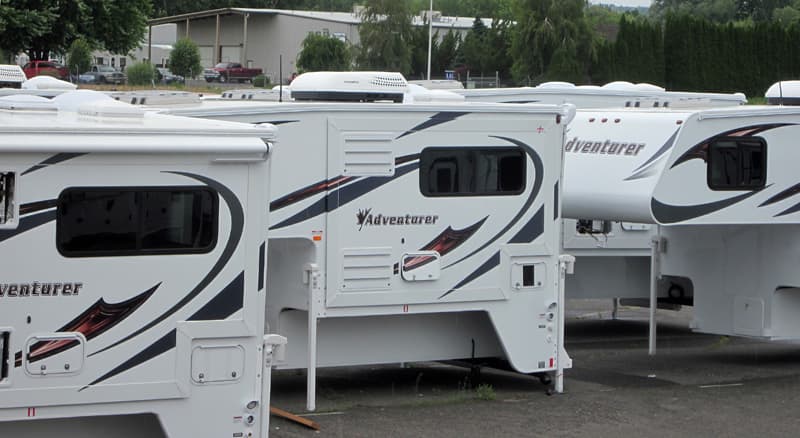 Above: 2018 Adventurer truck campers at the factory, all photos provided by Adventurer LP
TCM: Is Adventurer adding any new for 2018 models, or discontinuing any existing models?
Greg: There are no Adventurer models being discontinued.  All Adventurer floor plans remain in production for 2018.
TCM: Should we be expecting any new Adventurer models to be introduced this year?
Greg: Yes.  The big news for Adventurer is that we are working on an all-new half-ton slide-out model.  We are aiming to release that model in the fall.
TCM: We'll look forward to that.  Before talking about the new interior changes, tell us about the update to the 80GS.
Greg: The 80GS has always had a plastic molded shower pan base.  One of the things that we've always wanted to do was a one-piece molded fiberglass base.  It fits in better and it is easier to build.  It's also easier to clean, maintain, and has less leak potential.
Originally we thought we would discontinue the 80GS for 2018, but the sales for that model have stayed solid.  That surprises us because that model has an east-west bed.  Evidently some customers still like that design.
Since we are going to keep it going, we decided to move forward with a fiberglass shower base.  It's a nice upgrade for the 80GS.