Adventurer Manufacturing debuts the 2018 Eagle Cap 811, a hard side, single-slide, wet bath truck camper for long or short bed trucks.  With the 811, Eagle Cap is flying in some new directions.

In the automotive industry, the concept of building one car and offering that same car with from two different brands is nothing new.  Called platform sharing, this is how many models are developed from Ford and Lincoln, Chevrolet and Cadillac, Toyota and Lexus, Honda and Acura, Nissan and Infinity, and Volkswagen and Audi.
For decades, platform sharing has allowed automotive companies to push the base quality of their cars, drive down costs, and experiment with exterior sheet metal and interior design.
Sometimes it can be nearly impossible to see that one car shares an identical platform with another.  Did you know that the Audi TT shares a platform with the Volkswagen Golf?  I did, but I didn't know the Fiat 500X shares a platform with the Jeep Renegade.  In that case, one platform produced two very different looking cars from two very different brands.
Platform sharing is growing as automotive companies consolidate and look to leverage their development costs across multiple brands the world over.  It makes economic sense, and can improve the overall quality of the cars.  Automotive conglomerates can invest more into the quality of one platform that will be utilized across several brands and models.
So why can't the RV industry borrow a page from this extremely successful concept?  If a truck camper manufacturer has a popular floor plan platform that's selling through a value-oriented brand, why not launch that same floor plan platform with high-end features through a luxury brand?  Why can't a luxury brand strip their high-end features and launch a popular model through a value brand?
They can.  New for 2018, Adventurer Manufacturing is launching the Eagle Cap 811.  In a nutshell, the Eagle Cap 811 is an Adventurer 89RBS stretched two-inches with Eagle Cap's luxury features, materials, and refinement.  The holding tanks, dinette, and kitchen counter are a bit bigger, but it's essentially the same floor plan platform as the Adventurer with Eagle Cap's high-end amenities and aesthetic.
To get the full measure of the Eagle Cap 811 and how this platform-sharing model was developed, we talked to Greg Tucknies, Director of Sales and Marketing for Adventurer Manufacturing.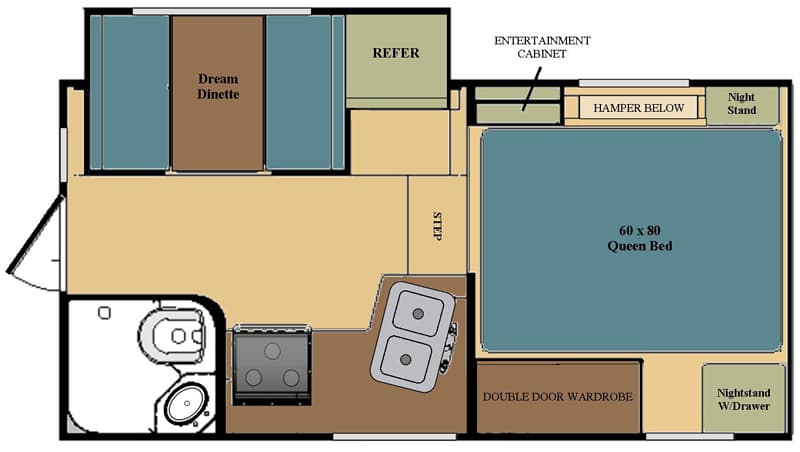 2018 Eagle Cap 811 Specifications:
The 2018 Eagle Cap 811 is a hard side, single-slide, wet bath truck camper made for short or long bed trucks.  The interior floor length of the 2018 Eagle Cap 811 is 8'11", the interior height is 78″, and the center of gravity is 38.6".  The 2018 Eagle Cap 811 has a 44 gallon fresh tank, a 34 gallon grey tank, a 34 gallon black tank, and a 6 gallon hot water heater.  It can accommodate two batteries and has two twenty-pound propane tanks.  Adventurer is reporting the base weight of the Eagle Cap 811 to be 3,366 pounds.  The base MSRP for the 2018 Eagle Cap 811 is $37,860.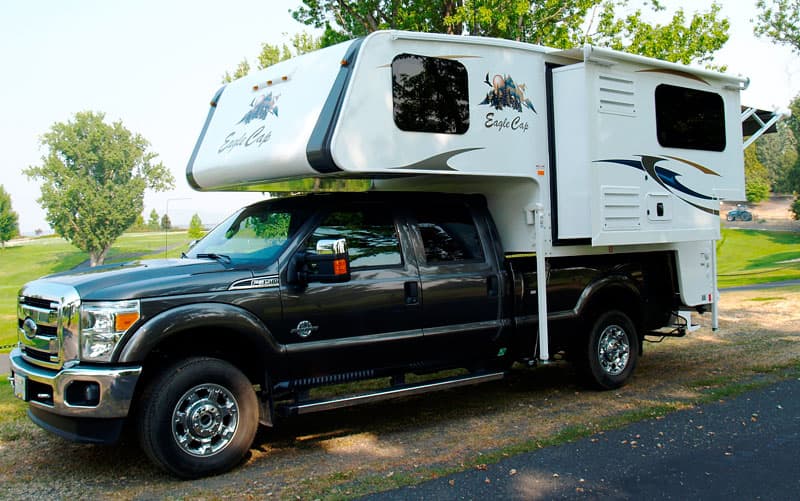 Above: The Eagle Cap 811; a hard side, wet bath, single-slide truck camper – all photos courtesy of Adventurer Manufacturing.
TCM: Does the new Eagle Cap 811 replace any current models in the Eagle Cap line?
Greg: No.
TCM: The Eagle Cap 811 seems to be a direct competitor to the Eagle Cap 850.  Is the 811 designed to eventually replace the 850?
Greg: The Eagle Cap 811 could very well replace the Eagle Cap 850.  On the other hand, the Eagle Cap 850 is a tried and true floor plan from the original Eagle Cap company.  All we did was modify it to a full wall slide for 2015.
The 850 has several unique features, including the pantry.  Even though the 811 is a new floor plan, we would not be surprised if the 850 continues to be a successful model for Eagle Cap.  It's a proven Eagle Cap model.
After announcing the Eagle Cap 811 for pre-purchase, we are still receiving Eagle Cap 850 orders.  We'll let the market determine the outcome.