Truck Camper Magazine reviews a 2017 Adventurer 89RBS, an 8'9" hard side, full-wall slide-out, wet bath truck camper for long or short bed one-ton trucks.  Two Adventurer Campers enter.  One camper leaves!

*Click here for the manufacturer's response to this review.
Before initiating the development of a new model, the Adventurer management team intensely studies the floor plans, features, capacities, warranty, and pricing of their competitors and aims to beat them on every metric.
Even Adventurer's own line-up faces this competitive assault.  If Adventurer offers a model within the same targeted niche, the metrics of that camper are added to the competition target list.  In the world of Adventurer, there can be only one.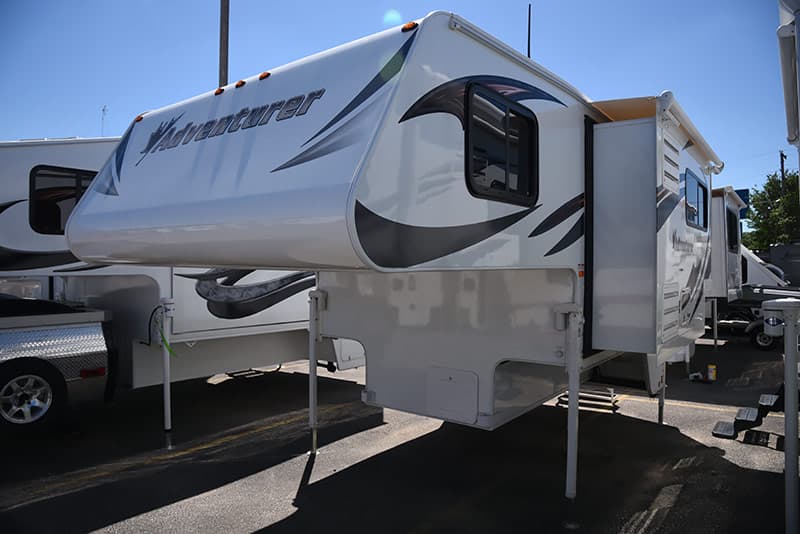 Above: The 2017 Adventurer 89RBS under review at Princess Craft Campers in Round Rock, Texas
Speaking of competition, the nine-foot single-slide truck camper marketplace has been one of the most sought after truck camper segments for over a decade.  As of this writing, there are no less than seven models from six manufacturers vying for this space.
Why is the nine-foot single-slide truck camper market so hot?  In a word, towing!  According to TCM's 2017 reader survey, towing a boat, utility trailer, and/or various toys is the vision that compelled over 70-percent of you to purchase a truck camper.  And it just so happens that towing with a nine-foot truck camper is a sweet spot for tow-bar extension length and overall versatility.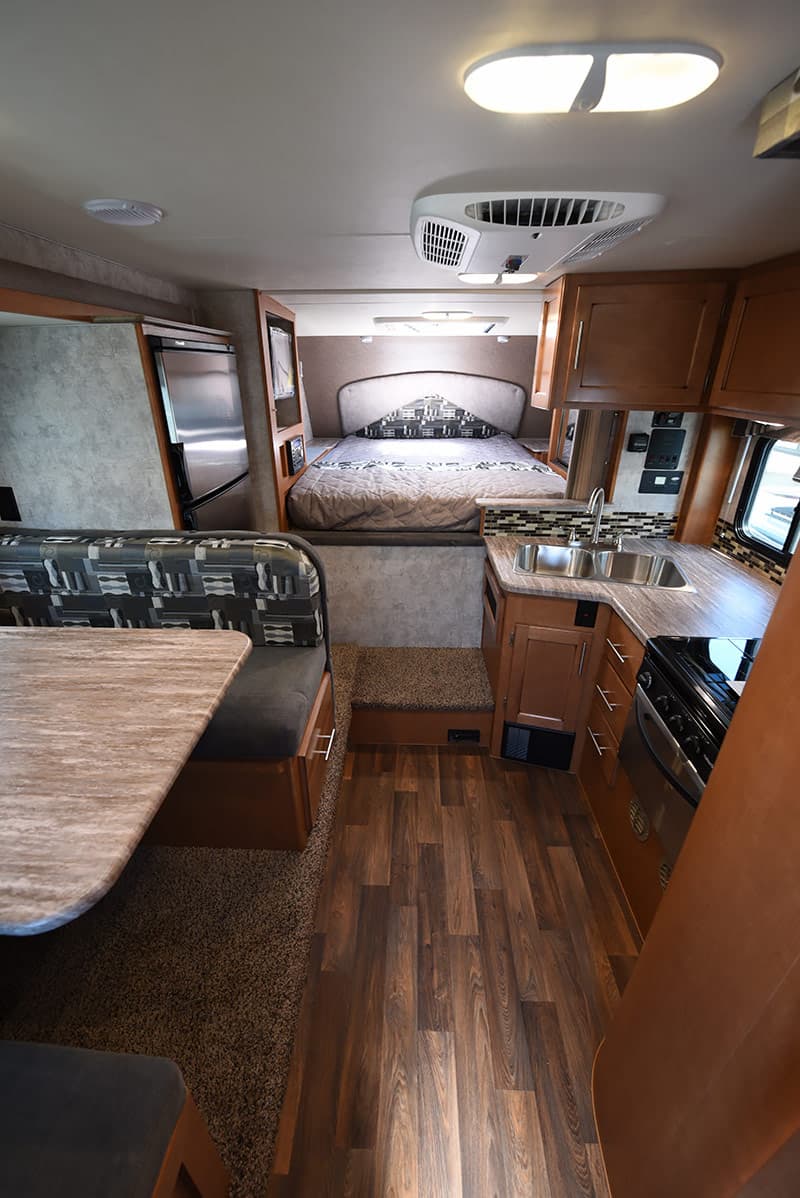 Above: The 2017 Adventurer 89RBS interior viewed from the rear entry door
This explains why Adventurer's most popular floor plan has been the 86SBS, an 8'6", single-slide that debuted in the economically devastating days of 2008.  Any camper that debuted at the beginning of the Great Recession and went on to become a best seller for the next nine years deserves some serious respect – right?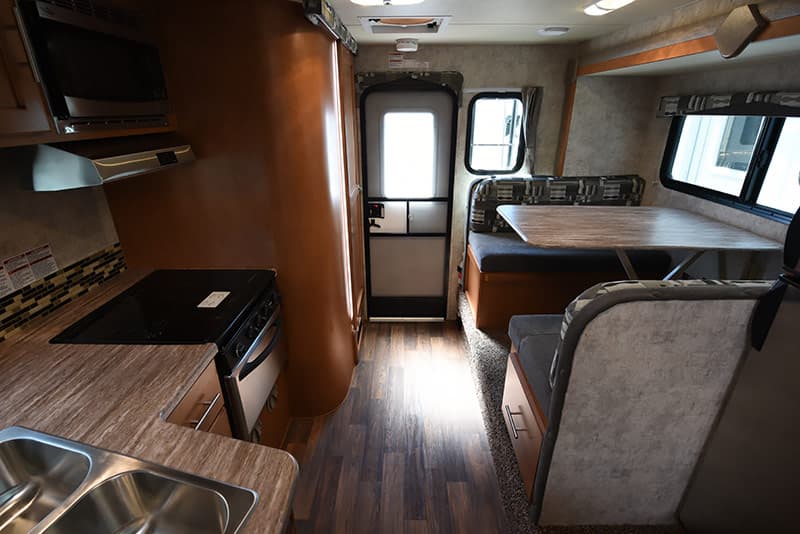 Above: The 2017 Adventurer 89RBS interior viewed from the cabover
"We strongly suspect that the 89RBS will replace our best selling 86SBS," stated Greg Tucknies, Director of Sales and Marketing during the September, 2016 debut.  "We're still building and selling the 86SBS, but we believe the 89RBS will surpass it."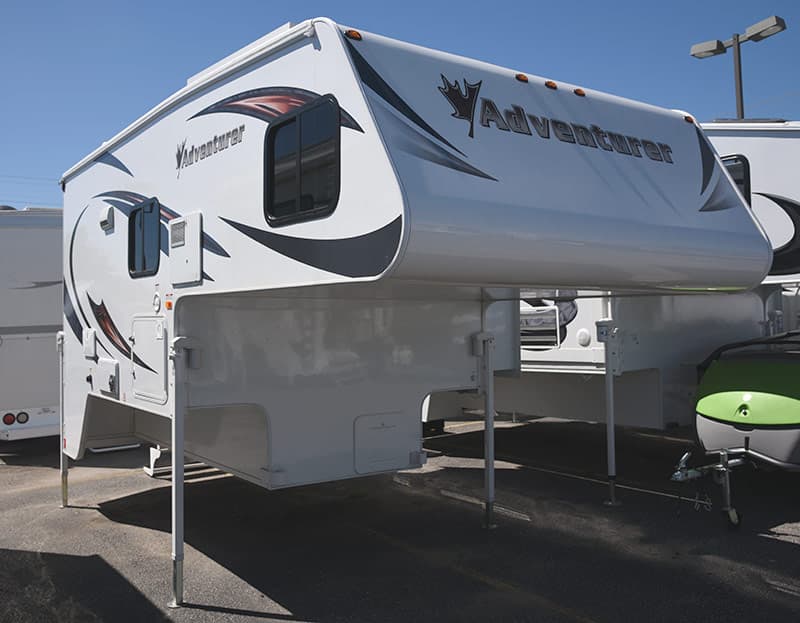 This, "Two campers enter.  One camper leaves!" management approach may sound familiar to anyone who remembers Mad Max: Beyond Thunderdome.  For those who aren't familiar with the 1985 Mel Gibson and Tina Turner blockbuster, here's a pertinent clip.  Or, as I like to think of it, a sneak peek into Adventurer's product development meetings.
To help accomplish its mission, the 89RBS fits long or short bed trucks and is built-in generator compatible in either configuration.  "It's the only camper I know about that is generator capable for a short or long bed truck," stated Greg.  "It also has one of the largest, if not the largest wet bath in the industry… It's actually 12-percent bigger."
Short bed generator compatibility and big wet baths are wonderful, but let's cut to the chase.  Ladies and gentlemen, it's time to climb the truck camper Thunderdome with the 2017 Adventurer 89RBS.  Two campers enter.  One camper leaves.
Adventurer Versus Adventurer
On paper, the nine-year-old Adventurer 86SBS model and the ten-month-old Adventurer 89RBS have a lot in common.  Both are essentially nine-foot (8'9" for the 89RBS versus 8'6" for the 86SBS), full-wall-slide, wet bath truck campers that utilize Adventurer's True Composite Construction (TCC) and the latest Adventurer model year updates.
With three extra floor length inches, the base dry weight of 89RBS (3,018 pounds) comes in at just 41 pounds more than the 86SBS (2,977 pounds).  Since the fresh tank capacity (38 pounds fresh), propane tank capacity (two 20-pound vertical tanks), and battery capacity (two Group 27s) are identical between the two models, the calculated wet weights are just 41 pounds apart.
The only other two specifications that are different between the 89RBS and 86SBS are the overall length (16'8" for the 89RBS versus 15'10" for the 86SBS) and center of gravity (38-inches for the 89RBS and 37-inches for the 86SBS).  Even the base MSRPs are close; $29,540 for the 89RBS and $28,497 for the 86SBS – a difference of just $1,043 (or 3.66-percent).
If you were looking for a clear choice in the specifications and capacities, you're out of luck.  Even the full-wall slides are both on the same driver's side.  So what are the big differences between these two models?  Three things.
First, the dinette in the 86SBS is a U-shape versus a full-booth Dream Dinette in the 89RBS.  We greatly prefer a full-booth Dream Dinette for its table stability, ease of bed conversion, and overall big table functionality.  Unless you need to seat five, the Dream Dinette is a winner.
Second, the wet bath in the 89RBS is much bigger and located in the rear passenger's corner versus the smaller wet bath in the 86SBS that's located mid-ship.  We love having the separation a mid-bath creates between the cabover and main living area, but some folks prefer the more wide-open floor plan that a rear bath offers.  Because the bath location will boil down to a personal preference we'll call this a draw, but we sure prefer the bigger size and improved design of the newer 89RBS wet bath.
Third, while both campers fit long or short bed trucks, only the 89RBS allows a generator for the short bed option.  This along with the myriad of design refinements Adventurer has worked into the 2017 Adventurer 89RBS (night stands in the cabover, entertainment cabinet, additional rear window, etc.) and it's tough not to declare the 89RBS the winner.
In fact, we're going to call this – at least for us.  If we were choosing between these two units, it would be the 89RBS, hands down.
Floor Plan Evaluation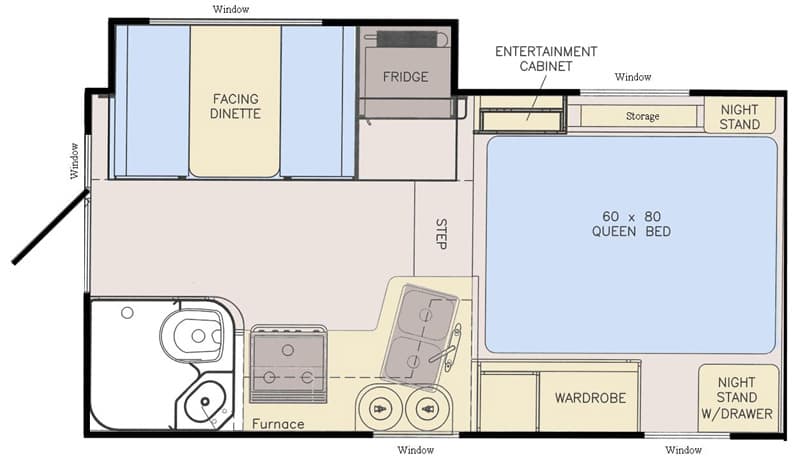 As an experienced truck camper, I find myself attracted to design choices that make day-to-day truck camping life more simple and more intuitive.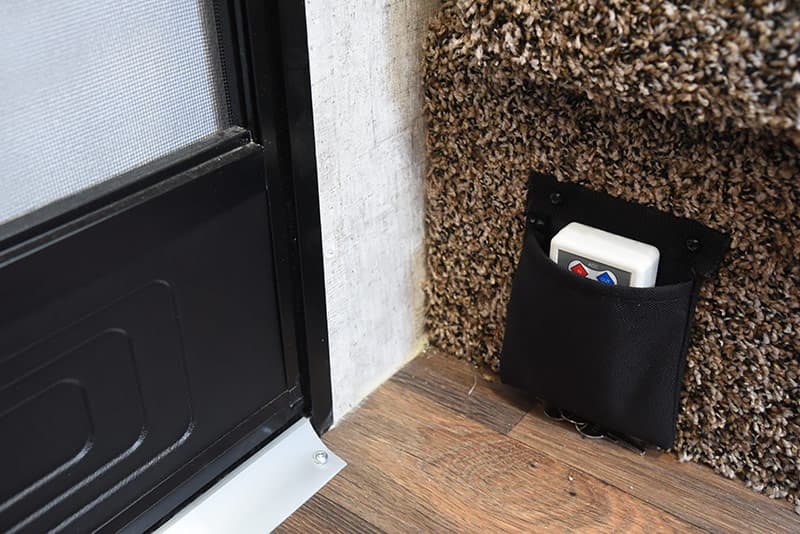 This explains why I was pleased to open the entry door and find the Happijac jack remote in a dedicated pouch on the driver's side.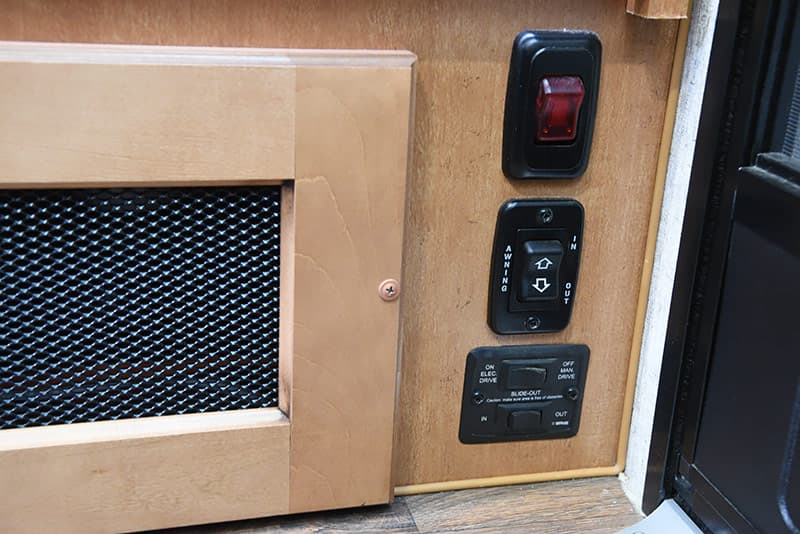 The slide-out controls, power awning control, and light switch are on the passenger's side.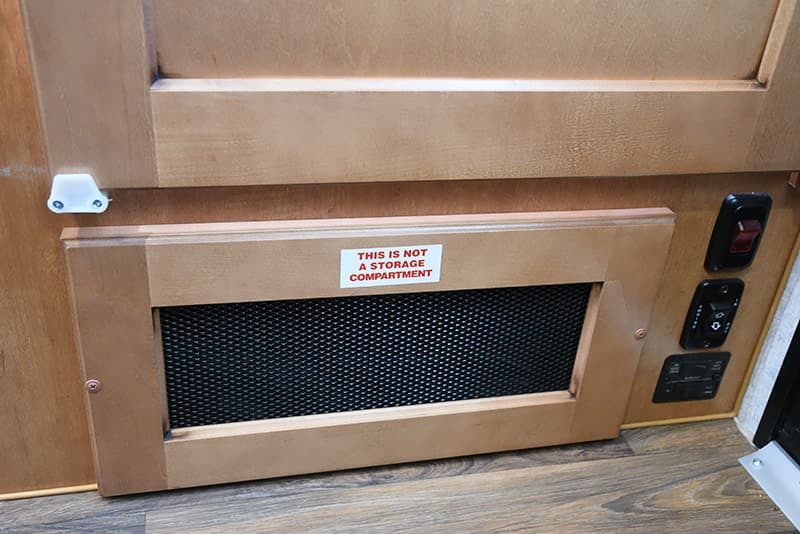 The very next thing I noticed was what looks like a compartment, only it has a sticker that reads, "THIS IS NOT A STORAGE COMPARTMENT".  Although I did not open this not-a-storage-compartment, it likely gives access to plumbing under the wet bath – a welcome feature for maintenance.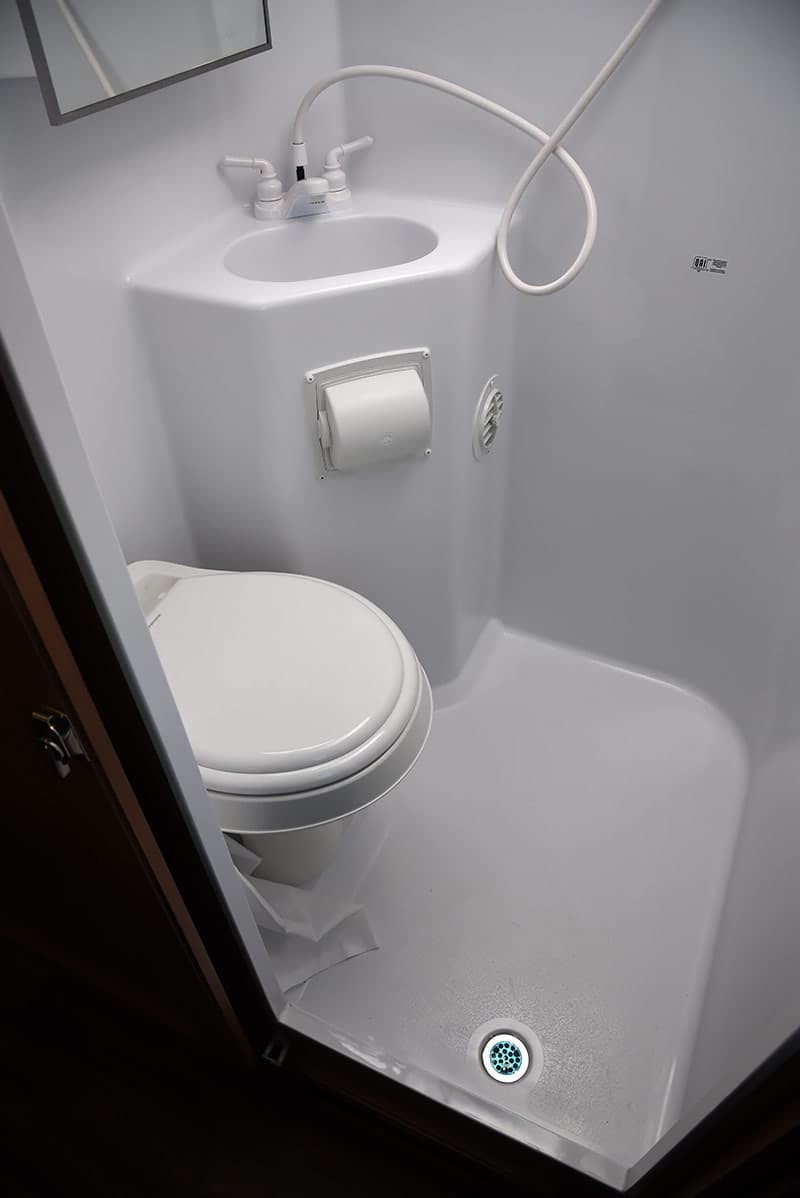 On the rear passenger's side is the big wet bath.  Look at the floor space in this one-piece, molded fiberglass, wet bath beauty!  No shortage of toilet leg room!  No lack of shower elbow space!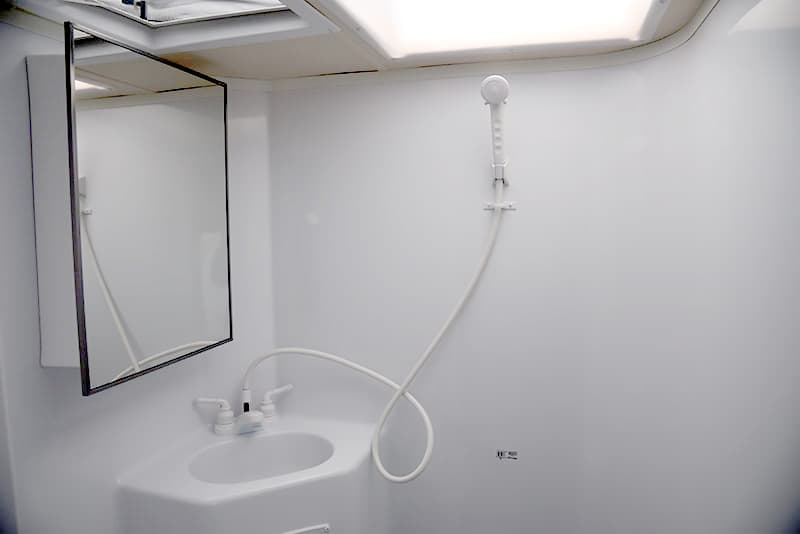 Add a water-proof toilet seat cover, squeegee, and microfiber ShamWow and you're all set for wet bath bathing bliss.  Where do we get these ideas?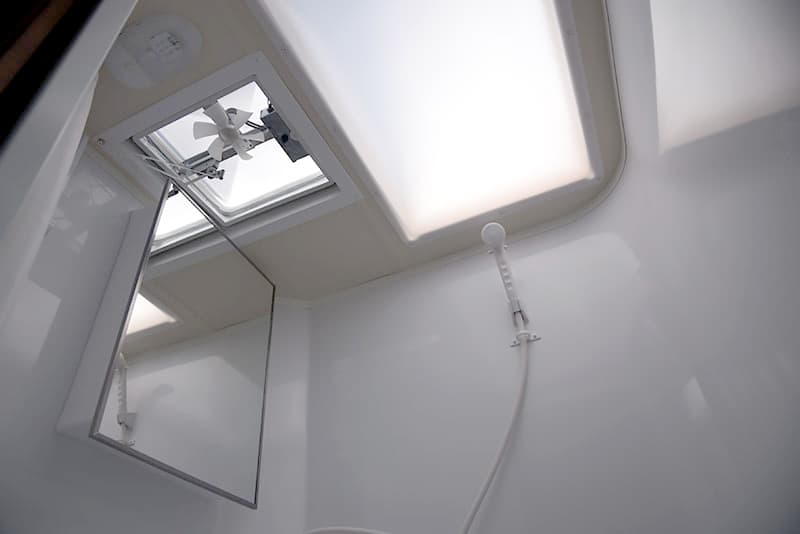 The 89RBS wet bath even has ducted heat and a proper vanity, fan, and skylight.  Maybe I've been doing this for too long, but this is one seriously sexy wet bath.
In the mid-1990's, Bob Mehrer successfully installed the very first slide-out in a production truck camper.  In doing so, he created one of the most repeated questions ever endured by the truck camper industry; "Can you get to the bathroom with the slide-out(s) in?"  This is second only to the dreaded, "Where are the wheels?"  Yeah, that happens.
At RV shows and dealerships from coast-to-coast, the infamous SOBA (slide-out bathroom access) question is echoed so much that manufacturers have learned to integrate this benefit into as many floor plans as possible.  Some have even designed slide-out truck campers around this very feature.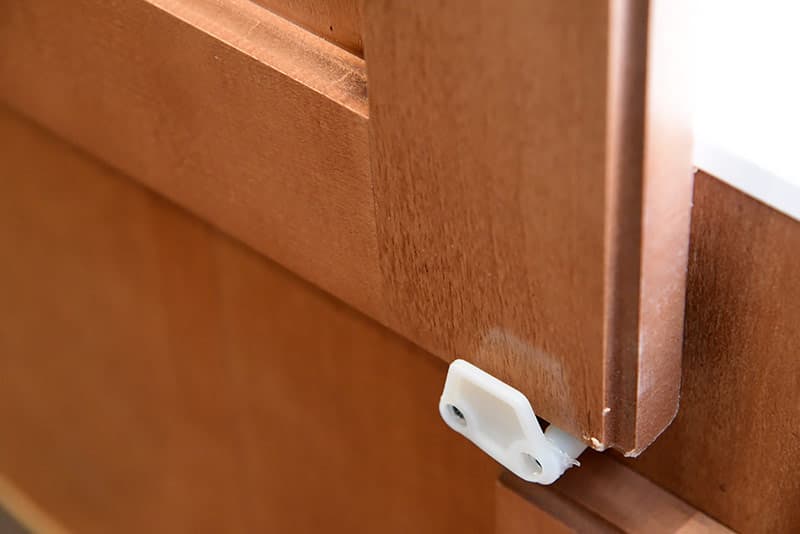 With its sliding wet bath door, the 2017 Adventurer 89RBS is one such design.  Even with the slide-out in, you can slide the bathroom door open, and access the wet bath.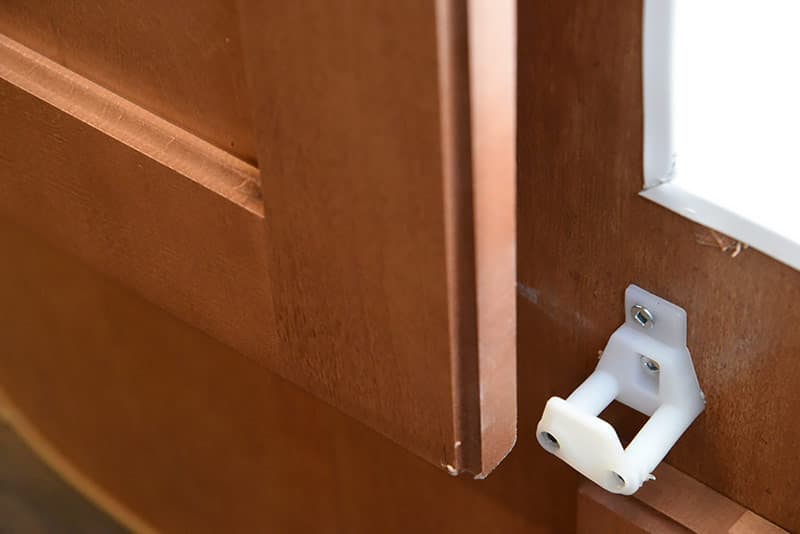 While we applaud Adventurer for creating a SOBA friendly unit, the sliding bathroom door in the review camper easily slid off its plastic guide.  There were no other 89RBS campers on hand to verify if this problem was limited to our review unit, or the 89RBS in general.  Either way, this could be fixed with a higher quality guide and a stopper to limit the door's travel.
We welcome Adventurer to respond to this observation in a Manufacturer's Response.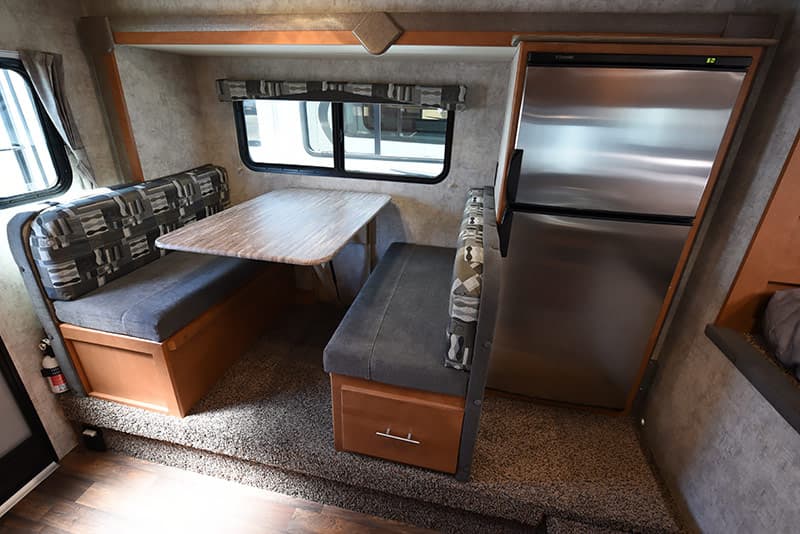 Directly across from the wet bath on the driver's side is a huge full-wall slide-out with a full-booth dinette, Dream Dinette table system, and stainless steel refrigerator.  I will never tire of seeing how much space a full-wall slide-out creates in a truck camper.  Simply wow!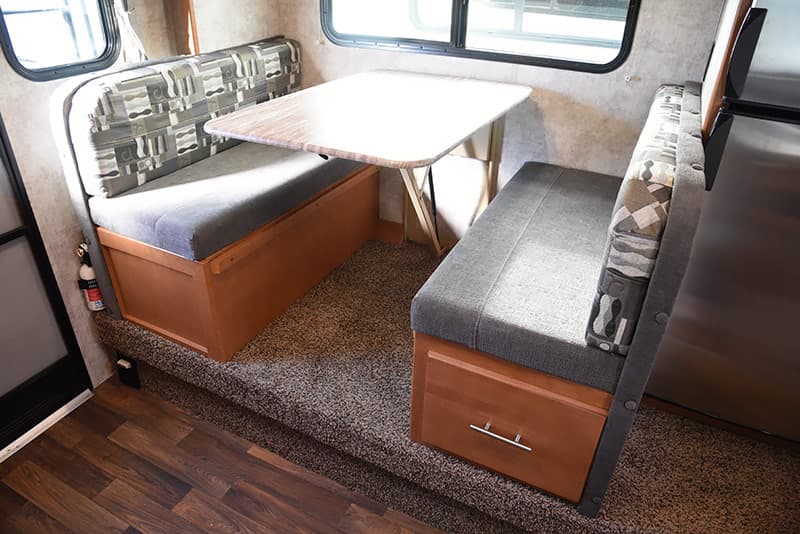 The Dream Dinette eliminates the need for a traditional table leg and allows the table to be quickly pushed down into the dinette bed position.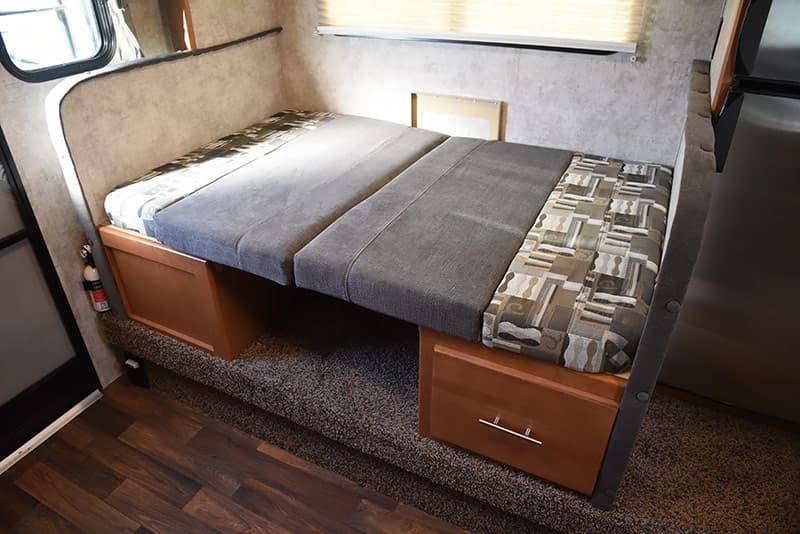 The Dream Dinette is one of those inventions that nearly everyone says, "Oh wow!  This is better" the moment they experience it.  We sure did.
In the photographs above, you may have noticed the missing storage drawer under the rear dinette seat.  This isn't because Adventurer decided you should bring less stuff, but rather due to the unique solution they created for the generator compartment.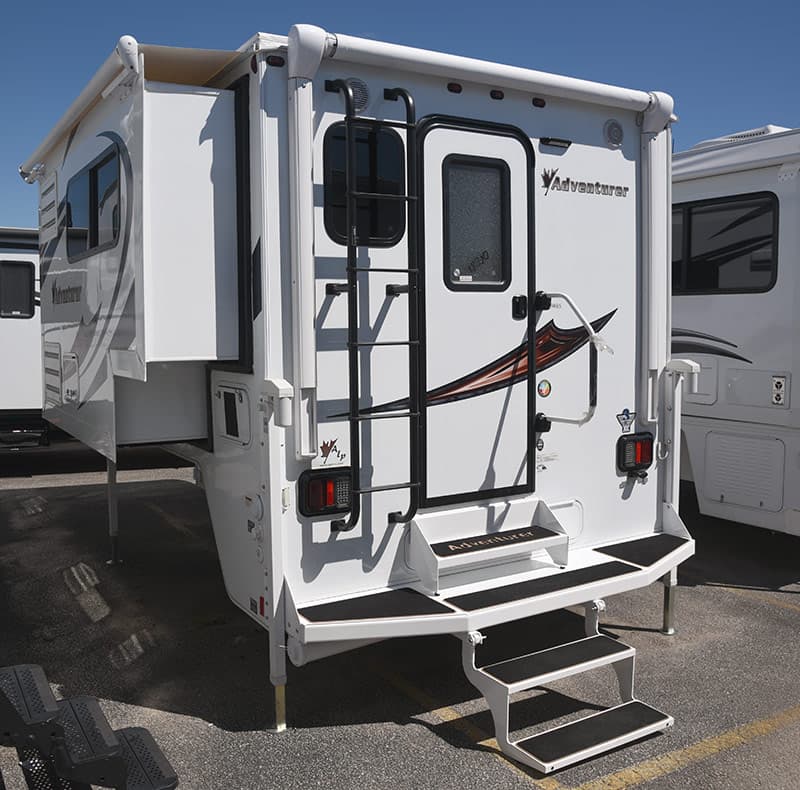 With the slide-out in the out position, there's literally nothing under the rear dinette seat.  Unlike any other slide-out in the truck camper marketplace, the slide room is notched for a Cummins Onan RV QG 2500 LP generator.  This is part of the clever design that allows the 89RBS to accommodate a generator in both long bed and short bed rigs.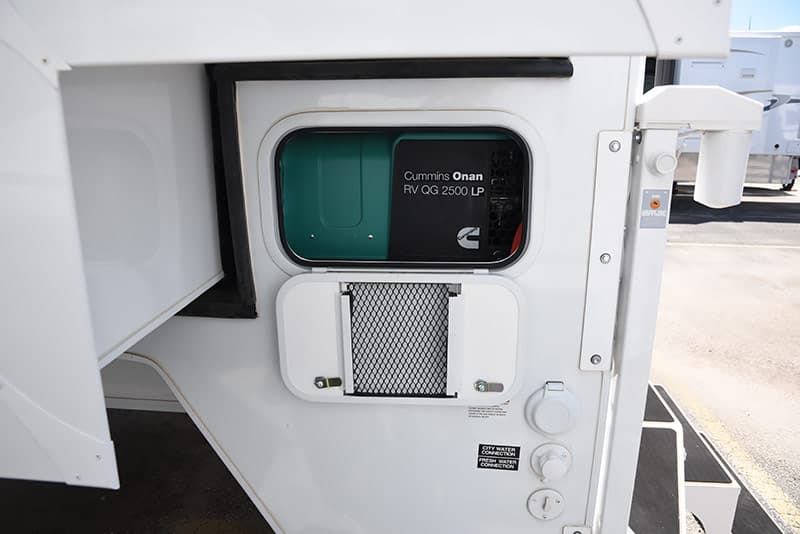 As a side note, we are not 100-percent sold on the need for a built-in generator.  If we were ordering an 89RBS, a high-efficiency air conditioner and 2000-watt portable generator (like the ever popular Honda eu2000i) would be considered first.
Then again, we also don't have or want a microwave in our camper, nor do we camp with 110-volt appliances like coffee makers and hair dryers.  If you plan on camping off-grid and use any of the above, go for the built-in generator.  Otherwise, consider a portable generator, or no generator at all.  We haven't had a generator in our campers – built in or otherwise – for the past five years.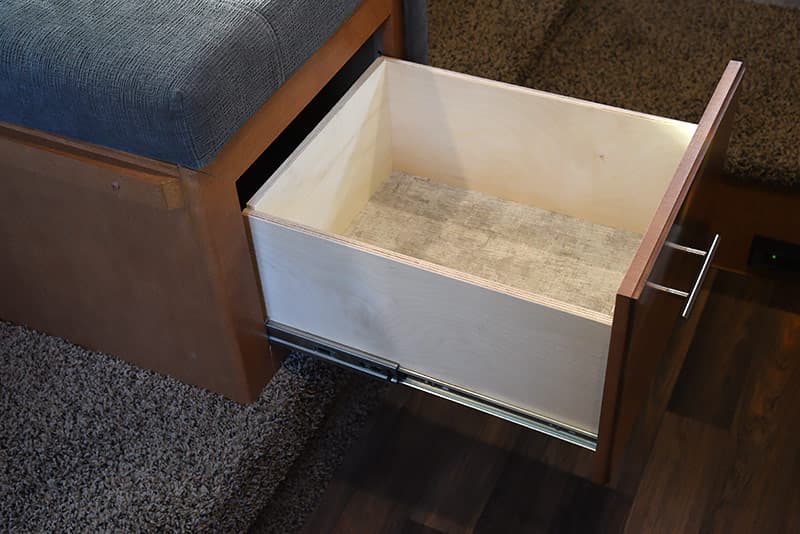 There is a large drawer on ball-bearing roller guides under the facing dinette seat.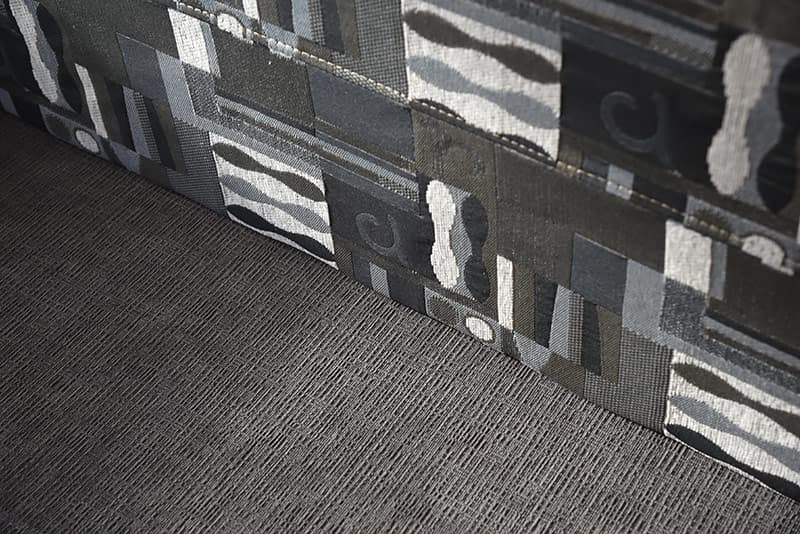 The dinette seat fabrics and cushion construction are robust and comfortable.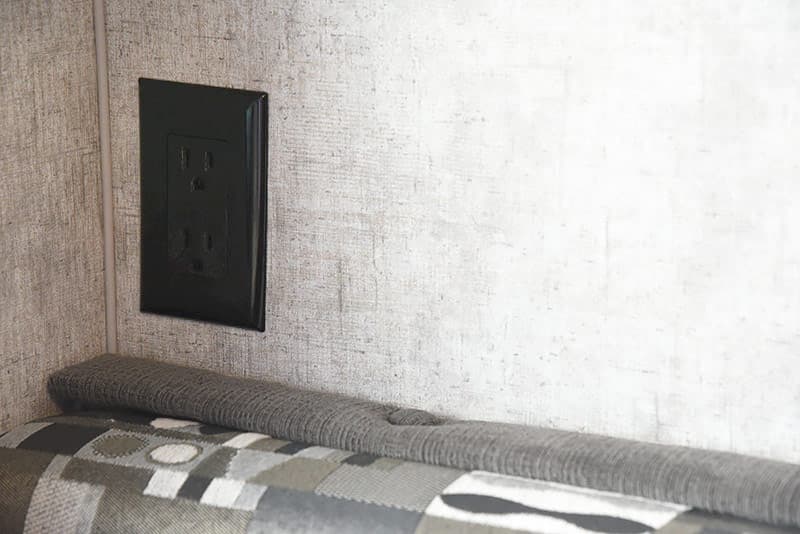 Behind the rear-facing dinette seat is a 110-volt outlet.  This is fantastic for charging laptops and other electronic items when plugged into shore power, or running the generator.
What would be even better would be an additional 12-volt and USB outlet in this same location for charging phones, tablets, and other devices.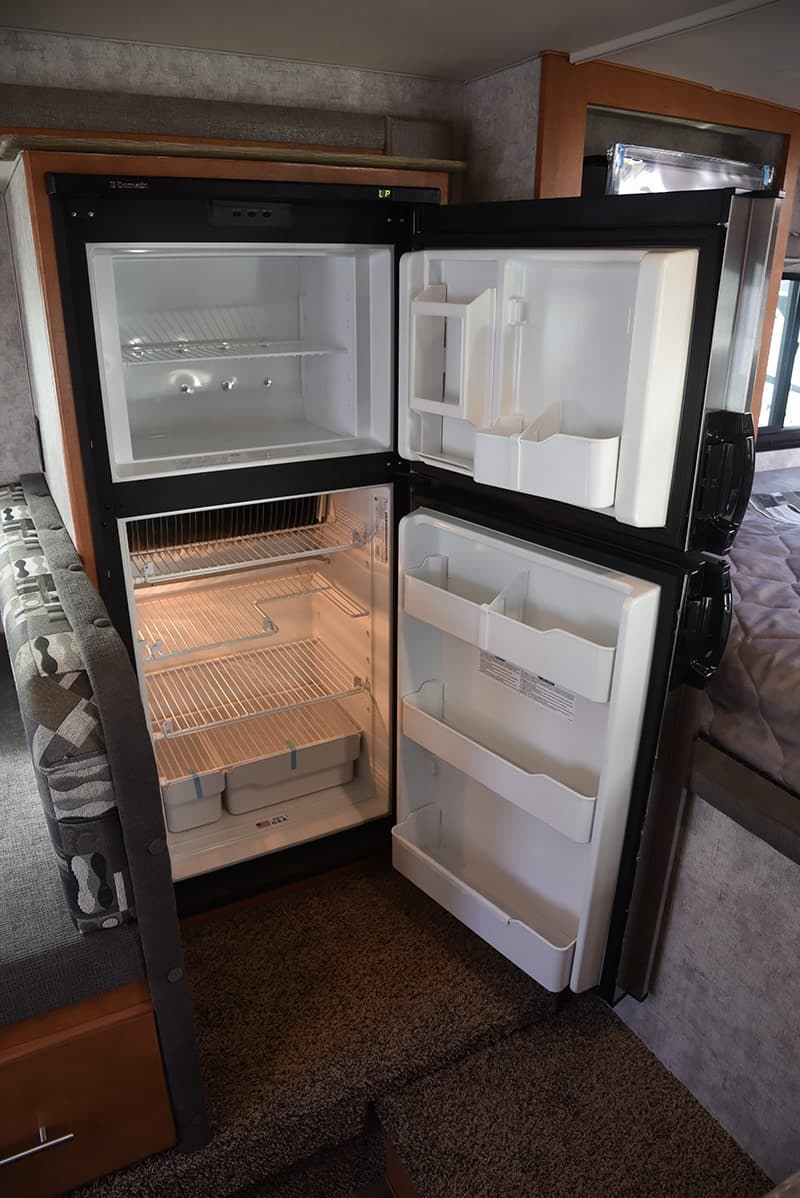 Immediately forward of the dinette is a seven-cubic foot Dometic refrigerator, standard on the Adventurer 89RBS.  With seven-cubic feet of capacity, the Dometic is one-foot larger than the refrigerators installed by the competition.  There's that Adventurer Manufacturing competitive spirit again.  Even the refrigerator is bigger!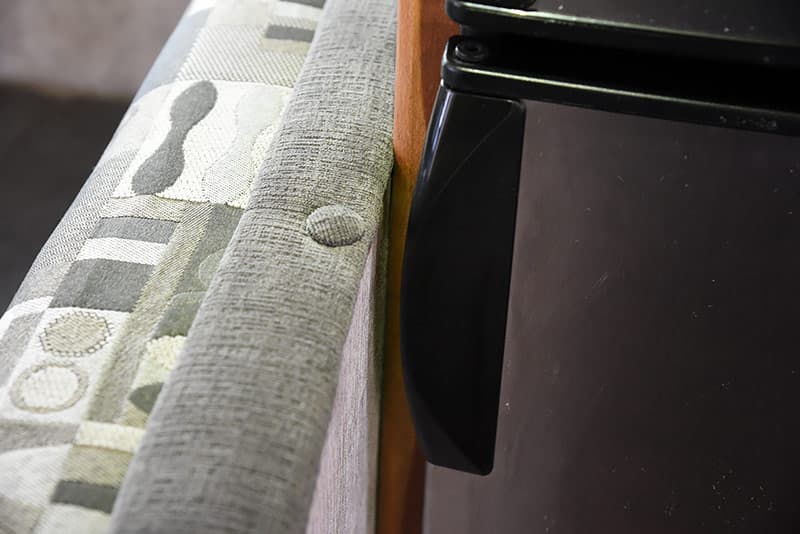 When we opened and closed the refrigerator, the refrigerator handle was a little tight to the dinette.  This is obviously a nit pick, but could be an issue with someone with hand mobility issues.  Most owners probably wouldn't notice, or care.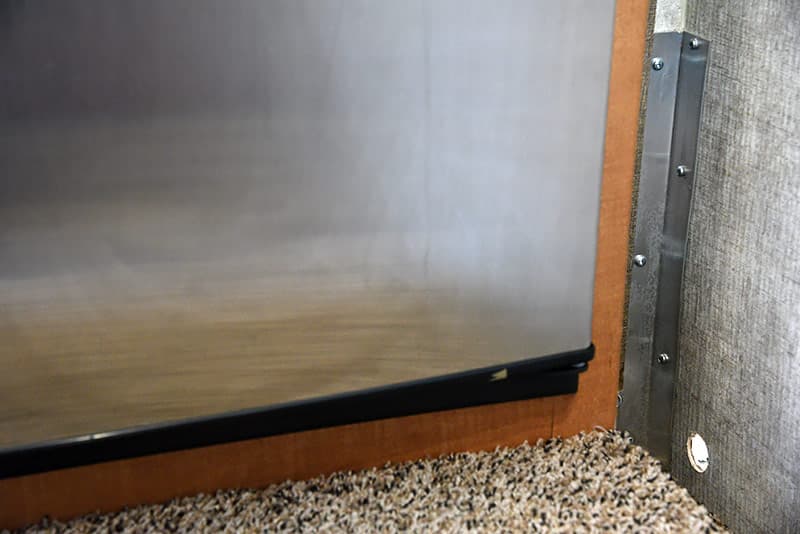 That can't be said for what appeared to be a hole in the front wall next to the lower right corner of the refrigerator.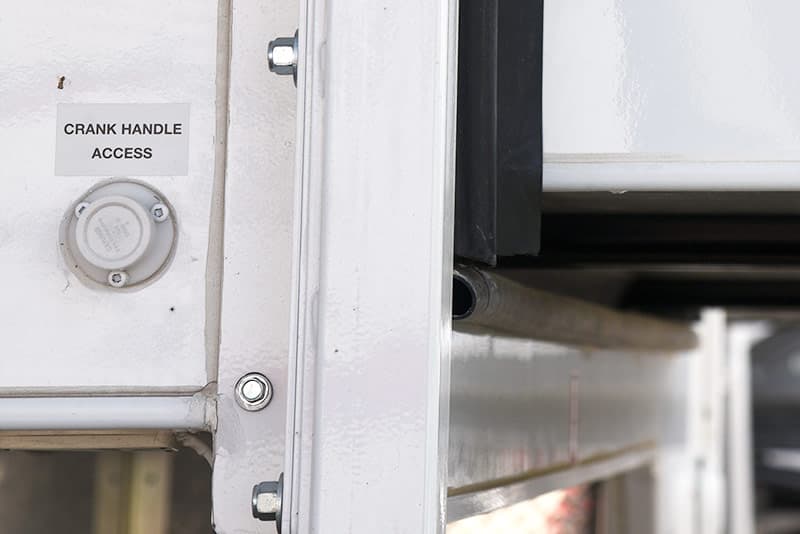 As it ends up, this hole is (a) securely capped from the exterior of the unit and (b) allows crank handle access the slide mechanism manually.  Ask anyone with slide-outs that got stuck and they'll tell you a manual crank option is a fantastic idea.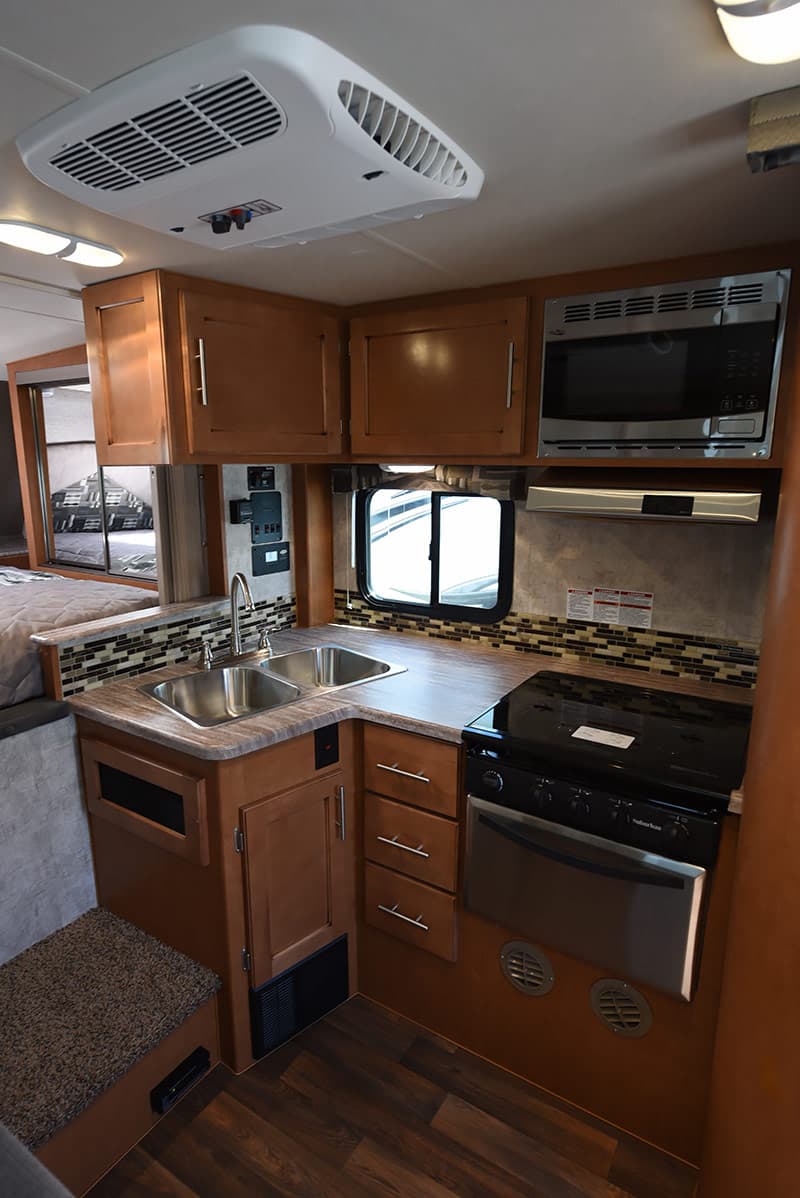 Directly across from the refrigerator is the kitchen.  Aesthetically the 89RBS kitchen is a total knock-out with maple cabinetry, faux-tile backsplash, thermoformed countertops, stainless steel appliances, stainless steel hardware, a stainless steel faucet, and stainless steel double basin sink.  The flush-mount, glass-top propane cooktop is especially attractive.  I want one of these in our camper!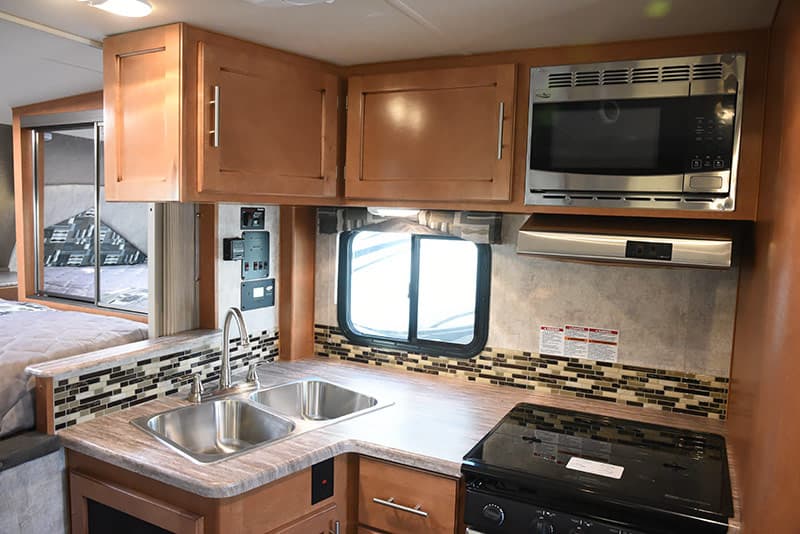 The unique L-shaped upper cabinetry design creates an additional full-side cabinet above the sink.  One could gain another full-size cabinet by eliminating the microwave.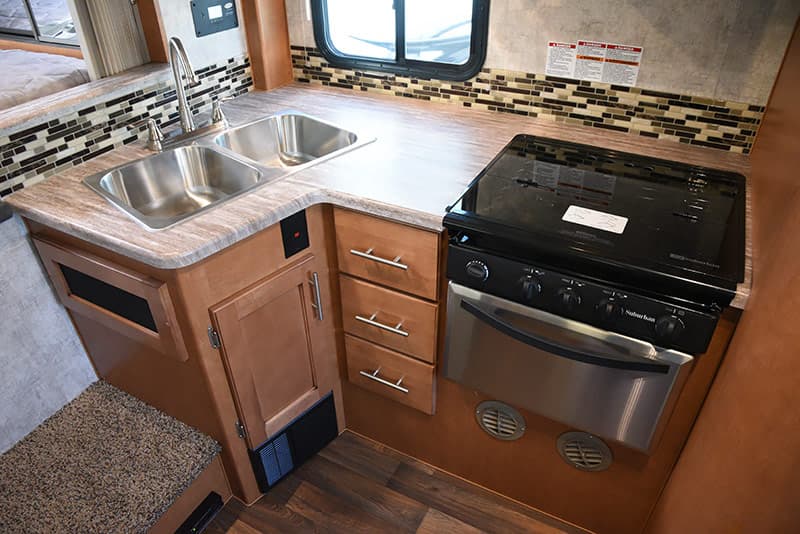 The counter top is dominated by the large double sink and glass-top cooktop, but there is room for meal preparation and drying dishes.
Put the cooktop's flush-mount glass-top down and you actually have a sizable prep and dish washing/drying space.  Good enough for serious gourmet chefs?  Probably not.  I can see the mod-scientists out there adding a counter extension.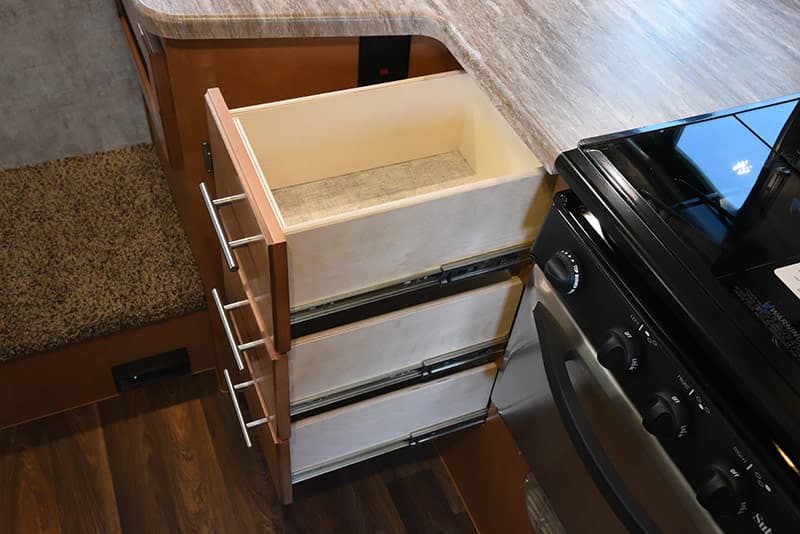 The right storage in the right place always gets me fired up.  These ball-bearing roller guides are the perfect place for silverware, utensils, oven mitts, and a long-neck lighter for the cooktop.  Well done, Adventurer!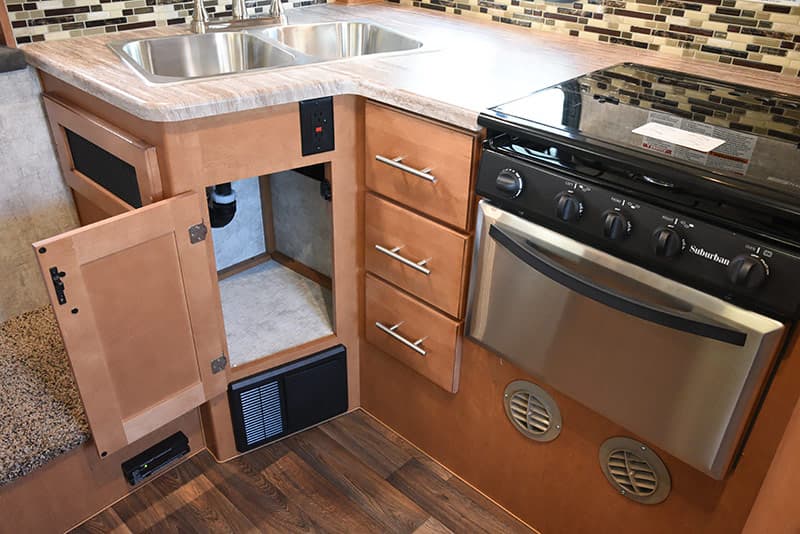 Is that enough under the sink cabinet area for a trash container?  It sure is!  No more tying a plastic grocery bag to the oven handle and living with your trash out in the open.
For those who are wondering what size trash container will fit, that's an excellent question.  In our camper, we use an empty 12-pack beer box that just happens to accommodate the aforementioned plastic grocery bags and fit perfectly under our sink.  In the 89RBS, I would first try the 12-pack beer box.  If that doesn't work, or you want something a little more upscale, try a 2-gallon Sterilite trash can.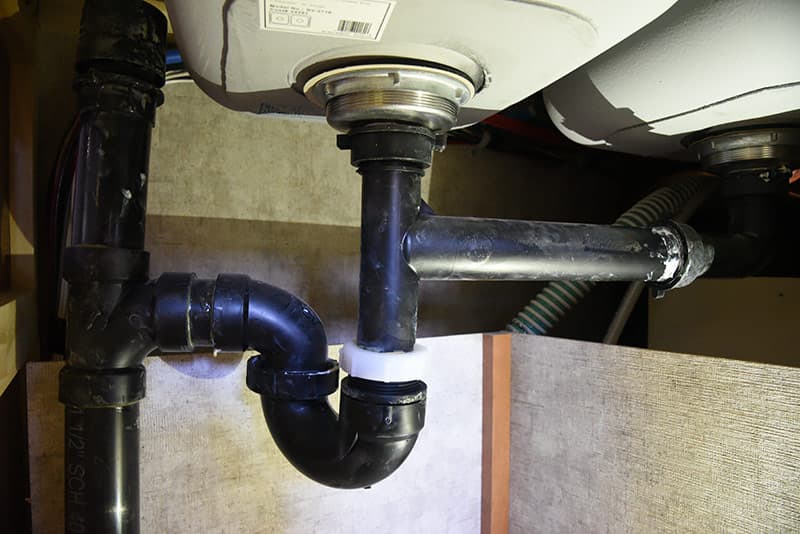 The plumbing under the sink wasn't the neatest installation we've ever seen, but the quality of the materials and fittings were solid.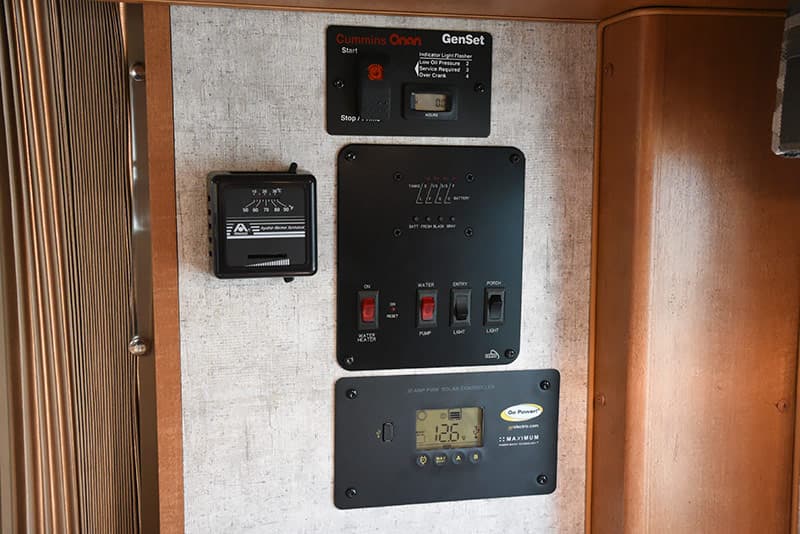 On the forward wall behind the sink is where Adventurer installs the optional Cummins Onan generator control panel, thermostat, tank monitor, water heater switch, water pump switch, entry light switch, and porch light switch panel, and optional Go Power solar controller panel.
The presentation of these panels is well organized, but the location could be a stretch.  To activate and read these vital controls, the owner will need to reach across the kitchen counter, bend down to see what they're doing, and read the panel displays.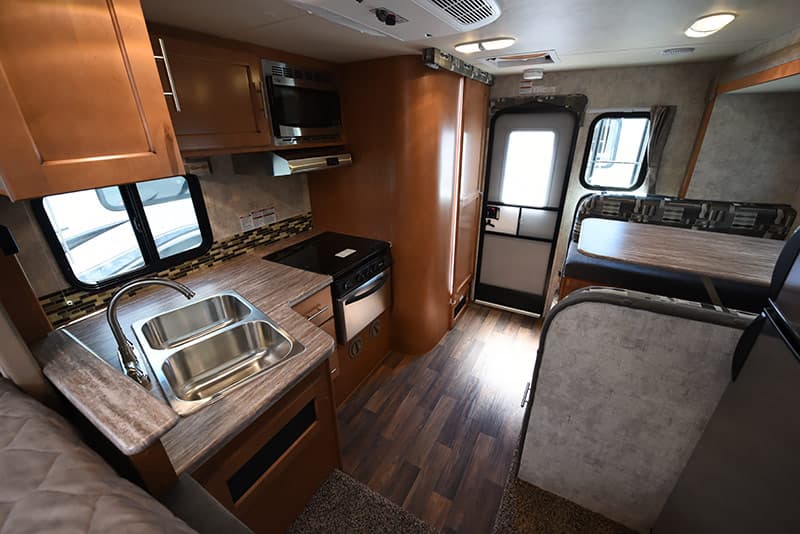 Ideally, these controls and switches would be on an outside facing cabinet surface like the upper kitchen cabinet that protrudes into the main living area (top left in photo above).
This relocation could be a headache for installation and would eliminate some kitchen storage.  It would also make daily monitoring and use of these vital switches and controls much more ergonomic.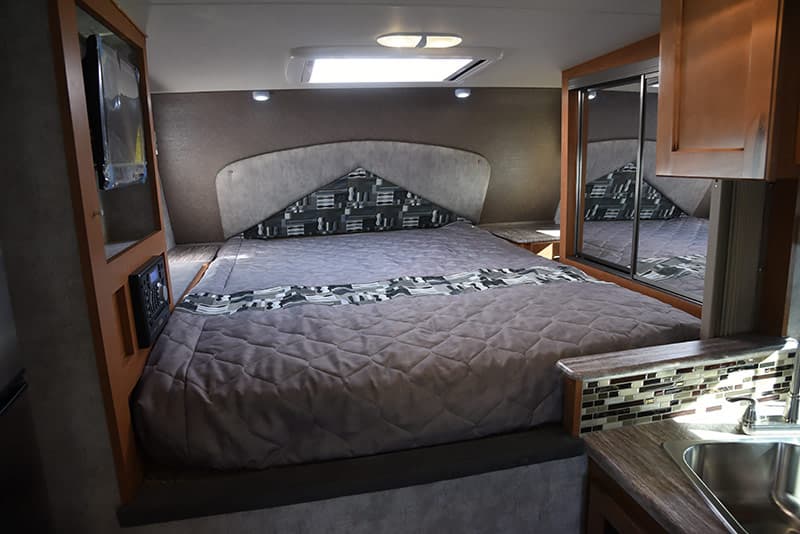 The cabover bedroom in the 89RBS features a north-south Queen-size bed.  The audio/video HDTV system installation, large hamper, and a window are on the driver's side.  A mirrored sliding door closet, a night stand drawer, and a window are on the passenger's side.
Above the cabover bed is a Heki skylight, two fixed position LED reading lights, and a main cabover area LED light.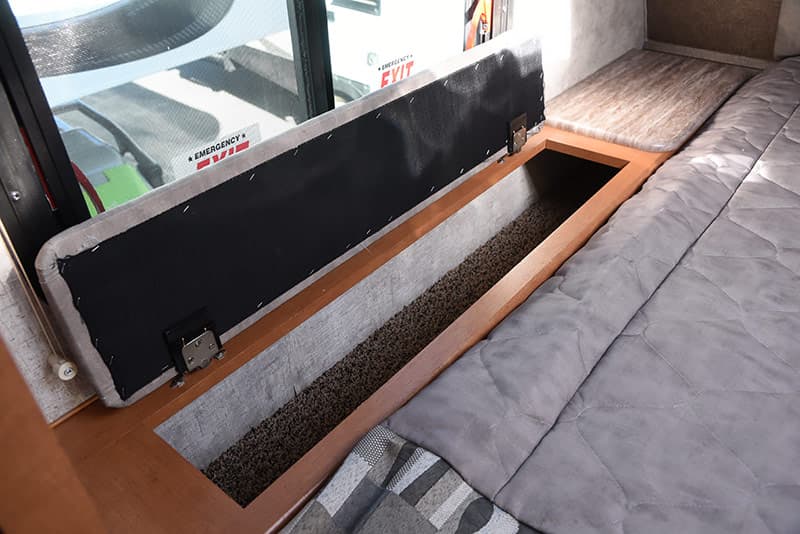 The hamper on the driver's side of the 89RBS is the ideal place for socks, underpants, sleep wear, and other odds and ends.  I have a side hamper similar to this in our camper and I absolutely love it.  If I were king, ruler, and designer of all truck campers, both cabover sides of every truck camper would have a hamper like this – no exceptions!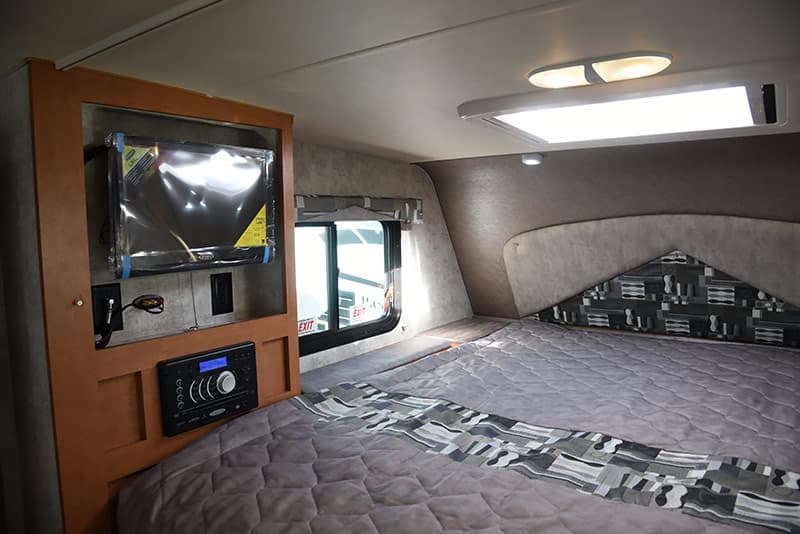 The only concern here is how to reach things that roll under the forward nightstand table top area.  It would be fantastic if the nightstand table lifted up to grant access to this area.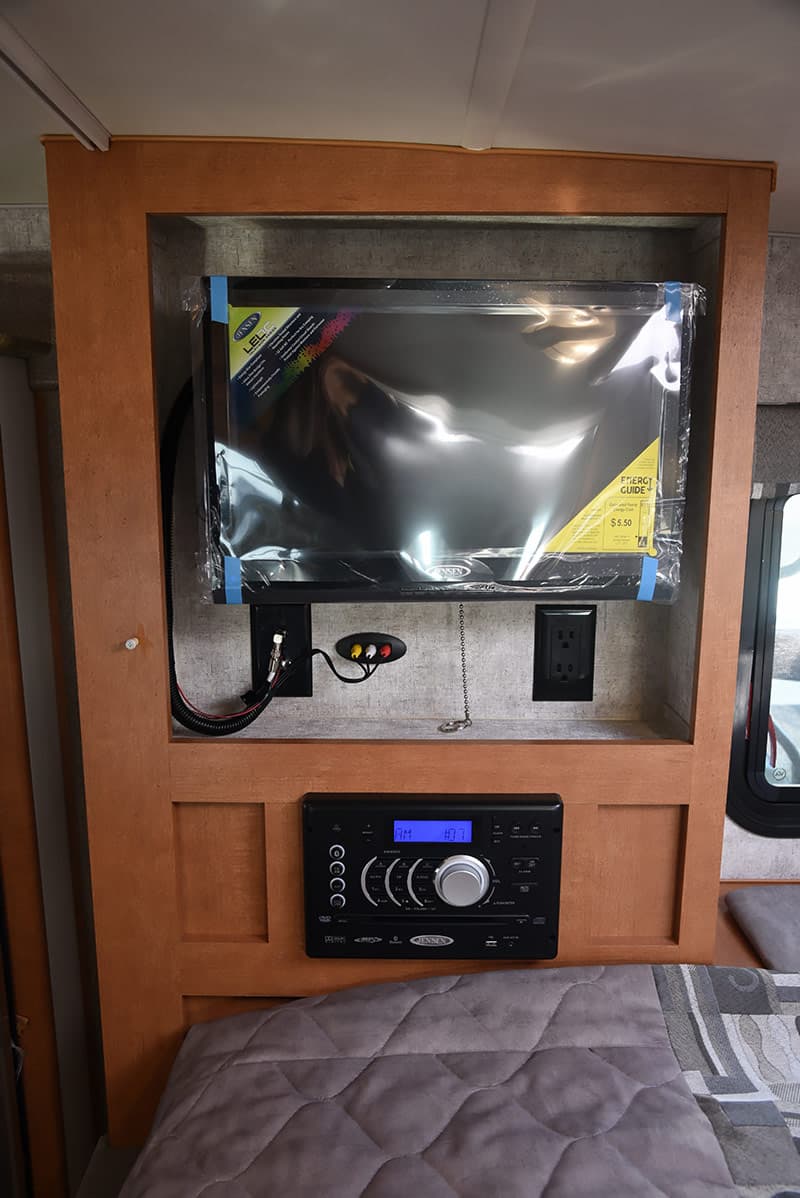 Having the HDTV panel and DVD player (and AM/FM/CD/USB audio/video system) all in one location is phenomenal.  Having them all in the cabover – where many of us enjoy watching movies – is even better.  Far too many times we find the HDTV on one side of the camper, and the DVD-stereo system on the other.  This is excellent.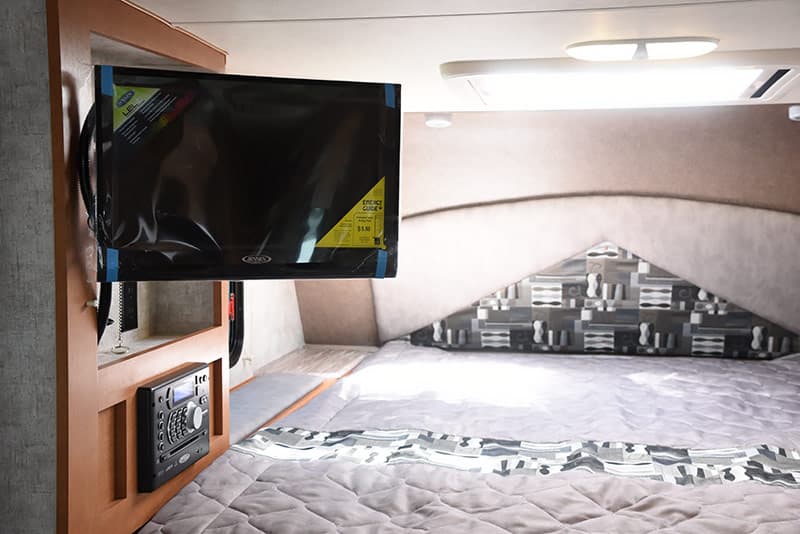 With the built-in swing-arm, the HDTV panel is visible in the cabover or main living area.  However, the arm was a bit short for direct viewing from the dinette.
I would also like to see the HDTV and DVD-stereo system consolidated to use less space.  There's a lot of potentially useful storage space above, to the sides, and underneath these components.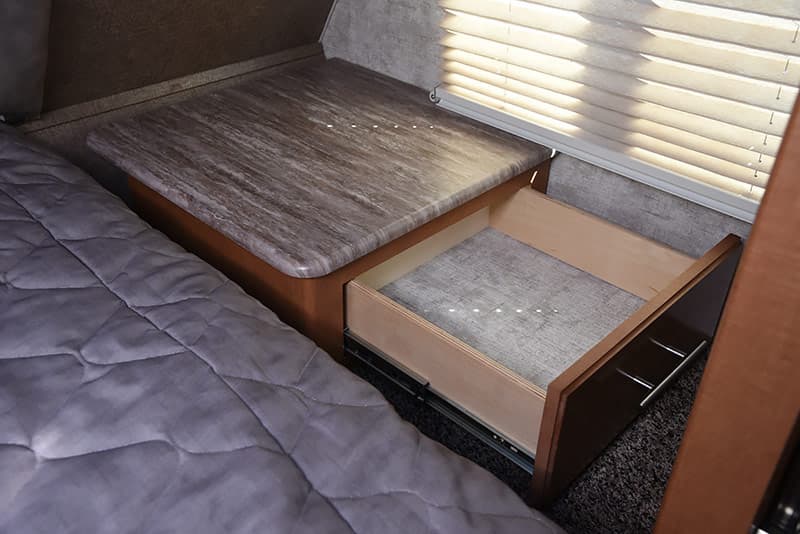 The passenger's side nightstand and drawer features the same attractive thermoformed top and maple cabinetry as the kitchen.  It's easy to see the nightstand drawer being used for socks and underpants with the nightstand top holding a smartphone, book, or tablet.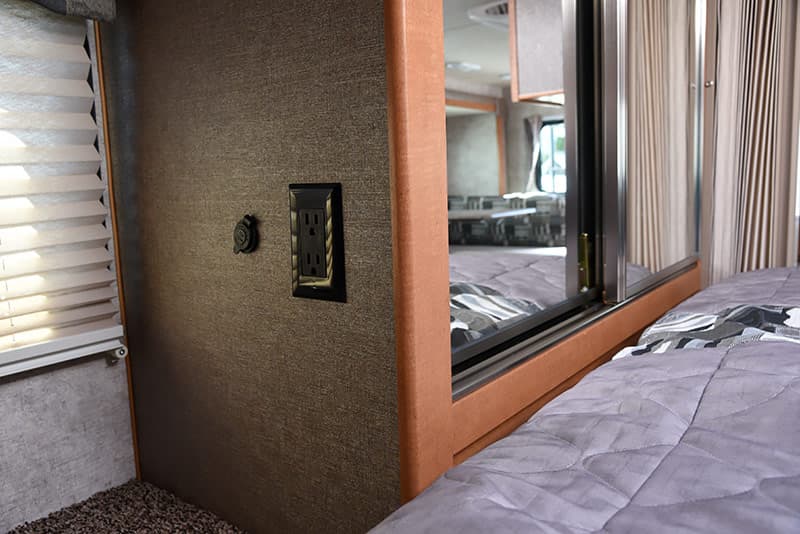 On the cabinet wall facing the nightstand is a 110-volt and 12-volt outlet.  These outlets are essential for charging devices and/or using a CPAP machine.  As with the dinette area, a USB outlet would also be welcome, but could be easily added with a simple 12-volt to USB outlet adapter.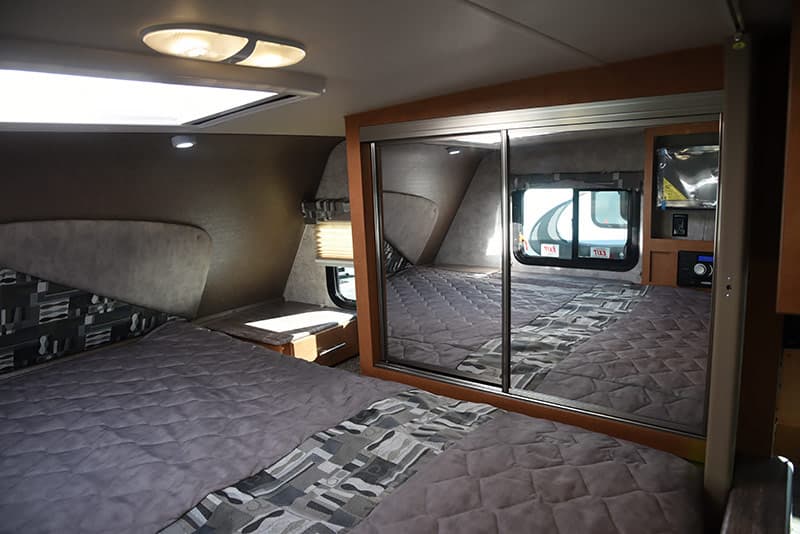 Opening the mirrored wardrobe reveals another one of the Adventurer 89RBS unique design twists; the maple wood box (shown the photo below) contains the water heater.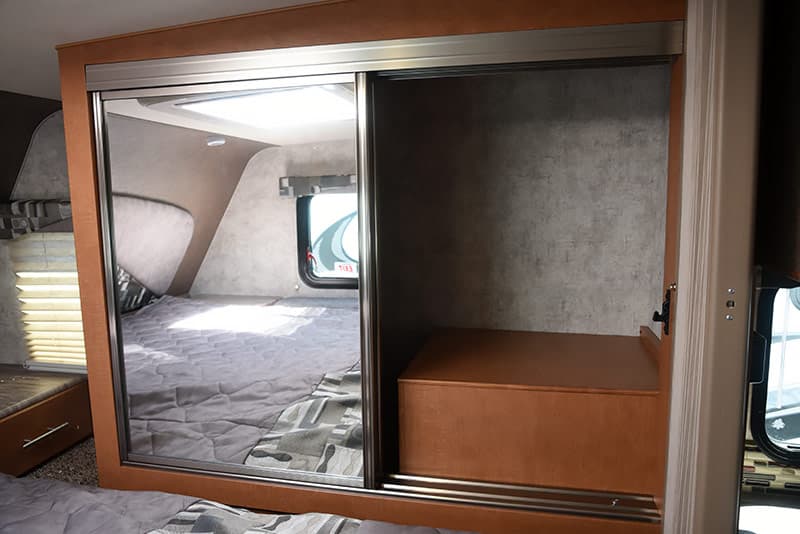 Adventurer designed the water heater in the cabover to help move the 89RBS center of gravity forward enough for short bed truck compatibility.  This was done in conjunction with moving the battery compartment to the front wall (more on this later) and putting the propane compartment as far forward as possible.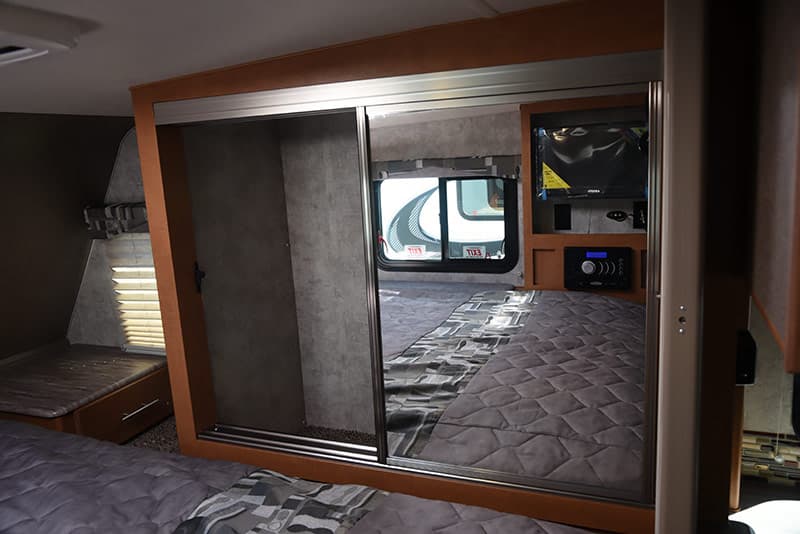 The result is the loss of about 15-percent of the usable cabover wardrobe storage space.  That's unlikely to be a deal breaker for anyone unless they store a lot of hanging clothes.
If we were to purchase an 89RBS, we would install shelving in this wardrobe.  We have significantly more need to store long and short sleeve shirts, shorts, jeans, and sweatshirts than hanging clothes.  The only caveat would be where to hang coats for fall and winter.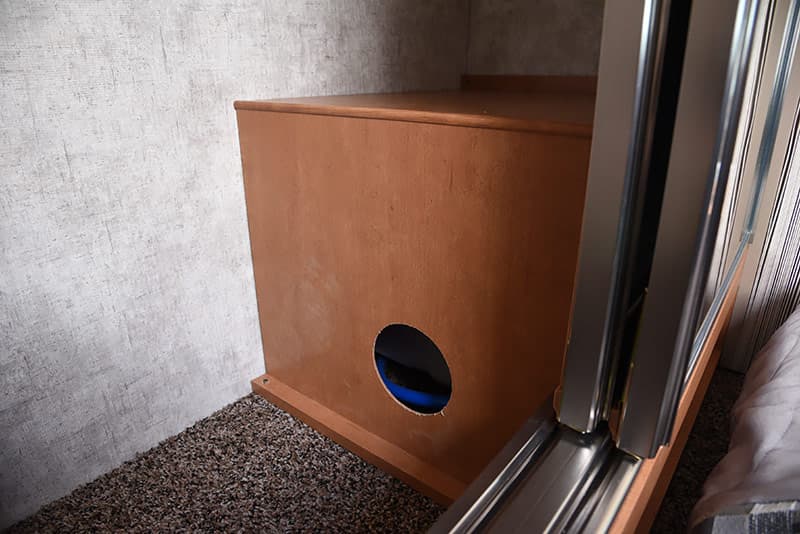 When Angela saw the water heater box in the cabover wardrobe, she asked, "How do you access the water heater bypass for winterizing?"  Two seconds later she stuck her head into the wardrobe and found a circle cut into the box for exactly this purpose.  Naturally, I took a funny picture of her with her head in the wardrobe.  If I ever want to be single again, or just get a serious butt-whoopin', I'll publish the photo.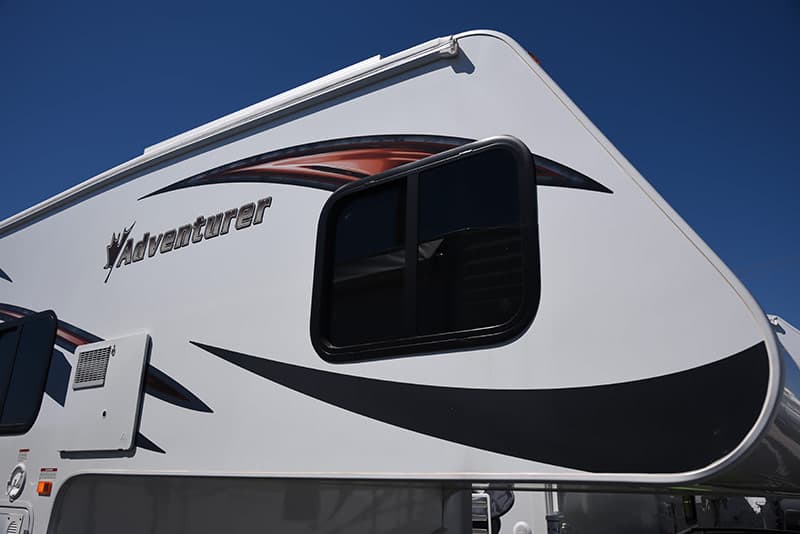 Capacities
| | |
| --- | --- |
| Capacities | |
| Fresh | 38 gallons |
| Grey | 25 gallons |
| Black | 22 gallons |
| Water Heater | 6 gallons |
| Propane Tanks | 2x 20 pounds |
| Batteries | Two Batteries |
The holding tank capacities of the Adventurer 89RBS are 38 gallons fresh (44 gallons with water heater), 25 gallons grey, and 22 gallons black.
Using our own experience as a guide, the holding tank capacities of the 89RBS should last 5 to 6 days for two people practicing reasonable water conservation; navy showers, not letting the water run for washing dishes and brushing teeth, etc.  As is usually the case, the grey tank will most likely be the limiting factor.
For anyone who will be close to their truck's payload capacity, keep in mind that 38 gallons of fresh water weighs 316.9 pounds.  If you're close to payload, travel without a full fresh tank.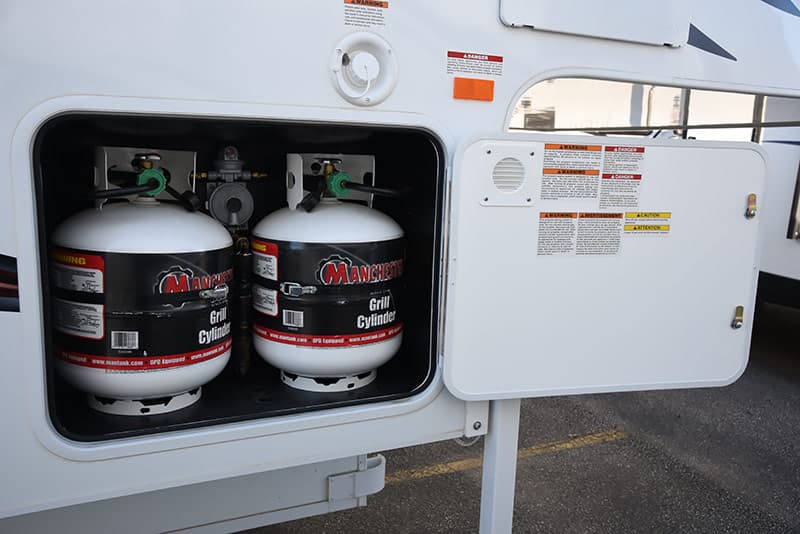 Two 20-pound vertical propane tanks have become the standard across the entire hard side truck camper industry.  These tanks are not only ubiquitous across the United States and Canada, but also exchangeable at big box hardware stores, Walmarts, grocery stores, and gas stations coast to coast.  Of course, you can also refill your tanks at propane stations, which is our preference.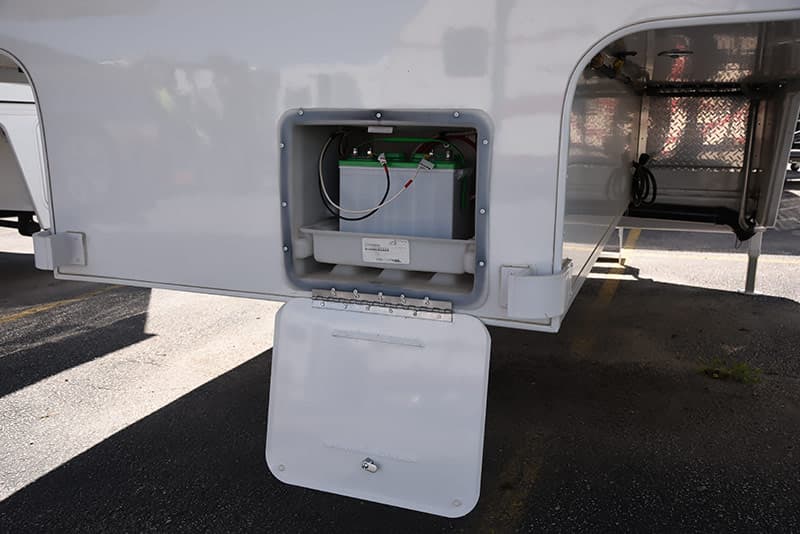 The Adventurer design team placed the battery box on the front exterior wall of the 89RBS to further nudge the center of gravity forward.  Group 27 batteries weigh upwards of 70 pounds making their placement a critical design decision for short bed compatibility.
The downside of this battery compartment location is day-to-day access.  If you need to check the water level of your lead acid batteries, you will need to demount your camper, or at least back it up a few feet and crawl up and into the truck bed.
If this were my camper, I would buy sealed AGM batteries as they don't require maintenance.  We often travel with the camper loaded for weeks and months at a time without unloading, so the extra cost of the AGMs would make sense for us.
Then again, if you demount your camper often, having the battery access on the front wall is no big deal and helps move the center of gravity forward.
Specifications
| | |
| --- | --- |
| Specifications | |
| Dry Weight | 3,018 pounds |
| Wet Weight* | 4,055 pounds |
| Floor Length | 8'9″ |
| Overall Length | 16'8″ |
| Width | 96″ |
| Interior Height | 6'5″ |
| Exterior Height | 106″ |
| Center of Gravity | 38″ |
| Truck Type | Long or Short Bed |
Adventurer Manufacturing weighs every truck camper before it leaves their plant and marks that weight inside the unit.  We have witnessed this practice at the Adventurer factory twice during extended visits and seen the evidence many times in dozens of truck campers in the field.  If every manufacturer followed Adventurer's lead, I could almost hang up my Chief of the Weight Police hat for good.  Almost.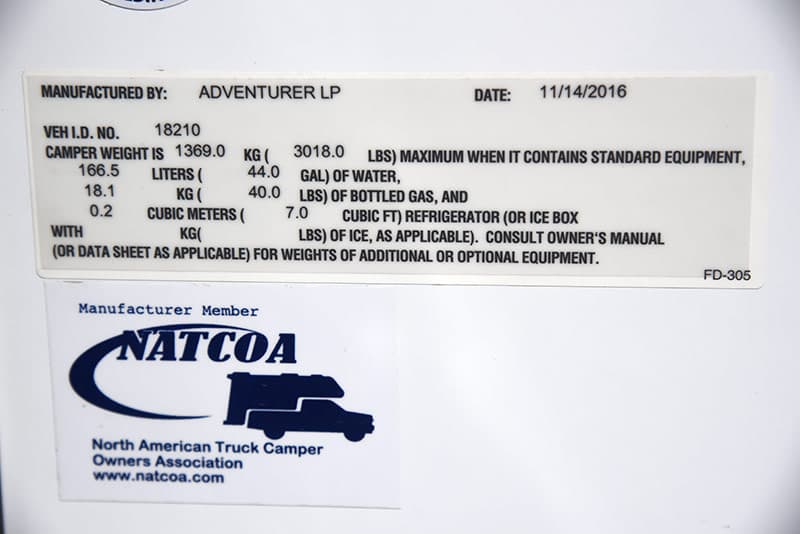 That stated, you still need to completely ignore the exterior weight sticker.  Like all exterior truck camper weight stickers, it's calculated on a base unit with no options, not the camper in front of you.  Cue my broken record… Never trust exterior weight stickers.  They are almost always wrong.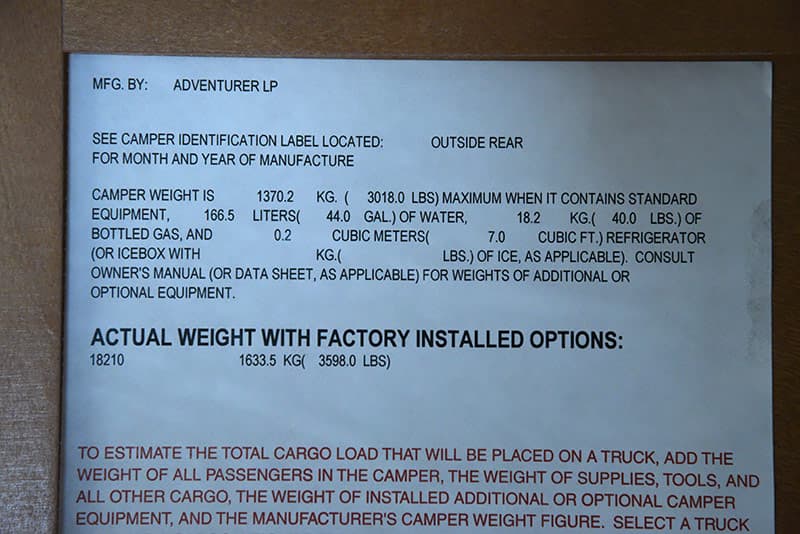 Here's the, "ACTUAL WEIGHT WITH FACTORY INSTALLED OPTIONS" weight sticker posted inside every Adventurer and Eagle Cap camper Adventurer Manufacturing builds.
In the 2017 Adventurer 89RBS under review, the base weight is listed at 3,018 pounds.  Then the actual weight with options is given at 3,598 pounds.  That's a difference of 580 pounds of option weight; a 19.2-percent weight increase.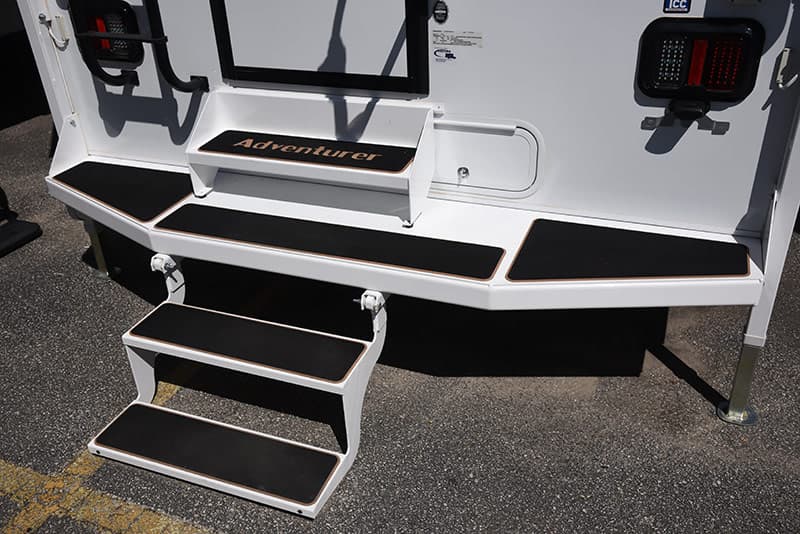 What options added up to 580 pounds?  Here's the option list on the review unit; 19-inch HDTV, air conditioner, rear awning, slide topper awning, Comfort Step bumper, electric jacks, Onan 2500-watt generator, Heki skylight, microwave, and 100-watt solar panel and controller.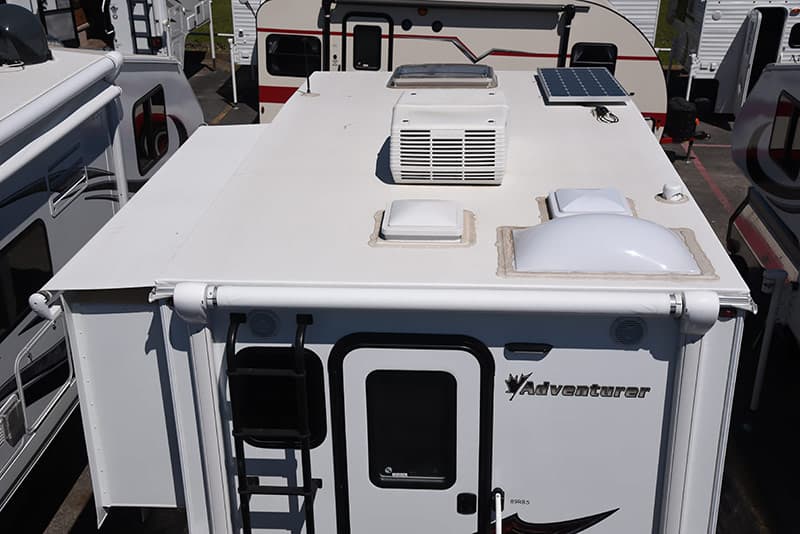 When Adventurer debuted the 89RBS, Greg Tucknies explained that the 8'9" floor length was effectively the longest a truck camper could be while remaining in the towing sweet spot.  Any more overhang and the tow extension length gets excessive.  Any shorter and the camper loses too much interior space, storage, features, and overall appeal.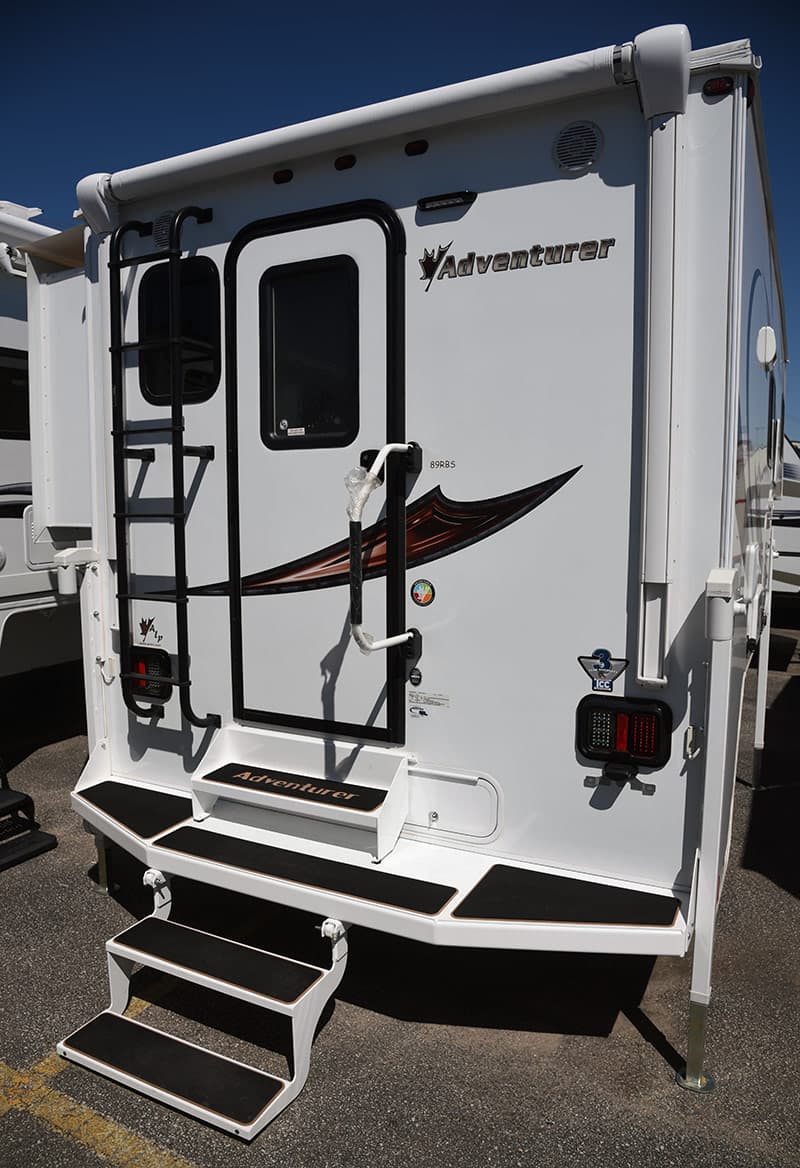 All of Adventurer's full-size truck campers, including the 89RBS, are 96-inches wide.  Only the 80GS (84-inches wide), and 80RB (90-inches wide) are narrower, but those are two very different campers with two very different customer targets compared to the 89RBS.
Adventurer truck campers with wheel-well-height basements have 6'5" of interior height.  It's interesting to note that the rail-height basement in the Adventurer 116DS results in an interior height of 6'3", two inches lower than Adventurer's wheel-well height models.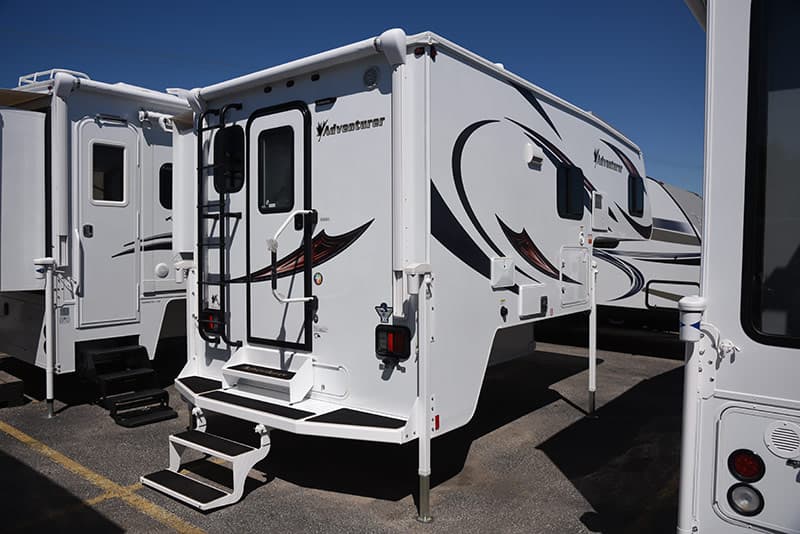 So much of the design challenge behind the Adventurer 89RBS was properly locating the center of gravity for short bed trucks.  While they didn't move heaven and earth, the design team did move the water heater into the cabover, the battery box to the front wall, and the propane as far forward as possible – all to ensure the COG would work with short bed trucks.
The result of these considerable efforts is an impressive 38-inch center of gravity; perfect for short bed trucks, and insanely good for long bed trucks.  This meets or beats the COG locations of Adventurer's 89RBS short-bed-only competitors.  Did you hear that?  That was the Adventurer design team shouting, "You're darn right it is!"  Competitors, to the last.
Wet Weight Calculation
Employing the standardized Truck Camper Magazine wet weight calculation, we ran the wet weight numbers on the 2017 Adventurer 89RBS.
Base Dry Weight – special factory order only
Adventurer 89RBS: dry weight, 3,018 pounds + 38 gallons fresh, 316.9 pounds + 6 gallon full hot water heater, 50 pounds + 2x 20-pound full propane tanks, 40 pounds + 2x batteries, 130 pounds + stuff, 500 pounds = 4,054.9 pounds
Fully Optioned Weight – Reviewed Unit
The 2017 Adventurer 89RBS under review was well optioned and makes a great candidate for a real world wet weight with options calculation.  Using the "actual weight" sticker inside the unit, and the standardized Truck Camper Magazine wet weight calculation, let's run the numbers again.
Adventurer 89RBS: dry weight, 3,598 pounds + 38 gallons fresh, 316.9 pounds + 6 gallon full hot water heater, 50 pounds + 2x 20-pound full propane tanks, 40 pounds + 2x batteries, 130 pounds + stuff, 500 pounds = 4,634.9 pounds
Truck Recommendations
The above fully-optioned wet weight of the Adventurer 89RBS is a relatively easy payload match for a one-ton long bed truck, and a difficult (but possible) match for a one-ton short bed truck.
Let's start with the easy long bed match.  Most late-model and new one-ton dually trucks offer 5,000 pounds of payload capacity or more.  You always have to check the payload sticker before making an assumption, but you won't have any trouble finding a one-ton dually with this amount of payload.
If you must have a diesel engine and lots of comfort truck options and packages, go for a dually.  If you will be towing a boat, trailer, or other toys, go for a dually.  If you just want the most options in the future – a new camper, a new towable – go for a dually.
It is possible to match a single rear wheel one-ton truck with a well-optioned 89RBS, but you will likely need to special order the truck to maximize payload.  This approach is similar to the following recommendations for matching an 89RBS to a short bed truck.
If you are set on matching the 89RBS with a short bed truck, you will need to (a) special order a one-ton short bed with the maximum payload possible, and (b) limit the options you order on the 89RBS.
In 2013, we worked with the engineers at GM corporate to custom order the highest possible payload in a short bed GM truck at at that time.  We stipulated that the truck needed to be a crew cab with four-wheel drive, but everything else was on the table.
The engineers designed a gas engine, crew cab, short bed, automatic, four wheel drive, single rear wheel 2013 Chevy Silverado 3500 truck.  When we opened the driver's side door, the payload sticker said 4,013 pounds of payload.
With the payload improvements the truck manufacturers have achieved over the past five model years, that same custom build approach would likely yield an excellent 2018 GM, Ford, or Ram truck for a base 89RBS (4,054.9 pounds wet).
To improve the payload match, you could forgo traveling with water (316.9 pounds), be conservative with what you pack, and even consider a two-wheel drive truck option.  Omit heavy camper options like the built-in generator, upgraded Comfort Step bumper, and microwave and you're could assemble a well balanced short bed truck and camper combination.
Ideally, the 2017 Adventurer 89RBS would be matched with a one-ton dually with 4,700 pounds of payload, or better.  If you decide on a single rear wheel long bed or short bed, you have some additional homework.  The good news is that it's very possible, but the required trade-offs for truck and camper options might not be to your liking.
The Verdict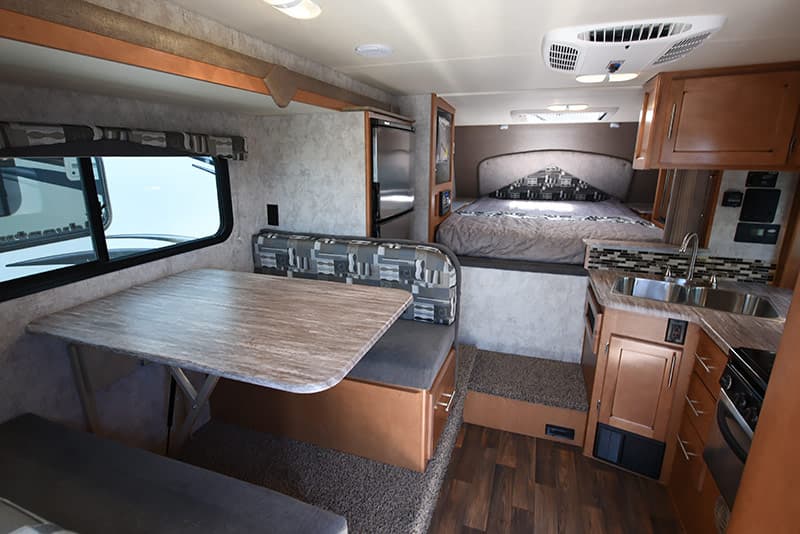 At the end of the day, the 2017 Adventurer 89RBS is exactly what the Adventurer Manufacturing team designed it to be; an extremely competitive truck camper.  Being generator ready for both short bed and long bed trucks is a design triumph all by itself.  Add in the impressive standard features – 9-foot floor length towing sweet spot, and 38-inch center of gravity – and you have a truck camper that was primed for success from the ground up.
The enormous wet bath in the 89RBS darn near steals the show.  For anyone with concerns about toilet leg and knee room or elbow space while showering, the 89RBS wet bath may be exactly what you're looking for.  Even better, it's accessible with the slide-out in, a prized and all too rare feature in slide-out truck campers.
The dinette with the Dream Dinette table system is comfortable and a snap to convert into a bed.  The kitchen is a visual knock out with modern and attractive stainless steel appliances and a glass-top, flush mount range oven.  And the seven-cubic foot refrigerator is class-leading.  All high marks.
Most of my criticisms of the 89RBS are nit-picks and unlikely to be deal breakers; the lack of 12-volt and USB outlets in the dinette, the tight refrigerator handle, cabover storage consumed by the water heater box, and the potentially awkward monitor panel location.  You may not be bothered by anything on this list, or have a mod idea to remedy it.
We were more concerned by the sliding wet bath door that easily slides off its lower plastic guide on the review unit.  In fairness, this may be a problem specific to the review unit.  There was no other 89RBS on hand to check.  Either way, this is fixable with a higher quality guide and a stopper to limit the door's travel.
Properly matched, the 2017 Adventurer 89RBS is a serious contender in the competitive 9-foot full-wall slide truck camper marketplace.  Nobody looking in this popular niche should make a purchase before seeing this camper in person.  If you're shopping specification for specification, capacity for capacity, feature for feature, pound for pound, and price for price, the 89RBS is a truck camper you should not ignore.
Pros
Long and short bed compatible with built-in generator
Sweet spot in floor length for towing boats, vehicles, trailers, and toys
Full-wall slide offers impressive floor space and interior room
Huge wet bath is accessible with slide-out in
Excellent capacities for 9-foot unit: holding tanks, propane, and batteries
Extremely competitive standard features, warranty, and MSRP
Cons
Requires careful matching for single rear wheel long and short bed trucks
Sliding wet bath door easily slid off lower plastic guide on review unit
Refrigerator door handle is tight to the dinette seat back
Water heater box in cabover wardrobe consumes precious storage
Monitor panels and controls are in awkward spot for use and visibility
HDTV and DVD-stereo system could be consolidated for more storage
Model Information
2017 Adventurer 89RBS
MSRP: $29,540 (base)
Warranty: Transferable 1-Year Bumper-To-Bumper, and 3-Year Limited Structural
Adventurer Manufacturing, ALP
3303 West Washington Avenue
Yakima, WA 98903
Phone: 509-895-7064
Request an Adventurer 89RBS Brochure
Web: adventurercampers.com
Quality, Customer Service, and Long-Term Reliability
Truck Camper Magazine inspects all reviewed truck campers for design, material, and quality issues and reports what we find.  However, since Truck Camper Magazine reviews only brand new truck campers, our reviews do not address long-term quality, customer service, or reliability.
To learn about a brand's long-term quality, customer service, and reliability, Truck Camper Magazine recommends talking directly with truck camper owners at truck camper rallies and online via truck camper forums and truck camper owners groups.
Please be sure to balance your gathered feedback across multiple sources including direct correspondence with the truck camper manufacturers and your closest truck camper dealers.
If you are new to truck campers, start here.