Truck Camper Magazine reviews a 2017 Adventurer 89RBS, an 8'9" hard side, full-wall slide-out, wet bath truck camper for long or short bed one-ton trucks.  Two Adventurer Campers enter.  One camper leaves!

Before initiating the development of a new model, the Adventurer management team intensely studies the floor plans, features, capacities, warranty, and pricing of their competitors and aims to beat them on every metric.
Even Adventurer's own line-up faces this competitive assault.  If Adventurer offers a model within the same targeted niche, the metrics of that camper are added to the competition target list.  In the world of Adventurer, there can be only one.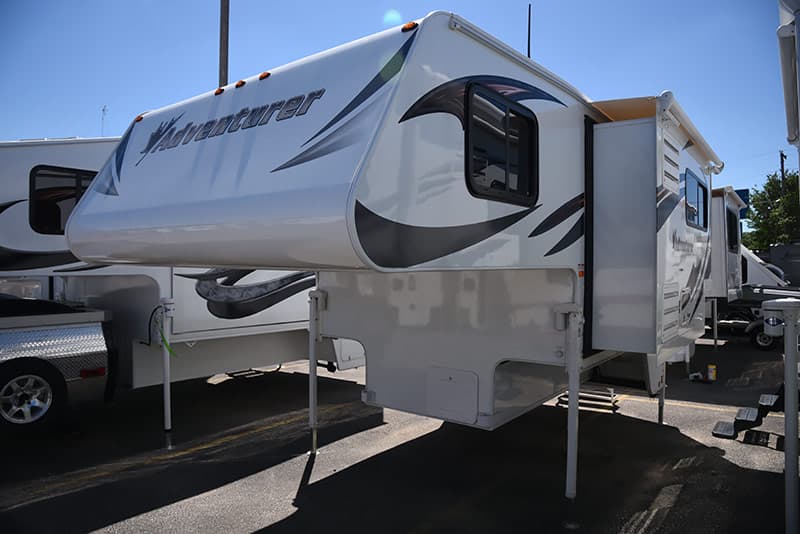 Above: The 2017 Adventurer 89RBS under review at Princess Craft Campers in Round Rock, Texas
Speaking of competition, the nine-foot single-slide truck camper marketplace has been one of the most sought after truck camper segments for over a decade.  As of this writing, there are no less than seven models from six manufacturers vying for this space.
Why is the nine-foot single-slide truck camper market so hot?  In a word, towing!  According to TCM's 2017 reader survey, towing a boat, utility trailer, and/or various toys is the vision that compelled over 70-percent of you to purchase a truck camper.  And it just so happens that towing with a nine-foot truck camper is a sweet spot for tow-bar extension length and overall versatility.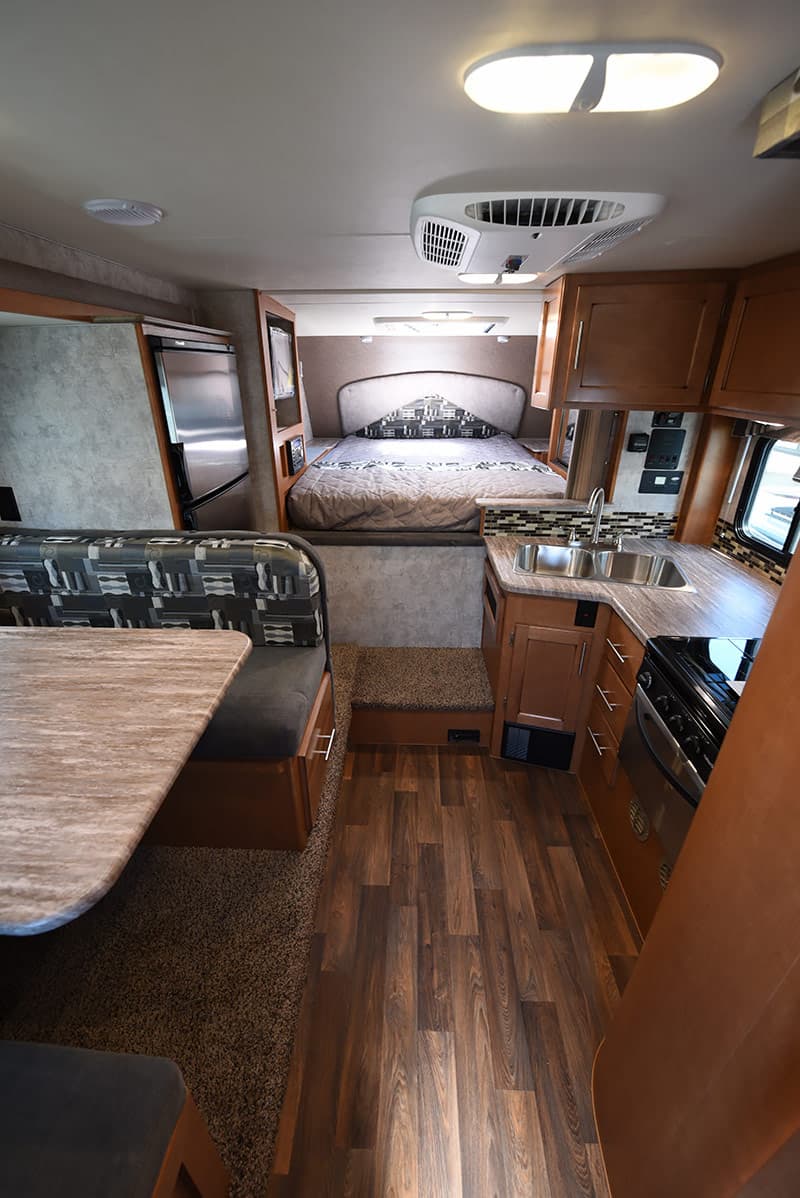 Above: The 2017 Adventurer 89RBS interior viewed from the rear entry door
This explains why Adventurer's most popular floor plan has been the 86SBS, an 8'6", single-slide that debuted in the economically devastating days of 2008.  Any camper that debuted at the beginning of the Great Recession and went on to become a best seller for the next nine years deserves some serious respect – right?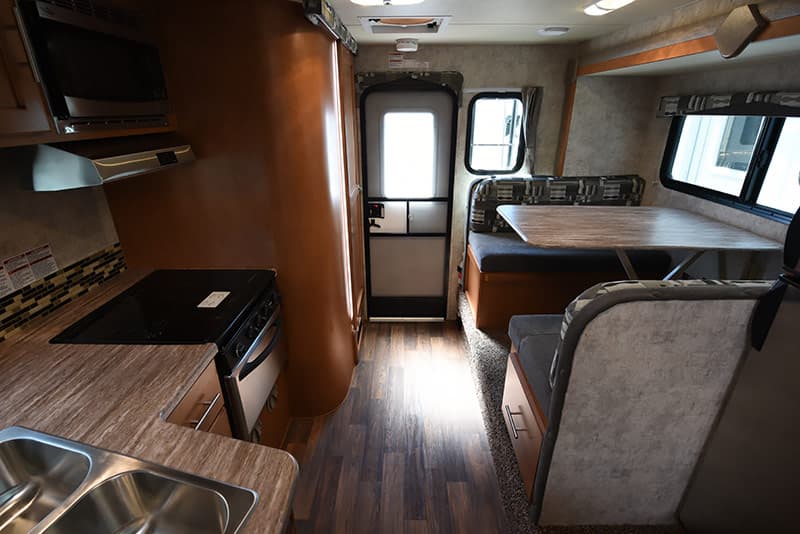 Above: The 2017 Adventurer 89RBS interior viewed from the cabover
"We strongly suspect that the 89RBS will replace our best selling 86SBS," stated Greg Tucknies, Director of Sales and Marketing during the September, 2016 debut.  "We're still building and selling the 86SBS, but we believe the 89RBS will surpass it."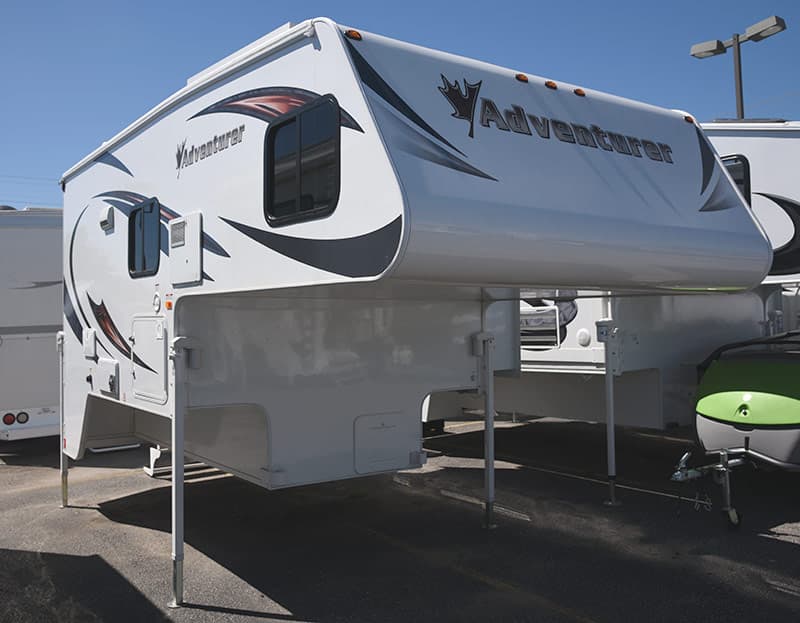 This, "Two campers enter.  One camper leaves!" management approach may sound familiar to anyone who remembers Mad Max: Beyond Thunderdome.  For those who aren't familiar with the 1985 Mel Gibson and Tina Turner blockbuster, here's a pertinent clip.  Or, as I like think of it, a sneak peek into Adventurer's product development meetings.
To help accomplish its mission, the 89RBS fits long or short bed trucks and is built-in generator compatible in either configuration.  "It's the only camper I know about that is generator capable for a short or long bed truck," stated Greg.  "It also has one of the largest, if not the largest wet bath in the industry… It's actually 12-percent bigger."
Short bed generator compatibility and big wet baths are wonderful, but let's cut to the chase.  Ladies and gentlemen, it's time to climb the truck camper Thunderdome with the 2017 Adventurer 89RBS.  Two campers enter.  One camper leaves.
Adventurer Versus Adventurer