Seventy-five TCM readers bare everything on how to dry wet and dry baths. If you shower in your truck camper, there are some can't-miss ideas here. ShamWow!
This week's Question of the Week was, "How do you dry your camper's shower stall?"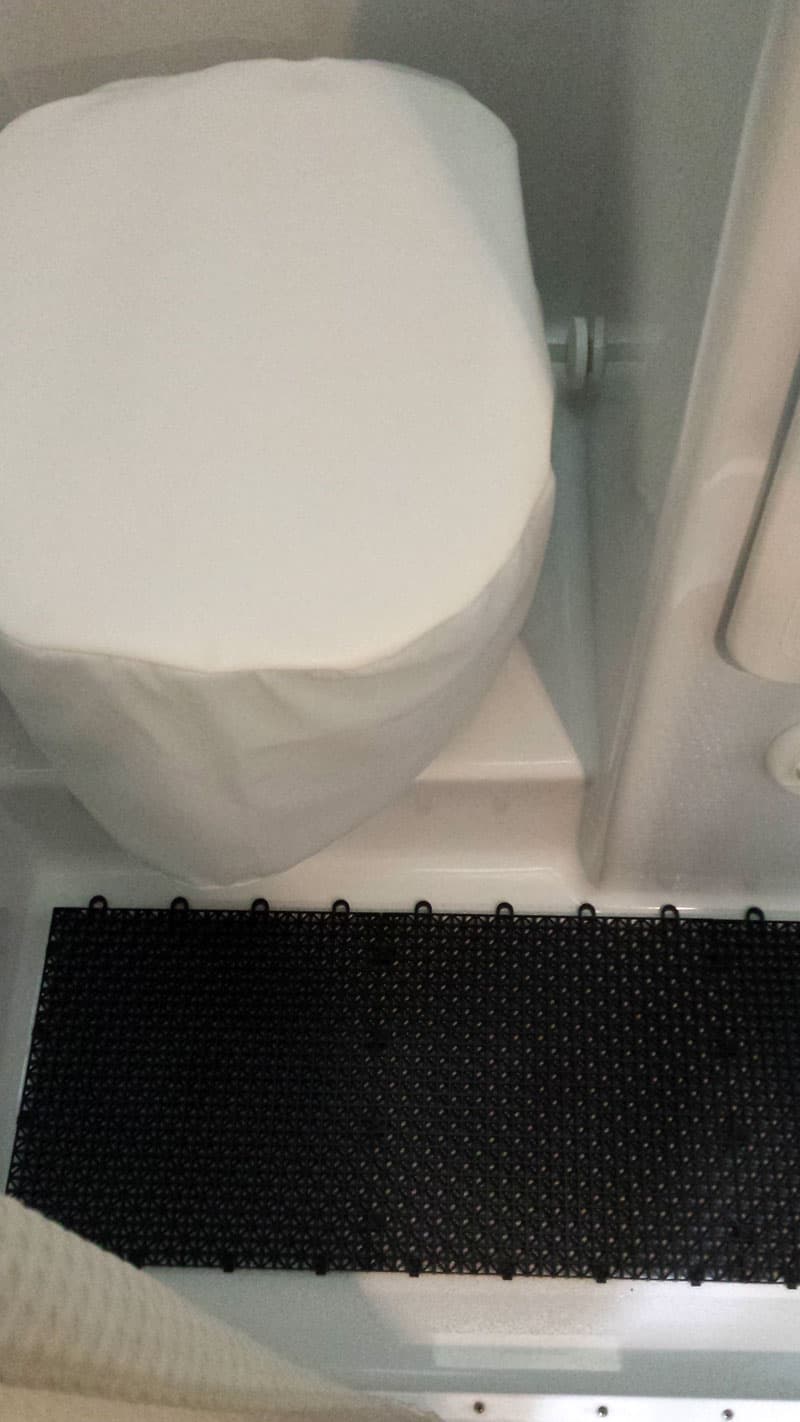 "At first, I was drying it all with a microfiber towel. Now I just open the bathroom vent and turn on the fan for a while.
My main concern was the wet toilet, so I made a toilet cover out of marine vinyl for the top and nylon fabric on the sides with a handle to hang it up after using the shower.
For the floor, we got three pieces of free flow perforated race deck flooring. We throw that on the floor after taking a shower. No wet seat or feet, and way less work for me." – Lyn Ellison, 2015 Chevy Silverado 3500, 2014 Lance 992
Editor's Note: The water-resistant toilet cover is a very good idea. We are going to ask you to enter your toilet cover into the Mod Contest. Thank you Lyn!
"We use our camper's wet bath often and we love it. We dry it with a squeegee and a small towel. The second person to use the shower is stuck with that chore but, since it's a small bath, the wipe down job doesn't take very long. We also open a window and run the roof vent fan if it's not too cold outside." – Buzz and Sherri Merchlewitz, 1998 Dodge Ram 2500, 2015 Hallmark Ut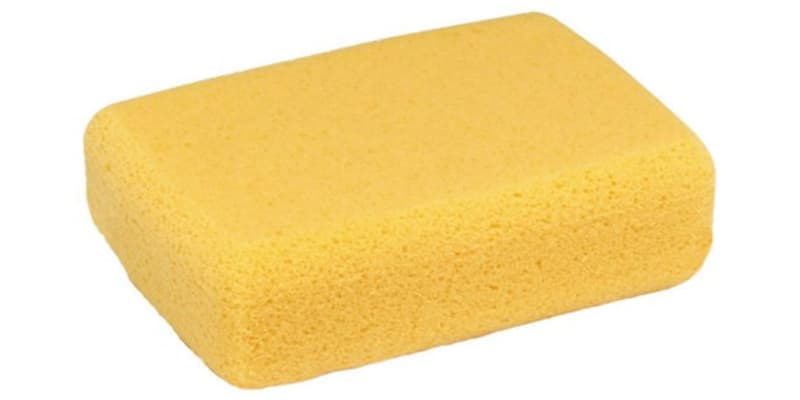 "First, I crack the vent and turn on the fan. Second, I dry the walls down with a Marshalltown TXL Hydra Tile Grout Sponge.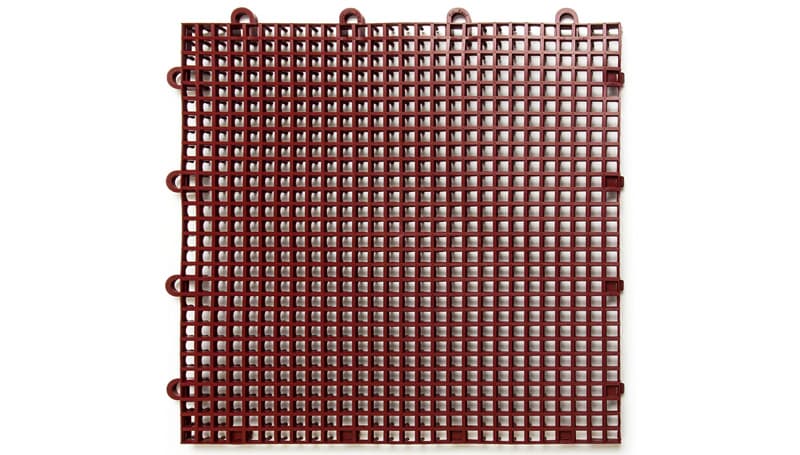 Third, I place three DuraGrid Comfort 12-inch by 12-inch interlocking tiles on the floor. The sponge and tiles are available from Amazon." – Bryan Whipp, 2016 Dodge Ram, 2017 Arctic Fox 990
"Ever since we moved off the ground and had a shower to use in any of our campers, it's been the same routine; shower, lower sprayer to tub floor to drain, squeegee, spray rubbing alcohol, leave curtain open hanging over tub, and leave fan on. We have never had mold, it always smells clean, and it self dries the remaining way from the fan.
We had the best luck with our Fantastic Fan that has a thermostat. It acted as an automatic dryer for our bathroom, and was certainly better than the standard small 12-volt fan vent that we currently have. Ironically, I was reviewing clamp-on Fantastic Vents yesterday to solve that issue." – Nicholas G., 1999 Ford F350, 2000 Lance 1130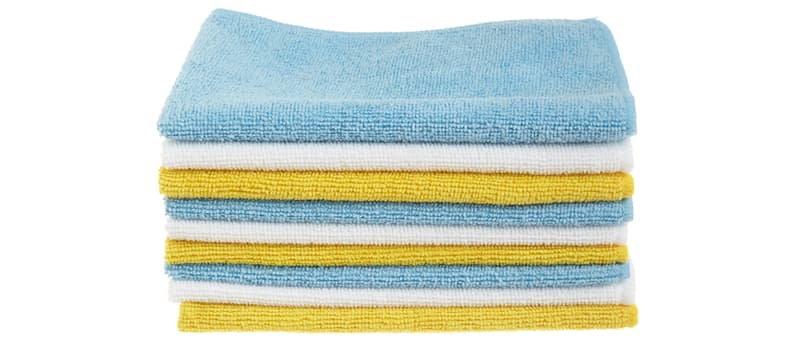 "I wipe down the bathroom with a micro fiber cloth after each use." – Olga Spanhoff, 2500 GMC HD, 2007 Hallmark Ute
"I just use a bath towel that I put on the floor just outside the wet bath. I stand on it while I dry myself." – Ron Williams, 1997 Ford F250, 2003 Lance 1010
"I use my wet bath shower every day. When I'm done, I wipe everything down with an old towel and leave the bathroom door and vent open to air it out. It takes a minute at the most." – Ramon Milam, 2016 Dodge Ram 3500, 2015 Arctic Fox 811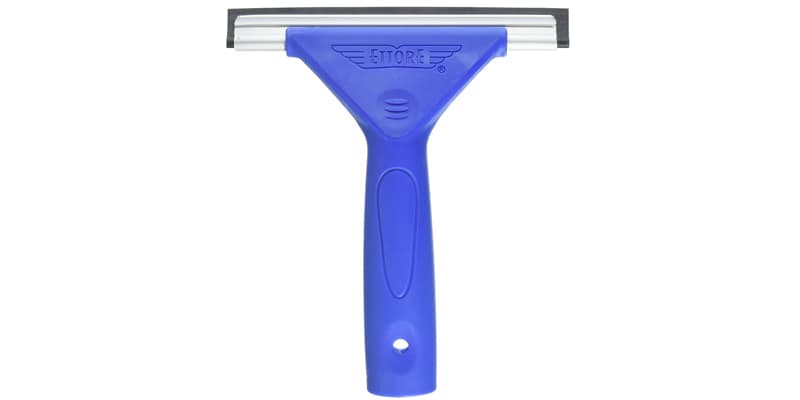 "I take a 6-inch squeegee and squeegee the shower stall down. Then I wipe it down with a towel. Then, I take Clorox bathroom spray and spray the floor. I think it's the best way to keep it sanitized." – Martin F. Sullivan Sr., 2014 Dodge Ram, 2004 Arctic Fox 990
"The easiest way to dry our wet bath is to be the first one to shower. That leaves it to the spouse to dry!
But seriously, we have a squeegee that we use to wipe down our wet bath and then spot dry the toilet and areas that the squeegee can't reach with a rag. Most of the areas we frequent out west are in drier climates so leaving the exhaust fan running for awhile after showering helps complete the drying process." – Greg Chambers, 2015 GMC Sierra 3500, 2015 Lance 855-S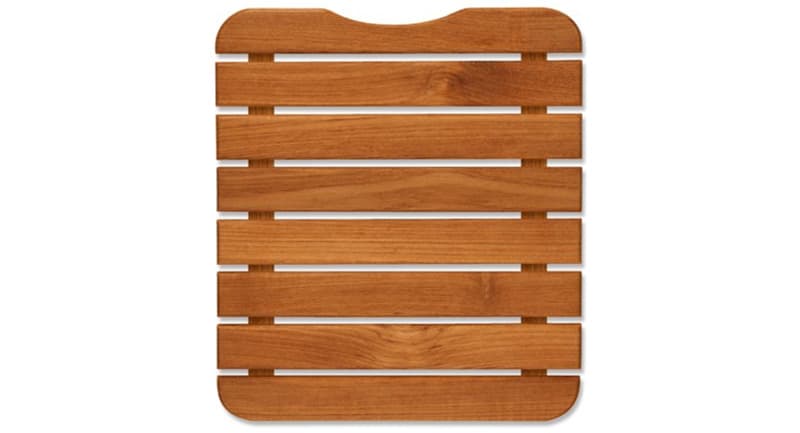 "The wet bath shower pan floor, being man made, gets slippery when wet. I added a Teak shower mat that I purchased online and modified to fit my bathroom. The Teak mat keeps the wet floor from being slippery and allows immediate use of the toilet by my wife. Plus, it elevates the pan a bit and makes using the toilet easier for her (short legs).
We dry our wet bath with a bath towel after use and then hang the towel outside to dry. I have a bungee cord stretched between the jack post tops for a clothes line." – Daryl Davis, 1997 Ford F350, 2015 Palomino SS1500
"When we're done toweling off, we use the same towel to wipe down the shower stall. Then it's hung on the rod inside the shower stall to dry." – Philip Tron, 2009 Chevy 3500, 2012 Lance 1050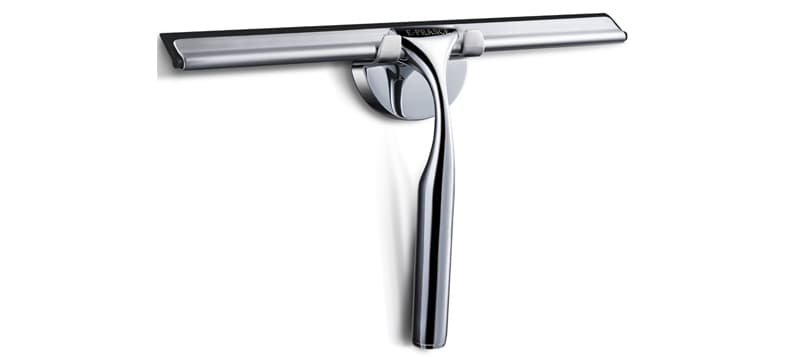 "We squeegee – just like at home – and let it air dry the rest of the way." – Randy Smith, 2001 Ford F350, 2017 Adventurer 910DB
"We use a squeegee after every shower and we gel coat the shower a couple times each season. It still looks like new." – Gary and Laurii Gadwa, 2012 Ford F350, 2011 Eagle Cap 950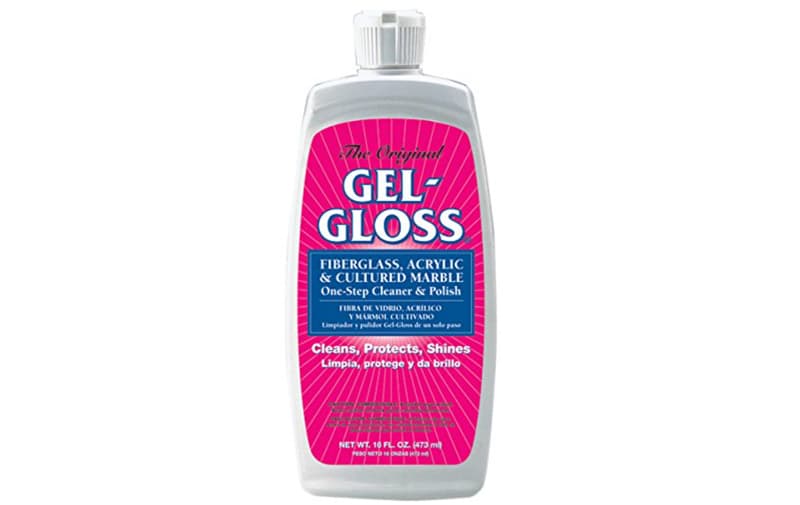 "After our fiberglass shower stall is semi-dry, I rub it down with a Gel-Gloss impregnated paper towel. Gel-Gloss is a one step cleaner and polish made for fiberglass." – Rex N., Ram 5500, 2001 Alpenlite 11-foot
"My camper has a wet bath. I'm a full-timer and take a shower virtually every day. After showering, I stand on a terry cloth towel to dry off. After I'm done I use the terry cloth towel I stand on to wipe down the stall walls, floor, toilet, and curtain. I do this every time I use the shower.
I have helped the drying situation by removing the factory door. This may not work for everybody – especially families. With the roof vent open and the rear door open, depending on weather, it dries well." – Mike Hennon, 1972 Ford F250, 1991 Fleetwood Caribou 9.5-foot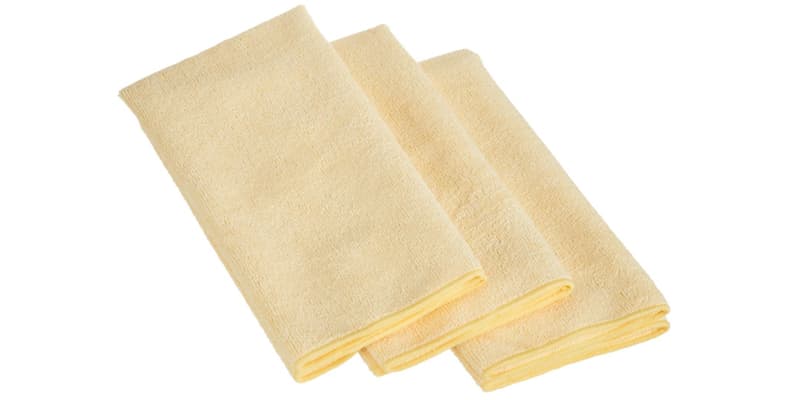 "I use a car chamois. It works great and I just ring it out in the bathroom sink." – Rick Lanagan, 2008 Ram 2500, 2012 Lance 855s
"We wipe off the toilet and sink with a towel. As for the rest of the bath, we try different things depending on the weather. In the winter or cold weather, if we have the furnace on, we let the ducted heat dry the shower stall. It does it very well. We might also open the vent a bit while it is drying.
In the spring, fall or temperate summer, we leave the vent open and prop open the bathroom door to ensure good airflow. I keep a few small fans in the camper, and I have been known to stick one in the bath, though my husband hates when I do it.
When it is hot enough to use the air conditioning, we prop open the shower door and let the air conditioning dehumidify and dry the bath." – Linda Becker, 1999 Ford F250, 1992 Lance 880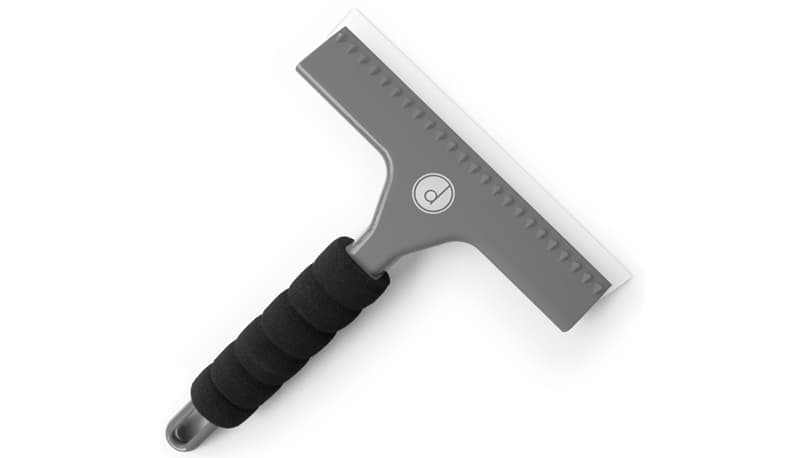 "I am with you. I love the idea of a hot shower every morning! I use a squeegee and a towel. I have never had a mold issues using this method. It only takes a couple of minutes." – Joe O'Brien, 2001 Dodge Ram 2500, 2002 Northstar Laredo
"We use a dedicated sponge and store it in a baggie in the bathroom. No mess and no wasted paper towels." – Grayden Obenour, 2011 Ford F350, 2000 Lance 920
"We have a dry bath in our Northstar 12STC. On a daily basis we just use a squeegee to get most of the water off and let it air dry. On our last day of camping we squeegee and dry it with a towel.
We haven't had a problem. We store any wet items in the shower when traveling and repeat the drying with a towel when we get home." – Jean Landau-vogt, 2016 Ford F350, 2016 Northstar 12STC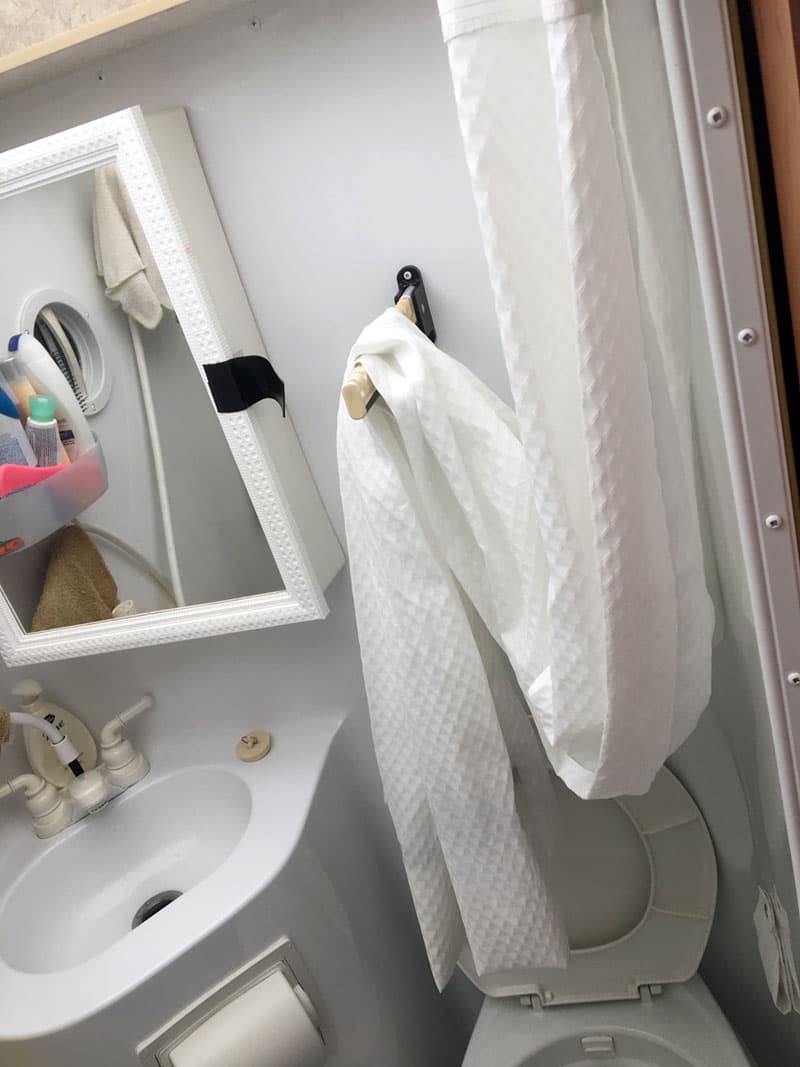 "We have a very large wet bath and enough room to place the shower curtain over the toilet bowl and door, keeping it dry during shower time.
Once each of us has finished our shower, we scoot any remaining water that has puddled on the bath floor towards the drain with our feet. The walls are then wiped down with a microfiber towel and the shower curtain is draped over the drying rack (which was conveniently placed above the toilet bowl) and the now opened toilet lid. This allows the curtain to drip dry without getting the floor wet.
We run the vent fan for about five more minutes after each shower to help move the air. After the showers for the day have been taken, we use a disinfecting wet wipe on all surfaces." – Chuck and Jodie Ramsey, 2012 Chevy Silverado, 2014 Adventurer 116DS
"We use a squeegee and dry wash rag where necessary." – Paul Roberson, 2014 Ford F350, 1988 Lance 980
"We use a small squeegee first to push the water onto the floor. It is impossible to get the squeegee behind the toilet though. Next comes the microfiber cloth. That works great! I highly recommend using one.
We got rid of the plastic shower curtain and replaced it with a microfiber shower curtain. It dries much faster. There is no more long term dripping of the shower curtain. That has made a huge difference in drying our wet bath. We also have the fan on during the shower and leave it on afterwards for an extended time.

It all depends on how humid it is where we are camping. We put a bubble shower mat down which keeps us from stepping onto a wet floor. We are able to leave the bathroom door open since our Wolf Creek has a sliding door, so it isn't in our way.
We started with a wet bath and then went to a dry bath and are back to a wet bath. With the change of the shower curtain, adding the bubble mat, and using the micro cloth we are just as happy with the wet bath as we were with the dry bath." – Ken Clegg, 2016 Wolf Creek 850

"A squeegee and the exhaust fan/vent work pretty quickly but we camp out west where it is dry. The floor did take longer to dry so I bought some squares of interlocking rubber mat. It has holes in it to drain and to allow air circulation, but keeps our feet above the bath/shower floor." – Connie Westbrook, 2003 Chevy 3500, 1997 Lance Squire 5000
"We use our shower almost every day. When we are done I wipe it down with a towel. While showering, the vent fan is on and the cab window is cracked open to allow some air flow.
If it's cool outside, I turn on the furnace to make it nice and warm in the bathroom. That seems to save on hot water. We always have some sort of window/vent open to help with humidity control and to provide fresh air.
Thanks for the great service you provide for us truck campers." – Dave Miller, 2015 Ford F350, 2003 Bigfoot 10.6E
"We use our shower all the time, as it was intended. I dry it with a squeegee first and then leave the vent open with the fan running for a short period of time. If we are going to be driving right away and it is not raining, we just leave the vent open while driving." – Susan Teske, GMC 3500, 2016 Arctic Fox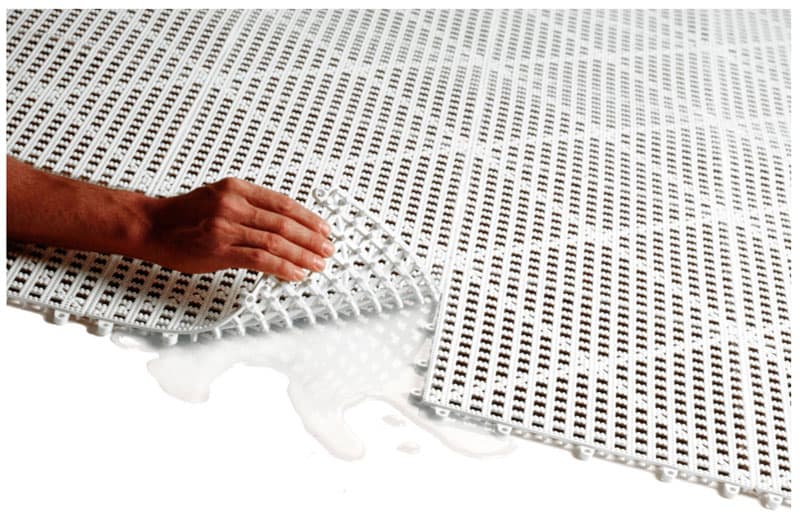 "First, we installed Dri-Dek Marine Deck Interlocking Tiles that were cut to fit in the floor of our wet bath. When showering we remove them.
After showering, we replace the tiles. Voila! Our feet are dry and the water is below. We do use a microfiber towel to wipe down the walls and open the vent." – Rachael Hendricks, 2016 GMC 3500, 2016 Cirrus 820
"I use a rubber squeegee to wipe off the walls of the shower. I've removed the OEM medicine cabinet and built a larger cabinet. The mirrored material is prone to scratching. I use a microfiber cloth on the mirror. I put a teak wood mat on the floor of the shower. I place it vertically next to the toilet. I use the squeegee to dry the floor as well." – Steven Cilenti, 1999 Ford F350, 2012 Arctic Fox 990
"We have a dry bath in our camper and have never found it necessary to dry the shower." – Dave Riddle, 2015 Chevrolet 3500 HD, 2017 Host Mammoth
"I specifically chose a wet bath so I would – sigh – have to wipe it down. Why? It is better than an annual cleaning. I use a small microfiber towel, which is perfect to use after a shower. Then I wipe the whole wet bath down, which takes maybe two to three minutes. Then it's cleaned up right nice and purdy-like.
I then – a-hem – try to wipe down the shower curtain, but give up and just throw it over the toilet seat to air dry. Sometimes I'll turn on the fan, but most of the time it dries fairly quickly. Since we're in this area, I'll use a clothes line clip to clip the shower curtain over the toilet paper dispenser to keep it dry. Probably a better solution would be using velcro, but haven't gotten there yet. Hope that helps." – Frank Poole, 2016 Ram 5500 HD, 2016 Arctic Fox 990
"Like you, I use our truck camper shower almost every day. I wipe it down with a towel and leave the door open for air circulation." – C.S. Mobley, 2016 Dodge Ram 3500
"I use a squeegee and then towel dry. I do the same at home." – Jim Tomblin, 1994 Ford F250, 2000 Bigfoot
"We have two truck campers; a 1995 Palomino 1500, and a 2017 Northstar 950SC. In both of our campers, we towel dry and/or air dry the bathroom.
With the Palomino, the roof air vent was several feet away so it was best to wipe it down after showering. With the new Northstar, the roof air vent is right there by the shower making it very convenient to air dry." – Wayne Erhart, 2002 Dodge Ram 2500, 1995 Palomino 1500, 2017 Northstar 950SC
"We usually dry it with a bath towel after we finish. The towel needs to be hung out to dry anyway. I am always surprised when people use a public shower instead of their truck camper shower." – Tom Elliott, 2007 Ram 2500, 1999 Lance 835 Lite
"We use a squeegee that is used for drying a car. It is very fast and leaves a nice dry surface. No scratching either." – Tom Andersen, 2006 Dodge 3500, 2003 Lance 1172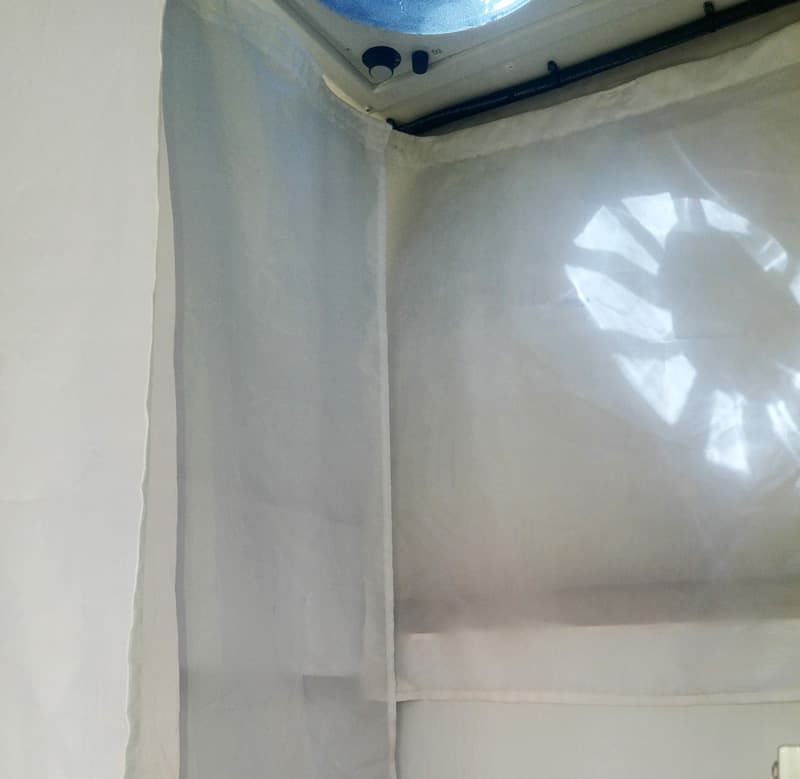 "I created a surround for all the shower walls and door out of water resistant nylon shower curtains that we attach with Velcro. I also made a nylon toilet cover. Those protect our walls and minimize moisture.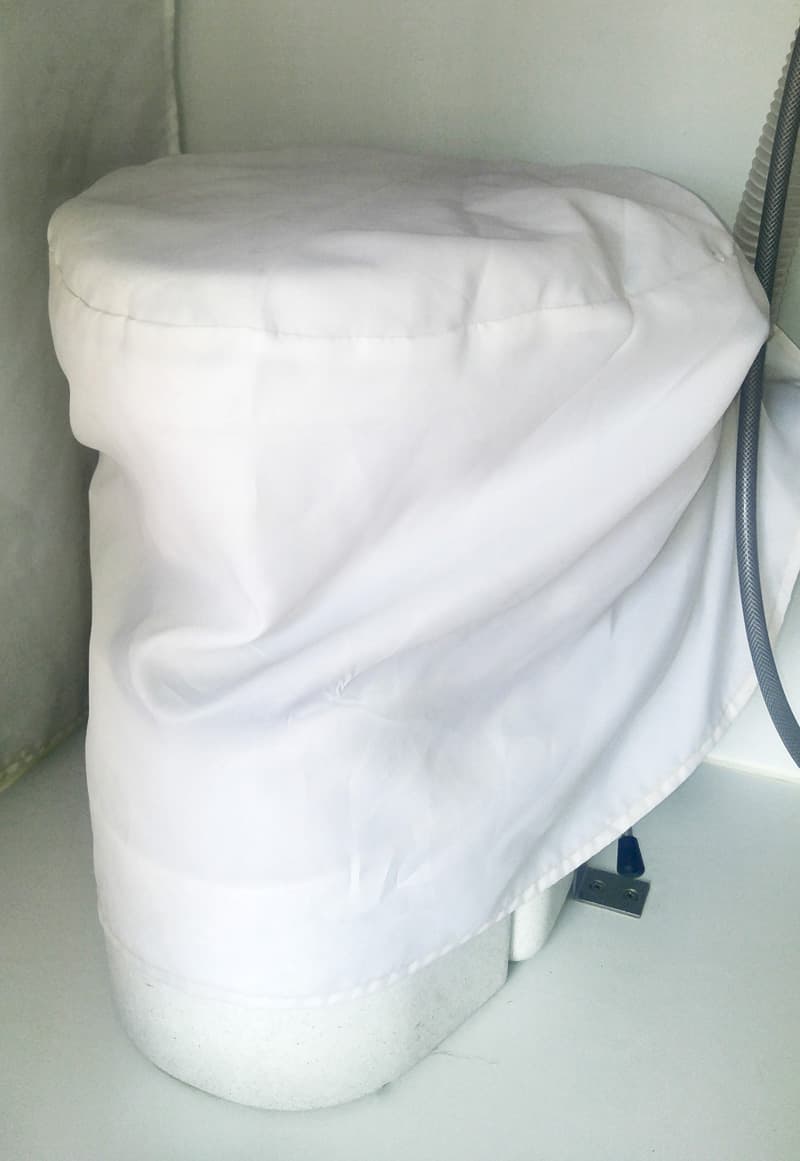 We always use the exhaust fan while showering and, after we're done, we use a shower squeegee to get rid of any remaining water, including on the floor. The nylon curtains dry almost immediately as does the rest of the shower." – Laurie Heimbigner, 2013 Ford 550, 2014 Phoenix Pop-up
Editor's Note: Another water-resistant toilet cover! This is a great idea.
"It's easy. I squeegee the shower and let it air dry." – Woody Flickinger, 2003 Dodge 3500, 2012 Arctic Fox 1140
"I too use the shower at least once per day, more often twice. Using the "pull back the shower curtain and wait" method has worked well so far, but my camper only has one season of use on it. I'll have to consider other options now that the idea of leaving excess water inside has come to light. I am both thankful and slightly annoyed that this potential problem has been communicated!" – Randy Brewer, 2001 Ford F150, 2016 Capri Retreat
"Our Lance has a dry bath. After a shower, we just turn on the bathroom vent fan and it dries pretty quickly. We have never had a mildew problem. Knock on wood!" – Wade and Becky Johnson, 2004 Ford F350, 2004 Lance 1130
"Interesting question. We first had a Lance with a wet bath. After each shower we just wiped it down each time because it was very easy and fast. We loved it and it was always clean. And it was a larger shower.
Now we have an Arctic Fox with a dry bath which just gets cleaned every few months. It's smaller than the wet bath and takes up a lot of room from the kitchen counter. We just let it air dry, but we are in a very dry climate and it dries fast, so we don't have any mold. We use it in Arizona for three months in the winter and live in Colorado.
How much time do you use the shower compared with the time using the kitchen and counter space? We would much rather have more counter space than that dry shower which gets used only a few minutes a day at the most compared to what you use the counter. But it's interesting that most of people want a dry shower. Not us. Give us more counter space and have a clean shower all time." – Frank Niehus, 2007 Ford F-350, 2007 Arctic Fox 1150
"Since there isn't a fan overhead in the shower, we want to make sure our shower is dry. We use a squeegee, followed by a microfiber cloth to areas where the squeegee doesn't get (corners, around tap, etc). It may seem excessive, but that is where we hang our bath towels.
We have a closet expandable wand inserted at the very top of the shower stall (so it's not a head banger). I use pink and blue hangers to designate my towel versus my hubby's towel. They stay out of the way and are dried before our next use (we shower daily). The microfiber towel also hangs up there so after the shower, it's handy.
Drying the shower is a chore, so my hubby and I alternate who showers first because the last one does the drying. Sometimes we make a joke of who showered first. We have fun using it as a bargaining tool for who had the hardest day!" – Grace O'Sullivan, 2017 Chevy 3500 HD, 2008 Snowriver 9-6 Dry Bath

"We have a dry bath. The home water we fill our tanks with is very hard. Therefore, we always dry our shower. First, we use a California squeegee on the smooth areas and then use microfiber bath towel. The microfiber towel dries fast on the shower curtain rod. We've been truck camping a lot in the last six and a half years and, so far, the shower still looks pretty clean. We enjoy your magazine." – Jim Cornwell, 2011 Chevy 3500 HD, 2012 Lance 1191
"I squeegee it. It's pretty much mandatory as the 116DS has a wet bath." – Nancy Meiners, 2016 Adventurer 116DS
"We use a microfiber towel and a squeegee to dry up our dry bath. We had a wet bath unit before and like our new-to-us unit." – Eric Devolin, 2007 GMC 3500, 2006 Adventurer 106DBS
"Costco microfiber towels." – Bernie Neale, 2006 Dodge Ram 3500, 2016 Northern Lite 9-6Q SE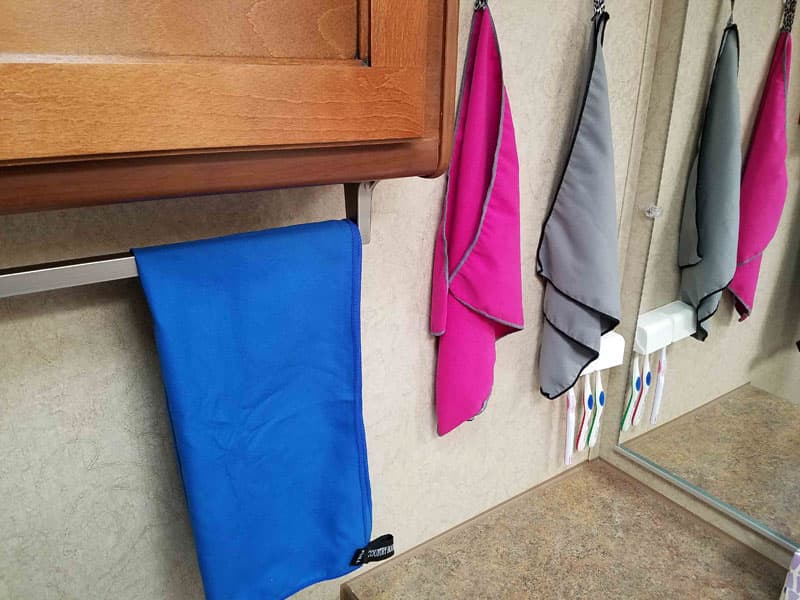 "We have a dry bath and like to keep it that way. We leave the end of this month for The West and then Canada to Alaska – mainly boondocking for four and a half months. We will see how all of this works for long travel.
First, we don't use regular towels that hold moisture. We use MicroFiber (Camping Towels) 20% Polyamide and 80% Polyester and squeeze out any moisture after drying off. These towels dry very quickly leaving very little long term moisture in the air. If we can get a regular camp shower we also have regular towels for that as we would dry them prior to returning them into our camper.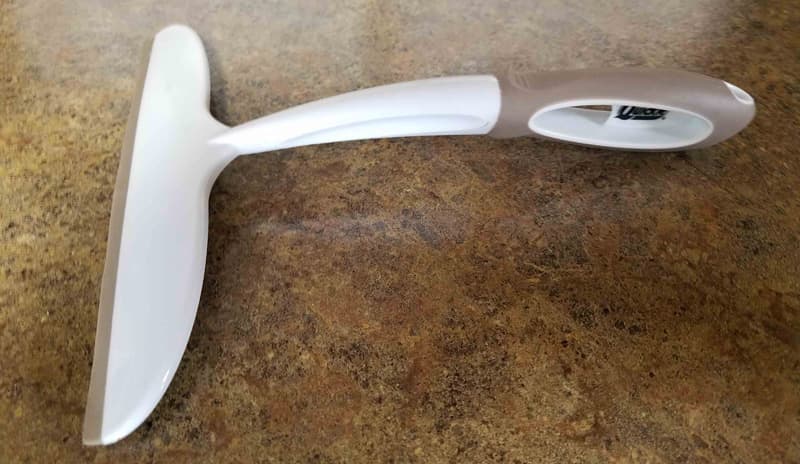 Second, we use a bath squeegee on the walls to get water to fall to the floor.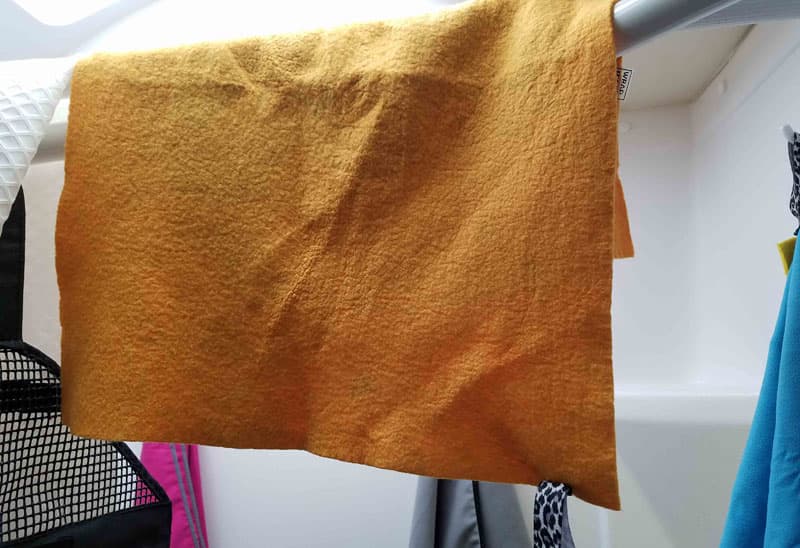 Third, we wipe off the walls and the residual water on the floor with an automotive shammy cloth to remove any left over water. This can be taken outside and then squeezed to get 95-percent of the remaining water out. It also dries very fast
Fourth, our hand towels and wash cloths are of the same MicroFiber product. Fifth, we have a fan in the bathroom so we turn it on as well.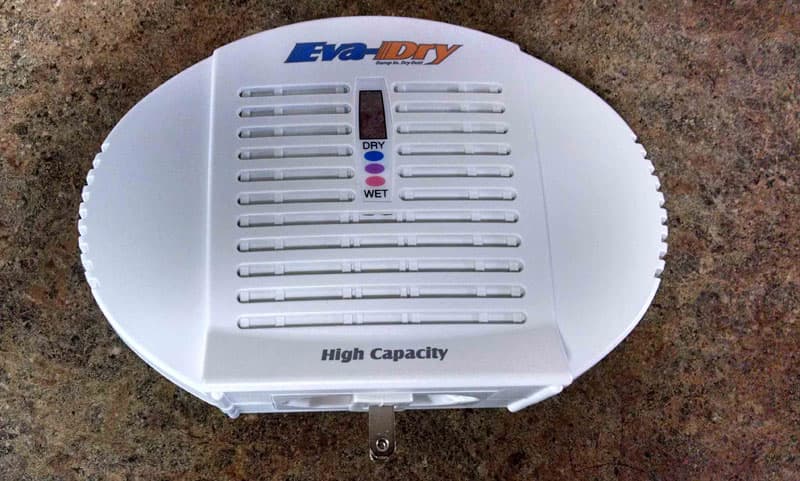 Sixth, we have three Eva-Dry E-500's in the camper; one in the bathroom and two in the bedroom to remove moisture from the air. They do not require electricity to remove moisture, but they get plugged in to electricity monthly to dry the chemicals inside of the Eva-Dry unit. They can be used again and again.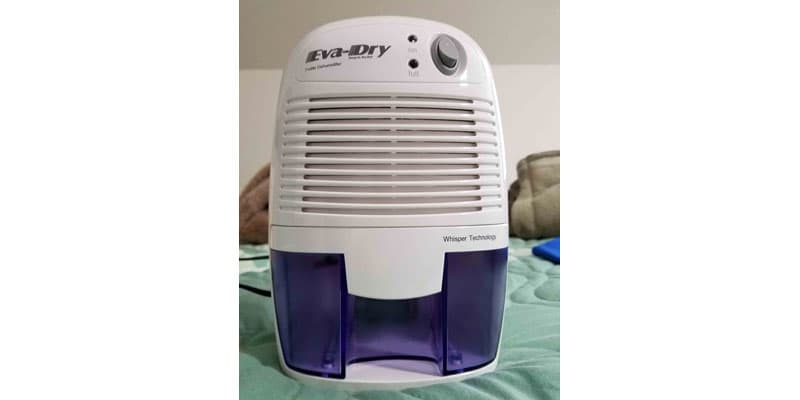 If we are winter camping we would take along an Eva-Dry 1100 dehumidifier to reduce humidity. The water can be thrown out or just put down the drain." – Donald Fox, Ford 2015 F-450, 2016 Lance 1172
"We have a wet shower, which is great. We use a squeegee, followed by a towel. This only takes a few minutes and leaves the bathroom clean and dry." – Richard Ward, 2006 Ford F250, 2007 Arctic Fox 990
"Immediately I take a designated towel and dry the surface of the shower area prior to even drying myself with a bath towel. Therefore, I leave the shower area dry and clean for the next use and do not suffer a stuffy, damp, cabin area. Furthermore, I do not invite mold or other yuckiness to invade my camper.
That's about it, just do it! After a refreshing shower, I always complete this mandatory drying step, no matter how busy or under-the-gun of time I may be." – Bennett Healy, 2013 Ford F250, Bigfoot
"With a Shamwow! Just kidding. I do use a chamois though. It's perfect for wiping down the walls and then soaking up and drying the basin. I squeeze the excess water down the toilet. Less than five minutes and it's dry." – Rick Scalise, 2015 Ford F250, 2016 Ford 6.8
"Air dry." – Richard Blohm, 2016 Ford F450, 2015 Lance 1172
"We normally use campground showers when available, but have no problems using our camper shower otherwise. We just use the same towel we dried our bodies with to wipe down the shower. It works like a charm and we don't need squeegees or any special microfiber towel." – Larry Routt, 2005 Ford F350, 2004 Lance 820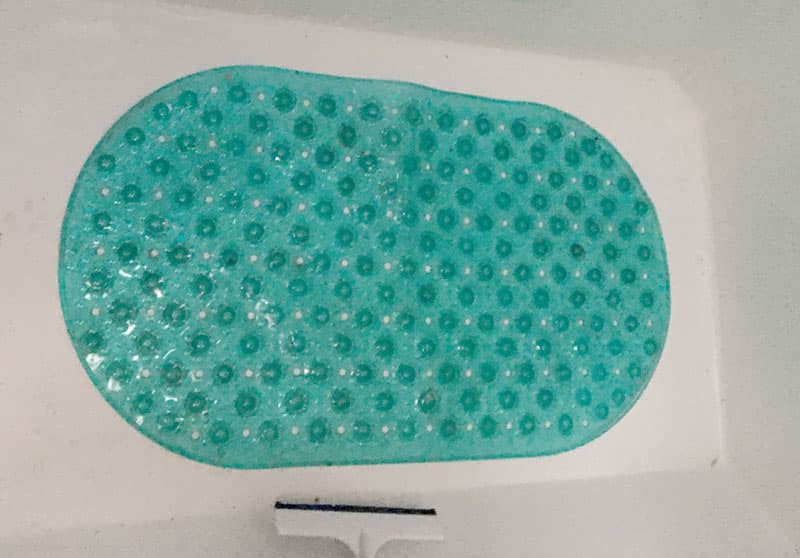 "We are squeegee users, and that takes care of the majority of the wetness in the wet bath. We are able to drape our shower curtain around the toilet so that area stays fairly dry. We have a plastic bath mat that we leave on the bathroom floor all the time except when we are showering.
After we dry the shower, we put the mat back in and this keeps our feet – especially our socks – dry from any residual water that drains down. Don thinks all showers should have a center drain that would funnel the water out no matter how un-level you park – like in those slanted Walmart parking lots." – Sue and Don Graf, 2008 Ford F350, 2013 Arctic Fox 865
"I have a wet bath in my motorhome. Before using the shower, I cover the toilet with a large plastic shopping bag, and remove the bathtub mat that is on the floor.
After showering, I remove the shopping bag, give it a good shake and hang it up outside to dry. I like that I don't have to dry the whole toilet down each time I use the shower. Then I dry the walls and floor with a microfiber towel and replace the bathtub mat on the floor.
Because the floor remains damp for a white – from stray amounts of water around the bathroom – the mat keeps the floor from getting muddy when I step into the bathroom with shoes on during the day. This system works pretty well for me, even though I would prefer to have a dry bath." – Cheryl Lane, 2006 BornFree 22 foot motorhome, Previously owned Outfitter Apex 8
"We tend to use a ShamWow which has provided excellent results." – Alan Bryant, 2002 Ford F250, 1996 Shadow Cruiser
"Squeegee." – Will Rosenberry, 2015 Ram 3500, 2016 Arctic Fox 990
"I let the Fantastic Fan that I paid extra for ventilate the area." – Robert Mayton, 2014 Ford F-450, 2015 Lance 1172
"We are in the camper 50-percent of the year. I shower in the camper every night. I go last and use a chamois to wipe it out.
We have a closet rod in the shower and hang all the towels using hangers with spring clips. When we travel, we leave the window in the toilet room and the front facing cab window open. The circulating air dries everything. It's not so good when it rains." – Tom Scholtens, 2010 Chevy 2500HD, 2013 Bigfoot 25c10.4
"The last person to use the shower gets to dry it. It only takes about 90 seconds with a ShamWow and done. It's always squeaky clean and ready to go. I have had several wet baths over the years and it's never been an issue. Yuck to campground showers! I have also seen many campers never use their shower. Go figure!" – Frank Paglianite, 2013 Ford F350, 2012 Lance 992
"I use a couple of paper towels along with the fan in the bathroom. I turn on the fan for a few minutes, and then I blot what water is left with the paper towels. Usually two or three towels is enough." – Bob Chan, 1989 Ford F250, 1988 Lance 780
"We have a dry shower in our Arctic Fox. I use a microfiber towel to dry the shower. The daily drying with a towel keeps the shower clean with no scum buildup. It reduces the moisture in the camper and keeps the mold from growing. With the shower dry we then use the shower stall for our dirty clothes and coat/jacket hanging storage." – Russell Berquam, 2014 Ford F-350, 2015 Arctic Fox 1140
"For our shower stalls in our camper and in the condo, we squeegee first, followed by thorough drying with a small microfiber towel. Moisture is an RV's worst enemy!" – John Addu, 2015 Ram 2500, Lance 650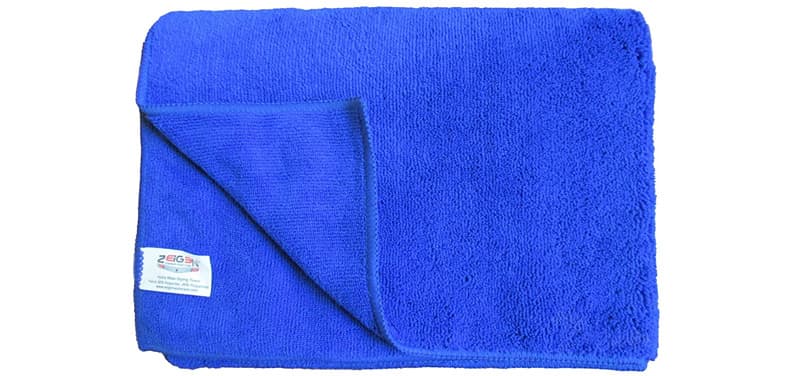 "I use a 24×36 micro fiber towel. Another microfiber towel of the same size is used as a bath mat." – Ralph Bosse, 1996 Dodge 2500, 1996 Lance 480
"It's a dry bath. I haven't dried the shower stall yet after six months. Perhaps I'm doing it wrong." – Lance McAllister, 2007 Ford F350, Host Rainer SB
"We keep wash cloth sized microfiber towels in the shower behind the curtain. As long as I've done my job leveling the rig just slightly nose up, it's easy to wipe down and direct the water to the drain. We still have to remove shoes and socks to use the head as getting the floor bone dry takes too much time and effort. I've been looking for a teak floor grate, but haven't found the right one yet. I may have to build one." – Stuart Chapman, 2016 Ford F350, 2016 Arctic Fox 865
"I use squeegees (12-inch and 4-inch) to dry the wet bath in my camper. I have been doing this since buying my first 2001 Adventurer with a wet bath. Obviously, I prefer a wet bath. I don't like using campground showers. A wet bath dries quicker after being squeegeed. Using the built-in shower is quicker and easier than using campground showers." – Ronald Ramos, Dodge Ram 3500, 2017 Arctic Fox 990
"We spend six months in Alaska each year and use shower daily. My wife uses a squeegee and an anti-mold and mildew chemical." – Bill Sargent, 2012 Ram 3500, 2009 Lance 971
"We use paper towels to blot up some of the moisture. We also turn on the overhead vent in the bathroom and the Fantastic Vent fan. Warm weather is easy. We leave the windows open. In winter it's a little tricky, but it can be done." – Jim Murns, 2006 Ford F250, 2015 Northstar 9.5 Igloo
"I have a squeegee that I use to get rid of the big amounts of water. Then, I use a chamois to do the rest. It works well. I hang the chamois and the towel outside to dry." – Kenny Dunn, 1998 Dodge 3500, 2010 Arctic Fox 811S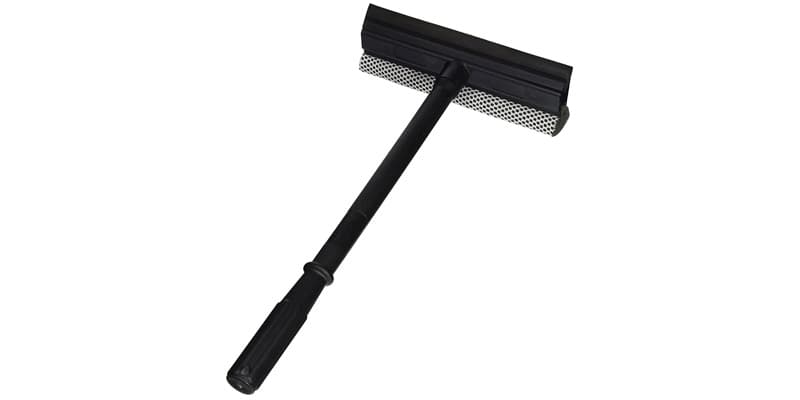 "We have a wet bath. We also have an outside shower. Given the location and temperature we'll use the outside shower every chance we can. With the inside shower we use a squeegee with a sponge back. Then it's a normal terry towel which we hang to dry. We also keep the vent open with the door cracked.
If we stay at a campground with a decent shower, we'll use a pair of flip flops and make use of it. It saves water and space in the holding tank. No matter what, we won't go more than two days without a shower.
At times we're even known to bathe in a creek or river. We gather no flies." – Dave Pracht, 2015 GMC K3500, 1987 Lance LC900
"I squeegee first, and then I use a car chamois to get into tight areas. It works for us." – Kevin McCarron, 2013 Ford F-350, 2013 Northern Lite 10-2 CDSE
"I turn on the fan and let it air dry. I use our camper shower all the time!" – Brent Bolton, 2006 Chevy 3500, 2001 Corsair 1080
"I use a small squeegee on the walls, and then a micro-fiber towel to dry off leftover water and the toilet seat. I squeegee any pooled water into the drain and then lay down some paper towels as a mat (to keep dirt off the floor) for using the toilet later. I also open the fanless bathroom vent until I depart my campsite.
In 11 years of travel for six months of the year, I've only had a couple of small episodes of mildew on my shower walls." – Ralph Goff (aka Ramblin' Ralph), 2006 GMC 2500HD, 2001 Lance 845
"We use our shower. I figure that I paid for it, so I might as well use it. We squeegee the walls and open the bath vent to let it dry the rest of the way." – Erwin Greven, 2002 Chevrolet 2500HD, 2002 Lance 921
"We wipe it down with wash cloths." – Mike Ricci, 2006 Chevy 2500 HD, 2008 Bigfoot 15C9.5FS
"Our shower has a particle board top and door with laminate. If you get the wood wet, the wood will puff up and you either replace it (if possible) or you live with it.
The previous owners may have used the camper bathroom, but I take a GI shower using the sink or go to the bath house. We have found most campgrounds have good facilities. If we are parking overnight at a Walmart or Flying J, we do a GI shower." – RJ Bickford, 2007 Dodge 2500, 2003 Palomino Maverick 1000
"I have a raised interlocking rubber grid system on the floor. These are often found in locker rooms and swimming pool areas. This allows all water to drain through rapidly.
I have also replaced the original bathroom fan with a Fantastic Fan that moves a lot more air to quickly dry the bath.
After showering, I simply raise the toilet seat cover to the vertical position to drain off the curtain and turn the fan on leaving the bath door open for a few minutes to increase airflow." – Bob Lick, 2003 Dodge 3500, 1993 Alpenlite 11′ SK
"We do not tend to use our wet bath shower as it creates a wet mess, is a terribly confining space, and uses a significant amount of water. Instead, my wife and I take sponge baths inside our camper.
We use less than a gallon of water each. We have privacy without the confinement issues associated with the shower stall and the grey water can be disposed of without utilizing the grey water tank. When we want to wash our hair, we use the outdoor shower. We never crawl into our beds dirty." – Arn Chamberlain, 2000 Ford F-250, 2004 Palomino Maverick 8801
"We just bought our camper used. I'm interested in finding out how to dry it." – Paulina Jordan, 1994 Ford F250, 1992 Lance Squire 4000
"My camper doesn't have a shower, but I use an outside portable shower. It works well." – Charlie Young, 2013 Chevy 2500HD, 2004 Sunlite Apache
"I have a dry bath and love it. When I shower, I put the fan on and let it dry by itself. I have not had any problems so far, but I think I will start drying it with a towel to make sure that I don't get any mold." – Roger Couturier, 2012 Ford F250, 2000 Lance 1030
"We open the fan and then squeegee down the walls and floor.  Then, we let the rest air dry." – Donald Hard, 2003 Ford F350, 2011 Adventurer 89FB
"I share your feelings about the wonder of a shower.  Anywhere we go we find that few seem to actually use the domestic conveniences of their camper.  I use a towel style bathmat to wipe things dry after a shower.  The bathmat also does a good job keeping dirt from being tracked onto the shower floor when using the toilet.  Two bath mats would be a good idea. I could hang them to dry.  Depending on the outside temperature, I ventilate by opening the vent lid and/or using the fan." – Rene Poulin, 1997 Dodge Ram 2500, 2000 Bigfoot 2500 9.6