Adventurer Manufacturing announces the 2017 Adventurer 89RBS, an 8-foot 9-inch, hard side, single full-wall slide, with a wet bath.  The 9-foot slide-out market just got more competitive.

Create a successful company or product and you will eventually have competitors attempting to take a piece of the pie you created.  This is as inevitable as it is healthy.  Competition destroys complacency, focuses management on strengths and weaknesses, and fuels innovation.
If there's been a product trend in 2016, it's been tighter competition.  We have seen more and better floor plans going after very specific target markets.  The most obvious example of this trend is the emergence of serious half-ton compatible hard side models.  A less obvious example is the focus on 9-foot hard side slide-out floor plans; the sweet spot for towing, and a long-time best seller in the truck camper marketplace.
Enter the 2017 Adventurer 89RBS; a fresh take on a familiar floor plan and a new competitor in the coveted 9-foot hard side slide-out battleground.  Adventurer Manufacturing has brought their latest design and manufacturing acumen to bear and believes their new entrant will dominate.  Naturally we are intensely interested, but skeptical.  That's our job as journalists.
To find more about the 89RBS, including what makes this new Adventurer a contender, we talked to Greg Tucknies, National Sales Manager for Adventurer Manufacturing.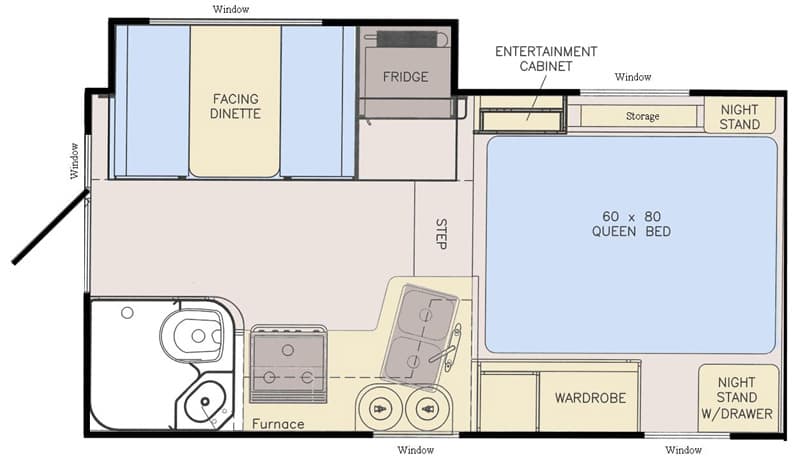 2017 Adventurer 89RBS Specifications:
The 2017 Adventurer 89RBS is a hard side, single-slide, wet bath truck camper made for short or long bed trucks.  The interior floor length of the 2017 Adventurer 89RBS is 8'9", the interior height is 78″, and the center of gravity is 38".  The 2017 Adventurer 89RBS has a 44 gallon fresh tank, a 31 gallon grey tank, a 31 gallon black tank, and a 6 gallon hot water heater.  It can accommodate two batteries and has two twenty-pound propane tanks.  Adventurer is reporting the base weight of the Adventurer 89RBS to be 3,018 pounds.  The base MSRP for the 2017 Adventurer 89RBS is $29,540.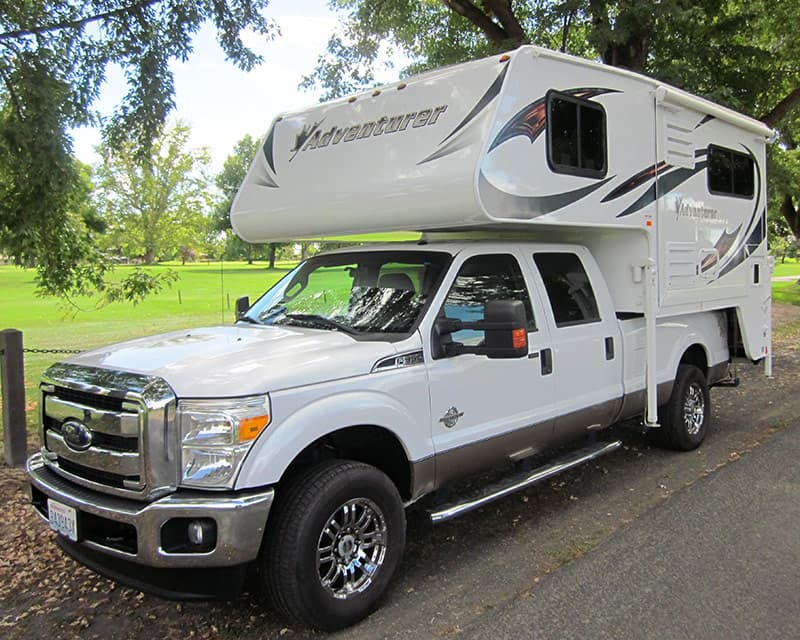 Above: The 2017 Adventurer 89RBS on a Ford F350, long bed truck.  All photography provided by Adventurer Manufacturing.
TCM: At first blush, the Adventurer 89RBS floor plan looks like an 89RB flipped, with a full-wall slide out.  Is that accurate?
Greg: It is.  We started with the Adventurer 89RB concept, but the 89RBS was designed fresh from the ground up.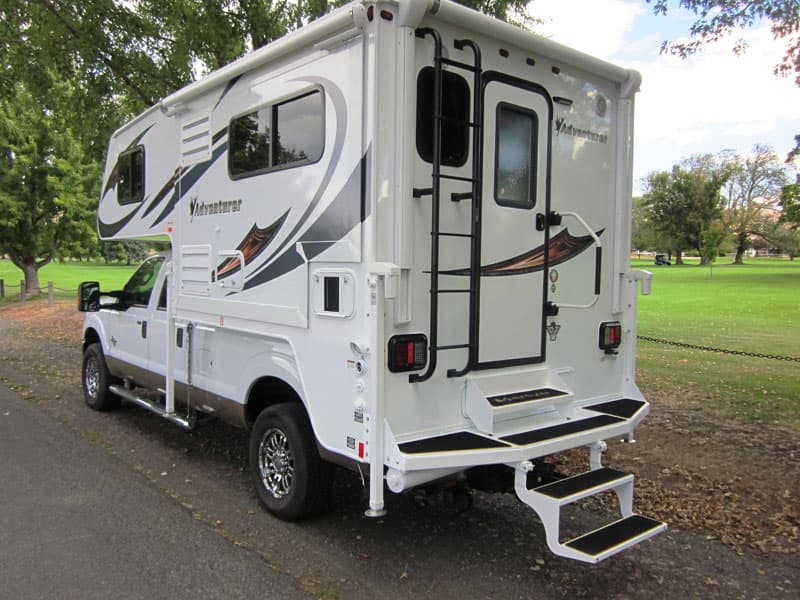 Our primary focus was to make the 89RBS long bed and short bed compatible, and make it generator capable for long bed and short bed trucks.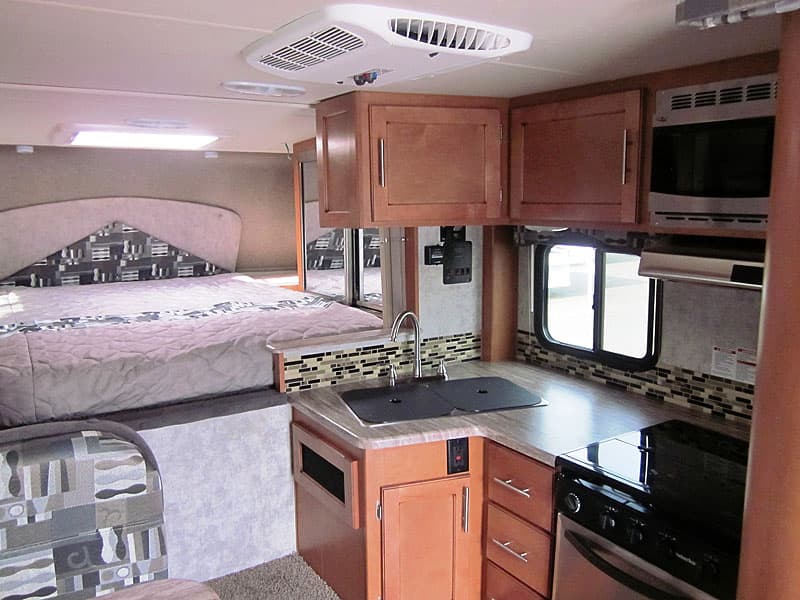 Above: The interior kitchen and cabover of the Adventurer 89RBS
We also designed the Adventurer 89RBS as a rear bath design because it opens up the floor plan and cabover bedroom area.  Since we moved the bathroom to the passenger's side, we needed to make an all-new mold for the bathroom.  The wet bath in the 89RBS is now the largest wet bath ever made for an Adventurer truck camper.  It's actually 12-percent bigger.  Customers are going to love it.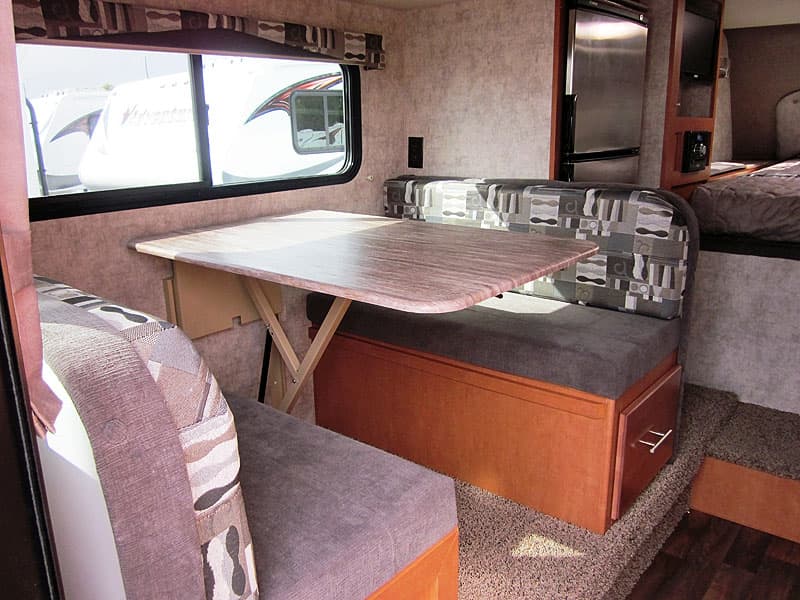 Above: The dinette in the Adventurer 89RBS