For 2017, Adventurer Manufacturing teases two new models, reveals all-new interiors, debuts one-piece counter tops, and unveils bolder exterior graphics.

Most manufacturers will debut a new and improved version of a product and discontinue the older product at the same time.  Not Adventurer Manufacturing.
After gathering dealer and customer feedback about how they could improve a specific camper, the Adventurer team does their best to build a new camper to beat the old one.
Once they believe they've hit the mark, they step back and let the new camper duke it out in the marketplace with the old camper.  It's literally Adventurer vs Adventurer, camper vs camper, model vs model.  At the end of the year, the camper that has sold the most wins.
Right under our noses in 2015 and 2016, Adventurer has been monitoring a battle between the Adventurer 910FBS and the 910DB.  For 2017, they are ready to announce a winner, and kick one of these single-slides off Adventurer island.  Bring the truck camper torches.
In addition, Adventurer is set to debut significant changes to their interiors including new cabinetry, molded one-piece countertops, wall boards, and fabrics.  The exterior graphics have also been enhanced while other features and options have been added.  Did we mention they have two new models in the works?
To dig deeper into Adventurer's 2017 model year updates, needle more information on the new models, and discover which truck camper torch is getting snuffed, we talked to Greg Tucknies, National Sales Manager for Adventurer Manufacturing.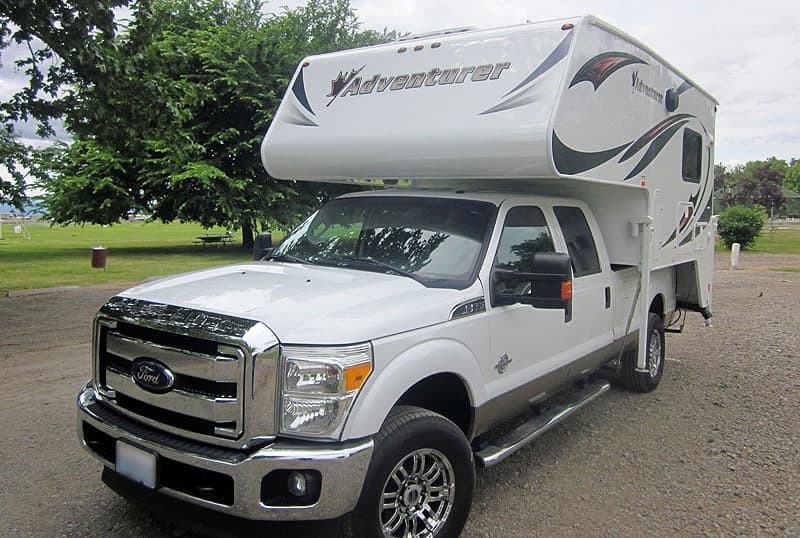 Above: The 2017 Adventurer 86FB on a Ford F350.  All photography provided by Adventurer Manufacturing.
TCM: Are there any Adventurer models being discontinued for 2017?
Greg: Yes, we are discontinuing the Adventurer 910FBS for 2017.
When we debuted the Adventurer 910DB for 2014, we anticipated that some 910FBS sales would become 910DB sales, and that has happened.
A main reason why customers prefer the Adventurer 910DB is the King-size bed.  In fact, we continue to be asked to put a King-size bed in the other Adventurer models.
The only negative of the 910DB is how the size of the Super-U dinette encroached into the main living area of the camper.  For 2017, we have have shortened the dinette.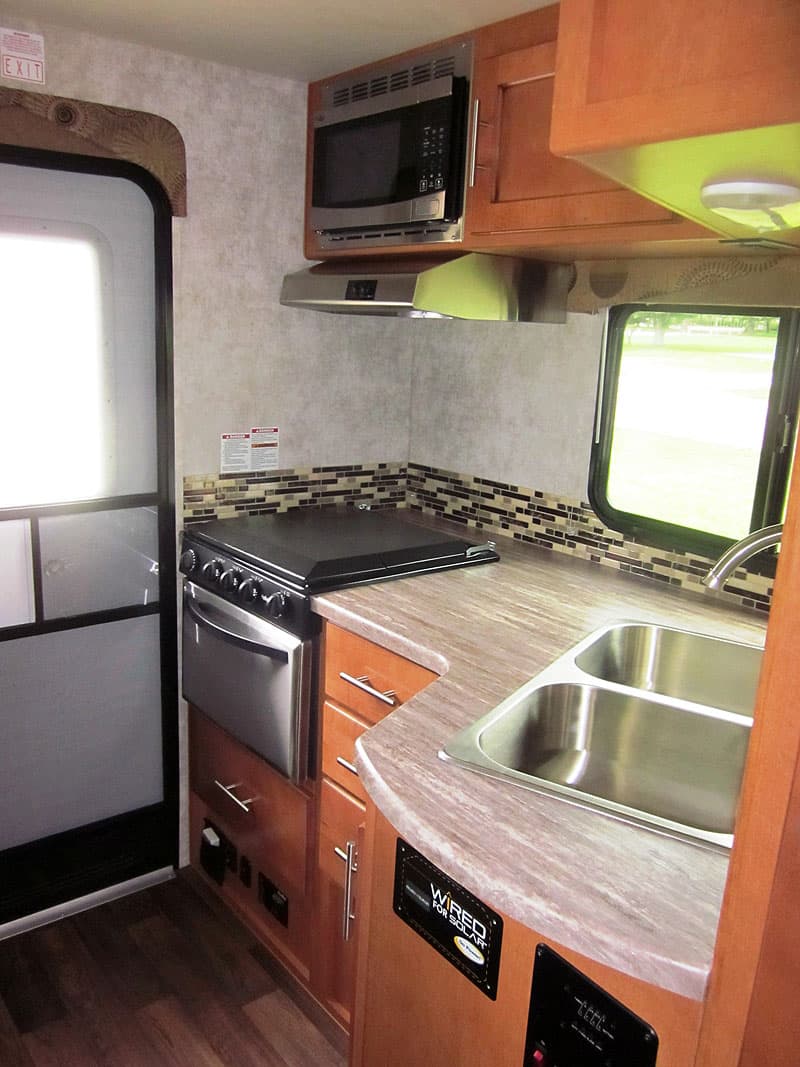 Above: The Splendid Maple cabinetry, new hardware, and stainless appliances in the Adventurer 86FB
TCM: Tell us about the new 2017 Adventurer interiors.
Greg: For many years, Adventurer had light color interiors.  In 2010, when I started at Adventurer, the cabinetry was blonde in color.  As our dealers and customers asked us for richer interiors, we made the cabinetry progressively darker maple tones.  We have used the most recent maple cabinetry since 2014.
Over the past two years, Adventurer dealers and customers have asked us for dark Cherry cabinetry.  While we appreciated this feedback, we didn't want the cabinetry in the smaller Adventurer models to be that dark.