For 2017, Adventurer Manufacturing teases two new models, reveals all-new interiors, debuts one-piece counter tops, and unveils bolder exterior graphics.

Most manufacturers will debut a new and improved version of a product and discontinue the older product at the same time.  Not Adventurer Manufacturing.
After gathering dealer and customer feedback about how they could improve a specific camper, the Adventurer team does their best to build a new camper to beat the old one.
Once they believe they've hit the mark, they step back and let the new camper duke it out in the marketplace with the old camper.  It's literally Adventurer vs Adventurer, camper vs camper, model vs model.  At the end of the year, the camper that has sold the most wins.
Right under our noses in 2015 and 2016, Adventurer has been monitoring a battle between the Adventurer 910FBS and the 910DB.  For 2017, they are ready to announce a winner, and kick one of these single-slides off Adventurer island.  Bring the truck camper torches.
In addition, Adventurer is set to debut significant changes to their interiors including new cabinetry, molded one-piece countertops, wall boards, and fabrics.  The exterior graphics have also been enhanced while other features and options have been added.  Did we mention they have two new models in the works?
To dig deeper into Adventurer's 2017 model year updates, needle more information on the new models, and discover which truck camper torch is getting snuffed, we talked to Greg Tucknies, National Sales Manager for Adventurer Manufacturing.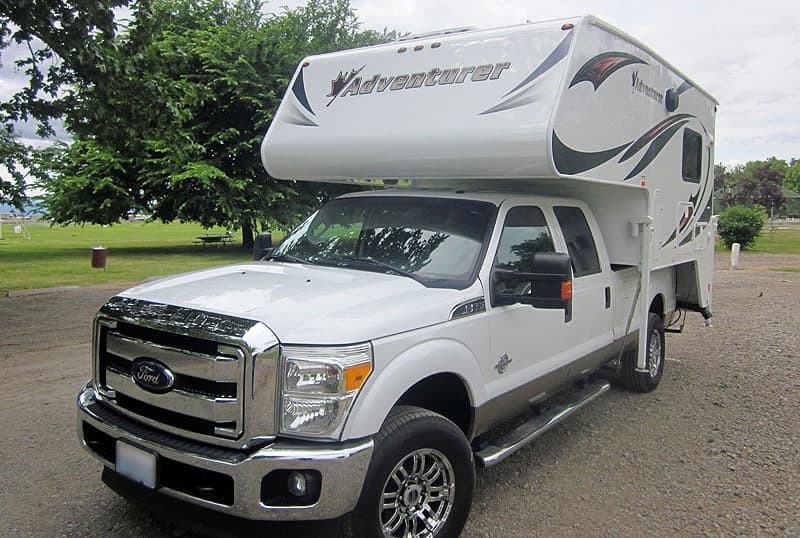 Above: The 2017 Adventurer 86FB on a Ford F350.  All photography provided by Adventurer Manufacturing.
TCM: Are there any Adventurer models being discontinued for 2017?
Greg: Yes, we are discontinuing the Adventurer 910FBS for 2017.
When we debuted the Adventurer 910DB for 2014, we anticipated that some 910FBS sales would become 910DB sales, and that has happened.
A main reason why customers prefer the Adventurer 910DB is the King-size bed.  In fact, we continue to be asked to put a King-size bed in the other Adventurer models.
The only negative of the 910DB is how the size of the Super-U dinette encroached into the main living area of the camper.  For 2017, we have have shortened the dinette.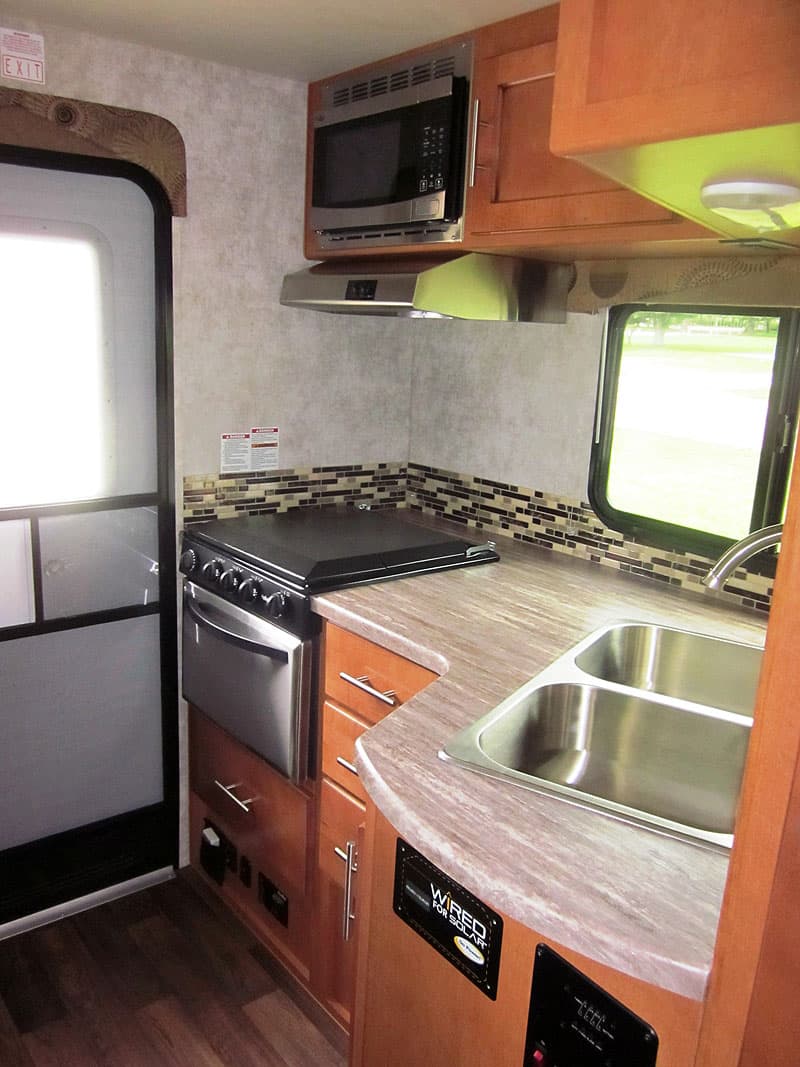 Above: The Splendid Maple cabinetry, new hardware, and stainless appliances in the Adventurer 86FB
TCM: Tell us about the new 2017 Adventurer interiors.
Greg: For many years, Adventurer had light color interiors.  In 2010, when I started at Adventurer, the cabinetry was blonde in color.  As our dealers and customers asked us for richer interiors, we made the cabinetry progressively darker maple tones.  We have used the most recent maple cabinetry since 2014.
Over the past two years, Adventurer dealers and customers have asked us for dark Cherry cabinetry.  While we appreciated this feedback, we didn't want the cabinetry in the smaller Adventurer models to be that dark.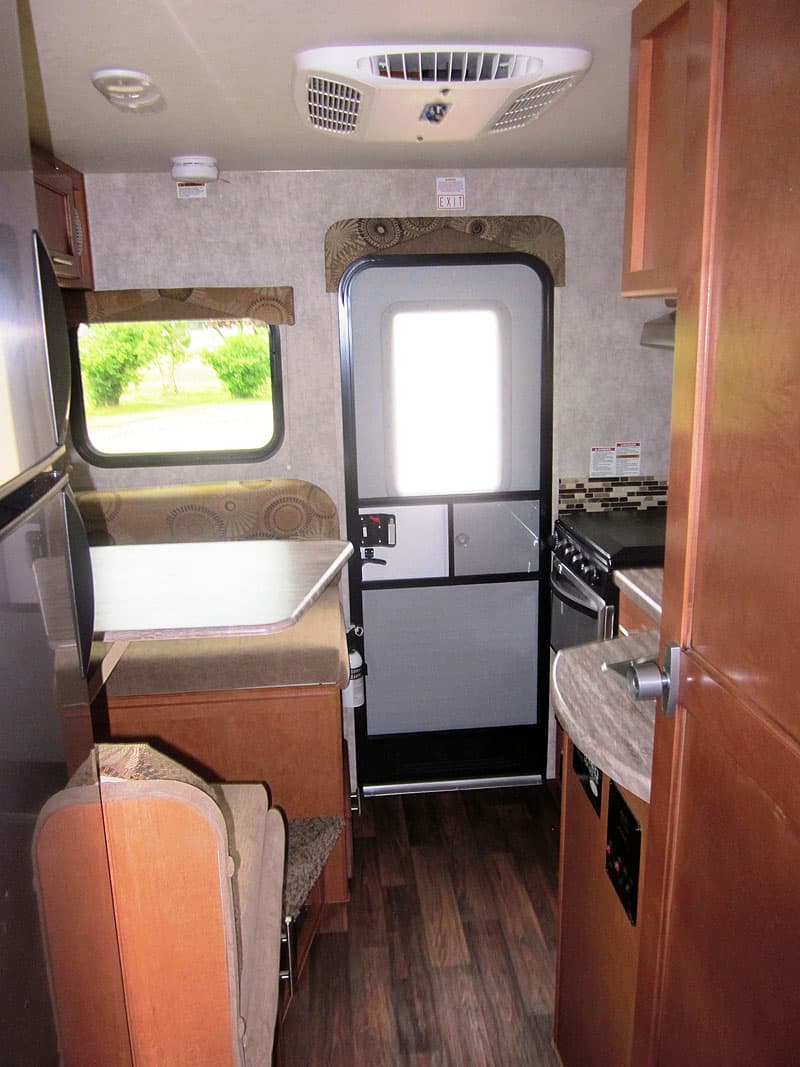 Above: The new decor in a 2017 Adventurer 86FB
For ideas and inspiration, we worked with our interior designers and furniture manufacturers.  With an array of choices and samples in hand, we put several packages together and gathered feedback from the Adventurer office and production teams.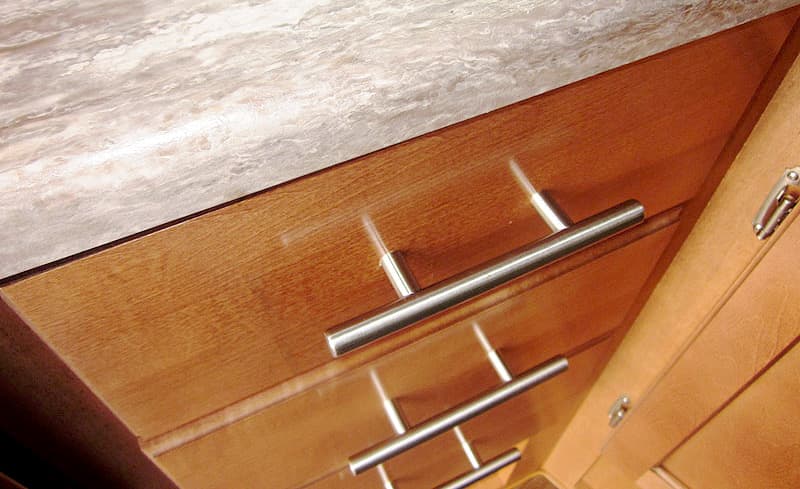 Above: The Splendid Maple cabinetry with the new hardware
For 2017, we have selected Splendid Maple cabinetry.  It's not as dark as the Cherry, and offers a bolder and richer interior aesthetic for the 2017 Adventurer line.  It's closer to Pecan in color.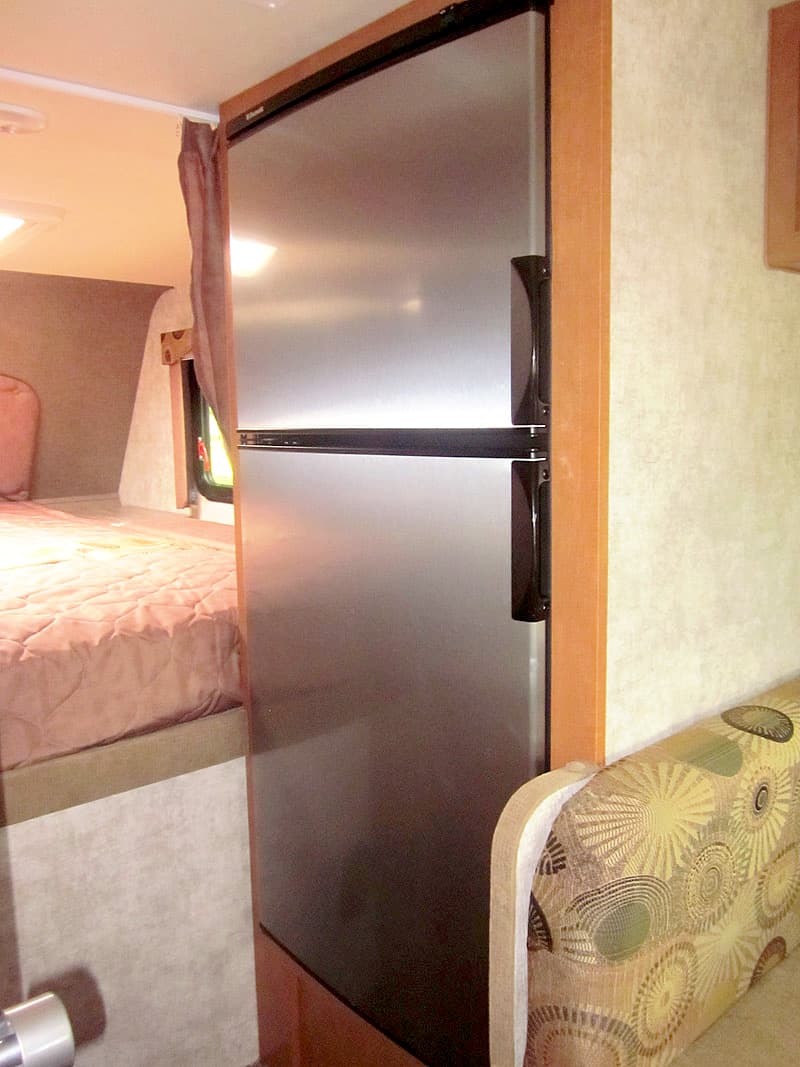 Above: The new stainless steel refrigerator in the 86FB

Above: The stainless oven and microwave in the 86RB with the new Splendid Maple cabinetry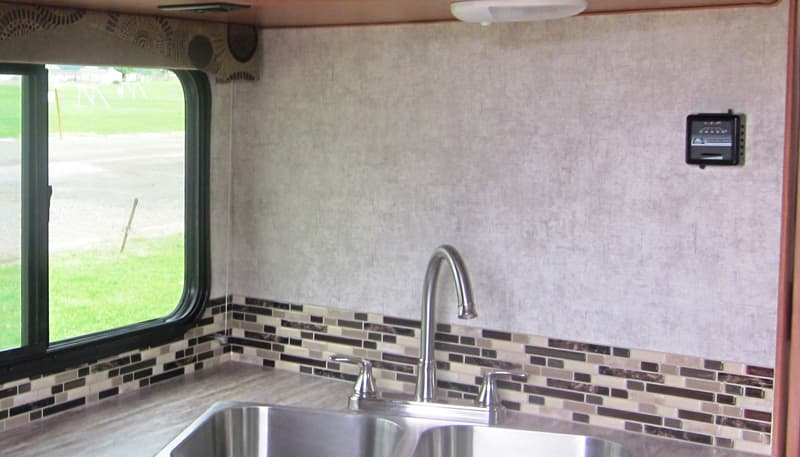 Above: The new wall board for 2017 Adventurer campers
With the wood tone selected, we chose a new wall board for Adventurer.  We have been using the same wall board for almost eight years.  If we were going to revamp the interiors, why not update and enhance everything?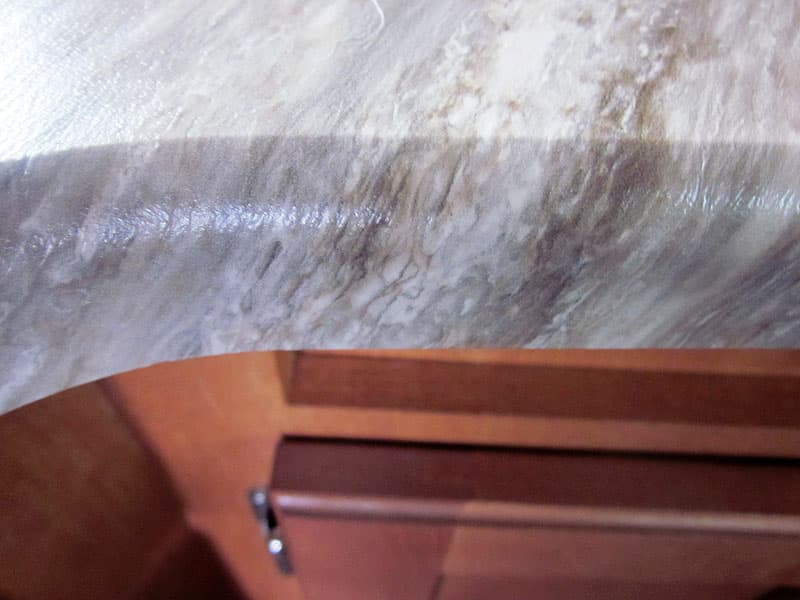 TCM: For 2017, Adventurer truck campers are getting thermal-formed one-piece MDF countertops.  What are thermal-formed counter tops and why are you making this change?
Greg: The new molded countertops are high-end one-piece medium density fiberboard (MDF).  The MDF countertops can be any shape or design because they're formed, vacuum sealed, and laminate foil finished.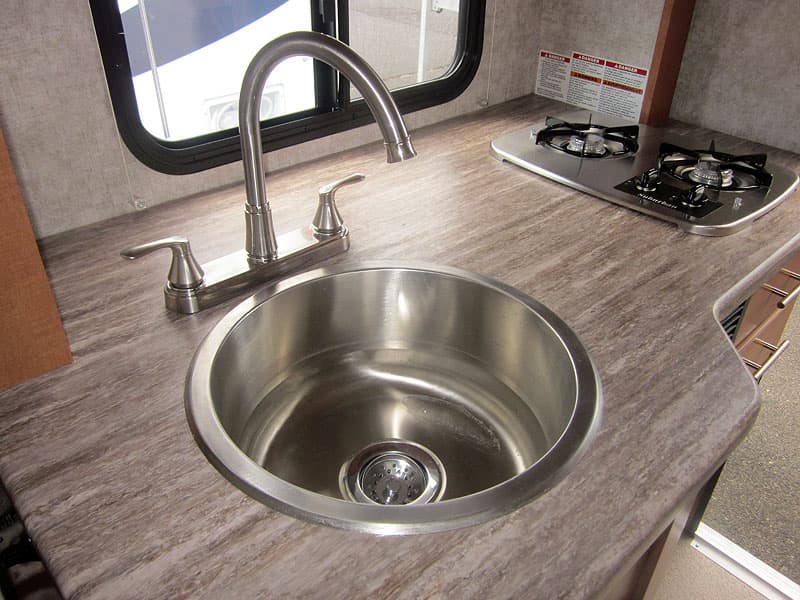 Above: The new molded countertops in the kitchen of the 80GS
This process gives the new one-piece countertops a clean finished edge.  There's no edge banding or separation like you see with traditional formica.  The first 80GS models with the new one-piece counters are coming off the line now and they look fantastic.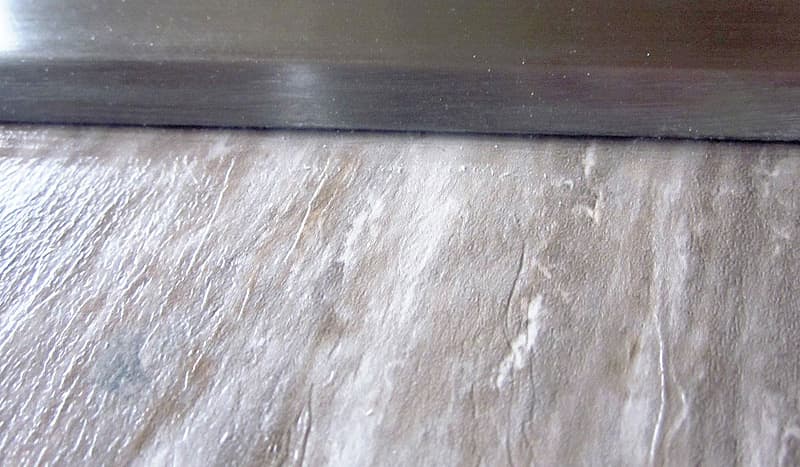 TCM: Did you test the new counters for scratch resistance and durability?
Greg: We went through a lot of testing when the first sample came through.  We hit it with hammers and dropped tools, pots, pans, and plates on it.  The hammers and heavier dropped tools sometimes left small indentations, but the pots, pans, plates and other normal truck camping items did nothing.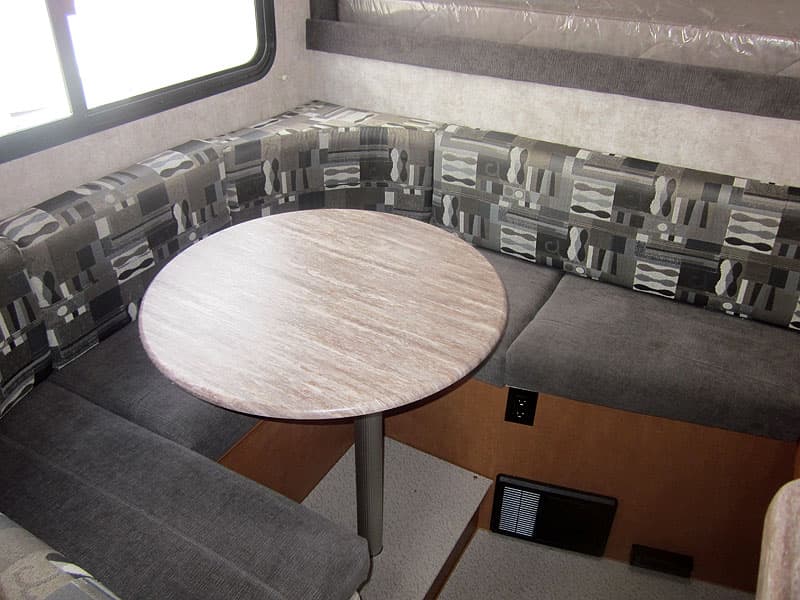 Above: The 80GS dinette with the molded table and Pewter decor
Just like any other countertop material, it can be damaged, but you really have to work at it.  Nothing broke the foil seal.  It's tough.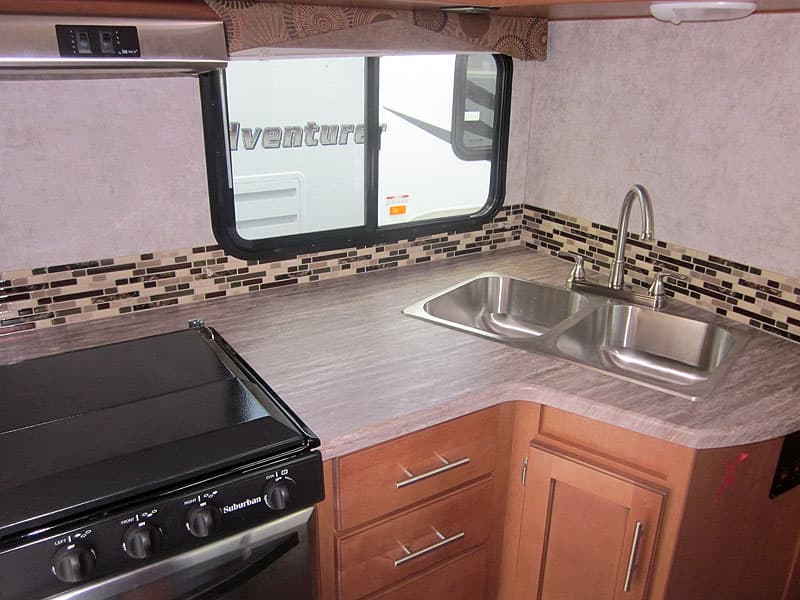 Above: The new molded countertops in the 86FB add about 3.25 pounds
TCM: Is there a weight difference between the outgoing formica counter tops and the new one-piece MDF counter tops?
Greg: The new one-piece countertops add a little weight.  In the 86FB, which is a mid-sized unit, the new counter is about 3.25 pounds heavier than the old one.  But, the new one-piece counter is a lot more solid than the formica.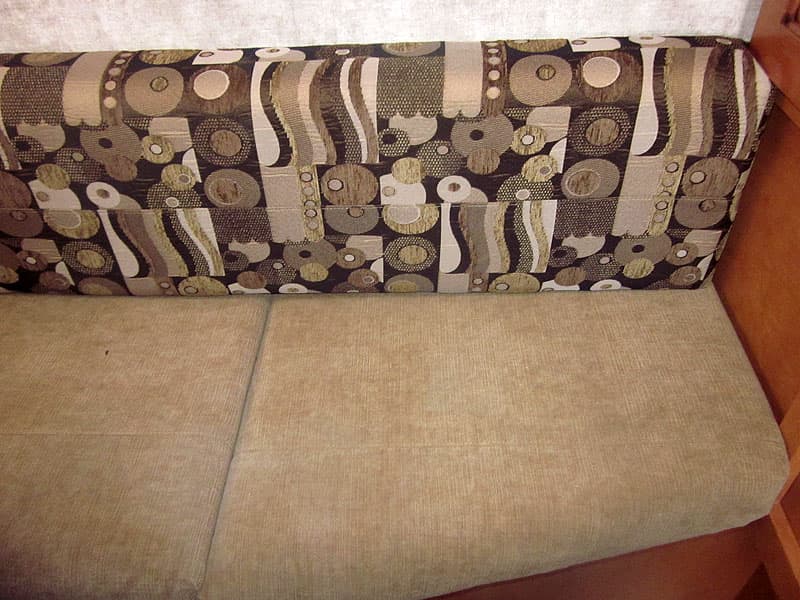 Above: New Decor for 2017 – Pistachio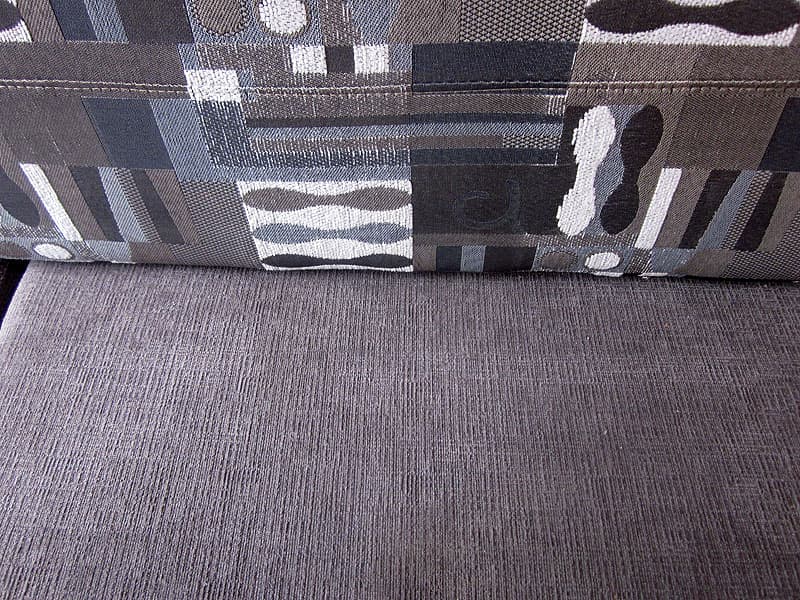 Above: New Decor for 2017 – Pewter
Above: New Decor for 2017 – Dawn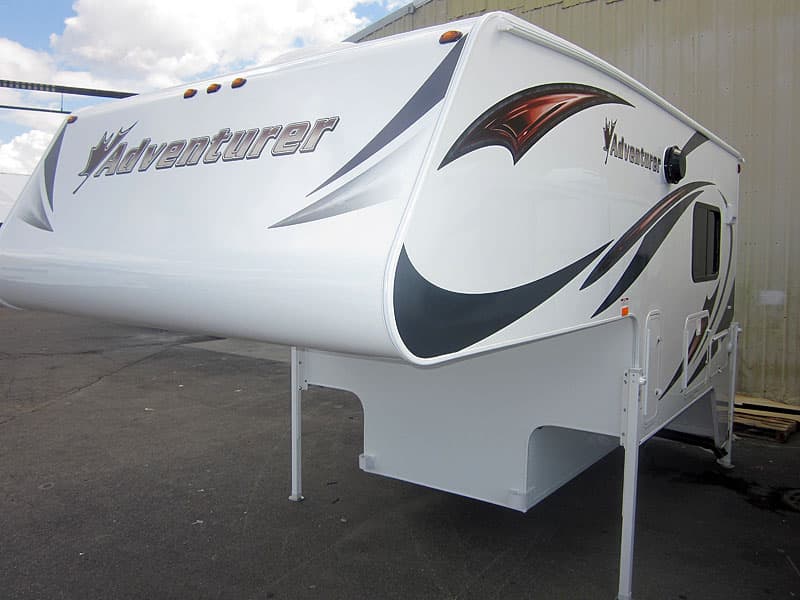 TCM: The Adventurer exterior graphics are receiving an overhaul for 2017.  Tell us about this new look.
Greg: For the 2017 Adventurer exterior graphics, we talked to our graphics company and gave them an idea of what we wanted.  They came back with about a dozen choices from which, after an office vote, we selected two.  To make the final selection, we asked James Epp, President of Adventurer Manufacturing, for input.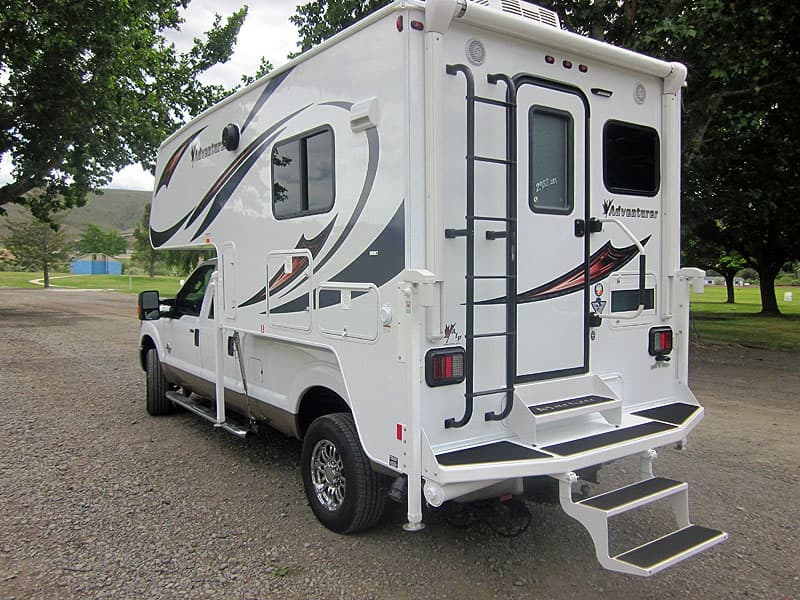 Over the past few years, we have received a number of requests from younger dealers and buyers for a bolder exterior look.  We didn't want to go too bold and lose our more traditional buyers.  With James' final selection, we have a new exterior graphics package that gives the 2017 Adventurer units more pop, but is more subtle in color.
TCM: The solar panel option now includes the ability to add a second or even a third panel.  Did you change the make and model of solar controller and panel for 2017?
Greg: For 2016, we upgraded to GoPower for solar controllers and panels and we are continuing with GoPower for 2017.  For the 2017 model year we are debuting a new option titled, "Solar Panel – 2nd Additional" at a significantly lower cost than our previous second solar panel option.
The lower price comes from the use of a single 300-watt GoPower solar controller rather than the two solar controllers that were previously required.  That savings is passed directly to the customers for 2017.  Now customers can order one, two, or even three 100-watt GoPower panels with their 2017 Adventurer, and take advantage of the savings.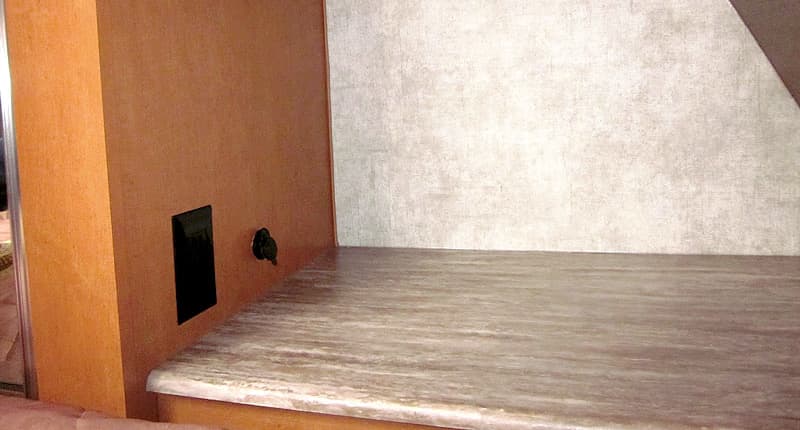 TCM: For 2017, Adventurer truck campers will have a standard 12-volt power point in the cabover bedrooms.  Why did you make a 12-volt power point in the cabover standard?
Greg: Until now, we have only had 110-volt outlets in the cabover, plus the 12-volt outlet for the television.  More and more we are seeing customers who need to power a 12-volt CPAP machine overnight.  To meet this need, we are adding 12-volt power points in the cabovers.  Of course these can also be used to charge cell phones and tablets.
TCM: Are there any model specific changes for 2017?
Greg: As I already stated, the 910DB is getting a shorter U-shape dinette.  We also added the King bed with under-bed storage in the 910DB.  We debuted this feature in the Eagle Cap 1200 and it's been very well received.  It should also bring the center of gravity in the 910DB forward.
Although not update related, we are seeing a significant increase in the number of 910DB units being ordered with the Power Bunk option.  As of now, about fifty percent of the 910DB models are being ordered with the Power Bunk.
The Adventurer 116DS is getting a larger 28-inch 12-volt HDTV.  The 24-inch television was discontinued.  The larger HDTV required adjusting the wall blocking to support the larger swivel arm.  The television is now moved in a little more, and the larger screen looks great in the camper.
TCM: Will we see any new Adventurer models in 2017?
Greg: Yes, we will be announcing two new models this year.  They will both be released in the late summer or early fall.
Our wish list and our goals for the new models are quite ambitious.  If we pull off what we're hoping to do, one model will be for a half-ton and an industry first.  We're also working on a single-slide model.
We'll let you know when it's ready to go and make its debut in Truck Camper Magazine.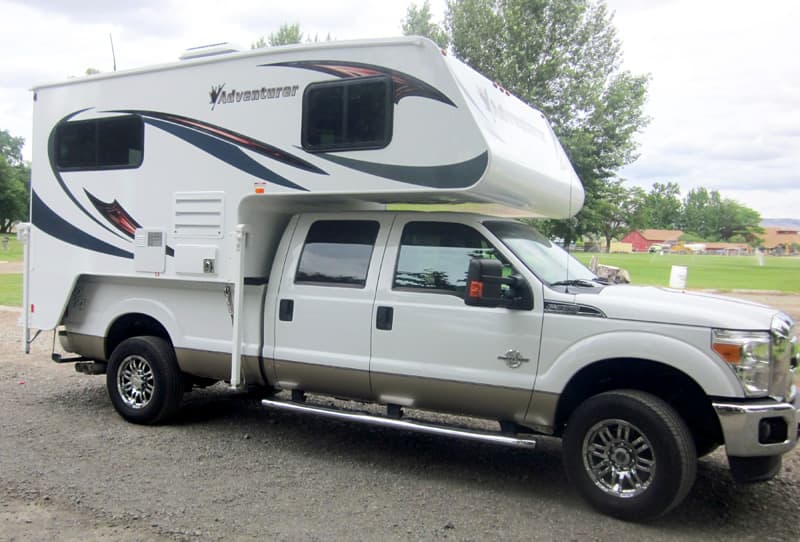 TCM: What a tease!  Is there anything else you want to share about the 2017 Adventurer updates?
Greg: Check out our walk through video of the Adventurer 86FB.  During the walk through I highlight the 2017 changes.
I think 2016 will be Adventurer's best year ever with our new exterior colors and new interiors on our 2017 models.  Everything is richer and bolder.  We keep moving forward.  We get a lot of comments from customers and dealers that we get better and better every year.  We are very excited about our 2017 Adventurer camper line and updates.
For more about the Adventurer updates, check out the 2017 updates on their website.  Click here to request an Adventurer brochure.