Palomino RV launches the HS-750, an all-new 8-foot hard-side, non-slide, wet bath truck camper.  With a roll-over sofa, exterior battery tray, and tankless water heater, the 2019 Palomino HS-750 has some interesting tricks up its sleeve.

It's been about two years since Palomino RV has debuted a new truck camper model.  This is unusual for a company that regularly debuted new models every fall for the industry-only Elkhart Open House and now defunct Louisville trade show.  So what's been going on at Palomino?  Where are the new camper models?
In short, demand for the their existing pop-up and hard side truck camper products has been nothing less than record-breaking.  To keep up, its been all hands on deck for the Palomino RV management and production teams to increase capacity while maintaining quality control.  By necessity, new camper development has taken a back burner.
This is exactly what we have been hearing from nearly the entire truck camper marketplace for some time.  Demand has been at or near all-time highs.  Keeping materials and components in stock and finding enough quality hires to keep up has been an all-consuming task.  As the saying goes, make hay while the sun shines.
"Hey, what's this? Palomino doesn't have a 750, do they?"
Angela was very excited to spot a new Palomino model at the Elkhart Open House this past September.  The funny thing is that they forgot to tell us this was in the works.
"Yes, that's our new model for 2019. What do you think?"
Ben Meloche, General Manager for Palomino RV has been working at the Colon, Michigan manufacturer for about 12 years.
"I think I need to shoot it!"
At the Elkhart Open House, I'm in shooting mode.  New camper?  Shoot it!  New feature?  Shoot it!  Got news about truck campers?  Well, shoot!
Thankfully, Angela is more nuanced in these situations.  As I fired away at the HS-750, she scheduled an interview with Ben and gathered important details on their new unit.
To get the back story on the HS-750, we talked to Ben Meloche, General Manager for Palomino RV.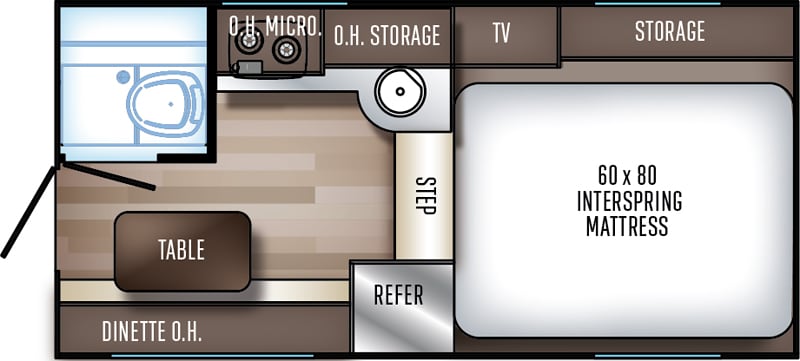 Palomino HS-750 Specifications
The 2019 Palomino HS-750 is a hard-side, non-slide, wet bath truck camper for short or long bed trucks.  The interior floor length of the Palomino HS-750 is 8'2" and the interior height is 6'6".  Palomino RV is reporting the standard build dry weight of the HS-750 at 1,860 pounds, which includes electric jacks.
The 2019 Palomino HS-750 has a 31 gallon fresh tank, an on demand water heater, 8 gallon grey tank, and 8 gallon black tank.  The camper accommodates one battery and one vertical twenty-pound propane tank.  The MSRP for a standard build 2019 Palomino HS-750 is $21,500.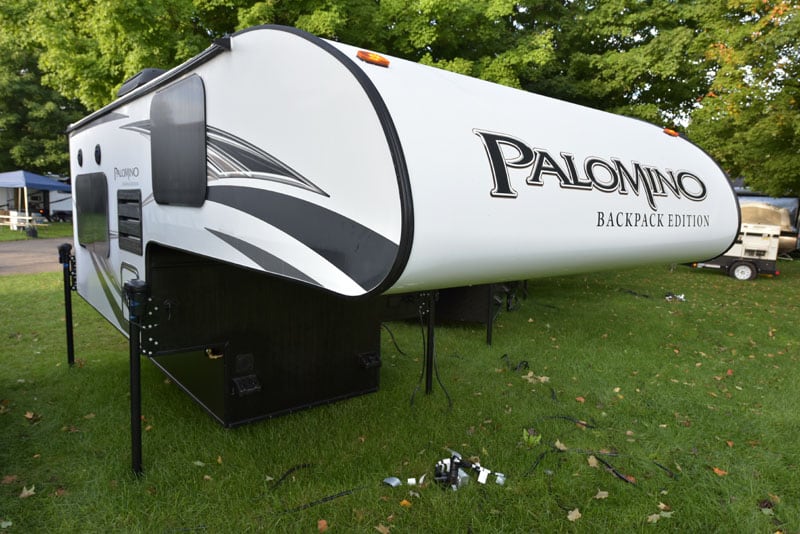 In the fall of 2016, Palomino debuted the HS-650, SS-500, and HS-2901. In the two years since those new truck camper announcements, Palomino has not launched a new truck camper model – until now. What's been going on with truck campers at Palomino for the past two years?
Dealers and customers have been asking for new floor plans, but we haven't had the time. We have been knee deep building units to meet demand. Unfortunately, designing and building prototypes of new floor plans takes away from production.
To better meet dealer and customer orders, we moved truck campers to a much larger production facility here at Palomino RV. We have three production plants here. Truck campers are now in one of our two larger plants.
That helped us to catch up with our order backlog. We were no longer able to keep up in the smaller plant. Now that we have truck campers in a bigger plant, we are able to meet demand.
We've had growth across all of our products; truck campers and trailers. That forced us to take a step back and think about how to best utilize our production space. Upgrading equipment and reorganizing the plants was the solution.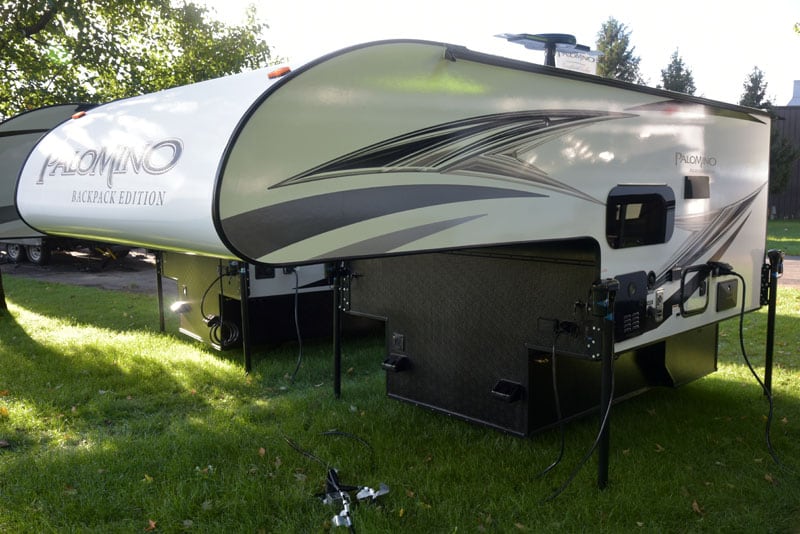 At the Elkhart Open House, you mentioned that Palomino RV had changed all of the framing in Palomino truck campers to aluminum. Which Palomino truck campers were wood framed prior to this change?
Our SS-series of soft side pop-up truck campers were always wood framed. In addition, the HS-800 and HS-650 hard sides were also wood framed for cost savings.
So why did Palomino RV make the change to only aluminum framing?
Our truck camper customers prefer aluminum framing, and we want to build what our customers want. By switching to aluminum framing, we save about 25-pounds of weight per unit. In a truck camper, we'll take every saved pound we can get.
Aluminum will last longer and is more durable than wood. Our aluminum framed campers are better built and a better value for the money. Providing the best value in the truck camper marketplace is important to us.
As a material, aluminum is more expensive and costs more to build with than wood.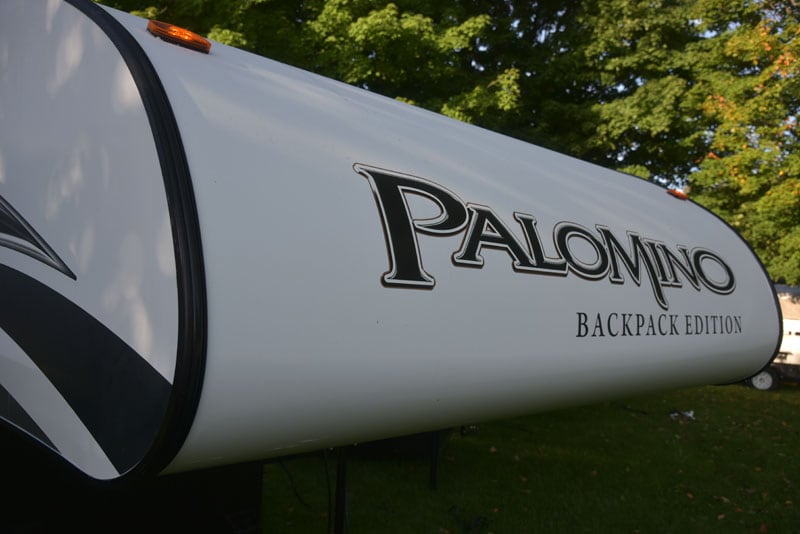 Has Palomino RV needed to raise its prices to reflect these increased costs?
We have taken a price increase within the past few months. The main cost increases are coming from our suppliers. As of right now, there's no end in sight to their price increases affected by tariffs and other raw cost material increases.
How did changing the framing in all Palomino truck campers to aluminum affect the weight and center of gravity for the previously wood-framed units?
The changes to weight and center of gravity have been minimal. We will be updating our truck camper specifications for our website, brochure, and Truck Camper Magazine's Buyers Guide in the coming weeks.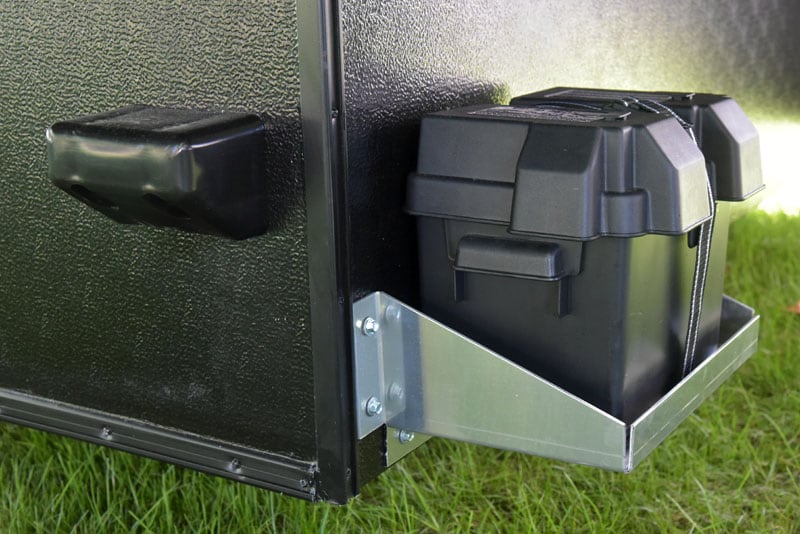 What's the story behind the new exterior battery unit? That's an interesting approach to the demand for more battery power.
We literally started thinking outside the box. We asked ourselves, "How do we make room for a second battery tray?" Pop-up campers don't have much interior space. We don't want to take up interior storage for a second battery.
Why not have an exterior battery tray in the wheel well area? An exterior battery tray is a practical solution, especially for pop-up truck campers with solar panel systems. We're very excited for our customers to see this concept.
After seeing the exterior battery tray at the Elkhart Open House, a handful of Palomino RV dealers have requested a battery tray on both sides. For some truck camper customers there might be a need for a third battery.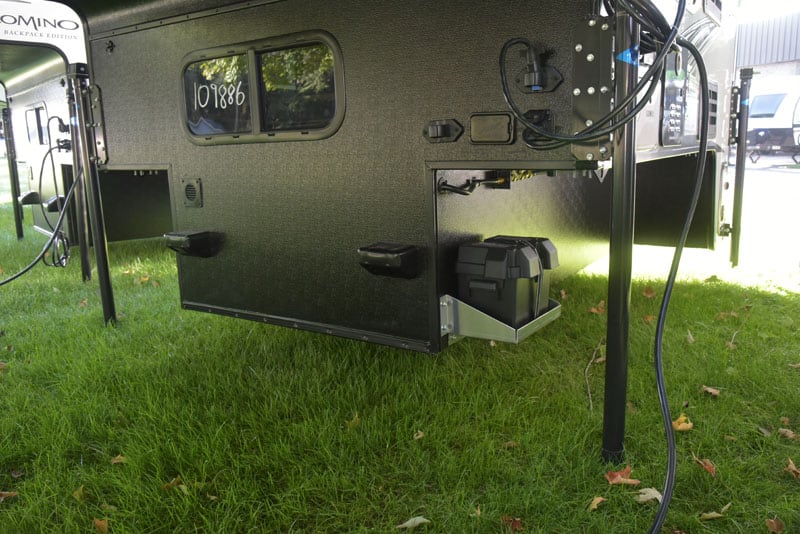 Why not? Go wild! On balance, how does someone load the camper with the exterior wheel well battery installed?
Every truck and camper set up is going to be a little different. The consumer is going to have to load and unload slightly higher to get the battery tray up and over the wheel wells.
If a customer has a truck with oversized tires or a lift kit, you might have to get creative. Truck camper owners are by far the most creative. They will figure out a way to make this work.
We are a creative bunch, to put it mildly. Have any Palomino truck camper models been discontinued for 2019?
No.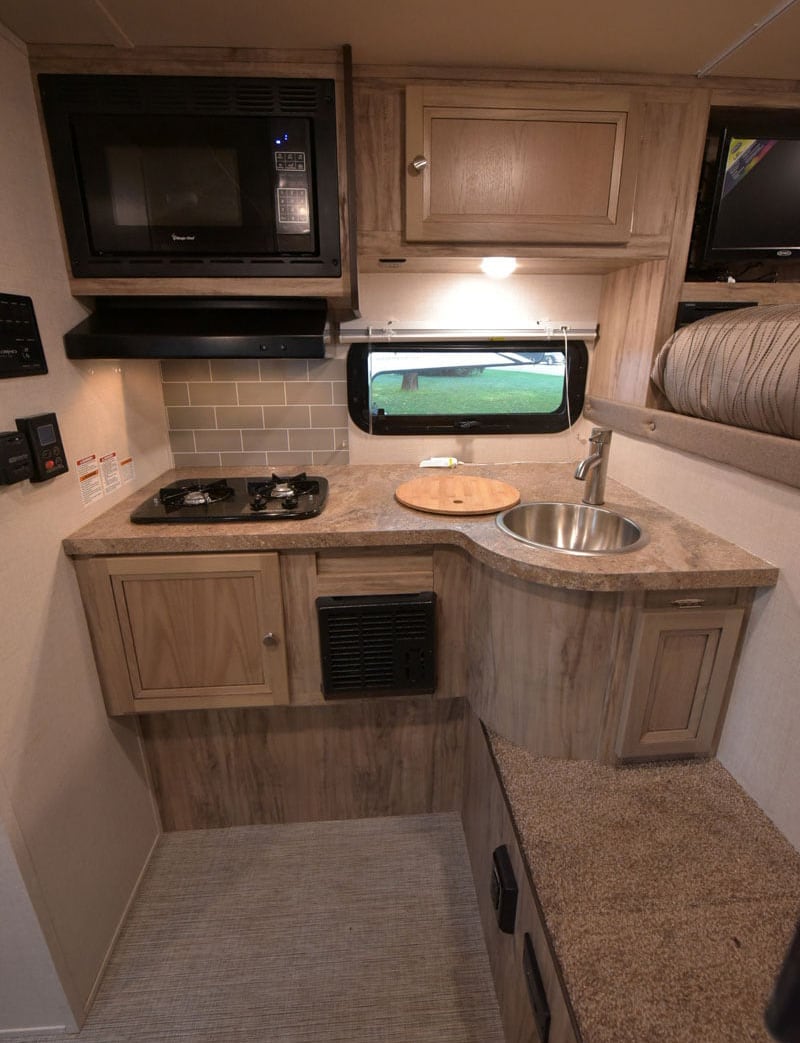 Above: The Mesa Maple interior with the new sinks, faucets and backsplash
Have there been 2019 model year updates to the existing Palomino HS (hard side) and SS (soft-side) truck camper lines?
Yes, we have made a lot of changes in the past year. We have changed sinks, faucets, added some backsplash materials, and we have made our dinettes more comfortable. We often make running changes on the production line that don't necessarily warrant an announcement, but improve our products and their value.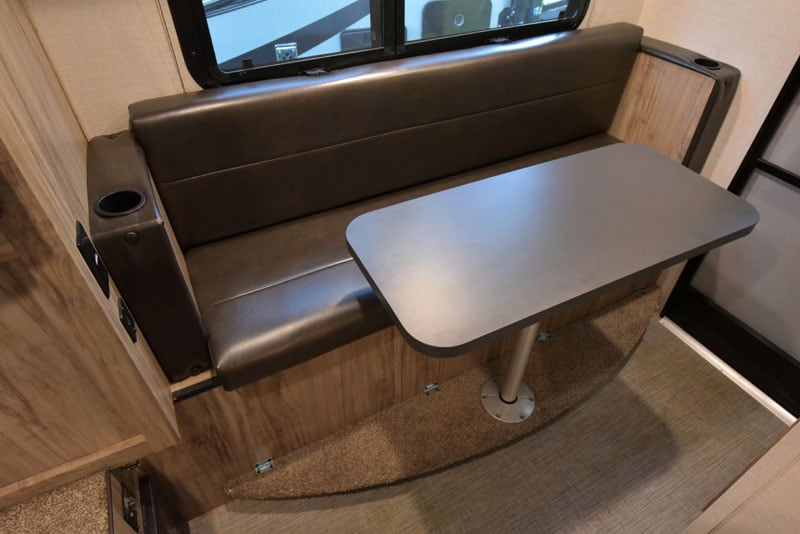 Tell us about the dinette changes. What's the story there?
Our dinettes were not as comfortable as they needed to be. On several units we adjusted the dimensions and added a storage unit where your feet go. This not only added precious interior storage, but also improves the ergonomics and comfort.
The table heights have also been improved. All around it's a good move. Adjusting the dimensions makes our dinettes more comfortable.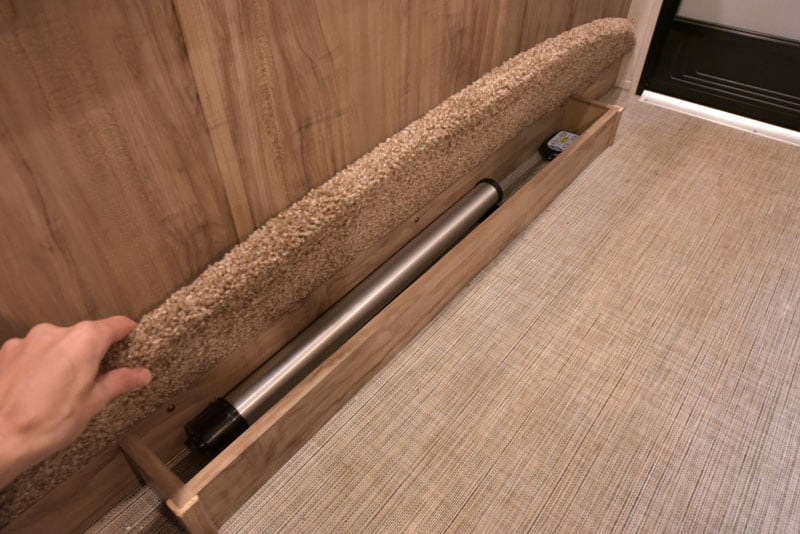 What Palomino truck camper models have the updated dinettes?
The updated dinettes are in all models except the three Max Series floor plans; the HS-2901, HS-2902, and HS-2910.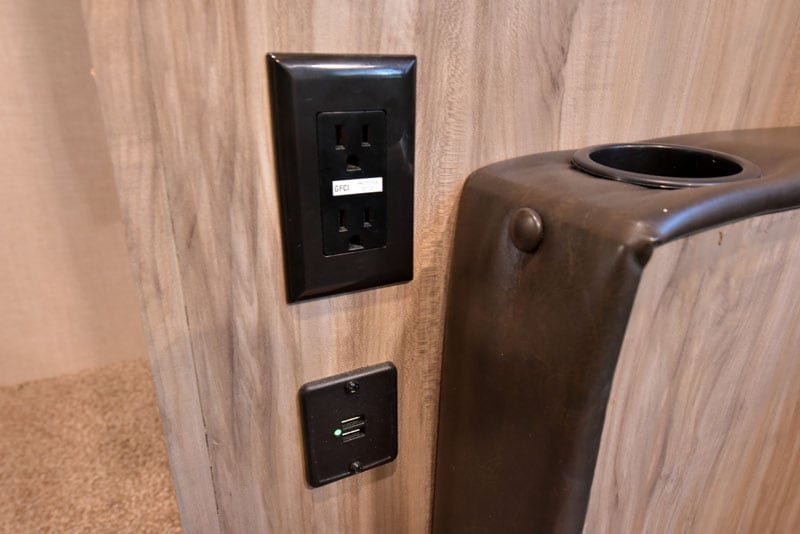 As we explored the Palomino truck camper on display at Elkhart, it appeared that there were more 12-volt and USB outlets. Is that correct?
Yes, we have fit 12-volt and USB outlets any place we could.
"We have an exciting new pop-up model that is coming out very soon. It is geared toward extreme off-road camping."
Today you are announcing the the HS-750, but the Palomino RV team is also working on another all-new and extremely unique truck camper model. Without giving away the store, can you tell us anything about what you're up to?
We have an exciting new pop-up model that is coming out very soon. It is geared toward extreme off-road camping.
It has a unique lift mechanism. It has racks for kayaks and bikes. It has an all-new floor plan. And it's really unlike anything on the market today.
Even better, the low-weight and low-price of our new model will redefine the pop-up possibilities. We can't wait to launch it in Truck Camper Magazine!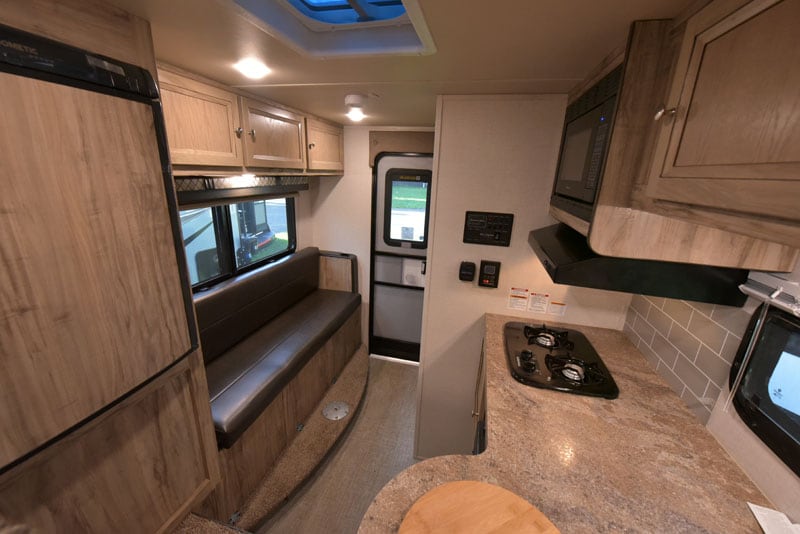 We can't wait either, but we have to. Let's talk about the HS-750. Does the new Palomino HS-750 replace any older models in the Palomino line?
We dropped the HS-800 a few years ago, so we've been looking to fill that void. We had a different HS-750 model last year, but we didn't nail it. We didn't want to launch something we didn't nail.
Last year at the Elkhart Open House we listened to dealer feedback and then went back to the drawing board. The new HS-750 debuted at this year's Open House, and hit the mark. It checked off all of the boxes. The dealers are very excited.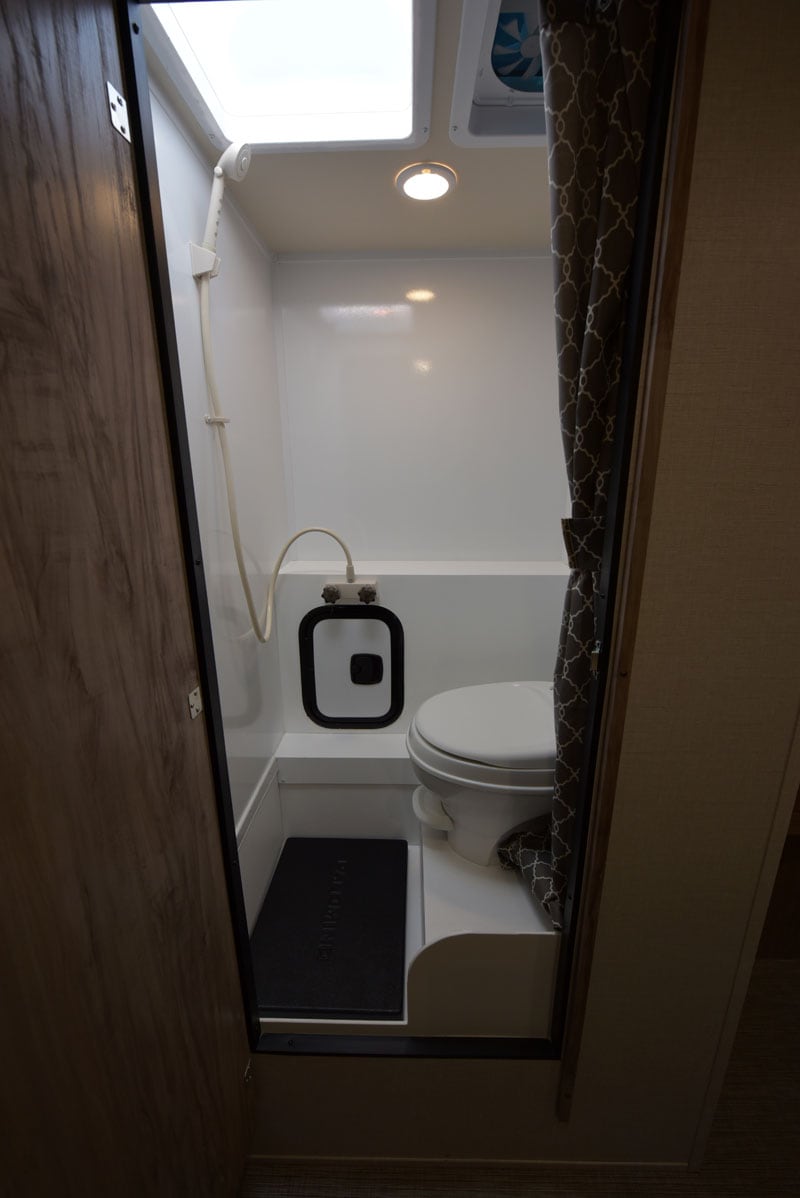 What is it about this camper that the dealers are excited about?
It's our lightest hard side with a bathroom. The HS-750 has a wet bath and a north-south bed, which seems to be what most people want. At 1,800 pounds dry, the HS-750 is not going to be payload compatible for most half-ton customers. However, with most stock three-quarter tons, you are good to go with the HS-750. That's what the dealers are excited about.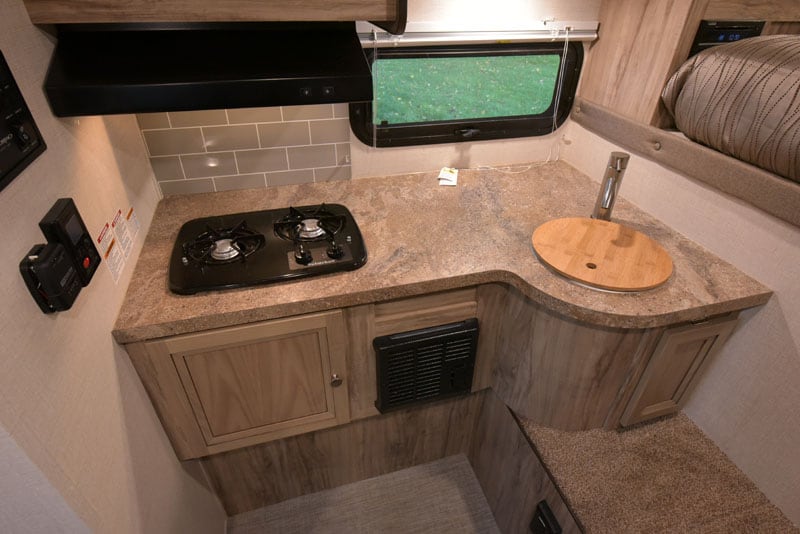 Did the Palomino HS-750 floor plan start with another model?
No. It's a totally fresh design. Our old HS-750 was something we drew up focusing on weight and a wet bath. It was too heavy and had an east-west cabover. So we went back to the drawing board.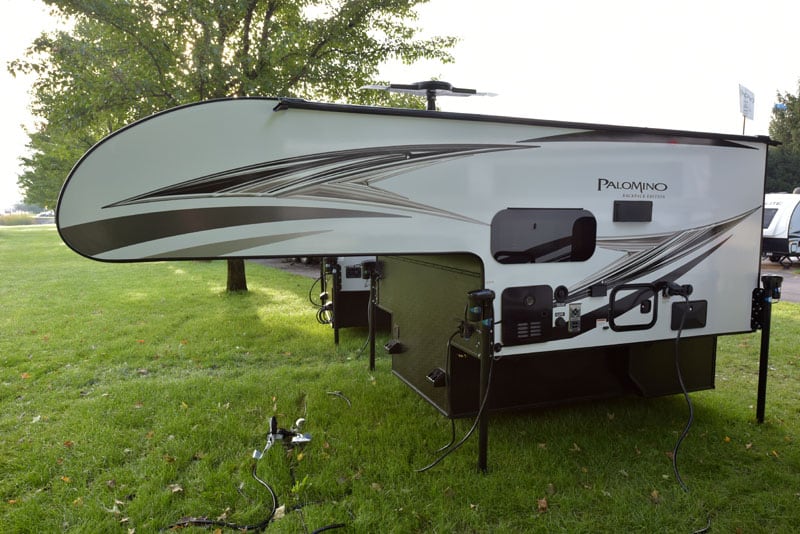 Standing outside the unit, the cabover appears to be very long and narrow. Was this a conscious design decision?
To hit our aggressive weight target, we scaled back some measurements – including side wall height. We gave up 5-inches of headroom for a north-south bed. I think it's an excellent trade-off. In the end, we were able to come up with a similar version with a north-south bed.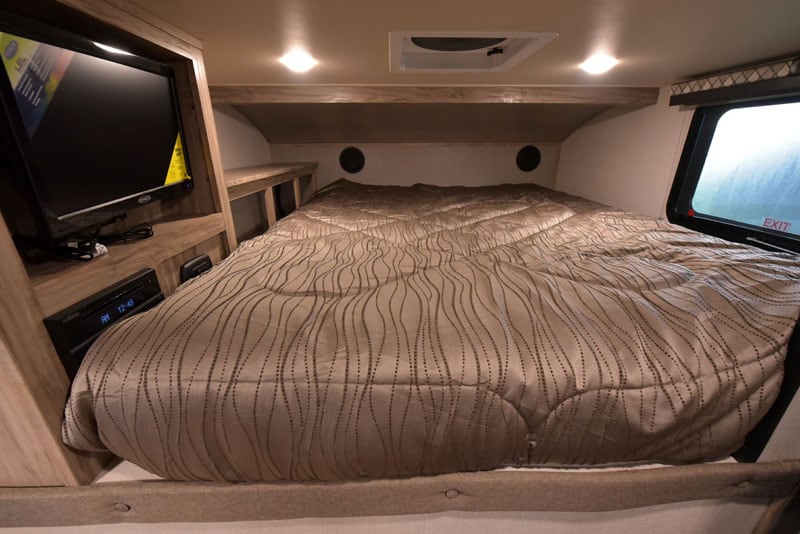 I know some manufacturers claim to have engineers that nail new floor plans the first time. We take a different approach. Sometimes things that look great on paper or a computer screen don't work when they're physically built. We build multiple physical prototypes when we develop a new model. If it's not right, we start over.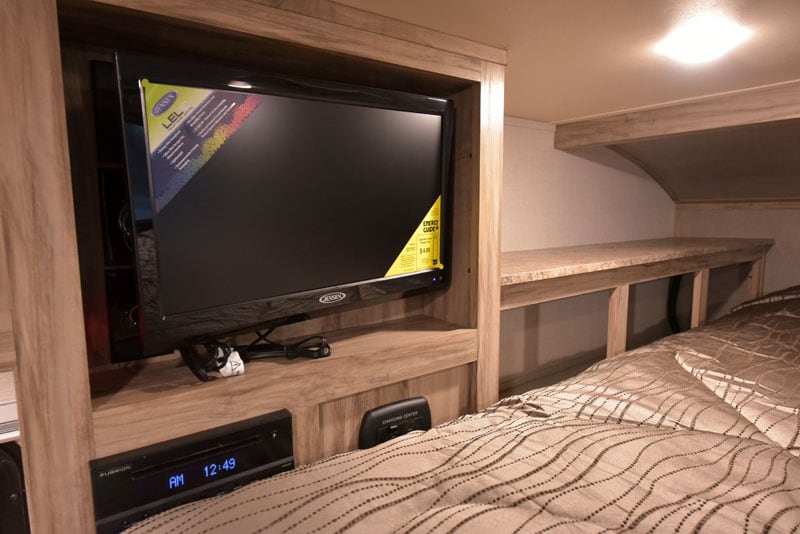 How many prototypes did you make for the HS-750?
It took at least four prototypes to get this model right. Keep in mind we don't always prototype the entire unit. Sometimes a prototype is just a shell. Other times we're prototyping and fitting cabinets. If we don't like the direction, we scrap and recycle the shell, cabinets or whatever we're prototyping – and start again.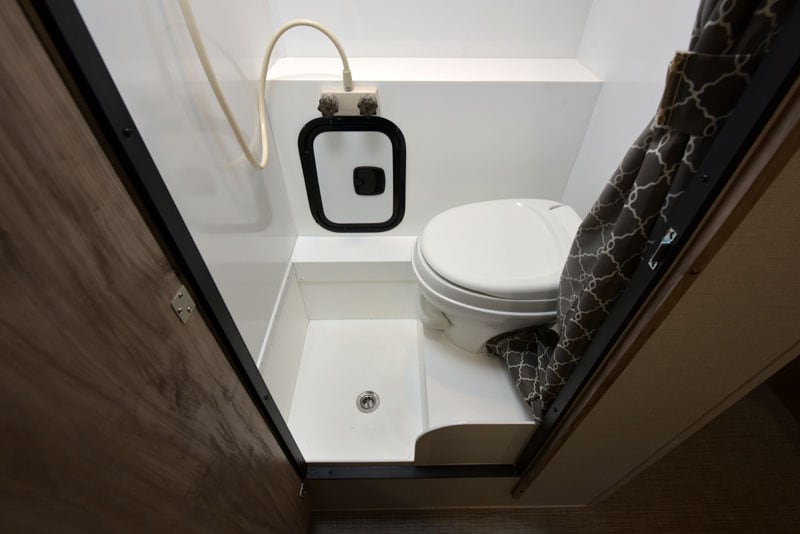 That sounds like a sometimes fun, and sometimes frustrating experience. Tell us about the decision to not include a sink in the HS-750 wet bath.
We would have loved to include an injection molded sink and surround, but the size and cost would have compromised the unit. When we look at our product line up, we continuously ask ourselves about functionality and cost. That's our focus. We do not want to pass unnecessary costs to the customer.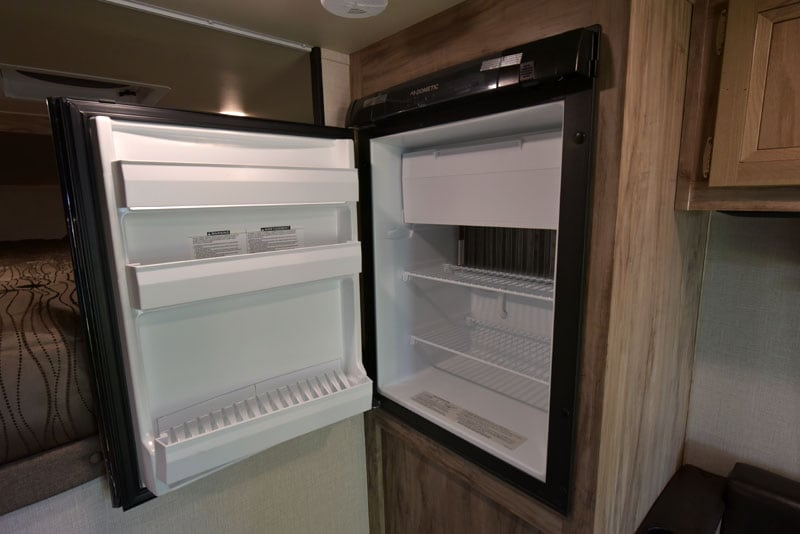 What is the size of the refrigerator in the HS-750?
We are using a two-way Dometic three-cubic foot refrigerator. It's biggest we could get for the space in the HS-750.
The HS-750 utilizes a Girard tankless water heater. Why was this was the right water heater for this model?
We are now exclusively running Girard tankless water heaters in all Palomino truck campers – including the HS-750.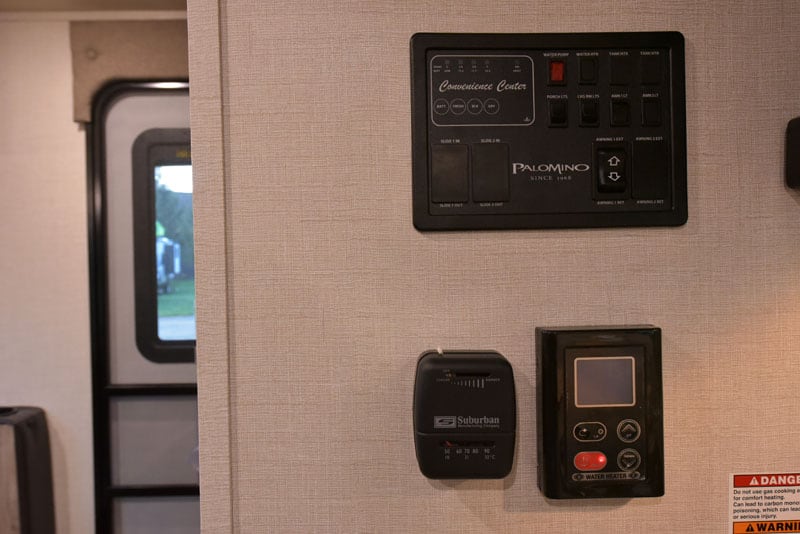 What? That's news to us! Why did you change to tankless water heaters across the board?
Tankless water heaters have always piqued our interest for truck campers. We held out on officially announcing it until all the kinks were worked out.
Tankless water heaters have helped us to save weight and space in our truck camper line. We have received excellent customer and dealer feedback, so we're rolling them out across all of our truck camper products for 2019.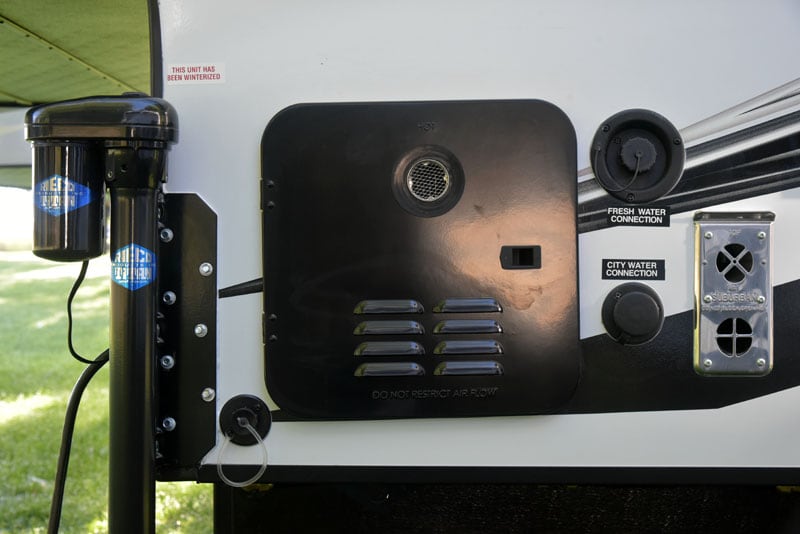 Well Ben, you surprised us again. What kind of testing did you conduct before moving forward with the Girard tankless water heater?
Girard has a truck and trailer that pulls up to your facility so you can test their products. With their demo rig, we got first hand experience using the system.
Beyond that, we built some prototypes and tracked the results. We made sure there were no hiccups or issues before taking the unit to production. All that we have received has been positive feedback.
We also had the advantage of talking to sister companies in the Forest River network about their first hand experiences with the Girard tankless water heater. It's been a success with their brands and it checked out here, so we made the change.
Palomino RV typically debuts a new interior design every year and uses it throughout its entire product line; truck campers, trailers, and fifth wheels. Are there any interior updates for 2019, or the HS-750 in particular?
Our standard cabinetry is still walnut. However, now we are also offering Mesa Maple, a wood grain option. The HS-750 at the Elkhart Open House featured the new Mesa Maple. Everything else is the same from last year; same countertops, fabrics, etc.
The beauty manufacturing multiple products is that things like changing the cabinetry are easy to implement if we are using it elsewhere. When something is a success in another product – like the Mesa Maple – we are always thinking, "Where else can we use it?"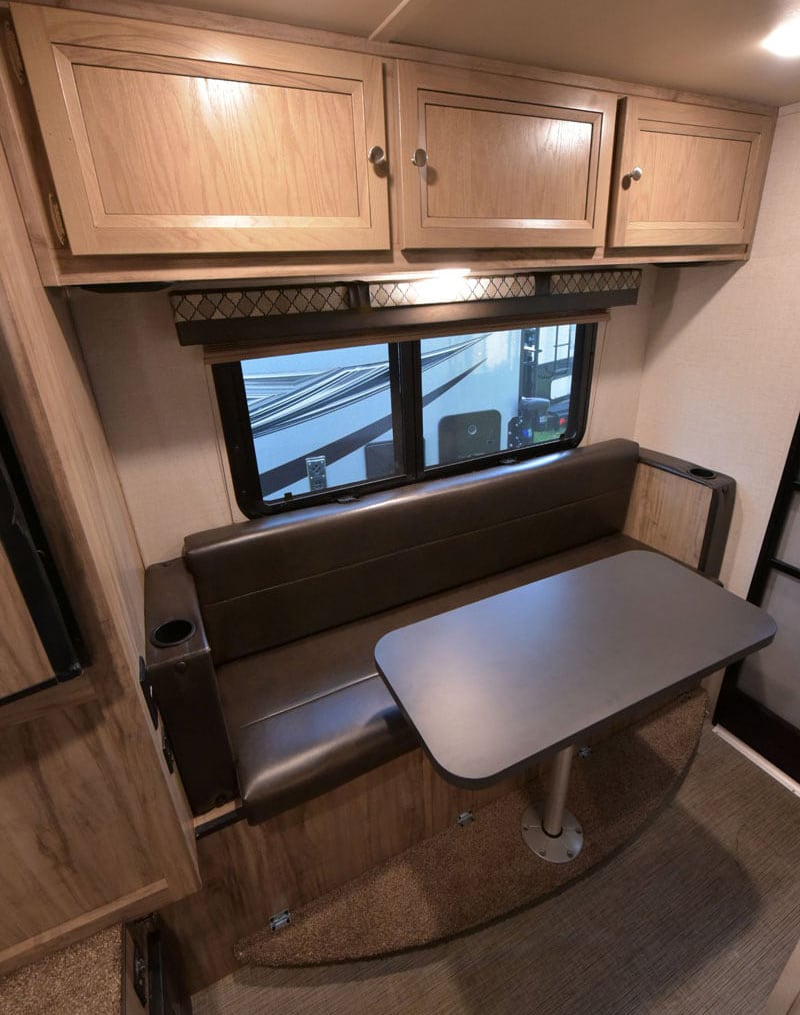 Tell us about the roll-over couch. You told us at the Elkhart Open House that the model in the HS-750 on display wasn't the final version.
That's correct. We have just completed a custom roll-over sofa (see below). The version you saw at Elkhart rolled out too far and blocked the entry door. We always need to keep that in mind for codes and safety. The length of the roll over sofa bed is 60-inches.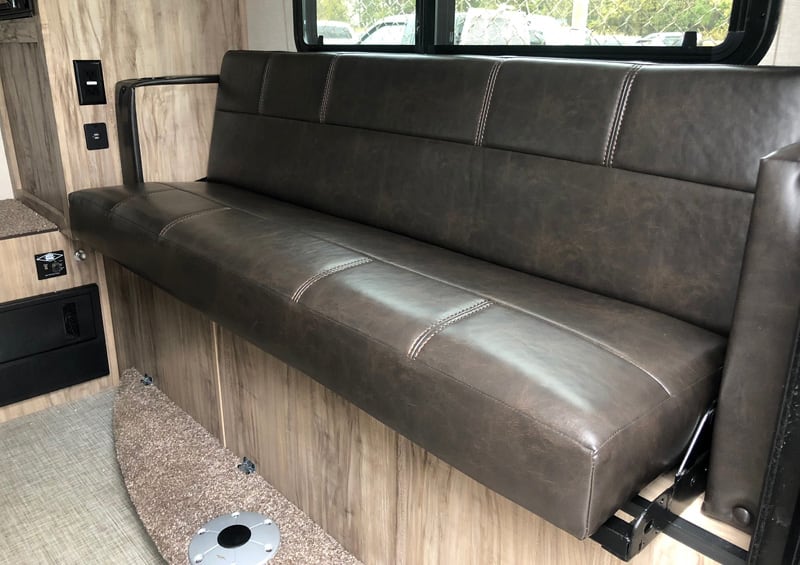 Above and below: The new custom roll-over sofa that will be installed in the HS-750 campers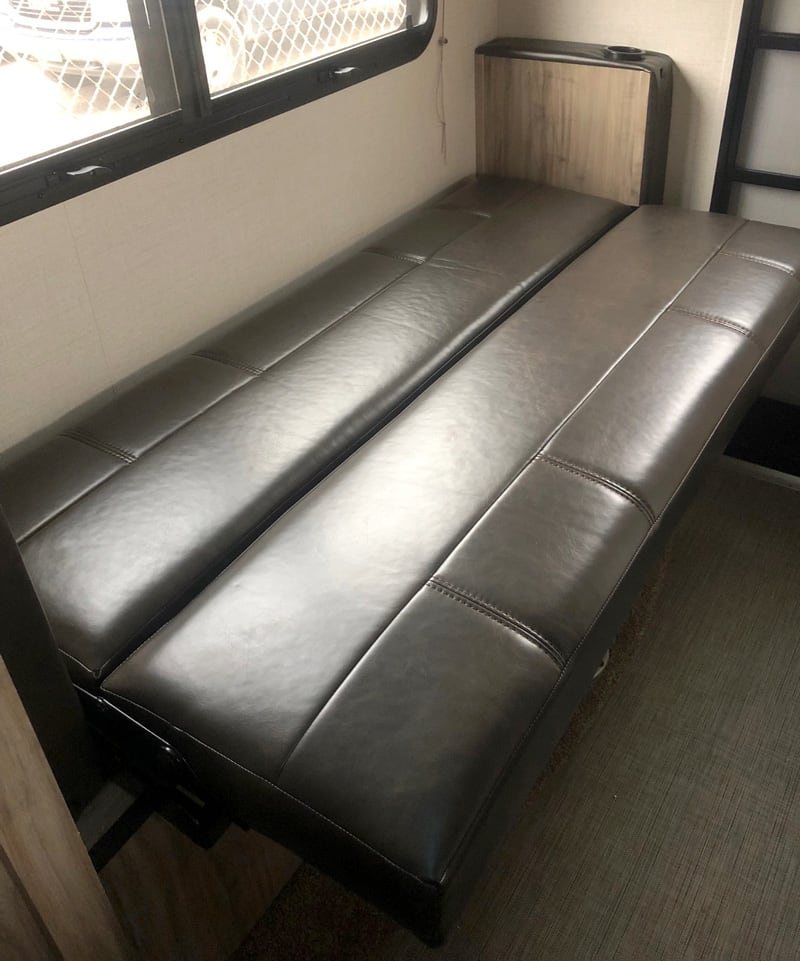 For right now, the HS-750 is the only Palomino truck camper with a roll-over sofa. We think once it's dialed in, it will be available in different models.
Is the Palomino HS-750 a basement model?
No. The fresh water tank is located under the step to get into the cabover bed. The grey and black are under the wet bath.
What are the sizes of the fresh, grey, and black tanks?
The black and grey tanks are 8 gallons each. The fresh is 31 gallons.
The fresh and grey tanks are not exactly proportionate. How do you propose 31 gallons of fresh water fit into an 8 gallon grey tank?
Those were the biggest tanks we could fit in the available space. I agree with your point, and we are looking into possible solutions. One idea is to develop an exterior auxiliary grey tank. We already launched an exterior auxiliary battery box for 2019. Why not an exterior auxiliary grey tank?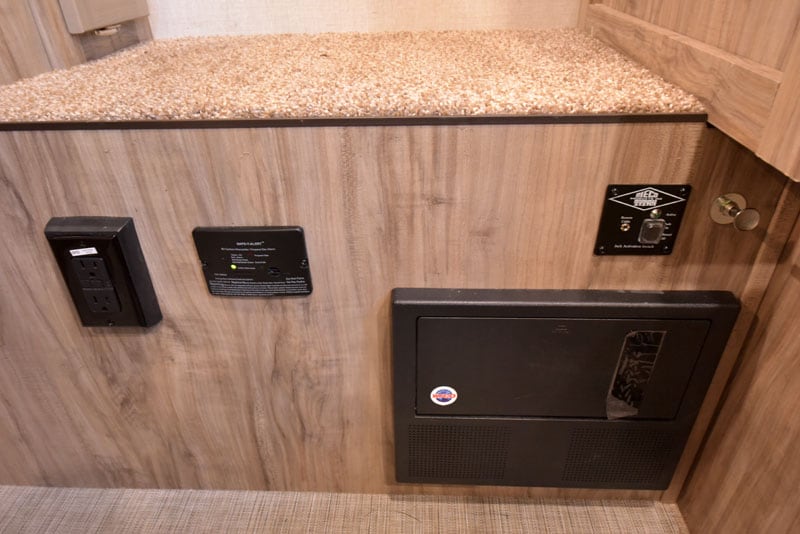 Above: The battery is under the step-up to the bed
We have had exterior auxiliary grey tanks submitted to our mod contest for years. Speaking of the battery, where is the internal battery located?
The single battery is located in the front under the bed. And yes, we have the exterior auxiliary battery box option that we talked about earlier. We always try to keep all the batteries in the very front for the best center of gravity.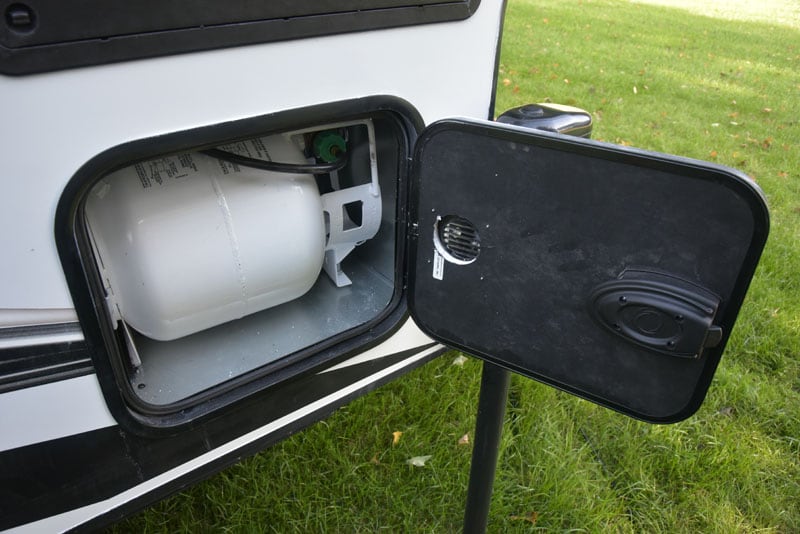 The HS-750 features one horizontal 20-pound propane tank. The majority of the truck camper marketplace is using vertical 20-pound tanks. Why did you go with the single horizontal tank?
That is now changed. The pre-production HS-750 that debuted at the Elkhart Open House had a horizontal tank, but our team has already changed that to a vertical 20-pound tank. 20-pound vertical tanks are less expensive, easier to fill and exchange, and what our customers want.
Does the Palomino HS-750 feature all the typical winterization features?
You are going to see the same winterization features that you see in our other campers. In addition to battery disconnect, water heater bypass, low water drains, and winterizing uptakes for RV anti-freeze, we also have the exterior charging station and solar prep.
Can the optional air conditioner run on a portable 2,000-watt generator?
Yes, the optional 11,000 BTU low profile Dometic air conditioner will run off a 2,000-watt generator. We know that's important to our truck camper customers.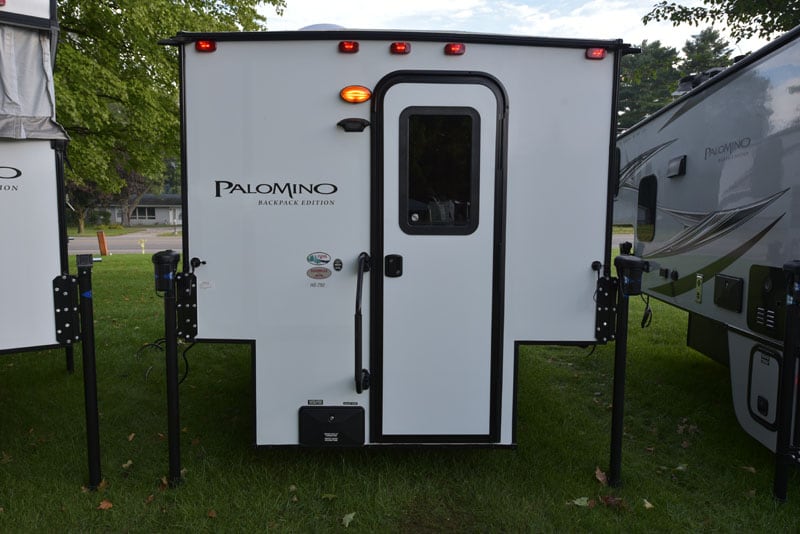 The HS-750 does not feature a bumper. What does Palomino recommend for an entry step system?
We option in the Torklift International GlowSteps. They can be mounted to the camper using the Torklift Stow and Go system.
We are in the process of looking at other bumper options for the HS-750. It's easier with a full wall camper but, with a notched camper like the HS-750, it's a challenge.
Are there any new options that are available for the 2019 Palomino HS-750?
The Badland Package is new for 2019 for all of our truck campers. This package has a 100-watt solar panel, second battery tray, and a Thule Roof Rack.
What does the 2019 Palomino HS-750 weigh with standard build features?
With electric jacks, the HS-750 is 1,860 pounds. The most popular option that's not included in that weight is an air conditioner.
Where is the center of gravity on the 2019 Palomino HS-750?
27-inches from the front wall.
Is the center of gravity marked on the side of the camper?
That information is in the brochure, but it's not marked on the units.
We want to encourage Palomino to mark center of gravity on the exterior of every truck camper for improved customer safety. What is the MSRP for the 2019 Palomino HS-750 with standard build features?
The MSRP is $21,500. That includes an air conditioner and electric jacks.
What is the warranty for the 2019 Palomino HS-750?
Palomino RV has a one year bumper-to-bumper warranty. Like every RV product, there are also built in warranties with the suppliers. Most appliances have two to three year warranties. There is also a twelve year warranty on the roof material for our hard side campers.
When will the 2019 Palomino HS-750 be available?
We hope to have it in production by the end of November and on dealer lots in December.
Is there anything about the 2019 Palomino HS-750 that you would like to add?
On our immediate to-do list is the new pop-up truck camper I talked about earlier. We can't wait to announce it.
For more information about Palomino truck campers, visit their website at palominorv.com.  Click here to request a free Palomino brochure.