Torklift International announces the Stow N' Go step system integrating Torklift International's GlowStep scissor steps, a storage bracket, and adjustable All-Terrain Landing Gear into a complete and easy to deploy camper step system.

"Did you remember to close the top vents?"
"Yes, Angela."
"How about the side windows?
"Closed."
"The one in the bathroom, too?"
"Yes, closed."
"And the rear steps?  Did you put them up?"
"The steps are up, the vents are closed, and the windows are shut.  Let's roll."
This was a typical conversation between Angela and I in our early truck camping years.  Even then, we often drove around with the TV antenna completely up, or left a bowl on the counter that launched itself onto the floor.  There was always something we forgot.  Thankfully, we're long past making most of those mistakes.  Knock on wood.
What we love more than anything are products that eliminate, by design, the opportunity to forget things.  For example, we now have a King Jack antenna that doesn't extend or retract.  It's literally impossible to leave it up.  No more phone calls like, "Ah, Gordon…  You guys just left the rally with your antenna up."  Doh!
Along these lines, Torklift International is announcing the Stow N' Go, an all-in-one scissor step system and storage solution designed to make storing camper steps a snap.  No more worrying that your scissor steps might not be stored properly, or tracking dirt into your camper, or scratching your floor.  Been there, done that.
To find out more about Torklift International's new product, we talked to Jay Taylor, General Manager, and Jack Kay, President of Torklift International.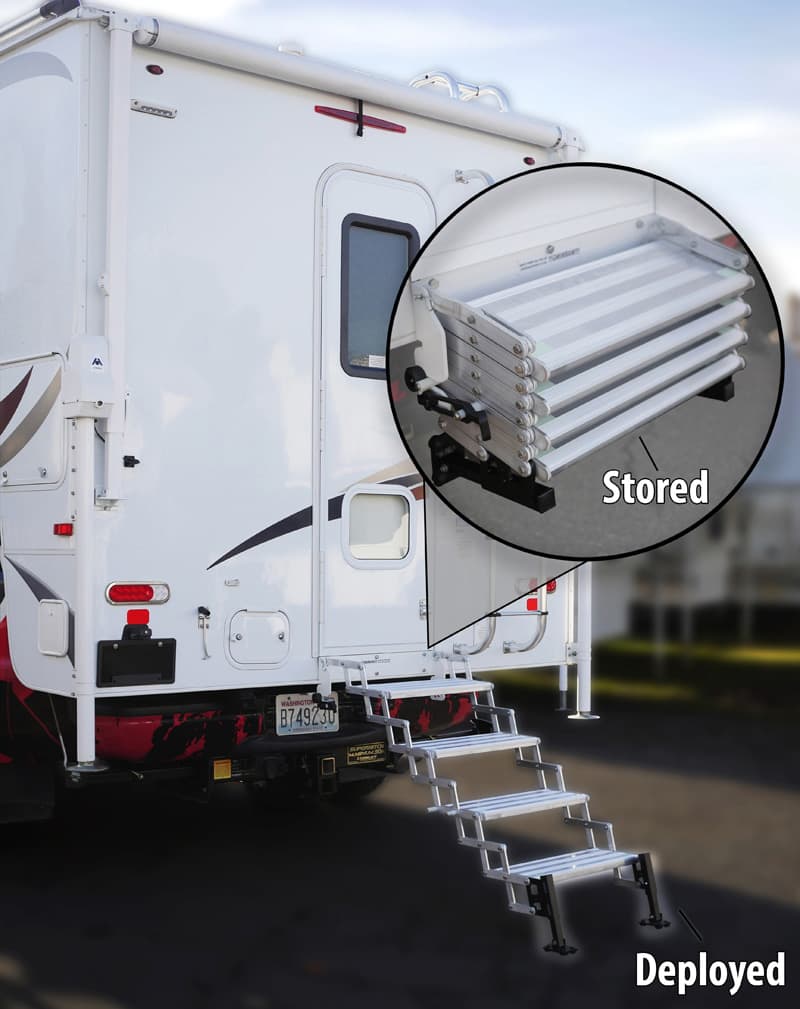 TCM: Where did the idea for the Stow N' Go come from?
Jack: We work with a lot of truck camper manufacturers and, over the years, have had a lot of conversations with these companies about their bumpers and step systems.
During more recent conversations with the OEMs, we were asked to develop a step assembly that would give truck camper customers more peace of mind about their scissor steps staying in position while traveling down the road.
With the Stow N' Go, truck camper owners don't have to store their scissor steps inside their coach.  And by keeping the steps outside the unit, water and mud don't get inside the camper.  Another benefit is the steps won't shift while in transit and possibly damage the camper's floor or anything in the camper.