It doesn't make sense to bring a spare for every hose with you, but you should carry coolant hose repair tape or a radiator hose repair kit, and required tools.  If you don't have radiator hose repair tape, duct tape will work in a pinch.
Radiator hoses seem to break most often near the junction with the radiator or engine.  Sometimes you can cut the hose a little shorter and then re-install it.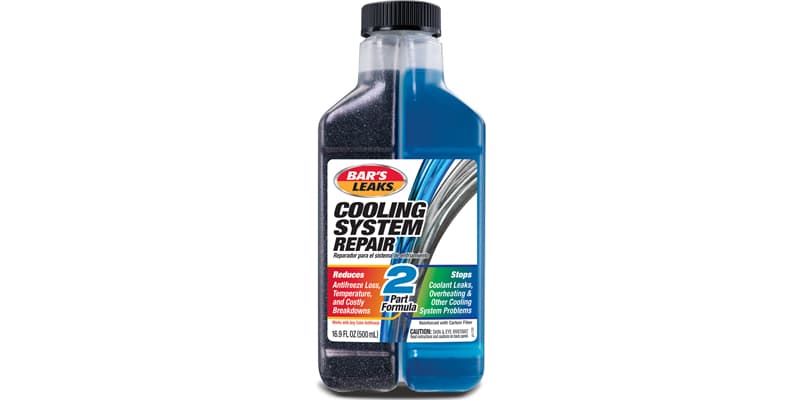 Another item to carry is a small container of radiator leak sealant.  You don't need to carry coolant unless you will be traveling in below-freezing weather.  Water will get you by until you refill the system with a proper mixture.
All of these field repairs are short term fixes to allow you to get to a parts store and repair the system properly.  With a little preparation, you'll be able to drive yourself to the closest parts store or service center without waiting for an expensive tow.  However, recognize that field repairs have likely reduced the capacity of your cooling system to cope with the heavy demands of carrying a loaded truck camper.  Drive moderately and watch your temperature gauge until you can repair the system properly.
Recommended Field Repair Tools
When you are planning your trip, you need to be sure you have an assortment of tools for field repairs.  In addition to things like socket wrenches and screwdrivers, be sure to have any unique tools you might need for your specific vehicle.
For example, my Chevrolet pickup requires a special wrench to change the fuel filter.  Even though I have changed the filter before the trip, the wrench goes into my truck toolbox.  Similarly, my former Dodge pickup required an Allen socket to check or change the transfer case fluid.  Again, that tool went in the toolbox.
When I changed the serpentine belt on my current pickup, I ended up using a bent coat hanger to help position the belt at one point in the process.  Again, this crude and improvised tool goes in the truck tool box.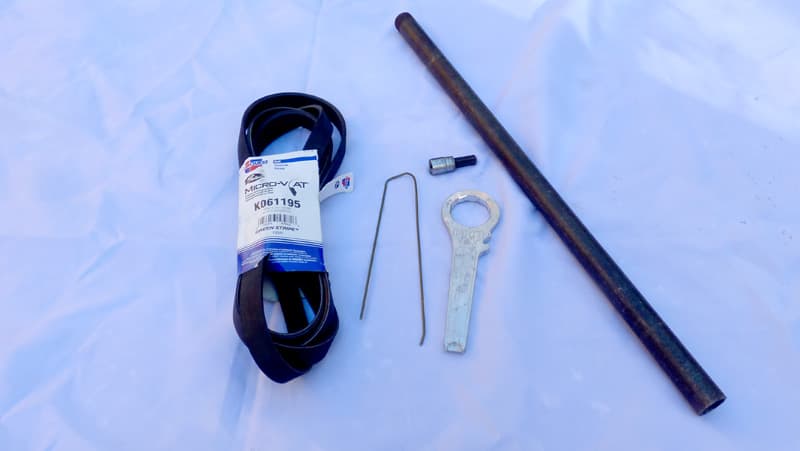 Above: If your truck needs some specialty tools, be sure to bring them along.  Pictured above are the wrench for the fuel filter on a GM Duramax, an Allen socket for the transfer-case oil fill & drain plugs on Dodge 2500, and a spare serpentine belt – notice it is kept in the sleeve for the replacement belt so the part number is handy if you need to buy another one while you are on the road.  Also included is a section of bent coat hanger to ease the installation of the belt and a home-made breaker bar for tough nuts.
You may need to carry both SAE and metric size sockets for your truck and camper.  My truck seems to be a mix.   Also, remember the above mentioned hose-repair kits and duct tape.  Never leave home without duct tape.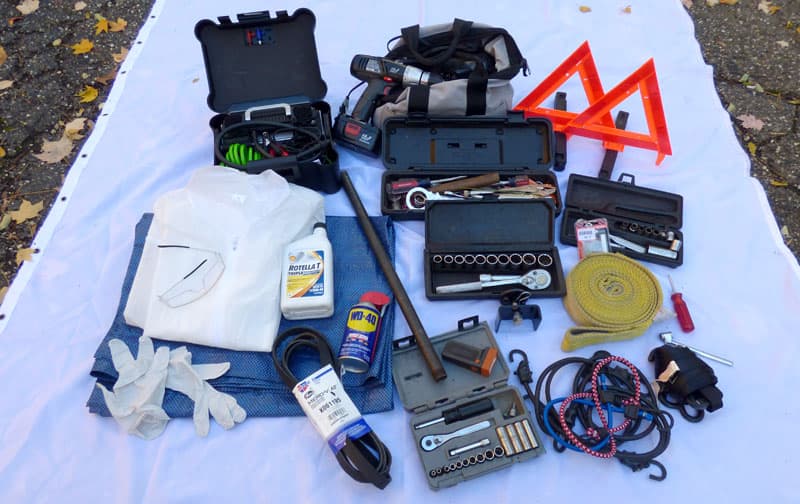 Above: These are the tools I carry in my pickup when we are camping.
A cheap plastic tarp and a disposable coverall are handy if you need to work under the truck or camper in the mud.  The tarp also helps to prevent the loss of small tools or parts that might otherwise disappear into the dirt and leaves on the ground.  I also carry a rechargeable drill and seem to find some use for it during every trip.  Rounding this out, I always have a tow strap and some ratchet straps in my truck.
One additional tool I bring is a portable air compressor.  This allows me to refill the truck air springs (aka air bags) when necessary.  I check the air springs weekly.  This also allows me to add air to a tire that might be getting low.  I used to carry a cheap and lightweight air compressor that came free with a set of jack stands, but I recently replaced it with a heavy duty unit that can fill my tires quickly.
When we were driving up the Dempster Highway toward Inuvik this past summer, I managed to pick up a screw in one of my tires resulting in a slow leak.  This is a road where you can be hundreds of miles from any help or service.  We were about 100 miles from Fort McPherson and there were no other settlements or services on that stretch of road, not even homes or cabins.
I had to watch it carefully, but the damaged tire held enough pressure to last through the drive.  My previous cheap air compressor would not have been much help with 110 pounds of pressure I keep in my truck tires.  The more powerful air compressor was able to add air quickly enough to maintain the necessary air pressure.
You may want to consider bringing Slime tire sealant and a tire plug repair kit.   These products won't help with sidewall tears, but they would have worked in my situation.  Lesson learned.