Frank de Grauw has the only Casco Camper ever made by Mobivak.  If that's not enough to spark curiosity, the hard side pop-up features a particularly unusual design and aesthetic.  Where can you actually see this never-seen-before camper?  The Netherlands, of course.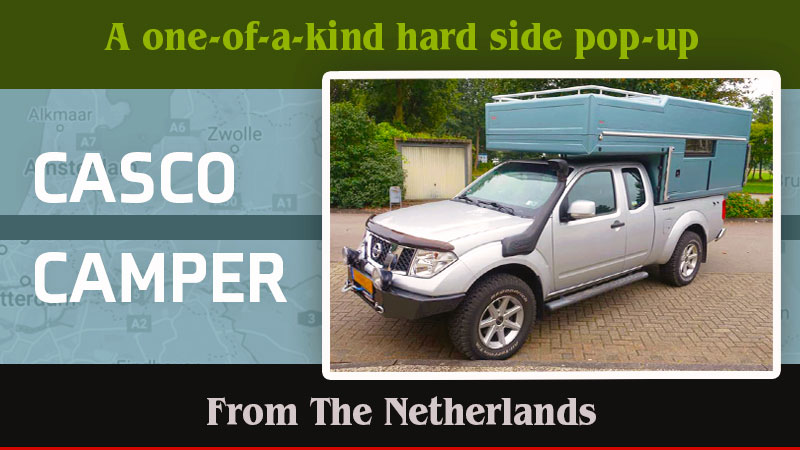 If Frank de Grauw's camper looks, well, frankly a bit like an Alaskan Camper, there's a good reason for that.  Frank actually wanted an Alaskan Camper and attempted to get one imported, but it wasn't a simple proposition.  That's when he went to Mobivak and asked them to build something like the front dinette Alaskan he desired.  The result is something you need to see (and read) to fully appreciate.
The One and Only Casco Camper by Mobivak
by Frank de Grauw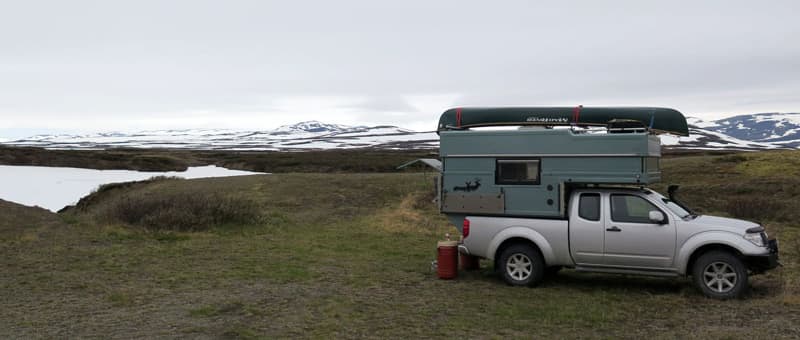 Over the years we've been to the Netherlands, Belgium, France, Sweden, Norway, Germany, Great Britain, Scotland, and Denmark.  We try to find places where we can camp in a more free way, having a fire and space around us.  This can be a bit hard in Europe.  The best places for us to camp are in Sweden and Norway.  They have good camping spots with lots of possibilities to go canoeing and hiking.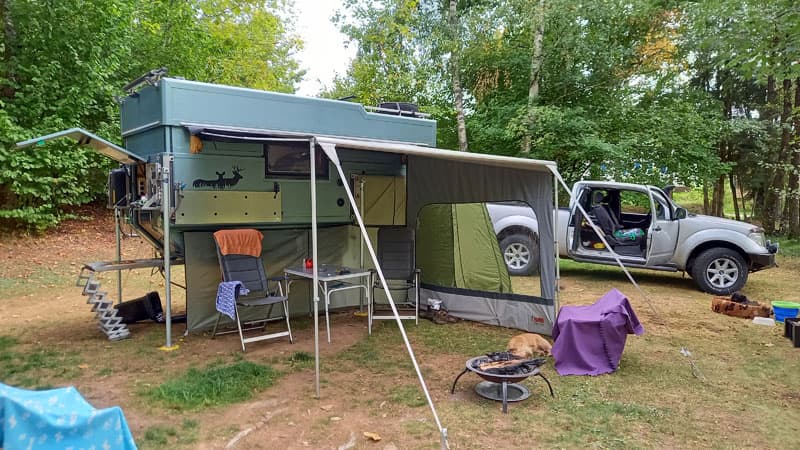 Truck camping is not a big thing in the Netherlands.  There are nice cultural and natural places to visit.  It is a lot less than the amount of nature we discovered in Canada.
We owned a Six-Pac camper for ten years and had lots of fun with it.  We missed the possibility to take the canoe with us and the aerodynamics weren't great either.  It was on a small Nissan D22 (Navara).  By the way, that truck and camper circled Iceland three times.  Good times!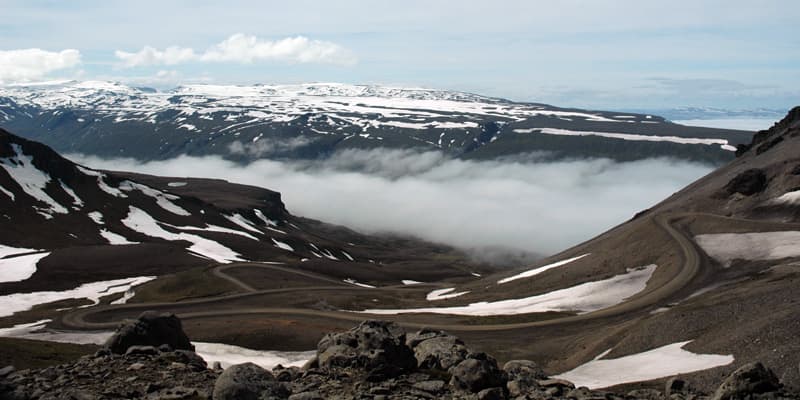 To get it to Iceland we put our rig in on a Smyril Line Cargo boat.  That was long ago, in 2007.  They still have that route.  We flew to Reykjavik to pick up the camper there once it arrived.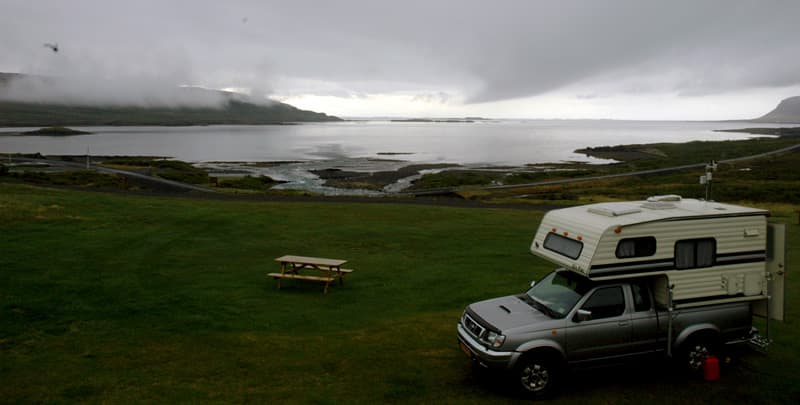 Above: Frank's first camper, a Six-Pac that they ferried to Iceland
So then we wanted another truck camper.  It needed to be a small rig because of our liking for small roads.  Believe me, in Europe a lot of the roads are small.
Above: Frank and his Nissan Navara
We like to go out in the winter to the northern parts of Europe, so a hard-sided camper would be very nice.  We wanted it to be low profile.  In Europe, this is a difficult combination to find.
I contacted Alaskan Campers since, in my opinion, they have great campers.  That was a difficult project being that we are so far apart.  An Alaskan would also be rather heavy for a compact European truck.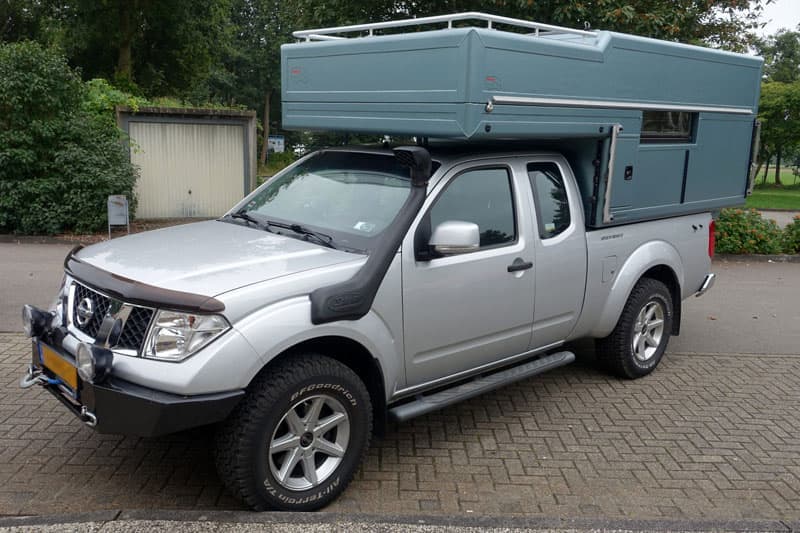 In the end, I found a small camper builder in the Netherlands that had built soft-sided truck campers.  He was an engineer interested to see whether he could make a rig as I wanted.
It is called a Casco Camper and it was built by Mobivak.  Our camper unit is hard-sided with a hard-sided lift top that can accommodate our canoe.  There is only one in the world because he stopped building campers, so mine is unique.  He has the CAD plans still.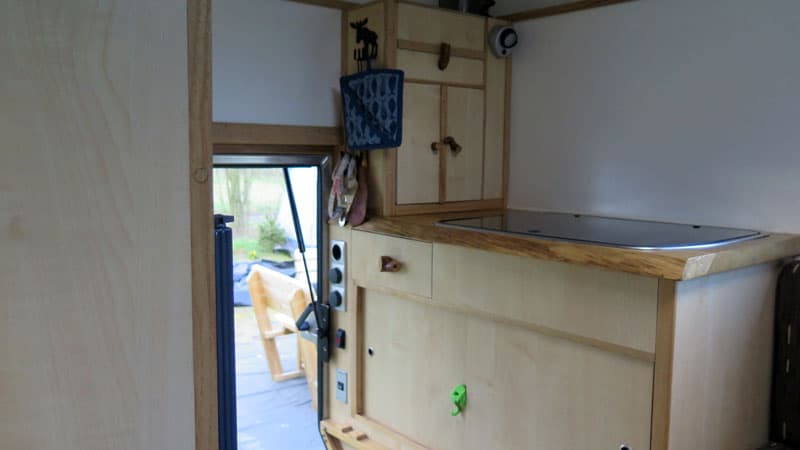 We finished the inside by ourselves.  It has a kitchen with two burners, a sink and a boiler on 220-volts and 12-volts.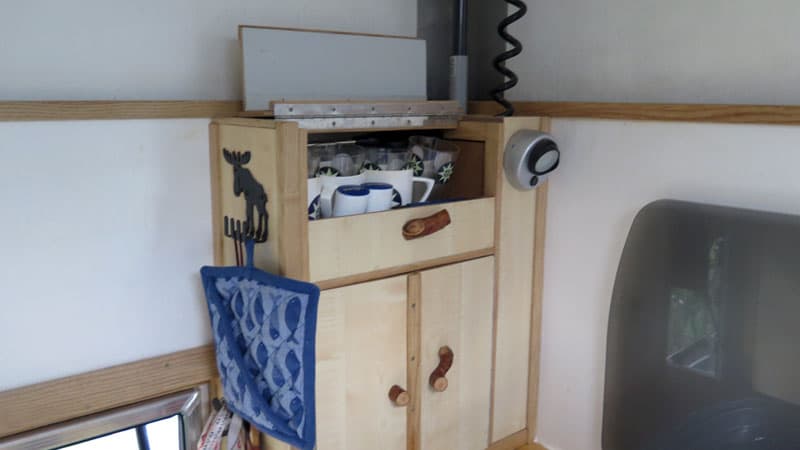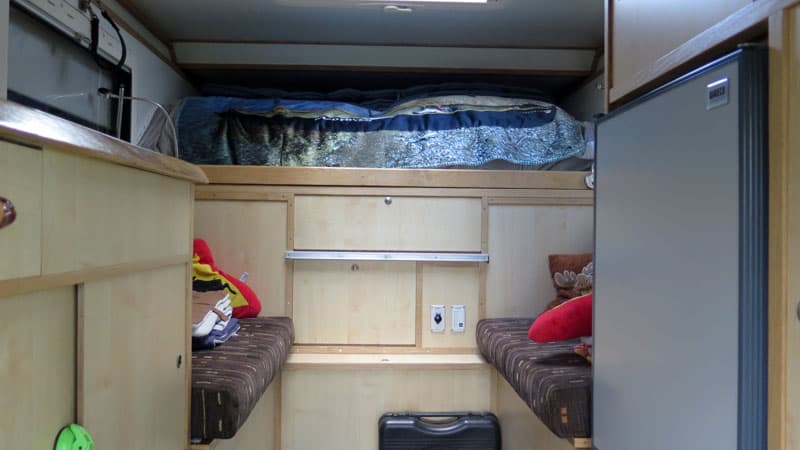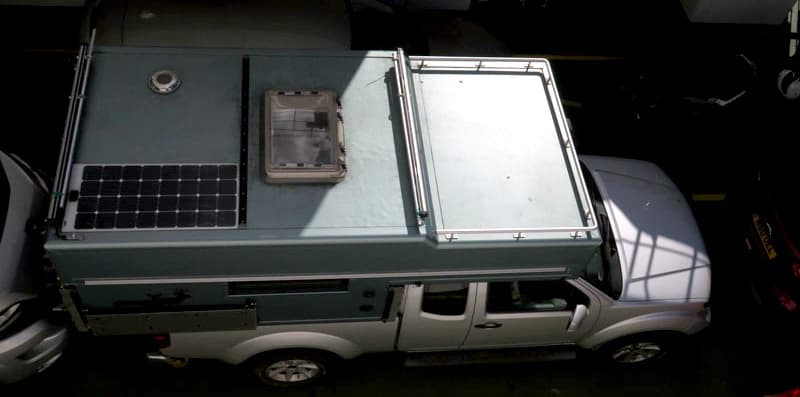 Our Truma Air heater runs on propane.  We have a Dometic cooler and refrigerator, an 80-liter water tank, a 160-watt solar system, and a 78-Ah Lithium-ion battery.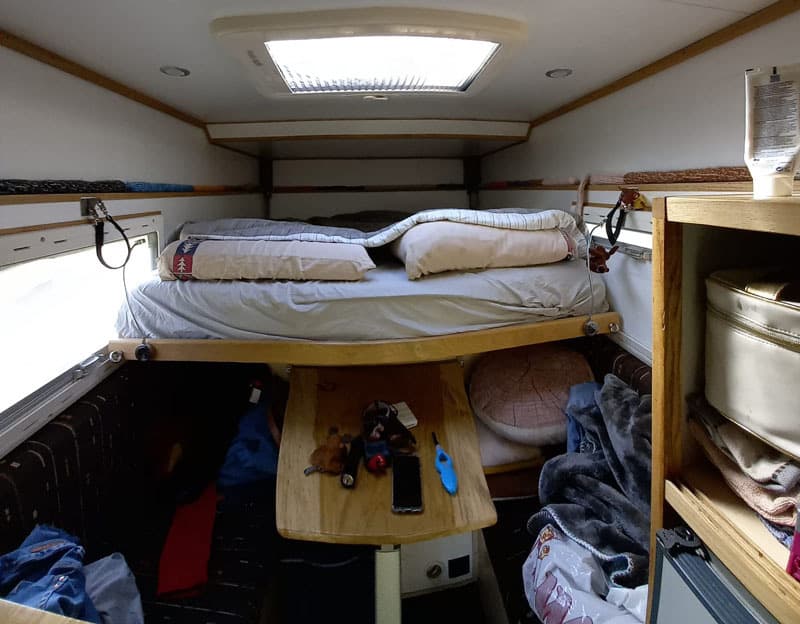 We sleep the length of the camper in a bed that can be pulled out.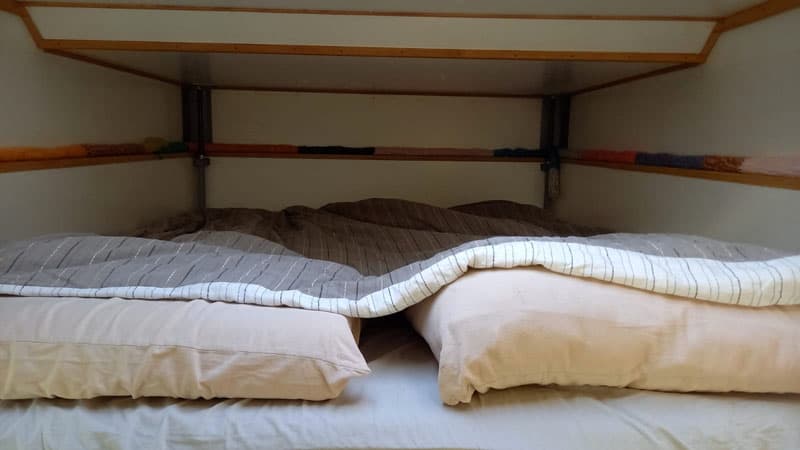 We have a comfortable 160 by 205-centimeter (60 by 80-inch) bed that sleeps us and our two small dogs in luxury.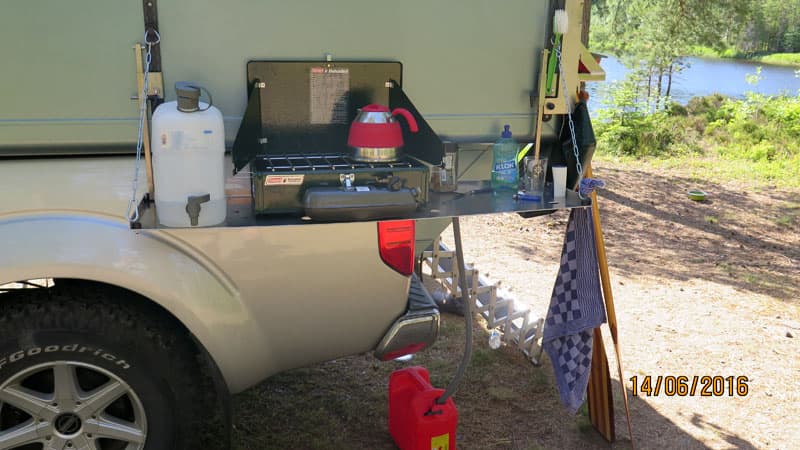 But, what I like most is the outdoor kitchen option.  We can use it on both sides.  We have water on the spot and cook on a Coleman burner.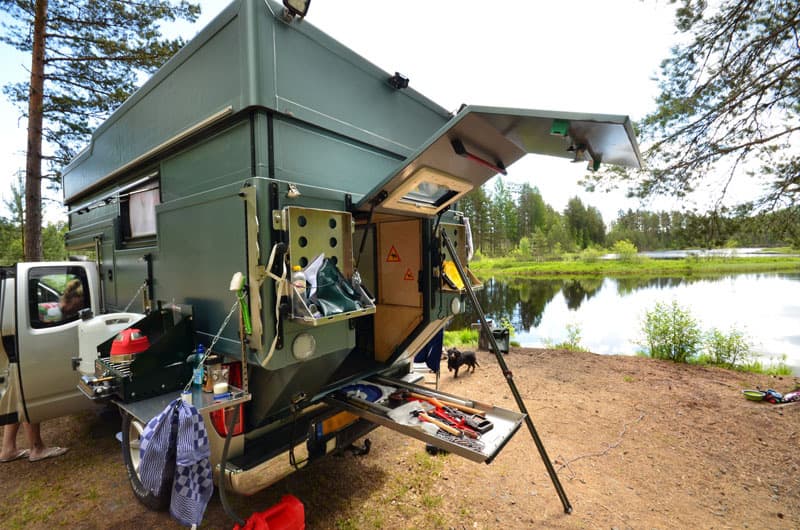 We live mostly outdoors but, when we go on trips in the wintertime, we can live inside as well.  We have a dry toilet inside for emergencies.  We mostly chose a place with outdoor possibilities or use the bathrooms at the campground.
For more truck camper rigs from around the world, check out Rigs Around the World 2.