Nineteen incredible truck campers from Australia, Brazil, Chile, Argentina, England, Estonia, France, Germany, Japan, New Zealand, Russia, South Africa, Taiwan, and The Netherlands have answered our international call.  Get ready for truck camper makes and models you've never seen before, from stunning places around the globe.
On something of a lark in 2017, we asked readers outside of the United States and Canada to chime in.  Specifically, we called readers in Asia, Africa, South America, Antarctica, Europe, or Oceania to contact us with their truck camping rigs and lifestyle.
We had Google Analytics data showing a healthy number of readers from around the world, but blue dots on a grey map aren't much fun.  We wanted to hear from actual people, with pictures and stories.  Surely that idea wasn't too foreign.
To our absolute amazement, 21 truck campers answered from as far away as Japan and Peru.  The resulting article, "Rigs Around The World" was a cascade of revelations; truck camper makes and models we had never seen, wild camping locations we never dreamed of, and fellow truck campers we could only hope to one day meet.
Four years later we noticed a surge in international readership in our analytics; up 55-percent in Germany, 60-percent in New Zealand, 61-percent in Australia, 93-percent in the Netherlands, 110-percent in France, and 120-percent in Brazil.  All totaled we now have more readership outside of the United States and Canada than we have in Texas, itself a major readership hub.
So, we put out another call; Who in the world is reading Truck Camper Magazine?  And we waited…
Where are the Aussies and Kiwis?
The initial wave of responses was astounding.  We heard from Japan, Russia, Germany, South Africa, Estonia, Brazil, England, France, the Netherlands, and Chile.  But strangely we didn't hear from a single camper in Australia or New Zealand.  Not one Aussie.  Not a single Kiwi.  What the walkabout?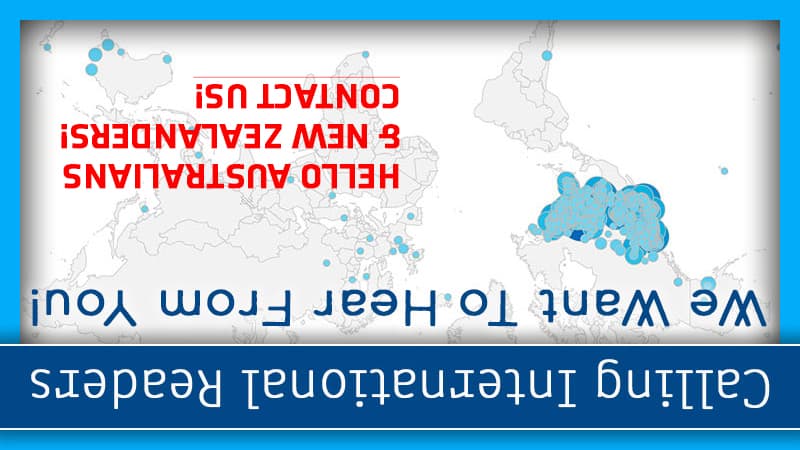 Naturally, I did what I always do; poked a bit of fun.  In this case, I flipped the, "Calling International Readers" graphic upside down and made a big fuss in our Email Alert.  That did it.  The next thing we knew our email box was pinging away.  Ping!  Tasmania.  Ping!  Gold Coast.  Ping!  Gold Coast again.  See what you have to do to get folks' attention halfway around the world?  It's not easy.
Thank you to all the international readers who sent in their stories, photos, and information.  Your rigs are incredible and inspiring.  We hope to explore your countries someday, with a truck or tray camper, of course.
Takashi Kondo, Nagoya City, Aichi Prefecture, Japan
2015 Toyota Land Cruiser GRJ79 double cab
2016 YMS Mystic J-Cabin L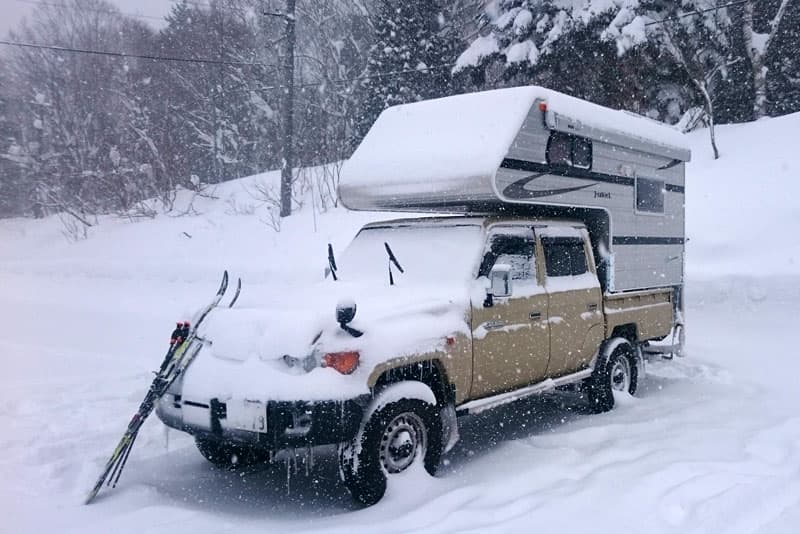 Places Traveled: Japan
Many pickup trucks are produced in Japan, but unfortunately, only the Toyota Hilux is sold in Japan.  I have a Toyota Land Cruiser.  I have exported my Land Cruiser pickup to many countries except North America.  In Japan, it was only sold for a year.
More and more people are loading campers on Japanese-specific 660cc micro trucks.  This 660cc micro truck camper matches narrow Japanese roads.
I leisurely use my camper for bird watching and wild bird photography.  There are many free campsites with beautiful scenery in Hokkaido.  Many campers head to Hokkaido in the summer.
John Lees, St. Hilaire les Places, near Limoges, France
2019 Nissan Navara
2020 Tischer 230S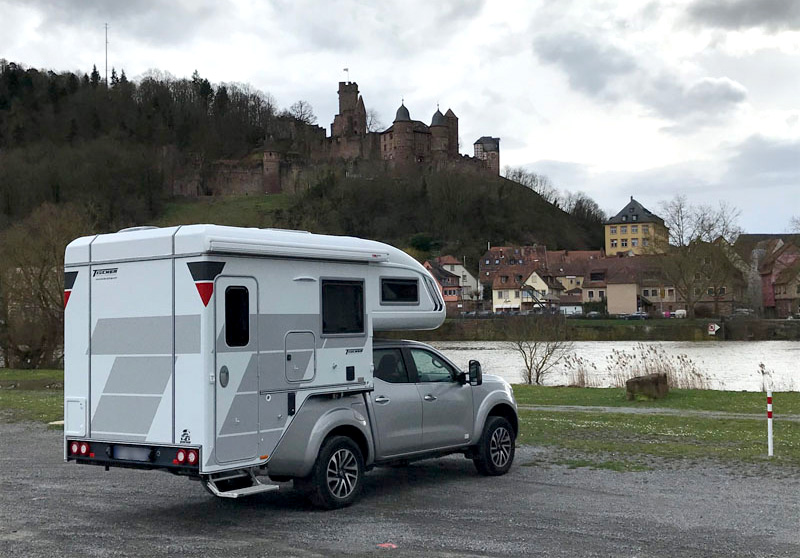 Places Traveled: France, Germany
We use our camper to go hiking in the mountains.  We wild camp where we can.  Our local Massif Central range is very beautiful, quiet, and has a wide range of trails.
Everything is on a much smaller scale, so roads, campsites, and cities are difficult for large American RV-style rigs.  However, the French Aires system (free motorhome stopovers) and their equivalents in other European countries make low-cost touring very easy.
We love our Tischer truck camper (known as a demountable in the UK, and a, "cellule amovible" in France.  All the facilities we need are in a medium/light-weight 700-kilogram (1,543-pound) package.
Rainer Hentschel, Eltville, State Hessen, Germany
GMC Sierra 2500HD
Nordstar 8.5C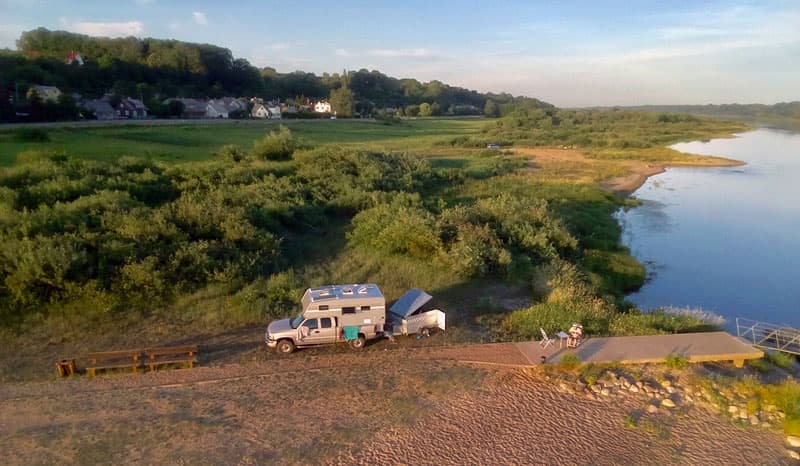 Places Traveled: Germany, Sweden, Norway, Scotland, Wales, Spain, Portugal, France, Hungaria, Poland, Baltic-States, Austria, The Netherlands, and Belgium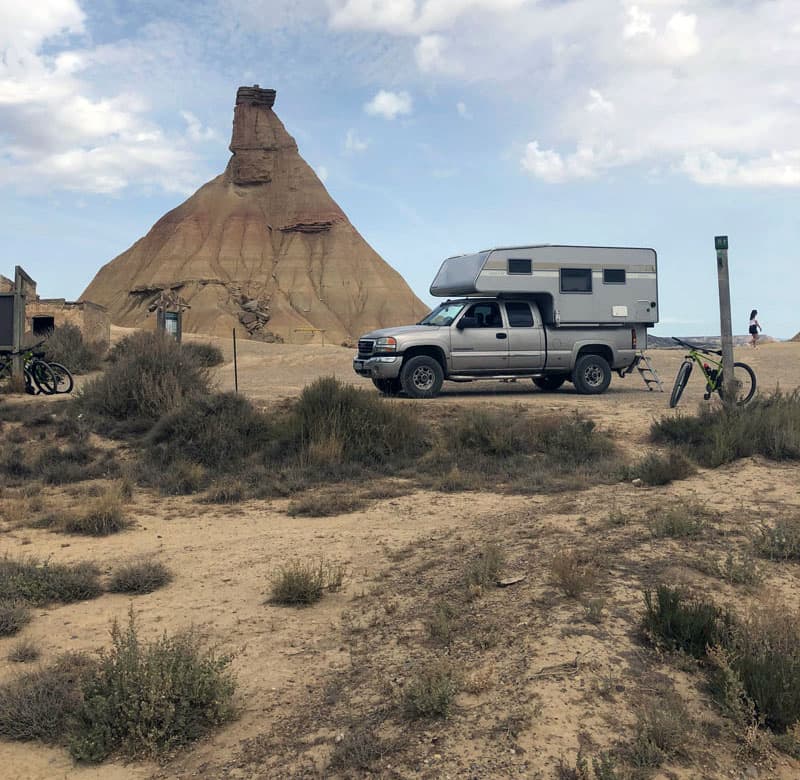 Above: Bardenas Reales, Spain
We love camping in Europe. Germany and France are our favorite places.  France is very good with free places for overnight parking.  In Europe and the Baltic States, we stay free in wild nature.  We love hiking and biking.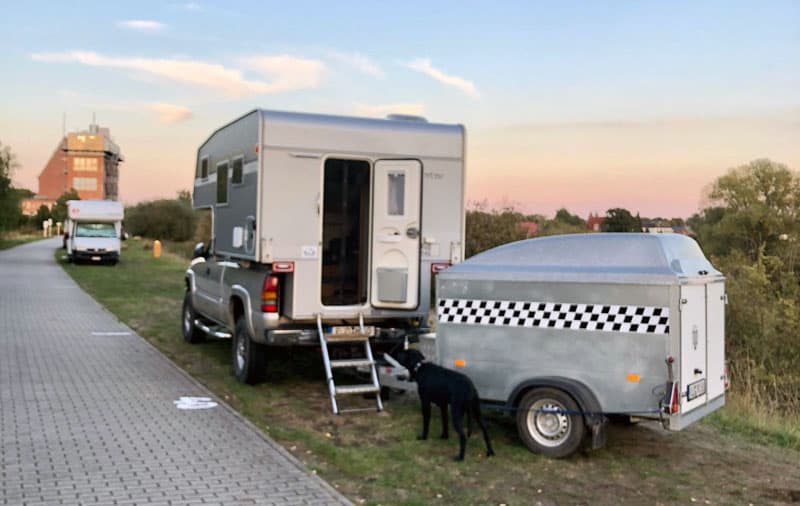 Above: Domitz By River Elbe, Germany
Germany has a little community for truck campers.  The biggest forum is the Wohnkabinen-Forum.  They have the best information for newcomers and members.
Germany has a good infrastructure for camping.  There are many places in towns and villages for overnight stops with services for your truck camper.  The price is from 0€-10€ ($0 – $11.72 USD) or higher by Hotspots.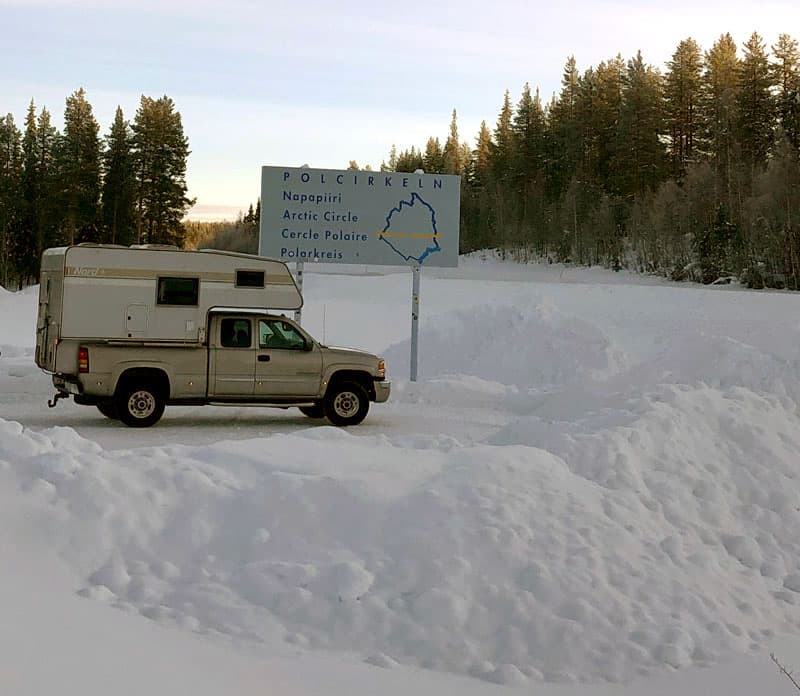 Above: Polar Circle Sweden
My Nordstar 8,5C (Skarosser) is from Sweden, and it's made for full-size trucks only.  My camper has an Alde 3020 hydronic water heater and heater, including the floor.  There is a 16-gallon fresh water tank and high insulation for winter camping.  I've tested it in Norway at -16-degrees Fahrenheit (-26 degrees Celsius).
The weight of my rig is 8,820-pounds (4,000-kilograms) when it's ready for travel which includes two people and a dog.  My GMC Sierra 2500HD 6.0L extended cab four wheel drive truck, which also runs on propane (LPG).
Stephen Berry, Gold Coast, Australia
2017 Ford Ranger
2017 Ozcape Optima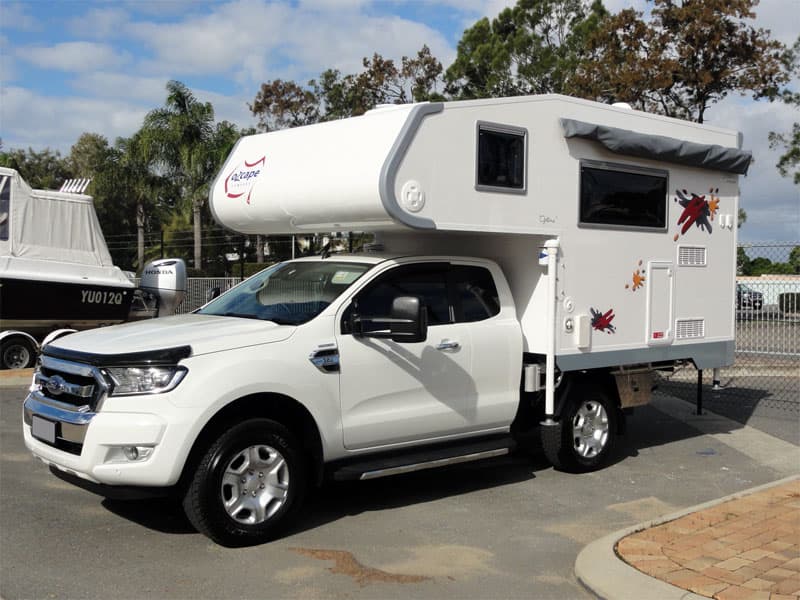 Places Traveled: Australia
We love to stick to the east coast of Australia when we go camping, although we have many favorite destinations inland as well.  In Australia, we are very fortunate to have such beautiful destinations that you never get tired of visiting each year.
Some of the most remote places in Australia give you an idea about what life was like thousands of years ago as these areas are unspoiled.  These are the sort of places we love to visit and, even though we get the feeling of isolation, we still have all the creature comforts in our camper.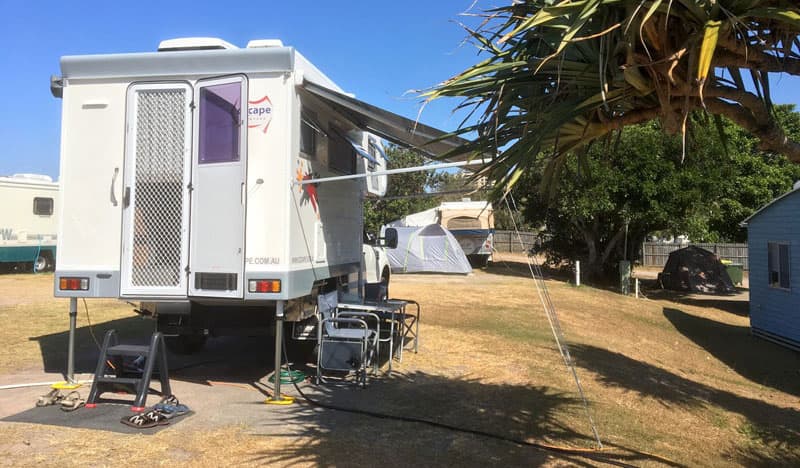 Truck campers (slide-ons) are still a niche market.  There is no 'truck camper' club as such in Australia that I am aware of.  However, there is an owner's group within our brand that will be meeting up for the first time later this year.  However, the main RV group in Australia is the CMCA, Campervan, and Motorhome Club of Australia.
There are so many camping opportunities available for the traveling public.  From bush camping to five-star RV parks; all providing different types/levels of camping experiences.
It is difficult to define what to see in this country as it will all depend on your preference.  Tropical Far North Queensland is a favorite destination to head to for winter.  It's all within a few days driving for us and gives opportunities to stop along the way to experience the various attractions the different areas provide.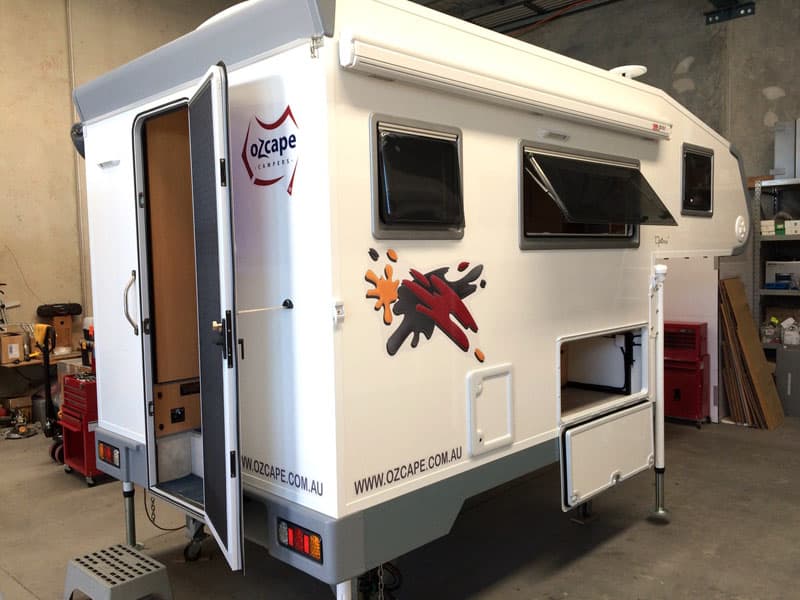 We have a German-designed Australian-built Ozcape Optima.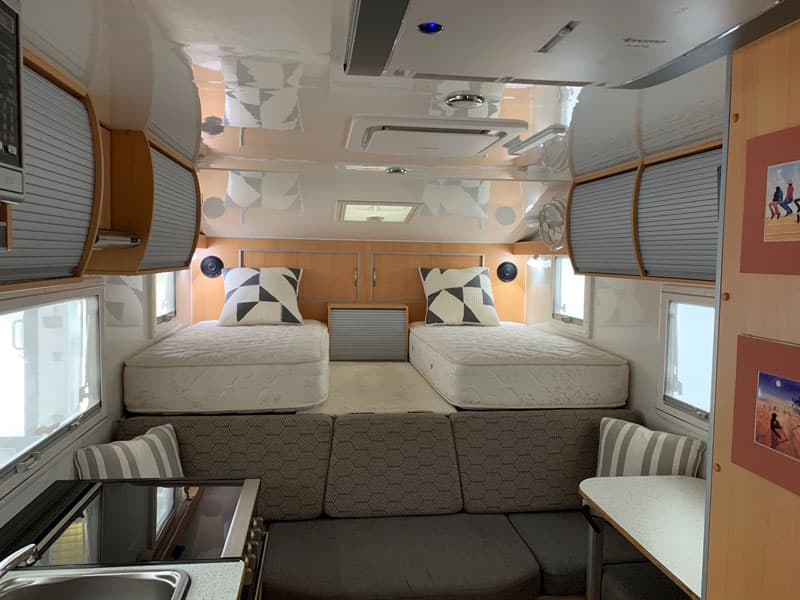 It is a two-berth camper with all the creature comforts that one loves when out camping; microwave, air conditioner, 450-watt solar setup, wet bath, etc.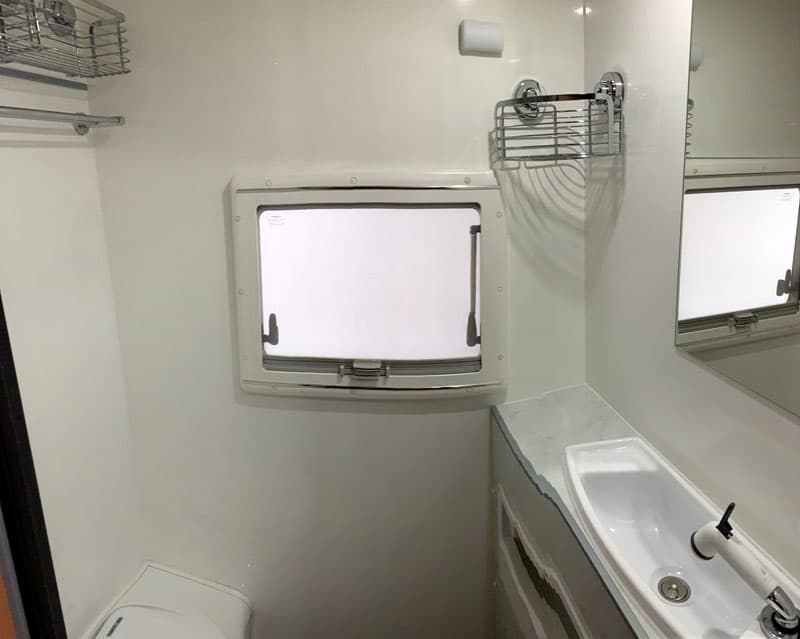 It is the perfect setup for off-the-grid camping.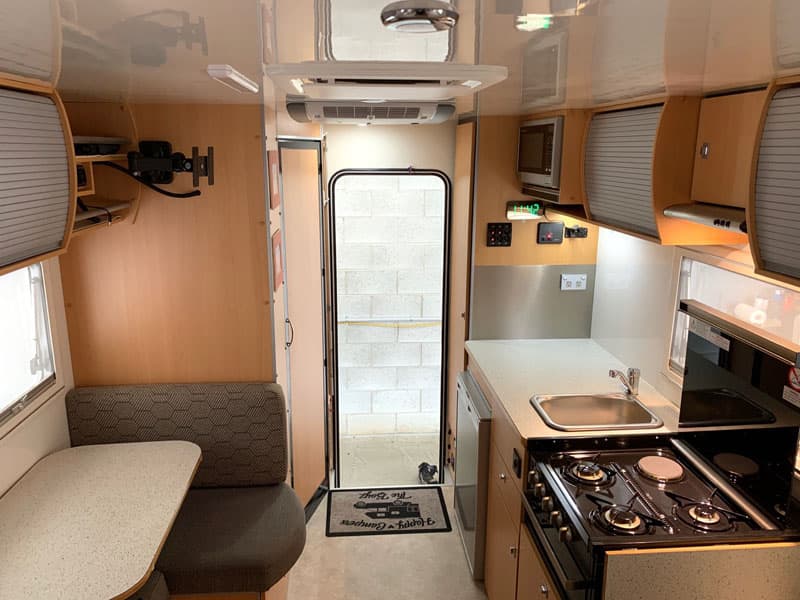 It is classed as a flatbed slide-on camper (Australian equivalent to a truck camper) that fits onto our Ford Ranger super cab truck.  The truck has had the GVM (Gross Vehicle Mass) upgraded since it was new, giving us an extra 300-kilograms of extra capacity.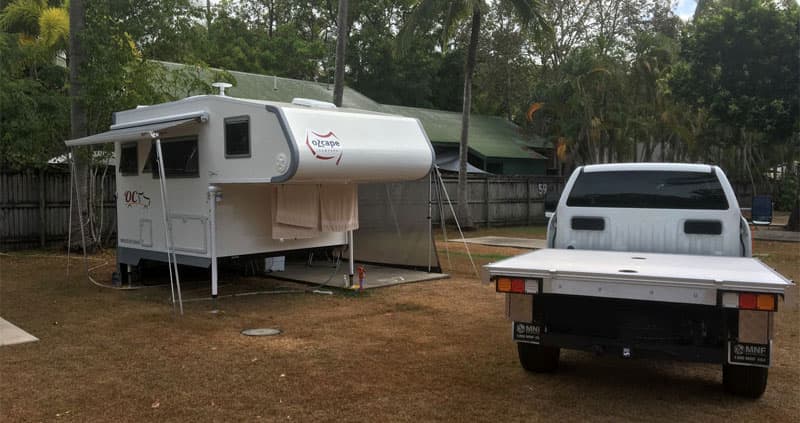 Chris McKenzie, Hobart, Tasmania, Australia
2015 Mazda BT50
2017 Active Camper Vantage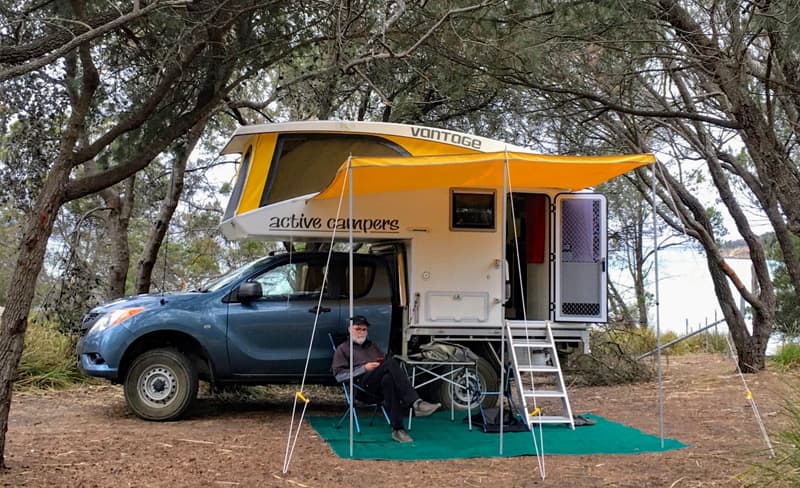 Places Traveled: Australia
Narawntapu National Park seems to be our most visited place in Tasmania.  It is coastal with lots of wildlife.  When we visit mainland Australia we tend to take trips which include visiting friends and relatives.
The ferry price from Tasmania to Australia varies depending on demand and the level of accommodation.  The vehicles are free at the moment and are always government subsidized.
An overnight sailing with a private cabin going north at the beginning of April was about $600.  The price is high because a lot of people are heading north as the weather cools down.  Coming back in mid-May is about $150!  Availability is variable, too.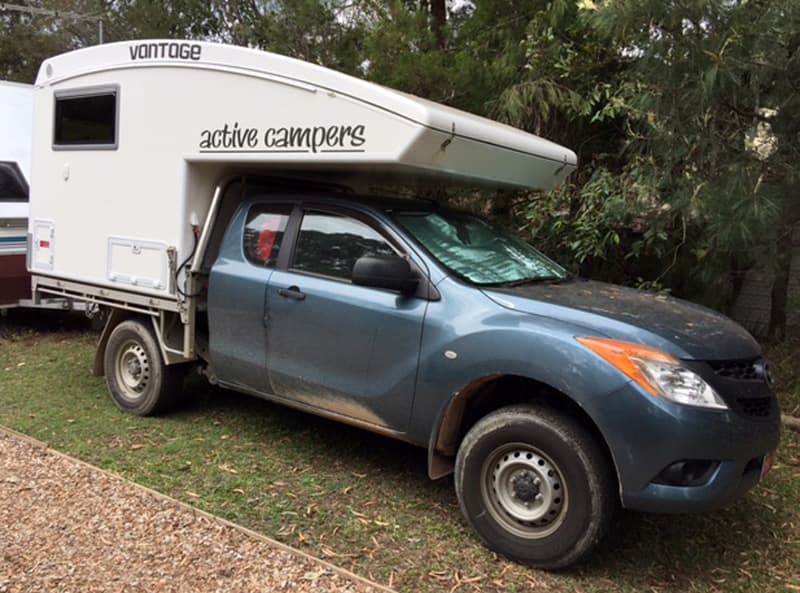 We like to camp almost anywhere that is quiet and clean (largely not caravan parks) and are, slowly, working on visiting as many National Parks as possible.  We are pleased with our camper.  It is quite light at 500-kilograms (1,102-pounds) with a battery and water.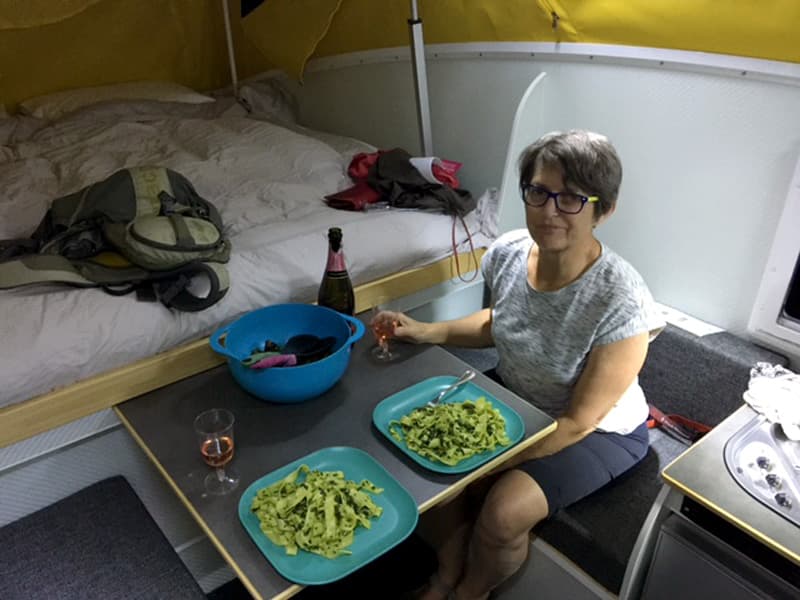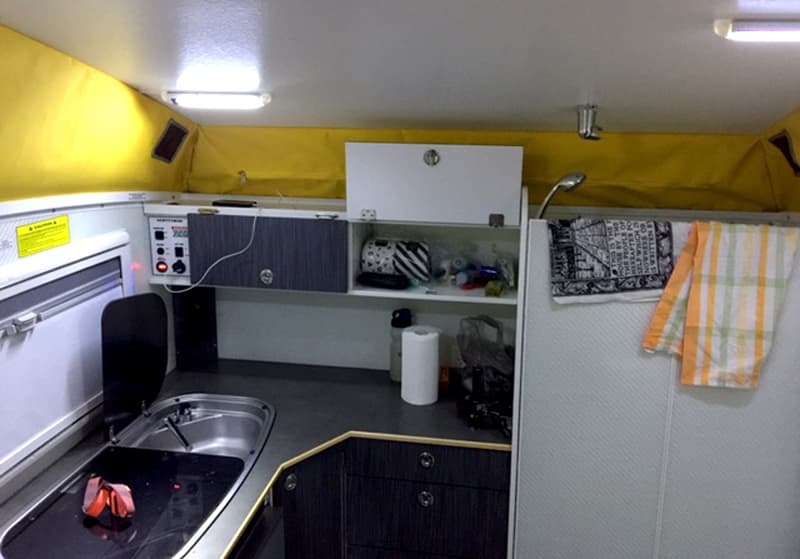 Australia is a vast and varied country.  If you venture away from populated areas you need to be well equipped and well prepared.  However, there are many campgrounds and caravan parks close to the populated regions.  The caravan parks still give access to quiet places and an amazing variety of scenery.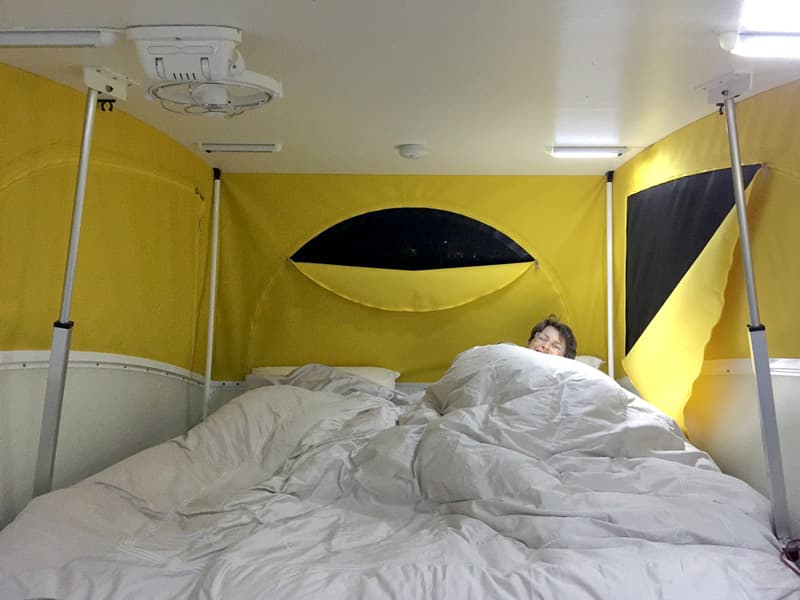 The Campervan and Motorhome Club on Australia (CMCA) is a good place to start.
Casey Hiscutt, Penguin, Tasmania
Islander campers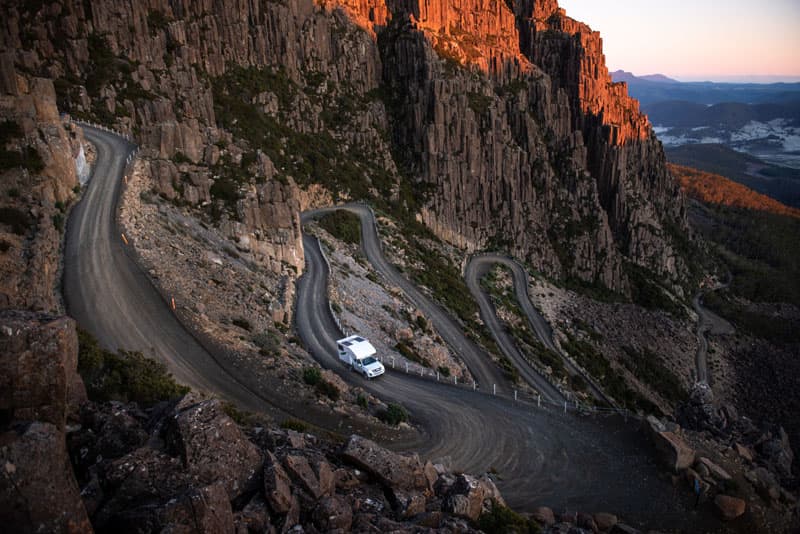 Above: Climbing Jacobs Ladder towards the Ben Lomond Ski Fields in northeast Tasmania
Places Traveled With Their Truck Camper: Tasmania, Australia
Tasmania is always a great spot.  We like to go where you can't go with a caravan.  There are some amazing attractions at our doorstep including the Big Penguin in our idyllic seaside town as well as the gorgeous Leven Canyon not far to our south.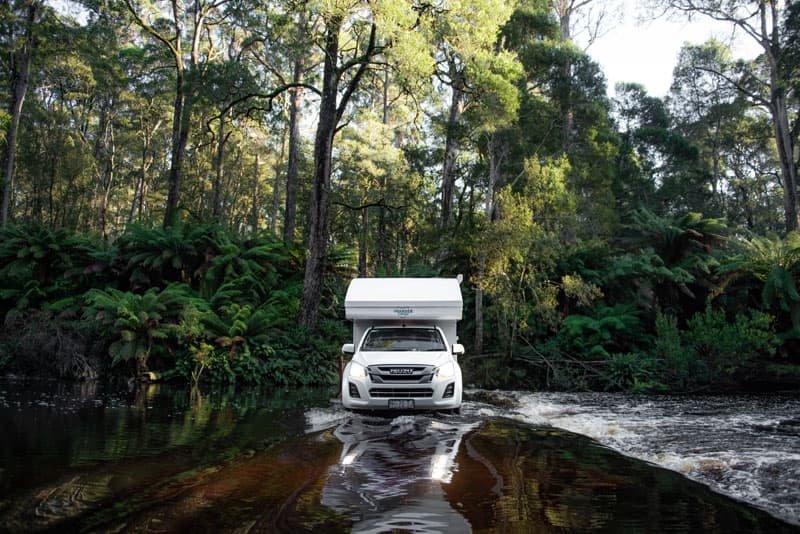 Above: Crossing the Black River near Forrest in northwest Tasmania
You could visit Wings Wildlife park to take in the local fauna and stay at one of our many caravan parks or free camping sites around the area.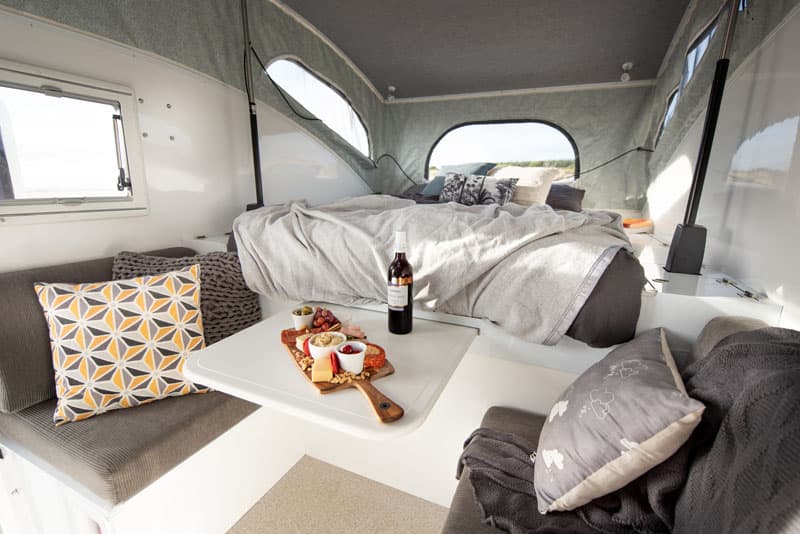 I sell Islander Campers here in Penguin, Tasmania, Australia.  Our slide-on campers suit all Australian flat tray Utes and are distributed nationwide.  The pictures above and below show our Leven 2.4 TS model.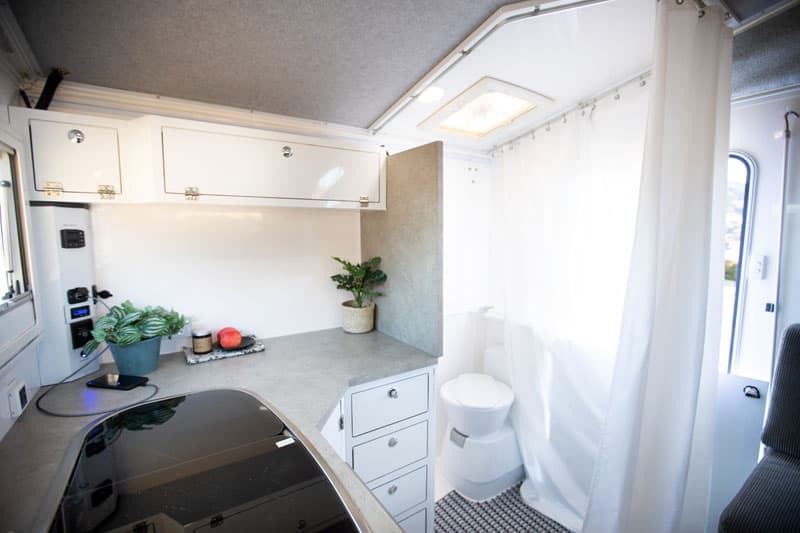 Fiberglass sandwich panel construction ensures a comfortable and safe journey.  Our campers allow you the freedom to go where you want, when you want, and to do it how you want.

Dmitry Sukhov, Moscow, Russia
2010 Dodge Ram 2500
2016 Wolf Creek 850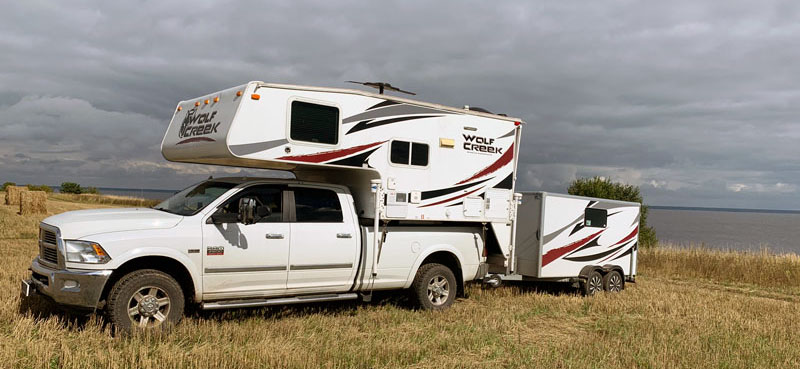 Places Traveled: Russia, Finland
My favorite hobby is fishing.  With my camper, I always go to wild places that other fishermen cannot get into.  Although Russia is a huge country with millions of places to visit, truck camping is not a popular hobby.  There are poor infrastructure provisions even in big cities.
Places you must see if you visit Russia are Moscow, Saint Petersburg, Ural Mountains, Baikal Lake, the Altay mountains, Karelia, and Kamchatka.  A truck camper is the best solution for my family to travel around the country with our dogs.  It's a very comfortable and flexible way to travel.
Steve Blackman, High Wycombe, England
2007 Ford Ranger turbo diesel
1991 Shadow Cruiser, Sky Cruiser 1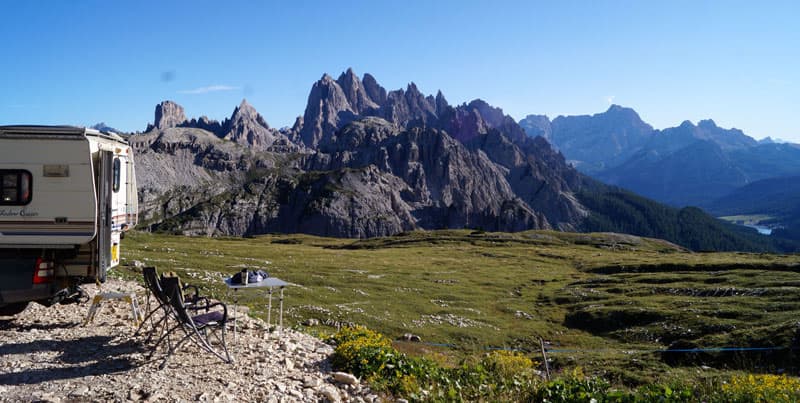 Above: Camping in Dolomites, Italy
Places Traveled: United Kingdom, Morocco, Spain, France, Belgium, Holland, Luxembourg, Norway, Germany, Denmark, Sweden, Switzerland, Czechia, Lichtenstein, Austria, and Andorra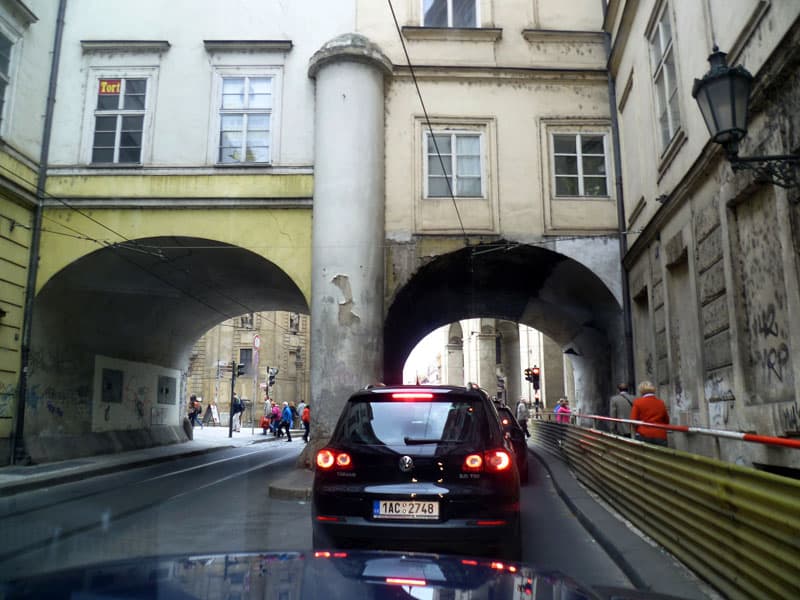 Above: Narrow tunnel in Prague, Czechia
We use our camper to visit beauty spots where we can go walking, cycling, and kayaking. We love visiting the Lake District in northern England.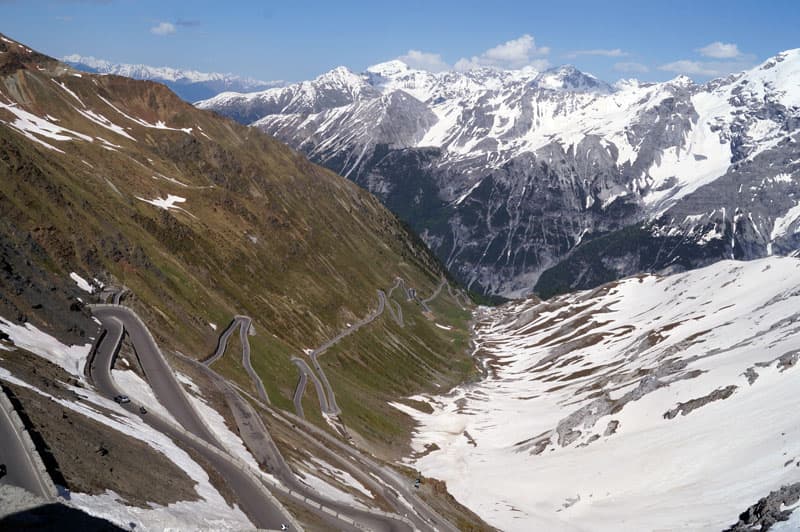 Above: Stelvio Pass between Switzerland and Italy
Truck campers are typically called demountable campers in the UK.  There is a "Demountable Camper Group" Facebook page for enthusiasts.

Above: Morocco, edge of the Sahara
A small truck camper on a truck the size of a Ranger / Hilux is ideal for the UK allowing you to explore the extremely narrow roads in the more scenic parts of the country.  However, fuel is a lot more expensive than the United States.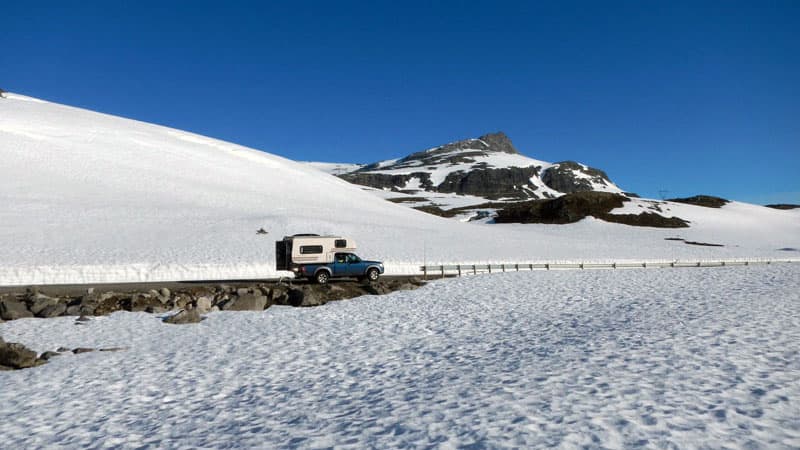 Above: Norway
My camper is small and battered.  I've so far had to replace the roof, rear wall, and door.  I've added solar panels, a compressor refrigerator, and a swing-away bike carrier.  It doesn't have a bathroom but does have a huge moon roof.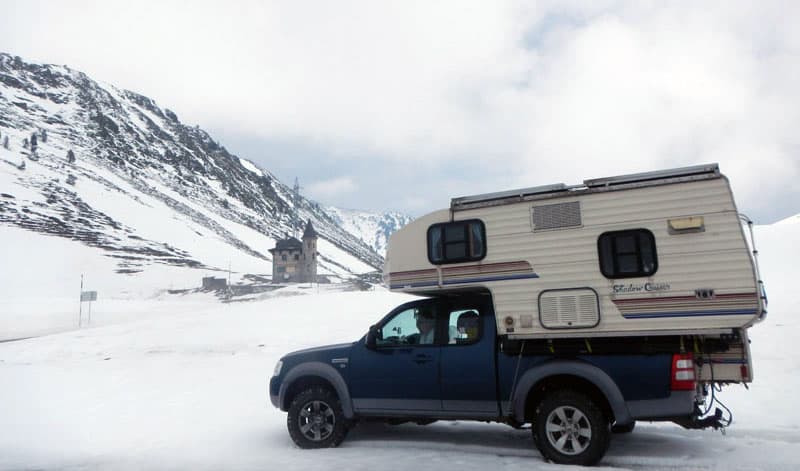 Above: Andorra
Laurent Gireaud, Perpignan, France
Dodge Ram 1500
1995 Six Pac Mini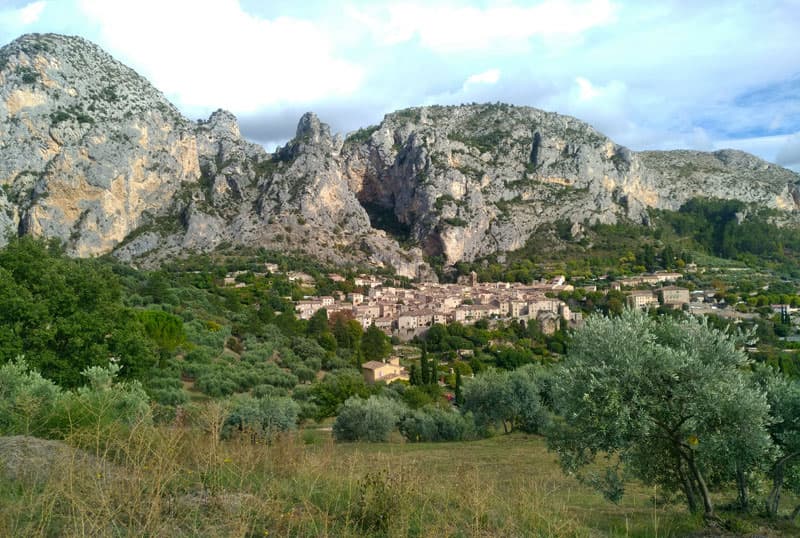 Above: Moustier Sainte Marie, France
Places Traveled: France
I mainly go camping in the mountains and places with little traffic.  As in all countries, there are plenty of great places to camp in France.  For anyone who might be interested in fitting a removable cell to a Ram 1500 while respecting the payload of the vehicle, I want to share my achievement.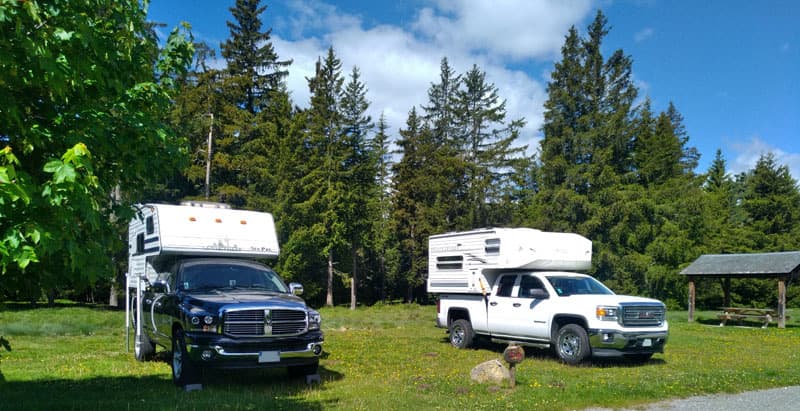 I bought an inexpensive little American cartridge from Six-Pac Campers (camper on left above).  It was made for Japanese pickups or the like.  The floor length is 200-centimeters (78.7 inches).  The overcab is 150-centimeters long (59-inches).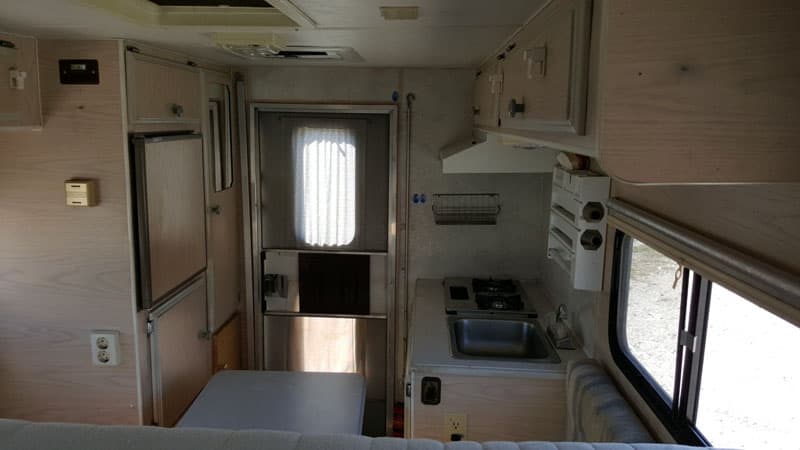 Above: Before the renovation
There is no shower or bathroom, and just enough storage for a chemical toilet.  I mainly go to small campsites and other farm camping sites, so there are no worries about the shower and the toilet.
I bought this cell because I liked it and it had the nameplate which indicated the weight.  From the nameplate, my camper is from the year 1995 and is 525-kilograms (1,157-pounds) including 46 liters of water (12 gallons), 9 kilograms of gas (20-pounds), and 34 kilograms (75-pounds) for the refrigerator.
After removing everything that was too old (that is to say a lot of things) I practically renovated the entire interior; three skylights, painting of the walls, compression refrigerator, electric heating, cushion covers, table, dinette plan, sink, hob, electric water heater, floor, and various items.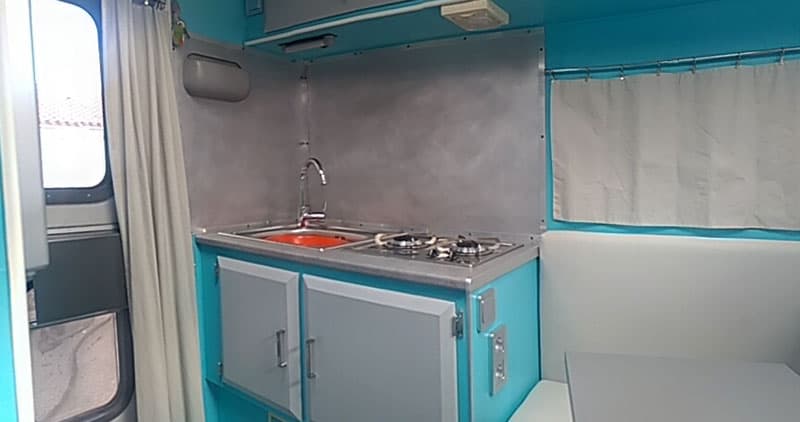 I also had to make a frame to raise the cell by 12-centimeters (4.72-inches) so that it could pass over the roof of the pickup and it did not swim too much between the passage of the fenders (Dodge Ram passage 122cm, cell 100cm), so I made a wider sole.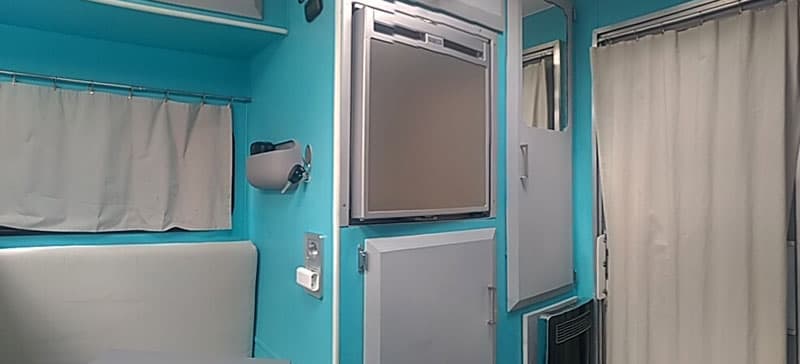 I also made plates so as to spread the cell feet to be able to pass more easily; 5 cm (1.96-inches) on each side.  I weighed everything I took out and everything I put back, including the chassis.  I ended up with a weight of 510-kilograms (1,124-pounds) without water.
Since using it, I have managed to regain payload by replacing the splash back around the sink and changing the flooring which was very heavy.  It is also possible to gain 36 kilograms (79-pounds) by removing the jacks and around 50 kilograms (130-pounds) with the spare wheel.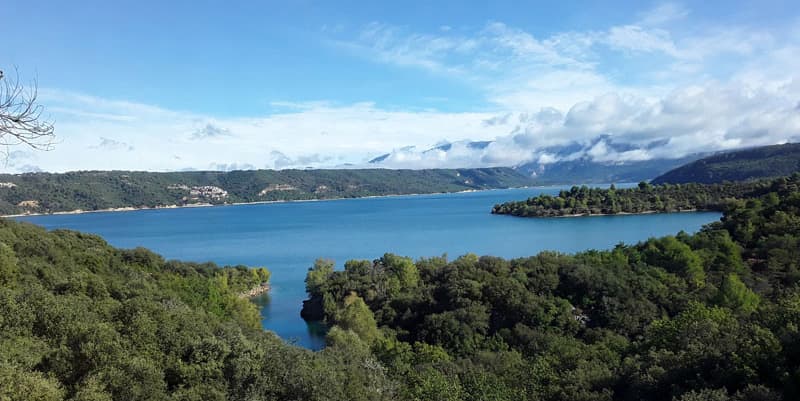 Above: Lac De Sainte Croix, France
We've been enjoying this camper for six years.  If anyone may benefit from my story, I was happy to tell it.  Good road.
Hendrik Jacobs, Bellville, Cape Town, Republic of South Africa
2017 Toyota Hilux
2017 Palomino SS-500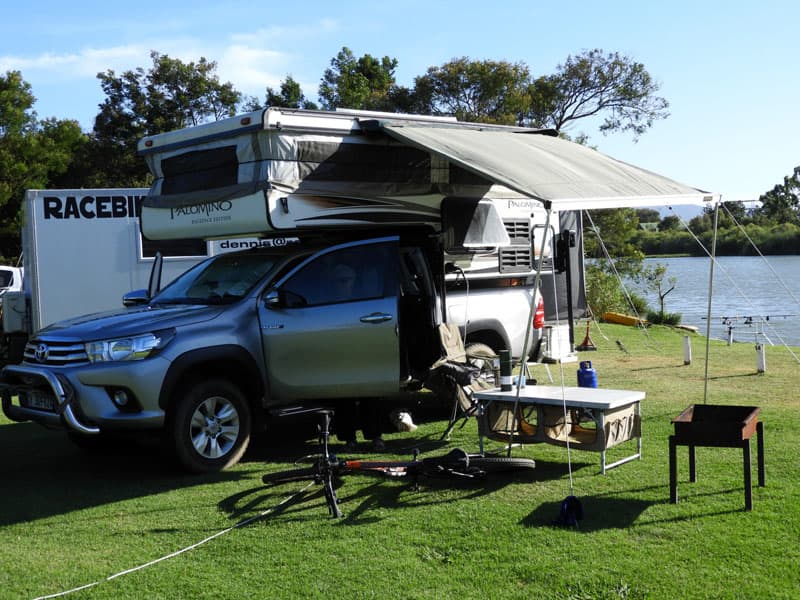 Places Traveled: Republic of South Africa
I enjoy exploring, photography, visiting museums, and fishing.  I have traveled to the West Coast of South Africa, major river camps, the Western Cape, nature reserves, and mountains.  Allegedly, there are only five or six truck campers in South Africa.  We belong to a Motorhome Club where there are hundreds of motorhomes.
I bought my camper second hand and removed the under bed space and added outer aluminum boxes.  I fitted on a side awning, rear storage boxes, and rooftop custom storage box.  I removed the space heater to utilize that space for storage.  I modified an external shower head mount and installed a sliding table under the cabover.
For the truck, I installed a second battery and cab instrumentation.  I also installed an air compressor with dual in/deflate hoses, rear leave spring blades, front suspension lift spacers, and an additional 40L "Engel" on the rear deck.  Next I a fitted rubber cord round pop-up, a permanent rear camera, side/rear floodlights, swivel bicycle mount on the back, and a telescopic ladder on the right side.  Finally, I resprayed dark wood to Ivory color, installed two reading lights, 12-volt DC and 230-volt AC outlets, and an additional diesel filter.
Øystein VIK, Trondheim, Norway
2010 Isuzu D-MAX
EasyCampers 6Eco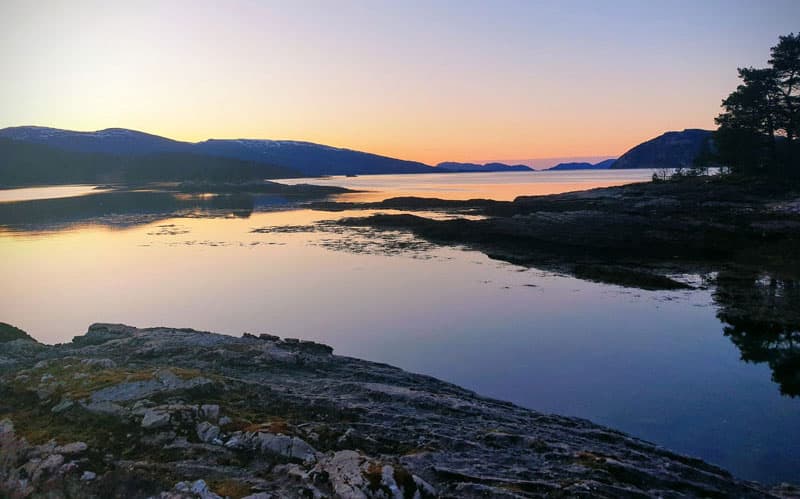 Above: Bindal, Norway
Places Traveled: Norway, Sweden, Denmark, and Germany
We have had a number of nice trips in Norway both along the coast and in the mountains.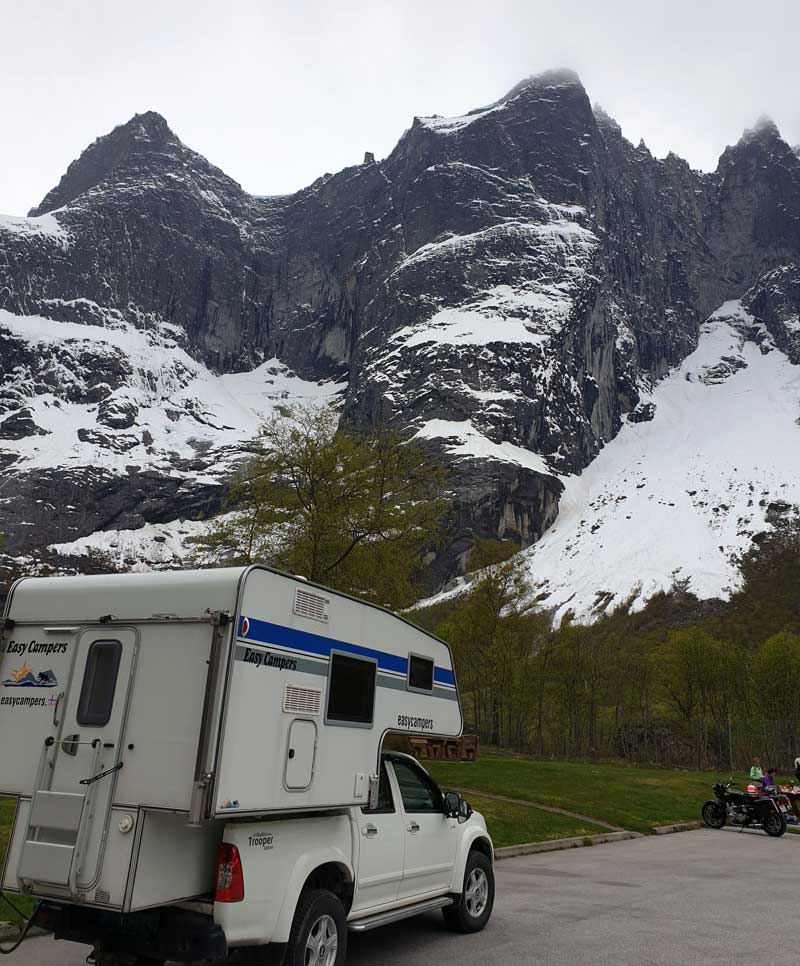 Above: Trollveggen, Norway
I would recommend the coastal areas in western and northern Norway.  There is nice scenery, narrow roads and all kinds of weather!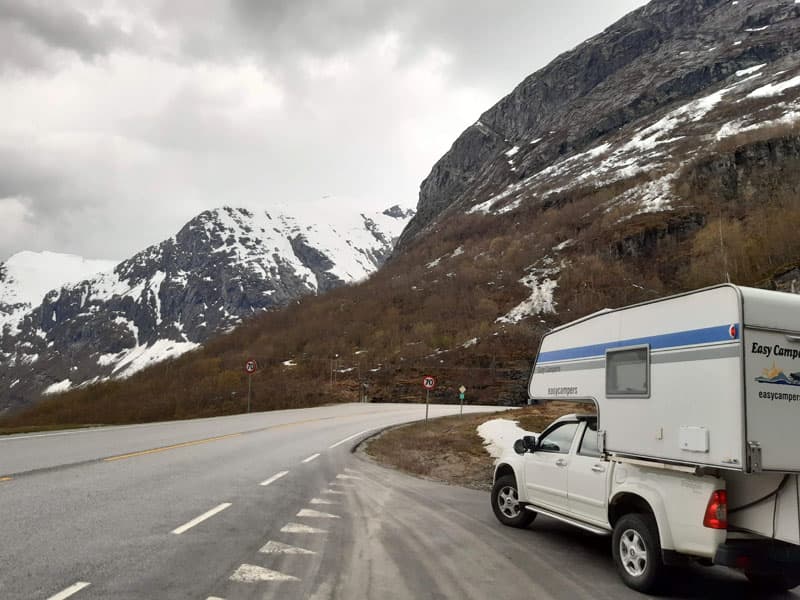 Above: Stryn, Norway
The truck is the typical pickup truck of Europe; robust, durable and with a relatively high load capacity of nearly 1,000-kilograms (2,204-pounds).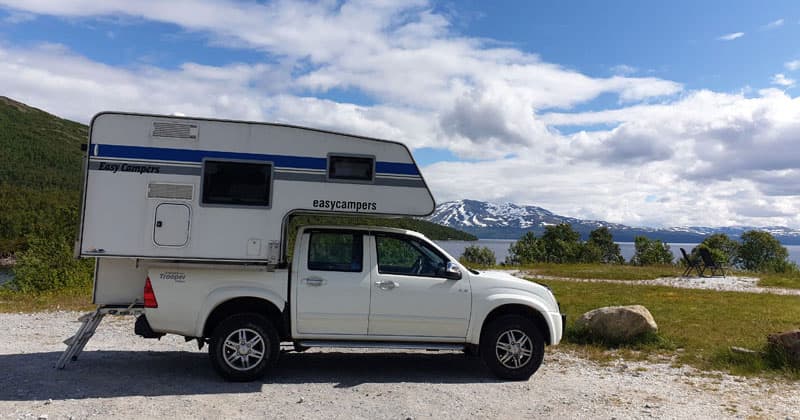 Above: Røssvatnet, Norway
The camper is produced in Sweden and is small and lightweight.  It has a twin cabover bed, dinette, and no bathroom.
Paul Betts, Deal, Kent, England
Mitsubishi L200
Bimobil Demountable Camper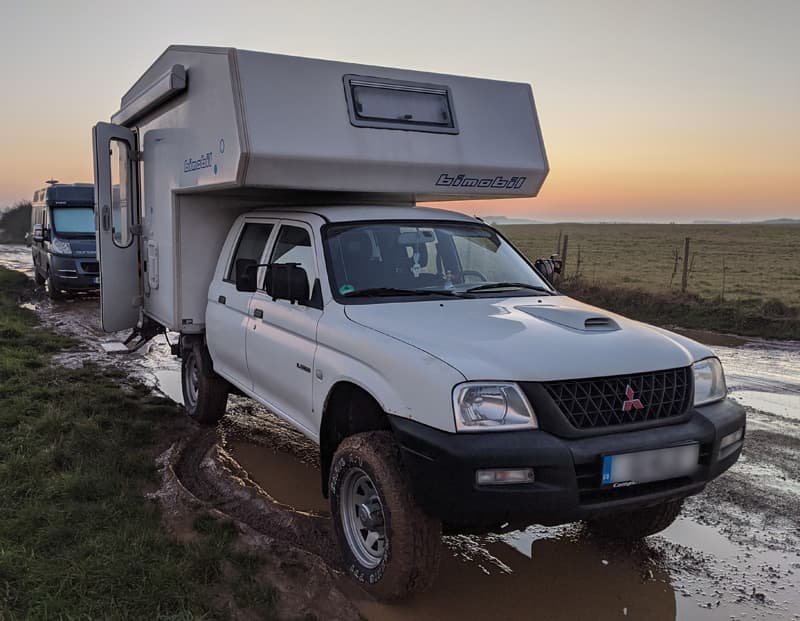 Places Traveled: United Kingdom, France, Spain
We've traveled thousands of miles including trips to Northern Spain, Eastern Spain, Andorra, and the Pyranees.  We've also been to the west coast of France, Bordeaux up to La Rochelle and Brittany, and Normandy, the French Alps, Chamonix, and Lake Annecy!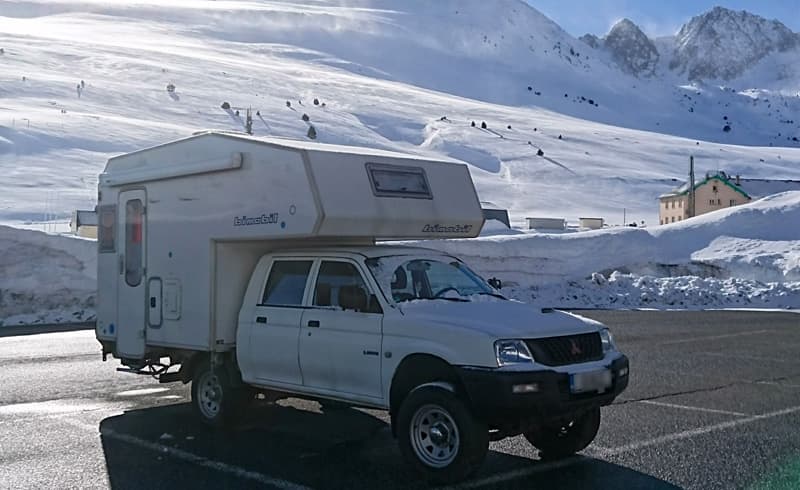 We imported our camper from Germany.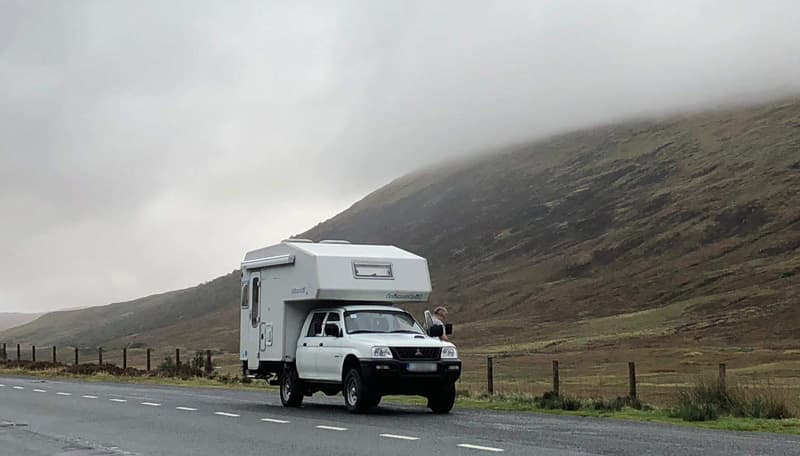 Kruiza Massie, Full-time traveler in Australia
2016 Toyota Hilux
2013 Northstar 700SS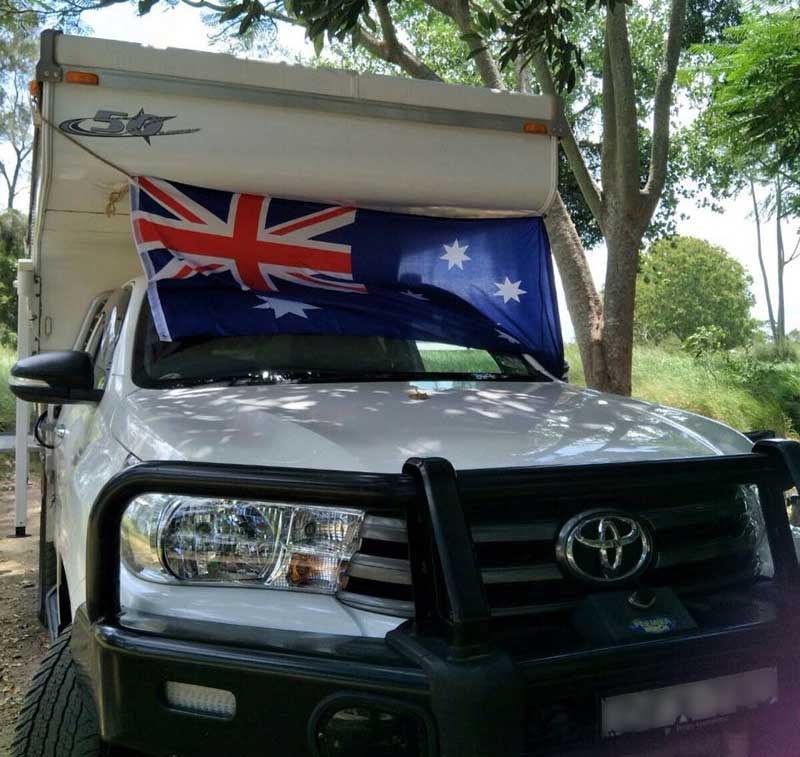 Places Traveled: Australia
I try to travel nine months each year in my camper, which left three months for international travel pre-Covid.
I would take a slow journey along back roads; bush walking, swimming, going to coffee shops and pubs (saloons).  I go to free or cheap campsites. National parks are the best places to visit and camp throughout Australia.  There are too many great places to have a favorite.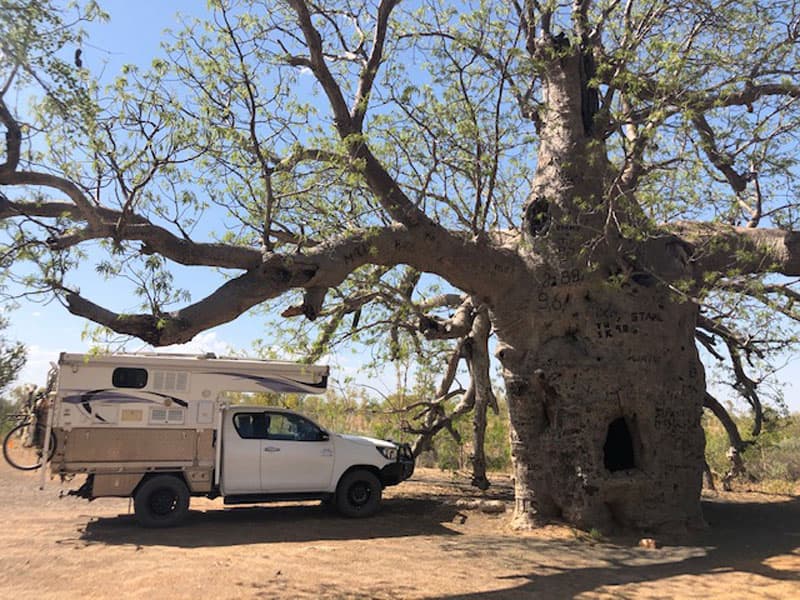 If you are wanting to see Australia, I recommend visiting for months not days.  I have been traveling for three years full-time and believe I need another 50-years to finish the tour.
Ute (Australian for pick-up) has a custom aluminum flat tray replacing the tub.  The tray has additional strength to ensure no flexing.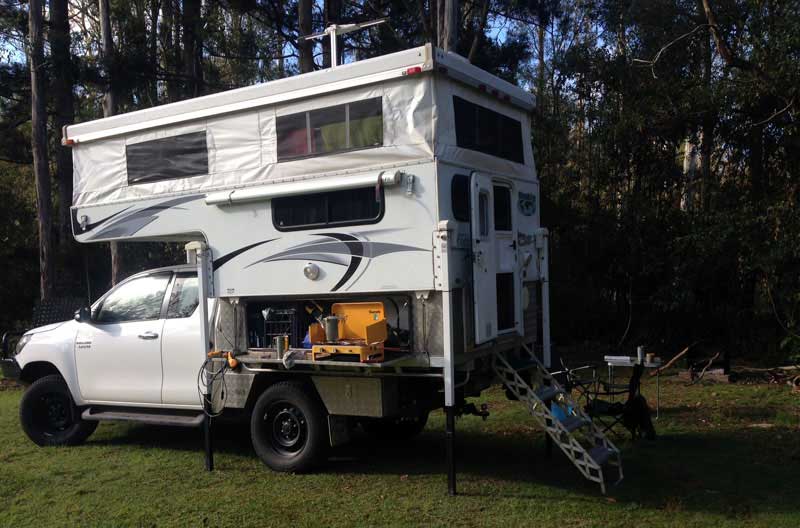 I have an 80-liter water tank built-in along with a half trundle draw.  The bull bar is steel and the winch is fitted.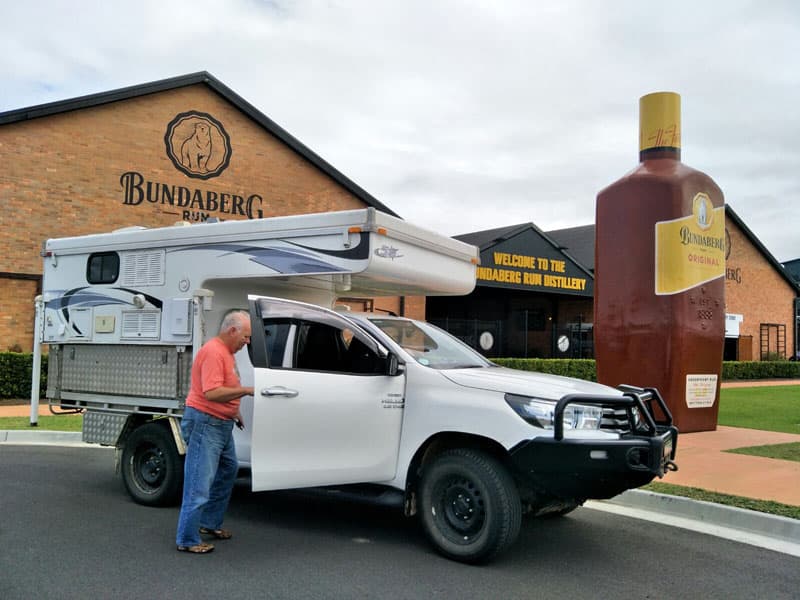 My camper has three 130-watt solar panels mounted on the roof and two 120Ah deep-cycle batteries.  The space created by using a flat tray instead of a tub has been utilized by adding boxes to the camper along with (almost) full-length doors.  That creates additional storage and a mounting point for the external companion gas cooker.
Ron Edmond, Gold Coast, Australia
2003 Ford F250
2007 Lance 845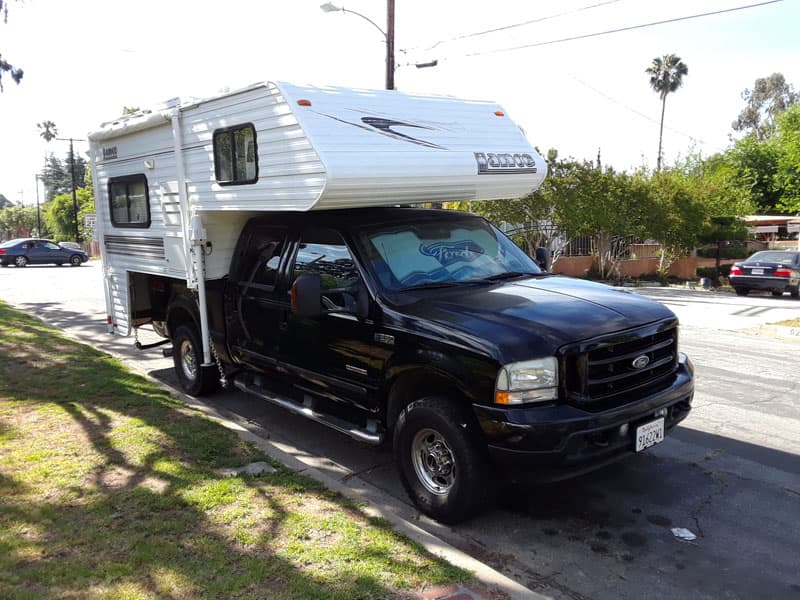 Places Traveled: US and Canada, and hopefully Australia this year if we manage to have our truck and camper shipped.
I live on the Gold Coast of Australia.  Here in Australia, we have tried a motorhome, and then a travel trailer.
On a trip, I traveled by truck camper through the Canadian Rockies, Alaska, Niagara Falls, the Oregon coast, and desert cities.
We would like to have a truck camper here for ease of use and functionality. We were supposed to have our rig shipped here to Australia but, but due to Covid, we have had some issues.  We hope both the truck and camper will be here later this year.
Robbert Uyleman, Haarlem, Netherlands
Truck On Order!
Palomino Rogue EB-1
I am a big truck camper fan.  After many visits to the United States, I decided to start a truck camper business here in the Netherlands.
Due to weight restrictions, we can't drive around big dually trucks and slide-out campers.  Therefore we started selling the Palomino Rogue series.
Ram 1500s and F-150 trucks are popular here and hopefully, we can help and supply the Netherlands with truck campers.
With Scotland, Sweden, Norway, Italy, and the rest of Europe within a ten-hour driving distance, there is more than enough to explore!
My personal Ram 2500 is on its way from the United States.  When it gets here, I'll be loading my camper, Canadian canoe and the family.  We'll be off fishing and boondocking near a Scottish loch.  Can't wait!
We also received the following four pictures and captions.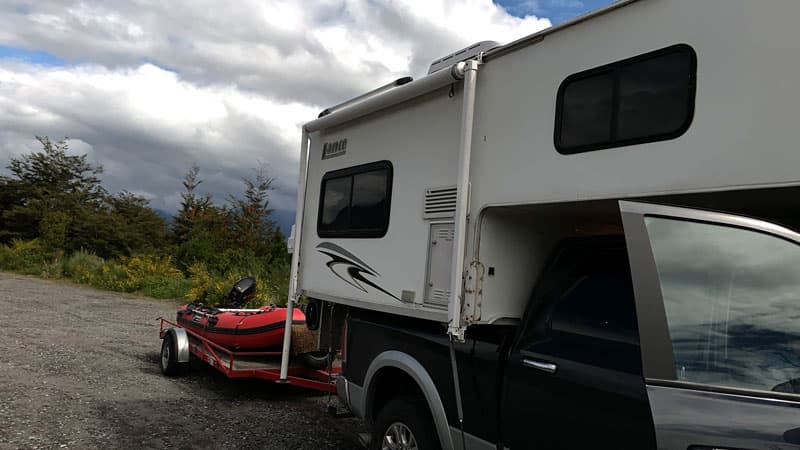 Above: Carlos Minoletti, Entrelagos, Chile, 2018 Ram 2500, 2021 Lance 865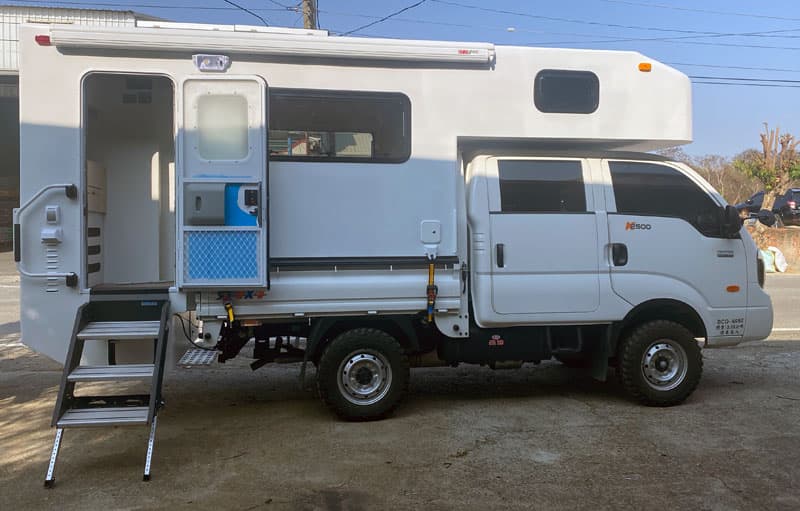 Above: Chang Po Tsung, Taichung City, Taiwan, 2019 Kaon Camper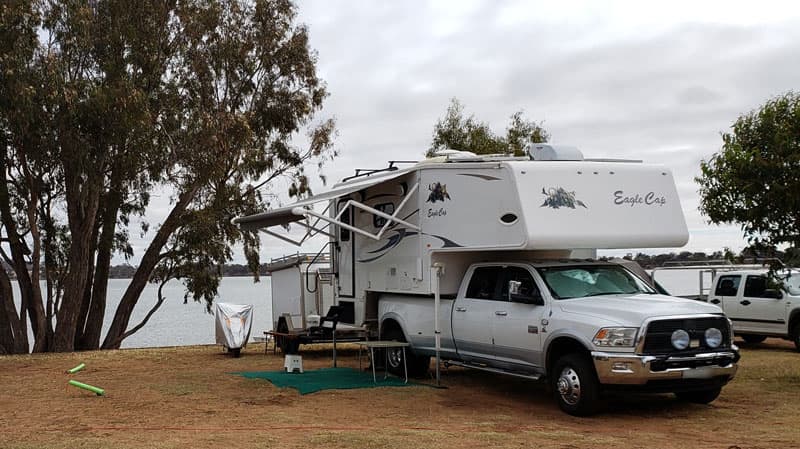 Above: Doug Packer, Australia, Eagle Cap Camper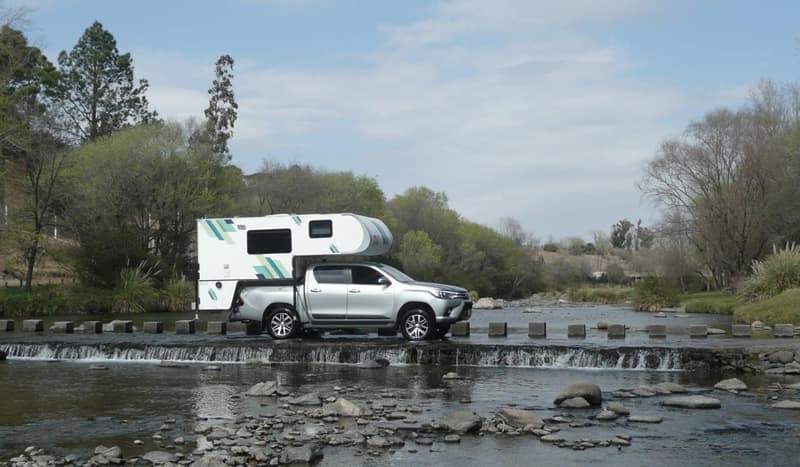 Above: Juan Ignacio, Argentina, Silfred Motorhomes Camper