TCM announces the Top Truck Camper Modder for 2013 and the winner of the $100 fuel card.  Eighteen more mods bring our mod-rageous contest to a spectacular conclusion.

Welcome to the fourth and final contest entry article from the 2013 Top Mod Showdown Contest.  The winner of the $100 fuel card and the Top Truck Camper Modder of 2013 is…
Top Modder for 2013: Steve Blackman, High Wycombe, England
2007 Ford Ranger European Version
1991 Shadow Cruiser – Sky Cruiser 1
"When I discovered the roof of the camper was rotten I didn't want to spend a lot of money and effort just returning it to the same condition it was in originally.  I wanted to get something better for the effort.
I wanted a new roof, something strong enough to stand on, something that would resist the branches that often scrape along our camper as we squeeze it through narrow lanes, a system of roof rails to ratchet strap stuff down to and protect the giant moon roof, and the ability to mount solar panels.
To tick the first three I decided to replace the old plywood roof with thicker marine ply and more reinforcing.  I would rather that than use epdm rubber roof that is easily damaged.  I bought aluminum diamond plate panels and cut and TiG welded them together (which involved buying an AC TiG welder and teaching myself to weld aluminum).  I also moved the refrigerator vent from the roof to the side to reduce openings and baffled it so the compressor refrigerator's heat exchanger fan would force external air to flow through rather than simply recycling the warm air.
To achieve a system of roof rails to ratchet strap stuff down to and protect the giant moon roof and the ability to mount solar panels, I welded supports onto the new aluminum roof before screwing and sealing it down.  Then, I bolted square section aluminum tubing to those supports.
Finally I fitted two solar panels which I hinged for maintenance access.  The third picture in the top row above is the roof with the two solar panels in their lifted position giving access to the wiring that I have taken into a junction box.  I built that with watertight glands that funnel the wires down into the old refrigerator vent area toward the charge controller.  I fitted spare glands to the junction box for future applications like powering external LED light strips, digital television / radio antennas, spotlights, etc.   The new roof makes a good photography platform." – Steve Blackman
2013 Top Mod Contest Entries Part 4
Virgil Apilado, California
2006 Chevy Silverado 2500
2006 Lance 845
"My truck camper is a weekend warrior since we are still working full time.  We camp mostly during Spring and Fall closer to home.  During winter, I used the truck camper with my hunting buddy since my wife does not hunt.
I did a major renovation in the overcab to suit me for camping with the wife or hunting with a buddy.  The queen bed was discarded and the two corner cabinets removed.
The two twin beds are configured when I go hunting with my buddy.  Notice the reading light is relocated on the side wall.   We zip the two twin beds together so that it is a queen bed when I go camping with my wife." – Virgil Apilado
Marco Sigala, California
2004 Dodge Ram 2500
2004 Northstar 850SC
"I have a regular size garage and not enough space around my house to store my camper.  With the camper lowered all the way, it was about two inches too tall to fit inside the garage.
After looking at the Happijacs for a couple of weeks, I realized I could pop off the metal bracket holding the screws, punch another hole equidistant from the other holes to add a fourth screw, and then re-weld the bracket back in place.  This modification allows me to move the Happijacs up and, thus, lower the camper.  I also added heavy duty caster wheels to each Happijac so I can roll the camper in and out of the garage.
As you can see in the picture, the camper fits great in the garage protected from the elements and I can still store our bikes." – Marco Sigala
Sue and Don Graf, Maine   
2008 Ford F350
2013 Arctic Fox 865
"We installed a towel rack mounted from the ceiling near the back wall to replace the towel hangers on the door.  We also replaced the OEM shower head with a low flow oxygenated one.  It saves a lot of water and provides an invigorating shower." – Sue and Don Graf
Terry Rey, Utah
2007 GMC Sierra 2500
2011 Outfitter Apex 8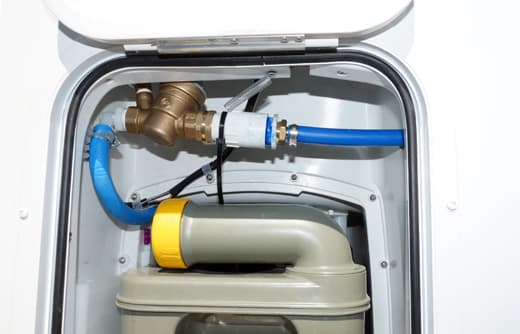 "Our 2011 Outfitter Apex 8 camper was optioned with a Thetford cassette toilet, which eliminates our dependency on dump stations.  It's great for boondocking.  The cassette toilet has worked great and we are very pleased with it.
However, Thetford apparently has been plagued by a design defect for toilets that utilize the pressurized house water system.  The internal toilet water supply hose can burst with house water pressure (forty to forty-five psi), which is far below the hose's rated capacity of sixty-five psi.  This has happened to a number Thetford Cassette Toilet owners, including us.  We were boondocked on the back side of nowhere when our hose broke, flooding the wet bath.
After making a field repair and getting back home, I contacted Thetford, who, unfortunately, provided no solution or relief for the problem.  Therefore, I upgraded our cassette with a dedicated adjustable pressure regulator that is set to twenty psi, which has now eliminated any future water hose failure." – Terry Rey
Don Gill, New York
2004 Ford F250
2010 Travel Lite 875
"We installed a chair rail on the top of our cabinets using three-quarter inch by one and a half inch wood, stained to match.  We used double end tape to fasten to the top.
This gives us more storage for all kinds of extra stuff and keeps it from falling on the floor when driving.  We also use four inch high boxes (cardboard and plastic) to keep our stuff organized.  You need to leave four to five inch gaps at the ends of the rail to allow for the canvas material to fold in properly.
This was my wife's idea.  I just installed the rails.  It works great." – Don Gill
Bill Felinski, Texas
2010 Dodge Ram 2500
2008 Lance 971
"My modification is color LED Lighting under the awning.  Each area can be turned on and off by a switch inside that matches the existing switches.  The master on/off, color change, dimmer, and speed is operated by RF remote from outside.
The reason for the modification is lower power consumption than conventional awning lights.  It can be operated with the awning closed in windy environments and it's permanently mounted.
There are two videos (video with awning closed.MOV and video with awning open.MOV)  which would make it easy to see the finished project in use, but they don't do it justice.  I have also included several still pictures of the lights lit in a variety of colors." – Bill Felinski
Shelley Pike, Indiana
2009 Ford F350
2006 Lance 9'6″ Sportsman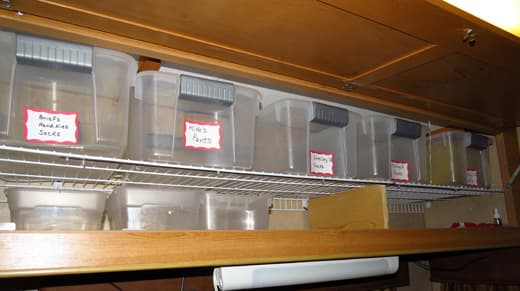 "Items that I stored in the cabinets were constantly falling because they were piled so high.  At times, I couldn't even find what I was looking for.  So, I bought plastic-covered wire shelves at Menards and cut them to length for each of the cabinets in our camper.
I hung the shelves with 3M hooks and tape.  I also drilled a small hole in each hook and doubly secured it with a one inch drywall screw.  The six-foot shelf in the cabinet shown could not be inserted in one piece so I cut a piece of one-by to stabilize the match-up area and fastened the one-by with L-brackets top and bottom.
I found clear plastic tubs that exactly fit the top shelf and each is labeled according to contents.  The bottom shelf has some open storage and some tub storage.  These shelves have organized the cabinets to the point that everything we need to carry has a spot with room left over.  I don't know why I waited six years!" – Shelley Pike
Guy Scrivner, Washington
1992 Ford F250
1994 Shadow Cruiser Model 850
"Restoring, salvaging, and modifying things to make them just right for me is something I love to do.  There is nothing in my opinion that is uglier on an older truck camper than the graphics.  Those old multicolored stripes did nothing but date my camper.  But what do you do?  I stressed over this for months and finally decided why not just paint over them.
I first used a high luster black Rust-Oleum Laquer spray that I bought at Home Depot.  Then, I painted a center stripe with Rust-Oleum's silver Hammered spray paint that added texture.  I followed that up with pinstripes on the borders of the painted area, added a decal of barbed wire over the silver and that was all it took to improve the cosmetic appearance of my camper a hundredfold.
Since I had been referring to the truck and camper combination as my White Stallion it is working out great.  It couldn't have been a better modification." – Guy Scrivner
Dave and Dora Donovan, Idaho
2007 Chevy Silverado 3500
2012 Chalet TS116
"It is pretty hard to take a shower and get dressed with any modesty in our Chalet TS116 camper.  The getting dressed is the hard part.  There is not that much room.  So I decided to make the bathroom bigger. All it took was a curtain track attached to the ceiling and an appropriate color matched shower curtain. You can fold it up completely out of the way when not in use and to close up the slides.  Problem solved." – Dave and Dora Donovan
Paul Foster, Maryland
2005 Ford F250
2008 Lance 845
"My modification is increased storage space where none existed.  We built a shelf for each side of the sleeping cabin to store small objects that may be required from time to time, like the television remote, a small flash light, a box of tissues, etc.
The shelf required a short wall that could be seen through in order to find what you're looking for.  The new shelf had to be short enough so the cabinet door would not be restricted by the shelf.
We stained the wood to match the existing wood color in the truck camper.  Then we used an aerosol urethane to get the best protection for the shelf riser that is on the wall. We bolted it down to the shelf with three eighth inch bolts with a pan head and big flat washers." – Paul Foster

Russell Bridges, Alabama
Dodge Ram 3500
Arctic Fox 990
"I have owned a number of different campers and they all seem to have one shortcoming in common.  There is no handy place to hang your hat, your coat, or even a leash near the door.
I found these neat hooks at Lowes.  They were inexpensive, very easy to install, and easy to remove with no damage to the sliding bathroom door on my Arctic Fox 990.  I think the utility is outstanding compared to the expense and time to install, making this a sweet little mod." – Russell Bridges
R.W. Johnson
2008 Ford F350
2007 Lance 851
"A modification we have made to our rig is the location of the fill ports for the air bags.  We mounted them in the fender well of the left rear wheel.  This is just below our house batteries on the Lance.  This makes it convenient to hook up our 12V compressor to the top off the bags.
The modification that makes this unique is that we mounted the fill ports inside a metal snap closing eye glasses case.  This keep the ports clean and easily accessible.  It's not a big deal, and it's handy." – R.W. Johnson
Larry Goosey, Idaho
2007 Chevy Silverado 3500
2005 Snowriver 9.5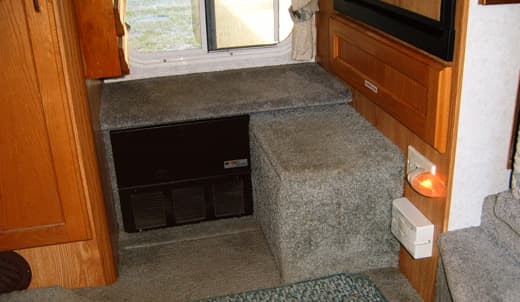 "We can always use a little more reserve power when boondocking.  Three batteries is better than two, so I built a plywood box in front of the step up to the bed and glued on some matching carpet.  I threw in a type 27 AGM (no gassing) and wired it directly to the converter box in parallel with the other batteries.  The mod has added a little more peace of mind on long weekends out in the woods." – Larry Goosey
Eldon Rhodes, Texas
2008 Chevy Silverado 3500
2011 Lance 1050
"This television travel mount was designed and built to securely hold my television while in transit.
I built an oak frame and attached it to the wall of the camper with four screws.  I reinforced the mounting with double sticky carpet tape on the backside of the frame. Installed on the wall inside the frame is a piece of cushioned plastic shelf liner to protect the face of the television.
I found some elastic Velcro straps with a D ring on one end and a smooth plastic tongue on the other end at Lowes.  It is designed to go around an object to hold it together.  I saw that I could cut the D ring end off and mount it to the upper edge of the frame and the remaining part of the strap to the lower edge.  I would then have a quick and easy way to secure the television into place.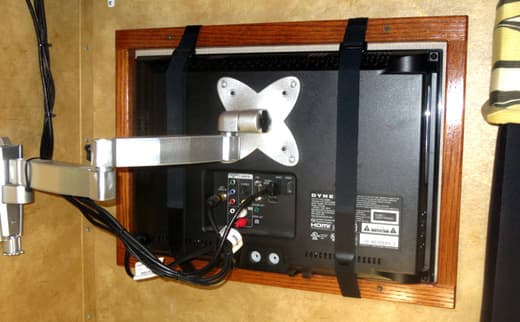 I have traveled thousands of miles with this setup and the television has never come out of its mount or sustained any damage." – Eldon Rhodes
Victor Smith, British Columbia
1997 Adventurer 8'10" WS
1997 Chevy Silverado C2500
"My previous camper and truck were a 1981 Vanguard 8'10" WS and 1981 Ford F250 with an extended bumper and step built in that made it easy access to the camper.
When I upgraded to a basement model 1997 Adventurer 8'10" WS and a Chevy C2500, I had to purchase a trailer hitch step.  I had not anticipated the eighteen inch step up into the Adventurer.
I built a nine inch box step and bolted it to the trailer hitch step.  The box could only be enough for one foot and not block the license plate number.  This was a vast improvement for my wee legs.  I step left onto the hitch and right onto the box step.
When I exit the camper, I step backwards in reverse.  I added the hand rail to assist.  I use the scissor steps when parked and the box step when traveling for short visits.  The two steps do not interfere with each other.
I am looking with great anticipation for the arrival of my new 2014 Adventurer 89RB with the Comfort Step!" – Victor Smith
Garrett Moreau, California
2003 Ford F350
1997 Skyline Weekender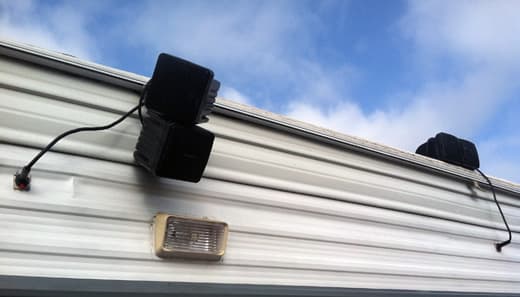 "So where can you put your outdoor speakers?  Anywhere you like.  These speakers can either just be set on the roof or be moved along the awning tracks.  I just remove them before driving away.
The outdoor quarter weatherproof plugs are mounted on the passenger's side of the camper both near the roof making it easy to unplug for upgrading to any outdoor speaker you like." – Garrett Moreau
Wayne Tobey, Colorado
2005 Chevy Silverado 2500
2012 Wolf Creek 816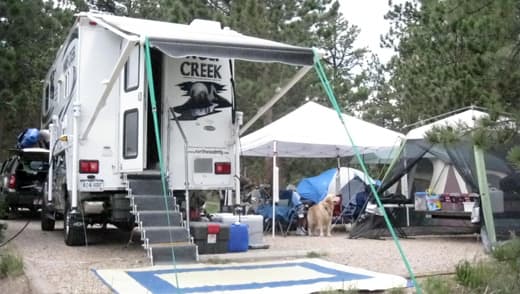 "My modification is to my Torklift folding stairs.  The mod was necessary as my golden retriever would not go up and down my steps because he could see through them.  I attached wooden dowels to a double piece of indoor/outdoor carpet for each step.  I used a compressor driven stapler to attached the dowels to the carpet.  I placed the dowels behind the bracing of each step thereby securing the carpet to the stairs.  The dowels must be just a little longer that the length of the steps." – Wayne Tobey

Disclaimer: It is your responsibility to make sure that any do-it-yourself modification project you undertake is safe, effective, and legal for your situation.