21 truck camper owners from Australia, New Zealand, Japan, England, Germany, Spain, Sweden, Switzerland, Ireland, Scotland, Peru, and beyond reveal their rigs and share their international truck camping lifestyle.  Get your passport.

Truck campers are primarily an American phenomenon.  Most truck camper industry leaders believe there are about 100,000 active truck camper rigs on the road in the United States and Canada, possibly more.
The reason for America's world dominance in the truck camper marketplace stems from two basic facts.  First, most truck camper manufacturers are based in the United States and Canada and do not export.
There are a handful of truck camper manufacturers in Europe and Australia, but the quantity of their production pales compared to what rolls off the production lines in America.
Second, most truck campers are designed for American pickup trucks.  American pickup trucks are also not exported in quantity making a truck camper even less attainable beyond the shores of the United States and Canada.
Yes, some folks in Australia and Europe adapt an American truck camper to an alternative truck, but not many undertake the considerable expense and effort.
So how is it that Truck Camper Magazine enjoys a vibrant readership from South America, Europe, Asia, Australia, and beyond?  If truck campers are an American product that's not widely available beyond our shores, who's reading TCM outside of the United States and Canada – and why?
Last week we finally decided to find out.  We asked, "Who in the world is reading Truck Camper Magazine?"  In other words, we asked TCM readers outside the United States and Canada to announce themselves, share their truck camper rig information, and explain truck camping lifestyles.
Who are these International TCM Readers of Mystery?  You're about to find out.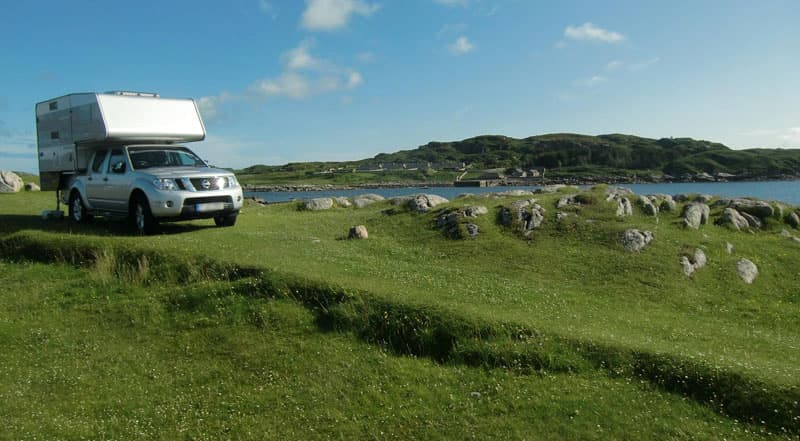 Andy Peak, Manchester, United Kingdom
2013 Nissan Navara (Frontier)
2008 Skarosser Polar 4.0
I'm an active truck camper owner in the United Kingdom.  Our 2008 Skarosser Polar 4.0 camper is a hard side and was built in Sweden, where they use them down to -30 Celsius (-22 Fahrenheit) thanks to their excellent insulation and Alde central heating system.

We use our rig year round and have lots of camping sites to choose from, all within a two hour drive from where we live.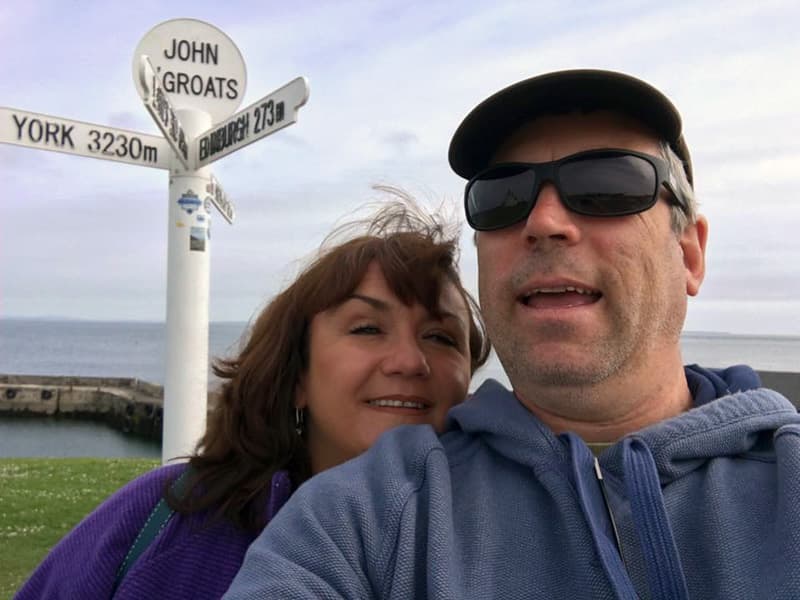 We have been to the Lake District, North Wales, Yorkshire Moors, and The Peak District.  For our longer holidays we prefer the west coast of Scotland, mixing in the mainland with some island hopping through the inner and outer Hebrides.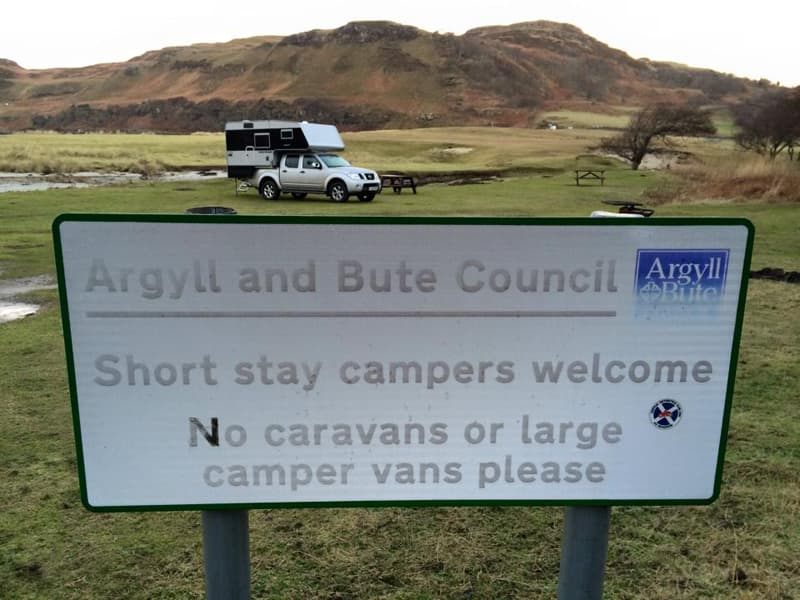 We try to have at least three trips per year in Scotland where wild camping is more acceptable than the rest of the United Kingdom.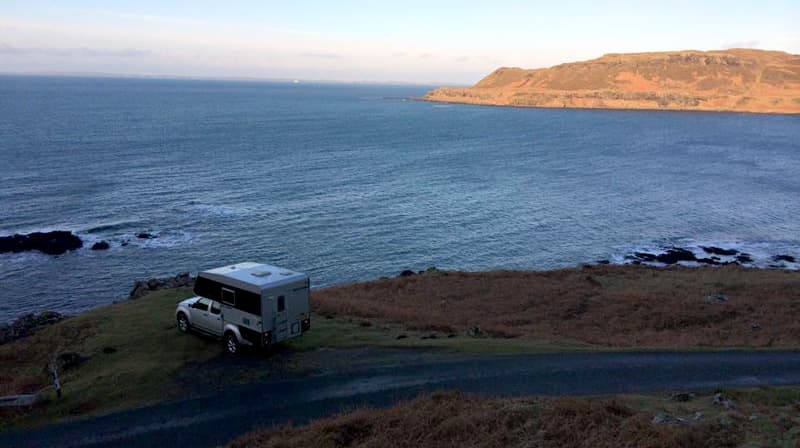 Some of our recent trips have been to the Isle of Mull for the Highland games in July and Hogmanay for their New Years Eve celebrations.  We took a summer trip to Edinburgh for the Military Tattoo at Edinburgh Castle.
We're active members of DemountableCamperGroup.com and are currently organizing or third annual meet for the end of July.  We normally get approximately 25 to 30 rigs for the meet and have north and south meets alternately each year.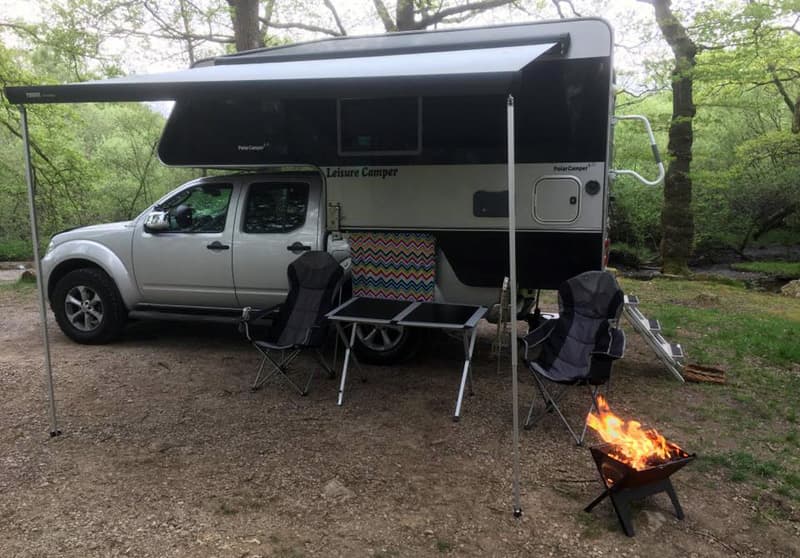 The group has around 360 members nationwide is growing.  We also have a Facebook page which is also quite popular with 550 members.  We offer a friendly group of folks who have a wealth of knowledge to share with newcomers.
Blake Hooper, Nagoya, Japan
No truck yet
No camper yet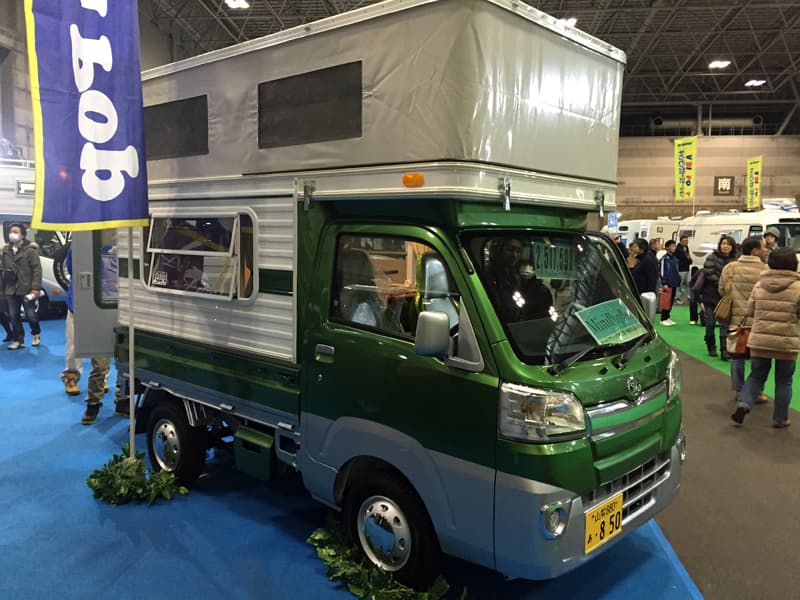 I live in Japan and am very interested in truck campers.  Truck campers interest me because of the ability to pull a boat and still have a camper to stay in.  I'd like to own a RV in the future and a truck camper would be my first choice due to the versatility.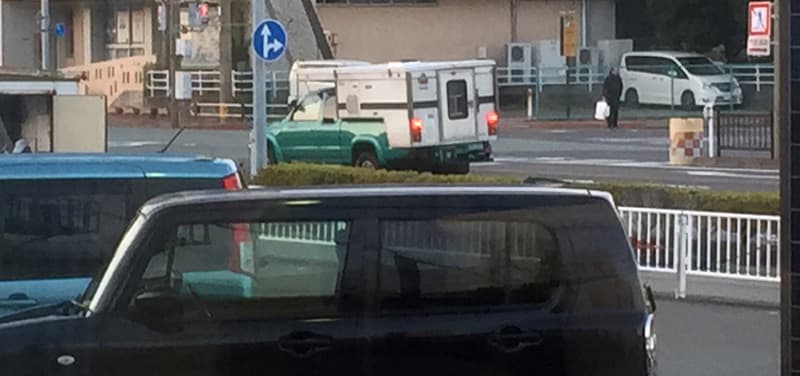 The Japanese folks that are fortunate enough to have enough room to park a RV or live outside the city usually camp at service areas or rest stops near an attraction or private campgrounds.
Onsen parking lots (hot springs resorts) are also popular.  Japanese national parks and prefectural parks usually don't have campgrounds.  If camping is allowed, its only backpack tent camping.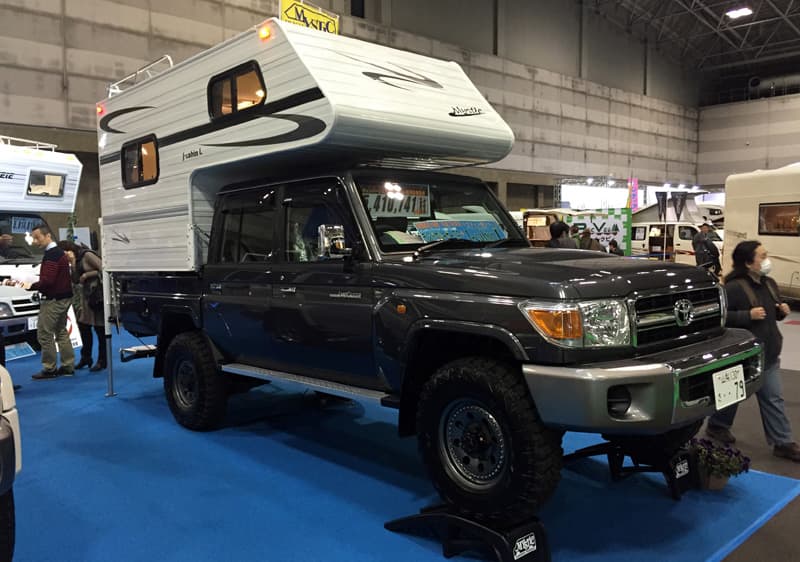 Private campgrounds vary from what you would expect at a full service national or state park to a little more than a field or a paved parking lot. Japanese RVs reflect this style and are spartan by American standards.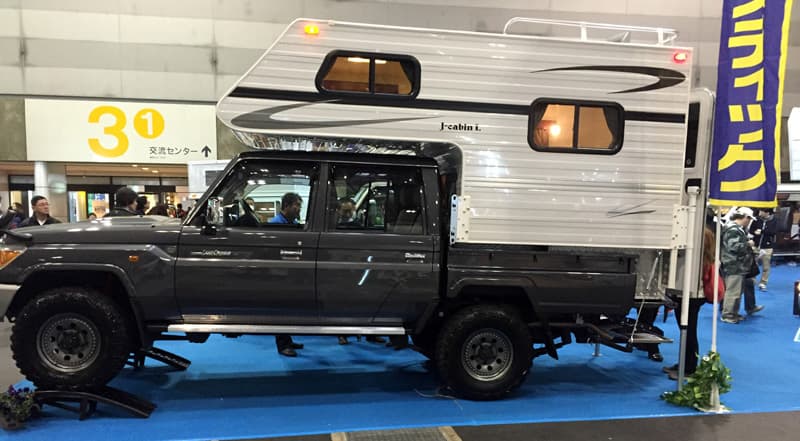 As far as boondocking is concerned, I'm sure there are many places to stay as long as you don't bother anyone.
Van conversions dominate the RV market followed by motorhomes built on light duty cabover trucks.  Truck campers have a small niche in the market with a few made here and the rest imported by Mystic RV.  They offer campers made for Kei trucks that are made by Four Wheel Campers.
Martin Dover, Poole, Dorset, England
2011 Land Rover Defender 130
2012 Northstar 700DL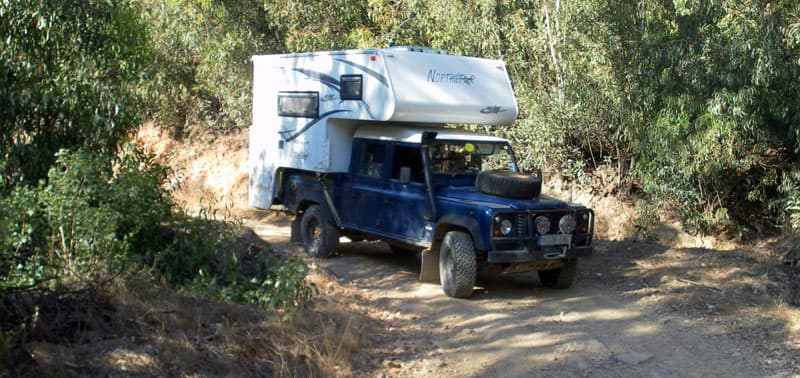 I'm an active truck camper owner in England.  We have taken trips all over Europe and visited fifteen counties in last seven years.
This year we are doing a two-month Scandinavian/East Europe trip to France, Belgium, Holland, Germany, Denmark, Sweden, Norway, Estonia, Latvia, Lithuania, Belarus, and Poland.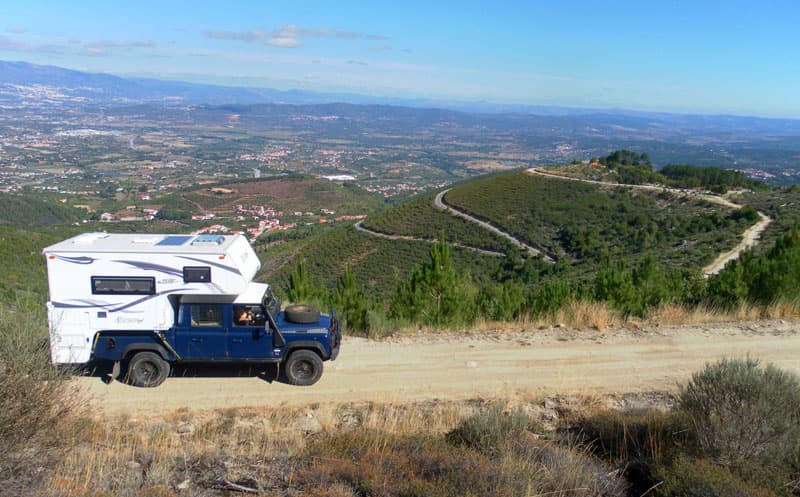 As our truck is fully off-road prepared, we also take it off-tarmac and into the mountains.  We mostly wild camp and avoid campsites whenever possible.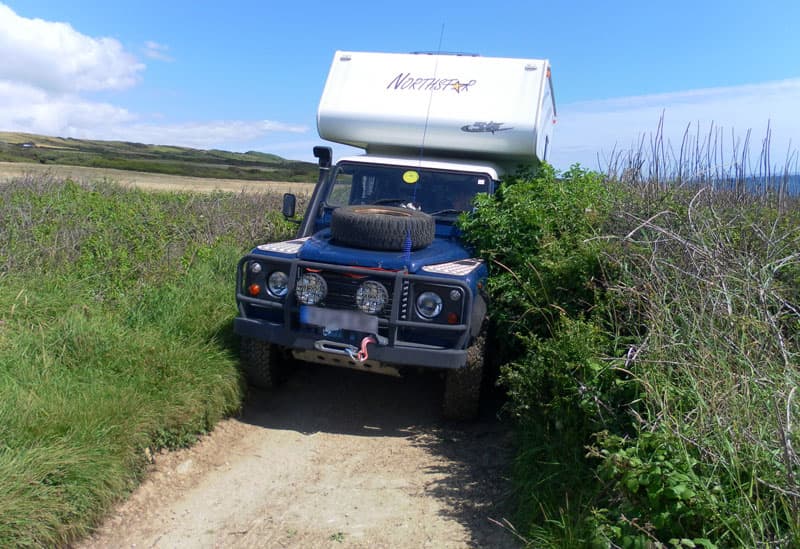 We love the freedom that a small off-road camper gives us because it allows us to explore what's off the beaten track.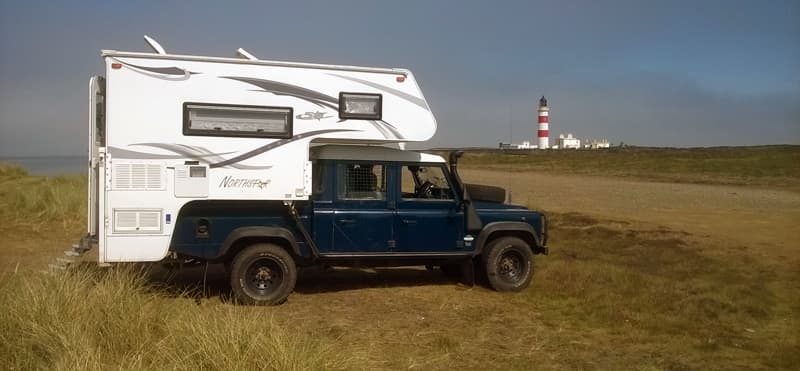 Truck campers are still very rare in the United Kingdom and we don't see many others on the road unless we are at a demountable truck camper meet!
Alberto Sacio, Lima, Peru
2012 Toyota Hilux
2012 Four Wheel Camper Fleet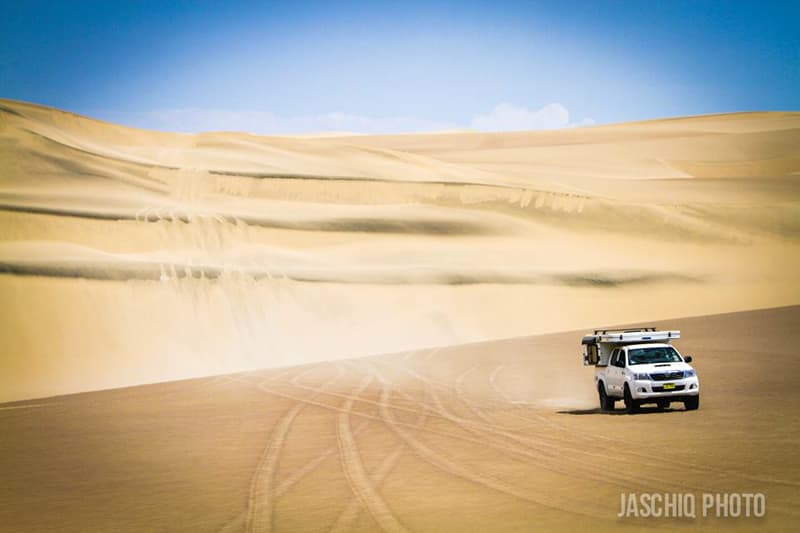 I drive a four-wheel drive three-liter turbo diesel Toyota Hilux, with a Four Wheel Camper Fleet pop-up.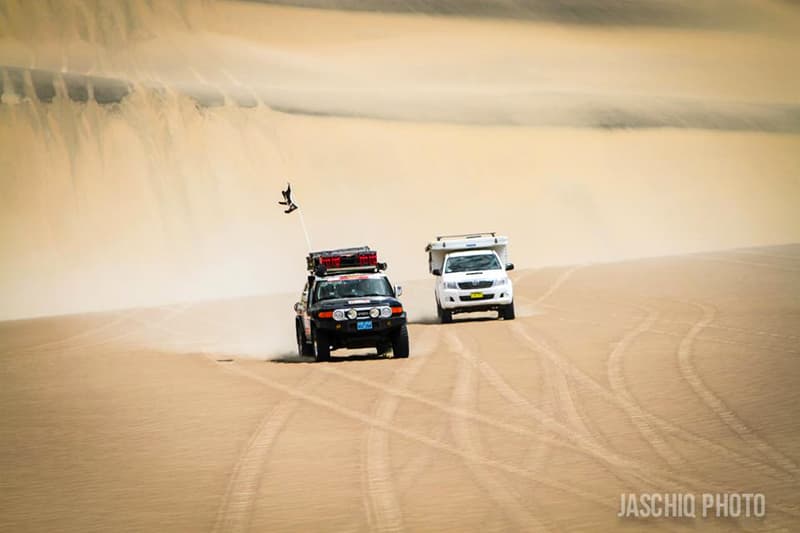 I would say there are no more that a couple dozen locally owned truck campers in the whole country.  Mostly we run into a predominantly European crowd of overlanders enjoying the country to themselves.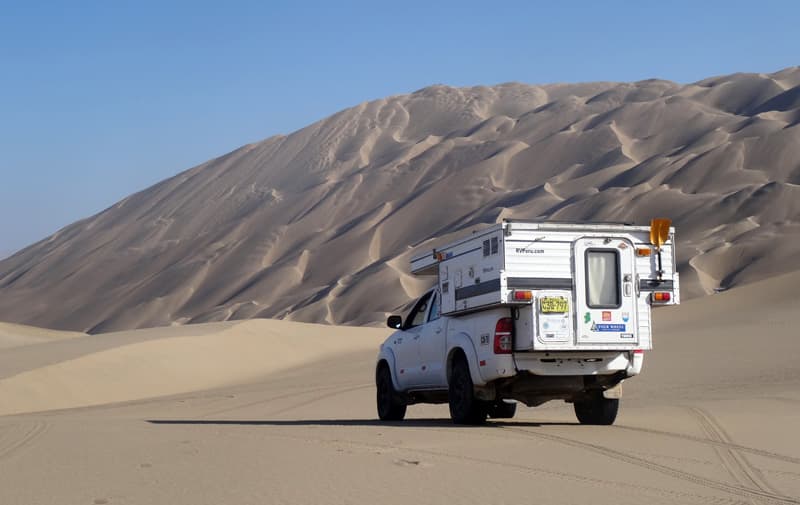 Official campgrounds are few and far between.  With some local advice and the right attitude, Peru is a great place to travel and camp.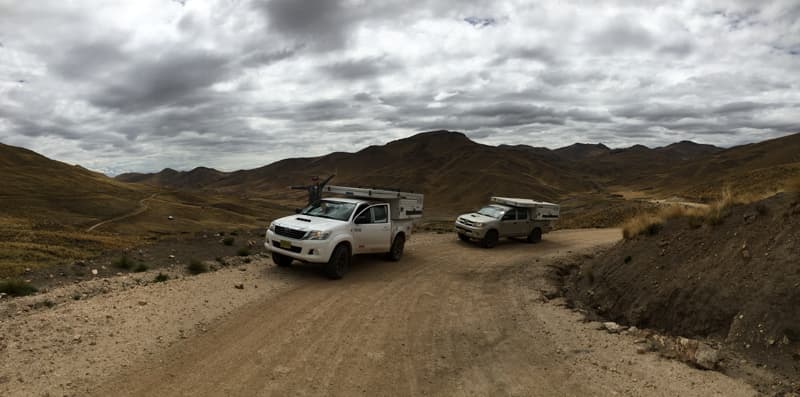 Personally I enjoy the route from Lima to Cuzco and Machu Picchu which takes you from the driest desert in the world, through snowed-in passes at 15,000 feet in the Andes, to the Amazon Basin; all within 1,000 miles of each other.
Eusebio Valdepeñas, Luzern, Switzerland
2012 Ram 1500, QuadCab
2013 FWC Hawk
I have traveled around Europa, from Scandinavia to Italy, France to Albany and all islands in the Middle-Sea.  I have also traveled to Iceland and to the deserts of North Africa.  My trips always have a high off-road content!
Steffen Klein, Bad Homburg, Germany
1999 Toyota Land Cruiser HZJ 79
1999 der Fentje, special made
My vehicle is specially built.   The base is a Toyota Landcruiser HZJ.  It has a Switch System directly on the frame.  We have two different cabins which can be switched.  They are fixed on the frame with four screws.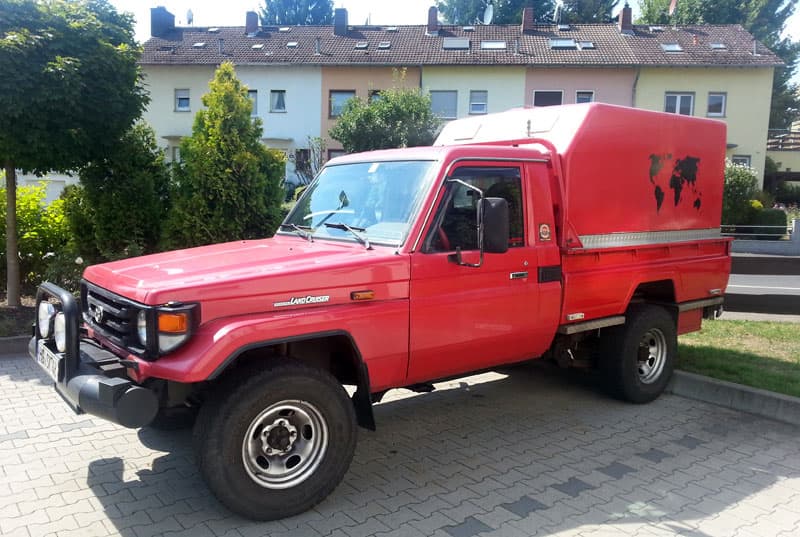 One cabin is for hardcore off-road, like going across Africa, and the other is for comfortable holiday trips during the summer and winter in Europe.
We have the internet platform where meetings all over Germany are being organized.
For Toyota trucks, we have the internet platform which is the biggest community for Toyotas in Europe, or may be even the world.  There is a meeting once a year with more than a thousand vehicles in Storndorf, Hessen.
Mark White, Syderstone, Norfolk, England
2007 Chevrolet LUV
2000 Tischer Trail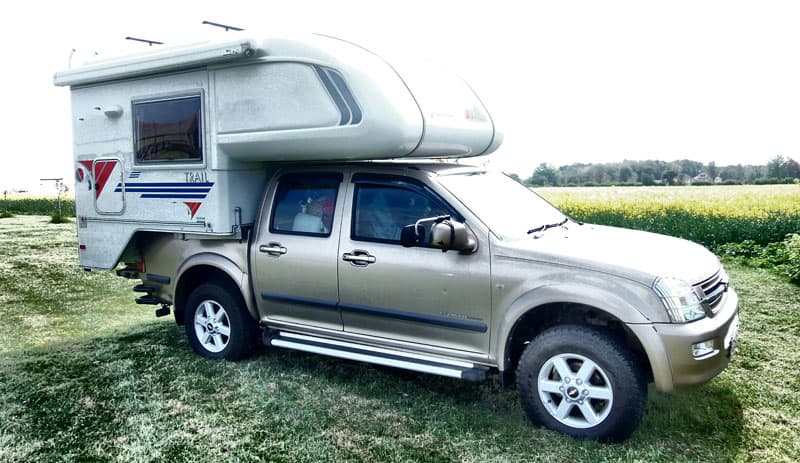 This model of Tischer is a lightweight model coming in at 600 kilograms wet.  We travel all over the United Kingdom to interesting cities, coastal spots, and to three or four music festivals each year.
Most years we also undertake passing through as many as nine European countries and ending up as far south as possible.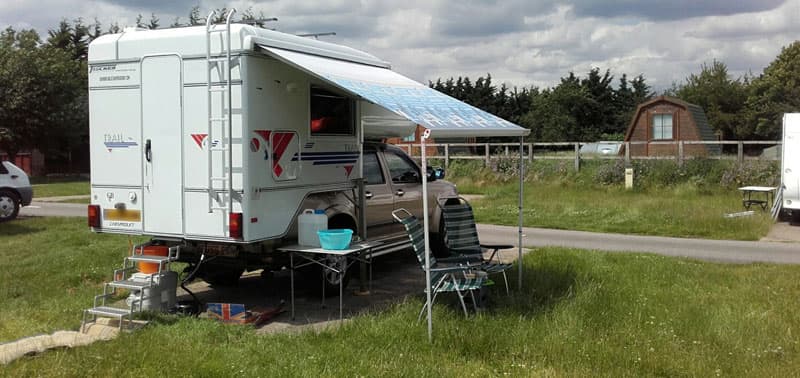 Truck campers are a real rarity in the United Kingdom as pickups are not a really common leisure vehicle and mostly used by tradesman.
Ian King, Auckland, New Zealand
2012 Chevy Silverado HD
2012 Northstar Laredo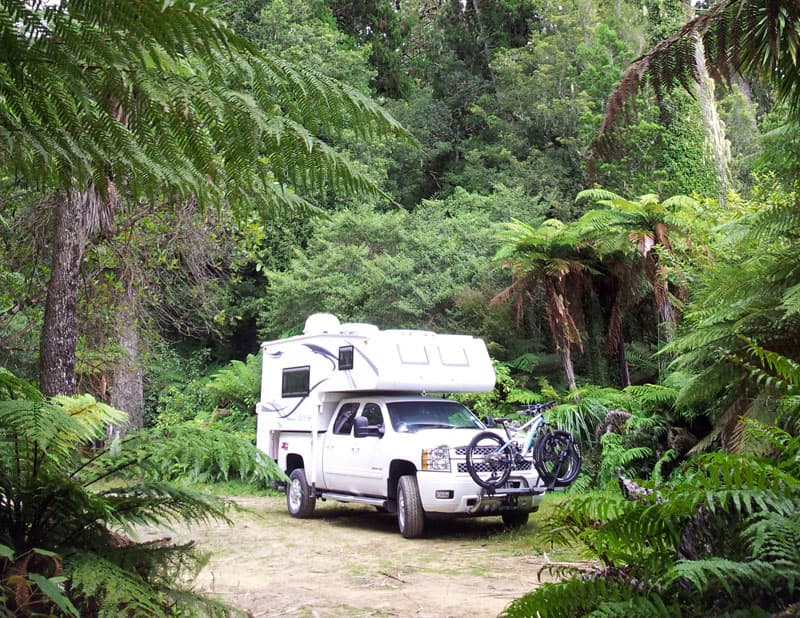 I'm an active truck camper owner in New Zealand.  We purchased our Northstar Laredo rig in the United States and travelled there for three months before shipping the truck and camper back to New Zealand.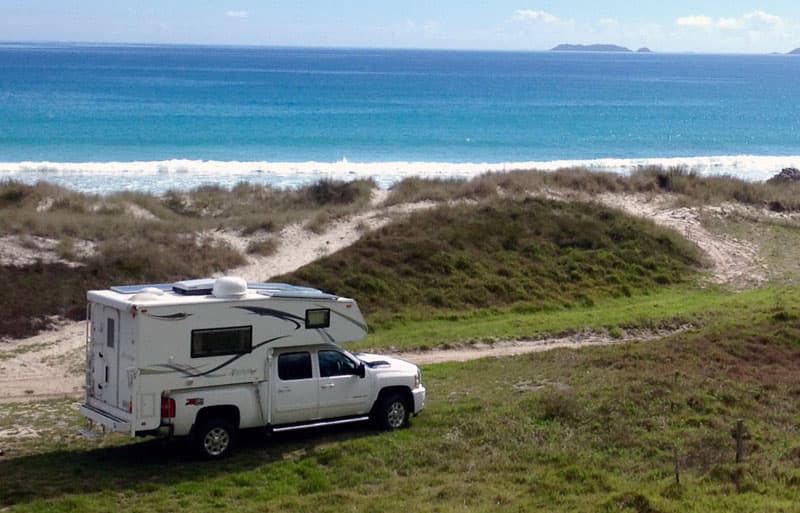 We are keen on mountain biking and fishing.  The off-road capability of our truck camper rig allows us to access all our remote national parks and coastal areas.  We carry our two mountain bikes on a front mounted carrier and our boat has an extendable draw bar to access the rear tow bar under the camper.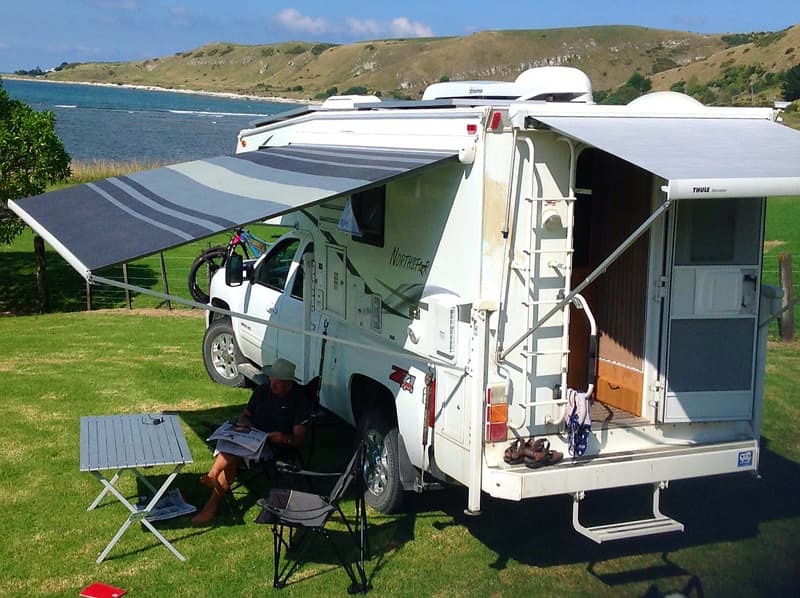 Truck campers are not very common in New Zealand, so draw a lot of attention with our rig.  The main problem is nearly all our utility trucks are too small to handle the load rating of a normal slide-on.
Manfred Klement, Ziemetshausen, Bavaria, Germany
2000 Ford F-250
1992 Jayco Sportster 8-Foot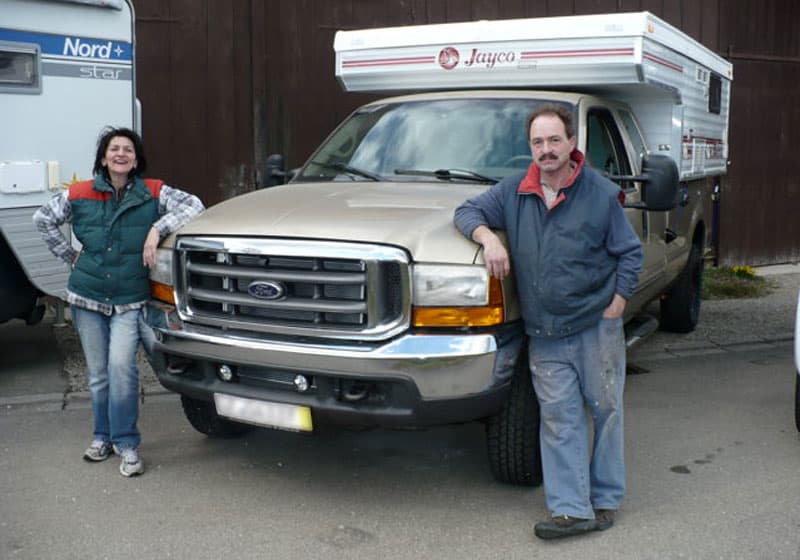 We came to truck camping because we don't like RVs with long overhangs because you can't leave paved streets with them.  We also love American pickup trucks.
Due to our jobs, we only go on short trips, most of which are extended weekends.  We meet up with our friends at private organized truck camper rallies/meetings from our German Forums all over Germany.
The annual start will be at the Holy Mountain of Andechs Monastery one week after Easter from April 21-23, 2017.
Thanks to Christian from our community for this time lapse video of our 2016 meeting.
Viola and I did a RV trip through parts of the American west in the Fall of 2016 and met a few people from the Truck Camper Magazine community.  We also visited Alaskan Campers and Four Wheel Campers.  We had a lot of fun, met great people, and hope to continue with this experience.  We would be happy to meet some of you guys in Germany.
There is nothing special about truck camping here other than the trucks and campers are mostly much smaller than in the United States.  European truck camper are modern and stylish, but it is not as big as those made in the USA.  There are between 30 and 50 campers at the meetings, not 100-plus like in the states.
I think we have more energy saving measures on our campers.  Most of us use solar panels, our furnaces have lower amp draw than yours, and require less propane.  There are only a few generators used in Europe.
If you like to do a trip to Germany and Europe you can find us at:
wohnkabinenforum.de and wohnkabinen-talk.de.  You may contact me at Wander The West forum as Manfred65.
John and Marie-Jeanne Levin, Reading, Berkshire, Great Britain
2002 Ford F350
2003 Arctic Fox 850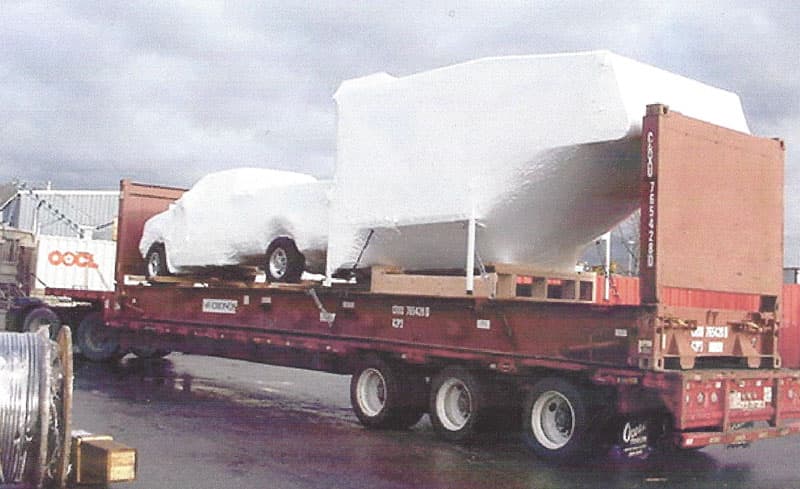 I'm an active truck camper owner in Great Britain.  We bought our Arctic Fox truck camper in Langley, British Columbia, Canada in the autumn of 2003 after a long weekend trip to Vancouver.
We had thought about a camper van after years of tent camping.  After seeing truck campers during our holiday in the summer of 2003, we decided that a truck camper would better fit our needs.  Shipping was arranged by a local agent and our rig arrived in England in late January 2004.
We pull a boat trailer carrying a Linder aluminum dinghy, outboard, and fishing gear.  Once the camper is dropped at the campsite, we head down to the beach with the pickup and boat trailer for a day of fishing.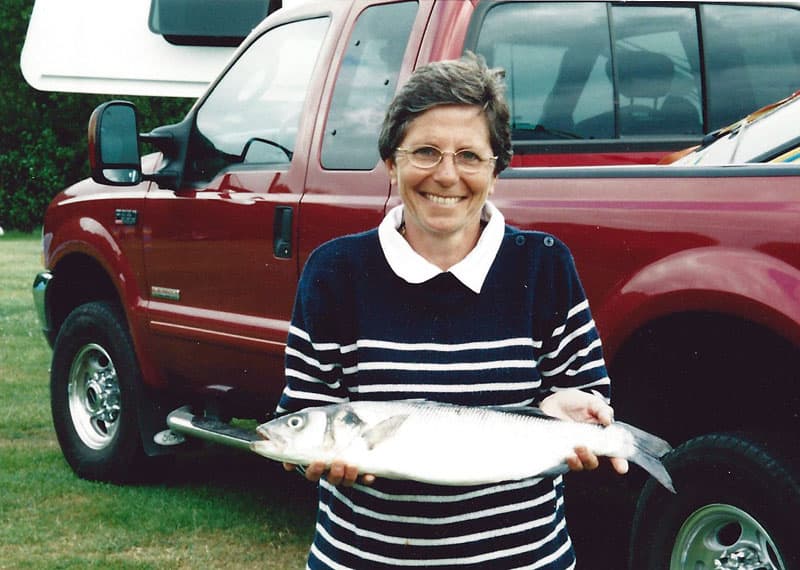 We mainly go to Weymouth, Dorset on the south coast and launch at Ringstead Bay.  Ringstead Bay has a stunning coastline and good inshore fishing.  The catch of the day is usually mackerel or bass, which tastes great barbecued fresh from the sea.
There are also plenty of good walks along the cliffs and beaches with fantastic views over Weymouth Bay and Portland Harbour.  This was a big embarkation point for British and American troops during the D-Day landings in World War 2 and there are lots of historical relics in the area from this time.  This coastline is known as the Jurassic Coast and there are great opportunities to find fossils uncovered by coastal erosion.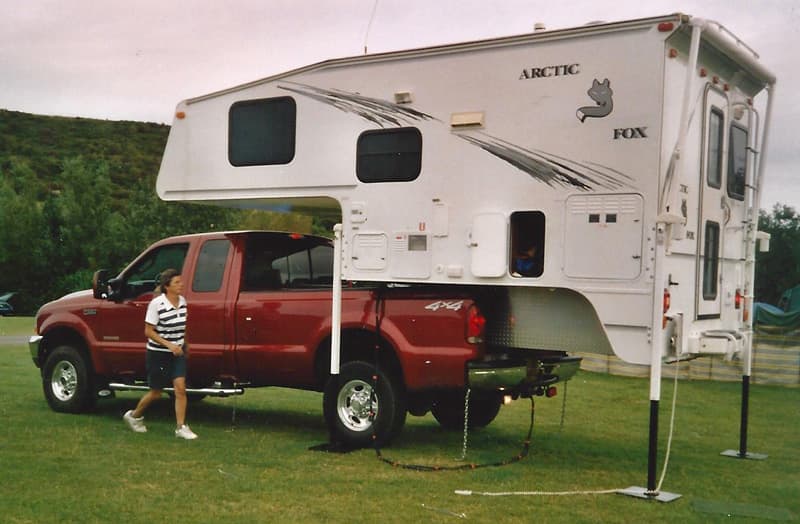 We rarely see other truck campers on the road over here and I'm not aware of any clubs.  Our truck camper still turns people's heads as we drive down the motorway.  We always get a wave from owners of other American RVs coming towards us.
Hilly aka John Hill, Melbourne, Australia
2009 Chevy Silverado 3500
2012 Lance 1181
G'day cobbers.  I am amazed to read that Truck Camper Magazine has so may readers in Australia.  Where are you all?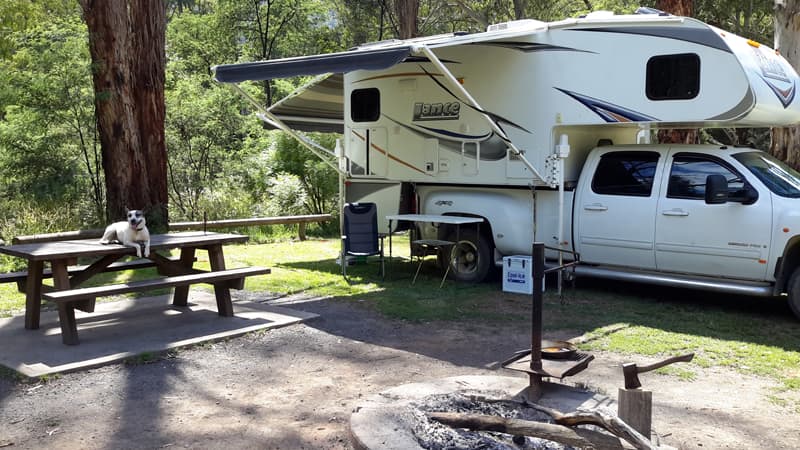 Unfortunately, heavy duty American pickups have to be converted to right hand drive in Australia, which makes the whole rig expensive.  I am sure the cost of American trucks has limited truck campers becoming more popular in Australia.
Additionally, campers have to be made compliant with Australian regulations which is also expensive.  The cost of diesel makes idling at the traffic lights a blood sport.  The frustration of not simply shopping and buying rig makes truck campers difficult to come by.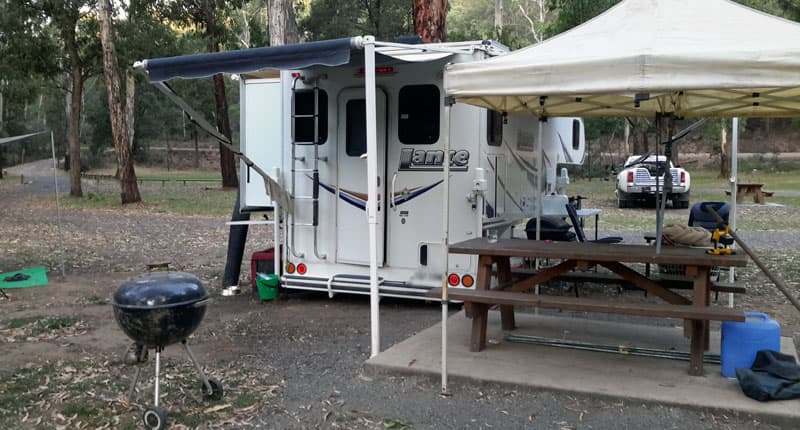 Having wanted one for a few decades, the opportunity presented itself and I finally took a leap of faith.  I say that because you can't even test drive a rig or step inside many.  Decisions are made via floor plans, websites, and articles and reviews in TCM.  Servicing, spare parts, and accurate independent advice are also issues as most caravan dealers are not familiar with American truck campers.
My rig allows a quick and easy set up.  Distances can be vast in Australia and the last thing you need after driving all day is zips, tent pegs, and canvas.  Perhaps that says more about my age.  I am still working full-time so I mostly go on weekend trips for gold detecting in the Golden Triangle in Victoria or trout fishing in the Victorian High Country.
All in all, I am thrilled with my choice even with the frustration of things that break and getting parts.  It offers a freedom that is not seen in other types of rigs in Australia and never fails to turn heads or start a conversation wherever I pull up.
How about a house swap if insurance and licenses can be sorted?  My dream is to find truck camper owners who are familiar with what all that entails and to swap rigs for two months or more.  That way we can both experience truck camping in another country without the cost of buying and selling a rig.  Any takers?
There are no specific truck camper clubs in Australia that I am aware of.  You generally tag along with caravan owners if you wish to be part of a club.  Australia is made for truck campers as many narrow part-time four-wheel drive tracks do not have the space to turn a caravan around.
I have not paid for a camping as we also have Apps like Wiki Camps.  Wiki Camps lists thousands of free boondocking campsites Australia wide.  It also has paid caravan parks listed.  A lot of the free camping is available in stunning areas.  We are truly blessed in that regard.
Having traveled all over Australia in a working capacity, I know that it offers so much value and diversity for truck camping.  The hardest part is deciding if you wish to travel the Outback, or lush mountain areas on the mainland, or Tasmania.  Or take the plunge and do it all – the desert, beaches, forests, and cities.
Traveling anywhere in Australia is generally safe and people are friendly and approachable, but be prepared if you wish to head to the Outback.
If anyone is thinking of coming down under I am more than willing to share what experience I have.  Happy trails!
Frank Sedelis, Berlin, Germany
2015 Ram
Northstar Freedom

We use our Northstar Freedom truck camper for all vacations.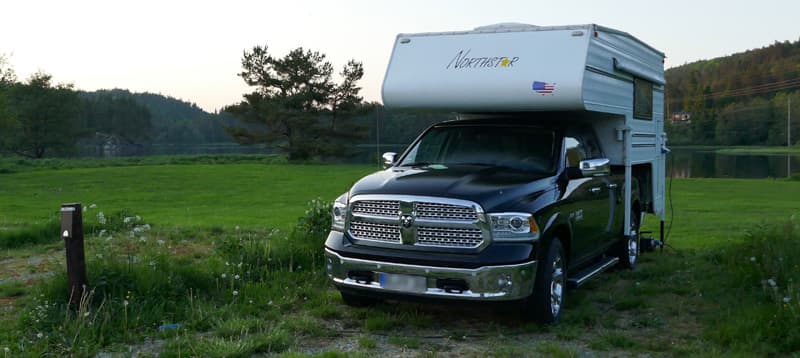 We love nature and trips to the mountains and sea.  We have visited Norway, Austria, France, Italy, Poland, and Switzerland.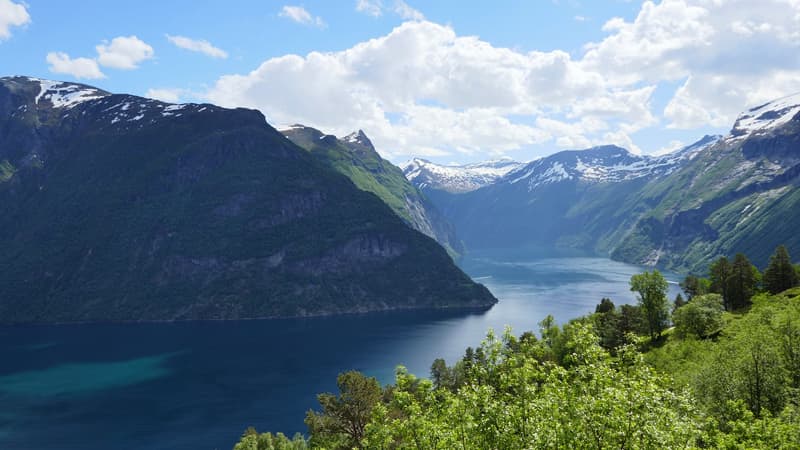 Above: A picture from their truck camping trip to Norway
We have a community on the internet, make short trips, and enjoy the outdoors.
Frederic Amorós Le-Roux, Tarragona, (near Barcelona) Catalonia, Spain
2011 Toyota Hilux
2011 PSI-Azalaï (Fixed Cell)
All our life we have been traveling with a caravan and doing four-wheel drive travel.  In 2011 we bought a Toyota Hilux in Spain and a PSI-Azalaï fixed cell in France.  It is small compared to American cells, but it is comfortable with all the amenities for one couple.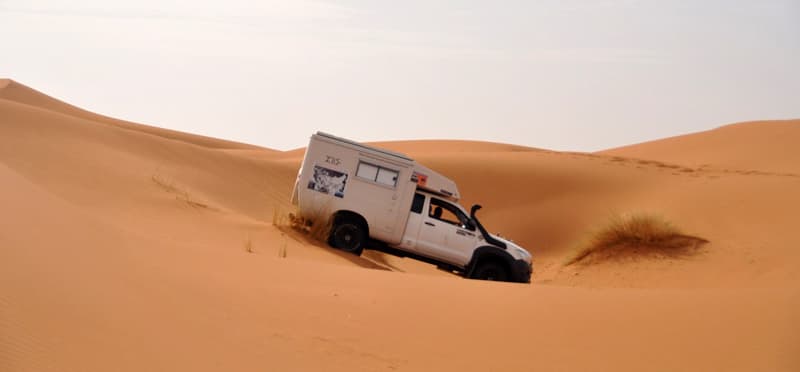 With our truck camper we have traveled throughout Europe, as well as Kazakhstan, Uzbekistan, Kyrgyztan, Mongolia and Gobi Desert, Russia, Morocco, and the Sahara desert.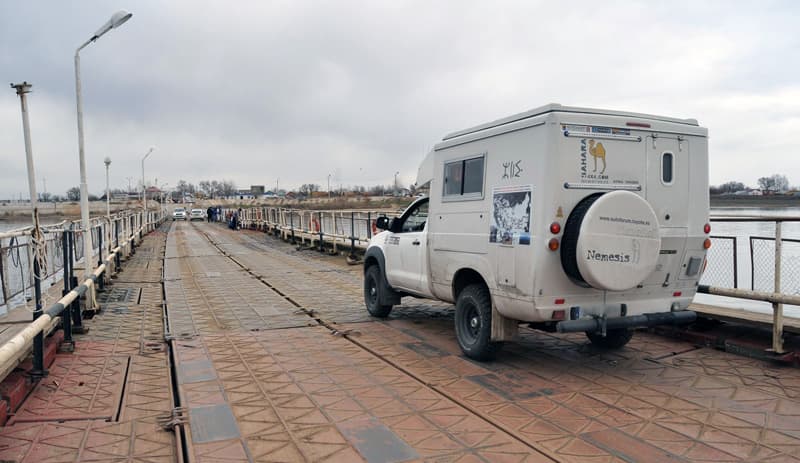 In March, we started an around the world tour of Canada and the United States.  Our tour will include Alaska, Mongolia, and Russia before we return at home.  Our blog is in Spanish.
In Spain, this way of traveling is still not popular.  We have contacts with some Spanish forums, especially with the French.
foro-overland.es/blog
casa-trotter.com/phpBB3/index.php
latortuedefelix.fr/forum
We attend events like the following ones.
facebook.com/meetingcamperoffroad
jacques-besse-organisation.com
abenteuer-allrad.de
Holger Neumann, Kirchlinteln, close to Bremen, Germany
2009 Toyota HZJ79 flatbed
2015 Northstar 600SS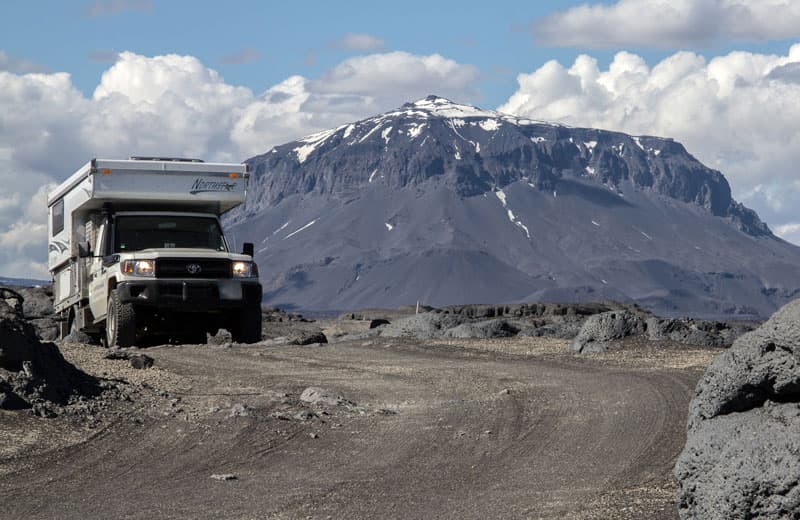 My wife and I have been truck camper owners for about ten years.  We had different trucks in that time, but finally ended up with our Toyota HZJ79.  That is a very robust and durable truck.  We exchanged the original bed with a new flatbed and loaded an adapted Northstar 600SS on it.
We now have more storage in the area where normally the wheelbases are and the camper is a bit higher, which is great for driving through water.  We like to go to remote and natural areas and don't want to be dependent on paved roads.  We like to find a quiet place in nature where we can stay and go hiking.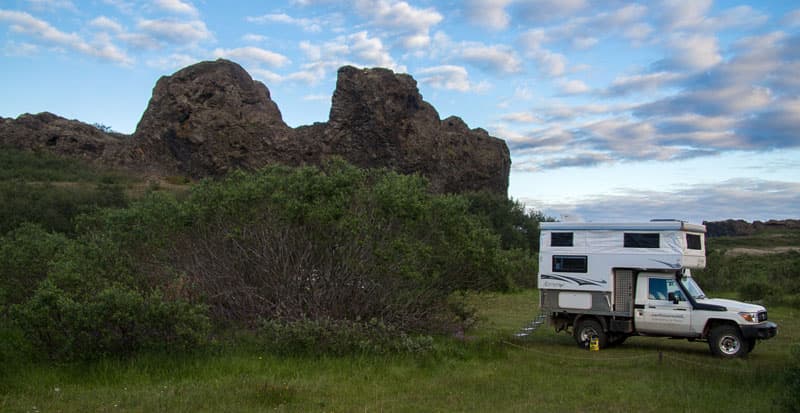 Our favorite destination is the north of Europe, but we also have been in Romania, Italy, and France.  Last year we were in Iceland and enjoyed it very much.  It is a fantastic landscape and the people are very nice.
When we go truck camping we also like to have good food.  Most times we cook by ourselves with fresh local ingredients.  We do not bring much food from home, but like to get inspired by the local supplies.
We do not drive too much, but most times we drive every day.  We like to explore a specific region more in detail instead of visiting the touristic highlights.
In Germany trucks are not so common as they are in the United States.  We have a very active scene of truck camper owners who gather several times a year at different locations.  Communication takes please via an online forum, which is frequently used.
There are many opportunities to go truck camping in Germany.  If you like to visit big cities, you can a find an overnight place in every big town.  Sometimes these are just parking areas where you can get electricity and have the possibility to dump your toilet.
You also can find nice campsites close to a city or in the countryside.  The quality is very different, but normally the campsites are clean and offer more or less comfort.
If you travel with a truck camper in Germany, you should be aware that many people will talk to you and want to learn more about this way of camping.  Often people are very curious and ask to get a view inside.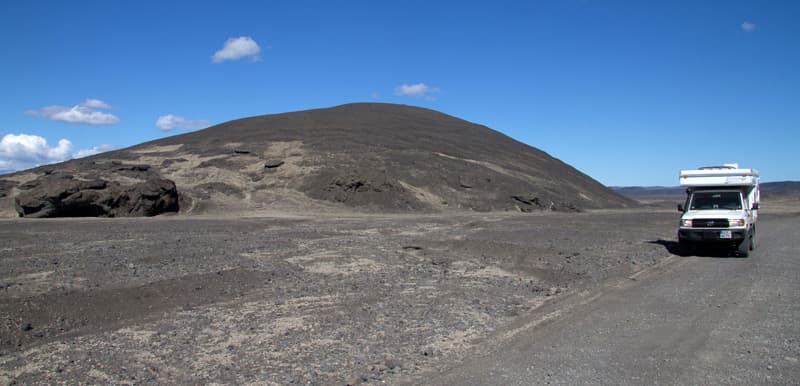 People will also walk around your truck, while you are sitting inside, and discuss if and how you can get the camper from the truck.  Many people have never seen a truck camper before, especially a Northstar pop-up camper.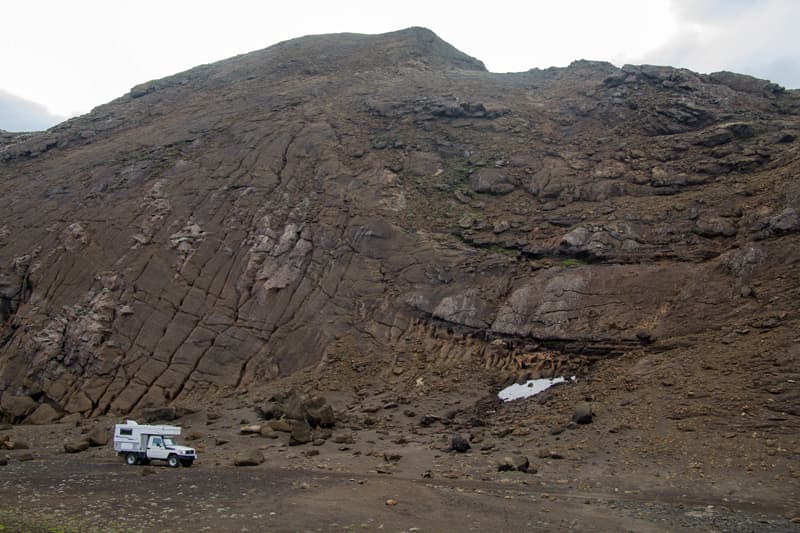 We were often asked if we really can sleep inside.  People can not imagine how to live in such a small room.  But once we lift the roof, they are astonished how spacious it is.
You can learn more about Holger from his TCM article, "Truck Camping In Iceland".
Peter Hofmann, Hamburg Germany
2007 Dodge Ram 2500
2011 Lance 865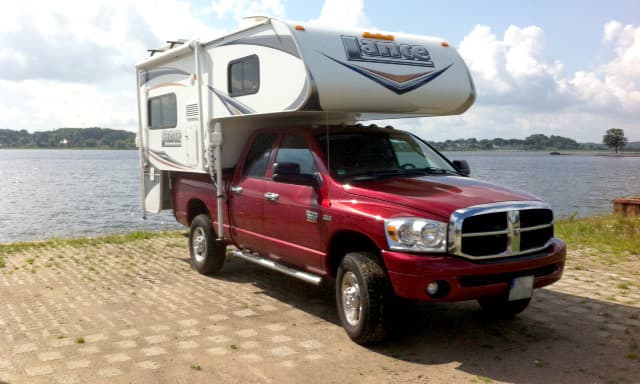 My truck and camper were bought separately in Germany.  Due to my lack of knowledge about United States trucks, I realized only after the purchase that the automatic gearbox and steering were worn.  The dealer finally was ordered to pay the damages.
My wife and I regularly go on tour in Germany, Denmark, Sweden, France, etc.
It would be helpful to find information about how to run and maintain this kind of rig over here.  We would like information about dealers who will ship parts to Europe, direct contacts to the manufacturers (I need a contact at Lance), improvement for better road holding, useful accessories, etc.  There also should be frequent articles about clubs, regular tables, and events in Europe.
Steve Blackman, High Wycombe, United Kingdom
2007 Ford Ranger
1991 Shadow Cruiser Sky Cruiser 1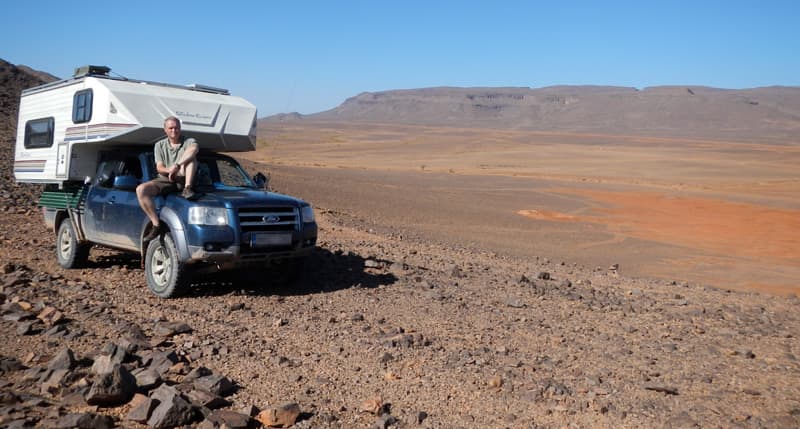 We love our little camper.  It is an ongoing job keeping on top of the rot, but it acts as a mobile base for hiking, cycling, and kayaking.  We've traveled through Europe and North Africa in our old Shadow Cruiser.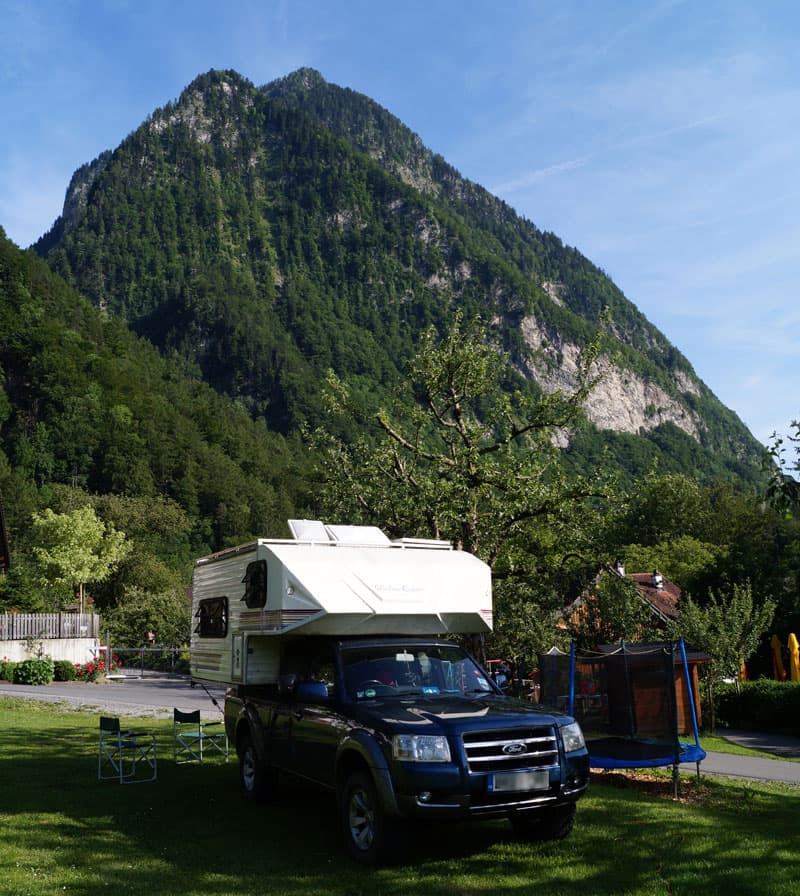 Above: Lichtenstein, a country between Switzerland and Austria
There is very little boondocking over here and truck campers are rare, but we are getting to know each other through our local forum and Facebook page.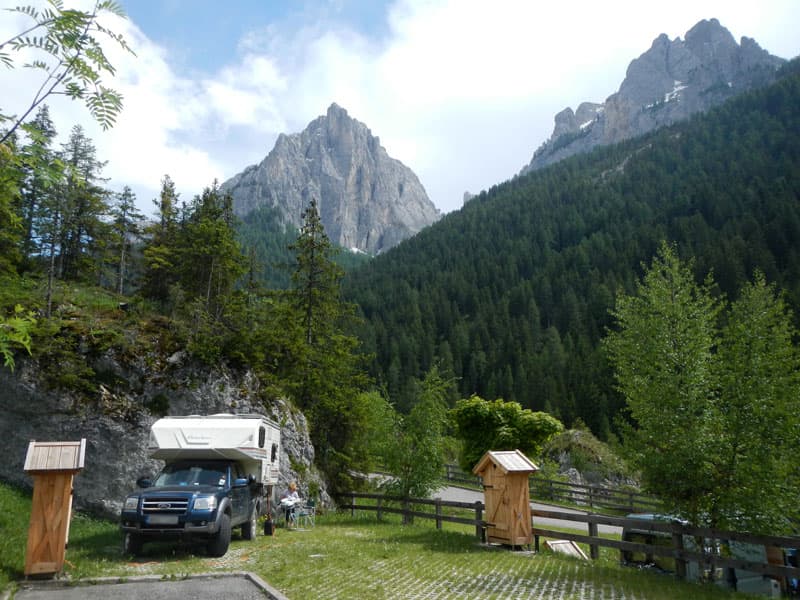 Above: Campground in northern Italy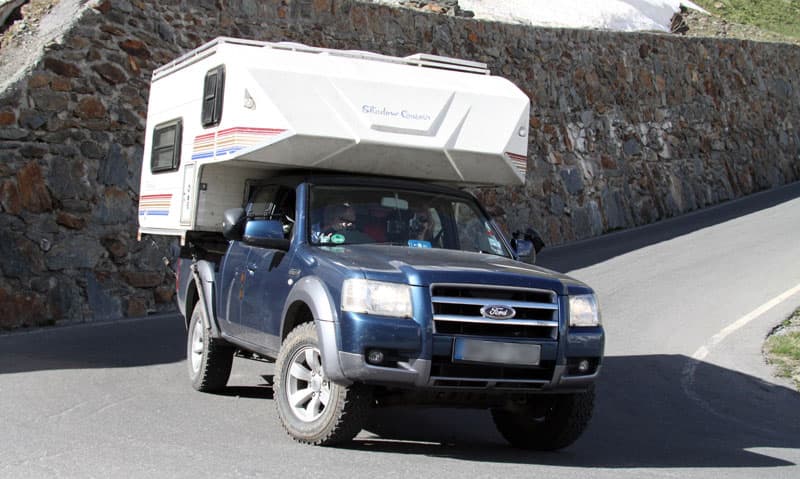 Above: Stelvio Pass in Italy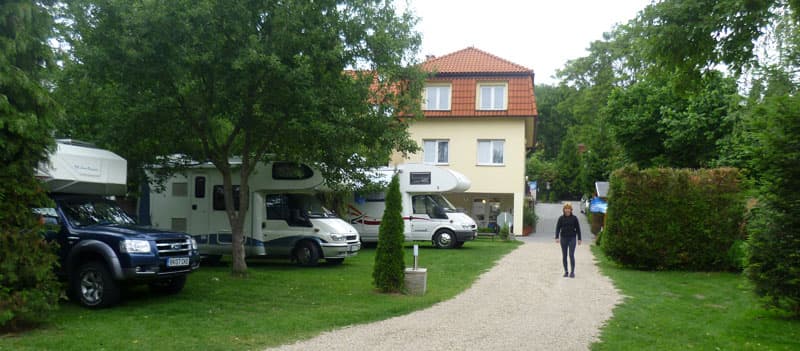 Above: Campsite in Prague, Czech republic
Trucks are smaller here, but have a reasonable payload, and there are a range of European-built truck campers designed for them.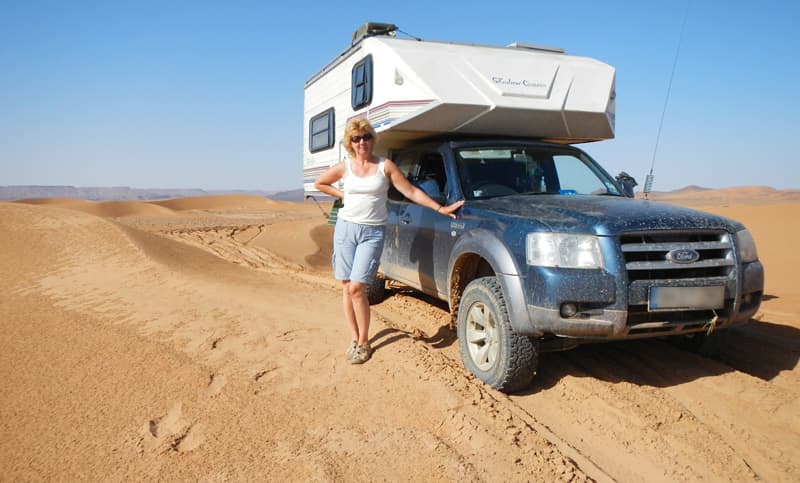 My camper originated in Elkhart, Indiana.
Chris Hodgson, Dundee, Scotland, United Kingdom
2007 Ford Ranger Thunder
2006 S.Karosser EC-6L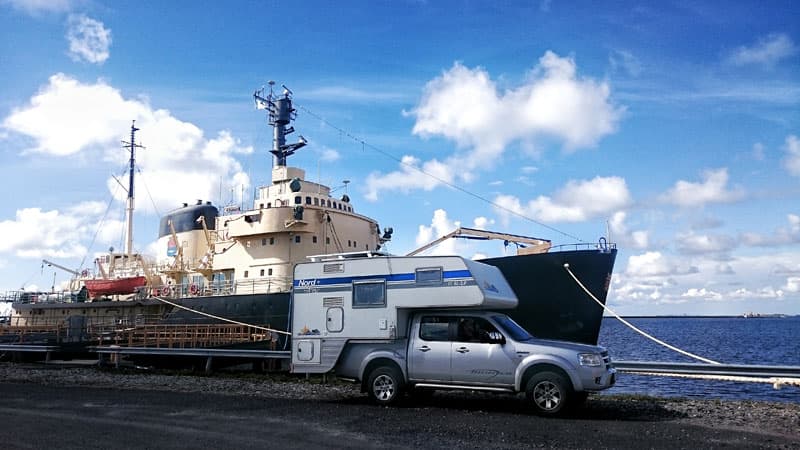 Above: We spent June and July in Finland, touring it from top to bottom.  Finland has many national parks and we made the most of the abundant blueberries which carpeted the forests.  We swam in the clean lakes and had sauna of course!  This photo is in Kemi, in Finnish Lapland, and the boat is the Icebreaker Sampo.
We are a British couple and we live full-time in our truck camper.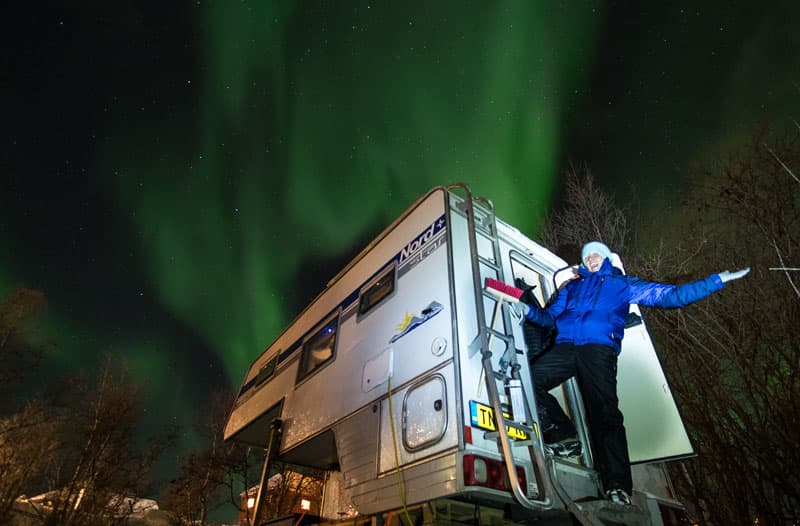 Above: We work the winters in Swedish Lapland, 250 kilometers inside the Arctic Circle.  Our camper copes well with the freezing sub-Arctic temperatures and the northern lights give us a glorious show most nights!
We spend the winter stationary (unmounted) in northern Swedish Lapland, and tour on the road for the rest of the year in the United Kingdom or elsewhere in Europe.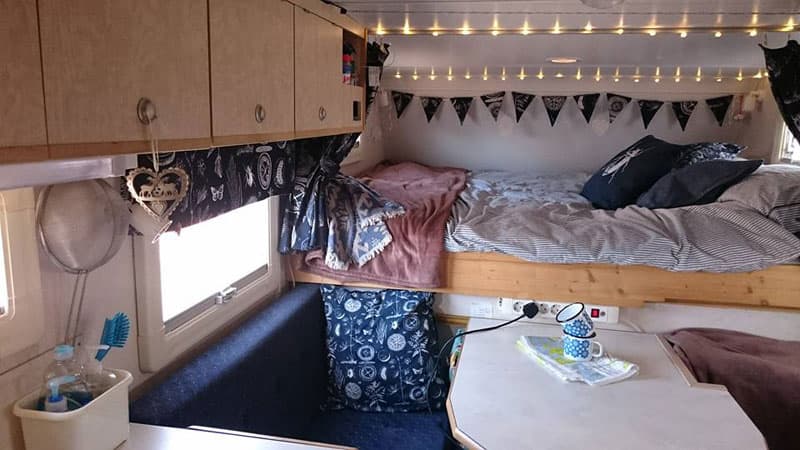 Our camper was built in Sweden and well equipped for the frozen winter temperatures above the Arctic Circle.  In the summer we have solar panels and LPG gas, so we can be off-grid full-time.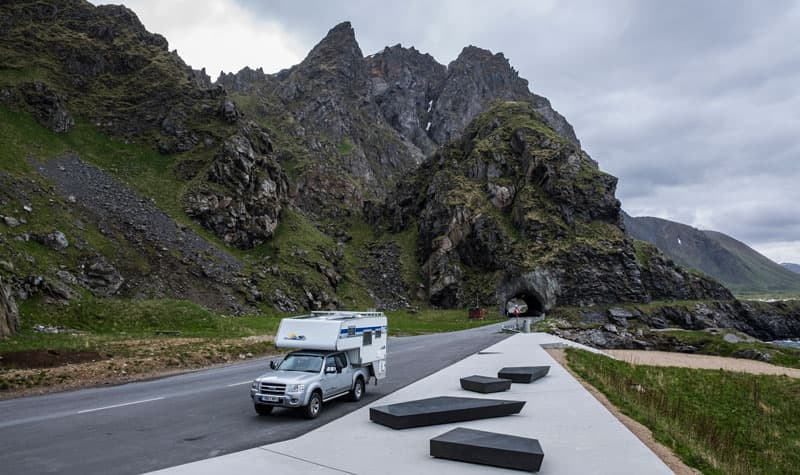 Above: We just had to pull over and take this photo after passing through the rock arch on Andøya, Lofoten, Norway!  We spent May and early June 2016 touring this most beautiful country.  Norway is one of the easiest countries we have found for touring in a camper.  The places to overnight off-grid are often spectacular, and there are frequent places to get fresh water and clear the system.
There is a really friendly group (demountablecampergroup.com) that gave us lots of advice when we were considering buying a truck camper.
Tony Sutton, Kingswinford, England
2007 UK Ford Ranger
2005 Northstar 650 DL
My camper is in use from early March to mid November.  We go away for a single night, a weekend, a week, two weeks, or more.
Last year we traveled in England, Scotland, Wales, and France with our two dogs.  Given the opportunity, I will tow a small sailing dinghy behind my rig.
England is a small place with a lot of people.  Finding somewhere to pitch up can be difficult.  All land in England and Wales belongs to somebody and wild/free camping or boondocking isn't encouraged.
Many car parks have height barriers which prevents our entry.  However, if you travel over the border into Scotland, you are positively welcomed, as is the case in France.
We joined the caravan and camping club so that we can use their small and inexpensive sites.  I'm also a member of the thriving Demountable Camper Group.  Their official site and Facebook page are well worth a visit if you are thinking of traveling on this side of the Atlantic.  The moderators and members have given me extensive help since buying my camper.
Peter, Tasmania
2010 Isuzu DMax
2015 Klassic Camper, Outback Tracker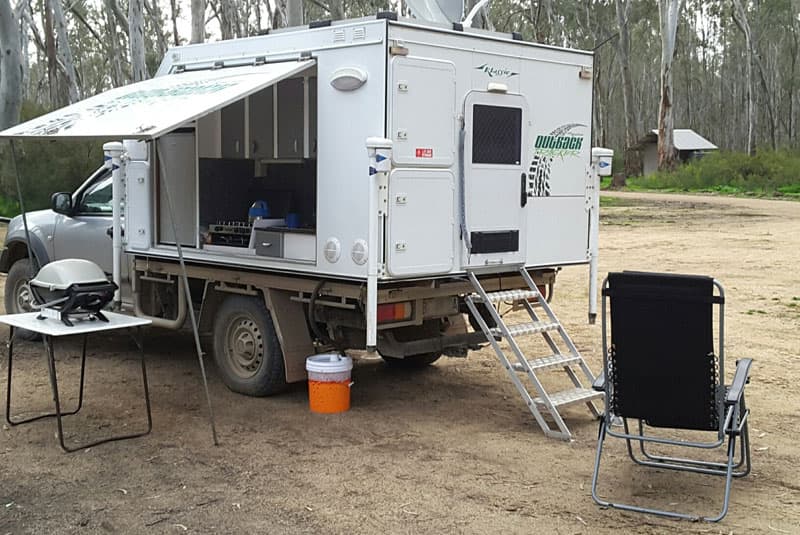 I live in the state of Tasmania, an island located south of Australia.  The photos were taken beside the Murray River, on the New South Whales side of the border.
I drive a 2010 Isuzu DMax, which I think you would call a light truck.  It has a 3.0 liter turbo diesel, which has a total capacity of 2900 kilograms. Without the camper it weights 1890 kilograms.  The camper has a dry weight of 600 kilograms.
The camper is a 2015 Klassic Camper and is called the Outback Tracker.  It has been built for the hunter and fisher community.  The design suits my Isuzu.  Fords and Nissan light trucks can carry United States campers, such as the Palomino and Northstar.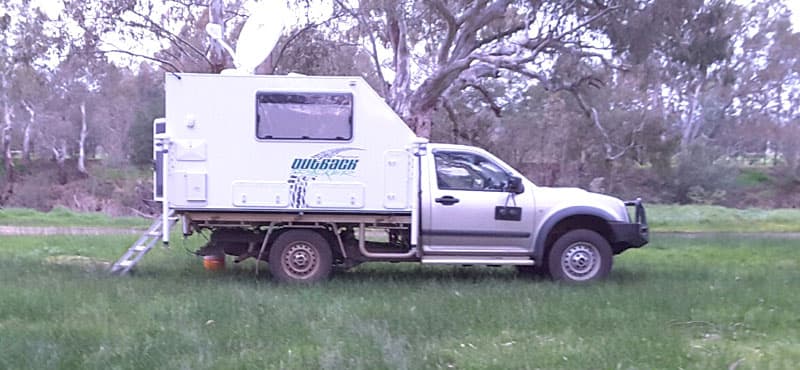 As you can see, I have Rieco-Titan electric jacks on board and that allows me to leave the camper and explore the rougher tracks when free camping.  I try to stay away from van parks as much as possible.
The camper has an external kitchen on the left hand side and has a 12-volt refrigerator, small gas cooker, sink, hot and cold water, and plenty of storage.  I have an external shower, with a two meter by three meter awning out over the back door, which is not shown in these shots, but has replaced a storm damaged one. Originally, there was a queen size bed, but now it has a single one.  There is an internal 47 liter refrigerator and tons of storage space under the bed.
Power is supplied by two fixed 90-watt solar panels (180 watts) and further 80-watt portable one, and two 100 amp/hour gel batteries.  I have a 12-volt television, a fixed rooftop satellite dish, and a a portable 20 liter cassette toilet.
B B, NRW, Germany
2014 Nissan Navara KC
2011 Four Wheel Camper Ranger
We owned a Landcruiser HZJ 79 with fixed camper shell from 2001 to 2011 and traveled with it through eastern and southern Europa as well as a one year trip through Australia.
Because of pollution regulations in our region, we were forced to sell the Toyota.  We bought a removable off-road capable Four Wheel Camper and had it on a Ford Ranger until 2014.  Then we switched to a Nissan Navara (Frontier).
We prefer camping in forests and mountains; Karpaten, Pyrenäen, North Scandinavia.  We do not like commercial campgrounds because they are full of tourists.
We dream of a long trip starting in Canada, going through the USA, and then Central and South America.  That would be after retirement in 2018.  But, in this moment, we doubt if we should pass by the USA as we observe a lot of unsettling political news.
Truck campers in Europe are a small group.  Most other campers have caravans and small and big camping cars.  As the number of midsize pickup trucks are growing fast, the demand for truck campers is growing.  As long as the new US President does not start an economic war, there is a growing demand for United States truck campers in Europe.
The main reason I bought a Nissan Navara with a diesel engine and not a petrol engined Frontier, Tacoma, Colorado, or even a F150 were the extra 20% tax on import trucks and the unavailability at the dealers.  They are only imported in small numbers by a few expensive US-car dealers.  TTIP would have lowered the prices for US cars.
Daniela Burck, Witzenhausen, Germany
2009 Ford Ranger
2013 Nordstar (Easy Camper, Sweden), Camp Compact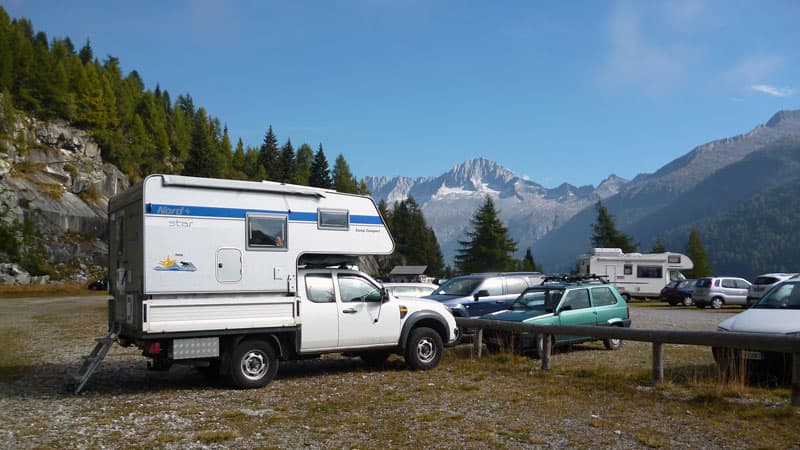 Above: Nordstar Camper at Val di Fumo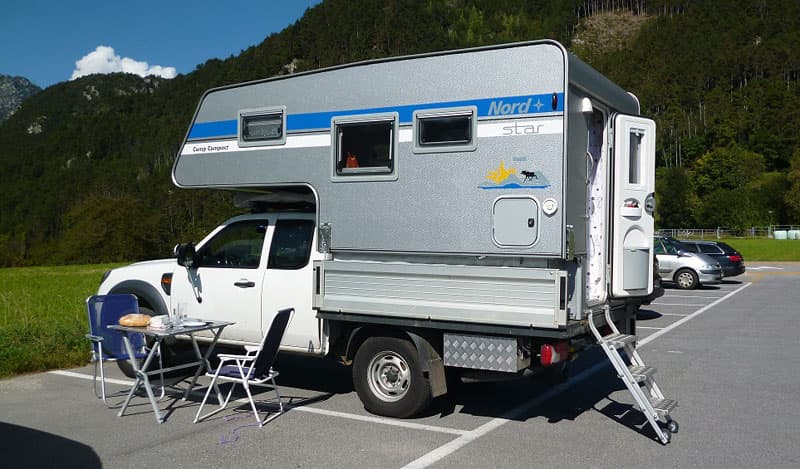 I enjoy walking in the mountains, going to strange countries, and sightseeing.  I look for camping places, shopping, gas stations, and points of interest (we have a lot of Castles nearby).
Jonatan Gudjonsson, Seltjarnarnes, Iceland
2007 Dodge Ram 2500
2004 Four Wheel Camper Grandby
I have a four wheel drive truck modified with 37-inch off-road tires.  I go into the highland for trekking and also I take my horse trailer with my horses.  Last summer we stayed for over thirty nights in the backcountry.
It is good to travel around Iceland on camper because there are many good camping areas all over.
Adrian Cloonan, Melbourne, Victoria, Australia
2016 Nissan Navara
2006 Northstar TC700
I'm very new to truck camping.  I am planning to visit warm destinations in the outback of Australia during our winter from June through August.  We like to paint and sketch outdoors, read, volunteer, and house/farm/animal sit.  There's no television in our rig.
My truck camper friends are not aware of any truck camper clubs or gatherings in Australia perhaps because CMCA is the major group and truck campers come under their banner.
There are some truck camper manufacturers in Australia; Millard and Dove among them.  As we drive on the other side of the road to the USA, our campers often have the heavy items (water, stove, refrigerator) on right hand side to counter the camber of the road.
Norman Ashley, Canberra, Australia
2005 Ford F250
2011 Outfitter Apex 8LB
I bought the truck in Sacramento, California in 2010 and the camper at the factory in Colorado in 2011.  I have traveled in this rig throughout most of the western United States (as far north as Alaska) and Canada and down the Baja peninsular in Mexico.
The rig was shipped to Australia in a container in 2015.  The truck has now been converted to right-hand-drive and the camper to 230-volt for Australian conditions.  We have done a few shakedown trips in Australia and are now planning some more extensive travel.  This is an ideal rig for Australian travel.  It's becoming more popular.
Garry Davis, Corlette, NSW Australia
2012 Nissan Navara
2012 Northern Lite 8-11SE Australian Ultimate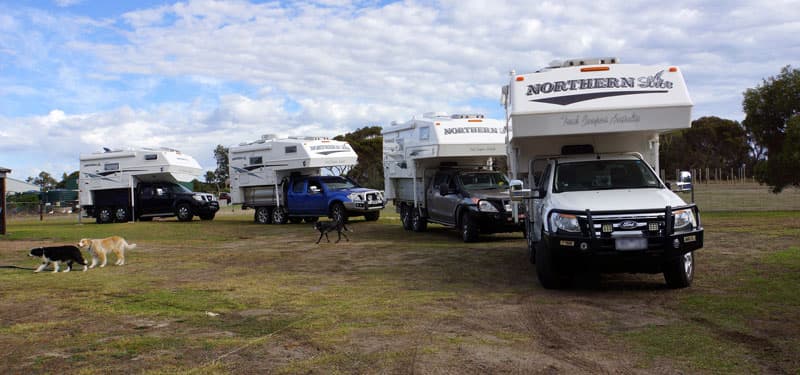 Our Northern Lite Australian Ultimate Edition Camper is unique to Australia.  It is specifically designed for free or bush camping in absolute comfort.  All appliances are 240-volt and the gas fittings are Australian compliant.  This has to be done at the Northern Lite factory in Kelowna, Canada.
The Australian Ultimate extras include a 300-amp hour LiFePo4 battery with its own cell balancing system, a 2,500 watt pure sine wave inverter that automatically maintains 240-power throughout the camper as soon as the mains or shore power is disconnected, which in our case is most of the time.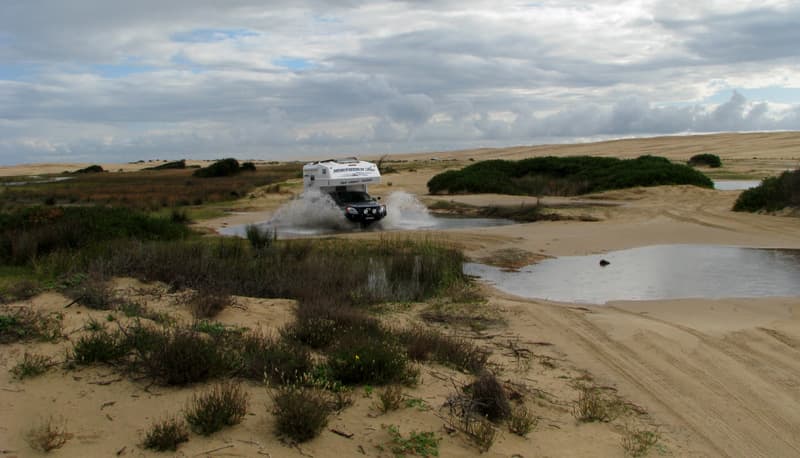 There are three lightweight 100-watt solar panels on the roof and an external plug to connect additional portable panels when required, like when we camp in the shade out of the 40-degree plus heat (100+ degrees Fahrenheit).
The whole electrical system is run through a Redarc Battery Management System that replaces several components normally required for off-grid camping.  It's a multi-stage DC battery charger, a multi stage AC battery charger, a solar regulator, a vehicle battery isolator, and an advanced battery monitor designed to keep us informed on the state of our battery – which is our lifeline while bush camping.
The camper is fitted with an Air Command Air Conditioner which weighs 27kg and will run easily on a Honda 1 generator.  In fact, we can run the air conditioner for 6 hours off our Lithium Battery and only deplete the battery to 50%.  Obviously we could run it longer but continuous heavy battery discharging shortens battery life.
There is a 7-foot rear awning and a 10-foot side awing that has a full annex or 'add-a-room' with a floor and side skirt.  The external power outlets and satellite allows me run my business from anywhere in the country, including Ship Creek which is in the middle of Woop Woop.
The outside speakers (have you seen the movie "Dances with Dingoes"?) and large 6.3 cubit foot fridge means that happy hour can start anytime of the day as there are no rules or time restraints out here.
The Australian Ultimate camper also comes standard with a reverse osmosis water filtering system complete with a 12-liter pressurized holding tank essential when you can't always get clean fresh water.  We even fill up with water sometimes when crossing a creek, using a 12-volt water pump.
The camper is removed from the truck every night unless we are just stopping overnight en-route to somewhere or anywhere.  A four-wheel drive truck is essential as we often camp on beaches or in the bush and we take our boat with us.
Truck Camping in Australia is very different from USA and Canada.  Our roads are rough, and that is being kind.  They will shake the bejesus out of you and your camper and truck.
The majority of retirees and the like in Australia either tow a caravan (travel trailer) or motorhome and stay at Caravan Parks most of the time.  This is costly and somewhat restrictive.
For those who want to get to more out of the way places (the best bits) a truck camper with a boat is the go.  But not just any truck camper.  It has to be modified to suit the Aussie (pronounced Ozzee) conditions, bigger than a kennel, and have the necessary creature comforts.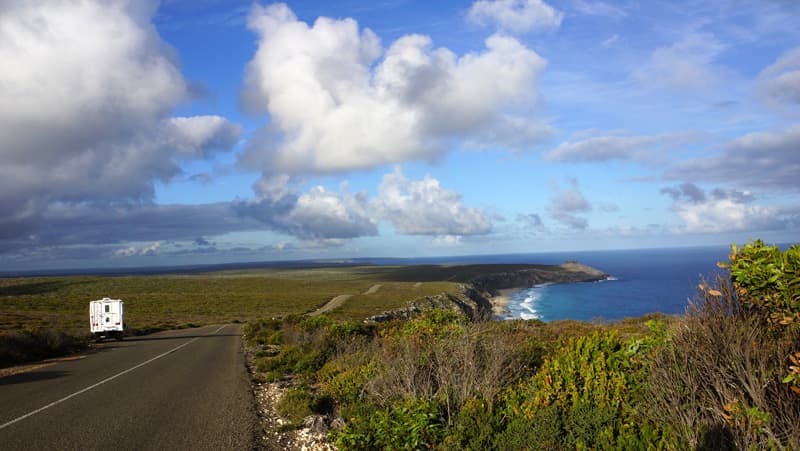 Slide-outs are not recommended due to the road conditions and pop-tops are basically impossible to insulate.  And where do you put the air conditioner, skylight, two exhaust fans, three solar panels, and antenna?
Build quality of the camper is obviously very important and Northern Lite are certainly at the very top of the tree.  Our five year old camper has traveled well over 300,000 kilometers and still polishes up like new.
Trucks are the big issue out here.  The usual trucks used in USA/Canada such as Ford F350's, Chevy Silverados, and Rams are costing over $150,000 new in Australia.  They have to be converted to right hand drive but there seems to be a fairly substantial profit margin for the importers of these vehicles who have the market sewn up via various legislation.  Worse still is the availability of parts and service outside a few major cities and even then it is slightly worse than bad.
I personally know of several people who own these vehicle and have ongoing problems.  One F350 owner from Perth in Western Australia went back to Melbourne in Victoria (think L.A. to New York!) to get problems fixed with tail lights and the computer system only to have the problem resurface before he got back to Perth.  Local auto electricians just scratch their head and say, "Dunno, Mate".
Many truck camper owners in Australia have opted for one of the locally available trucks like the Ford Ranger, Isuzu D-Max, and Nissan Navara, but these have to be fitted with a lazy axle (or tag axle I think you call them).  This is what I drive and they are very good as the ride is in many ways superior to American trucks which need substantial modifications to suspension.  Those modifications are not cheap out here.
The Australian trucks are all under-powered.  Most are around a 3-liter common rail diesel but fitted with a lazy axle have a legal two ton-payload.  Still, you can buy two of these with a lazy axle for the price of one American truck.
I hear that Dodge is considering bringing the Ram truck out to Australia as a right hand drive in a couple of years.  I think they will be surprised with the sales as there is certainly a huge void in Australia for this type of truck, especially as they have a dealer network in Australia.
The Northern Lite owners regularly get together, whoever is available, at various sites around the country.
Paul Kellagher, Ireland
2008 Landrover Defender 130
2009 Ranger Camper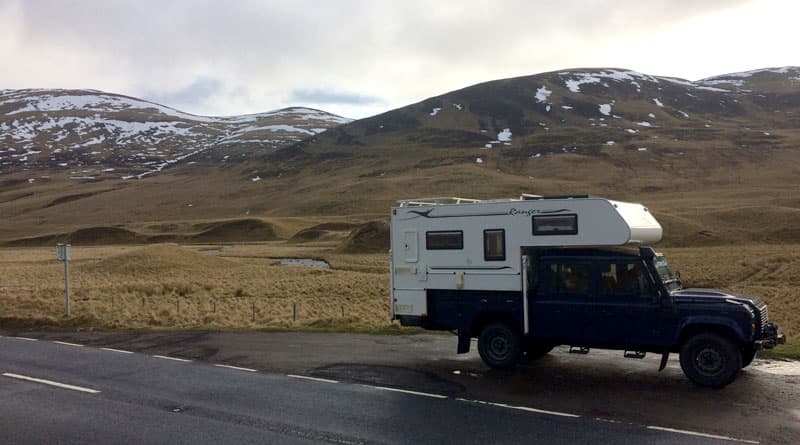 Here is a picture from Breamar in the highlands.  Paul's article in TCM is, "Truck Camping in Ireland".
Richard Zildjian, Northampton, United Kingdom
2008 Toyota Hilux
SKarosser (Swedish camper)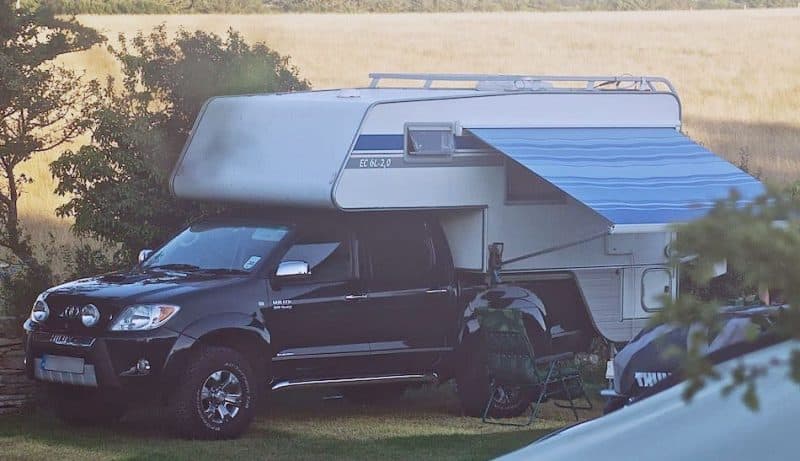 I am a camping enthusiast with a keen interest in growing number of this great concept here in United Kingdom.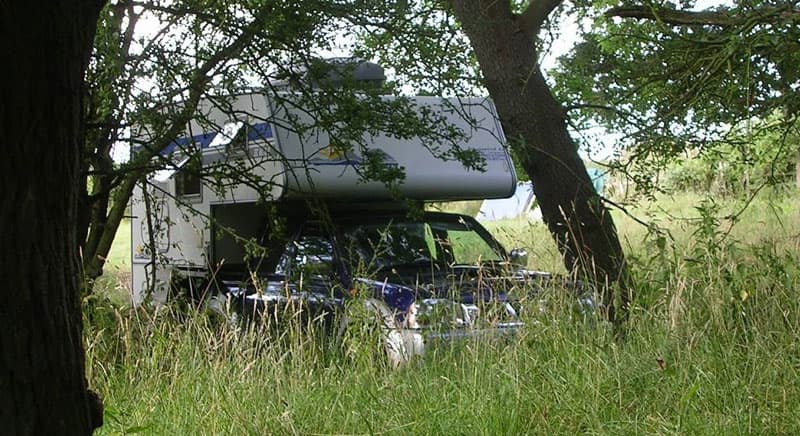 We do all that is possible to find and sign up owners here at Demountablecampergroup.com and hope people enjoy all the help they need.
Kjell Nordén, Laholm, Sweden
I'm just interested in truck campers.  I love truck campers, but the rest of my family does not.  For them motorhomes are better and more flexible and practical for the family business.
Paul Brown, Adelaide, South Australia
2012 Holden Colorado
None as of yet
I'm just interested in truck campers.  At the top of my bucket list is to travel across the United States in a truck camper.  Most of the interest here is in caravans (travel trailers) and camper trailers.
Bryan Lawton, Staffordshire, United Kingdom
1997 Daihatsu Four Trak
1994 Renault Hightop Campervan
I'm just interested in truck campers.  Since my first visit to the states in the early 1980s, I have owned five caravans, one motorhome, and recently I have refurbished an early camper van.
My main four-wheel drive trucks have always been Landrover Series 1, 2, and 3.  This included a military lightweight, which is a great off-road vehicle.  There has never been a great choice of truck campers until most recently, and they are expensive.  So, when the twenty year old Four Trak packs in, who knows?  I will hopefully be able to afford a truck camper.
Miroslaw Parejko, Wroclaw, Poland
2006 Ford F 150
No camper yet, just a 2006 Hymer trailer
I'm just interested in truck campers.  My wife and I are lovers of camping, the outdoors, and traveling.  I hate spending our holidays in buildings like hotels or renting houses/rooms.  When we had the first financial opportunity, I bought a small Polish camping trailer.  After a few days, we were with our daughter on a trip around Europe.  The first thing I recognized was that we needed a more developed product.
We have to unpack everything we need at the place if we are staying a day or two, or for five minutes.  We did not want a towable.  The one-day, quick visits of beautiful places like sunny Croatia, Italy, or Spain are impossible with a trailer.  You must leave it at the nearest camping area.
We have also driven a European big combi (wagon).  That trip made our seven year old daughter's eyes open to the world.
After some years I was lucky to find almost brand new, slightly damaged german Hymer from insurance company's dealer for one-third of the new price.  I immediately bought it, but the problem didn't disappear.  We were very happy to stay comfortable for a longer time in the resorts, but I always dreamed about tramping, vagabonding, and gadabout-ing!  The towing vehicle was an exquisite Mercury Villager.
The final observation was in the Karkonosze Mountains in Czech where we saw the owner of regular Class C RV who stopped on a shopping center's parking area situated side-by-side to the ski lift, almost on its entrance.  He came out from his RV wearing his ski uniform and with his ski in his hand he went straight to the end of the line to the cashier's desk!  Our hotel was two miles further on the end of very steep and snowed road.  I was thunderstruck.
When I bought my King Ranch it in 2008 in Fredericksburg, Virginia, I didn't realize that the essential idea to cover my travel and camping needs is a truck camper.  A few weeks after I brought my pickup home from the USA, I found your website and it was like enlightenment!
This is the best idea for flexible travel.  You can access everywhere with no fear of narrow corners, or having to turn back or a place to park.
All the time you have, similar to the trailer, your comfortable moving home with you and independent vehicle for exploring the neighborhood.  After the trip you can leave the camper on the backyard and use the truck everyday for daily routine.
You are free!  You are happy!
So I started to dig the truck camper world and I've been your fan since 2009.  Take my congratulations with the tenth anniversary!
Unfortunately, my truck bed is too short.  My 2006 Ford F150 King Ranch has 5'6″ feet bed.  All these years finding the proper camper for it has been impossible.  Over the years, I have observed the manufacturer's emphasis on smaller and smaller truck campers, so the future for owners in my continent looks better.
95-percent of the trucks here are smallest Nissans, Mitsubishis, with some Ford Rangers, etc.  The average opinion here is that my Ford F150 truck is a big one.
I have thought that it's my fault for not bringing the shortest possible truck camper across the ocean with the truck.  Transporting the two together would have been much easier.
I'm still trying to find something fitting in Europe, but this is almost a dark hole for F150-compatible truck campers.  In Germany you can sometimes find some older American units that once belonged to US soldiers stationed there.
There is also a number of local European manufacturers, mostly German and Italian, but, in my opinion, there is only a few brands which can try to compete with the American ones on quality.  We do have a few small workshops in Poland trying to satisfy their customers.
In Europe, the overall number of the trucks is catastrophically smaller than in United States.  That determines the demand for truck camper.  When we talk about prices, America is much cheaper.
As I'm relatively well educated on the topic (thanks to TCM and after digging the net), I think the strongest side of European units is overall aesthetics of the inside design and some good accessories (windows, cassette toilets).  However, America's leading advantage is logical considering the smart focus on covering the needs of the truck camper users.
My conclusion (coming from my earlier one year long stay in your country) is that Americans are the masters in doing everything the most effective, useful, and simple way.  I learned this idea and I'm using it in my company.
So my plan is not to buy an European truck camper but an American one.   The best choice seems to be the Lance 650 or Northstar Liberty.  It should be four season ready.  The only two problems for me are the center of gravity location in my future rig and how to transport the camper to Europe without the truck.
My country isn't such the spectacular touristic destination as the Croatian or Montenegro's seashore (my recommendation).  However, if you are looking for beautiful historical venues, visit Krakow, Gdansk, Kazimierz on Wisla River, Torun, Malbork or several medieval castles.  There are also palaces scattered all around the country.  We are the Catholic country.  In almost every town you can visit old beautiful churches.
Sandy Baltic seashore on the north is a place for lovers of romantic rest in quiet areas, except for in July.  The Tatra Mountains in the south is our local Rocky Mountains and the Bieszczady Mountains is a place where you can meet only wolves or bears.
The touristic infrastructure isn't perfectly developed as in western Europe but, in the cities and villages, you will meet friendly people who can help you in everything.
There are not many restricting laws concerning camping (as in some of other countries) so you can spend your time here comfortably.
If you need more information about all kind of traveling and camping in my country, start by visiting:
PolskiCaravaning.pl
PFCC.eu
Camping.info/polska
The Polish Motor Association (Polski Zwiazek Motorowy) is a kind of motor authority: PZM.pl and here's a link to caravan events (all kinds) – PZM.pl/caravaning or google:
kemping/kamping/camping/pola namiotowe/osrodek wypoczynkowy Polska