With his stunning photography, Holger Neumann reveals the beauty of Iceland, and invites us all to experience the Land of Fire and Ice for ourselves with rental truck camper rigs.  Get your bucket list out.

About half way through developing this article, Gordon and I had the same thought, "Let's go to Iceland!"  For us, Holger Neumann's pictures and description of Iceland might be the most tempting opportunity ever to grace the fine electrons of Truck Camper Magazine.  We want to go, bad.
Of course we also want to go truck camping in Australia, New Zealand, Mexico, South America, parts of Europe.  And there's a certain state above Canada we need experience with a truck camper.  All of these are currently on our bucket list.  If affordable high-speed internet could go anywhere a truck camper can go, we wouldn't hesitate.
Our advice?  Grab your passport.  Put the mail on hold.  Shut the water off.  Pack some underpants and a toothbrush, and go while the going is good.  We'll be right behind you.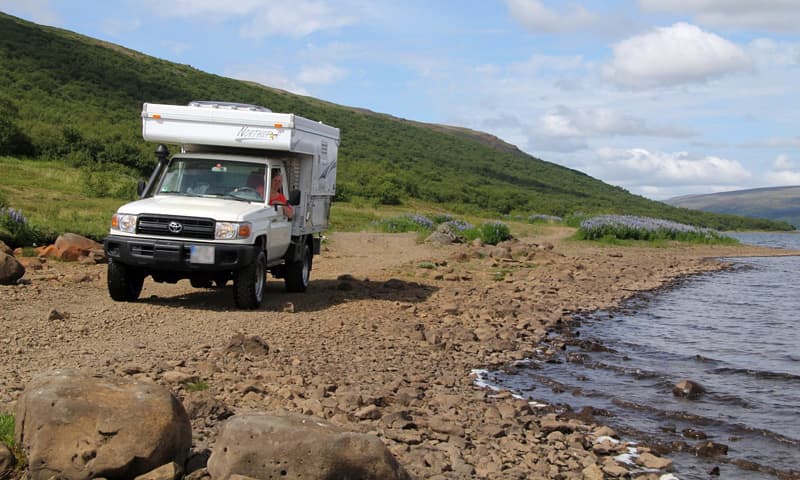 Above: Traveling in Skorradalsvatn, Iceland
TCM: Did you go tent camping or RVing when you were growing up?
Holger: When I was growing up, my parents had a little cot in the forest and we spent almost every weekend there.  Early in my life, I started loving nature, and that has never changed.  As a young man I used a tent on my vacations.  I hitch hiked with a friend through Europe and made long trips with the bike, always bringing along a little tent.  We spent the nights in nature, whenever it was possible, and occasionally used a campsite.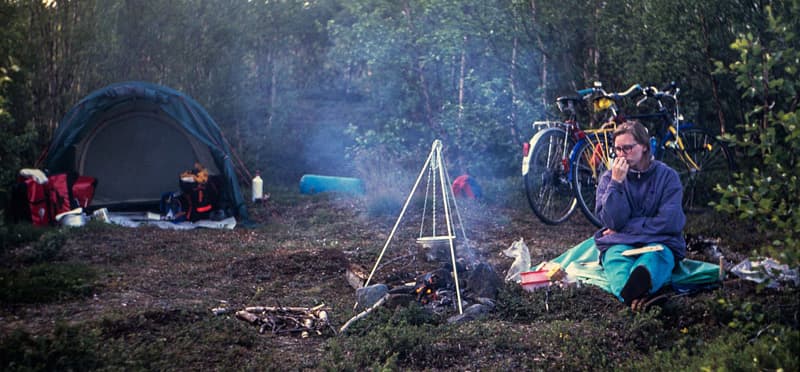 When I met my wife, I shared this passion with her.  We traveled with a bike and tent, mainly in the northern regions of Europe.  We discovered our love for the north and made trips to Sweden and Norway.  The more we came to the north, the more we enjoyed it.  We had several trips north of the Arctic Circle, mostly with the bike, but also by car.  We always used our little tent, which now was of a higher quality.  We looked for beautiful places in the nature; the mountains, close to a small lake, or in the forest.
TCM: Tell us the story of how you were first introduced to truck campers.
Holger: In the late 1990s, I started traveling for my job to attend conferences in the United States.  Sometimes my wife accompanied me and we added some weeks for vacation.  Because we were used to camping, we rented an RV and explored the southwest of the United States.  We traveled through California, Arizona, and New Mexico and visited the National and State Parks.
Later we took vacations in Florida and enjoyed canoeing in the Everglades.  Traveling with an RV was very comfortable for us.  We always tried to get the smallest vehicle available, since the RV was too big for us.  We came from Germany with one suitcase each and never knew what to do with all this space in the RV.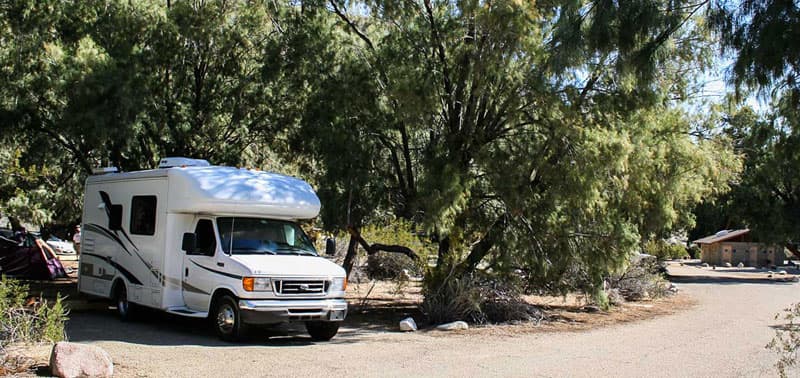 Above: Camping in the United States with a rental RV
When we used the rental RVs, we noticed that it was not possible to go to all places we wanted to go.  It was only possible to stay on paved roads.  When we saw the guys with truck campers, we really became envious.  That happened in Anza Borrego State Park where you are allowed to stay overnight in different beautiful places.  We could not go there with our rented RV.
At home we already had a pickup truck, which is a practical type of car in the country.  It took about two years until I realized that that what we saw in the United States would be possible for us in Germany, too.  We only had to buy a truck camper.  I started to explore the internet to find the best solution for us.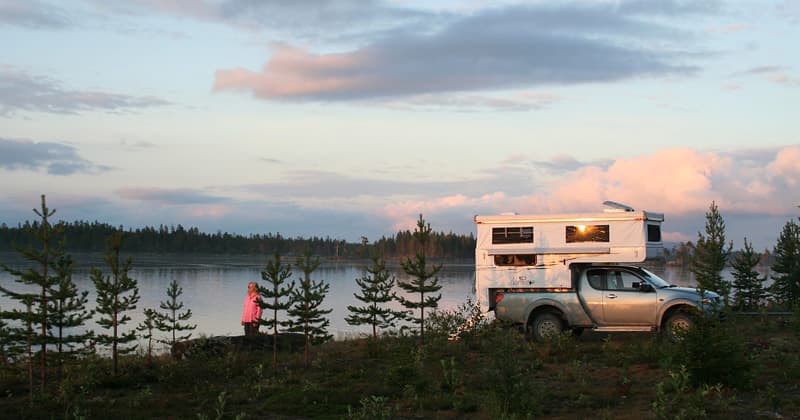 Above: Pite Alv Swedish Lappland, Sweden