Add Ireland to your list of places to go truck camping!  Paul Kellagher tells us about truck camping in Ireland, his European rig, snow-holing, and bivouacking.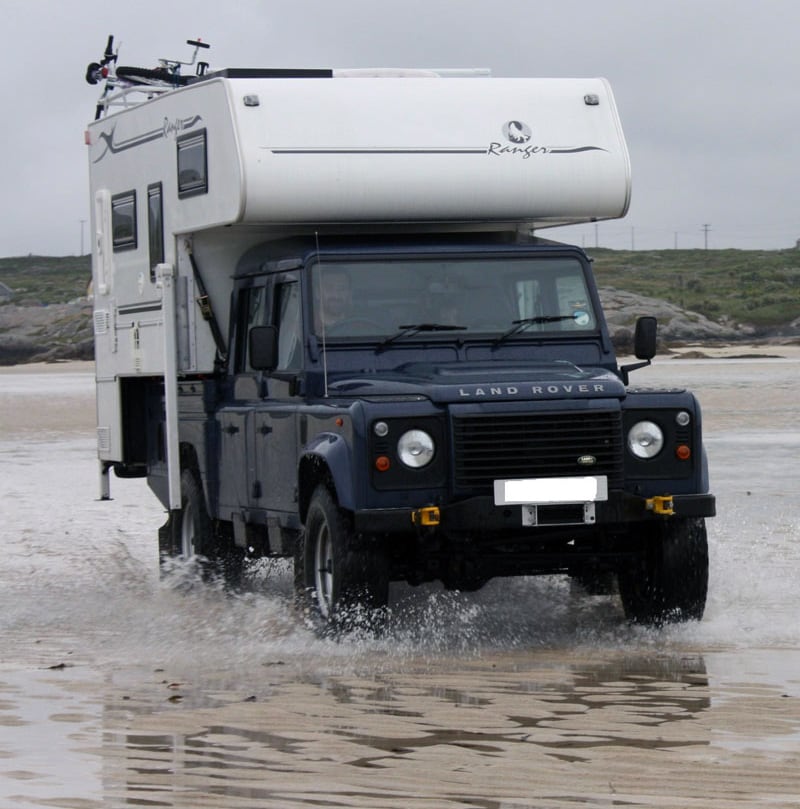 Every now and then our email box pings with a message from a country we never imagined was an opportunity for truck camping.  Paul Kellagher is a long-time reader from Ireland who is constantly sending us incredible photos of his European truck camping rig.
Get ready to see Ireland in a whole new way.  It's time to go truck camping in Ireland!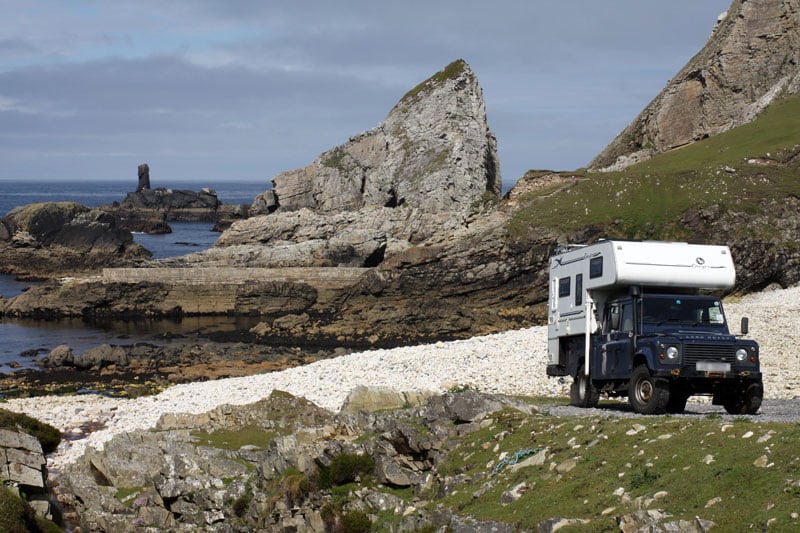 Above: Port Bay, Donegal, Ireland
What are some of your earliest memories of camping?
I started camping in tents with friends when I was very young.  I live on a large inland waterway in northern Ireland.  There are lots of small islands and we just wild camped.  For small boys, the islands seem like a huge wilderness.  In reality we could row an open boat there from home in an hour.
As I got into mountaineering, we headed off into the local hills.  Then we went to Scotland to go snow-holing in winter before going to the European Alps where I have bivouacked in some spectacular locations.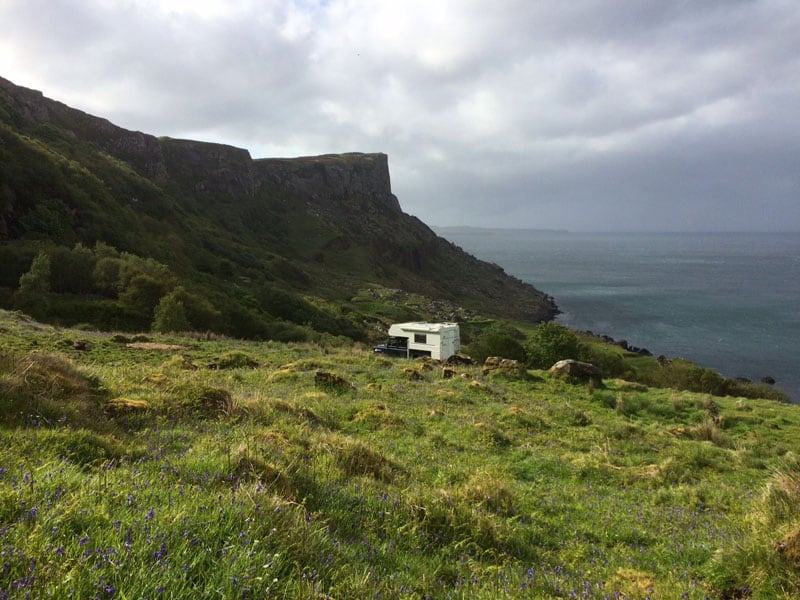 Above: Fair Head from Murlough Bay, Ballycastle County, Antrim, Northern Ireland
Snow-holing? Bivouacked?
Imagine a very deep snowdrift on the side of a hill.  Now dig a cave into the snow and move in for a few nights!  That's a snow-hole.  A memory of my coldest night ever was of a few hours shivering on the Valley Blanch before heading up Mont Blanc in the wee hours.
Bivouacking is improvised overnight sleep-outs in the mountains or wilderness.  No tent is used and stop-overs are generally one night on the way up a mountain.
When our kids were born we moved on to bigger tents and briefly experimented with towing caravans.  The truck camper is pure luxury in comparison.
When did you first get into truck camping?
We rented a truck camping rig in Scotland for Easter of 2008 and bought ours following plenty of research.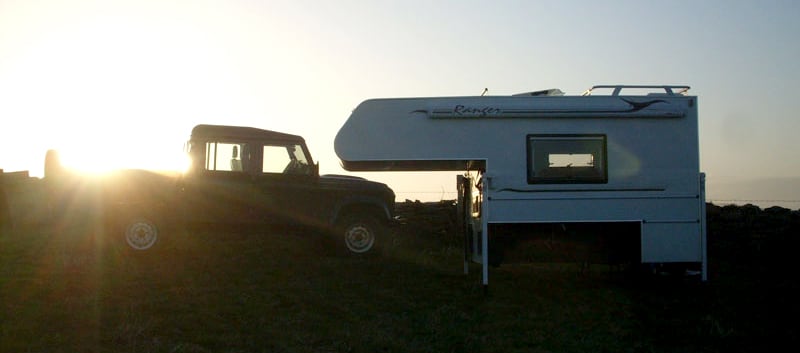 You have an awesome rig.  Tell us about your truck and camper.
The truck is a Land Rover Defender 130.  It is the most capable of all the competition.
"By American standards it is pretty small, but by European standards it is one of the largest four-by-four pick-ups."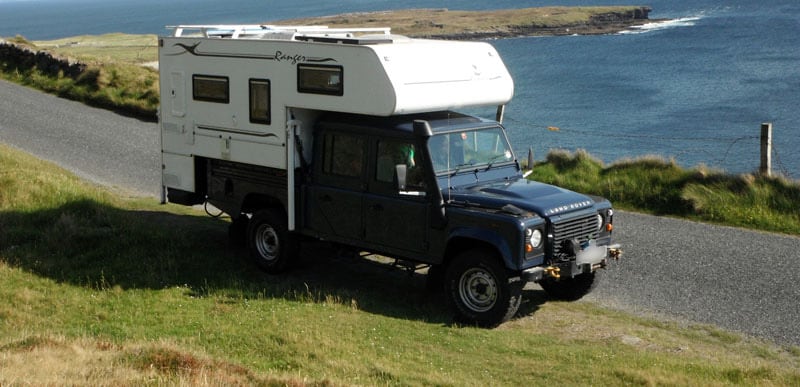 Above: Muckros Head, Donegal, Ireland
I'm a long-term fan of Land Rovers having totally rebuilt my last one from the remains of an ex-military vehicle.  We went all over Europe in it and went down to North Africa, spending several weeks in the Morrocan Sahara.  So, a Land Rover was the logical choice of truck.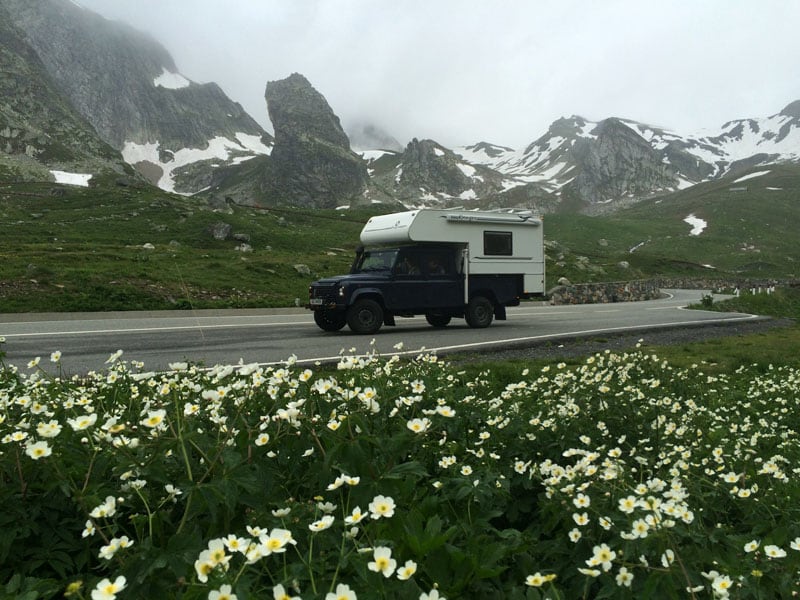 Above: Grand St Bernard Pass, Italy/Switzerland border
The camper was built to my own specifications by a company in England called Ranger motorhomes that mostly builds campers for smaller Japanese pick-ups.  I also looked into a Swedish firm and two German manufacturers.  While the European ones were very well specified, they were also ridiculously expensive.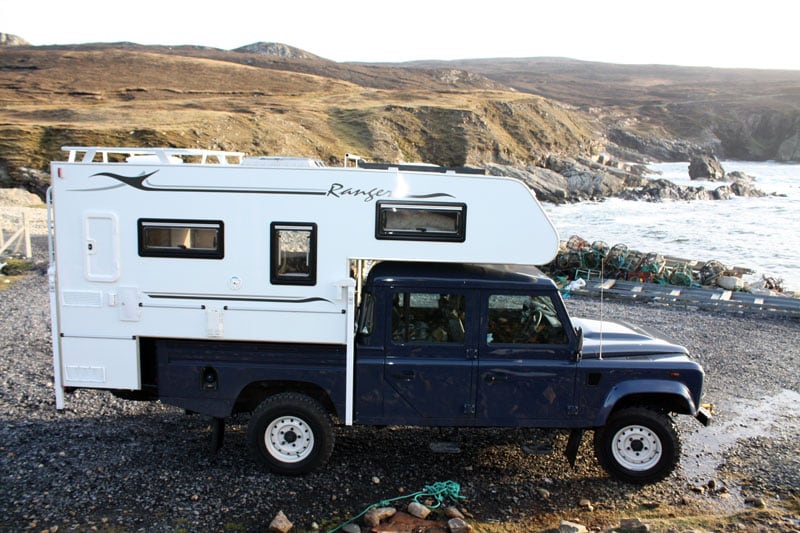 How did you choose your truck camper?
I run a part-time mountaineering and adventure therapy business, so I needed a working vehicle that could double up for business and pleasure.
"The ability to demount and go exploring is a major attraction."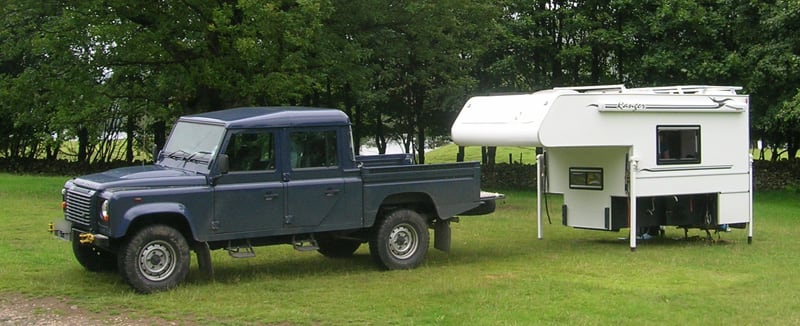 A lot of our trips take us down very minor roads and tracks so a decent four-by-four opens up lots of possibilities.  One recent weekend trip saw us crossing a tidal causeway and wild camping in some dunes on Omey Island in County Galway.  You wouldn't dare to attempt this in a two-wheel drive camper with poor ground clearance.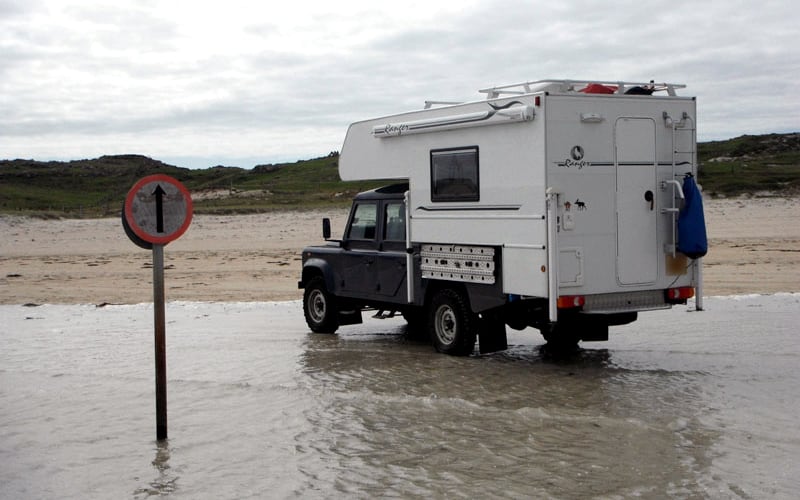 Above and below: Tidal Causeway, Omey Island, Galway, Ireland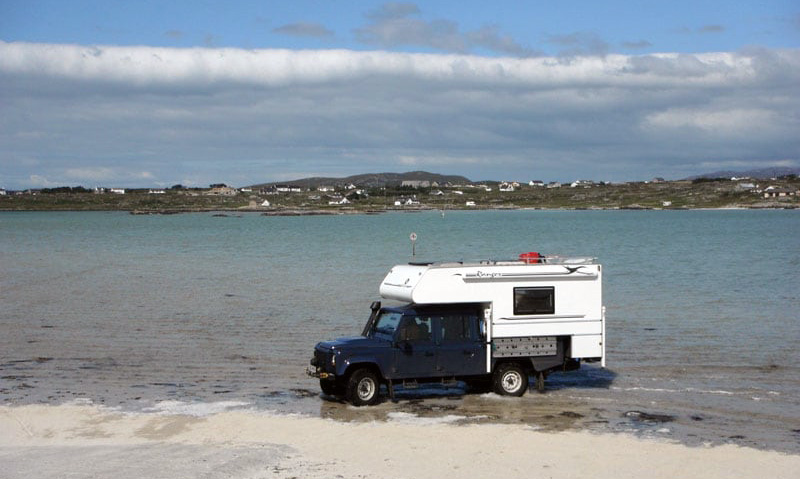 How did you get your truck camper?  Did you have it shipped to you or did you get it from a dealer in Ireland?
I ordered it directly from Ranger motorhomes in England.  The owner, Simon Chown, was really helpful with a can-do attitude to my wishes.  When it was ready, I went over on a Friday night ferry and came back the next night.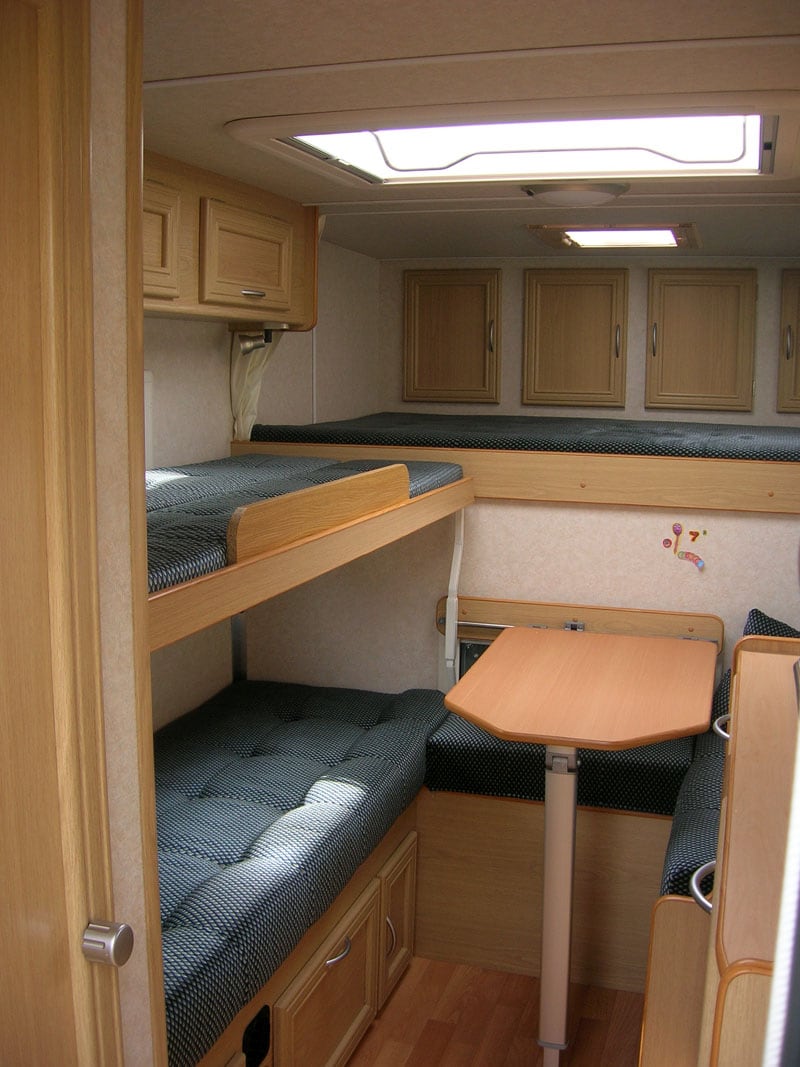 Did you have to make any modifications to your camper to make it work properly or make it legal in Ireland?
The only modifications were designed to provide a set of bunk beds for the kids.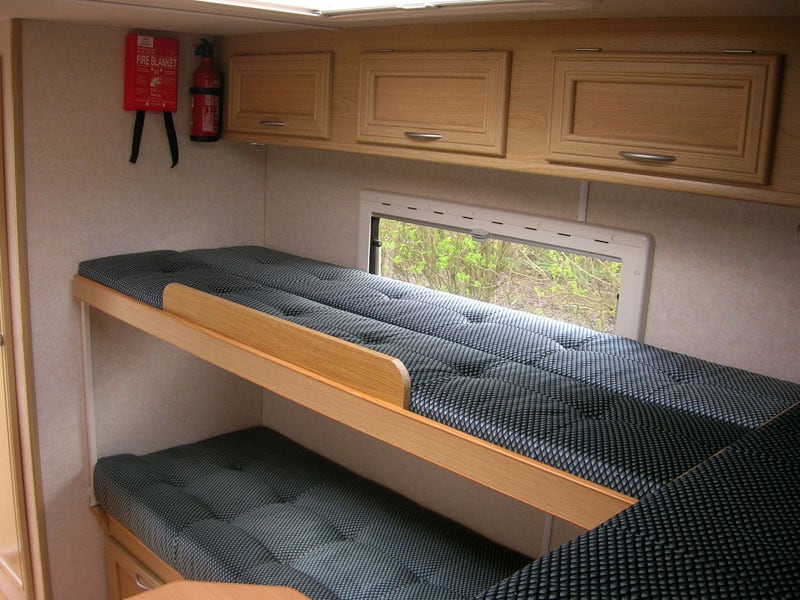 Other than that it was just a case of adding the fixing points to the Land Rover.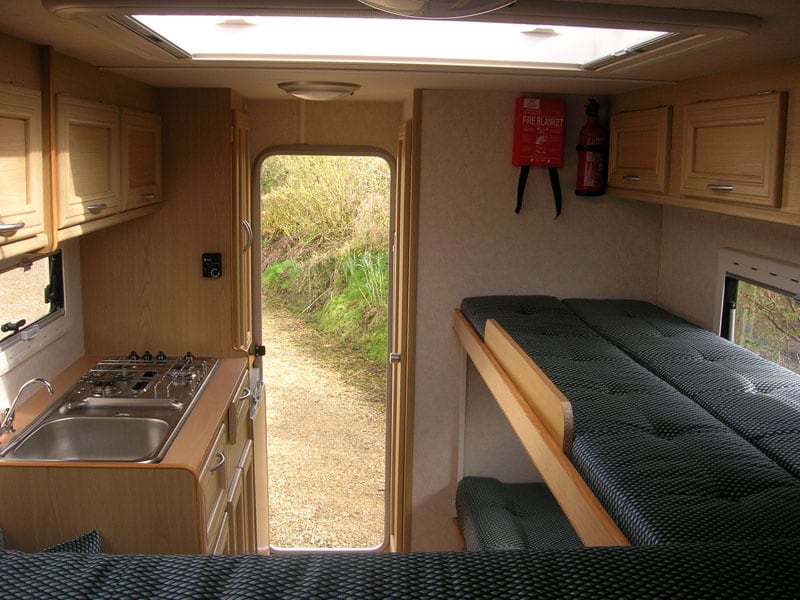 What do you like to do when you go out camping?
I'm into climbing and canoeing.  The camper provides an ideal home away from home on trips.  Our climate in Ireland can be pretty wet, so a dry and warm base is ideal.  In winter, I often head out to Scotland to climb (ice, snow, and mixed).
I'm hoping the truck camper will save the hassle of trying to find a base while following the best conditions.  It also allows a great deal of freedom to get away as a family with the kids.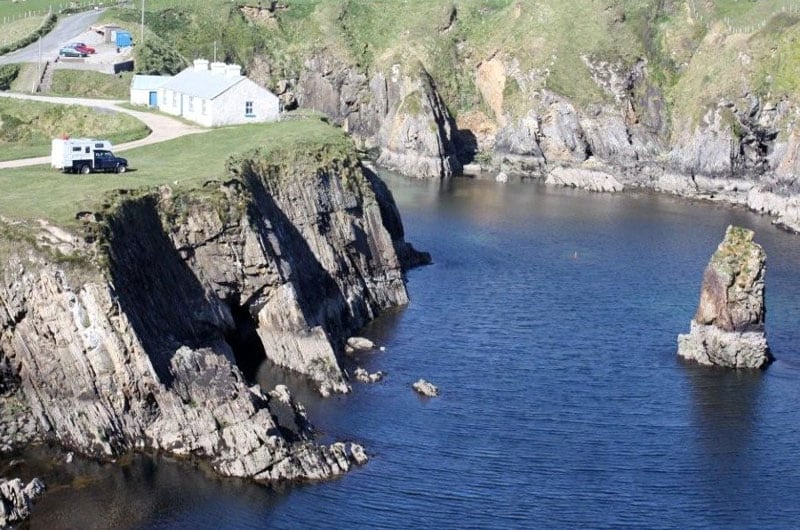 Above: Malin Beg, Donegal, Ireland
What's it like to go truck camping in Ireland?
So far it's great!  One of the reasons behind the purchase of a truck camper was the ability to fully explore the west coast of Ireland.  There are lots of small beaches and coves.  Although Ireland is a small country, it is sparsely populated in places, so getting away from folks is easy enough.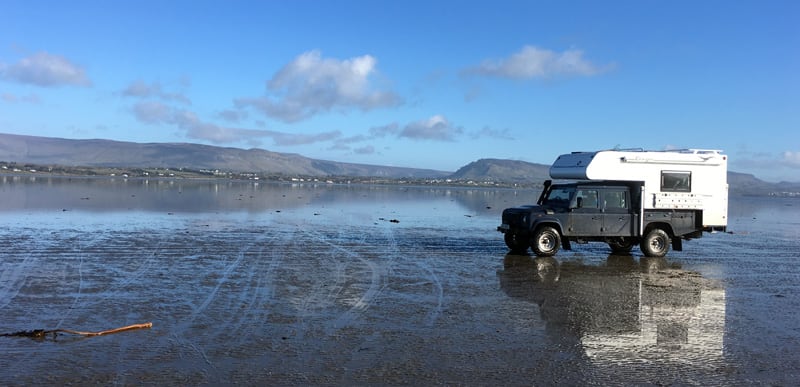 Above: Coney Island sits in the mouth of the Sligo Harbour in the west of Ireland
Could someone fly in and rent a truck camper in Ireland?
I don't think anybody is hiring truck campers here.  The rental companies have moved to fixed-body campers.  As far as I know, there is only my camper and one other here in Ireland.  I've seen a few in England, and I hired a truck camper in Scotland before I bought my own.  There are lots of companies renting fixed-body campers, which should be fine for a trip.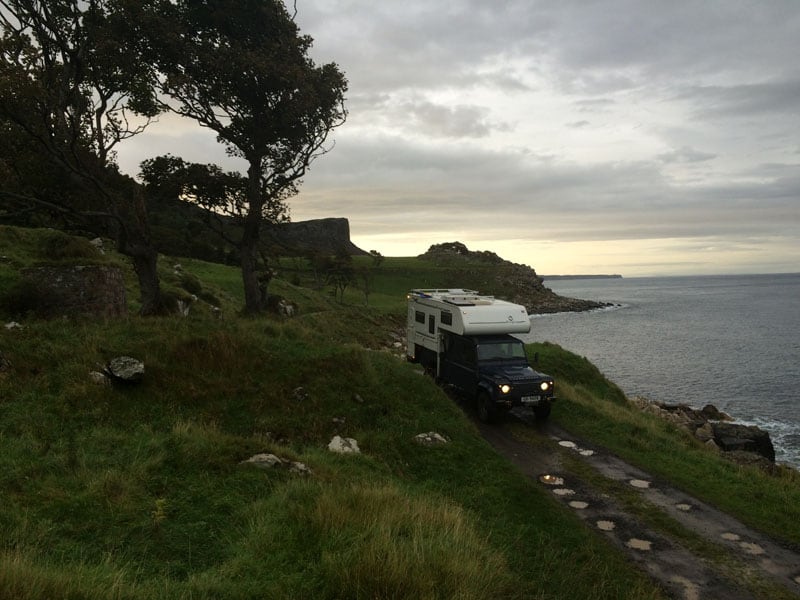 Above: Murlough Bay in County Antrim, Northern Ireland
Is Ireland truck camper friendly?
Ireland is pretty friendly all round.  You really have to try to upset people before you get any hassle.  Some communities have a bit of hassle from travelers (Irish gypsies that are recognized as a separate ethnic grouping).  Genuine tourists are recognized and welcomed as such.  So there is no difficulty truck camping.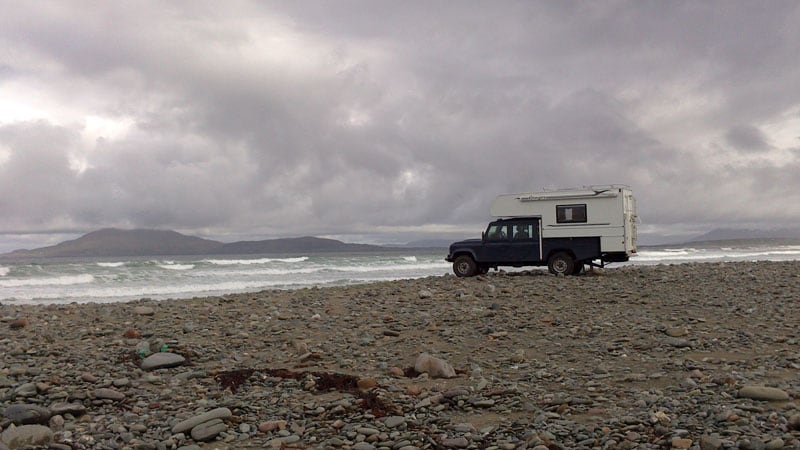 Above: Cross Strand, County Mayo, Ireland
Are there any special rules about having truck campers in Ireland?
No, but I get lots of interest in the rig from owners of fixed-body campers.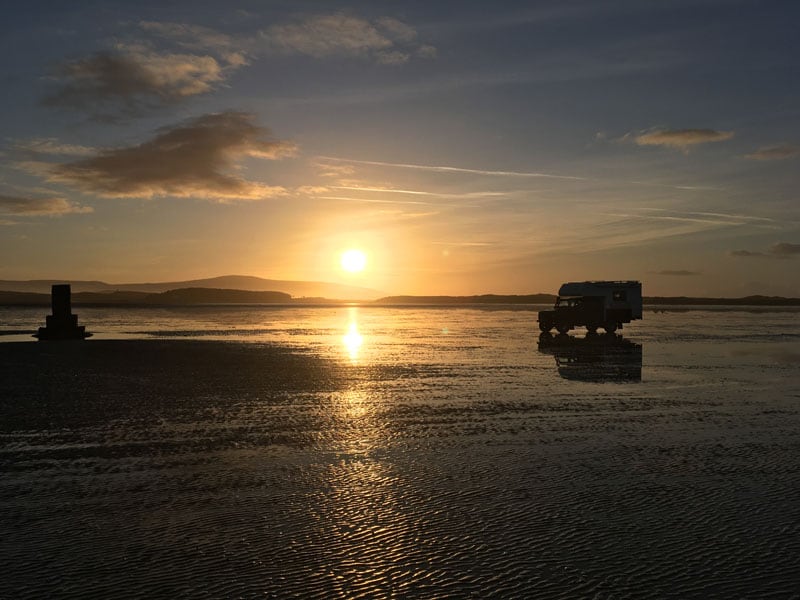 Above: Coney Island, County Sligo, Ireland
What are some of the most amazing places that you would recommend others go to as they travel through Ireland?
The north and west coasts are spectacular.  The Atlantic Ocean spans all the way to America and constantly pounds the shore.  If your truck camper could float, you could drive the 3,000 or so miles.
"The beaches are some of the best in the world and you can access most of them with a truck camper."
What unexpected challenges have you faced on your truck camping adventures?
I've bought a set of sand ladders and put them behind the rear cab seats for the inevitable day when I get stuck.  There's also a 9,000-pound capacity winch on the garage floor that needs a service before fitting.  That should extract me from most things.  So far, despite best efforts, no epics.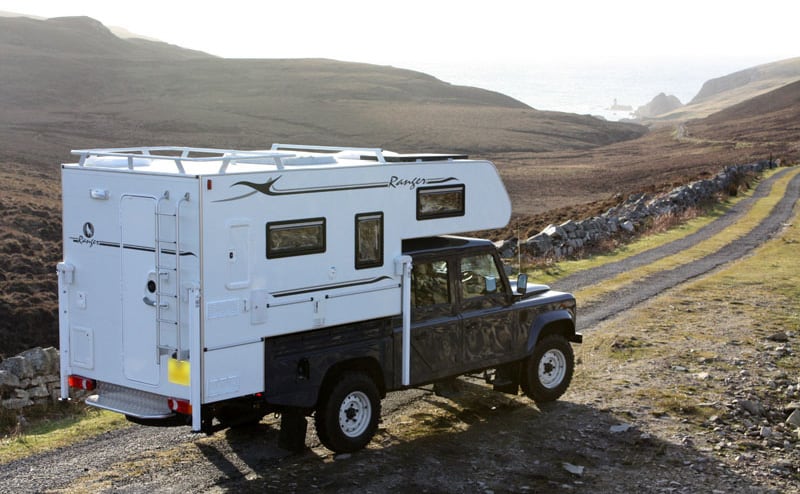 Where do you typically camp?
I use a mixture of campsites and wild camps.  The best so far goes to Omey Island followed closely by a wild camp at a small fishing pier called "Port".  It's in County Donegal.  We spent a night there in March and didn't see another soul until two fishermen came down to tend their lobster pots the next morning.  They said, "Hello" and went about their business.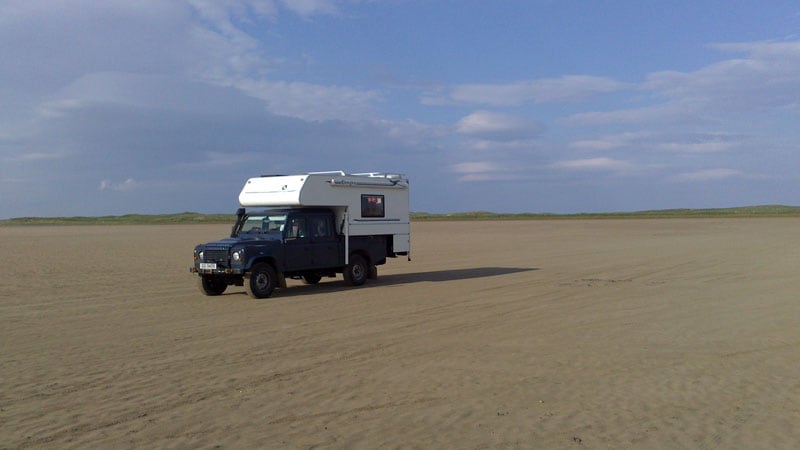 Above: Tidal Causeway to Coney Island, County Sligo, Ireland
What's next for you in your truck camping future?
I want to climb in the Rockies in both the United States and Canada at some stage.
Paul Kellagher's Rig
Truck: 2008 Landrover Defender 130, crew cab, 4×4, diesel
Camper: 2009 Ranger Camper
Tie-downs and Turnbuckles: Commercial ratchet straps
Suspension Enhancements: Rear coil springs with helper air bags and beam axles
Gear: Electric winch on front bumper and sand plate mountings on rear tub