The Baxters ditched their fifth for a Hallmark pop up camper they call "Popeye" and never looked back.  Now they enjoy exploring the greatest hits off their backroads album.

When Roger and Charlotte sent us their Alaska truck camping pictures, Gordon and I both said, "Some day".  We were married on a glacier outside of Juneau almost seven years ago, but that was on an Inside Passage cruise and we've never seen Alaska's wild interior.  Some day, we're going to explore Alaska in a truck camper.
Some day is a wonderful dream to have, especially when we're talking about truck camping in Alaska or planning a cross-country adventure.  Some day is also very dangerous.  It begs the question, "Some day, when?".  As a magazine, we know first hand of people who waited too long to finally get their truck and camper and hit the road.  Their health failed and their truck camping dreams were cut tragically short.  No one wants to hear those stories, but they're very real.
Our advice on this topic comes down to two words; don't wait.  Get out there as soon as you possibly can and live your truck camping dreams.  We make a lot of our "Go Anywhere, Camp Anywhere, Tow Anything" motto, but our real motto should be, "Don't Wait".  Next time you catch yourself saying of thinking, "some day", ask yourself, "some day, when?".  Carpe diem!
Roger and Charlotte didn't wait.  Their some days fill photo albums and are now stories told to friends and relatives.  Speaking of stories, Roger and Charlotte have shared some of their favorites with us including a few recommendations on where to go truck camping from Alaska to Oregon, and beyond.  Roger told us that he even uses the photographs submitted for our annual calendar contest to find new places to visit.  Now that's a great idea!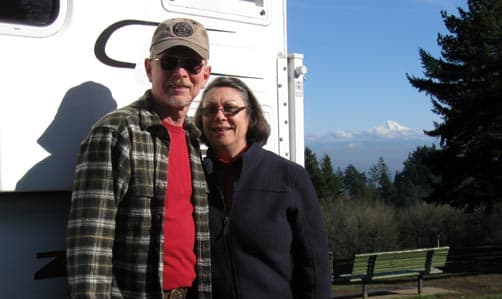 ABOVE: Roger and Charlotte Baxter with Mt. Hood in the background
TCM: How did you first get into truck camping?
Roger: We came to Oregon for a to visit relatives  in 1973.   Char's brother and his wife had a four-wheel drive Ford truck and camper.  We visited again in 1974, and they took us and his truck camper and boat up to Hood Canal in Washington State.  We spent a week out camping and boating.  Those experiences inspired us to buy a used Winnebago truck camper, a Ford truck and move to Oregon in 1975.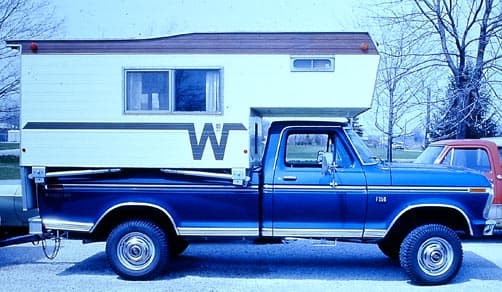 ABOVE: Their 1975 Winnebago truck camper
TCM: Winnebago truck campers are long gone now.  I've only seen one in Colorado years ago.  What happened to that camper?
Roger: After years of truck camping we got into backpacking and mountain climbing.  The camper sat alone most of the time and we eventually sold it.  In hindsight we should have kept it in storage.
After we retired, we toured around the United States in a fifth wheel for ten years.  Most of our traveling was on the freeways.  We camped in campgrounds.  After that, we decided that our next round of camping was going to be more backcountry and places we couldn't take the fifth wheel.

TCM: Is that when you started to think about a truck camper again?
Roger: Well, I'd been thinking about it for the past five years.
Char: I realized he had traveled my way for ten years so I decided to try it his way for a while.  At first, I was thinking a truck camper might be claustrophobic.
Roger: I thought about keeping our fifth wheel for that reason, but I didn't need the maintenance issues and sold the fifth wheel after a few trips in the truck camper.
TCM: So you bought a Hallmark pop-up.  Let's talk about how that happened.  Char, what was it about the Hallmark that make you think, "I could camp in this"?  That's quite an adjustment going from a fifth wheel to a pop-up truck camper.
Char: The quality of the Hallmark campers convinced me.  I was comfortable.  I think a woman helped designed the Hallmark interiors.  I liked the food preparation area near the sink and the large windows.  They also have a memory foam bed, which is nice.  The vanity above the refrigerator has a big mirror to do your hair.  I really like the way Hallmark campers are designed.
Roger: Bill Ward, the Owner of Hallmark RV, told me that the wives at Hallmark have influence on the designs.  I like that the dinette seating is face to face.  We aren't facing the stove when we sit together.  The quality of the construction really impressed me too.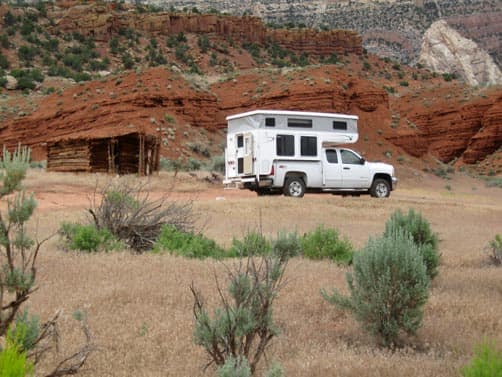 ABOVE: Dinosaur National Monument, Colorado

TCM: What was it like to buy a truck camper direct from a manufacturer that was over 1,200 miles away?  How did that process work?
Roger: Two years ago, we went to a RV show in Salem, Oregon.  We didn't even know that Hallmark was going to be there and weren't familiar with them.  We fell in love with the Hallmark campers right away.  We talked with Bill for about an hour at the show and told him we wanted a Hallmark and would be in touch.
In the meantime, we found a great deal on a four-wheel drive Chevy truck and bought it.  Once we had the truck, we started talking with Matt Ward about pricing.  At the end of the year, we came to a deal and arranged to pick up the camper in the Spring.  Earlier that year we had visited the factory in our fifth wheel.  While we were there we finalized fabric choices and things like that.  We said, "Give us a date and we'll be back!".
In the Spring, we drove our truck down to Colorado and they loaded the camper.  After that, we hit the backcountry right away.  We drove back to Oregon on the back roads.
TCM: In an email to us, you said that you named your fifth wheel "Bertha" and called your previous Dodge diesel truck, "The Beast".  Have you named your Hallmark?
Roger: Yes.  We call it Popeye, because it's a pop-up.  We didn't name our Winnebago truck camper.  We were kids then.  What did we know?
TCM: Tell us about the transition of traveling highways in the fifth wheel to traveling backcountry and back roads in the truck camper.
Roger: We've both backpacked.  If you can spend a week in the Grand Canyon with what you need on your back, it's a luxury to be in a pop-up camper.  This was a change from the fifth wheel, but we were looking forward to it.  Now we have our routines down and it's second nature.
After we left the Hallmark factory, we drove the northern route in Colorado by the Cache La Poudre River.  The back road we drove on our second day is probably the worst road I've ever driven in my entire life.   It is called Monument Valley Road and it is in northern Colorado.  That was a white knuckled drive.
We also went to Dinosaur National Monument in Colorado and to Leslie Gulch and the Pillars of Rome in southeast Oregon on our way back home.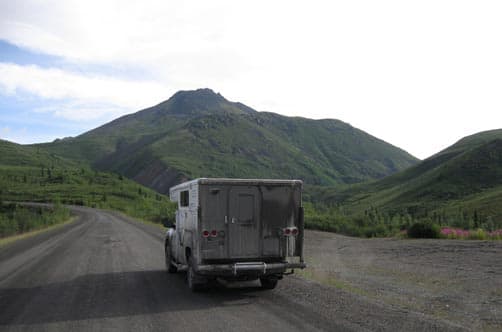 ABOVE: Dempster Highway, Yukon
TCM: Tell us about how you took your pop up to Alaska.
Roger: The trip to Alaska was in the planning stages for almost a year.  We had friends and family take the trip before us so we had lots of information to sort through.  It's one thing to plan a week or two and another to plan out two months.  Plus, with the internet, you can easily get into information overload.
The biggest help was the bible of Alaska travel, "The Milepost".  Don't leave home without it.  As a matter of fact, start your research a year early.  We knew there were some things on the list that required reservations.  But we also wanted to be spontaneous so we built in a lot of free days.   Truck washes, laundry, and side trips all went into free days.
Our original plan was to hit a motel every week or so, but that just never happened.  The pop-up truck camper worked out very well once we got our routines down.  Plus, most RV camps had nice showers.  Wi-Fi is also available so we took our laptop which was a nice way to keep in touch.
I really didn't want to take our fifth wheel to Alaska.  I wanted to go anywhere and camp anywhere.  Bertha needed a lot of room to turn around.  I have places I still want to go with the Hallmark out in Utah like the White Rim trail in Moab once it is fixed.  We also plan to go to Grand Staircase of the Escalante.
TCM: Those places are on our list too.  What were some of the highlights from your Alaska trip?
Roger: Going up in the Yukon to Keno driving the Silver Trail was well worth the trip.  We played tourist at the Chena Hot Springs Resort which is forty to fifty miles out of Fairbanks.  Back in Fairbanks, we visited the University museum, toured on the Riverboat Discovery, and drove to the North Pole to mail cards to the kids.
Denali National Park is a must.  We never saw the top due to clouds, but we saw lots of wildlife.  We would recommend at least a shuttle bus ride to the Eielson Visitor Center and a drive to the Savage River, which is as far as they let you drive your own rig.
We spent some time in Soldotna, Kenai, and Stewart on the peninsula.   There are lots of things to do, so you won't get bored.  We camped for about three days in Portage Valley, at the end of Turnagain Arm, while we explored that side.  Watch out for black bear along the nature trails there.
Another highlight was driving the Nabesna Road on the north side of the Wrangell-St Elias National Park.  We crossed a couple streams to get to the end of the road and then hiked up to the Rambler and Nabesna mines.  We wouldn't have done that pulling a fifth wheel.  With our truck camper, we could stop and do what we wanted to do.  For the size of the state, there really aren't a lot of roads.
If you have a truck camper, you can park anywhere, especially with a pop-up camper.  The highlights were the freedom we had in Alaska and being able to pull off and camp almost anywhere.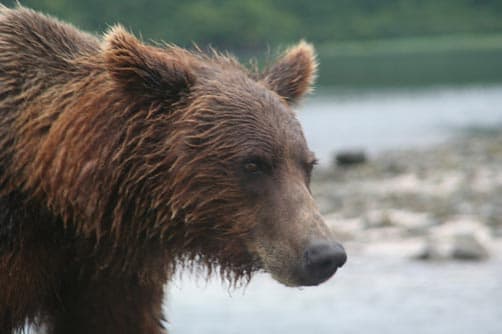 TCM: It sounds like you might have a bear story, or two.
Roger: During our trip to Alaska, we took a trip with a company called Bald Mountain Air.  They flew us out to Geographic Harbor on the mainland part of Katmai National Park.  It was about an hour and a half flight.
When we got there, there were about fifteen bears feeding and wading.  We approached very quietly.  We were told the bears would be non-confrontational if we arrived quietly and weren't bothering them.  At that time of year, the bears just want to eat before they hibernate.  It was sprinkling rain and the bears were walking up and down the river catching salmon.
There were twenty of us from the tour sitting on the river bank at the top of Geographic Harbor.  When a bear decided to walk the bank in front of us, you could have heard a pin drop.  It was an experience of a lifetime and well worth the price.   It was definitely the highlight of whole Alaskan trip.
TCM: You've been all over Oregon State.  Where do you recommend people go in Oregon?
Roger: A lot depends on the time of year.  The Oregon coast is open year round.  In my opinion, the state parks on the Oregon coast are the best in the country.  They are clean and well managed and in beautiful locations.  And the people are friendly.  There are no private beaches in Oregon, the coast is owned by the people of Oregon.  If you can get there, have at it, because it's all public.  You can find stretches of long sandy beach.  We went to a state park a year ago in October and hiked on the beach.  We were the only ones on the beach for the three days we were there.
After about July 4th, there is no rain in Oregon during the summer and the whole state is open.  In central Oregon, you've got the high desert, the mountains, and about five passes across the Cascade range.  In the winter you need tire chains.  But in the summer, you've got Crater Lake in the south and Mt. Hood in the north.  People ski on Mt. Hood in the summer as there is a permanent snow field up there and you can almost ski year round.  If you want to get away from people, go to the Steens Mountain area in the southeast corner near Pillars of Rome and Leslie Gulch.
Here in the western valley I never have to winterize the camper.  If it's cold, I just keep the heater going.  And if the temperature drops below twenty degrees, we go to the southern Oregon coast where it's fifteen degrees warmer.  One of the reasons we moved from Indiana to Oregon was that we saw all the things you could do outside.
TCM: Where else have you been with your Hallmark that you'd like to share with our readers?
Roger: Trona Pinnacles, which is southwest of Death Valley National Park.  I took some shots from the area where scenes of Planet of The Apes and Star Wars were filmed.  We just like the solitude.  In Death Valley, we took a very long eighty mile day drive, which was over thirty miles of wash board roads to the Eureka Sand Dune.  It's the tallest sand dune in California.  Needless to say we found another way out.
TCM: How do you find these out of the way places?
Roger: One thing I love to do is look at the pictures that are submitted for your Truck Camper Magazine Calendar Contest.  I look at the locations where the photos were taken.  Once you find a location, you can research it on the internet.  It's just getting the first idea.
I also have a back roads file.  I'll print and cut out articles to keep in that file.  When we started camping in the fifth wheel, we got Trailer Life and Highways.  I kept all of those magazines.  I go through them and look for articles.  Those are a good source.  I also use Google searches.  I might type in "back roads in Utah".
After I find a place I want to go, I'll open up a map and see what back roads are there.  It's very seldom we go on a road where we don't know where it goes.  We have good maps.  I always check the road conditions.  It takes time to do the research.  You also need to pay attention to the elevations in the Southwest and Northwest.  You have to be smart about it.
TCM: Thanks, Roger and Char.  We look forward to hearing about your upcoming adventures.
Roger and Charlotte Baxter's Truck Camper Rig
Truck: 2008 Chevy Silverado 2500 HD, extended cab, single rear wheel, short bed, 4×4, gas
Camper: 2009 Hallmark Guanella
Tie-downs and Turnbuckles: Happijac in the front, Torklift in the back
Suspension Enhancements: Z 71 off road package
Gear: N/A