The Baxters ditched their fifth for a Hallmark pop up camper they call "Popeye" and never looked back.  Now they enjoy exploring the greatest hits off their backroads album.

When Roger and Charlotte sent us their Alaska truck camping pictures, Gordon and I both said, "Some day".  We were married on a glacier outside of Juneau almost seven years ago, but that was on an Inside Passage cruise and we've never seen Alaska's wild interior.  Some day, we're going to explore Alaska in a truck camper.
Some day is a wonderful dream to have, especially when we're talking about truck camping in Alaska or planning a cross-country adventure.  Some day is also very dangerous.  It begs the question, "Some day, when?".  As a magazine, we know first hand of people who waited too long to finally get their truck and camper and hit the road.  Their health failed and their truck camping dreams were cut tragically short.  No one wants to hear those stories, but they're very real.
Our advice on this topic comes down to two words; don't wait.  Get out there as soon as you possibly can and live your truck camping dreams.  We make a lot of our "Go Anywhere, Camp Anywhere, Tow Anything" motto, but our real motto should be, "Don't Wait".  Next time you catch yourself saying of thinking, "some day", ask yourself, "some day, when?".  Carpe diem!
Roger and Charlotte didn't wait.  Their some days fill photo albums and are now stories told to friends and relatives.  Speaking of stories, Roger and Charlotte have shared some of their favorites with us including a few recommendations on where to go truck camping from Alaska to Oregon, and beyond.  Roger told us that he even uses the photographs submitted for our annual calendar contest to find new places to visit.  Now that's a great idea!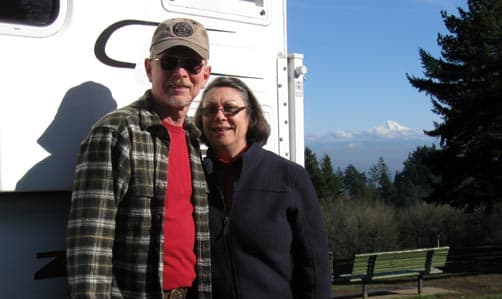 ABOVE: Roger and Charlotte Baxter with Mt. Hood in the background
TCM: How did you first get into truck camping?
Roger: We came to Oregon for a to visit relatives  in 1973.   Char's brother and his wife had a four-wheel drive Ford truck and camper.  We visited again in 1974, and they took us and his truck camper and boat up to Hood Canal in Washington State.  We spent a week out camping and boating.  Those experiences inspired us to buy a used Winnebago truck camper, a Ford truck and move to Oregon in 1975.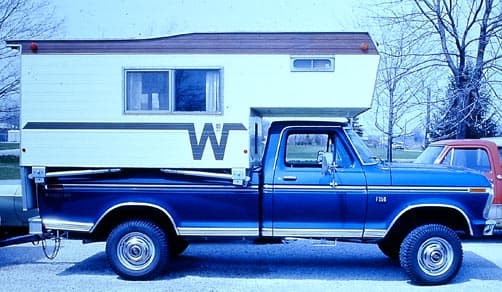 ABOVE: Their 1975 Winnebago truck camper
TCM: Winnebago truck campers are long gone now.  I've only seen one in Colorado years ago.  What happened to that camper?
Roger: After years of truck camping we got into backpacking and mountain climbing.  The camper sat alone most of the time and we eventually sold it.  In hindsight we should have kept it in storage.
After we retired, we toured around the United States in a fifth wheel for ten years.  Most of our traveling was on the freeways.  We camped in campgrounds.  After that, we decided that our next round of camping was going to be more backcountry and places we couldn't take the fifth wheel.

TCM: Is that when you started to think about a truck camper again?
Roger: Well, I'd been thinking about it for the past five years.