Welcome to the second entry in May's Medium Mod-Ster Contest.  One lovable Medium Mod will be published in every Email Alert in May.  At the end of the month we'll hold a reader vote to determine May's winner.  For information about the Mod-Ster Contest, including how to enter, click here.
Jody Taylor, Pensacola, Florida
Camping Gear Garage Organizer
2017 Ford F-350
2018 Lance 865
This mod helped me organize my truck camping gear. I needed a way of storing all the things that come off the truck when we're not camping like the front cargo carrier, steps, Torklift Fastguns, generator and more.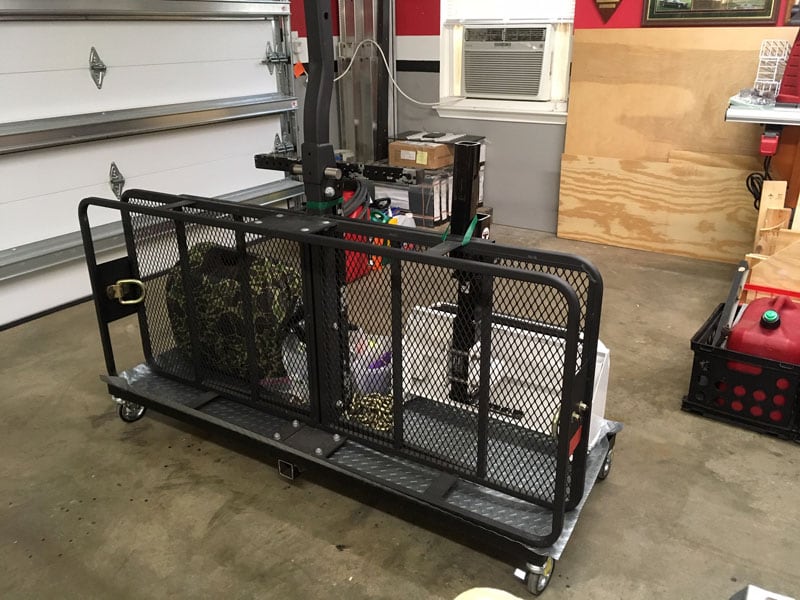 I had an old flat cargo carrier that I had modified with a T-bar to hold bicycles. I cut off the excess 2-inch receiver bar and then drilled holes in each corner to attach heavy-duty 4-inch casters.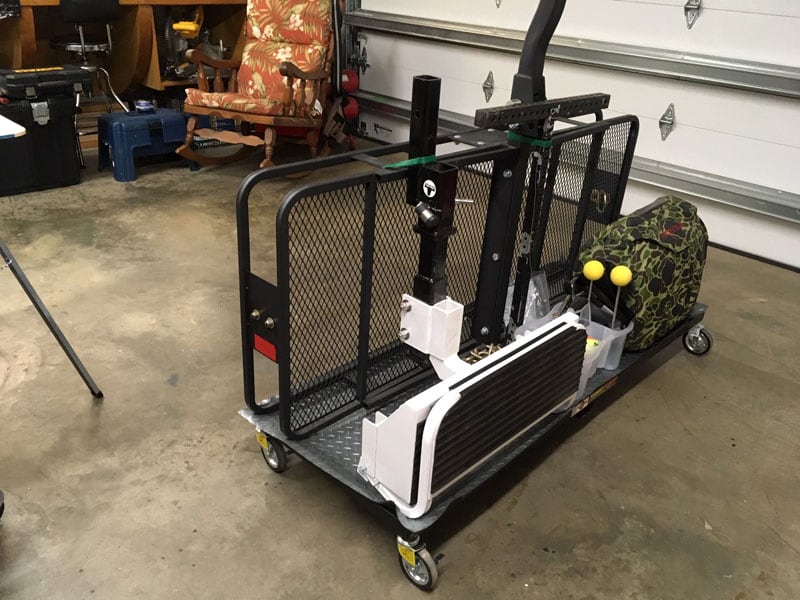 I could then stand my new cargo carrier upright and secure it to the T-bar. My generator, steps and other items are on the other side.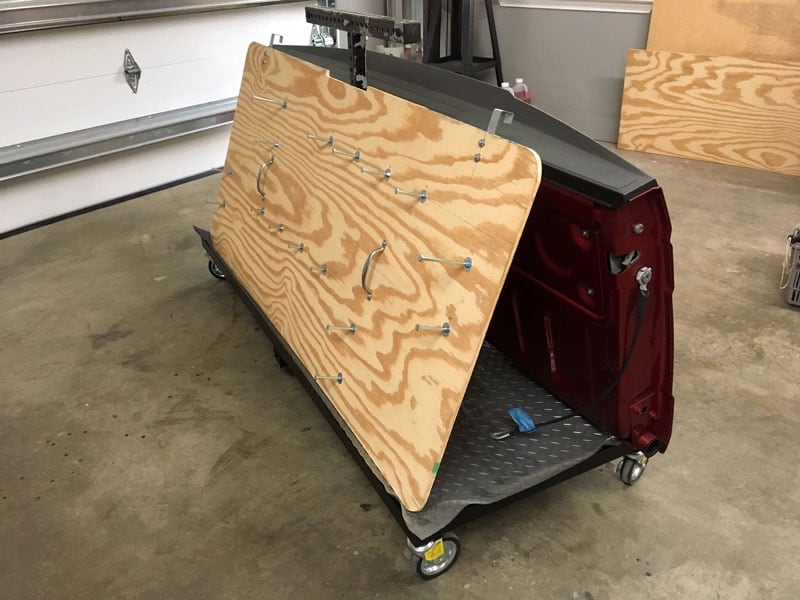 Then I cut a board from 3/8-inch thick sheet of plywood that fit the inside perimeter of the cargo carrier. Hooks were made to hang it from the carrier.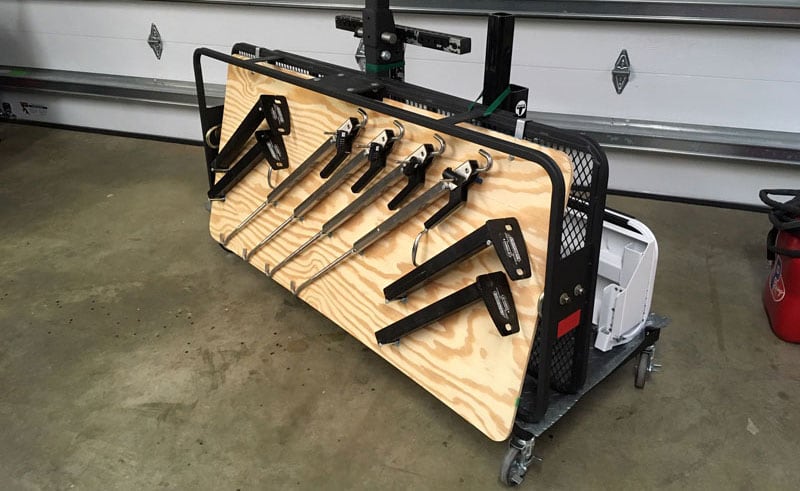 I used different lengths of ¼-inch bolts to create hangers for my Torklift Fastguns and Torklift extender arms.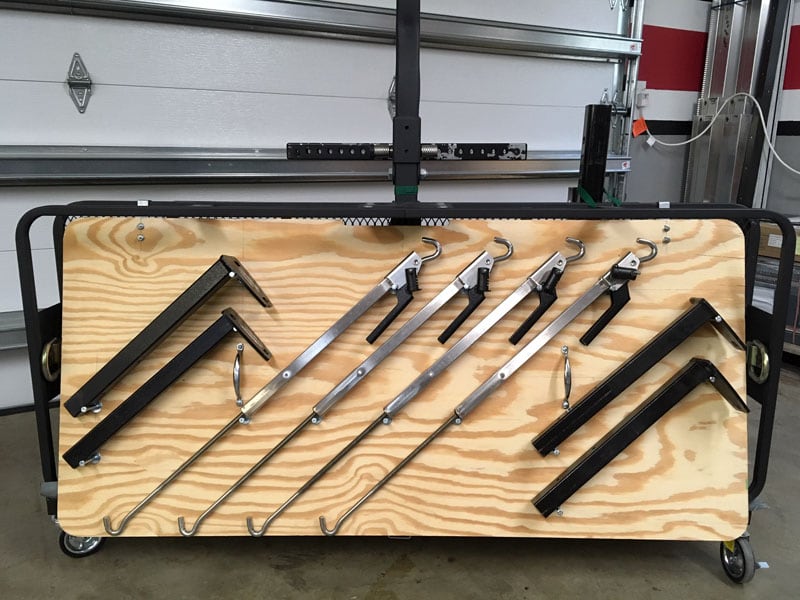 Now I can roll the carrier out to the driveway and put on or take off the items without walking back and forth to the garage. It is also a lot more organized. Plus, when everything is on the truck and off the carrier, I can store my tailgate on the carrier.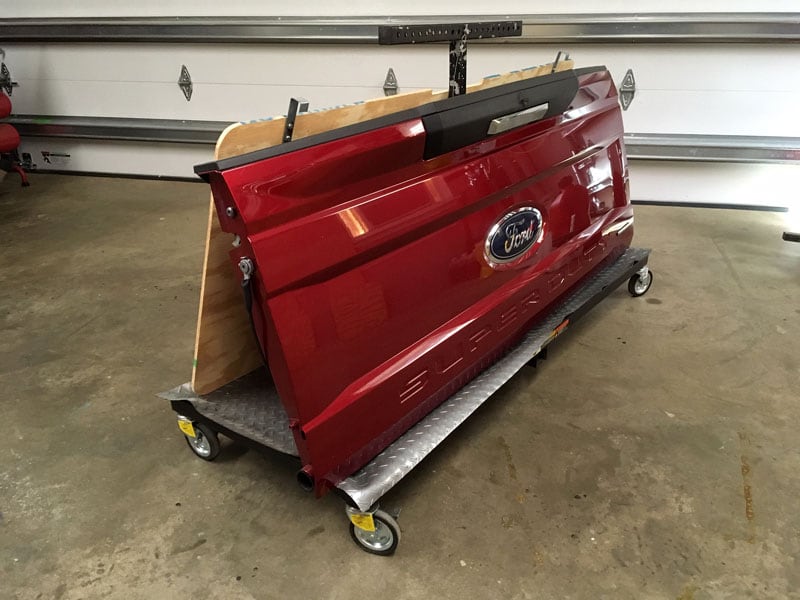 It works great. It took me six hours to complete this modification and cost me $30 plus an old cargo carrier.  In my opinion, the skill level of this modification is easy.
Disclaimer: The modifications above are submitted by Truck Camper Magazine readers. It is your responsibility to make sure that any do-it-yourself modification project you undertake is safe, effective, and legal for your situation.
Enter Your Mods Now!
If you'd like to enter a modification you've done on your truck camper, click here. You can enter as many mods as you want, at any time.  Good luck mod makers!