That U-shape isn't for you?  Side-entry steps leave you hanging?  Can't see past the slide?  Snickers isn't satisfied?  We have 10 amazing truck camper mods for you!

Welcome to the first 10X10 Mod Tournament.  Please review the following ten medium mods and vote for your favorite.  We will announce the winner next week.  For more information about the 10X10 Mod Tournament, including how to enter, click here.
1. Jim and Joan Thompson, Edgerton, Wisconsin
Dinette Into A Desk With Office Chairs
2011 GMC 3500
2013 Lance 1191
We are fortunate to be able to work from the road for four or five weeks at a time using our laptops and cellular internet connection.  We had room to work comfortably in our fifth wheel.  However, when we bought a truck camper, we found the dinette seating unbearably uncomfortable for using a laptop, or for any kind of extended sitting.
Our 2013 Lance 1191 has a deep slide-out featuring a U-shape dinette.  We needed to convert that area into a more comfortable place to sit and work.  When we're not working, we wanted a more comfortable place to sit and read (or in my case, knit).
We decided that whatever we did should be reversible in case we decide to sell the camper down the road.  We knew we would want be able put it all back into a stock U-shape dinette without any extra holes in the walls.  We also didn't want to add a lot of weight to our rig, and we wanted to accomplish our changes without losing storage space.
We've accomplished our goals!  Here's what we did: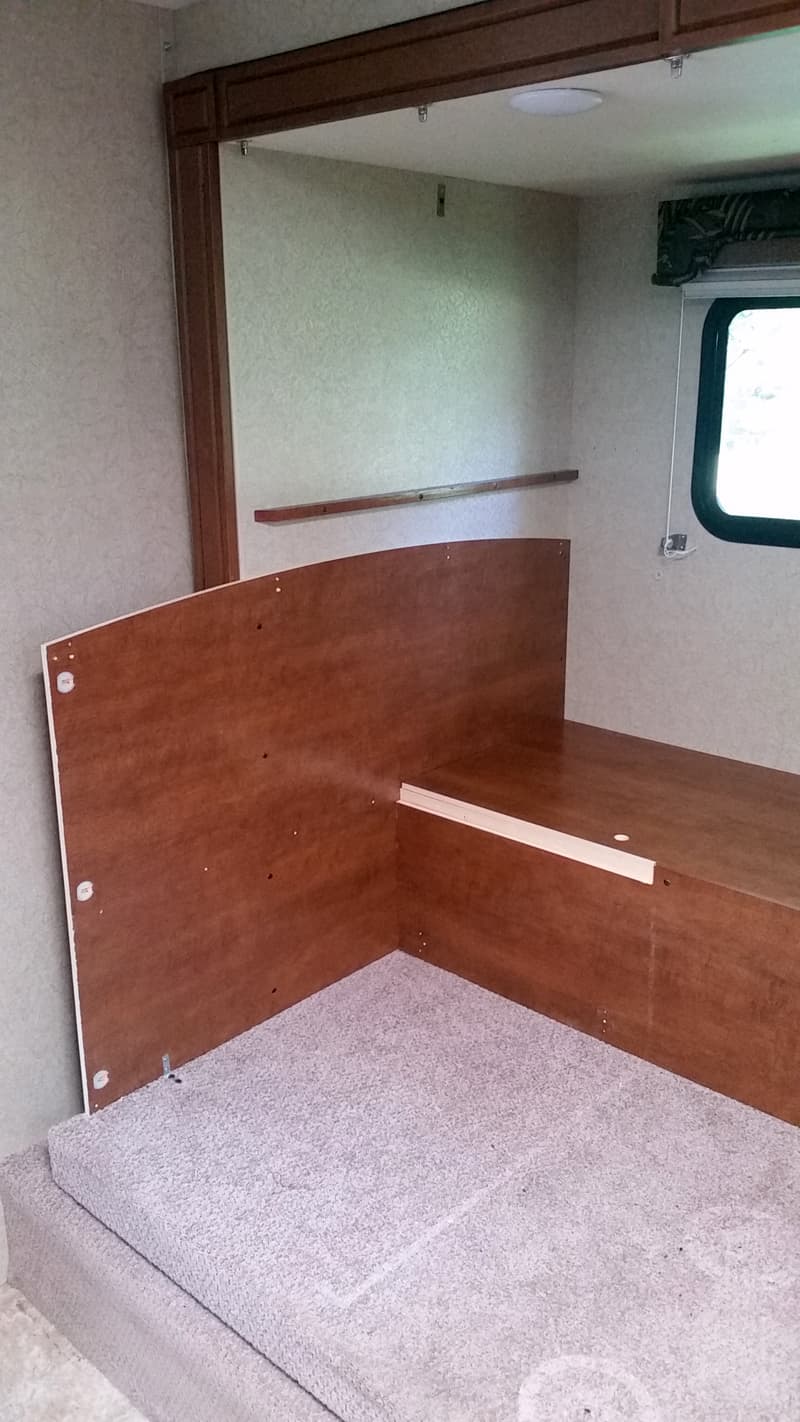 1. We removed most of the dinette except for the boards that form the back of the seats and the large storage area that's accessible from the outside.  Everything came out easily with a screwdriver.  No glue joints had to be broken.  We put hardware into plastic bags and labeled them, taking photos as we worked.
The photo above shows what we left in place.  We also removed the bunk bed.  The bunk bed was heavy, cuts down on headspace in the slide, and is something we do not need.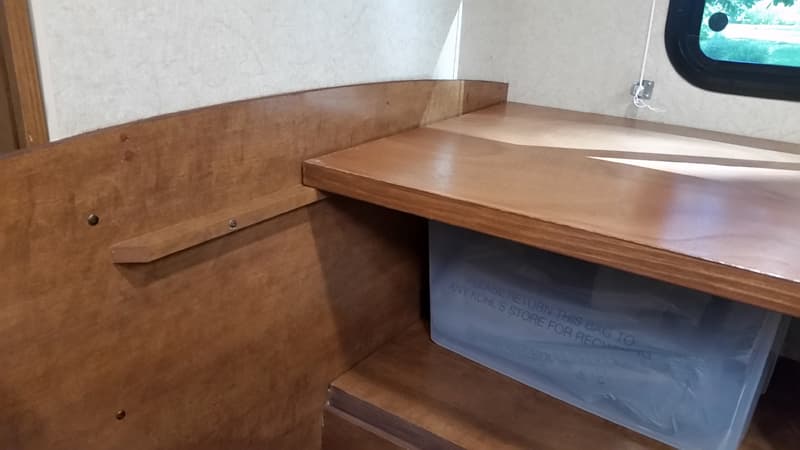 2. In the above photo, you can see the supports for the bunk bed on the wall.  You can also see that we moved the window valance and shade up almost to the ceiling.  When the shade is up, it no longer covers one-third of the glass.  What a difference!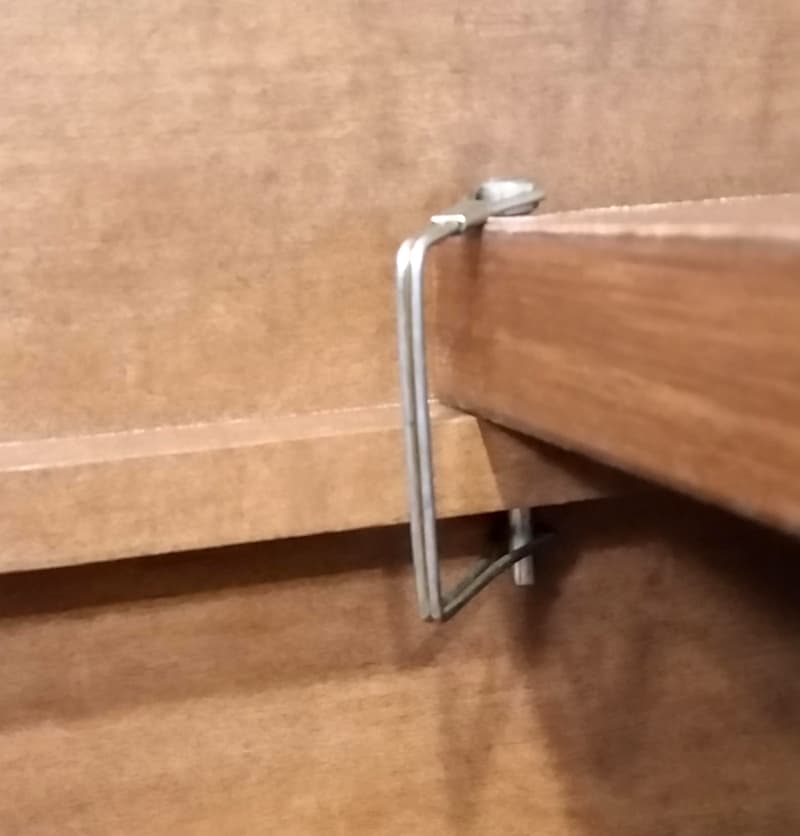 3. We moved the bunk bed supports down and mounted them on the dinette seat-back boards – as shown above.  We bought an unfinished 24-inch by 80-inch hollow-core slab door from Home Depot, cut it to length, then stained and finished it.
The door sits on the bunk bed supports and slides forward for use as a desk.  If it ever sags, it can be flipped over.
We found some 54-quart plastic storage boxes that are just the right height to sit on top of the outside storage compartment.  We can fit three of these boxes length-wise in this area.  They sit back against the wall and allow the knee-space we need when we are facing the window using the desk.
The boxes seem to give us a little more storage than what we lost by removing the drawers under the dinette.  A stretch cord across the three boxes (not yet in place when the photo was taken) holds them in while traveling.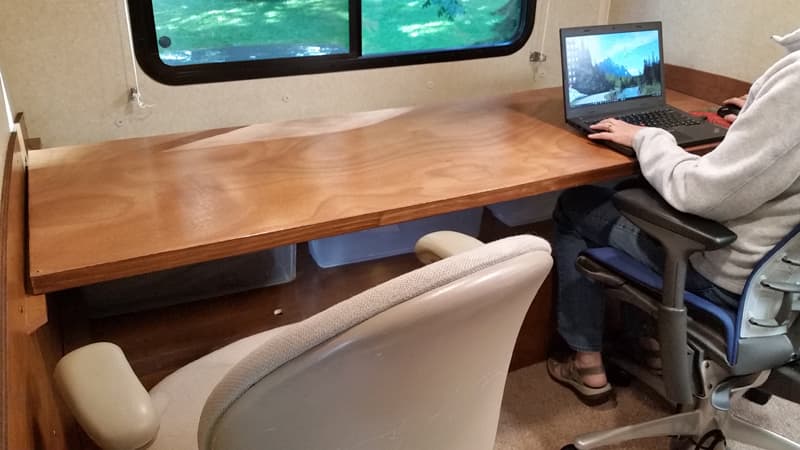 4. When we are on the road, the desk is held in place with a couple of clips that go through the supports, as shown above.