Jimmy and Hannah have a remarkable story and an important message for anyone who feels their dreams are limited by finances.  Does anyone know what brand camper they have?

At some point in our lives, we have all had the same burning thought, "If I only had X (expensive product), I could do Y (thing I really want to do)."  Perhaps the most relatable example is a teenager wanting a car so he/she can go see friends, take out dates, and achieve an otherwise impossible level of independence and freedom.  "Oh man, if I only had a car!"
Not too long ago, this desire often led younger people to purchase a used car and fix it up.  Perhaps you bought your first car this way.  It wasn't exactly in the best condition, but it was what you needed, and – most importantly – it was affordable.  With a little elbow grease, and a little more investment over time, that old car turned into something to be truly proud of.
Unfortunately, this practical can-do spirit has faded over time.  We have turned into a throw-away society with younger generations becoming accustomed to getting the latest products – smartphones, tablets, cars, etc. – handed to them.  This cultural shift has turned young people off from the concept of buying what they can afford and working hard to make it what they want.
When we met Jimmy and Hannah Wynd this past October, we asked them what they were all about.  Without blinking an eye, they told us about how they were unable to afford a brand new truck camper, but that was not going to stop them.
They scoured the web in search of a used camper, finally found one that fit their budget, and got to work fixing it up.  Then they went to Alaska and traveled across the United States living their dream.  More than anything, Jimmy and Hannah want their story to inspire fellow young people to chase their dreams, no matter what.
If Jimmy and Hannah's positive attitude, incredible resourcefulness, and unstoppable work ethic aren't enough inspiration, their cross-country adventures and stunning photography surely will be.  And just wait until you see the modifications they have done to their truck camper rig.
Thank you, Jimmy and Hannah, for reminding us to dig deep when our dreams are on the line.  We are forwarding your story to the young people in our lives.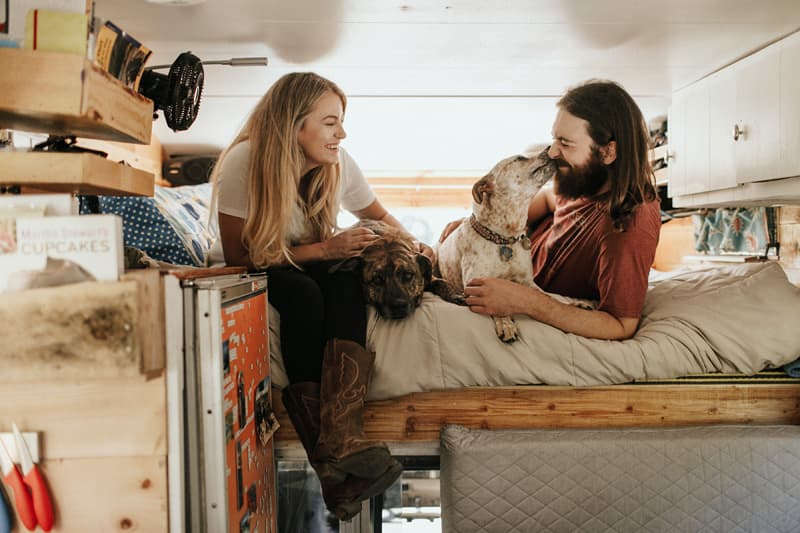 TCM: How did you get into truck camping?
Hannah: My family went on a lot of camping trips when I was a kid. We rented pull trailers and even a big Class A for a week. We would travel around Colorado and go to California to see the Pacific Ocean. There were lots of great times camping with my family. It was a big part of my life growing up.
Jimmy: I had never been in a truck camper or an RV until two or three years ago. I was out snowmobiling and a friend had an older truck camper and invited me to see inside. It was a 1970s style camper in the bed of an old Chevy. He could pull his snowmobile trailer and I was amazed by that. That started my desire to get a truck camper and fix it up.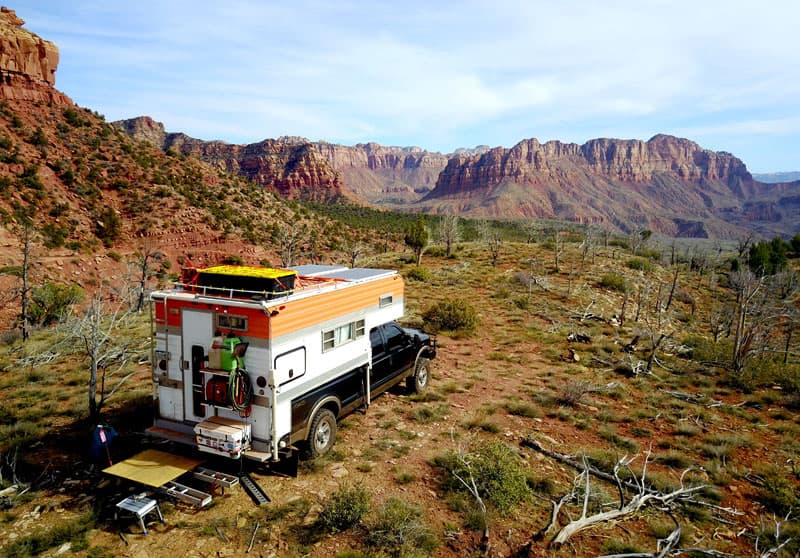 TCM: Tell us about how you found your camper.
Jimmy: We started going to dealerships to look at new truck campers and were shocked by sticker prices. After that we had to reevaluate how to approach getting a truck camper. We looked on Craigslist and checked out two truck campers in person. The third camper we looked at was the one we wound up getting.
The camper we have was abandoned outside at a storage facility for fifteen years. Fortunately, Colorado is fairly dry so the aluminum siding held up. There were no leaks.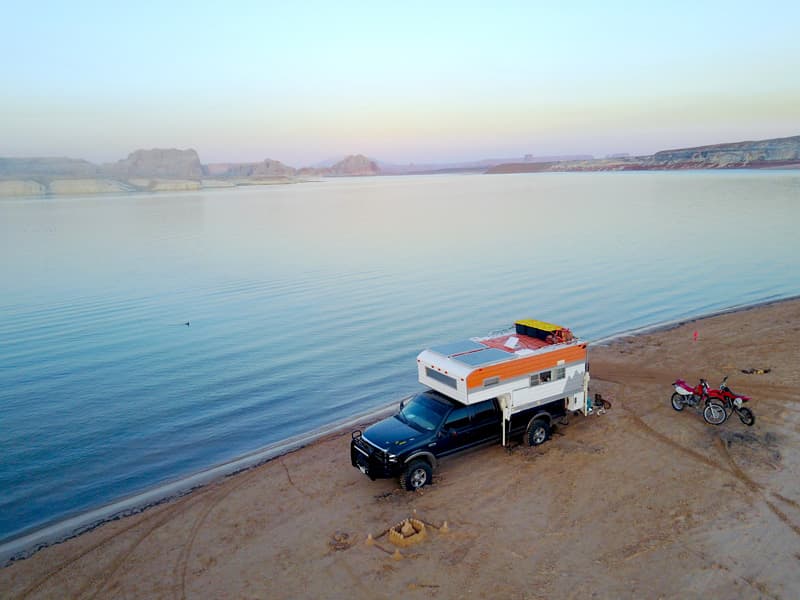 Above: Lone Rock Campground is found just outside of Page, Arizona on Lake Powell
TCM: That's incredible. What brand is the camper?
Jimmy: We don't know. We are hoping someone recognizes it when it's posted in Truck Camper Magazine. If you know what it is, please tell us.
The camper is date stamped for 1969. Hannah and I call it a "Custom 1969" camper. The bare metal aluminum used to be polished. It was stamped aluminum with a quilted pattern. All the windows are original. The exterior is original, except it was all white. The top back has a 4-inch lip overhang. A lot of campers had that design.
Hannah: The original appliances from 1969 were still in the camper when we got it. It had an orange stove, hood cover, and refrigerator. I love the color, so we found a matching orange exterior paint.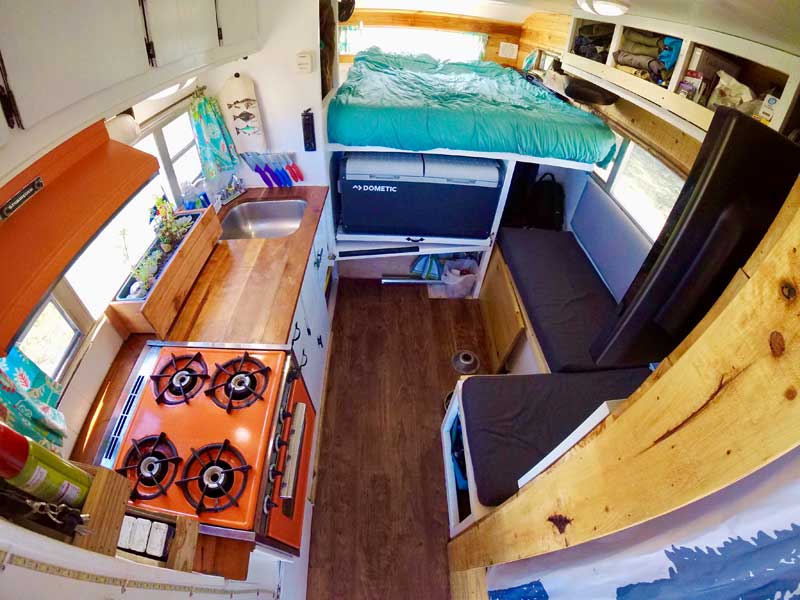 TCM: How did you go about refurbishing the camper?
Jimmy: When we picked up the camper in March of 2016, the front jacks were falling off. The first thing I did was to reinforce the front jack area and design a custom sub-frame for the jacks. Fortunately, someone had already replaced the jacks with electric jacks.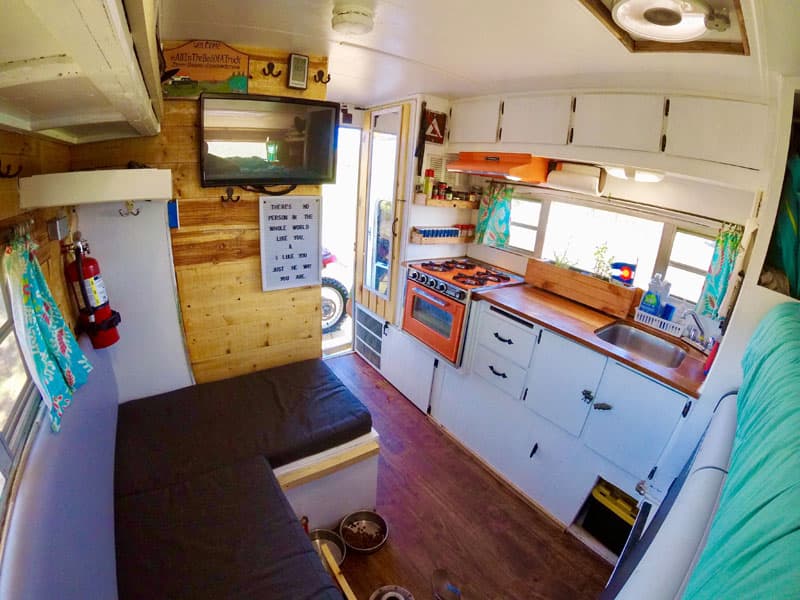 On the inside, we bought a new mattress, put new cushions in the dinette, and replaced the curtains. The cushions and curtains were original.
Hannah: One of the first things we did was to replace the furnace. It was full of asbestos. I have a degree in Environmental Health, so I knew the furnace could be a concern. I looked up the model number and saw that back then they heated up asbestos which radiated around the camper. Now we have a new Suburban forced-air furnace.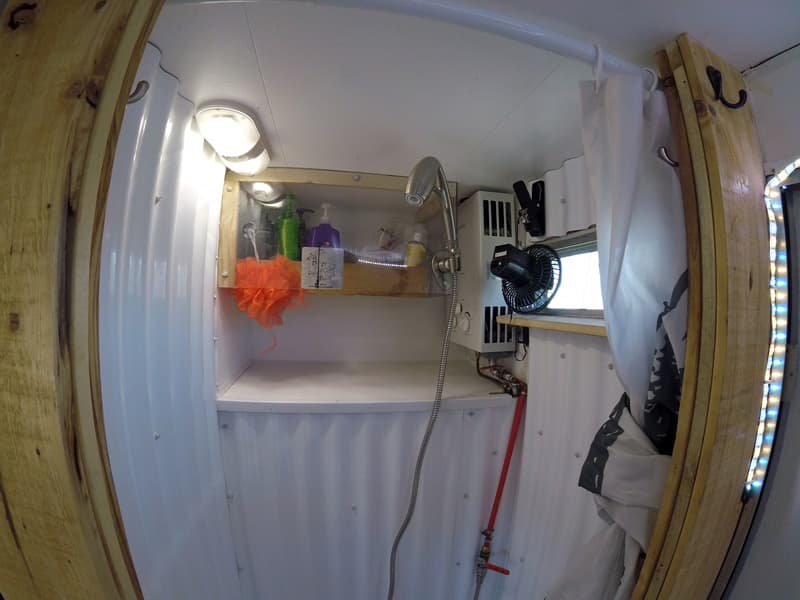 Jimmy: Then we added solar panels and I rewired the entire camper. We removed the original toilet and turned the black tank into a grey tank. The shower and sink now go into the grey. We have a porta-potty for a toilet.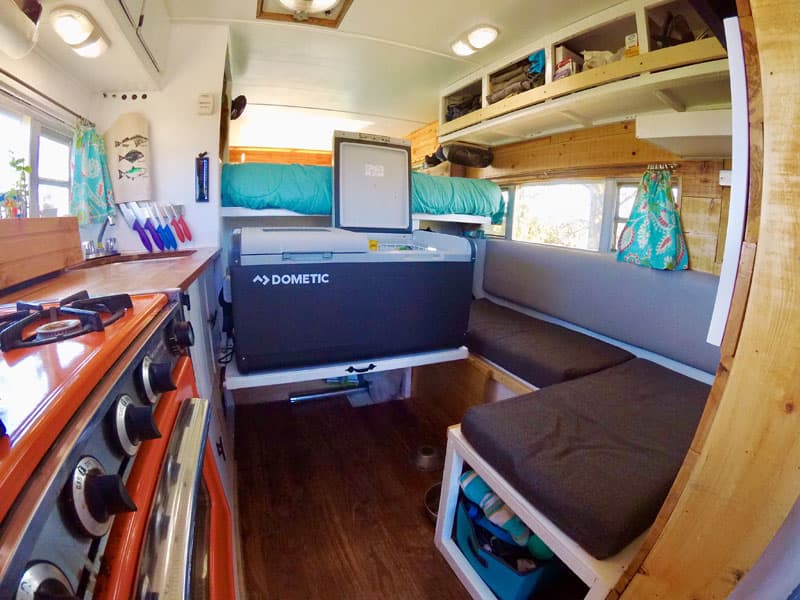 We have a new Dometic compressor refrigerator and we made the original refrigerator space into a closet. We rotated the bed 90-degrees to make it a north-south bed. We added in a dual- direction ceiling fan. We redid all the plumbing so that it is exposed on the interior so that it doesn't freeze.
We added a water filtration system. The shower that we added has an instant water heater. We replaced all the incandescent lights with LEDs. We insulated the walls. We put in engineered hard wood flooring. We added a doggy door to the back door of the camper.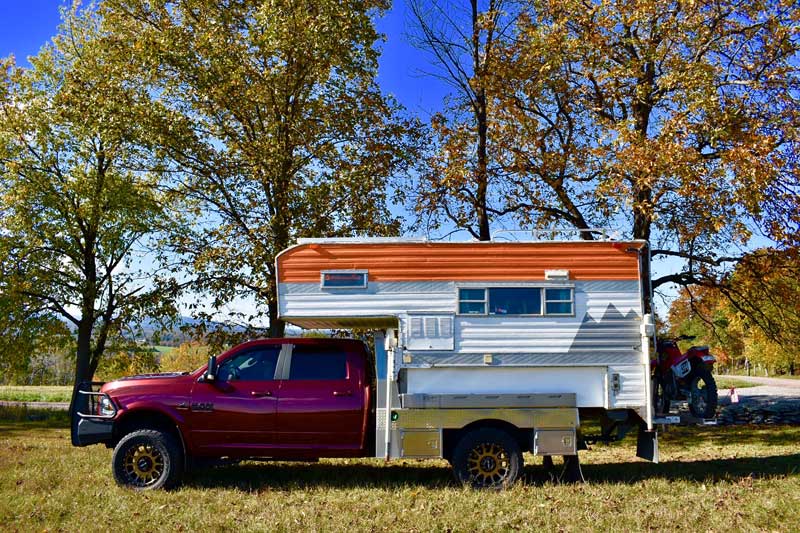 TCM: Wow! That's incredible. How did you get the knowledge to do this work?
Jimmy: I've always done automotive and electrical work. I have a degree in Electro-Mechanical Engineering, so that helps. I was raised on a farm and worked with my dad to build his cabin and shop. I learned about fixing things when I was growing up.
Hannah: Some of the stuff we've done has been self-taught by watching YouTube videos.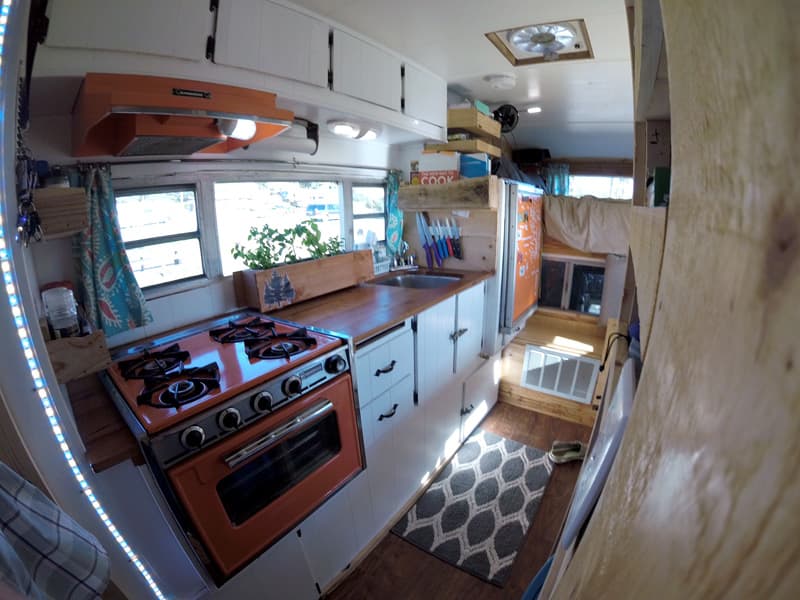 TCM: What's the story behind the herb garden in your kitchen?
Jimmy: Hannah was in Starbucks getting a coffee. I went into the Home Depot and got a planter, dirt, and herbs to surprise her. She loves it.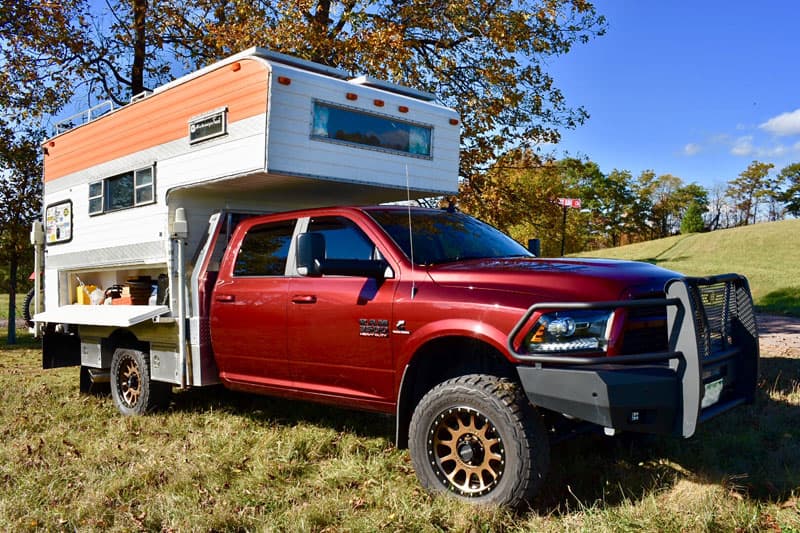 Above: External storage was made available by the recent addition of the flatbed
TCM: Your flatbed truck is also quite interesting. Was that a custom build?
Jimmy: We purchased the flatbed and added it to the truck. We also built waterproof internal storage on the driver's side and the external access storage on the passenger's side. I built a custom rack for our generator on the back of the camper. We have five gallons of gas, five gallons of diesel, an axe, and a shovel.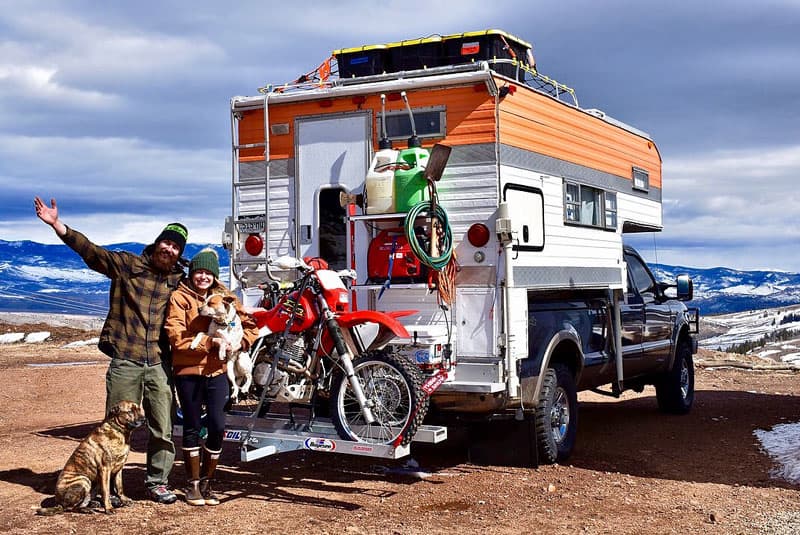 Above: The final picture before leaving home in Colorado for our journey on March 8, 2017.
TCM: From Instagram, it looks like you're full-time on the road. Is that right?
Hannah: Yes, we sold our Denver, Colorado house in the suburbs before we went on this trip.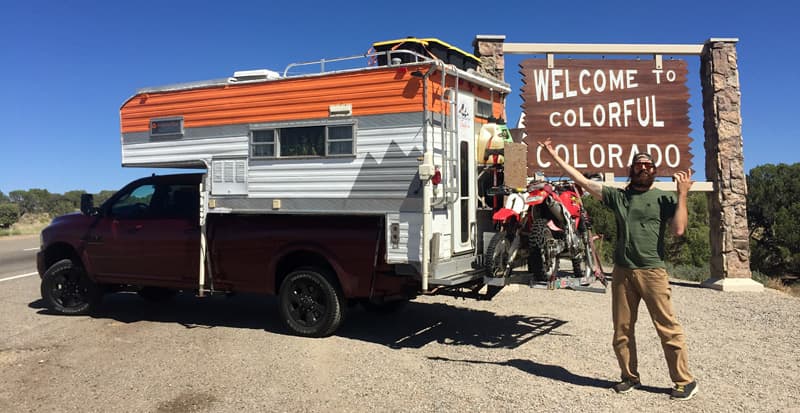 Jimmy: The housing market has been crazy in Colorado. We didn't want to work a 9 to 5 and sit in traffic. So we capitalized on the house and hit the road for a year. That's the plan.
We are full-time on the road, but we also own an off-grid cabin with no running water or electricity. It's basically a stabilized camper with a battery box. We have to haul water there. It's pretty primitive.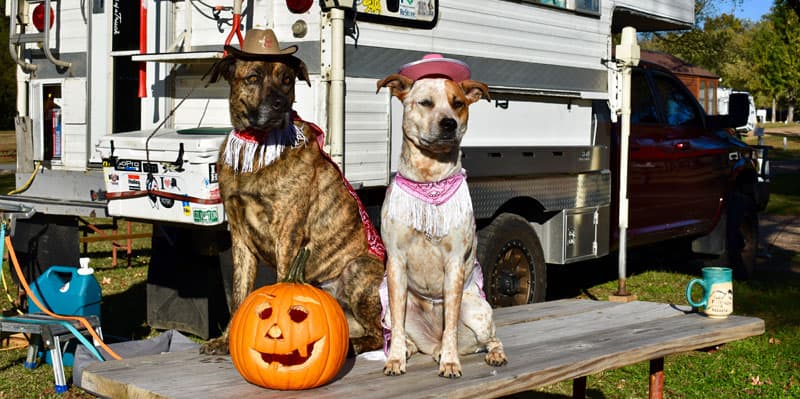 Above: Their dogs on Halloween in Nashville, Tennessee
TCM: What are your plans after the year is over?
Jimmy: We're getting married next fall, so we're going to find temporary work until then. Hannah wants to get back into her field of public health and I'll figure out what to do at that time. It's an evolving conversation.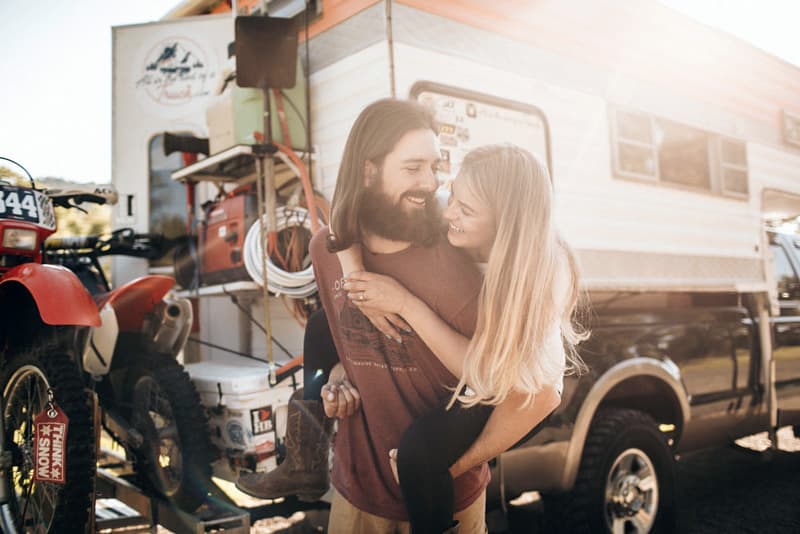 TCM: Will you be moving back to Denver?
Jimmy: We definitely won't be going back to Denver. We have roots in Colorado, so there's a good chance we'll be moving back somewhere in the state.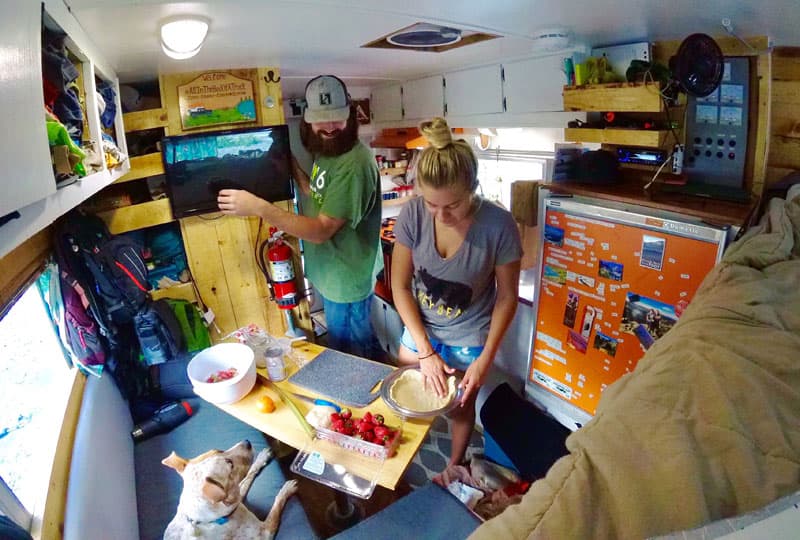 Above: Boondocking just outside of Seward, Alaska and they were gifted some rhubarb from a fellow fisherman.  What else do you do when someone give you rhubarb?  Make some strawberry rhubarb pie!
TCM: You are quite young. How are you able to do this?
Jimmy: Before this trip, we also sold our snowmobiles, Hannah's car, and a majority of our furniture. We planned financially to not work for a year and to live full-time on the road.
Living on the road without an income has been a big lifestyle change for us. Once we decided to do this, we stopped going out to eat and hanging out with friends every night. There was no expendable income.
Hannah: On the road we buy own food and cook in the camper. That's where we save the most money.
Jimmy: We try to boondock or find places to camp for free. We stay away from paid campgrounds. If we go some place and the main attraction is $20, we may check it out from the outside, but not pay to go in. All that adds up. We do splurge on some things.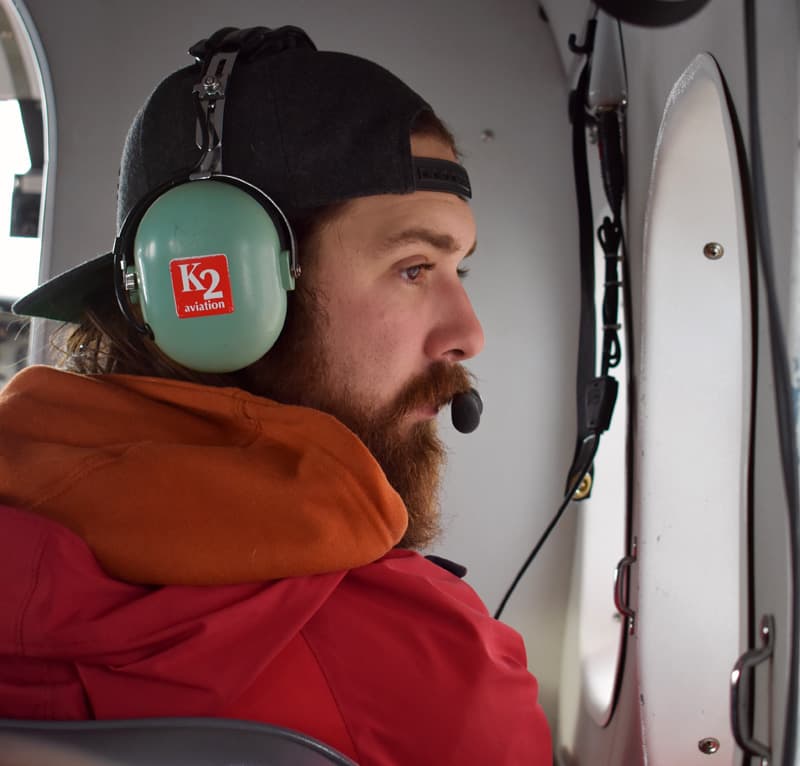 Above: Flying in a small airplane around Denali National Park. Unfortunately, the clouds rolled in and they were not able to spot Denali, but the glaciers and experience were unforgettable.
Hannah: In Denali, we knew we wanted to go on an airplane to check it out. We planned on that ahead of time so that it could fit into our budget. When we're shopping we are very careful to think about what we need or want. Then we ask ourselves, "Where am I going to put that?"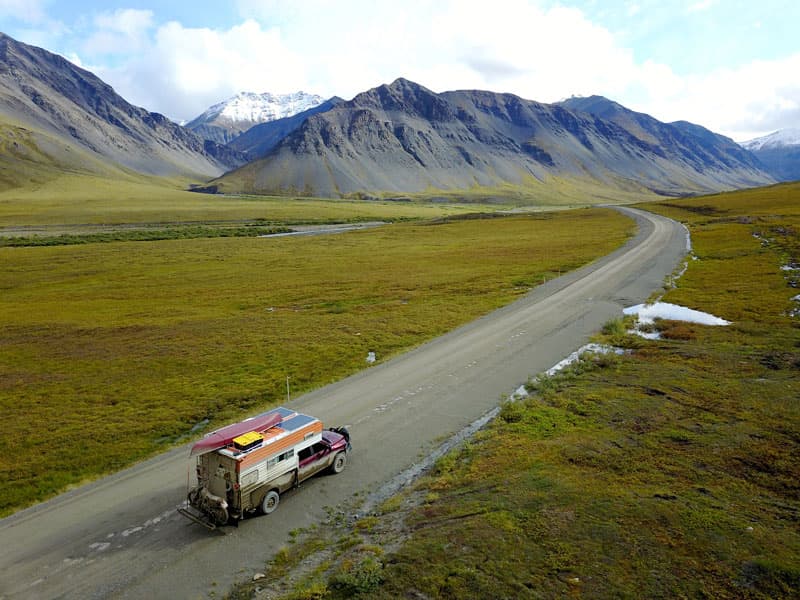 Above: A driving photo from Atigun Pass, Alaska
TCM: We can relate to that. Tell us about your lifestyle on the road.
Jimmy: We started in March in the south. As summer approached, we went up the west coast and then to Alaska. We thought we might find jobs in Alaska and hang out there for the winter, but then we were invited to three weddings on the east coast.
So, the trip changed. We came back to east coast in the fall. After the weddings and holidays, we'll see where we go next. We try to be flexible.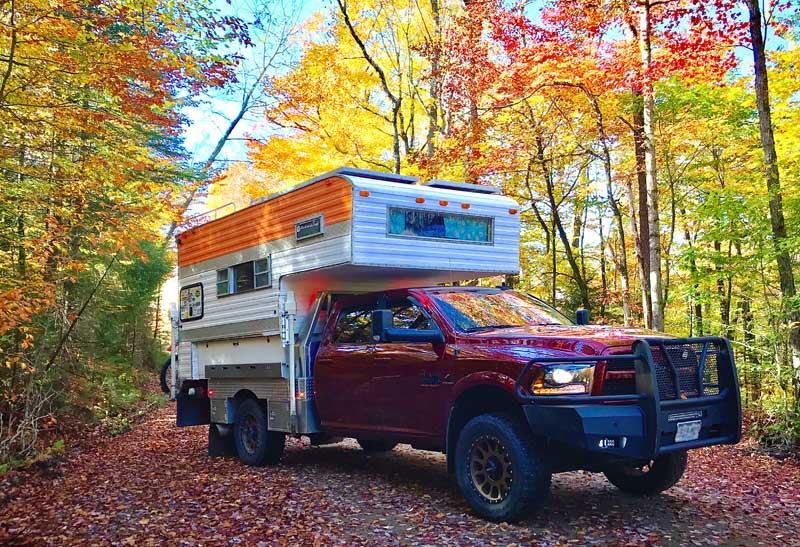 Above: Traveling this past fall in upstate New York on the way to a friend's wedding in Lake Placid, New York.
TCM: Have there been any challenges along the way?
Hannah: We had truck issues in Washington. At that point we were on our way to Alaska, and it was clear that the truck wasn't going to get us there and back. Fortunately, we were able to stay with friends, demount the camper, and go look for a different truck.
When you're on the road full-time, things like getting a truck are hard. We don't have a residence or a job. We don't have a pay stub to show the dealership. But, we always find ways to make it work.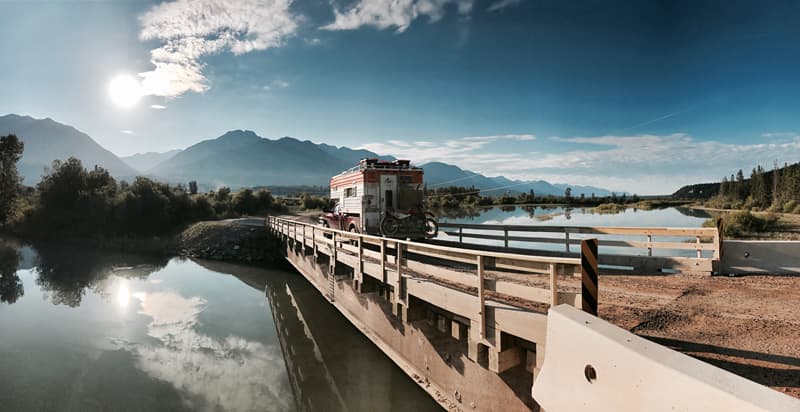 Above: The morning after boondocking at a spot in British Columbia on our way to Banff National Park.
Jimmy: Sometimes not planning is awesome, but sometimes it stinks. You'll go to a campsite and find out that it closed on October 1st. We thought we could just show up.
When we showed up in Seward, Alaska for a charter, they were already booked. We tried to stay in Florida for a wedding in November and that too was booked out. We learned from that. The east coast is a lot more difficult for spontaneous camping.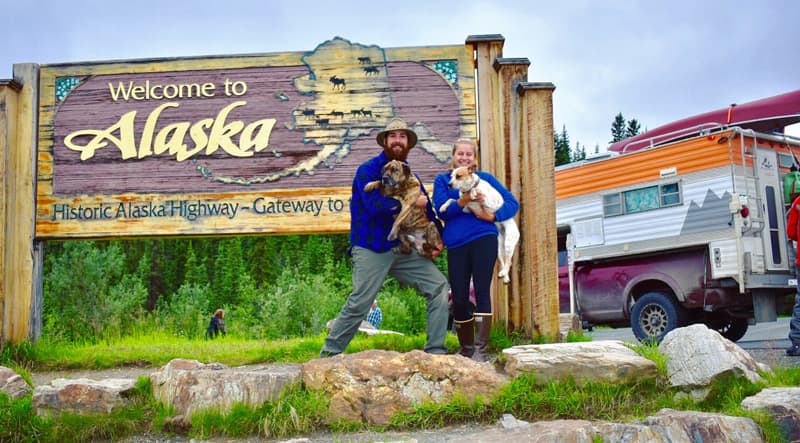 Above: First picture taken in Alaska in early July
TCM: Yes, it is. On the other hand, have you experienced any road magic along the way?
Jimmy: Absolutely. When we were in Alaska we ran into people who were doing the same thing we are. Being able to hang out with them off-grid in the middle of nowhere and talk about life was just magical. We made immediate life-long friends.
There are friends you make because they happen to live near you. And then there are friends who you run into who are not only interesting people, but are like-minded. It's great!
Hannah: I can't tell you how many people we met over and over again on the road without planning it. One guy started in Argentina and drove his van to the Grand Canyon. We met him in the Grand Canyon's parking lot and hung out. A couple months later we saw him in Crater Lake National Park's parking lot.
Jimmy: Another road magic moment was going into the unknown when we traveled to Prudhoe Bay, Alaska.
Hannah: We had not planned going that far north, but we started talking to people in Alaska who had done it and they recommended it. It's 1,000 miles round trip from Fairbanks on a dirt road. There were no issues with the truck or camper. We got to swim in the Arctic Ocean. It's unique terrain up there.
TCM: You have some incredible drone photographs on Instagram from that trip. Tell us about your interest in drone photography.
Jimmy: I purchased a DJI Mavic Pro drone as a gift to myself for the trip. It was one of those things I didn't need to buy, but it was well worth it. It arrived a week before we left and, since then, it's had 26 hours of flight time.
It was a big learning curve. When I first got it, I would fly it every day until I got comfortable with it. I got some great pictures from Alaska. We use the drones for videos and photography. Hannah will drive and I'll fly as we go down the road.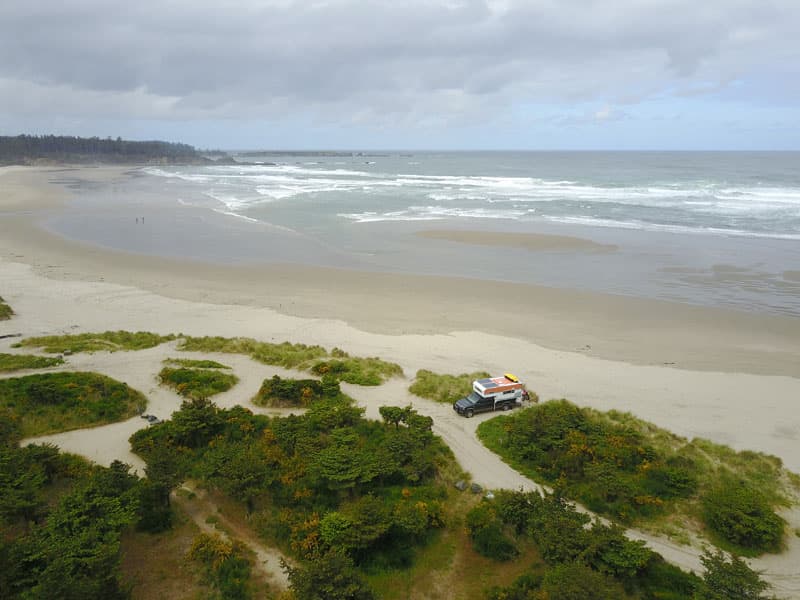 Above: A drone shot Jimmy took while we were camping on BLM land on the coast of Oregon, what a beautiful spot.
TCM: How do you know where it's legal to fly the drone?
Jimmy: It's all GPS based, so there are fly zones and no fly zones. If you are three miles from an airport, you can't fly. When I've flown, I have tried to be in the middle of nowhere and aware of my surroundings. It's illegal in National Parks and a lot of the towns have different rules and regulations. I don't use the drone for commercial use, so I don't need a license.
TCM: Where do you see yourselves in five years?
Jimmy: We'll definitely be buying a house and getting back to a more normal lifestyle. Ideally I'll start my own business and we will not be living in suburbia. I hope to have some land. Hannah will probably be working for a company or using her degree.
Hannah: I don't think it will be easy going to back to the regular work lifestyle. It will be hard moving out of the camper full-time, but we will go on weekend and week-long trips. I'm sold on truck camping. It will definitely be part of our life. One day we'll have a family and share traveling with them. The future is blurry, but there are good things to come.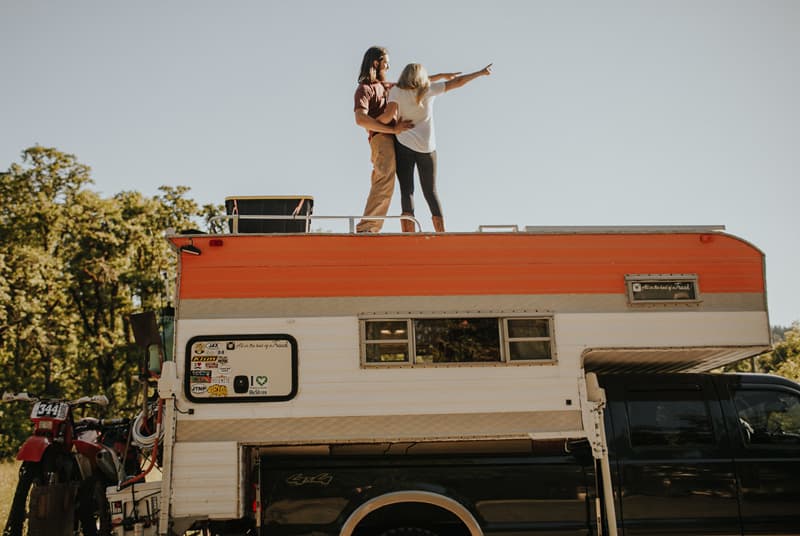 TCM: We took six months and went on a similar adventure as you in 2005. When we got back and sold our rig, we had a heck of a time going back to normal life. That's when we started the magazine. It will be fun to follow you guys for your next chapter. Is there anything else you would like to share?
Jimmy: I remember when we were talking to you and Gordon and he asked what we were trying to portray to others and what story we were trying to tell. I told him that younger people just throw things away and buy new things. They don't have the mindset of restoring something. I want to show the younger people that you can take something like our 1969 truck camper and modify it into what you need. You don't have to buy the newest thing.
Hannah: It makes economic sense to work on something yourself. You might not have the finances to buy something new, but you can buy used and modify it to what you need.
Jimmy: We wanted a truck camper but couldn't afford a new one. We were able to buy a used camper and built it out the way we wanted it.
Hannah: I know it's cheesy, but we tell our friends that they can do it, too. If you want it, you will make it happen.
Jimmy: It's never going to be easy. If it was easy, everyone would be doing it. There's so much to take away from a great experience like this one.
Above: Here's a tour of Jimmy and Hannah's rig
Check out Jimmy and Hannah's website allinthebedofatruck.com.  Click here to follow along on Instagram.