Jimmy and Hannah have a remarkable story and an important message for anyone who feels their dreams are limited by finances.  Does anyone know what brand camper they have?

At some point in our lives, we have all had the same burning thought, "If I only had X (expensive product), I could do Y (thing I really want to do)."  Perhaps the most relatable example is a teenager wanting a car so he/she can go see friends, take out dates, and achieve an otherwise impossible level of independence and freedom.  "Oh man, if I only had a car!"
Not too long ago, this desire often led younger people to purchase a used car and fix it up.  Perhaps you bought your first car this way.  It wasn't exactly in the best condition, but it was what you needed, and – most importantly – it was affordable.  With a little elbow grease, and a little more investment over time, that old car turned into something to be truly proud of.
Unfortunately, this practical can-do spirit has faded over time.  We have turned into a throw-away society with younger generations becoming accustomed to getting the latest products – smartphones, tablets, cars, etc. – handed to them.  This cultural shift has turned young people off from the concept of buying what they can afford and working hard to make it what they want.
When we met Jimmy and Hannah Wynd this past October, we asked them what they were all about.  Without blinking an eye, they told us about how they were unable to afford a brand new truck camper, but that was not going to stop them.
They scoured the web in search of a used camper, finally found one that fit their budget, and got to work fixing it up.  Then they went to Alaska and traveled across the United States living their dream.  More than anything, Jimmy and Hannah want their story to inspire fellow young people to chase their dreams, no matter what.
If Jimmy and Hannah's positive attitude, incredible resourcefulness, and unstoppable work ethic aren't enough inspiration, their cross-country adventures and stunning photography surely will be.  And just wait until you see the modifications they have done to their truck camper rig.
Thank you, Jimmy and Hannah, for reminding us to dig deep when our dreams are on the line.  We are forwarding your story to the young people in our lives.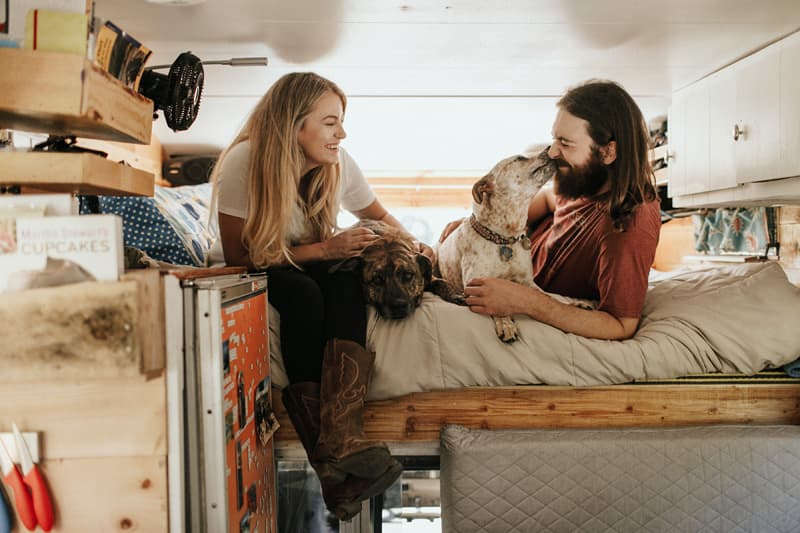 TCM: How did you get into truck camping?
Hannah: My family went on a lot of camping trips when I was a kid. We rented pull trailers and even a big Class A for a week. We would travel around Colorado and go to California to see the Pacific Ocean. There were lots of great times camping with my family. It was a big part of my life growing up.
Jimmy: I had never been in a truck camper or an RV until two or three years ago. I was out snowmobiling and a friend had an older truck camper and invited me to see inside. It was a 1970s style camper in the bed of an old Chevy. He could pull his snowmobile trailer and I was amazed by that. That started my desire to get a truck camper and fix it up.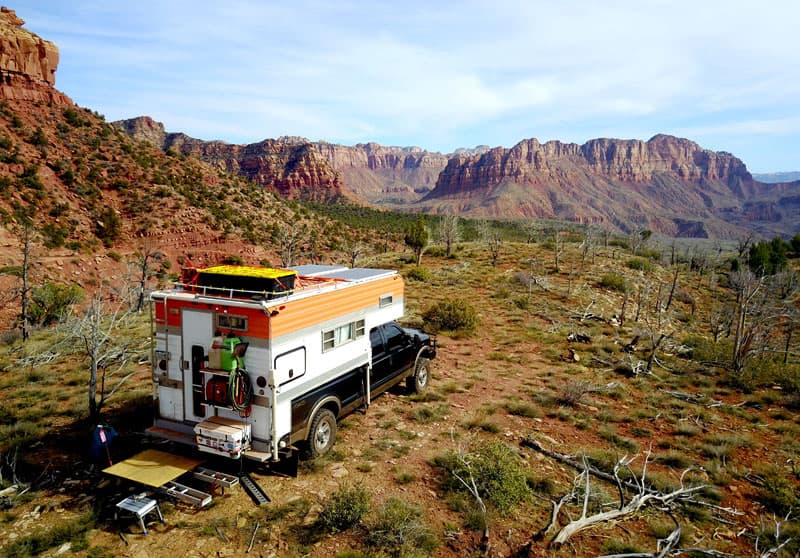 TCM: Tell us about how you found your camper.
Jimmy: We started going to dealerships to look at new truck campers and were shocked by sticker prices. After that we had to reevaluate how to approach getting a truck camper. We looked on Craigslist and checked out two truck campers in person. The third camper we looked at was the one we wound up getting.
The camper we have was abandoned outside at a storage facility for fifteen years. Fortunately, Colorado is fairly dry so the aluminum siding held up. There were no leaks.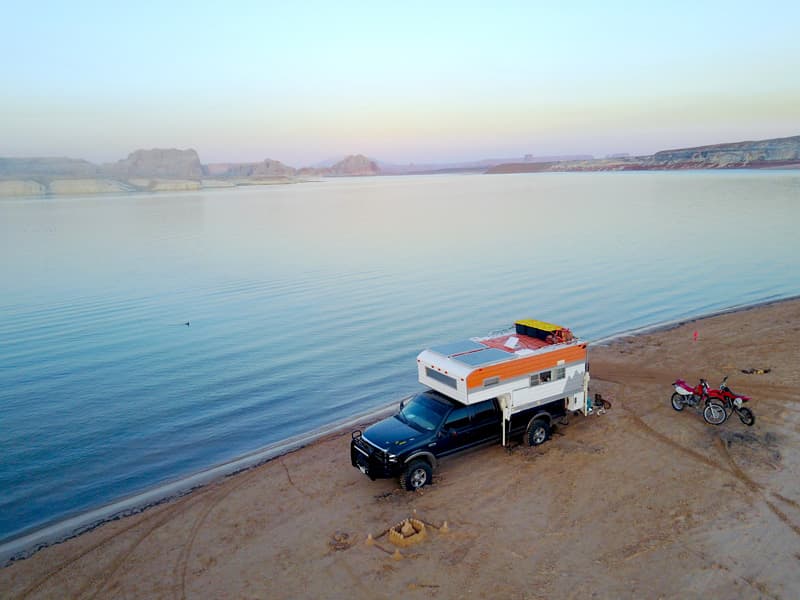 Above: Lone Rock Campground is found just outside of Page, Arizona on Lake Powell
TCM: That's incredible. What brand is the camper?