Ten experienced full-time truck campers reveal the realities of living on the road. Their stories are both unexpected and heartfelt as they disclose the good, bad, and ugly of living full-time in a truck camper.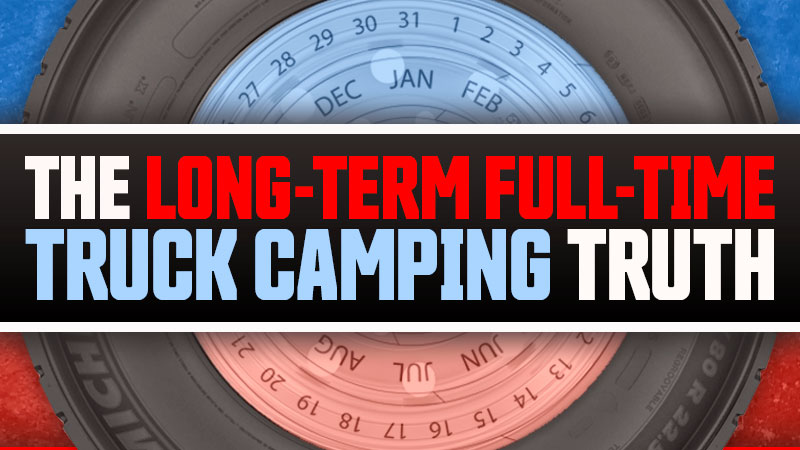 With experience comes knowledge.  What follows are the stories, perspectives, and truths from ten full-time truck campers who have been on the road for more than three years. These aren't newbies. These are fellow truck campers who live and breathe full-time on the road.
If you ever wondered how or why people decide to go full-time in a truck camper, you're about to read ten different reasons. And if you're full-time curious, there's a wealth of shared content and advice. Get ready to sell the house, chuck the stuff, and dive into the endless possibilities of the road.
Oh, and the last couple has been on the road since 2011. That's more than eleven years of living full-time in their non-slide truck camper!
Caite and Glenn Blount
Full-Timing Date: 2014
2012 Ford F-350
2017 Lance 1172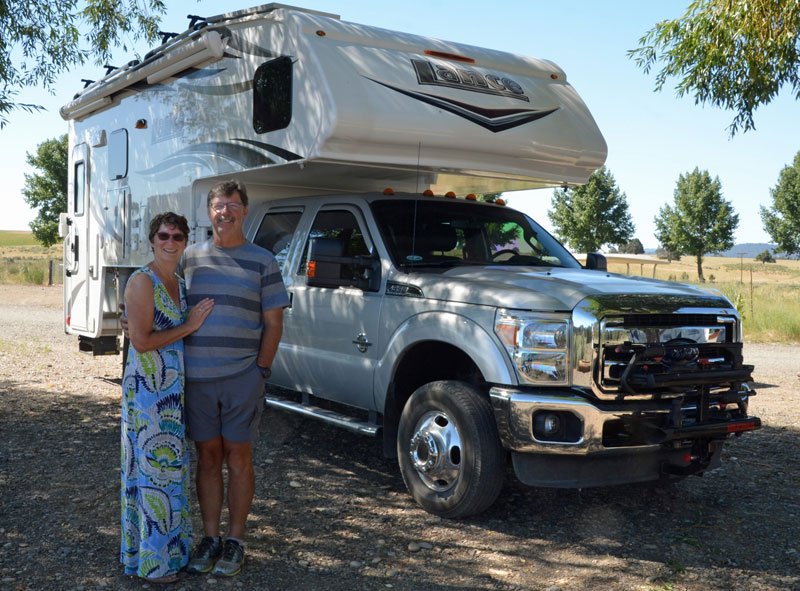 Above: Caite and Glenn with their Lance 1172 and Ford F350 in Lakeview, Oregon
We became full-time truck campers in 2014. We were getting within four or five years of being able to retire and we had two sets of friends that waited to retire. Within a few months of their retirement, both had passed away.
That drove our timing decision to retire as soon as financially possible. Then unexpectedly, someone offered to buy our house which was not on the market. Plus they wanted to buy it completely furnished with all appliances and furniture. So the combination of being unencumbered of our house, and not having to take care of kids, grandkids, or parents led us to the decision to RV full-time.
It was really a perfect storm of events. At the same time, people were interested in purchasing our home, and the parents of one of our friends came to visit. They owned a truck camper. When they showed us the interior, it just felt right – even though it was the first time we had ever looked at one.
After a short discussion on how easy it would be to drive and park, we decided to purchase a truck camper. At the same time, we bought an F-350 dually. If we didn't like living in a truck camper, we would have enough truck to select any other towable RV on the market.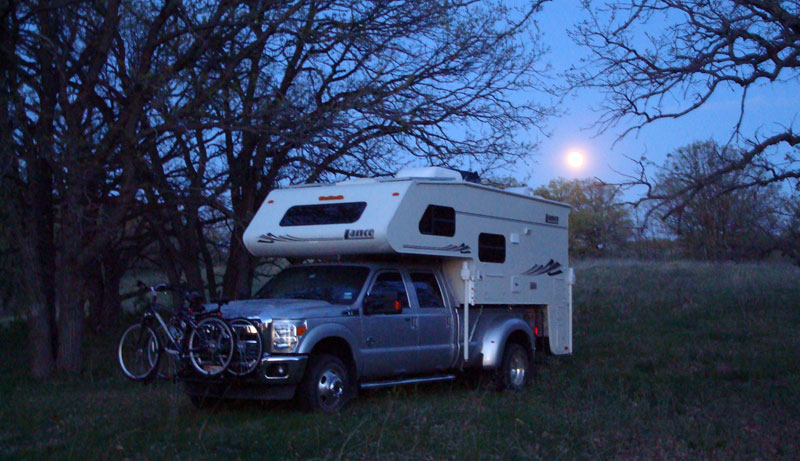 Above: Their first camper, Grasslands, North Dakota boondocking
For our first truck camper, we purchased an older model which we bought for a great price. We had not done any research about RV full-timing and wondered if we would like to be together 24/7 and traveling. Lowering our initial investment helped us to try on the lifestyle.
After four years, we still loved traveling by truck camper but missed being able to put our feet up. So we ordered a new Lance 1172 with a couch with pop-up footrests.

Above: Lance 1172 and our tow truck with all the toys
We basically follow the weather; staying cool in the summer and warm in the winter. We have four children and like to see each one every year or two. Mostly this guides a final destination for us. Each year we map out a new and different path to travel. Before the pandemic, we never made reservations, but we plan ahead more now.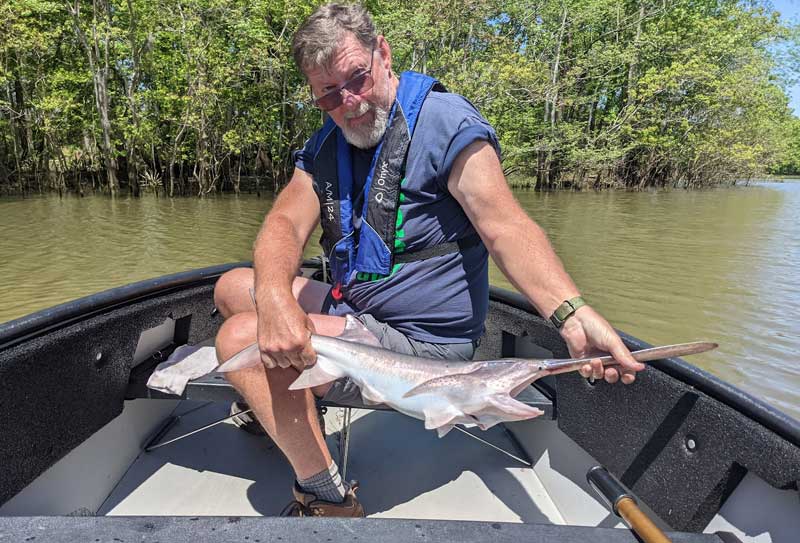 Above: Paddlefish we caught in our fold-up Porta-Bote
In our eight years of being retired and living full-time on the road, we have volunteered periodically at a state park and a Corp of Engineer campground. Plus, we managed a campground for a season and worked the sugar beet harvest.
For five years before we retired, we recorded and analyzed all our expenses and then estimated a retirement budget. We still record and track all our expenses to make sure we are holding true to our original projections. Mostly we have used our savings for all living expenses. When we have worked, it helped to put money back into our savings. We consciously decided not to work or volunteer longer than three months every year so we have plenty of time to travel.
Overall, living full-time in a truck camper has been easier than we anticipated. At first, storage was an issue, but we removed the back seat of our truck and converted it into a wonderful, flexible storage area (pictured below). Having a truck camper has made the actual travel part of our life so easy because we can navigate roadways, tourist attractions, forest areas, and campgrounds much easier than most other camping units.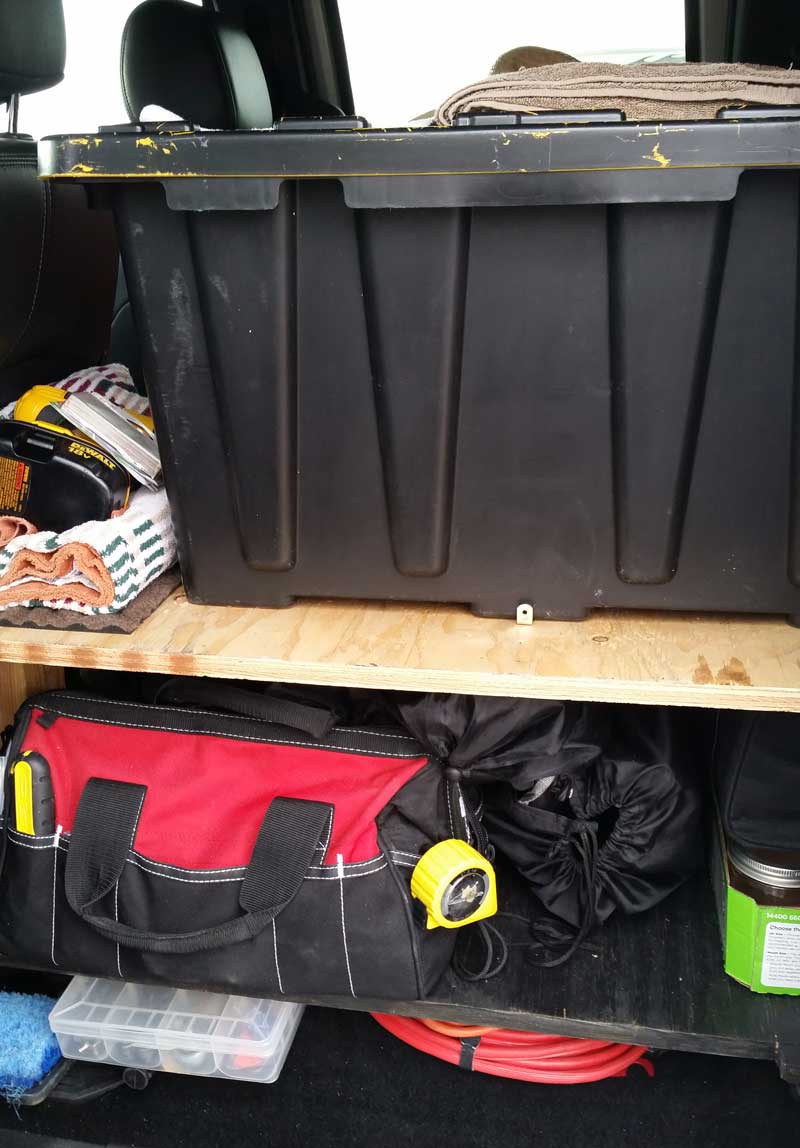 The actual living space in the camper is more than we need. Our basic needs of having a bathroom, oven, stove, and refrigerator are met with the truck camper and we spend lots of time enjoying the outdoors.
The most challenging aspects are truck and camper maintenance which cannot normally be done in a campground.
When we first started traveling, we would move every one to two days. Now we typically spend seven to ten days in one location. This really allows us to explore an area more fully and have some relaxation time.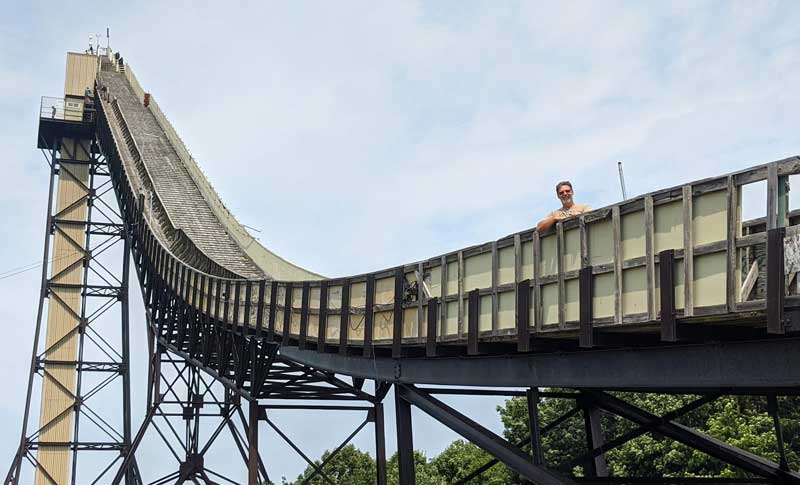 Above: Glenn climbing down a 360-foot high ski jump near Ironwood, Michigan
When making reservations, we recommend that you always disclose that you are in a truck camper. We have had a few campgrounds where truck campers were not allowed or, if allowed, we could not disconnect.
Kami and Kevin Golembeski
Full-Timing Date: July 1, 2019
2011 Ford F-350
2019 Northstar Igloo U
We started full-time truck camping on July 1st, 2019. Kevin was unhappy with his job. I have been dealing with a cancer diagnosis since I was 14. Life is short and we wanted to have some adventures while we can.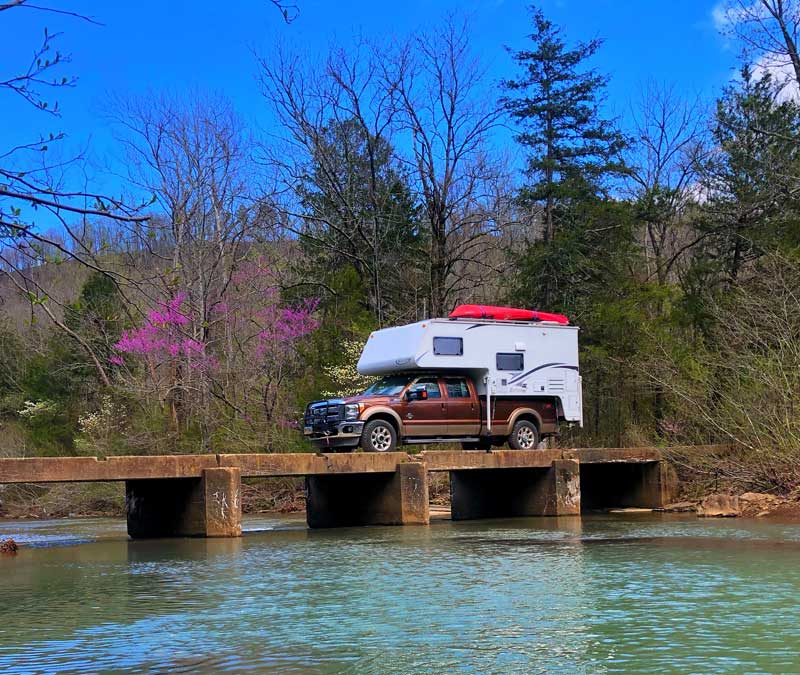 Above: Ozarks National Forest, Arkansas
We loved camping in the back of our pickup when all we had was a small contractor's cap. We loved that we could go to places off the beaten path and fit down roads that bigger rigs could not. We knew we couldn't live in a contractor's cap full-time. A truck camper has given us the freedom to remain nimble while having the comforts of home.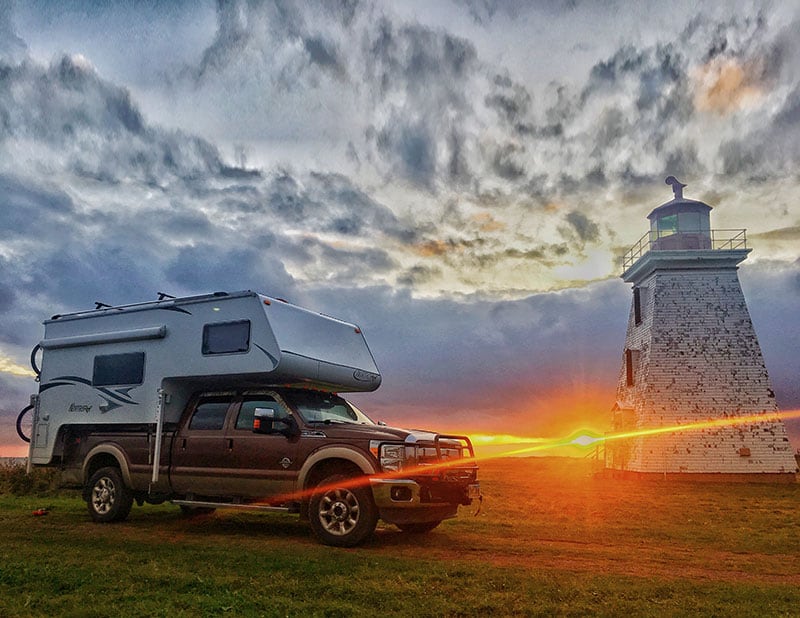 Above: Prince Edward Island
For the first year, we had a general route we wanted to take, but we winged it most of the time. We kept our plans wide open when it came to what adventure we took and where we camped that night.
Then Covid came. We ended up work camping in South Dakota and Washington State in the summer, and Arizona in the fall. Work camping was okay, but not our favorite. We did enjoy staying and fully exploring one area for longer times. The extra money was nice and the free place to stay with hookups spoiled us. We really missed the open road and having a work schedule caused us to miss out on a few things.
Above: Bonneville Salt Flats, Utah
We are currently back to being more nomadic, but with more plans. I have to visit my doctors every three months, so we have to plan to drive back to New England or be by a major airport for me to fly to Vermont. We tend to go where the weather serves us and avoid areas when they are busy.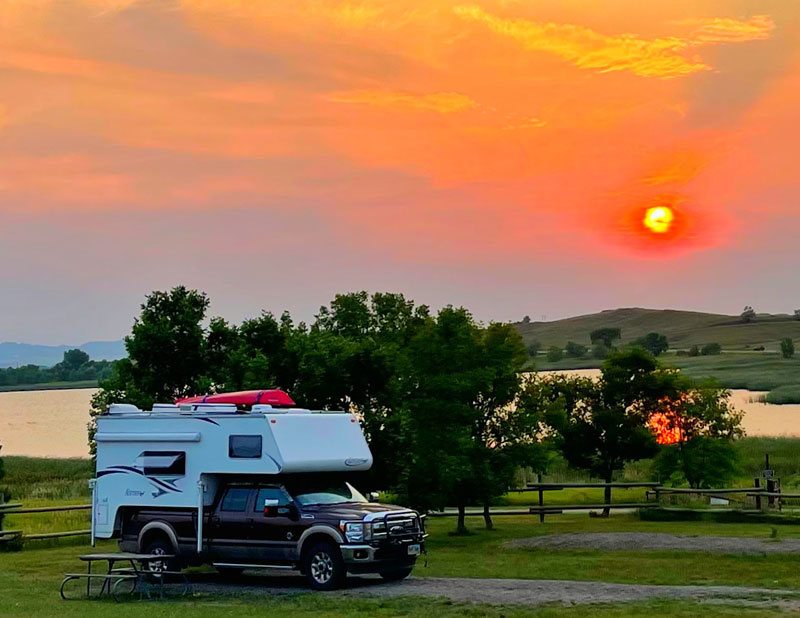 Above: Bear Butte, South Dakota
Full-timing is harder than we expected due to my cancer, but we wouldn't change it for the world. We are checking items off our, "live it up list" that we would not be able to do without our Rosie, the Big Brown Truck. Some of the adventures we didn't even know were on the list.
We have met some of the most amazing people and have seen some of the most amazing sights. We have had a lot of highs and deep lows, yet we are deeply grateful for all of them. We are fortunate to have a supportive family.
We have learned that less is more. Less stuff, more adventures! You don't need everything you have in a house to be comfortable and have a good time. Oh, and you need fewer clothes than you think.
Set up your rig to be off-grid as much as you can and you will have a lot more flexibility in where you can stay.
There is no one perfect rig to full-time in. Find what best serves and suits you and what you want to do, and where you want to go.
James MacDonald
Full-Timing Date: 2018
1999 Dodge Ram 2500
1997 Fleetwood Elkhorn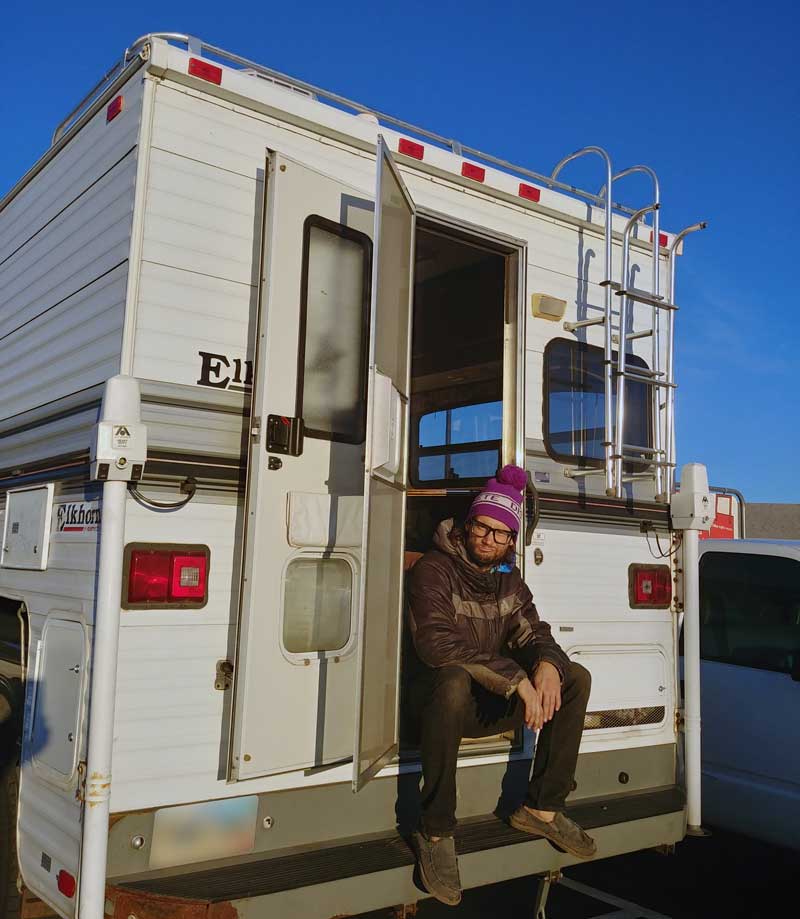 I became a full-time truck camper in 2018. I follow the seasons for work. I'm a tandem paragliding pilot. It's much easier to park my truck and camper in a storage facility than it is to rent or own a home if I choose to work in another country. If I'm working in the United States, my house comes with me.
I started full-timing in a fifth-wheel but it was too big for my needs. Now I just store it and use it when I need a break from the road. I already had a 1999 Dodge 2500 Cummins long bed for pulling the fifth-wheel so I purchased a very beat-up Fleetwood Elkhorn for $2,000, which I nicknamed, 'leakhorn'. I repaired the roof for $200 bucks and have been living my dream since 2018.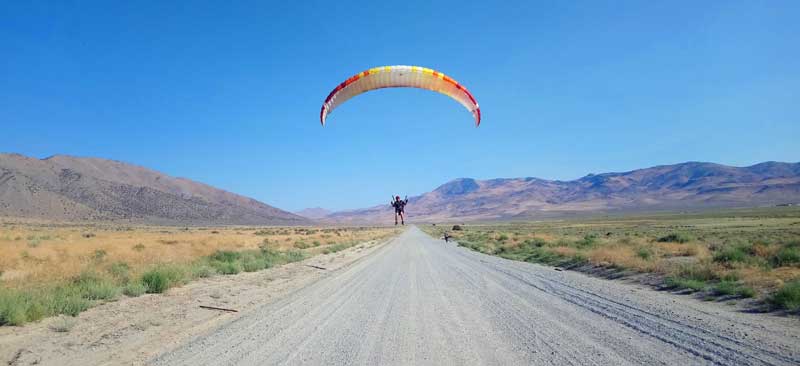 I go where ever the weather is working and I can find a job doing tandems for paragliding. I also teach indoor and outdoor skydiving.
I pretty much just wing where I go when. I spend the majority of my time in Tahoe, Yosemite, and Pacifica, California. I do have a Thousand Trails lifetime pass and stay at their campgrounds when I need electricity and rest. I dump and fill up water there a lot.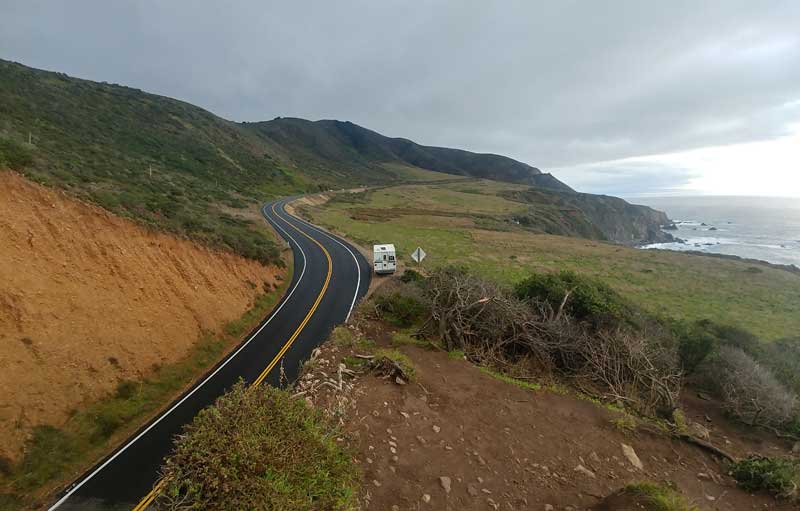 I feel lucky to live the way I live. It feels like a non-stop vacation because I have everything I need. The only thing that's annoying is taking my camper on and off. I have so much dry rot on my rig that the jacks want to rip off. I should rebuild it, but I'm lazy.
I've been toying with the idea of towing a small car. It would make boondocking easier and I wouldn't lose my spot. Truck camping and RVing have been so popular lately that a lot of the spots I've been staying at over the years have become crowded. I'm not complaining; just looking for solutions to keep my spot longer.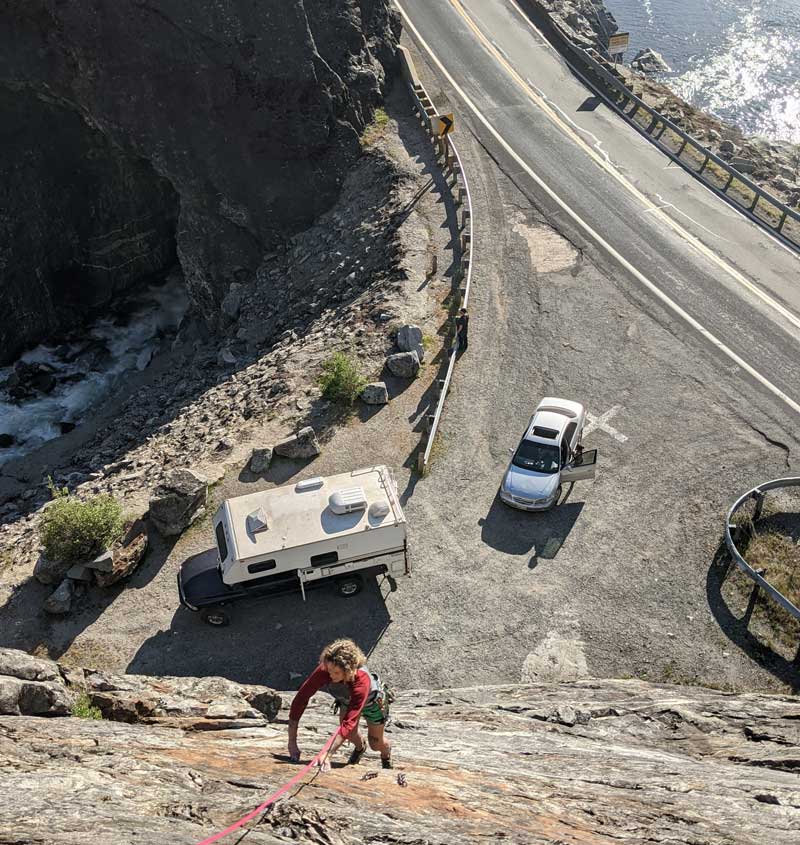 Above: Central California roadside cragging
As for advice, make sure your rig is comfortable to drive loaded with all your stuff. If you don't enjoy the drive, you're not going to enjoy the stay. If you're a race car type of driver, maybe get a tow behind. Then you can race your truck around your campsite after you drop your RV off. Most people that get into truck camping and get out quick didn't realize they would have to change their driving style.
I call my rig the purple turd. It's old, it's beat and it sways back and forth, but I love it to death. People are scared of driving my truck. It's got its quirks, but I love it.
Jamie Forsyth
Full-Timing Date: May 1, 2019
2021 Ford F-350
2022 Northern Lite 10-2 EX CD LE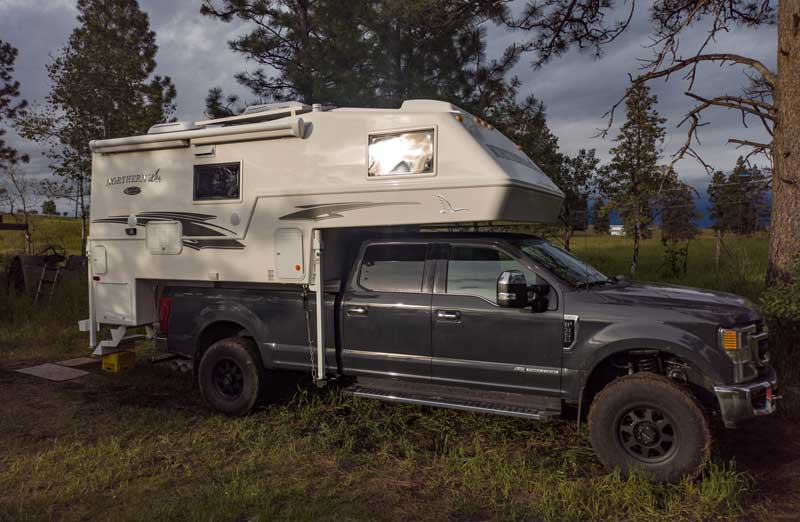 We went full-time on May 1st, 2019. We were paying too much for rent when we were always going camping. Also, the housing market is loonie.
We chose a slide-in because we are mostly off-road for our travels. In our opinion, a truck camper is the only way to go. We started out with a Travelaire 80WS truck camper by Westland RV. For the past two years, we have been building up to the rig we have now. It's our dream rig; 2021 Ford F-350 and 2022 Northern Lite 10-2 EX CD Limited. We did a pretty extensive build on the truck as far as suspension, tire, and wheel upgrades.
We are the winging it crew. We work in one place during the week and have property choices to stay at. On weekends we head into the mountains; as deep as we can.
I run a small sporting goods shop and my partner is an equipment operator at a pulp and paper mill. We have no problems making ends meet.
Full-time truck camping is certainly not a vacation. We live in an area with pretty harsh winters and literally no dump stations in winter for 400 kilometers. We use a porta-toilet and dump in a friend's farm pit toilet. Not ideal, but we make life work for sure.
As for advice for anyone thinking about living full-time in a truck camper; think hard. Think harder. Maybe don't do it unless you are really okay with less than 100 square feet of living space. Seriously, think about it.
Ron Lamirande
Full-Timing Date: 2019
2022 Ford F-450
2018 Bigfoot 9.6
I started full-time in my truck camper three or four years ago. I realized after owing ATVs that there's no happiness in buying material things. And I can't see the need of owning a house. It seems you work to pay for it and the taxes and then have to work more because your retirement won't cover it. Truck camper life seems like a good choice.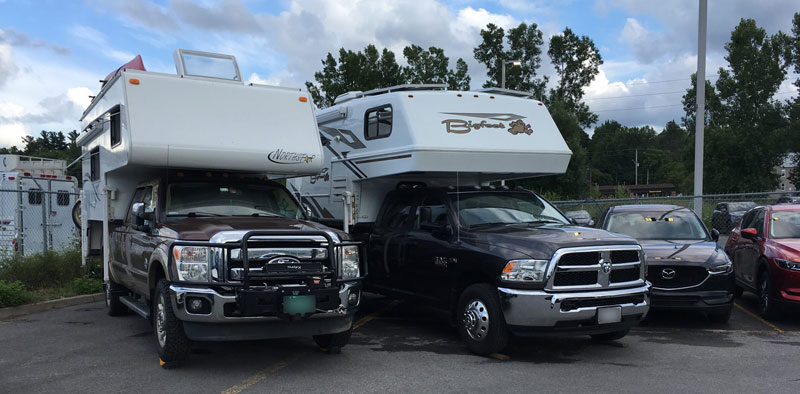 Above: My old truck at my work with Rosie, the big brown truck
For now, I work camp to save money, visit my parents, and mooch-camp at friends' cottages. I went with a Bigfoot 9.6 2500-series that I factory ordered without a skylight, outside speakers, or outside shower. It gets cold here in Ottawa, Ontario. Sometimes it's -40 in the winter. Even at those temperatures, I was very comfortable in my camper in the back parking lot at work.
Unfortunately, I don't travel much. I stay around my home city. I will be taking a job in Florida in 2023 and hope to travel more in the future.
For work, I'm an auto mechanic at a Mazda dealership. Monday through Friday I stay in the back lot and go hiking in the city on the weekends. Even though I haven't traveled a lot yet, I know I'm living my best life. It's stress-free and I definitely have lots of spare time. And yes, I'm single with no girlfriend.
My advice is to look around your house at all the things you spend money on and ask yourself if they're needed. And do you enjoy dusting them off or would your rather be hiking, paddling a kayak, or swimming in a beautiful lake or river?
Do the math. Sell it all. You could probably retire and forget what month or what day or what time it is, and just explore.
Tony and Shelly Shelton
Full-Timing Date: 2018
2017 Ford F-550
2016 Eagle Cap 1200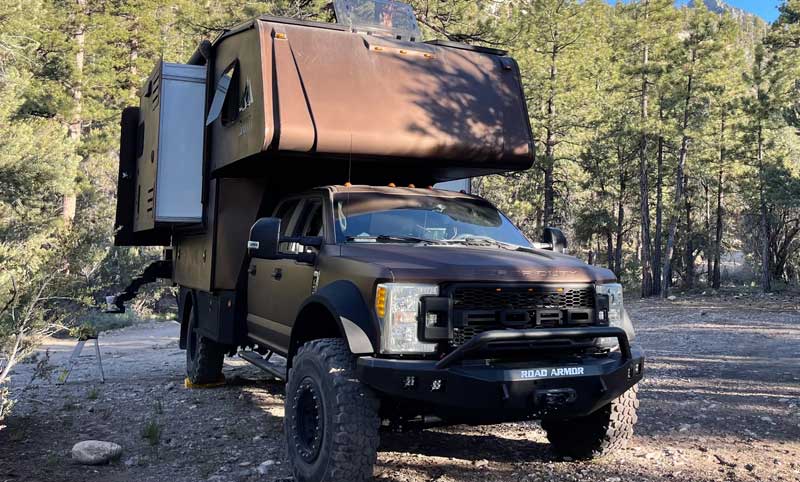 Above: Mount Charleston, Nevada
We were empty nesters and no longer needed the large house. It had served its purpose. All the kids were gone and the idea of keeping up a house and property wasn't appealing.
We had been truck campers part-time since 2005 and were already familiar with what it takes for long-term road-tripping. We averaged over 90-days per year camping. As technology gained ground, we found that we were able to run our businesses fairly easily from the road. So we rented the house for a year and then sold it.
We chose a truck camper because we had already tried almost everything else. We found the truck camper to be the most versatile and easy to use. We could get in places most other RVs couldn't.
We chose an Eagle Cap 1200 because of the double-entry into the bedroom along with enough holding tank storage to last us ten to fourteen days at a time. The triple slide-outs meant we weren't constantly squeezing past each other. It felt more like a full-size RV than a truck camper. We've had a non-slide Lance and a single-slide Arctic Fox. They both felt like campers. The Eagle Cap 1200 feels like home.
We try to visit older relatives around the country once per year, if possible. The goal is to go different ways each year. One year we went across the entire country on back roads. I usually drive, but usually not more than three to four hours at a time. Shelly is the navigator. Traveling that slow gives her time to use the internet and look up all the interesting places and things as we are passing through.
We've stopped at everything from remote burial sites of explorers deep in the woods, to major attractions. One year we went from one movie filming location to the next all summer. One season we visited historical sites. We use iOverlander more than any other app to find places to camp. We spend less than $200 a year on campgrounds.
I am medically retired and have issues that need to be addressed frequently. Thankfully the VA allows emergency visits at non-VA facilities. My wife takes care of the books and other issues with our former businesses, coil cleaning, and air filter services. This is easily done on the road, especially now with Starlink satellite internet.
This year we are virtually unlimited as to where we can camp. Before we had to seek out areas with cell signals. We used cell boosters and two different carriers for the first two years. Now, with Starlink, we haven't even turned on the cell booster in months. The nice thing is, that most part-time campers don't have Starlink, so we tend to search for places with no cell signal for solitude.
Full-time truck camping is much easier than keeping up a home. Once the energy (solar and battery) issues are worked out, those needs become a non-issue and you can just forget about them. You get into a routine of getting water and dumping. After a while you reach a site, already know where you need to go for sewer and dump and the only thought is, "I hope the wind doesn't blow our chairs away". It's pretty carefree and easy. We pull a Jeep, so there are always things to do and places to explore.
Don't go on the road if your spouse isn't also your best friend. It's a confined space and, unless you have mutual interests and love each other enough to always try to put the other first, you're probably not going to be happy over time. Get plenty of solar and batteries so you don't have to deal with that anxiety. Bring all the tools you could ever possibly need. You will probably need all of them at one time or another. Move when you are bored, even if that happens in a day or two.
Nola Marth
Full-Timing Date: December 2018
2015 Ford F-150
2004 Northern Lite 8.5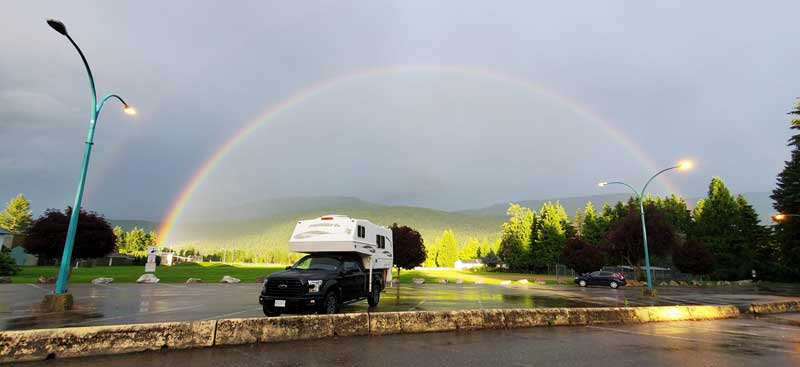 Above: British Columbia, Canada
"I went full-timing three-and-a-half years ago after a very bad experience with caregiving for my husband. I rented out my home for income, put a camper on my truck, and went on a walkabout. I hit the ground running.
I had the 2015 Ford F-150 already. It had low kilometers and was paid for. I had memorized camper weight and size options of what I could put on my truck. I walked onto a lot and checked the tag on an older Northern Lite. It would work.
The camper had been traded in and parked under a bull pine. Inside it was pristine. The dealership didn't know what they had, so it was cheap. And I negotiated them down, a lot.
I travel with my ten-year-old chicken. B is in charge of navigation and security. When we get to a crossroads, I ask her, "Which way B?" Whichever direction she looks, we go.
I like to stay at free remote forestry campsites for three to ten days. They have no services. I am retired, have an early pension, my rental income, and have no expensive habits. It doesn't cost much to live really well.
Full-time truck camping is easy living if you are brutal about what stuff you bring along. You need one folding chair, one towel, and a half-dozen smaller towels and tea towels, two pots, one frying pan, two mugs, one tote of tools, another of clothes, and another with dry food. I suggest that you keep things minimal, and go ahead and change what doesn't work. Put up that Lee Valley shelf. Screw resale.
I have a single mattress in my cabover. It cuts down on moisture and gives me a daybed. The senior dog that just joined the crew sleeps on one side of the cubby and the chicken on the other.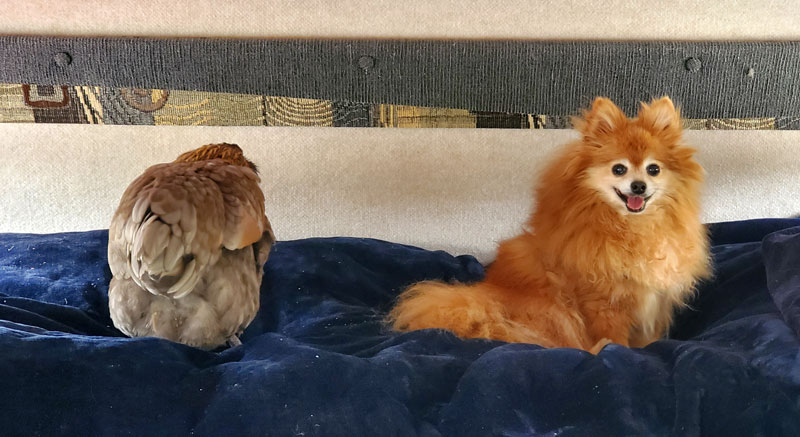 If you can, have backup systems. I have a folding solar panel and Honda 1000 generator. I use a jug to pee in and dump it daily. I don't put toilet paper into the black tank. It goes in the garbage. I use outhouses for serious business.
When I heat water for a shower, I use the rest of the hot water for laundry. I don't use the folding stairs. I have a two-step stool. I put my foot in the basement hatch, and then into the camper. I use a cane to hook up the stool behind me and close the cubby. The door latch is seven-feet up and there's no way to get up, so it's instant security. Plus I have a taser flashlight and a crossbow.
Be friendly to your neighbors. I take my extendable stick and bag of marshmallows and visit the campfires around me.  One or two marshmallows are enough to say, "Hi".  Recognize them later if I need to. I don't need a chair or beverage. I tell them, "If you forgot something at home, I probably have it – like bug spray and ketchup".
Pay your own way. If you camp for free, pick up a bag of garbage and rebuild a fire pit. I have a small extendable leaf rake. Leave your campsite in a, "WOW" condition for the next person. Leave an extra roll of toilet paper in the pit toilet. Offer a kettle of hot water to tenters. And realize that in a thunderstorm, you will be bunking in extra kids.
Know who belongs when you look out your window at 2:00 am. Trust your instincts, especially if you don't have a chicken for security. And if there is anyone doing stuff in the middle of the night, I pop my escape hatch, stand up and from fifteen feet, and up use my mom voice. I point out that they are in my crossbow sights and they won't outrun an arrow. I then suggest that they pack up and leave or put down what they are carrying and walk away.
I always back in for a quick exit. I don't leave anything out at night that you would mind driving away without. From sleeping, I am less than one minute to getting in my truck and driving away. I practice that.
Rent a place for the colder months. At less than -8° C, the furnace works hard, and a -12°C it is constant. For the price of propane, you can get a cheap place for a few months.
If you do travel with a chicken, be suspicious. Are you happy to see me or is that a can of cranberry sauce in your front pocket? Grin.
Have fun.
Greg Vickery
Full-Timing Date: 2017
2015 Chevy Silverado 3500HD
2016 Eagle Cap 1165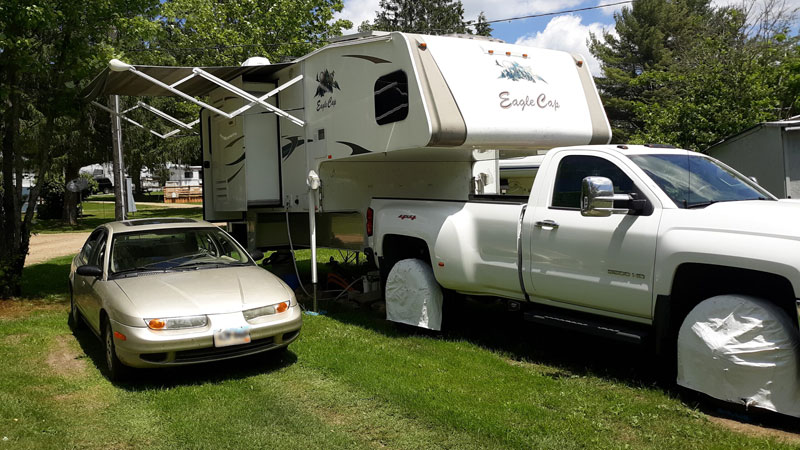 Above: Allegheny National Forest Black Bear Campground Lewis Run Pennsylvania
I have been a full-time RVer for twenty years. I had a 36-foot fifth-wheel for fifteen of those years and now a 2016 Eagle Cap 1165 for the last five years.
I bought the Eagle Cap used when it was only a year old at a Camping World dealer in Michigan. I felt a triple-slide truck camper would serve my purpose because I wanted to downsize from the fifth wheel. I thought the Eagle Cap was the best truck camper to use for a full-timer. I am very comfortable in it.
I bought a used 2015 Chevy Silverado 3500HD with dual rear wheels, a regular cab, and a gas engine in 2016 with only 5,200 miles. It was owned by an individual that trades trucks every year and I actually met him while buying the truck. I picked the truck because I basically bought a new truck at used prices and I have always been a GM man.
I owned a 2005 GMC 2500HD with a gas engine and I transported campers around the country. I had 684,000 miles on that truck when I sold it and that individual is still driving it today. I did nothing to the truck except maintenance, one alternator, and a rear-wheel bearing under warranty right after I bought it new. After that experience, it was easy picking the truck I wanted for the truck camper.
I spend five to six months in northwestern Pennsylvania at Black Bear Family Campground known for the big black bears that visit the campground often.
Then in the fall I go to Campbellsville, Kentucky, and stay at the Heartland campground for two to three months and work for Amazon. The campground is just across the street from an Amazon warehouse and I can walk to work. I then go to Lakeland, Florida, and stay three to four months. Then back to Pennsylvania.
I am retired living on social security and my investments, which are a Roth IRA and savings. I use my Amazon earnings to invest more. In Pennsylvania, I pay $920 a season, which is from April 15th to October 15th. My electric runs about $25 a month. In Kentucky, Amazon pays for my camping which includes electricity. I pay $280 a month in Lakeland, Florida and that includes my electricity. They just raised it from $220 a month for next winter. It is a church campground and a good deal for Florida.
I am very comfortable and I spend most of my time outside the camper. I have a dry bath, a TV in the bedroom, and a living area with recliners. I replaced the dinette with a large desk which provides considerable more storage and counter space. The fifth-wheel I owned before always felt like it had too much space for what I needed.
There are pluses and minuses to everything. I would need a triple-slide truck camper like I have to be comfortable. But I know a couple that lives in a Northern Lite who are comfortable. It all depends on the individual.
Wayne Korpi
Full-Timing Date: June 28, 2017
2017 Ford F-350
2007 Lance 950
I went full-time in a truck camper on June 28th, 2017 at exactly 3:05pm. It was a dream my whole life to wander all over this beautiful country.
I retired in 2007 to take care of my parents and their house. They could no longer stay there unless they had help. My parents passed in 2017 and that's when I went full-time.
I started with a Travel Lite truck camper and a Ford F-150 and traveled all over New England going to stock car races. I was very comfortable in a truck camper and knew I would be comfortable. I've always been up for adventures.
When I decided to go full-time, I chose a truck camper because I did not want a trailer or motorhome. I bought a brand new Ford F-350 crew cab for its capacity and storage. I originally wanted a Lance 1050 because I knew it had lots of storage to meet my needs. I went to look at one at a dealer and it was sold, but they also had a 2007 Lance 950 that was just right for me. I bought it.


Above: Queets Rainforest, Olympic National Park, Washington State
When I travel, I really don't plan anything. During the racing season, I look at schedules on a daily basis and make a decision on where to go next. Winters I have no plans except for Thanksgiving, which I enjoy with friends. Other than that, I am somewhere warm.  For the last three years, I wound up in the southwest for the winter.
I mostly boondock with all the apps out there. I've found it very easy to find a place. When I am on the highways, I use rest areas. I find them safe, clean, and convenient. I've also parked on main streets in front of police stations and never been bothered.
I'm a retired teamster of 35 years and live off my pension and social security. Keeping everything working and running is work enough.
It's not a vacation. It's just my way of life. I love my freedom of going anywhere I want when I want. That's why I stay single.
It's life whether you are in a house or a camper. You have to deal with life's ups and downs. I keep a clear head and, when a problem comes up, I deal with it. I'm very comfortable doing this. I love the full-time way of life.
My advice is to join a group and ask a ton of questions. Then, go for it.
Dave and Cindy Gilbert
Full-Timing Date: 2011
2011 GMC Sierra 3500
2011 Northern Lite 10.2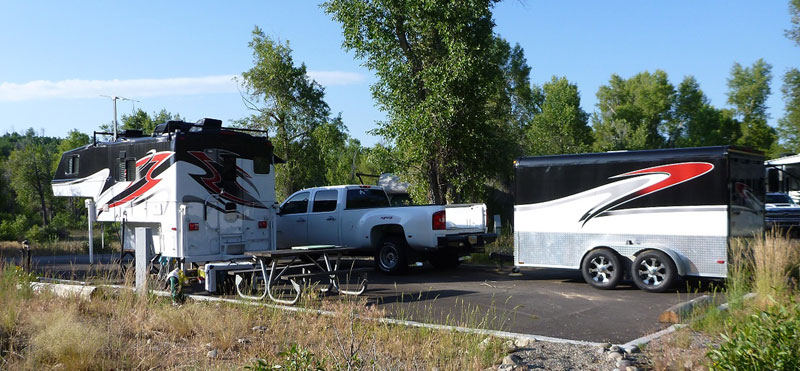 Above: Our free campsite while working at the Tetons
I became a full-time truck camper in 2011. We purchased a truck camper for value for the money, better site availability, the towing option, truck servicing options, quicker cleaning, cooling, and heating, easy routing, lower height/length than most RVs for ease in campgrounds, parking lots, and gas stations, build quality, doesn't need tires or registration, easier cleanup, gas mileage, wind resistance, and everything's nearby inside our camper.
Our travel route, after year four, was based on our work and the climate. We primarily stay and work at 6,500 feet and above for the summer months. Lately, that has been Grand Teton National Park. For the winter months, we hang out in northwest Arizona.
In our case, we work a European work year; 6-months on, 6-months off. Despite working only half the year, we've continually added funds year over year, and are still debt-free since 2011. With no bills other than food, gas, insurance, and Netflix, we've been largely unaffected by Covid and swings in the economy.
Full-timing in a truck camper has been much easier than we anticipated. Even work doesn't feel like a job because we are never in a career that we can't afford to leave. Most jobs only last for a few months.
Think your choices through and don't make decisions on emotion alone. Don't expect a trouble-free existence; just more time and freedom with less stress.
Click here to read more full-time truck camper stories.