Truck Camper Magazine goes truck camping with two White's metal detectors, three old houses, our 2012 Travel Lite 1000 SLRX, and visions of gold and silver.  Beep beep.  Dig it!

Turn on the way back machine to 1987.  I was fifteen years old and somehow got the idea that metal detecting would be cool.  This is perhaps the most clear evidence that my sense of cool was not only broken in my teen years, but hopelessly stuck in nerd mode.  It still is.
Undeterred (and probably unaware) of my serious case of nerd-dom, I convinced my wonderful grandmother to buy me a White's Eagle II metal detector.  At that time, the Eagle II was the state of the art in metal detecting technology, a real treasure hunter's dream.
It must also be noted that my grandmother had a habit of buying me stuff that got me into trouble, mostly with my mother.  First there was the classic BB-gun.  I didn't shoot my eye out, but I did manage to break a front tooth after one too many compression pumps thrust the rifle barrel into my face.  My mother was so mad that she made me go to school the next day before going to the dentist.
Kids: "Did you get into a fight?"
Me: "Yeah, and you should see the other guy."
All true.
In the following years, I took my White's Eagle II metal detector everywhere.  I metal detected at the homes of family and friends.  I metal detected on New Jersey and Delaware beaches during summer vacations.  I knocked on the doors of old Pennsylvania houses and asked permission to metal detect their properties.  When my father and I went to Montana to see my cousins, I brought my metal detector.  I was obsessed.  I was also finding some really cool stuff.
Check out come of my treasures from that time period (1987-1990):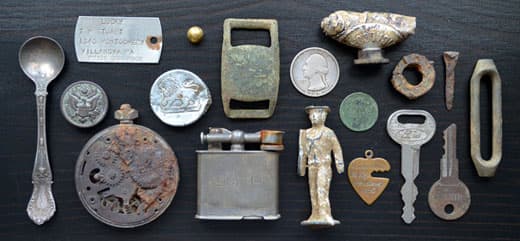 Above: Left to right there's a silver spoon, a Navy button, a dog tag from "Lucky", a corroded pocket watch, a sterling silver lighter, a lion bottle cap, a gold bead, a belt buckle, a silver quarter, a toy soldier, an Indian Head penny, a toothpaste container, a love pendent, my first Ford car key, a round metal thing, an iron nail, another key, and another metal thing.
Then, as often happens, other interests took hold and the metal detector went into storage for about fifteen years.  It's not that I lost my interest, far from it.  I held onto my precious detector knowing that someday, somehow, I would reclaim my nerd fueled youth, and go treasure hunting again.  Angela will tell you that every time I saw an old house, I would say, "That would be a great place to go metal detecting".  Treasure hunting is one of those hobbies that gets under your skin, and stays there.
Fast forward to 2005 when Angela and I first loaded a truck and camper and hit the road on a six-month cross country adventure.  Out came the trusty White's Eagle II packed in an under dinette storage compartment for the trip.  Surely I would have the time and opportunity to go treasure hunting somewhere in the United States, or Canada.
Well, the trip didn't exactly go as I had envisioned.  It was better, way better.  We were visiting friends and family that I hadn't seen in decades.  We were exploring national and state parks that completely rewrote our understanding of nature and our country.  We were having the time of our lives and catching a severe case of truck camper fever.
I was having so much fun exploring that I didn't even think about metal detecting until we reached Napa Valley, California.  We stayed at the campground at the Napa Valley Fairgrounds.  When we pulled in, the campground manager apologized for the condition of the campground and explained that they were about to dig the whole place up for renovations.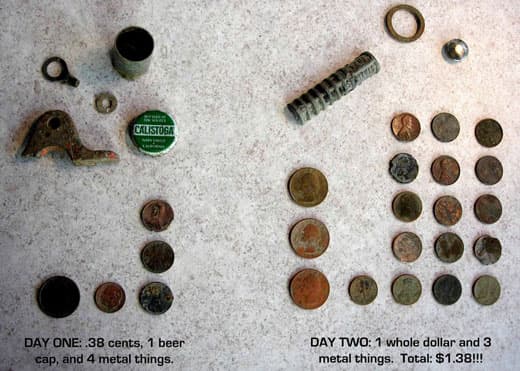 Above: My December, 2005 treasure finds from Napa Valley.
Immediately I asked, "If you're going to dig the place up anyway, do you mind if I do a little metal detecting while I'm here?"  He didn't mind, and I spent the next two days pulling up coins and other metal things all over the property.  It was so much fun I couldn't stand it.  I can't say that I was finding a fortune, but the experience of finding and digging up coins and other "treasures" just makes me giddy.  If I were a millionaire with the freedom to whatever I wanted, metal detecting would be on the list.  For me, it's that fun.
Once we left Napa, the metal detector went back into the storage compartment and didn't come out until we got home.  There it returned to storage awaiting the next trip. When the next trip did come, I put the metal detector under the dinette again and there it stayed for the entire cross country trip.  We were in factories by day, writing by night, with nary a moment to do more than sleep in between.