We asked truck camper owners what they towed with their truck camping rigs, and why.  The answer is almost anything you can imagine, and for some truly amazing reasons.

In late March, we asked our readers what they towed with their truck campers as part of our Question of the Week series.  The question was, "What do you tow, and why?"  The response was so big that we decided to create not one, but two front page stories with the answers.  Here's part one.
"We tow a 19-foot Pathfinder bay boat with a 115 hp Yamaha and a tee top.  We use an 18-inch Reese extension.  We go to the Florida Keys and to the east and west coast of Florida to fish inshore and near shore." – Don Walker, 2009 Dodge 3500, 2008 Northstar Igloo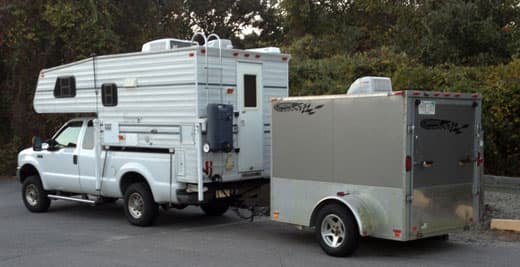 "We have a 2003 CargoPro 5'x8' V-nose aluminum enclosed motorcycle trailer, with a 2012 Victory Cross Country Tour inside.  We go anywhere.   We go up and down the East Coast, to the mountains of New England, and a lot more places yet to come.  We used to camp with the motorcycle, towing a small trailer, but tenting and riding in the rain gets old fast.  Nothing beats waking to the sound of rain on the camper roof and the smell of coffee brewing." – Kevin and Melinda Eaton, 2004 Ford F250, 2004 Northstar 8.5 Adventurer
"I tow a 1999 Chevy Tracker and a 2011 Massey Ferguson GC2410 tractor.    I take the tracker to go out and explore the country side.  It's easy on gas and easy to drive.  I also don't have to break camp and it's easy to tow.  The tractor is for working." – Victor Davis, 2006 Ford F350, 2004 Eagle Cap 1150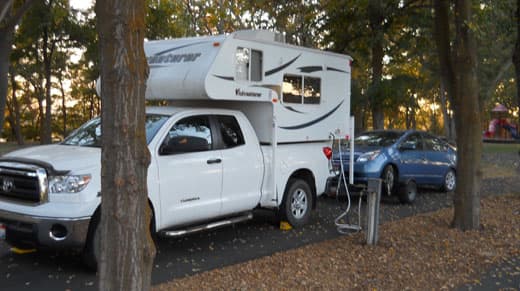 "We tow a 2009 Prius on an Acme Tow Dolly.  We are snowbirds from Idaho and we need to bring our second vehicle along for our stay in the Southern California high desert region." – David Neumann, 2010 Toyota Tundra, 2011 Adventurer 80GS
"We tow a 1992 Jeep Wrangler, a 1994 Mustang tilt bed trailer with any combination of four motorcycles: 1956 HD FLH, 2004 Yamaha XV1700, 2007 Kawasaki KLR 650 and a Triumph Bonnevile T100.  We also tow a 2010 Bass Tracker Pro 16 fishing boat.
I take the Jeep to a 15,000 acre ranch I have use of to check on the livestock and hunt.  The motorcycles are a mix and match.  When I'm going out west exploring, I take the KLR.  When cruising the boulevards or attending a rally or bike function, I take the big Yamaha.  When traveling in small towns and exploring, I take the Bonnevile.
I recently purchased a motorcycle hitch hauler to take the KLR and the boat together on backroad adventures or take the Triumph without the trailer.  I pull the boat to where ever I feel like fishing.  Sometimes I piggy back it with the Jeep.  It makes it easier to to put the boat in without using the big truck.  Plus, it makes it easier to set up a base camp for long term.
Taking the Jeep or motorcycles along is also helpful as I don't have to drop the camper for errands or sight seeing.  Plus, some campgrounds don't permit you to take the camper off the truck.  I'm considering a utility trailer to make it easier when hauling motorcycles and keeping them out of the weather.  This will also give me a little more capacity to bring along more toys." – Jeff Yarborough, 2005 Dodge Ram 3500, 2009 Lance 915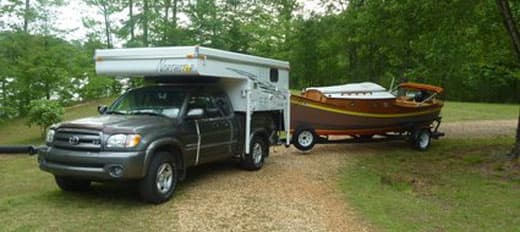 "I tow my homemade wooden power boat.  It is 20-feet long with a cuddy cabin and 30hp Tohotsu outboard.  It is a SkiffAmerica 20.  I named her Spring Fever.  I have had her on Rend Lake in southern Illinois, Greer's Ferry Lake in Arkansas, Eufaula Lake in Oklahoma, Lake Claiborne in Louisiana, Bayou Teche in Franklin, Louisiana and the Ouachita River in Monroe, Louisiana.
In Florida, I have done the Inter Coastal Waterway in the Pensacola area, the Black Water River, Silver River, and the famous Suwannee River.  Mostly it is pleasure cruising, but at Lake Claiborne we take the rubber pull toys and invite all our friends to come over to play and enjoy the water.  I also took the boat to Lake Village, Arkansas and spread my mother's ashes on Lake Chicot in front of her childhood home.  I had seven adults and two kids in the boat for that." – Gene Lueg, 2004 Toyota Tundra, 2011 Northstar TC 650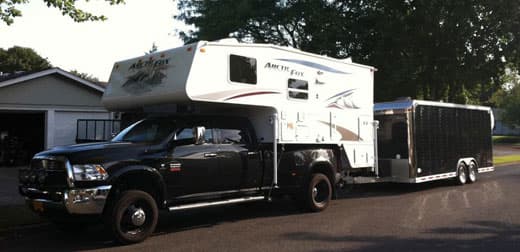 "We tow an enclosed trailer with up to two quads and a Polaris RZR, or a utility trailer with a quad or the RZR.  We go to OHV riding areas in mostly Oregon, but we also go to Washington and Utah." – Elliot Groeneveld, 2011 Dodge Ram 3500, 2011 Arctic Fox 1150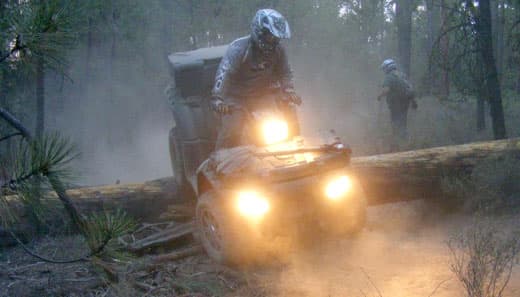 "We have two Jeeps.  First we have a 2005 Wrangler Unlimited.  It has a 3-inch lift, 23-inch tires, a Warn 9.5TI winch, and some additional modifications.  Number two is a 1996 restored Jeep Cherokee 4X4 with the 4.0L six cylinder.  This Jeep is our street Jeep.  It has a Budget 2-inch lift, Goodyear SRA tires, and Wrangler wheels.
With our Jeep Wrangler, we enjoy the great outdoors and going off-road. We have taken this Jeep to may rallies and off-road events as well as going to many remote places to explore.  As an example, we traveled to Moab, Utah for the annual Easter Jeep Rally.  We have also been to Colorado, Arizona, New Mexico, Texas, North Carolina, Tennessee, Wyoming, and Florida.
Our Cherokee is taken to places/events that are not designated for off-road activities.  As an example, we have taken this Jeep to Charlotte and Talledga for NASCAR events.  It has also been taken to North Carolina, South Carolina, and Florida for touring and exploring the areas.  Both Jeeps are easy to tow behind our truck and Lance Camper.  Both Jeeps have been setup with custom tow brackets so we can use a common Draw-Tite tow bar.  Each Jeep has been wired and adapted to used the vehicle lighting systems with a standard four wire plug." – R. Warne Todd, 2000 Ford F250, 2006 Lance 981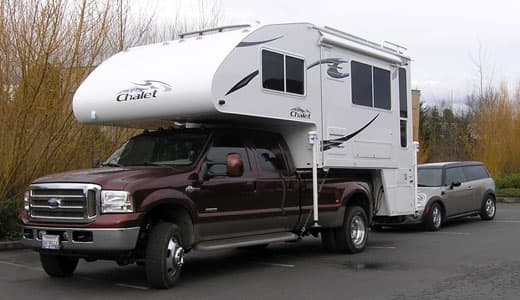 "We tow a 1973 Ford Bronco for off-roading trips, a 2011 Mini Cooper Clubman for day trips from base camp (35+mpg), and a 2004 Carson 18-foot enclosed trailer.  Inside the trailer we have a 2003 Honda Goldwing for paved scenic ride areas, a 1996 Honda XR600 for desert camping, and a 2004 Suzuki LTZ 400 Quad which is my wife's ride in the Southern California deserts." – Scott Elliott, 2007 Ford F350, 2013 Chalet TS116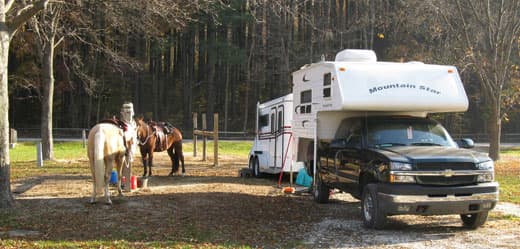 "We tow a 1999 Gore Horse Trailer with horses and all of the horse stuff.  We go camping and trail riding a lot in Indiana, Ohio, and Kentucky with the other members of the Cincinnati Horsemen's Club." – Don Norris, 2003 Chevy 2500HD, 2008 Travel Lite 800SBX
"We have a 10-foot utility trailer with an ATV and additional supplies for mountain elk hunting with camper on the truck.  We also have a thirty-four foot Newmar Kountry Star fifth wheel for extended trips.  We tow a sixteen foot Starcraft with our camper for fishing getaways and a 16-foot flatbed for building supplies/transport of garden tractor with snowblower for driveway clearing services of my home based business.
We use the camper and boat for lake fishing, the fifth wheel for extended in state and out of state trips, the camper and utility trailer for deer and elk hunts, and the flatbed trailer for snowblower transport for business services." – Monte Dahlman, 2006 Dodge Ram 2500HD, 1995 Skyline Weekender
"We pull a 7'x14' Homsteader (Hercules) enclosed trailer.  We choose this trailer type as it has a heavier construction then many other enclosed trailers out there on the market (our opinion).  It is a dual axle, with Alko rubber torsion suspension, and electric brakes on both axles.  When we pull this trailer behind our truck camper, we use load distribution bars because we do not have a SuperHitch on our truck.
With the camper on board, we need an eighteen inch extension to get the 2 5/16 inch ball back far enough to hook the trailer.  This puts a lot of stress on the hitch, therefore, the distribution bars.  We transport our 2005 Harley Davidson Trike in the trailer, plus, we use the trailer to take extra stuff along.  And, we all know, when we travel in a truck camper, we are always looking for a place to put our stuff.
The number one reason for purchasing a trailer like this was to protect our trike and stuff during our three and a half month excursion to the Arctic Circle.  There were what could be called a few rough roads along the way, and our combination between truck and trailer worked out perfect.  We did not take the trailer and trike the entire trip. It worked out perfectly for us when we decided to place the trailer and trike in storage for a while during the trip.  We also like to take our Harley along when we attend truck camper rallies.  We will have it along when we see you in a couple of weeks at the Mid-Atlantic Truck Camper Rally in Virginia." – Gary and Cinda Whistler, 2004 Dodge 3500, 2005 Lance 915
"I tow a 1984 BMW 318 dedicated track car.  Everything that doesn't make it go faster has been removed (the poor man's approach to the power to weight ratio).  The inside is basically a shell with a full cage, light weight seats, and five point harness.  It has an M3 motor and running gear.  It's nickname is Dimples, because it was stuck on a trailer during a hail storm, but I say that makes it go faster like a golf ball.
I occasionally instruct in driving schools for the BMW and Porsche car clubs in the southeast.  Most tracks will let you camp.  Besides reducing costs, it's nice to have a place to get out of the weather.  It's also really nice to be able to roll out of bed just in time for the drivers meeting!  It's similar to the rallies you have covered.  We have friends that we only see at the track once or twice a year.  The camper also facilitates enjoying some really good food, which is way better than the track concession stand!" – Charles Phy, 2010 Eagle Cap 1160, 2011 Dodge 5500

"We tow a 20-foot enclosed car hauler.  We are principally hauling vintage road race 1966 Alfa Romeo, and secondarily a 1953 M38A1 Jeep.
We vintage race the Alfa at places like NASNI in Coronado, California, Watkins Glen in New York, Road America in Elkhart Lake, Wisconsin, Mid-Ohio in Lexington, Ohio, the Virginia International Raceway in Danville, Virginia, and Waterford Hills in Michigan.  I've owned and raced this Alfa since 1983 and have gone to exhibit/parades at the M38A1 MVPA (Military Vehicle Preservation Association) events and July 4th/Veterans Day parades.  Although recently acquired, based on Battalion markings, I drove this exact Jeep over four decades ago." – Wil Painter, 2007 Dodge Ram 3500, 2011 Host Cascade
"We tow a 2007 Crestliner 1800 Sportfish with a 4.3 liter V6 Minn Kota tolling motor on a single axle trailer.  We go all over the Province to different fishing destinations." – William C. Steger, 2005 GMC 2500HD, 1995 Kodiak SC83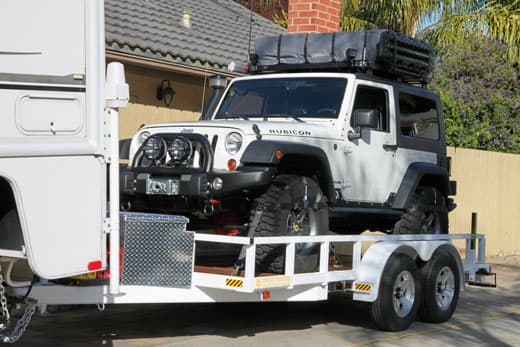 "I tow an 18-foot dual axle utility trailer that I had custom made by Texas Trailers for my 2009 Jeep Rubicon.  We go anywhere where we can drive off-road.  We made a trip in January to Sedona, Arizona and went earlier this month to the TDS Desert Safari in the Truckhaven Hills area near the Salton Sea, California." – Rex Carroll, 2004 Ford F350, 2006 Alpenlite 950 Cheyenne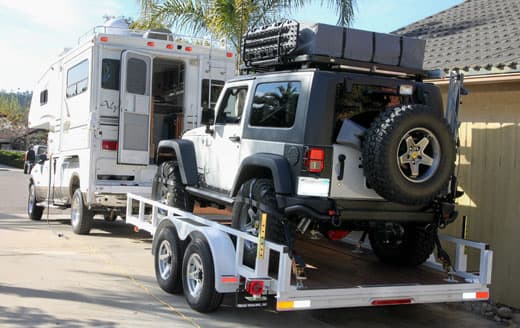 "We tow a 2006 Harley Davidson Road King.  I use my truck and camper to get me to and stay at work all week.  My motorcycle is affordable transportation to the places I wish to go.  I live 100 miles from where I work, and can't commute daily." – Gil Fecher, 1998 GMC Sierra 2500, 1980 Sunline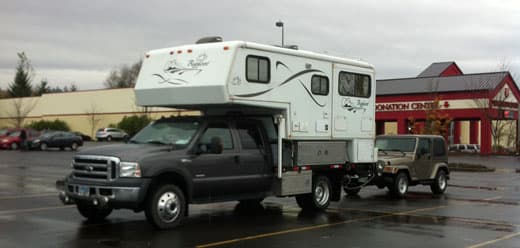 "We tow a 2004 Jeep Wrangler.  I can carry a 2011 BMW F800R motorcycle on my homemade rack.  Depending on length of trip, and if we're near a city, we tow the Jeep to explore the area.  The Jeep is low enough to get into underground parking garages and is way easier to get around in small places." – Rick Law, 2005 Ford F-550, 2003 Bigfoot 30C10.5SL
"We take our 19-foot Sea Sport boat and camper to all ports in south central Alaska; Valdez, Whittier, Seward, and Homer being the most visited.  We enjoy shrimping out of Whittier and halibut fishing out of Homer.  Our boat allows to overnight on the water comfortably with two.  It has freshwater and a camp stove as well." – Ed Soto, 2001 Ford F350, 2006 Snowriver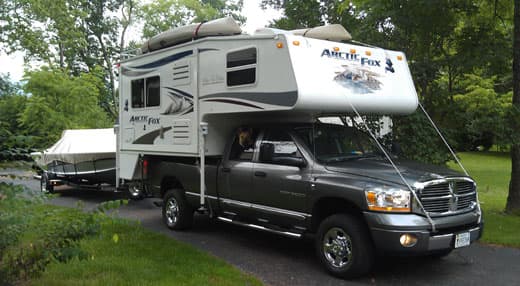 "My vice is fishing and I tow an 18-foot Alumicraft walleye boat.  I'm also getting into kayak fishing and carry two 12-foot Tarpon 120 kayaks on top of the camper.  I spent the month of June in Minnesota last summer fishing Mille Lacs and Leech Lake.  I camped at Stony Point Park and the facilities include two sheltered harbors for boats so you don't have to launch and pull-out every day.  It's very convenient.  The large Shepard in the back window is Zac and he loves to fish with me." – Dick Fite, 2006 Dodge Ram 3500, 2011 Arctic Fox 990S
"We tow a twenty-two foot Haulmark car hauler with a full size Civil War cannon (ten-pounder Parrott Rifle), limber, twenty-three-pounder Civil War mortar, uniforms, and all shooting accessories and ammunition.  The trailer weighs close to 8,000 pounds loaded, so a Torklift Super Hitch with 43″ double tube extension is mandatory equipment, as is the Reese Weight distributing hitch.
Occasionally we tow a light tilt bed motorcycle trailer instead, with either Moto Guzzi motorcycles or a Kawasaki ATV on board.  And when on camping adventures that might involve store trips without having to repack or remove the camper, we carry a Kymco People 150cc scooter on a front hitch carrier made by Versahaul.
We shoot competitively in N-SSA competitions with the cannon, a twenty-four-pounder Coehorn Mortar, and various Civil War small arms in Winchester, Virginia and Grayling, Michigan.  We also do occasional living history events for the National Park Service and civic organizations.  Can you say out-of-control hobby?
The motorcycles go to a couple Moto Guzzi motorcycle rallies each year.  For the bike rallies, Marylou drives the camper rig and I ride to the event on the bike, but we have capability to trailer the bike behind the camper if necessary." – John Wells, 2011 Chevy 3500HD Dually (No spark plugs!), 2012 Chalet Ascent S100F
"We tow a 1995 Jeep Wrangler.  We use the truck camper as a base and the Wrangler to explore on and off the blacktop.  We added air conditioning to the Wrangler so the dogs can come too.  Last November we hauled down to Austin for the US Formula 1 GP and were able to camp just a few miles from the circuit at twenty dollars per night when hotel rooms were going for hundreds if not thousands!" – Simon Carlton, 2004 Ford F350, 2009 Snowriver 10-9
"We mostly tow beach catamarans which we race with SISA (Southern Idaho Sailing Association).  Usually have eleven to twelve events per year on four to five Idaho inland bodies of water.  The venues include Lake Lowell, Payette Lake, Lake Cascade, CJ Strike Reservoir, Lucky Peak Reservoir, Magic Reservoir, and Redfish Lake.
The camper allows us a lot of freedom in areas sometimes limited in tent camping.  We have added a Torklift SuperHitch and SuperTruss, Rancho 9000s and airbags.  They work well for our use.  We are considering a front mount receiver, spring upgrade and a carrier for a small dual sport motorcycle." – JT More and Sue Jurf, 2004 Ford F250, 2005 S&S Ponderosa 8.5

"When my camper is on the truck I am limited to my homemade tilt bed ATV trailer that holds two ATVs, a 2003 Yamaha Bruin ATV and a 2005 John Deere Buck EX.  I also have a 1997 Seaswirl 18-foot OB boat and trailer.  My family and I are fortunate enough to live in the mountains of Colorado where we use our toys to enjoy hunting, camping, and fishing.
Having a Dodge Dakota I must be careful to not overload it.  I definitely take it near its limits, but our destinations are usually within an hour's drive. I outfitted the truck with Rite Rite air bags and a Air Lift control kit and compressor." – Bill Ortiz, 2008 Dodge Dakota, 1996 Hallmark Raton
"I have a Triton 177 multi-species boat and fish Lake Erie and other Ohio lakes." – Tom Sackett, 2013 Chevy 3500, 2008 Lance 825
"I tow a horse trailer and water craft.  I take my horses camping and on trail rides.  I take them for wilderness search and rescue.  I also do posse work, including security and crowd control.  I take the water crafts to the lakes all over the area." – Joshua Magner, 2010 Toyota Tundra, 2001 Harmar horse trailer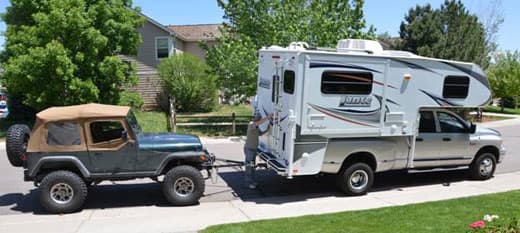 "We tow a modified 1994 Jeep Wrangler.  We go camping and four-wheeling.  We live in Colorado so we like to go to Aspen, Marble, and Leadville.  We have also gone to Moab, Utah and Wyoming.  This year we are heading up to Glacier National Park, Grand Teton National Park, and Dubois, Wyoming." – Denise and Gary Patton, 2008 Dodge Ram 3500, 2011 Lance 950S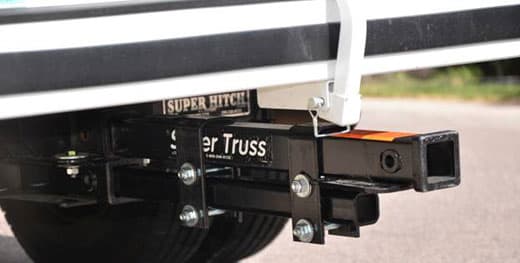 "It all starts in the winter with the snowmobiles behind us.  During the spring, summer, and fall, I tow my 18-foot Duckwater boat.  I'm fishing with it in the spring and summer.  I go duck hunting throughout northern New England and New York state in the fall." – Rich Chiocca, 2011 Ford F-350, 2008 Eagle Cap 850
"We at times flat tow a 1989 Jeep Wrangler, a small 8.5'x12' aluminum trailer loaded with Snowmobiles or ATV's depending on the season, and a 7,000 pound trailer loaded with either the 1989 or a 1992 Jeep Wrangler.
When flat towing, we are usually headed for a remote area of the country to camp and explore the back country staying off of the beaten path as much as possible. When towing the Snowmobiles or ATV's, we are usually headed for one of the country's many off-road parks and trail systems to ride for the weekend.  When towing the 7,000 pound trailer, we are usually headed for one of the many areas in the North East for trail riding and rock-crawling in one of our two Jeeps modified for this purpose." – Jason Schreckengost, 1986 Chevrolet K30, 2012 Palomino Real-Lite (Maverick) HS-1806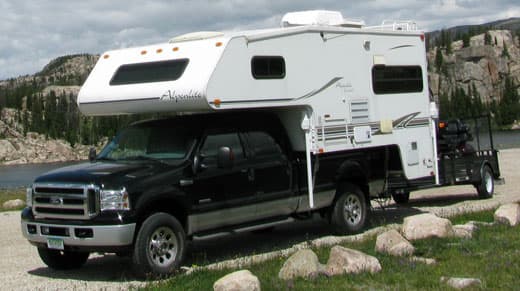 "There is nothing like the feel of the road under you on a motorcycle.  The sky is bigger and the air is fresher as all of nature unfolds around you in a more vivid and poignant way with each turn in the road.  We rode our Gold Wing on a three week, 5,000 mile trip to Canada.  As a passenger, it was the greatest adventure of my life, but not without its physical challenges.  I love to ride with my husband, but I'm not very tough when it comes to the challenges of weather and endurance!  Staying in hotels and eating out was wonderful, but very expensive.  As a couple, we want to bike tour new long distance places without the physical demands and expense of getting there on the bike.
A truck camper was our first logical consideration.  However, it did not seem to be an option with the floor of the camper at a 4'8" vertical climb from ground level.  My knees are painful as it is.  So, we got a travel trailer, but we were sad because our first love is motorcycle touring and tandem towing was not an option for us.  Then we were enchanted by the tow your own house and garage toy hauler fifth wheels.  Our Gold Wing rode and stored securely in the 12' separate garage.  When hitched from bumper to bumper we were a triple axle 58' foot long nightmare of a rig, about the size of a semi!  It was so stressful!   This love affair ended quickly upon returning home from our first trip out of state.  The Home Owner Association was complaining about storage and we realized that we couldn't go camping to our favorite places anymore.  We just didn't fit in a typical campground!  So our rig, affectionately named "The Semi", went up for sale.  Undoubtedly, a truck camper was our best option along with the blessing of our HOA, as well!
So, our wonderful Alpenlite is now the base camp for our adventures.  Surprisingly, my knees do just fine as long as I back out of the camper.  When we stay for more than one night, we just take the camper off the truck.  We tow our Gold Wing to our long distance destinations and launch on day trips from there.  On the way, the only cost is our fuel since we take advantage of free overnights at our favorite Wallyworld RV Parks.  While in transit, if Dan is in the mood to take off and ride on a beautiful day then I just follow him driving the truck camper in the background.  Once we arrive, our water and two holding tanks, 34 gallons each, give us three nights of camping with showers, if we are careful.  Our Honda generator boosts our batteries for the duration.   In the twilight of the day's riding adventures, we pull back in to our campsite with our truck camper inviting us to enjoy a campfire and popcorn.  We have our own sheets and healthy food; it's the best of both worlds from my point of view.
Now, for the mechanics of it all.  Fuel mileage improved by more than five mpg in comparison to the toy hauler.  The hitching system that we use is the best and safest method of extension towing in the industry.  The Rancho shocks made a dramatic reduction in the camper sway.  The Firestone airbags properly inflated reduces the truck sag to less than three inches for this equipped four thousand pound camper.  It also allows adjustment for leveling side to side.  And, we are safely within the payload limits of our hefty truck load capacities." – Dan and Julie McKee, 2005 Ford F350, 2005 Alpenlite SanteFe 1150
"Three or four times a year we find ourselves going to a farm equipment auction that lasts more than one day.  It is too far for a one day trip.  We have a 16-foot dual axle, steel deck equipment trailer.  I have a (beefed up) extended hitch that I welded myself which we use in conjunction with a heavy two and one-quarter inch hitch with load stabilizers and sway controls.
We also frequently attend goat auctions which needs us to lay over the night before.  Then we tow a 16-foot dual axle double decked stock trailer.  With the extended hitch and a two and a half inch ball, it tows easily behind, even with over sixty goats inside.  I guess you could say it is business mixed with truck camping pleasure.  The equipment and the goats come back to our farm." – Jerry and Janice Bonneau, 2002 Ford F250SD, 2000 Lance 1130
"I have a 1976 Jeep CJ5 that I have completely rebuilt.  We go four wheelng with our Jeep club in Maine.  On our vacations we go to Provincetown, Massachusetts out on the beach with the Jeep and camper." – Jeffrey, 2000 Ford F350, 2001 Bigfoot 25 C10.6B
"We tow a 1981 Jeep CJ-8 that we flat tow.  We love to boondock in our camper as far away from everything as possible.  We can stay out for five to six days before needing to dump tanks and resupply water.  We build a base camp, then use the CJ-8 to haul our gold mining equipment.  We go out deep into the desert and the mountains to our mining claims.
We will run across a bunch of Jeepers and they are fascinated about how far out we can get our truck and camper.  Once we hit the dirt, my wife will drive the Jeep behind me until we get to our base camp.  We have recently purchased our retirement home in Nevada.  When we go up to the house, we stay in the camper while the house is being renovated." – Jim Leonard, 2009 Dodge 3500, 2009 Lance 861
Click here to go to Truck Campers Tow Anything: Part 2.