We asked truck camper owners what they towed with their truck camping rigs, and why.  The answer is almost anything you can imagine, and for some truly amazing reasons.

In late March, we asked our readers what they towed with their truck campers as part of our Question of the Week series.  The question was, "What do you tow, and why?"  The response was so big that we decided to create not one, but two front page stories with the answers.  Here's part one.
"We tow a 19-foot Pathfinder bay boat with a 115 hp Yamaha and a tee top.  We use an 18-inch Reese extension.  We go to the Florida Keys and to the east and west coast of Florida to fish inshore and near shore." – Don Walker, 2009 Dodge 3500, 2008 Northstar Igloo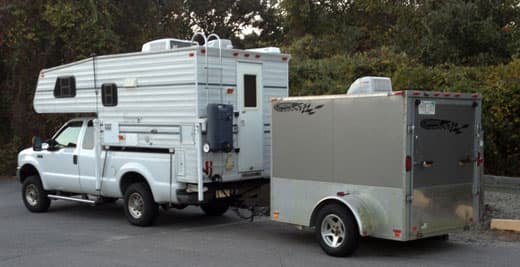 "We have a 2003 CargoPro 5'x8' V-nose aluminum enclosed motorcycle trailer, with a 2012 Victory Cross Country Tour inside.  We go anywhere.   We go up and down the East Coast, to the mountains of New England, and a lot more places yet to come.  We used to camp with the motorcycle, towing a small trailer, but tenting and riding in the rain gets old fast.  Nothing beats waking to the sound of rain on the camper roof and the smell of coffee brewing." – Kevin and Melinda Eaton, 2004 Ford F250, 2004 Northstar 8.5 Adventurer
"I tow a 1999 Chevy Tracker and a 2011 Massey Ferguson GC2410 tractor.    I take the tracker to go out and explore the country side.  It's easy on gas and easy to drive.  I also don't have to break camp and it's easy to tow.  The tractor is for working." – Victor Davis, 2006 Ford F350, 2004 Eagle Cap 1150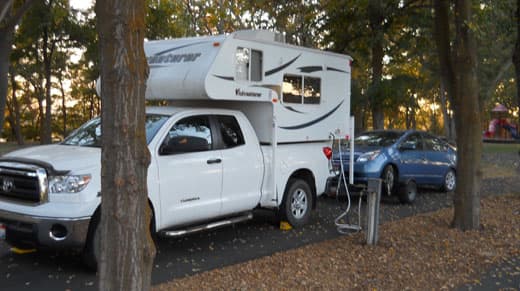 "We tow a 2009 Prius on an Acme Tow Dolly.  We are snowbirds from Idaho and we need to bring our second vehicle along for our stay in the Southern California high desert region." – David Neumann, 2010 Toyota Tundra, 2011 Adventurer 80GS
"We tow a 1992 Jeep Wrangler, a 1994 Mustang tilt bed trailer with any combination of four motorcycles: 1956 HD FLH, 2004 Yamaha XV1700, 2007 Kawasaki KLR 650 and a Triumph Bonnevile T100.  We also tow a 2010 Bass Tracker Pro 16 fishing boat.
I take the Jeep to a 15,000 acre ranch I have use of to check on the livestock and hunt.  The motorcycles are a mix and match.  When I'm going out west exploring, I take the KLR.  When cruising the boulevards or attending a rally or bike function, I take the big Yamaha.  When traveling in small towns and exploring, I take the Bonnevile.
I recently purchased a motorcycle hitch hauler to take the KLR and the boat together on backroad adventures or take the Triumph without the trailer.  I pull the boat to where ever I feel like fishing.  Sometimes I piggy back it with the Jeep.  It makes it easier to to put the boat in without using the big truck.  Plus, it makes it easier to set up a base camp for long term.
Taking the Jeep or motorcycles along is also helpful as I don't have to drop the camper for errands or sight seeing.  Plus, some campgrounds don't permit you to take the camper off the truck.  I'm considering a utility trailer to make it easier when hauling motorcycles and keeping them out of the weather.  This will also give me a little more capacity to bring along more toys." – Jeff Yarborough, 2005 Dodge Ram 3500, 2009 Lance 915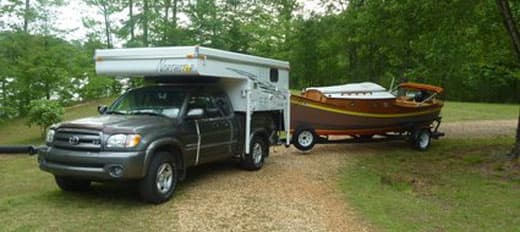 "I tow my homemade wooden power boat.  It is 20-feet long with a cuddy cabin and 30hp Tohotsu outboard.  It is a SkiffAmerica 20.  I named her Spring Fever.  I have had her on Rend Lake in southern Illinois, Greer's Ferry Lake in Arkansas, Eufaula Lake in Oklahoma, Lake Claiborne in Louisiana, Bayou Teche in Franklin, Louisiana and the Ouachita River in Monroe, Louisiana.
In Florida, I have done the Inter Coastal Waterway in the Pensacola area, the Black Water River, Silver River, and the famous Suwannee River.  Mostly it is pleasure cruising, but at Lake Claiborne we take the rubber pull toys and invite all our friends to come over to play and enjoy the water.  I also took the boat to Lake Village, Arkansas and spread my mother's ashes on Lake Chicot in front of her childhood home.  I had seven adults and two kids in the boat for that." – Gene Lueg, 2004 Toyota Tundra, 2011 Northstar TC 650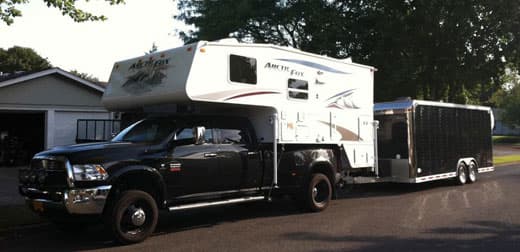 "We tow an enclosed trailer with up to two quads and a Polaris RZR, or a utility trailer with a quad or the RZR.  We go to OHV riding areas in mostly Oregon, but we also go to Washington and Utah." – Elliot Groeneveld, 2011 Dodge Ram 3500, 2011 Arctic Fox 1150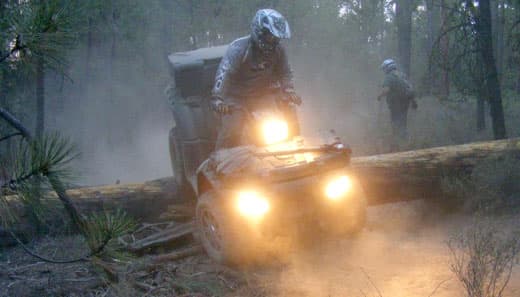 "We have two Jeeps.  First we have a 2005 Wrangler Unlimited.  It has a 3-inch lift, 23-inch tires, a Warn 9.5TI winch, and some additional modifications.  Number two is a 1996 restored Jeep Cherokee 4X4 with the 4.0L six cylinder.  This Jeep is our street Jeep.  It has a Budget 2-inch lift, Goodyear SRA tires, and Wrangler wheels.