Here is more evidence that truck campers are the best toy haulers on Earth.  From boats to ATVs to race cars, there's seemingly nothing truck campers can't tow.

If there's one word that explains the purpose of a truck camper, it's versatility.  Not only is a truck camper designed to go anywhere and camp anywhere, but the ability to tow almost anything makes it the versatile tool of choice for the most interesting RVers on the planet.  Want proof?  Read on.
"We tow my homemade enclosed Harley hauler.  It is smaller and lighter than most utility trailers.  It has a drop down tailgate.  The tailgate was fine for loading dirt bikes.  However, because we use tall fifteen inch wheels and tires to more closely match the truck tires, we have to use an additional aluminum ramp which works great for loading and unloading the Harley Dyna Super Glide Custom.
On the truck we have installed a twenty-four inch solid steel stinger for the trailer's purposely extra long tongue.  Clearances with the truck camper work just fine.  All we need now is a remote rear view camera and we'll have the perfect setup.
We haul our Harley whenever we think the weather is looking like it will be good for riding.  We haul it to Arizona, Nevada, Southern Utah and, of course, to the Oregon coast.  We love hauling the Harley to destinations all over the American West so we can travel freely and really get out and enjoy the country." – Gary Gadwa, 2012 Ford F-350, 2011 Eagle Cap 950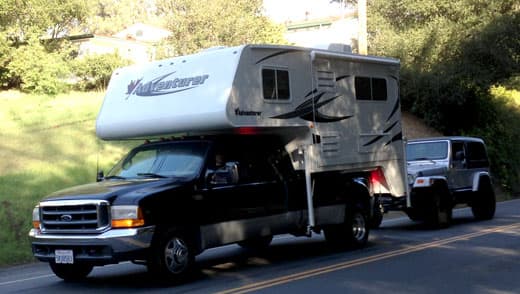 "I tow either a 2005 Jeep Wrangler Unlimited that is heavily modified for off road adventures, or a twenty foot Pace enclosed race car trailer with two race cars (my wife's and mine) for SCCA road racing.
We use the Jeep for anything and everything; from hard core Jeep trails to dirt road exploration of backcountry and distant trail heads for hiking.  We race the race cars (obviously) usually on Southern California tracks, but also in Northern California and have been as far East as Topeka (we are Los Angeles based)." – Bruce Allison, 2000 Ford F350, 2012 Adventurer 910 FBS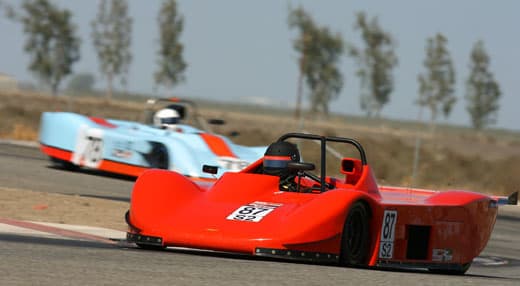 "We tow a 1998 23-foot Lowe deck boat and a 1973 Ford Bronco.  The deck boat goes to Kansas, Missouri, and the Oklahoma lakes where we can fish or play in water with our nine grandkids.  Our 1973 Bronco goes to the South Fork, Colorado area on four wheel drive trails where we go fishing and nature watching.  We tow the Bronco four down with ReadyBrake.  We have owned the Bronco since it was brand new." – William and Coda Moscript, 2008 Ford F-250, 2002 Northstar 850 SC
"I tow a Logan motorcycle trailer with a Harley Davidson Ultra Classic. I travel to interesting new places and ride." – Rob Jordan, 2008 Chevrolet Silverado 2500HD, 2008 Lance 845
"I tow a Featherlite 3H BP horse trailer with one of my three geldings.  I retired to pursue my passion of horse camping and trail riding (while I could still do it!).
I try to get out a couple of times a month.  I normally primitive camp in state and federal places here in Alabama, Tennessee, or Georgia.  We generally stay in national forests, wildlife management areas, state forests, and state parks.  Those places offer primitive camping allow a much less costly experience.
I generally ride my horse each day I am camping for ten to twenty-five miles each time.  This means I'm up to nine hours daily out on the trails.  I am sixty-six years old and hope to keep doing this for a lot more years!" – Craig Bradley, 2004 Lance Lite 1025, 1997 Ford F250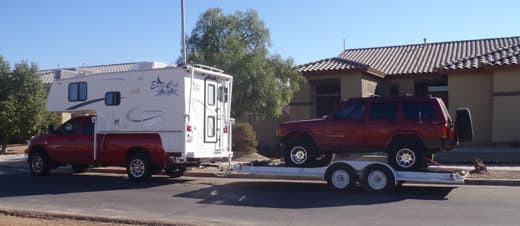 "I have two things I tow depending on what I plan to do at the destination.  I have a 1998 Jeep Cherokee that I tow on a flat bed trailer and an 18-foot ski/fishing boat.  The boat is pretty obvious.  We go water tubing and fishing.  The Jeep is a rock crawler, but is good for trail running also.  I use it to run trails that would damage the Ram." – Leonard Pennock, 2006 Dodge Ram 3500, 2003 Eagle Cap 950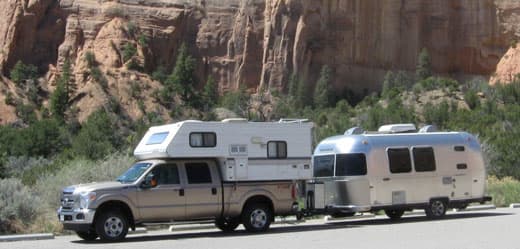 "We tow a 20-foot Airstream if we are taking others on a trip, a utility trailer with camping gear (generator, fishing/hunting gear, kayaks, etc), and an off-road Tacoma set up for hunting/off-roading.  We go to Wyoming, Colorado, northwest Oregon and Washington, Alaska, British Columbia, Montana, Utah and trips to Florida's gulf coast for fishing, hunting (upland birds mostly), mountain biking, kayaking, and just touring around." – Philip Bolding, 2012 Ford F350, 1994 Lance 825
"We tow a nineteen foot long Featherlite three horse trailer.  We are trail riders and have taken our Missouri Foxt Totter horses to the Rocky Mountains many, many times.  Colorado, Wyoming, Montana, and South Dakota have all been destinations.  We also regularly visit Smoky Mountain National Park and the local state parks and national forests here in the Mid-West and East.
Many of the trailheads are located in areas that make it impossible to access with a large fifth wheel trailer.  We've been there, tried that, and it didn't work.  Our towing with truck camper actually started in the late 1960s when, as a professional motocross racer, I towed race bikes from Ohio to Florida to Massachusetts to Missouri and points in between for about five years.  We simply haven't found anything that works better for us." – Pete Clark, 2006 Dodge 3500, 2008 SnowRiver 10-2RK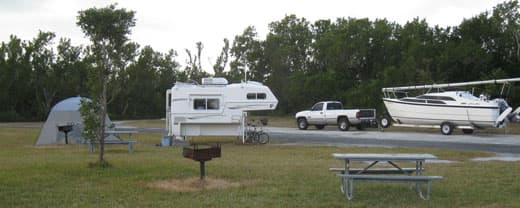 "We tow a Macgregor 26M sailboat, a Suzuki Sidekick. or two Sunfish on one trailer.  We always tow something." – Jake and Sylvie Mathis, 1994 Dodge Ram 2500, 2005 Northern Lite 9-6Q
"I tow a MC Trailer with a 2009 Yamaha TL200 motorcycle on it.  I use the motorcycle to go off-road and on trips to town." – E. Phoenix, 2005 Chevy Silverado 2500, 2002 Lance 845
"We tow a 2004 Champion 188 DCX Bass boat.  We take our truck camper and boat to local state park lakes that have camping.  We tow the boat 140 miles every weekend to go fishing for largemouth bass." – Brett and Jen Van Diest, 2007 Ford F250, Fleetwood Caribou 8CS
"We tow a Lund SSV-18 boat with F60 HP Yamaha or 1976 19′ Crestliner Nordic with F115 Yamaha.  My wife rows with the local rowing club and we go to regattas.  She rows and I run the boat with race officials in it.  The truck camper gives us a nice quiet place to relax in and the bathroom/shower on site isn't bad either.  We use the boats for fishing and cruising on Lake Superior and inland lakes in northern Minnesota and Wisconsin." – Dave Miller, 2012 Ford F350, 2002 Bigfoot 10.6E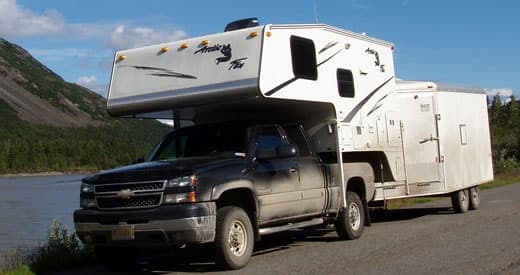 "We tow two Yamaha Grizzly 450 ATVs equipped with winches.  We take our Yamahas all over Alaska into places you could not walk.  We enjoy trail riding, fishing, and hunting.  During the winter, we take the ATVs to the lower forty-eight states and ride trails." – Henry Huizenga, 2005 Chevy Silverado 2500, 2004 Arctic Fox 860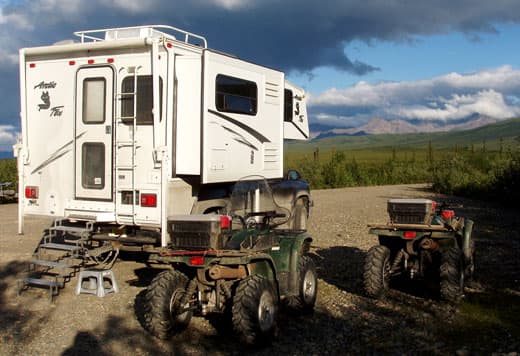 "We have a 6'x12' Haulmark utility trailer with a 2010 Harley Road King.  We utilize the bike as transportation and for sightseeing." – Mike Ames, 2012 Ford F350, 2013 Lance 1050S
"We tow a flatbed trailer that we use to haul antique tractors to tractor shows." – Robert Johnson, 1993 Dodge W250, 1988 Sunlite
"We tow a 1956 Glasspar Mariner and a 1959 Club Mariner around Oregon, Washington, and California.  We go boating with other club members.  We are living on the Oregon coast and enjoy local boating and fishing." – Tom Hansen, 2010 Ford F250, 2005 Northstar 850SC
"I tow a 2001 Yamaha Kodiak and 2003 Yamaha 660 Grizzly ATV and a cargo trailer with a 2006 Honda Goldwing trike.  I go anywhere that I am allowed.  Ride, ride, ride!" – Rick Shofner, 2001 Ford F350, 2012 Lance 1181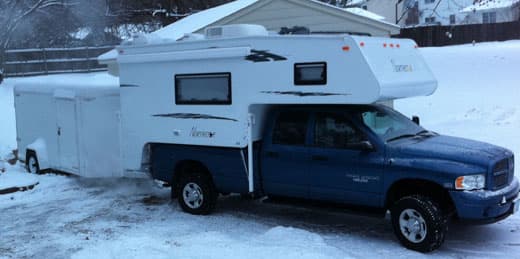 "I have a twelve foot utility trailer that I take down to Texas in the winter.  I use it as a wood shop while I'm there." – Marc Swanson, 2004 Dodge 2500,  2011 Northstar Igloo
"We tow a 2009 Jeep Rubicon Unlimited.  We do metal detecting, gold panning, and sluicing in remote areas of the Colorado and Wyoming Rockies." – David Knapp, 2012 Ford F350, 2012 Lance 1181
"The first thing we tow is a fifteen foot motorcycle trailer with two motorcycles; a Harley Davidson Road King, and a Sportster.  Second, we tow a 18'6″ Four Winds Horizon Bow Rider with GM 4.3 liter (195hp) motor.  Both trailers have brakes.  We take our motorcycles and tour all over Canada in the summer and the USA in the winter.  We boat on the Great Lakes most of the time and some large rivers." – Kelly and Rudy Schmid and dogs, Parker and Molly, 2004 GMC 2500HD, 2011 Lance 992
"I recently purchased a used 2000 Jeep Grand Cherokee, which I'm busy fixing.  When I get the funds I'll buy an eighteen foot car hauler to tote the Jeep along when my wife and I go on trips.  This will do two things.  It will allow us to have the Jeep for short trips (fishing or 4×4 and sight-seeing) and we can carry other stuff for camping like extra ice chests, deck chairs, dog crates and pen, and possibly a 10×20 collapsible shade.
The trailer will also be used for toting yard waste like tree trunks which are currently lying on the ground.  I have a pecan orchard including fruit trees and Poplar trees for a wind break.  The Jeep is used for trail rides and general 4×4 riding.  I also use it to geocache, which reduces the damage to my truck from adverse terrain.  We plan to take a few trips this year and want to take the Jeep along.  Of course, funds and the price of fuel will be controlling factors." – Harry Palmer, 2008 Dodge 2500, 2008 Lance 915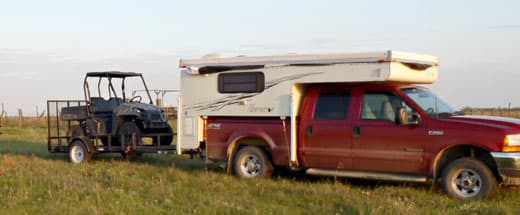 "We tow a 2011 Polaris Ranger 500 side-by-side on a small ramp trailer purchased at our local farm supply store.  My picture was taken in the beautiful Kansas Flint Hills where my husband and I help my brother each spring with pasture maintenance.  We work during the day and sleep out where there are no power lines or traffic noise.  The view over the rolling pristine pastures is endless.  It can be a bit windy, hence the haphazard roll down of our top while parked.
We are towing this summer to Colorado and, in a couple weeks, to Arkansas.  Last year we towed to Dubois, Wyoming and spent four days riding trails in breathtaking Wind River Range to the east and the distant Grand Tetons." – Linda Hanney, 2001 Ford F250, 2005 Northstar 850SC
"We tow a 2002 Jeep Wrangler or a 1996 Bayliner 40th Anniversary Edition Capri.  If we are going on a trip like to Death Valley or Yellowstone, we tow our son's 2002 Jeep Wrangler.  It's fun to go topless sightseeing or get off the beaten path.
Some trips we tow our 1996 Bayliner 40th Anniversary Edition Capri.  We like to fish, wakeboard, tube, or relax on the water.  It's nice to have options." – Crystal Lopes, 2006 Ford F350, 2003 Lance 1121
"I tow a 2005 Jeep Wrangler Rubicon using a Smittybuilt tow bar attached to a Smittybuilt bumper.  I go anywhere remote for exploring.  There are plenty of places like that where I live." – Gary Pavone, 1995 Ford F350, 2001 Lance 810
"I tow an eighteen foot trailer with two four wheel drive ATVs, two Honda 250Rs, sand rail, dual sport motorcycles.  We go to Colorado, Idaho, Utah, and Wyoming for sand dunes and trail riding and to Oklahoma to the sand dunes." – Ronnie Willford, 1997 Ford F350, 1995 Shadow Cruiser 950
"I tow a pair of SeaDoo personal water crafts.  I go to various lakes in Texas, Oklahoma, Arkansas, and Missouri." – Jim Finck, 2001 Chevrolet Silverado 2500HD, 2004 Lance 1010

"I have a 2012 Polaris RZR XP and I explore Arizona, Utah, and Colorado with it." – Robert Skeans, 2008 Ford F350, 2007 Okanagan 117DBL
"I tow my boat and ATV.  I go every place I can access to launch the boat.  With the ATV, I mount my Sportspal canoe and head off to trails where the boat cannot go." – Robert Valade, 2008 Ford F250, 2007 Northstar Laredo SC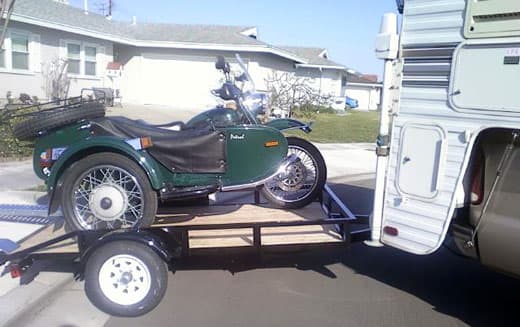 "I just purchased a new semi-custom 5'x8' utility trailer from Anaheim, California's DV Manufacturing to haul my 2007 Ural Patrol motorcycle/sidecar combination.  Previously, I'd relied on an ancient two-rail trailer to carry a few of my many motorcycles into the hinterlands of Southern California.
My motorcycle riding usually consists of day trips.  When I want to combine truck camping and motorcycle trips, I use a trailer to get my two-wheelers (or more) out to where I'm setting up camp.
The Ural is a rugged WW2-tested contraption hailing from Siberia and serves a perfect companion for off-the-beaten-path adventures.  The Lance, Ural and I will be attending the Overland Expo near Flagstaff next May." – Mark Obert, 1999 Ford F250, 1999 Lance 920
"I tow a King galvanized boat trailer with a thirteen foot Smokercraft Alaskan aluminum boat.  I also have a Onyx flat/tilt bed trailer for two Yamaha XT-225 dual-sport motorcycles.
The boat I take across northern Washington in the spring from Winthrop to Colville in Okanagan country to go lake fishing.  The motorcycles I take to Idaho and Montana.  When we park the truck and camper, it is nice to fish a bit more river without packing up.  It's also an emergency vehicle if needed to travel to cell phone coverage, etc." – Paul Riley, 2008 Ford F-350, 2008 Northern Lite 10-2000RR
"We have towed a Honda Pilot car or a Buster Boat and trailer.  We do not stay in one area very long as a norm, so having a car to travel the local areas is fantastic.  I am looking at buying a Jeep so when we're boon docking we can do more rugged traveling around.
When I go fishing, I tow the Buster Boat and trailer, which is usually about half the time.  When we tow the Honda Pilot, we are usually visiting areas like Yellowstone, Glacier, and other national parks.  We are also visiting family members, or staying in the town outside of the larger cities and visiting attractions in the inner city.
My fishing boat is towed to numerous areas like Henry's Lake in the West Yellowstone area, Strawberry Lake in Utah, Chesterfield Lake in Idaho, and numerous other areas in Colorado and the West." – Fran Boruff, 2006 Dodge Ram 3500, 2005 Lance 981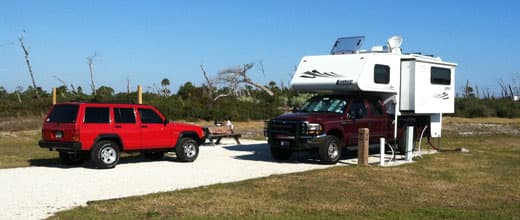 "We tow a 2009 Jeep Wrangler Sport (white with black soft top) and SC license tag IAJTYWU; fellow Jeeps will understand.  This was my 60th year gift to myself.  I've always wanted one.  We go anywhere and use it for anything we want; tailgating, fishing/hunting all over East Coast, riding the beach, Brittany Rescue transport, taking grandkids/dogs to ice cream stand (takes two adults and four medium to large dogs), celebrating Topless Day, and towing the Ford dually with the camper on out of the driveway when truck starter failed.  I have to admit, I was impressed with this last one.  I love my Jeep." – Liz Todd, 2005 Ford F350, 2005 Lance 1181
"When we go rock hounding, which we do as jewelry makers out of necessity, we take along our 5'x9' Zieman utility trailer.  There are four large plastic boxes mounted onto it and those hold the tools of the trade; generator, gas, water, etc.  We do not have to come back to the campsite for weeks at a time.  The trailer has a fold up front (a third) wheel that allows moving it while loaded and makes putting it on and off easy.  Anyone who does not have one of these thirty dollar items is really not being wise.  They can be worth their weight in gold.  We just get where we need be, swing down the third wheel, disconnect, and use the trailer as a work base and the camper as home base.  It's fast, easy, and very necessary.
When the weather is right, we hook up our two 2002 Polaris Trail RMK snowmobiles and head for our favorite snow park and spend a night or two.  Nothing beats being there at night under the starts or taking a moonlight ride.  Sure it is cold, but it is so pretty and so quiet.  The reason we use these models is simple.  Unlike the high output models, the fan cooled sleds last, literally, forever.  The desert around Plush, Oregon is a favorite rock hounding spot as is a lot of the coastal regions.  The San Diego area has a couple of Tourmaline mines.
The best riding area with the snowmobiles in Oregon is the Diamond Lake area.  There are many miles of marked trails and very good snow.  The Page mountain area in the southwest corner of Oregon is another sledding spot, but low elevation prevents long seasons." – Cliff Jones, 1999 Ford F350, 1986 Western Wilderness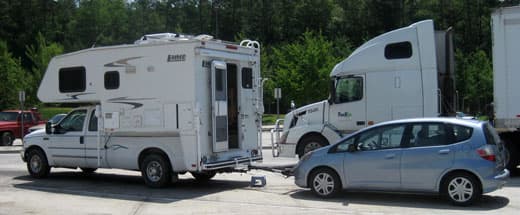 "I tow a 2011 Honda Fit all over the USA.  We'll go about 10,000 to 12,000 miles per year." – John Sheldon, 2000 Ford F250, 2006 Lance 851
"I have a 23 foot Wellcraft XL boat.  I go to Lake Michigan and larger Wisconsin lakes for sport boating and fishing." – Mike Herzfeldt, 2011 Chevy 3500, 2005 Arctic Fox 990
"We tow a 1961 Jeep CJ5 fully modified for off-road driving.  It's on a 1999 construction trailer.  We stay local and go to New Hampshire, Vermont, Maine, and Western Massachusetts.  I would like to go to Pennsylvania this year." – Chip Fraser, 2005 Chevy 2500 HD, 2013 Northstar Liberty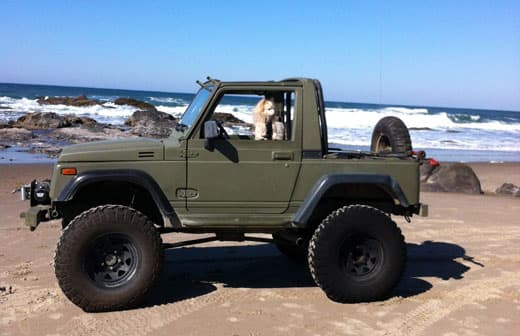 "I tow a 1988 Suzuki Samurai, coil sprung, with VW turbo diesel power.  I go everywhere and do everything.  It's an all weather, street legal ATV!" – Tim Burk, 2005 Dodge 3500, 2010 Eagle Cap 950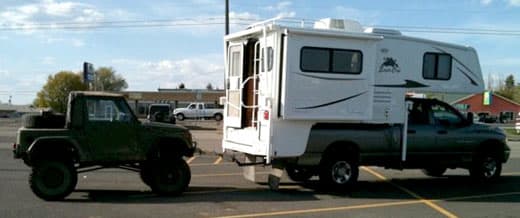 "I tow a Pace 6'x12' cargo trailer with a BMW R100GS motorcycle, and two or three bicycles.  I go to the national forests to ride forest service roads." – Russell Erbe, 2001 GMC 2500HD, 2012 Lance 992
"I have an enclosed HiPoint motorcycle trailer that's 7'x14' with off-road motorcycles inside.  I'll take the Enduros within 400 miles.  I'll go the day before the event, sign up, spend the night, race, clean up in the camper and drive home.  Taking the camper to the course saves time and expense." – Ken Westfall, 2004 GMC 2500HD, 2004 Lance 845
"I have two PJ flatbed trailers.  One over the wheels and the other one between the wheels.  They are twenty and twenty-two feet long.  The big one is 12,000 pounds the other one is 10,000 pounds.
I haul antique tractors and farm equipment.  Once in a while, I'll take my Arctic Cat four wheeler.  I think it's a 1996 Arctic Cat Bear Cat 454.  It was the first year they built them and it has 4,800 miles on it.  I take the units to tractor shows locally and out-of-state.  I have been to all forty-eight states and have shown tractors and equipment in many of them.
The trailer with the deck over the wheels is loaded with Oliver Equipment; a corn planter, grain drill, plows, and seed potato cutters.  I have a side kit on this trailer and, if I open up one side and roll the tarp back, the stuff looks like it's sitting on a stage.  It makes a nice display.
In the smaller trailer I haul garden tractors and other miscellaneous equipment.  That trailer has been to the West Coast four times.  I am in the market for a new camper or a good used one.  I travel mostly by myself and enjoy every minute of it." – Wayne Timchuk, 1997 Ford F350

"I tow a 2008 Yamaha Waverunner, VX Cruiser.  I enjoy taking my Waverunner along when camping near a lake whether I'm at local state parks or when I'm visiting family further away.  It is a great way to get out on the water and explore." – Tim Holman, 2007 Toyota Tundra, 2007 Hallmark Milner
"I have a dual ATV trailer with my kayak either attached to the camper top or to the trailer.  I can go to the mountains and stay out for five to seven days ATVing all I want.  Depending on the area, if I get tired of ATVing, I can find a lake and go kayaking or hiking." – Larry Petty, 2012 Ford F150, 2012 Hallmark Milner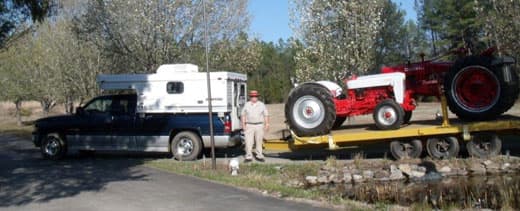 "I tow a Antique 1953 Ford Golden Jubilee and a 1950 Farmall H.  I haul these tractors on a 4,000 pound heavy duty trailer to about twenty antique farm shows and parades and tractor shows in North Carolina and South Carolina." – Edgar Mauney, 2001 Dodge Ram 2500, 1992 Skamper
"I belong to a 4×4 club and I own a 1992 Jeep Wrangler YJ.  It is yellow in color with a black hard top.  The Jeep is modified for four wheeling.  It has a lift, larger tires, heavy duty bumper, armor, winch, and all the other needed items.
I have towed the Jeep to a lot of places including the Rubicon Trail in Northern California and eastern Washington State.  This fall I'm taking it to Moab, Utah.  I have also taken the camper without the Jeep to Oklahoma and throughout the Southwest.  I also take the camper and tow the Jeep for weekend trail runs to local areas.
I enjoy four wheeling in remote locations with other members of my 4×4 club.  We spent a week in Moab, Utah three years ago, nine days in Helena, and Montana two years ago.  Last year's big trip was to the Rubicon Trail and Fordyce Creek in Northern California for about a two week trip.  I also use the truck and camper when we have long weekends and are four wheeling in local areas for multiple days.
I purchased the truck and camper combination after I blew a seal in my old truck's transmission trying to drive to Montana.  The next trip the heater in my old camper tried to kill me with Co2 poisoning.  At this time I decided that a new truck and camper were needed.  I bought the camper brand new and matched it to a used Chevy 4×4 truck.
I chose the Wolf Creek as it is lighter than a lot of campers and it left me enough payload to tow the Jeep on a car trailer.  Initially my wife was unsure about the camper but, after our two week trip to see her parents in Oklahoma, she has really enjoyed it.  I have modified the truck with a set of air bags on the rear suspension and a set of Torklift camper tie-downs.  I have also added a Torklift Glow Steps in the rear of the camper.  In closing, I love the truck camper and wish I had more time to use it.  Come on retirement." – Ron Tennyson, 2004 Chevy 2500 HD, 2012 Wolf Creek
"I tow a 2006 Jeep Wrangler Rubicon Unlimited.  I take it to four wheel in Moab, Utah, Silverton, Colorado, and Southern Arizona." – Erwin Greven, 2002 Chevrolet Silverado 2500HD, 2002 Lance 921
"I tow a 2005 LJ limited Jeep.  We go to Yukon, NWT Northern British Columbia and Alaska.  We travel back roads, like Canol Roads, Faro, Mayo, Dawson City, the Cassiar Highway, back roads in Kitimat and Terrace British Columbia areas and northern Alberta where I reside." – Ken Basarab, 2003 Dodge Ram 3500, 2007 Snowbird 10-2
"I tow a a 2012 Light weight 5'x8" Utility Trailer with either a 490 pound 2000 ZRX1100 Kawasaki or a 620 pound 1996 ZX11 Kawasaki Ninja.  Sometimes, when I'm going camping and not to a motorcycle event, I take my 198 pound 2008 Yamaha ZUMA Scooter.  I take the motorcycles to motorcycle events in Texas, Arkansas, North Carolina, and Pennsylvania.
When I go to campgrounds, usually state parks ,I take my 50cc Yamaha ZUMA scooter to explore.  With its fat tires, it does well on gravel roads.  I left it completely stock with it's spark arrester muffler making it so quiet you can barely hear it.  This setup keeps me at a 1,100 pound limit on my towing." – Steve Lowery, 1999 Toyota Tacoma, 2010 Travel Lite 690 FD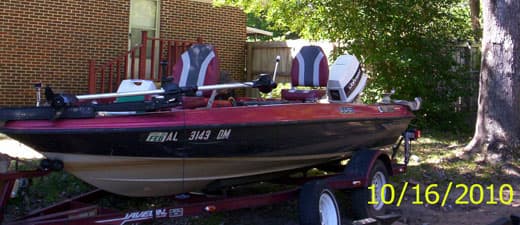 "I tow a sixteen foot Javlen Bass boat.  We stay in Corp of Engineers camp site because they are always on the rivers.  We have friends who will join us.  We fish, BBQ, and have fellowship around the campfire." – Joseph Brown, 2008 Toyota Tundra, 2010 Travel Lite 800SB
"I have a 2000 12-foot Interstate dual axle bull nose covered utility trailer.  We haul our motorcycle inside the trailer.  The motorcycle is a 1999 Honda Valkyrie with 100,560 miles.  We ride two-up and have had it since new.  We have ridden it in many Western States and Provinces.
We are two seventy-five year old snow birds and the primary use of the trailer is to take the motorcycle with us to Arizona in the winter so we can and ride year round." – Nancy and Glenn Yauney, 1995 Chevrolet Silverado 3500, 2000 Arctic Fox 1150
"I have a 14-foot Jon boat on a small flatbed tilt-trailer.  We like to go to lakes for fly fishing!" – Ken Woodward, 2012 Ford F-150, 1994 8′ Trav-L-Mate
"We tow a 5'x10' 3,500 pound tilt bed utility trailer which hauls a golf cart.  Besides the golf cart, we also carry a generator and extra gas on the trailer.  I made an extension hitch where I can remove the hitch from the receiver so we can access the steps and not have to crawl under the camper overhang and remove the entire extension hitch system.
We attend a number of steam and gas engine shows, which are spread over in some cases hundreds of acres.  With our own mobility we do not have to depend on the show's own transportation system.
We also attend black powder competitions where we camp away from the ranges, and transportation is a necessity.  With our camper set up to pull a trailer.  We have options of hauling other items when we camp when necessary.  We have a back up camera on the camper, so I can monitor the trailer as we travel." – Gary Gade, 2011 Ford F350, 2010 Lance 1181
"We tow a car hauler trailer with a 2005 TJ Rubicon Jeep.  We go to forest service campgrounds close to Jeep road trail heads." – Dwaine Rue, 2002 Ford F350, 2008 Lance 861
"We tow a 2005 24-foot Suntracker pontoon boat, a 1973 16-foot Belvidere boat, snowmobiles, 95 and 96 Polaris Tail Indys, a 2005 Kawasaki ATV, and a 2000 Yamaha Wave Runner.  We take the 2005 24-foot Suntracker to Lake Vermillion in Tower, Minnesota to take my son-in-law's mother out onto the lake to fish.
The resort we stay at charges $5 per night per person to dry camp, with dock space for the pontoon.  We take the 1973 16-foot Belvidere boat fishing and sightseeing to different lakes in Minnesota and Wisconsin.
The 95 and 96 Polaris Tail Indys go to different locations in Minnesota and Wisconsin so my wife and I can go snowmobiling.  I use the ATV to go deer hunting.  I cannot walk the distance to the deer hunting stand.  I also take it to Upper Michigan to run the trails with friends.  My son and I go out to different lakes to spend time together with the Wave Runner.  We usually stay in state parks and resorts that also allow parking for my pick-up and camper." – Robert A. Grueschow, 2003 Chevrolet Silverado 1500, 1990 Sportsman 801
"We tow an 18-foot, eight hole dog trailer to transport our labs to hunting and training destinations across the country.  We transport our labradors to different hunting destinations and training facilities in Arkansas, Colorado, Idaho, North Dakota and other destinations.  The truck camper is a perfect mobile hunting lodge that is prepared to go anywhere, anytime, under any conditions." – Mike Stewart, 2012 Dodge 3500, 2012 Lance 855S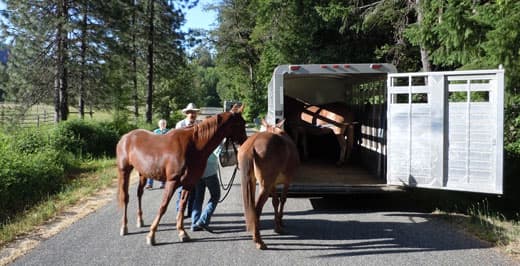 "We tow a Trails End three horse bumper pull.  We belong to Backcountry Horseman of California (BCHC), Shasta Trinity unit.  We ride to beautiful lakes all over northern California.  We actually pack fish into alpine lakes.  We do trail maintenance, and we support the Forest Service by packing in the conservation corp kids that are doing trail maintenance.
One of the most fun things we have done with the camper is stay at the fairgrounds in Red Bluff, California for different functions with our "herd of one" big quarter horse, Trigger, and our two great mules, Easy Rider, and Sister Mule.  Next week we will be there to do Trail Trials, and Ride For Life, which is a cancer society fundraiser.  With the camper we do not have to drive to a motel and leave our herd to chance.
Our Scotty travels with us everywhere, and Millie Louise gets very excited when she sees George hook up the camper.  We bought an older used Lance camper when we retired in 2008, and this week are upgrading to an Arctic Fox 990.
One of the trips we will take in June is the 'half assed flat ride'.  We will camp on the ocean below Ferndale, California, and ride daily, feast three times a day, and enjoy live western music by the campfire at night." – George and Claudia Lawrence, 2003 Ford F350, 2013 Arctic Fox 990
"As horse lovers, we haul a three-horse slant Kieffer horse trailer with Salty, Rice, and Buttercup on board.  We are reverse snowbirds.  We live in southeast Arizona but leave for the Midwest when the heat and monsoons come in.  We purchased a small farmette in northwest Illinois that we use as our base to take trail rides in Illinois, Wisconsin, and Iowa.  Our 1,800 mile one way route is determined by which horse motels are available.  We can usually make it in three days." – Carol and Casey Garan, 2003 GMC Sierra 2500HD, 2008 Lance
"I tow a 22-foot Northwest Jet Boat.  The boat is fully welded with a Hamilton 212 pump, and 8.1 liter, 375 horsepower Marine Power engine. The bottom is one-quarter inch marine aluminum and, although the design is suited for running river rapids like those in Hells Canyon, it is equally suited for lakes and running shallow water.  With only twelve inches of water needed when on plane, we can take it pretty much anywhere we have the courage to go.
For fishing, we have an eight horsepower trolling motor with auto pilot, down riggers, and depth/fish finder.  The boat is set up for fishing, cruising, or just enjoying a day on the water.  It's also set up to haul two kayaks or canoes on a custom overhead rack which allows us take our human powered craft with us as well." – Dave Riddle, 1997 Dodge 2500, 2006 Host Tahoe
Click here to go back to Truck Campers Tow Anything: Part 1.