Here is more evidence that truck campers are the best toy haulers on Earth.  From boats to ATVs to race cars, there's seemingly nothing truck campers can't tow.

If there's one word that explains the purpose of a truck camper, it's versatility.  Not only is a truck camper designed to go anywhere and camp anywhere, but the ability to tow almost anything makes it the versatile tool of choice for the most interesting RVers on the planet.  Want proof?  Read on.
"We tow my homemade enclosed Harley hauler.  It is smaller and lighter than most utility trailers.  It has a drop down tailgate.  The tailgate was fine for loading dirt bikes.  However, because we use tall fifteen inch wheels and tires to more closely match the truck tires, we have to use an additional aluminum ramp which works great for loading and unloading the Harley Dyna Super Glide Custom.
On the truck we have installed a twenty-four inch solid steel stinger for the trailer's purposely extra long tongue.  Clearances with the truck camper work just fine.  All we need now is a remote rear view camera and we'll have the perfect setup.
We haul our Harley whenever we think the weather is looking like it will be good for riding.  We haul it to Arizona, Nevada, Southern Utah and, of course, to the Oregon coast.  We love hauling the Harley to destinations all over the American West so we can travel freely and really get out and enjoy the country." – Gary Gadwa, 2012 Ford F-350, 2011 Eagle Cap 950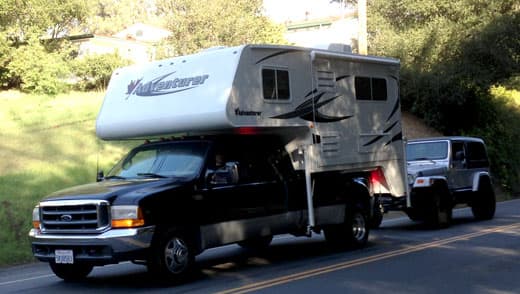 "I tow either a 2005 Jeep Wrangler Unlimited that is heavily modified for off road adventures, or a twenty foot Pace enclosed race car trailer with two race cars (my wife's and mine) for SCCA road racing.
We use the Jeep for anything and everything; from hard core Jeep trails to dirt road exploration of backcountry and distant trail heads for hiking.  We race the race cars (obviously) usually on Southern California tracks, but also in Northern California and have been as far East as Topeka (we are Los Angeles based)." – Bruce Allison, 2000 Ford F350, 2012 Adventurer 910 FBS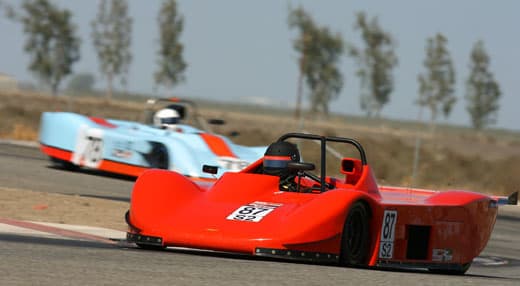 "We tow a 1998 23-foot Lowe deck boat and a 1973 Ford Bronco.  The deck boat goes to Kansas, Missouri, and the Oklahoma lakes where we can fish or play in water with our nine grandkids.  Our 1973 Bronco goes to the South Fork, Colorado area on four wheel drive trails where we go fishing and nature watching.  We tow the Bronco four down with ReadyBrake.  We have owned the Bronco since it was brand new." – William and Coda Moscript, 2008 Ford F-250, 2002 Northstar 850 SC
"I tow a Logan motorcycle trailer with a Harley Davidson Ultra Classic. I travel to interesting new places and ride." – Rob Jordan, 2008 Chevrolet Silverado 2500HD, 2008 Lance 845
"I tow a Featherlite 3H BP horse trailer with one of my three geldings.  I retired to pursue my passion of horse camping and trail riding (while I could still do it!).
I try to get out a couple of times a month.  I normally primitive camp in state and federal places here in Alabama, Tennessee, or Georgia.  We generally stay in national forests, wildlife management areas, state forests, and state parks.  Those places offer primitive camping allow a much less costly experience.
I generally ride my horse each day I am camping for ten to twenty-five miles each time.  This means I'm up to nine hours daily out on the trails.  I am sixty-six years old and hope to keep doing this for a lot more years!" – Craig Bradley, 2004 Lance Lite 1025, 1997 Ford F250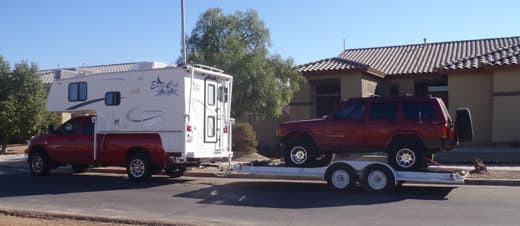 "I have two things I tow depending on what I plan to do at the destination.  I have a 1998 Jeep Cherokee that I tow on a flat bed trailer and an 18-foot ski/fishing boat.  The boat is pretty obvious.  We go water tubing and fishing.  The Jeep is a rock crawler, but is good for trail running also.  I use it to run trails that would damage the Ram." – Leonard Pennock, 2006 Dodge Ram 3500, 2003 Eagle Cap 950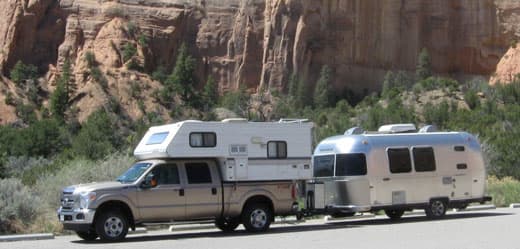 "We tow a 20-foot Airstream if we are taking others on a trip, a utility trailer with camping gear (generator, fishing/hunting gear, kayaks, etc), and an off-road Tacoma set up for hunting/off-roading.  We go to Wyoming, Colorado, northwest Oregon and Washington, Alaska, British Columbia, Montana, Utah and trips to Florida's gulf coast for fishing, hunting (upland birds mostly), mountain biking, kayaking, and just touring around." – Philip Bolding, 2012 Ford F350, 1994 Lance 825
"We tow a nineteen foot long Featherlite three horse trailer.  We are trail riders and have taken our Missouri Foxt Totter horses to the Rocky Mountains many, many times.  Colorado, Wyoming, Montana, and South Dakota have all been destinations.  We also regularly visit Smoky Mountain National Park and the local state parks and national forests here in the Mid-West and East.