When Bruce and Kathy Allison park their 2012 Adventurer 910FBS, roll out their race cars, and put on their helmets, the marriage is off until the checkered flag flies.

In 1969, my dad brought home a brand new GMC pickup with an eleven-foot South Seas truck camper.  It was the first truck camper I ever saw, or at least noticed.  I was fourteen years old.
That camper was quite crude by today's standards; simple turnbuckles, no bathroom, a real icebox (it looked like a refrigerator, but you put block ice in it), no water heater, no air conditioner, no heat, powered by the truck's battery, and microwave ovens hadn't yet been invented.
Our family of five plus a dog traveled to at least half of the lower forty-eight states in that rig.  All of us kids would ride in the cabover bed, and the dog and people would regularly pass through the portal boot that replaced the single cab's rear window.
In the heat of the summer, we would forgo our soft cabover bedroom window view, and kneel on the camper floor with our heads pushed into the truck cab, trying to catch some of the coolness of the truck's air conditioning.
That truck and camper simply gleamed at all the campgrounds we visited.  It was a palace compared to the other truck campers of the day.  We didn't know any better of course; no one cared about about passenger safety, amenities, and luxury features.  All that would come with future truck campers.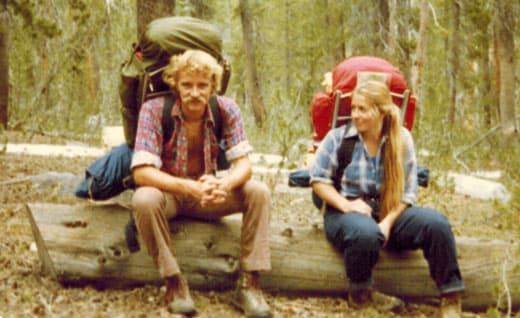 This very basic combination was used by our family, and later by my parents after the kids left, until Kathy and I bought it in 1980.  It was shopworn by that time, but we were young and the price was right.  It would be our first truck camper of five truck campers to date.
Our first truck camper trip together was to drive the South Seas back to our home in Los Angeles from my folk's house in New Jersey.  That was a two week vacation.  We stopped to visit family, friends, and parklands from East to West.  This was how I introduced Kathy to the world of truck camping.
I should back up a bit to say Kathy was a very experienced camper already.  We had met a few years earlier in a backpacking store where she was the assistant manager.  Both of us were heavily involved in backpacking at the time.  We knew our way around tenting and reconnoitering with a topo map and compass.  The high Sierras were our playground.  With this background, our new to us truck camper, as worn and meager of options as it was, felt like a Marriott Hotel.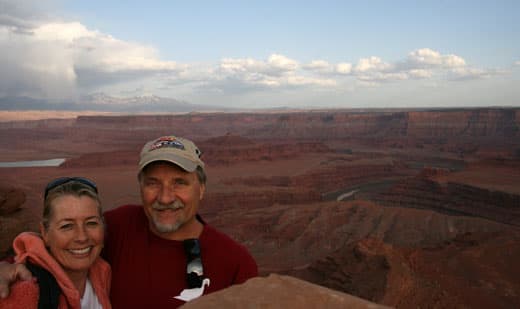 Now in our mid-fifties, we have continued to use a truck camper.  We've camped at parks, deserts, mountains, and beaches.  We used a truck camper as a base camp for activities like surfing, auto racing, four-wheeling, and hiking.  We've also used a camper for more mundane things like visiting relatives and when relatives visit us.  Our truck camper has even been a makeshift home office for a few days after a wildfire cut power to our house.  In my opinion, nothing can beat the versatility, maneuverability, and towing capacity of a truck camper.  We've considered every option, and each time we come back to a wonderful, comfortable, and cozy truck camper.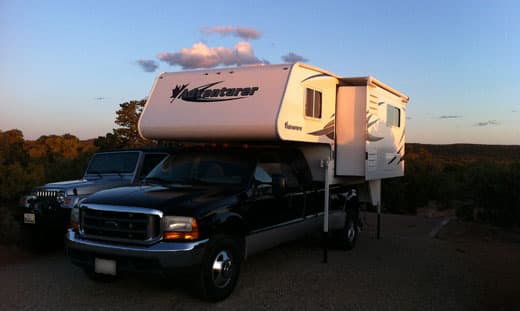 Our current camper is a 2012 Adventurer 910FBS.  It's a 9'10" model with a single slide (our first slide-out camper), and we just love it!  It's definitely the best camper we've ever owned so far, with a floor plan that's airy and spacious; two words that usually don't apply to truck campers.  It certainly has every amenity that we need.  In fact it has more than we need.  From the generous wet bath, to the large U-shaped dinette, to the ample storage, the 910FBS makes for a great base of operations for our many uses of an RV.
That said, we still wanted to modify the camper to suit our needs.  The 2012 models had LED exterior lights, but incandescent interior lights.  Job number one was converting all the interior lights to LED.  Now, if we turn on every light in the camper, we have the same electrical draw as turning on one and a half of the old incandescent lights.
One downside of the new LED lights was that the camper interior was too bright for our liking.  The interior light fixtures had clear lenses, and translucent white lenses were not available.  Our solution was to remove all the clear lenses and softly sandblast the inside surface to create a frosted glass effect.  Perfect!  Now we have plenty of easy-on-the-eyes light inside.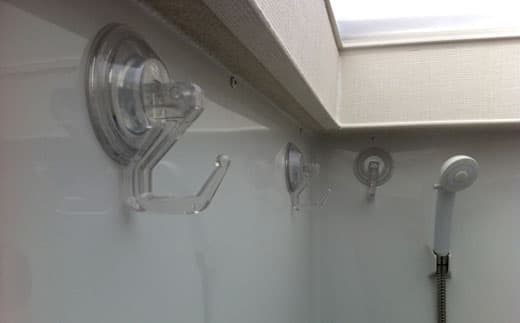 Meanwhile, Kathy found some hooks for the wet bath that used a mechanical suction cup to attach.  The watertight integrity of the bath was maintained, and these hooks (used for drying towels/washcloths) are out of the way and very firmly attached.