When Bruce and Kathy Allison park their 2012 Adventurer 910FBS, roll out their race cars, and put on their helmets, the marriage is off until the checkered flag flies.

In 1969, my dad brought home a brand new GMC pickup with an eleven-foot South Seas truck camper.  It was the first truck camper I ever saw, or at least noticed.  I was fourteen years old.
That camper was quite crude by today's standards; simple turnbuckles, no bathroom, a real icebox (it looked like a refrigerator, but you put block ice in it), no water heater, no air conditioner, no heat, powered by the truck's battery, and microwave ovens hadn't yet been invented.
Our family of five plus a dog traveled to at least half of the lower forty-eight states in that rig.  All of us kids would ride in the cabover bed, and the dog and people would regularly pass through the portal boot that replaced the single cab's rear window.
In the heat of the summer, we would forgo our soft cabover bedroom window view, and kneel on the camper floor with our heads pushed into the truck cab, trying to catch some of the coolness of the truck's air conditioning.
That truck and camper simply gleamed at all the campgrounds we visited.  It was a palace compared to the other truck campers of the day.  We didn't know any better of course; no one cared about about passenger safety, amenities, and luxury features.  All that would come with future truck campers.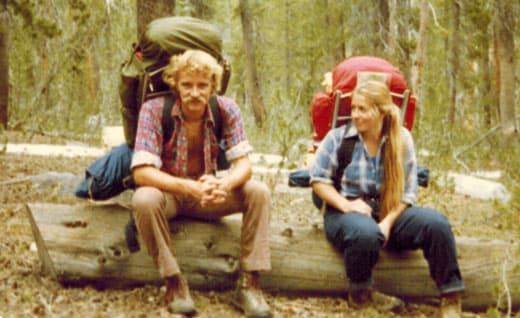 This very basic combination was used by our family, and later by my parents after the kids left, until Kathy and I bought it in 1980.  It was shopworn by that time, but we were young and the price was right.  It would be our first truck camper of five truck campers to date.
Our first truck camper trip together was to drive the South Seas back to our home in Los Angeles from my folk's house in New Jersey.  That was a two week vacation.  We stopped to visit family, friends, and parklands from East to West.  This was how I introduced Kathy to the world of truck camping.
I should back up a bit to say Kathy was a very experienced camper already.  We had met a few years earlier in a backpacking store where she was the assistant manager.  Both of us were heavily involved in backpacking at the time.  We knew our way around tenting and reconnoitering with a topo map and compass.  The high Sierras were our playground.  With this background, our new to us truck camper, as worn and meager of options as it was, felt like a Marriott Hotel.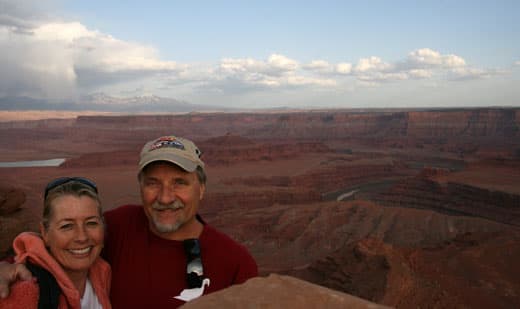 Now in our mid-fifties, we have continued to use a truck camper.  We've camped at parks, deserts, mountains, and beaches.  We used a truck camper as a base camp for activities like surfing, auto racing, four-wheeling, and hiking.  We've also used a camper for more mundane things like visiting relatives and when relatives visit us.  Our truck camper has even been a makeshift home office for a few days after a wildfire cut power to our house.  In my opinion, nothing can beat the versatility, maneuverability, and towing capacity of a truck camper.  We've considered every option, and each time we come back to a wonderful, comfortable, and cozy truck camper.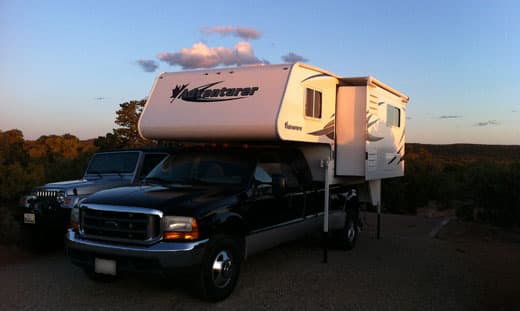 Our current camper is a 2012 Adventurer 910FBS.  It's a 9'10" model with a single slide (our first slide-out camper), and we just love it!  It's definitely the best camper we've ever owned so far, with a floor plan that's airy and spacious; two words that usually don't apply to truck campers.  It certainly has every amenity that we need.  In fact it has more than we need.  From the generous wet bath, to the large U-shaped dinette, to the ample storage, the 910FBS makes for a great base of operations for our many uses of an RV.
That said, we still wanted to modify the camper to suit our needs.  The 2012 models had LED exterior lights, but incandescent interior lights.  Job number one was converting all the interior lights to LED.  Now, if we turn on every light in the camper, we have the same electrical draw as turning on one and a half of the old incandescent lights.
One downside of the new LED lights was that the camper interior was too bright for our liking.  The interior light fixtures had clear lenses, and translucent white lenses were not available.  Our solution was to remove all the clear lenses and softly sandblast the inside surface to create a frosted glass effect.  Perfect!  Now we have plenty of easy-on-the-eyes light inside.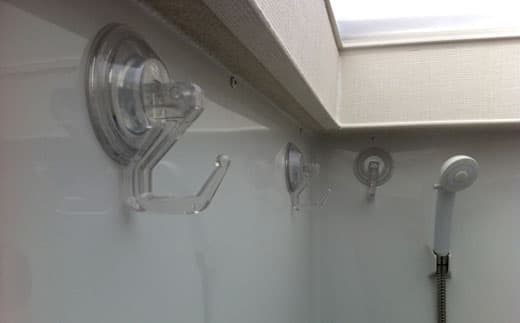 Meanwhile, Kathy found some hooks for the wet bath that used a mechanical suction cup to attach.  The watertight integrity of the bath was maintained, and these hooks (used for drying towels/washcloths) are out of the way and very firmly attached.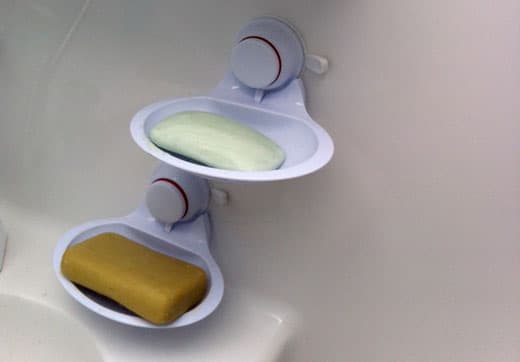 The same suction cup solution applied with two wall mounted soap dishes.
Meanwhile, in the cabover closet, Kathy found (and slightly modified to fit) a hanging organizer that's worked out perfectly to increase useable storage in the cabover.
We also added two six-volt golf cart batteries, which were a real squeeze to get into the battery compartment.  They have been worth it for the electrical longevity that they allow when boondocking, which is our preferred method of camping.
Just in case we need emergency power, we keep a quiet and portable Yamaha 2000 watt generator in the compartment where Adventurer normally installs an Onan.  We prefer the portable gas Yamaha generator to the built-in propane Onan generators, which we deemed much too noisy and vibration producing.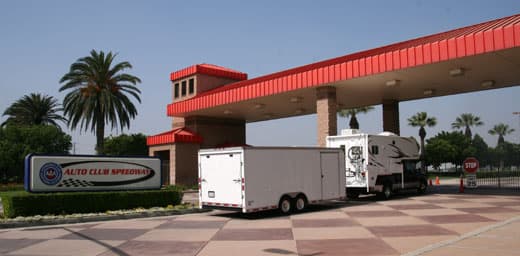 Dispersed camping is our modus operandi, and perhaps the most dispersed of the camping we do is at racetracks all over the Southwest.  Both Kathy and I race cars with the SCCA (Sports Car Club of America), and we tow a twenty foot enclosed Pace race car trailer.
It's made for some good natured ribbing between us, as once I traded paint with her pretty roughly – unintentional, I swear – as we came onto the main straight.  The track announcer yelled out, "And folks, they're married!" to the crowd, which got a huge reaction.  She still has a little of my paint left on her car, and has refused to polish it off as a reminder to me about that particular incident.  Grrr!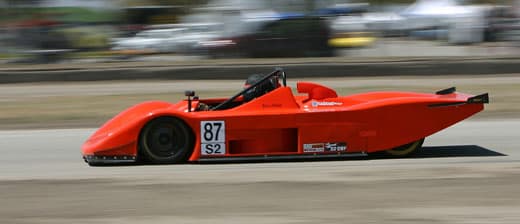 We both race in the same class car, at the same time, which can make for some pretty interesting tweaks to our marital relationship.  We have a saying amongst ourselves, "When the helmet goes on, the marriage is off!"  Is that ever true!  When we're on the racetrack, it's every man (or woman) for themselves, so get out of my way!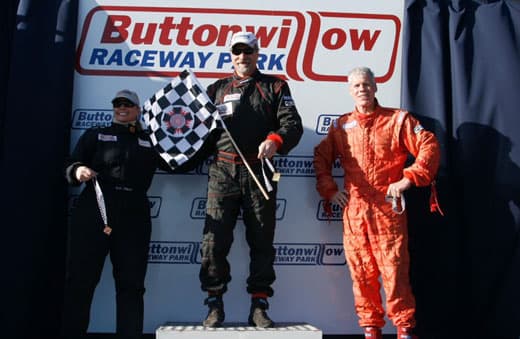 Our weekends with the SCCA are really fun.  Racing cars is exciting, as you might imagine, and it also builds character.  You must be prepared for every contingency, from rain, wind, and heat, to changing a clutch, repairing an engine, replacing bodywork, and hosting hearty meals and beverages for crew and friends.  All this while analyzing and tuning the car's suspension and aerodynamics to suit track conditions.  "It's more work than work!" as one of our compatriots once observed.  At the same time, it's very rewarding in uncountable other regards.

Our Adventurer truck camper is the ideal RV for this avocation.  In the tight paddock area that some tracks have, with trucks and trailers tightly packed in together, we can deftly maneuver into the narrowest of spaces, set up our race team, and camp right there in the race paddock.
The camper is our hospitality suite for us and our crew and our home away from home at the track.  When the time comes to put down the tools and race, it's also a changing room for getting into our racing fire suits.
If the trip to the track is a distant one, we'll drive all day and pull into a WalMart for a good night's sleep.  Then we're on the road again in the morning.  Our truck camper allows us incredible flexibility and comfort when we're wearing our racing hats.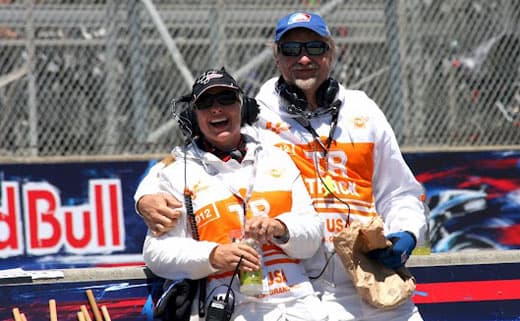 When we're not racing, we use the camper at the racetrack to do volunteer work as Turn Marshalls for races throughout the West.  Turn Marshalls are track side workers whose job is to communicate track conditions and commands from Race Control (in the tower) to the drivers on the track.  This is accomplished with about ten different colored flags that can be displayed stationary or waving, depending on the meaning intended.
Drivers risk their lives and equipment at every turn, and Turn Marshalls let them know the conditions ahead so they can confidently come around a blind turn at full speed knowing that the track is clear and safe ahead.  Turn Marshalls are also the first responders to fire and other emergencies as they may occur.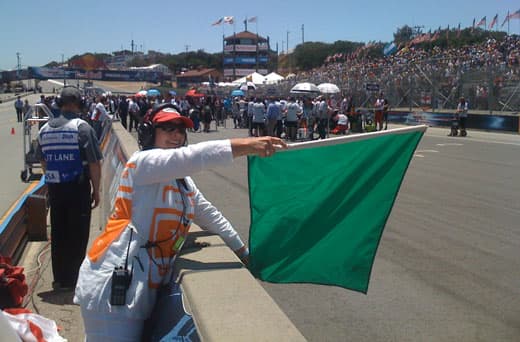 The best thing about being a Turn Marshall is the view.  We get to watch all kinds of races up front and center, without fences impeding our view.  We also enjoy full access to everywhere on the track, including on the track itself before and after the race.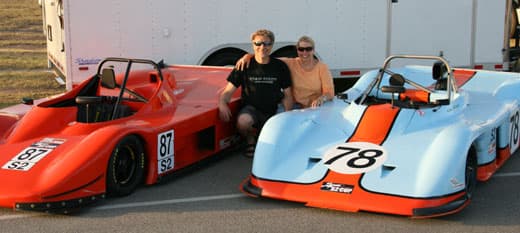 At first we started flagging to be able to watch and learn how to drive our race cars better, but it's great fun too.  We've been to all kinds of tracks all over the West, flagging world stage professional races like the Long Beach Grand Prix, Moto GP motorcycle races, and local SCCA car races.  We call it, "the second best seat in the house" because we would rather be in the driver's seat!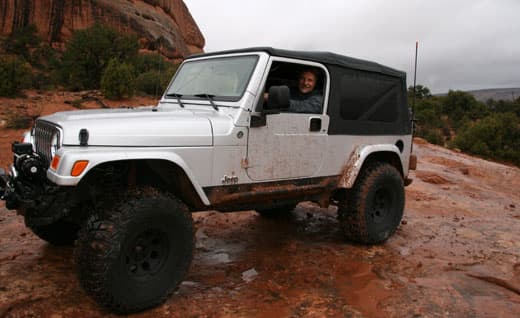 As Kathy and I are into all things motorsports, so it may not be surprising to learn that we have also combined our love of the outdoors with Jeeps.  We often take the truck camper and flat tow our modified 2005 Jeep Unlimited to isolated locations.  We drive the most difficult of Jeep trails we can find to get to places that are both spectacular and remote.
With our Jeep, we can start hiking a trailhead dozens of miles from asphalt roads, deeper into the wilderness than we've ever been before.  Vistas, flora and fauna, and incredible geologic landscapes that few people ever get to see, present themselves in our off-road adventures.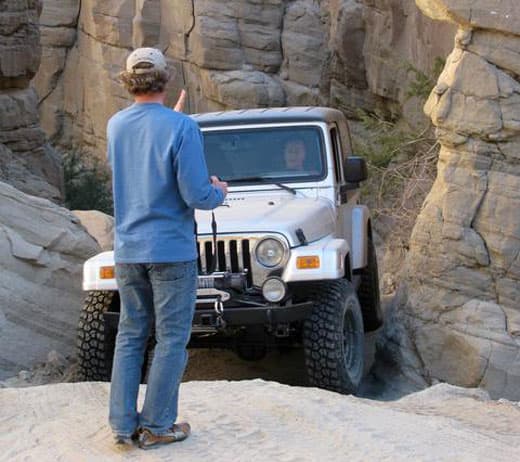 We have found the truck camper/Jeep combination hard to beat.  After a jostling adrenalin filled trail day climbing huge rocks, dry waterfalls, and steep mountains in the Jeep, we come back to our camper for a hot shower, Kathy's delicious dinner, and, more often than not, a beautiful sunset.  Explorations like this can be combined with the other fun folks in our Jeep club, or savored just by ourselves.  Either way it's a great day!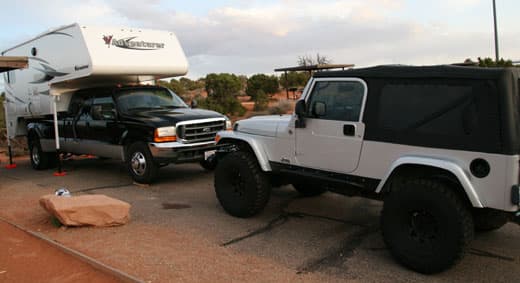 None of this lifestyle could be accomplished with aplomb unless we owned a versatile workhorse for our base camp.  For decades now, that has been a truck camper.  While demeaned as being too small by the majority of the RV community, Kathy and I continue to look at our truck camper as our little Marriott Hotel.  We don't want a larger RV.  When we go camping, we want to be outside, and enjoying the activities that we love.  We agree, "camp" is right in the name of "truck camper" and we wouldn't have it any other way.
Truck: 2000 Ford F-350, crew cab, dual rear wheel, long bed, 4×2, gas
Camper: 2012 Adventurer 910FBS
Jacks: Happijac
Tie-downs/Turnbuckles: Torklift frame mounts and Derringers with Happijac
Suspension: F450 rear springs and Hellwig helper springs, Hellwig front and rear sway bars, Bilstein shocks
Gear: Torklift Superhitch with 36" extension, 4.30 axle gears