Above: Brenda on the beach in Panama City, Florida
The money raised at Parrothead Rendezvous goes to help at-risk children and families in that county.  They had one band perform on Thursday, three bands on Friday and four bands on both Saturday and Sunday.  They also had raffles, a silent auction, and unlimited games, contests, and food.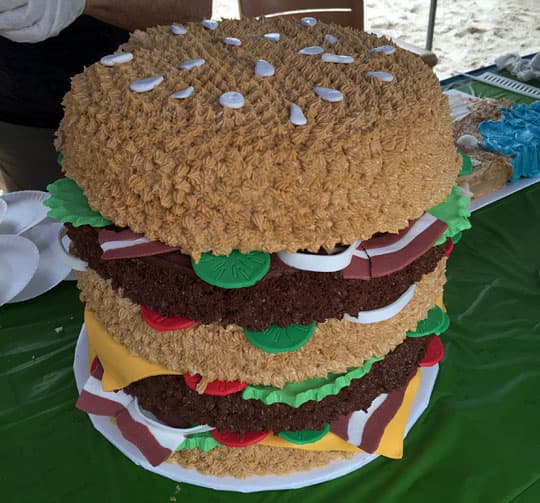 Above: A cake at the Parrothead Rendezvous
Parrothead Rendezvous was quite a party with tropical music, drinks, and dancing in the sand.  It doesn't get any better.
Raccoon River Campground in Panama City Beach
Above: The Raccoon River Campground in Panama City Beach, Florida
For Parrothead Rendezvous, we stayed at Raccoon River Campground in Panama City Beach.  It was the closest campground to the Parrothead Rendezvous and had several good reviews.  It was a little more than a two mile walk.  We walked it three times and took a $12 shuttle the last time.
The rate of $56 per night included electric, water and sewer hookups.  The shower house was in good shape.  The campground is very wooded with tall pines throughout.  I did make reservations but they were not full.  Reservations were probably unnecessary.
April In The Florida Panhandle
April is the perfect time to visit Florida's Panhandle.  Everyone we talked with said March is jam-packed with kids on Spring Break, and May starts the busy family tourist season.  If you can, April is the time to go.  Many Florida locals also said April often has the best weather; nothing but sunshine, and 80 degree days.
Unfortunately, that's not the weather we had this year.  It was cloudy and rainy every day we were there.  As we turned to head back to Missouri, the sun came out and we saw blue sky.
Did the less than sunny weather deter us from wanting to go back to Florida's Panhandle next April?  Not a chance!  We'll definitely be back for more Pickens.
Avoid the Bankhead Tunnel
On our way to the Panhandle, our GPS directed us to use Highway 98-42 and took us through Mobile making multiple turns.  The GPS didn't get us lost, but it did take us to the Bankhead Tunnel.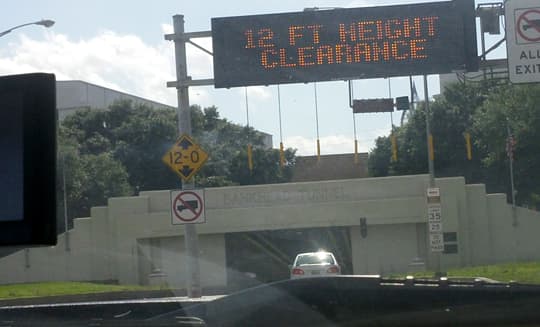 With just seconds to spare, we saw the highway sign: Maximum Height 12-Feet.  Knowing our truck camper rig is 10'9" tall, we proceeded into the tunnel.  Inside the tunnel, side-to-side clearance was extremely tight.  It was not a drive suited to the faint-of-heart.
After we went through, we Googled the Bankhead Tunnel facts.  It's 21-feet wide, which means that each lane is around 10-feet wide.  My truck camper mirrors are 8'9" for the width of the truck.  That means my mirrors were clearing the walls and oncoming traffic by mere inches.  My strongest advice for truck camper owners is to avoid the Bankhead Tunnel.  Never, ever, again.