Absolutely nothing beats a truck and camper rig for towing a boat.  Here are some of the favorite places fellow truck campers tow their boats, and why.  Take it to the river!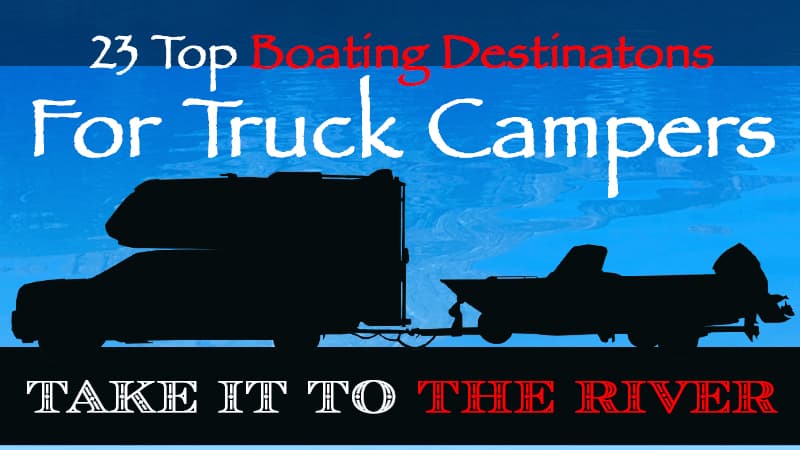 Better than any other RV type, truck campers can be set up for safe and comfortable towing.  Want to tow a boat, trailer, ATV, or a Jeep?  A properly specified and assembled truck and camper rig beats every other RV type, jacks down.
Want the specifics on how to properly set up a truck camper for towing?  Check out our must-read article with Jack Kay of Torklift International, "How to Tow With A Truck Camper Rig".  Don't tow toys without it.
Speaking of towed toys, towable boats rank high among the reasons why folks purchase a truck camper in the first place.  The question is, what waterways are truck campers towing these boats to, and why?
For this feature, we asked boat-towing-truck-camper-owners (try to say that three-times fast) to reveal the water and waves they crave, and what they crave about it.  Readers also reveal where to camp, what to expect and things to do when you're there.
Jon Schnebly
2004 Freightliner M2
2014 Arctic Fox 1150
2017 Hewescraft 180 ProV-ET

Above: Crescent Lake Snow Park, Oregon
We take the boat all over Oregon with the camper. Oregon has awesome State campgrounds and lots of Forest Service/BLM/Corp of Engineers campgrounds, not to mention the logging road campgrounds. We have gone crabbing, sturgeon fishing on the Columbia, and to the Wallowa's to camp and fish.
Here are two of our favorite Oregon boating destinations:
Odell Lake, Crescent, Oregon
A large and deep high mountain lake (about 5,100-feet) with great views of Diamond Peak and excellent Kokanee and lake trout fishing. The mornings are typically calm, but the lake picks up in the afternoons. That's when we spend time enjoying the view and/or hiking. Odell Lake is normally cool during the summer.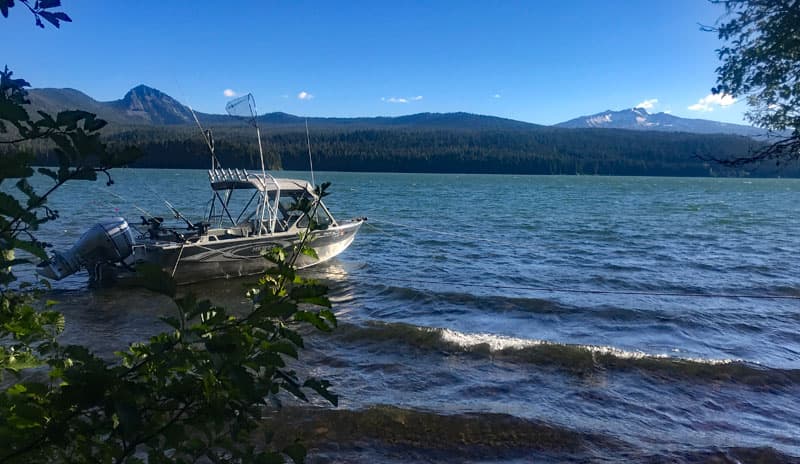 Above: Our boat off our campsite on Odell Lake.  A bit breezy but a beautiful day and a good morning of fishing.
At Odell Lake, Princess Creek, or Sunset Cove National Forest campgrounds are both dry camping. I highly recommend lots of fishing, hiking, and at least one late lunch at Manley's for broasted chicken and a Ninkasi black ale. The location also has easy access to the high Cascades Loop that goes to the Central Oregon high lakes. This area is beautiful!
East Lake, LaPine, Oregon
East Lake is another high mountain lake (about 6,400-feet). It's set inside the Paulina Crater with good Kokanee, brown, and rainbow trout fishing. The lake is deep, but about one-fifth the size of Odell with less wind but no less of a view. There's good hiking in the caldera when the fishing is slow.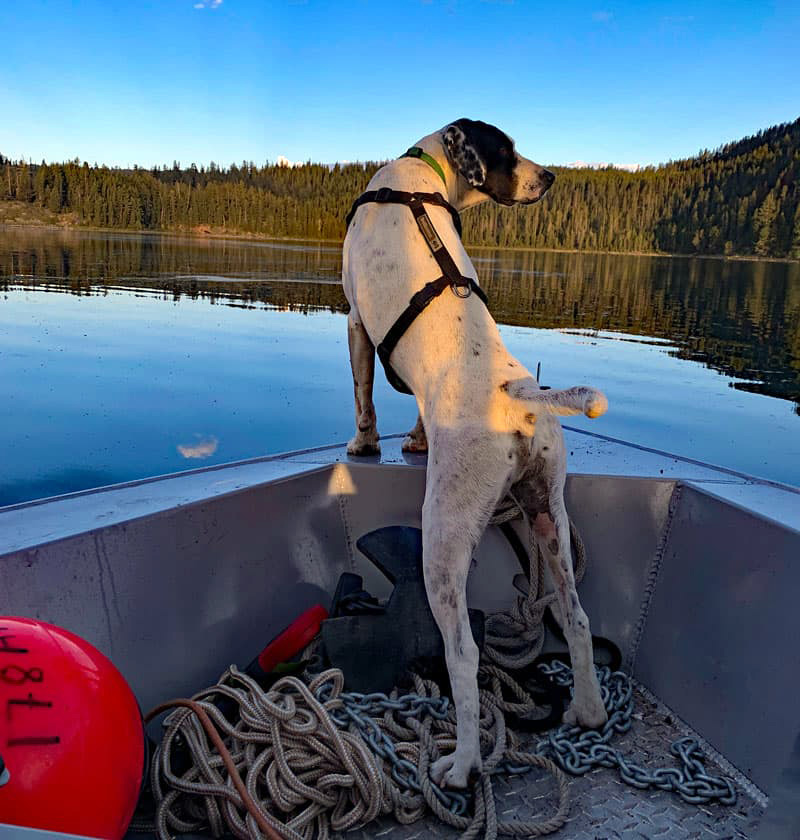 Above: On East Lake with Rocky, our dog, doing the navigation.  He is great at finding ducks and loons, but not much of a fish finder.  Thankfully the boat is well equipped to find fish.
At East Lake, Cinder Cove National Forest campground is our favorite and is dry camping. There is a sister lake in the caldera, Paulina Lake, with lots of camping, but we have always preferred East Lake. Again, the recommendation is lots of fishing, hiking the rim of the caldera. At least a couple of mornings we motor over to the lodge for breakfast or lunch after an early morning of fishing.
Campers make the best setup for boating as we can launch the boat with the camper on and, if needed, pull it every night or beach it for the night. At Odell Lake, it sits right off our campsite which makes a great picture.
The Freightliner is better than the 1-ton we used to use because we can go further down the ramp at lakes that draw down in the summer and not submerge the camper. I have only had one time where it got a little dicey getting back up the ramp, but that is why we have the 18,000-pound winch on the front bumper. The winch has also come in handy to help others as we generally don't go where wrecker services are close by.
Kevin Jenckes
2013 GMC 3500
2006 Lance 820
2006 Triton TR21X HP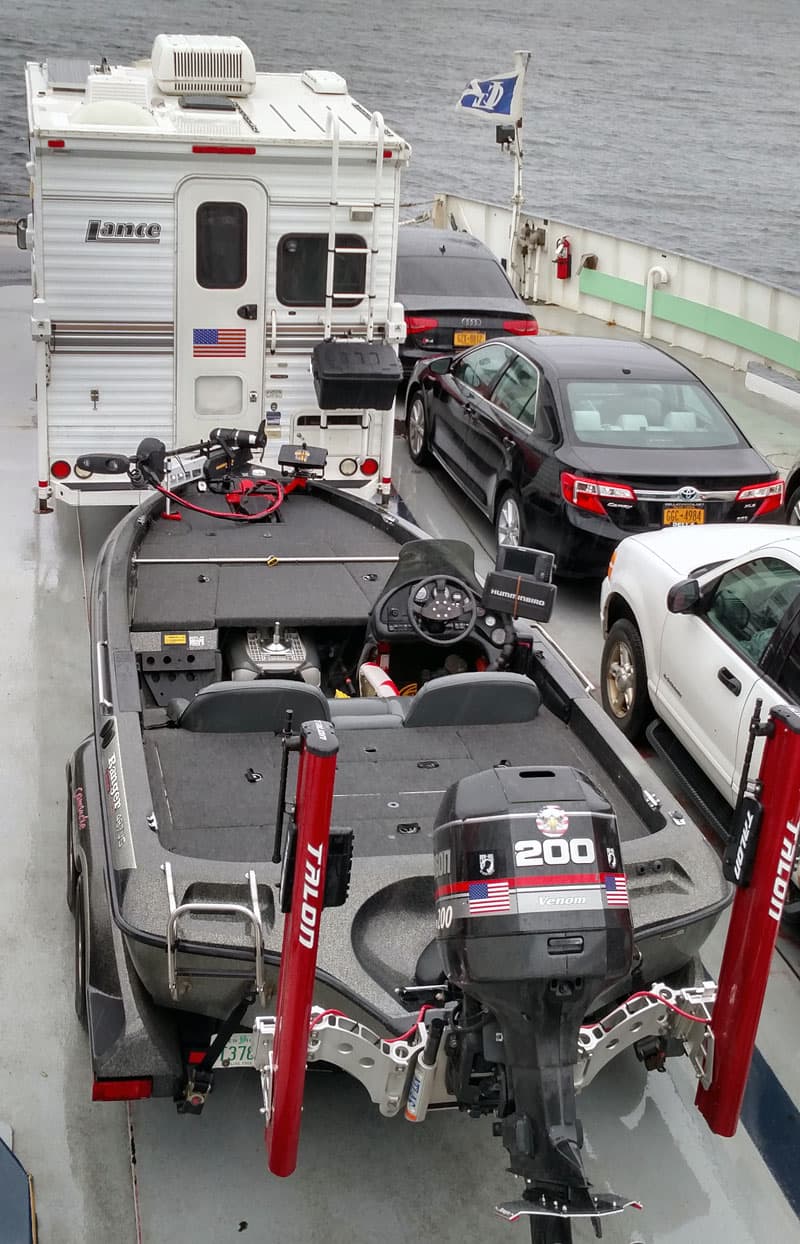 Above: Grand Isle to Plattsburgh ferry on Lake Champlain
We go to Lake Champlain, primarily from Plattsburgh. There are a good number of quality boat ramps, as well as gas stations, campgrounds, restaurants, and grocery stores near the lake. However, I also spend a lot of time near Ticonderoga. Plattsburgh is four hours from my home in New Hampshire.
The Champlain Valley has historical sites to visit all up and down the lake in New York and Vermont. The boating and fishing are phenomenal making the area my favorite place to go.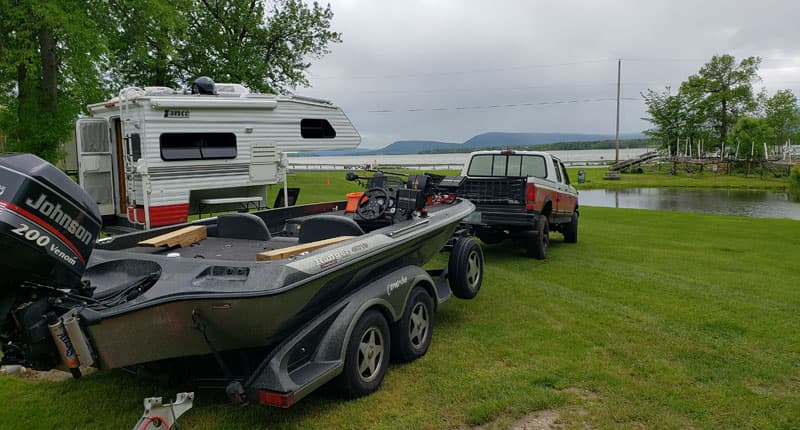 Above: 10 Acres Campground in Addison, Vermont with great views of Champlain
When I go boating, I camp at Plattsburgh RV Park and Cumberland Bay State Park in Plattsburgh, New York. I also stay at Brookwood RV resort in Ticonderoga, New York, and Ten Acres in Addison, Vermont.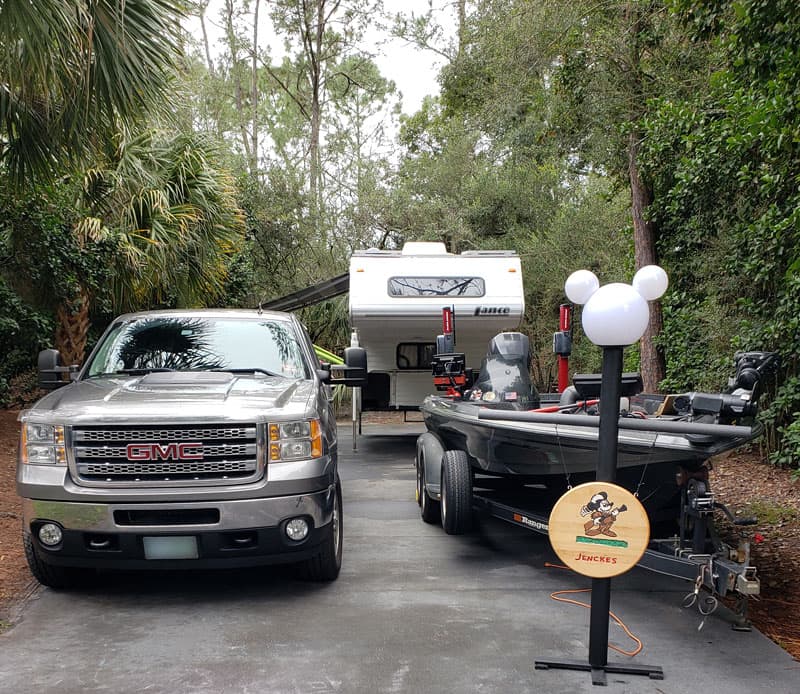 Above: Fort Wilderness in Florida
In addition, I love fishing in Florida. You never know what you might catch. There is a lot of mixing of what we typically think of as saltwater, brackish water, and fresh water species. Alligators are a lot less intimidating in my 21-foot bass boat than my 10-foot kayak.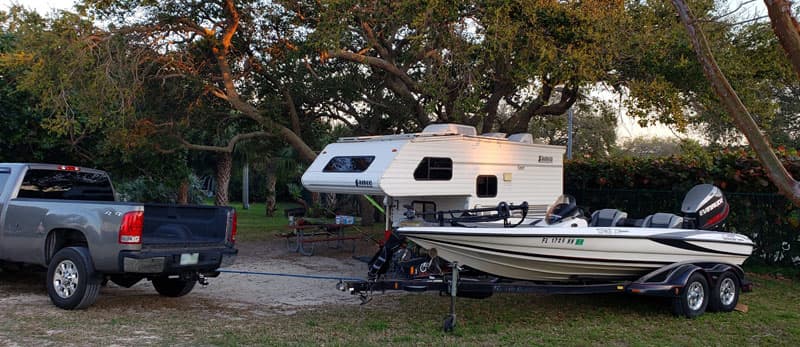 Above: Jetty Park Campground, Florida
The Caloosahatchee River on Florida's southwest Gulf Coast is one of the mixed-species rivers that I like, as well as Lake Okeechobee and the Harris Chain of Lakes northwest of Orlando.  I've caught snook and bass within 50-feet of each other.  I've seen bull sharks tearing around in lily pads and let us not forget the 4-foot alligator that ate my spinnerbait.
I need electricity each night for my bass boat to charge the 36-volts of trolling motor batteries. I might boondock the night before with a charged battery or on the way home if I'm not fishing the next day. I could use my generator, but I don't like listening to it.
Mike Brandl
2017 Ford F450
2018 Lance 975
2015 Robalo Cayman 246

Above: Indian Mound Fish Camp, Oakhill, Florida
New Smyrna Beach Florida (south of Daytona), has great waterways with plenty of fishing, sandbars to relax on, restaurants to pull up to with your boat, and an inlet out to the ocean for offshore fishing.
Indian Mound Fish Camp in Oakhill, Florida is the best little campground on the intercostal waterway that we have found on the East Coast. It's a clean gated property with a private boat ramp and boat docking. There's also an on-site bait shop and fishing pier. The owners live on the property so you know it is well kept.
Gary Raymond
2014 Ram 3500
2006 Lance 1191
2006 Pathfinder 2400 Bay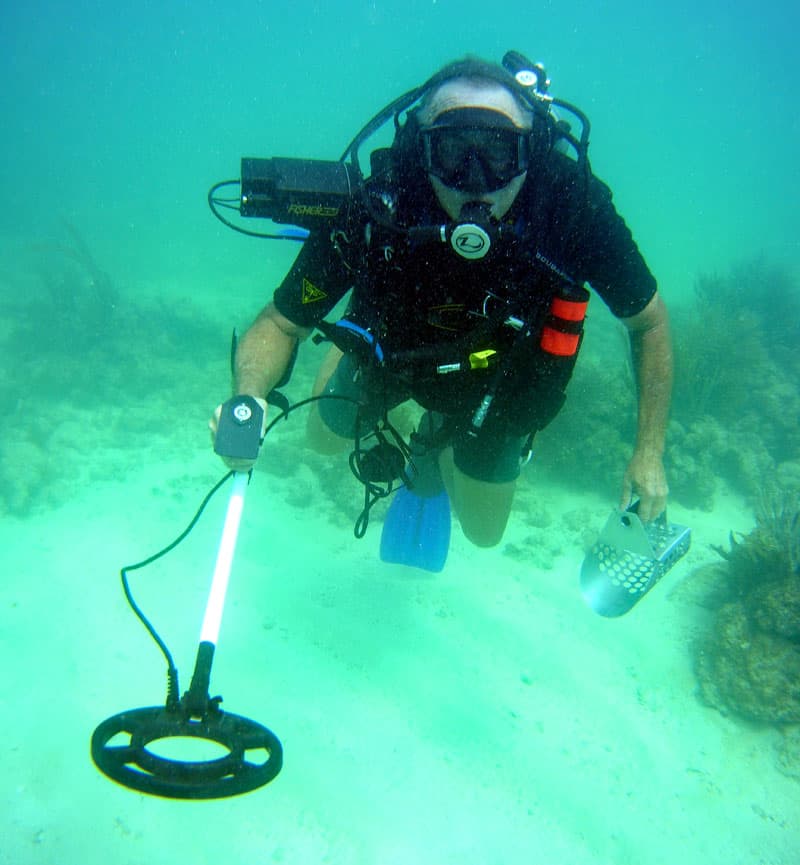 Location of Photo: Key West, Florida
I have been boating and camping since 1972, even living on a boat for eight years. I loved it. I miss having a big boat, but I don't miss the maintenance.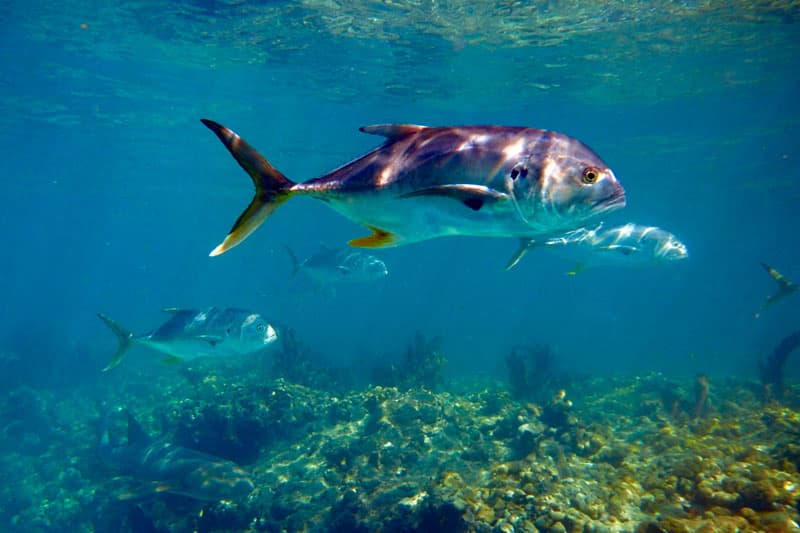 Now I live in Key West and I love being here. The water is clear for great diving, fishing, or just hanging out.
Living in the Keys has been a dream fulfilled with no regrets. The diving here is great, the people are nice and there's very little crime. Camping is a lot of fun and I really enjoy it.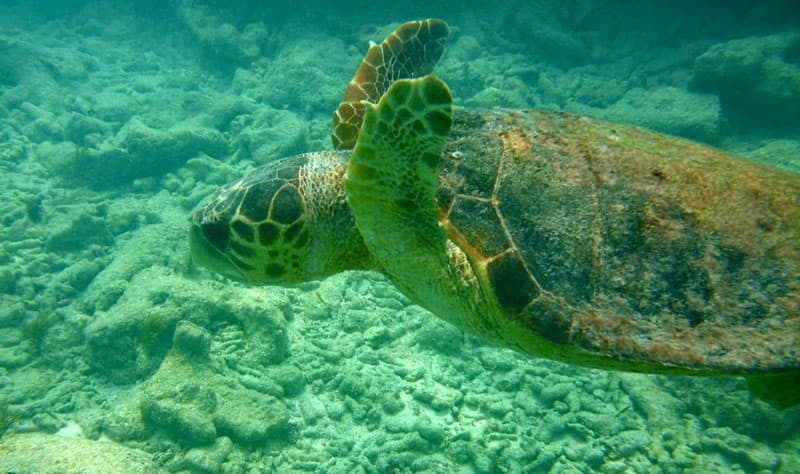 I have camped here in the Florida Keys at John Pennekamp, Long Key, and Bahia Honda State Parks to name a few. We also boat camp in Sebastian, Florida on the many islands they have there. Lots of fond memories.
Greg Seay
2019 GMC 3500
2019 Lance 650
2005 Champion Bay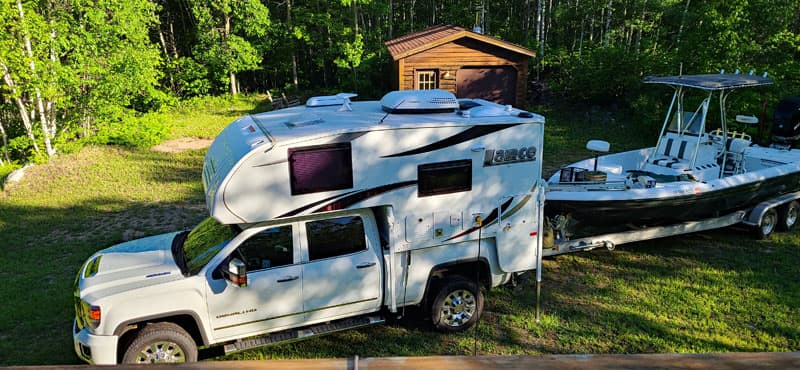 Above: Lake Vermilion, Minnesota
I love my Lance camper. We camp every year and pull our boat with us to camping spots in Oklahoma, Arkansas, Texas, and of course, Minnesota. It's so nice to be able to make meals, relax, and wait for good conditions while we get ready to launch.
I left for my trip in June of 2020 after the quarantine had hit and wanted some away time from work. I took off from southern Oklahoma for a ten-day road trip to Minnesota.
Not wasting any time when I arrived, I went to Lake Vermilion to catch supper. Lake Vermilion in Northern Minnesota is just the best place to fish.
The next day was spent getting ready for my five-day boating trip to Rainy Lake where I tent camped. I didn't know I would have to portage across Kettle Falls to enter Rainy Lake, but the portage was open and willing to take my 24-foot Champion to the other side. What a relief since my camping spot was on Rainy Lake.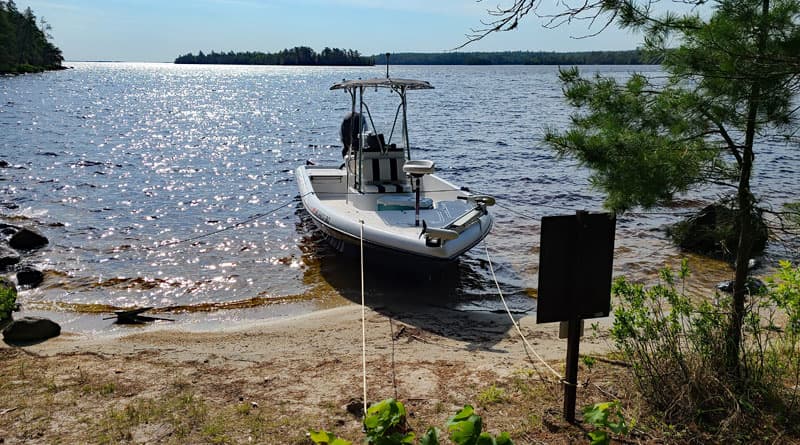 Above: 24-foot Champion on Rainy Lake
The boat portage was the true test as to whether I could access my campsite on Lake Rainy from my starting point on Crane Lake. First, I had to verify that the portage was operational during the quarantine. Second, I had to see if they would take my boat.
The portage is located at Kettle Falls. They required me to load my boat on their trailer and driven about two miles to the other side of the dam to access Lake Rainy.
Since my boat is fiberglass and has a large 250 Mercury, there were some questions about if it would fit and be safe, but there were no problems. When we returned it also went very smoothly.
I just called a phone number, they backed their trailer into the water, pulled the boat onto the trailer, tied the boat on the front, and drove you while you stay in your boat.  What a neat process!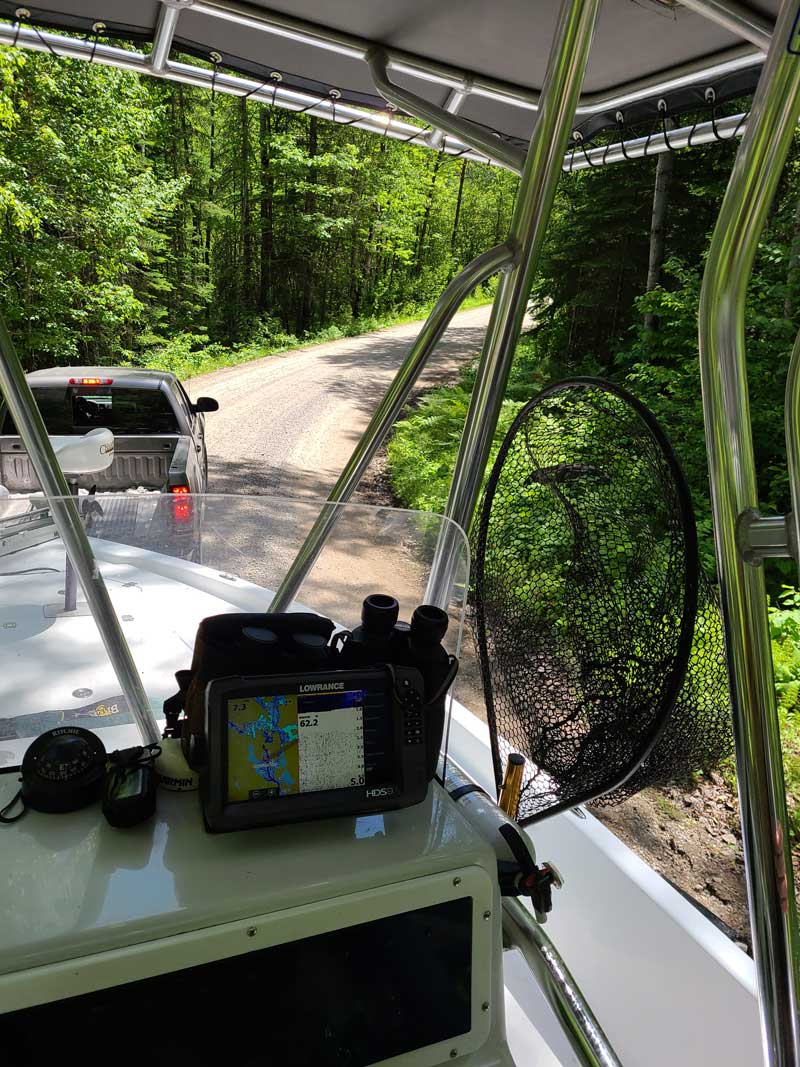 Above: Portage at Kettle Falls
On the way back I had lunch at the hotel at Kettle Falls which is one of the most unique hotels I've ever been to.
While I was at Lake Vermilion Dam Lodge and Crane Lake, I stayed in my camper and prepared for my boat adventure. I only tent camped when I left in my boat to go to Rainy Lake.  In that area, campsites and boondocking are very plentiful.
I had been working on this trip for several years to see how far I could travel by boat on our northern border.  This was my third trip to try to access Rainy Lake. This time I was able to boat for over 300-miles in five days.
Minnesota is very peaceful and a place you can rediscover yourself.  I've been on the boundary water canoe area which is also accessible from Ely. It is a bucket list destination.
I have enjoyed having my Lance 650 for the past three years.  I've had fifth wheels, motorhomes, and now two pickup campers and enjoy the flexibility of the Lance.  I can't wait to start the season this year with my first trip being Toad Suck, Arkansas.
Kenneth Beal
2008 Chevy 2500
2000 Lance 815
1996 Seaswirl Striper 1850wa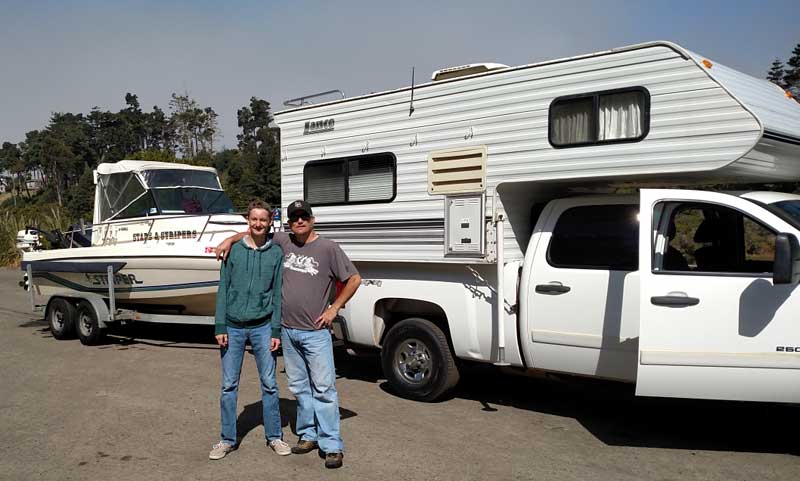 Location of Photo: Fort Bragg, California
One of our favorite locations is Pillar Point RV Park in Half Moon Bay, California. It's easy for us to get to and is first-come, first-serve. It has full hookups, a beautiful sunset, walkable restaurants, and trails. We love going there and usually go mid-week through the weekend.
For hunting and fishing, I love the flexibility of either bringing the Jeep or boat along with me. I feel like I can go anywhere and usually do. My dad and I go hunting every year and usually end up boondocking for weeks.
For fishing, I bring the boat and camper to Bodega Bay, Fort Bragg or Lakes Inland for trout, salmon, and my favorite, Kokanee in Flaming Gorge, Utah.
Jeff Smith
2017 Chevy 3500HD
2008 Lance 861
2019 Ranger vs1745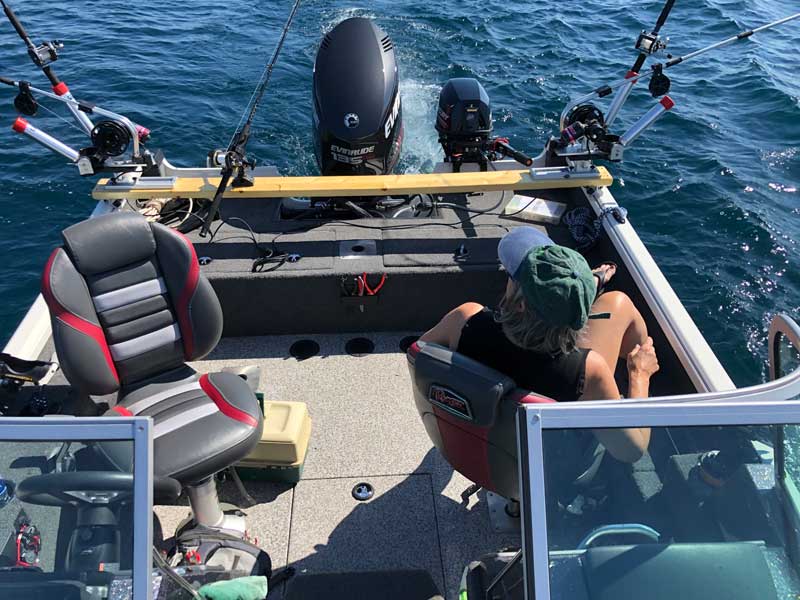 Above: Lake Superior, Michigan
We go boating in Ontonagon, Michigan. It's a quaint town on the shores of Lake Superior. Lake Superior is a clear, cold lake with great fishing.  We try to fish every day that we are there with our boat. This location is so far away from population centers that it is never crowded.
We stay at the Ontonagon Township Park campground and launch our boat at the town marina. While we are on the shores of Lake Superior, we like to sit around the campfire and listen to waves slap on the shoreline.
Ontonagon Township Park has electricity, water, a dump station, and pay showers. There are great sunsets over the lake.
Don Stegemoller
2011 Ford F-350
2017 Eagle Cap 960
2017 Ranger RT188C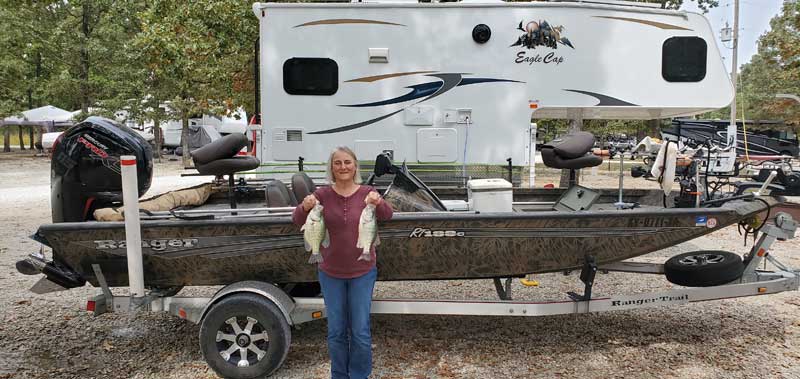 We have favorite boating locations depending on the season.
In the winter, we enjoyed St John's River in Florida. We camped at Highland Park fish camp in Deland. While there, check out the local farmer's markets and visit the three local state parks to see the wildlife. We also took day trips to the beach at Canaveral National Seashore. Look for a SpaceX rocket launch from Jetty Park.
In the spring, we enjoyed the big four reservoirs in Mississippi. We camped at the USACOE campgrounds on each lake and fished, fished, fished!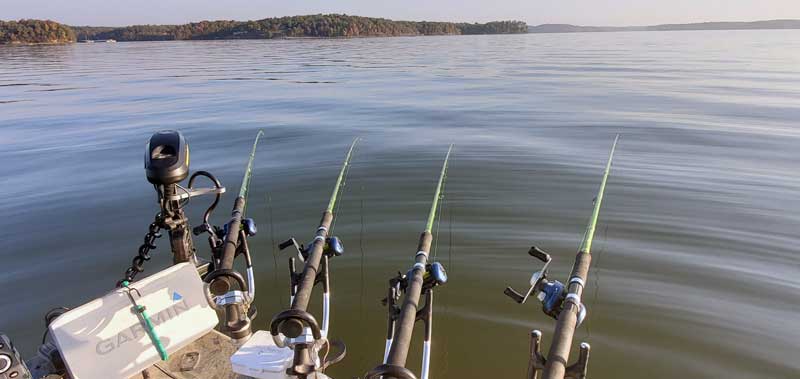 In the summer, we enjoyed Lake Sakakawea in North Dakota. We camped at Parshall Bay campground on the lake and visited Theodore Roosevelt National Park and many attractions en route from Kentucky to North Dakota.
In the fall, we enjoyed Truman Lake in Missouri. There we camped at Bucksaw Marina, a wonderful facility, with a restaurant, laundry, full hookup, and excellent fishing. We also took day trips to Branson, Springfield, and Kansas City.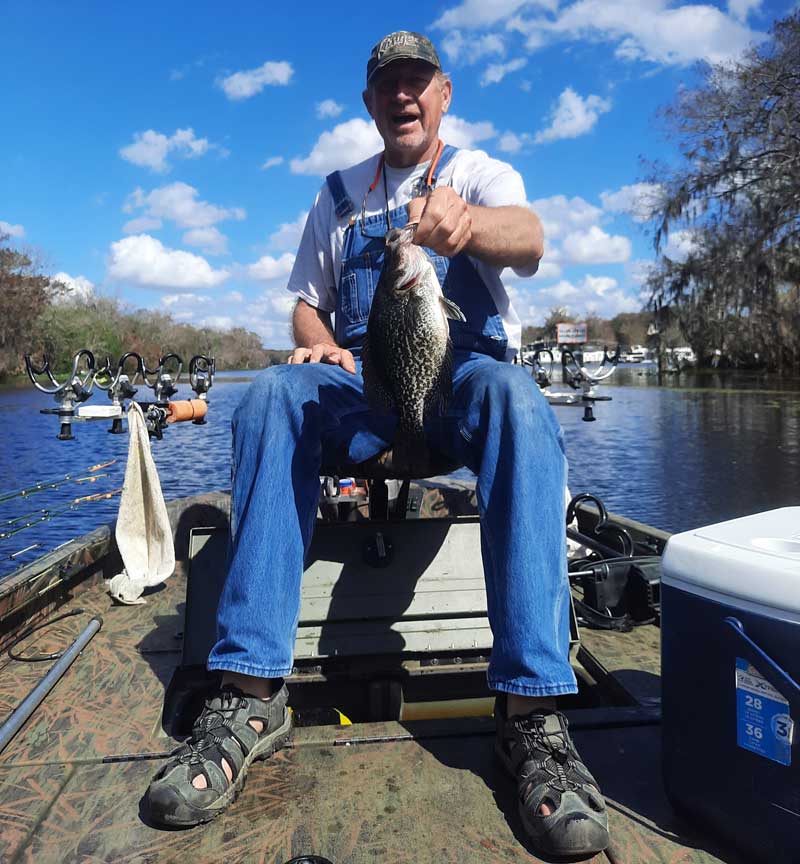 I recommend buying a boat trailer with electric brakes to maintain reasonable stopping distances. Unload your truck camper before launching your boat for peace of mind.
Take a couple of gas cans and a big funnel to avoid high marina fuel prices. Put your expensive fishing electronics in the cab of the truck. And buy knob locks to secure electronics if you leave your boat in a slip in the water overnight.
John Jastrom
2004 Chevy Silverado 3500
2008 Lance 1055
2004 Lowe 180w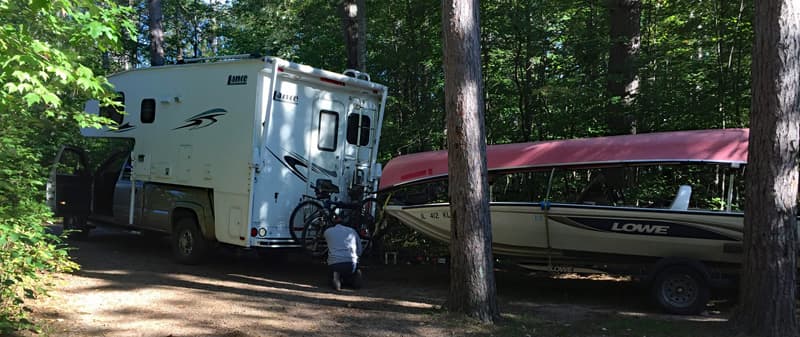 Location of Photo: Starrett Lake, Wisconsin
Our favorite boating location is Secret Lake in Vilas County, Wisconsin. My family has camped there for over 70-years.
The fish above is a Muskellunge from Secret Lake, which was only a 40-inch fish. In Canada, I once caught a 50-inch Muskellunge.
When we fish there, we dry camp at Starrett Lake and use it as a base camp. It is a state campground with pit toilets and you need to bring your own water. Out-of-state campers are about $22 a night. There are other nearby state campgrounds where we can shower and dump.
We also tow our boat to various lakes in the Starrett Lake area like Plum Lake and Big Muskellunge.
I wish we had known that we needed a heavy-duty receiver for our hitch. A truck camper and boat combination is the best!
Dave Riddle
2015 Chevrolet 3500
2017 Host Mammoth
2019 Duckworth Pacific Navigator 20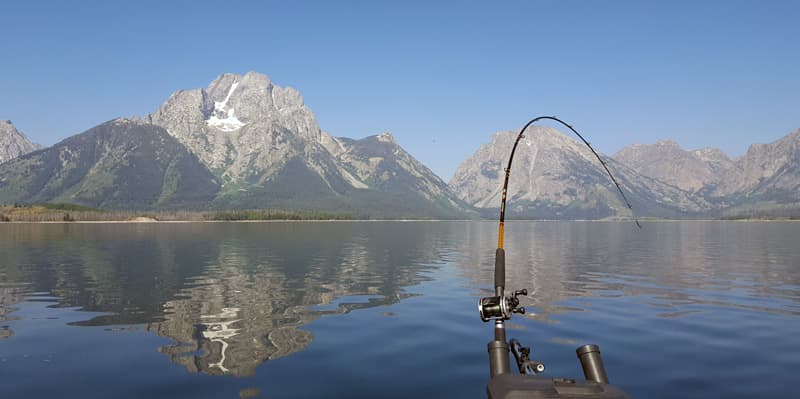 Above: Jackson Lake, Teton National Park, near Elk Island, Wyoming
Our two favorite places where we use the boat and camper are at Lake Chelan, Washington state, and Jackson Lake in the Tetons in Wyoming. We've used our camper and towed boats to both locations for many years and really enjoy the beauty of each. We also enjoy fishing and using the truck camper at other lakes like Lake Roosevelt, behind Grand Coulee dam.
When we go to Lake Chelan we try and stay at Beebe Bridge campground and then go to Mill Bay in Manson to use the boat launch. Camping at Beebe Bridge gives us power and water and they have a nice RV dump area.
Jackson Lake camping is done at Gros Ventre Campground in the Teton National Park. Camping there is dry with water and a dumpsite in the campground.
Camping at Kettle Falls campground in the Lake Roosevelt National Recreation area gives us easy access to the upper sections of the 150-mile long lake and the use of a great boat launch. Camping here is dry with water and RV dump available in the campground.
I've been hauling a boat with a camper for many, many years. Some of the boats were light and some, like our previous jet boat, are really heavy. The biggest thing to remember is to have a tow set up that will take the weight off the boat and the tongue weight for the hitch.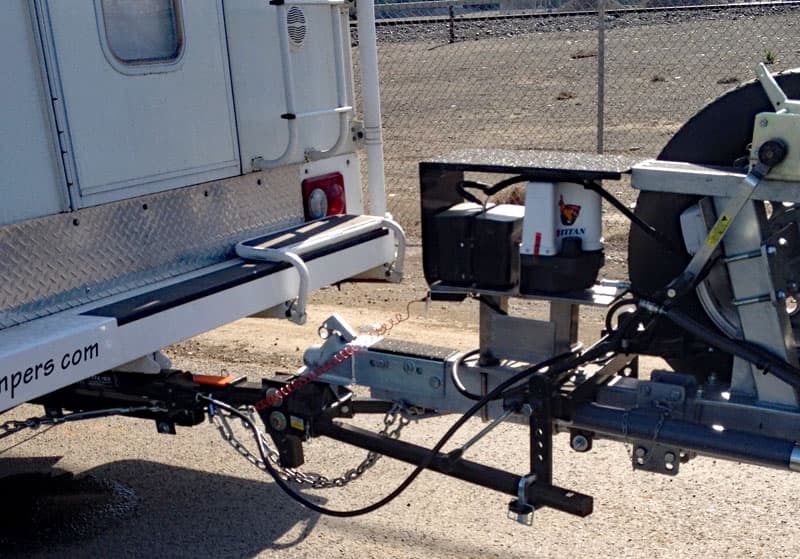 Given the length of my camper, I need a 48-inch extension to get past the camper bumper. I use a Torklift towing system that gives me the capacities needed to safely haul big loads.
With the previous jet boat, it had almost 800-pounds of tongue weight and I had to use a custom pole tongue adapter with a weight-distribution hitch to safely pull the boat. I also had electric over hydraulic (EOH) disc brakes to ensure adequate stopping power.
The new boat has half the tongue weight, can be pulled without the weight distribution setup, and doesn't need the EOH braking system.
Being able to safely and conveniently haul the boat with the camper makes trips much more enjoyable and ultimately makes it likely that you'll use the boat and camper combination more often and get more enjoyment from both.
George Visconti
2015 GMC Sierra 3500 HD
2016 Arctic Fox 990
2019 Placid Boatworks Spitfire 13 & Oseetah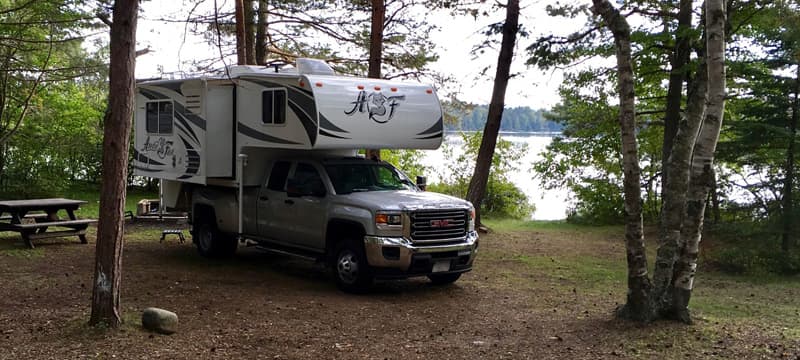 Location of Photo: Fish Creek Ponds, New York
We go to Fish Creek Ponds, New York, because there is just about unlimited padding and portages. There are state campgrounds at Fish Creek and adjoining Rollins Pond. You can also paddle to primitive campsites along the waters of the area.
We dry camp in the New York State campground at Fish Creek. They have a large and modern bathhouse for showering and many smaller bathrooms throughout the campground. Fresh water fills are located throughout the campground. You can walk trails and bicycle through the area.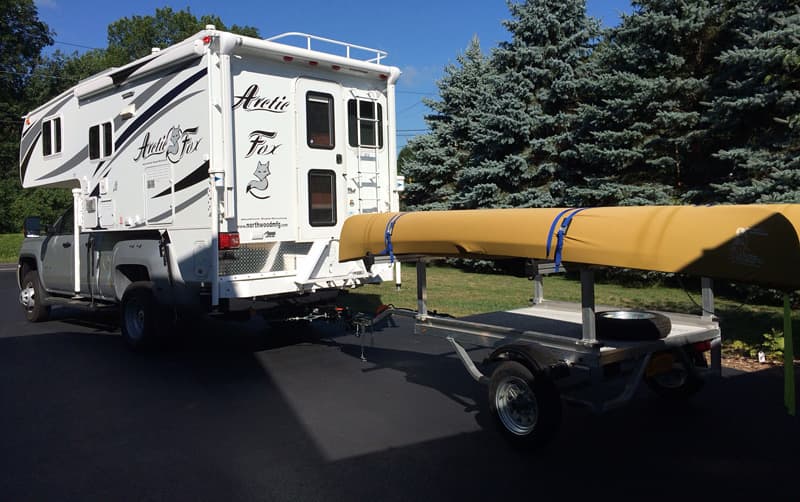 Our trailer is made in the USA by The Dock Doctors in Ferrisburg, Vermont.
Alan Sippola
2018 Ram 2500
2006 Northstar
2005 Rogue Marine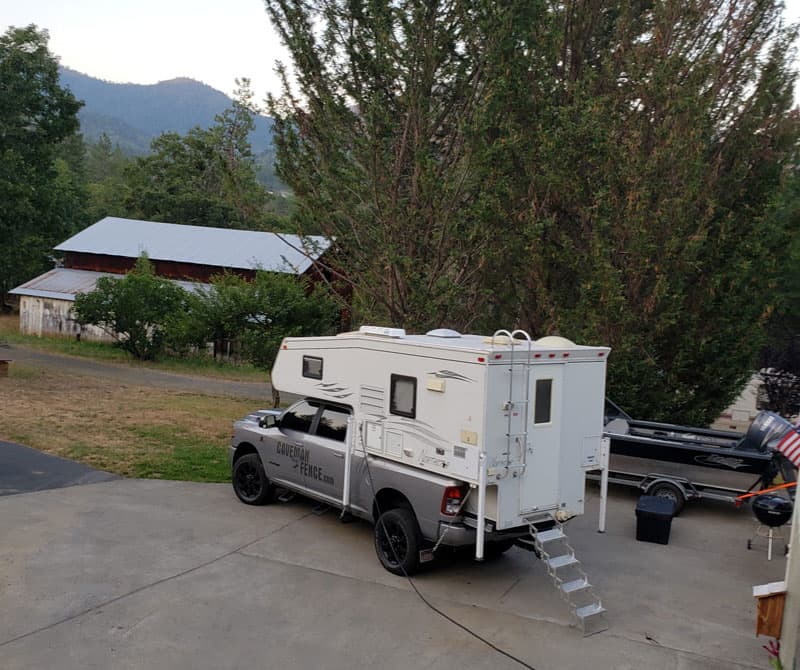 Above: Grants Pass, Oregon
I like to go to Gold Beach, Oregon in the fall to go salmon fishing. I love to camp right along Highway 101 in a wide spot and watch the sunset.
My boating tip is about suspension upgrades. I should have loaded the camper on the new truck prior to taking off. Because I didn't, I lost a week and a half getting the suspension where I thought it should have been when I bought a new bigger truck.
Dan Lucas
2014 Chevy Silverado
2014 Lance 855S
2010 Alumacraft Trophy 185

Above: Returning from northern Wisconsin
I go boating in Vilas and Oneida counties in northern Wisconsin. There are 2,447 lakes in this area.
In Northern Highlands, the American Legion State Forest has 18- campgrounds with 2,217 individual campsites. They are mostly dry camping with showers, water, and dump stations. Several locations are free to campers.
There are also private and national campgrounds in the area. You can fish, kayak, bicycle, and hike the trails. It is such a great place that we moved here after retirement.
We tent camped for 20-years and researched campers before our purchase. We have owned two truck campers for over 21-years. A truck camper was the perfect solution to camping with a boat and bringing along bicycles.
Bud Waner
2017 Chevy 3500HD
2017 Palomino HS-2902
1986 Boston Whaler Montauk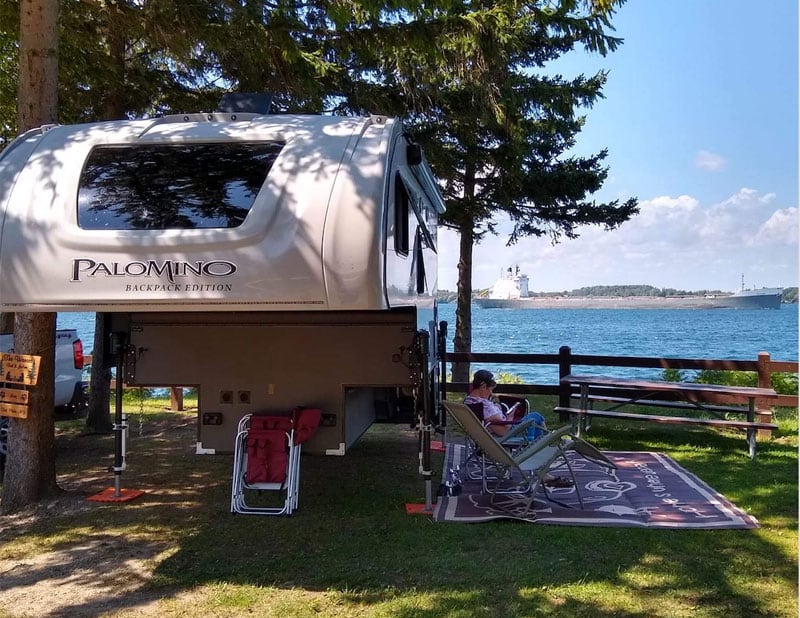 Above: Cedar Point State Park, 1000 Islands, New York
I like to go boating on the St. Lawrence Seaway in Clayton, New York for fishing and exploring the islands. While we're there we dry camp at Cedar Point State Park.
We also go to Freeport and coastal Maine. There we cruise the islands and harbors to see the lighthouses. Winslow Memorial Park is a dry camping spot in Freeport.
In the Adirondack Mountains, we go to Piseco Lake and the Speculator New York area for fishing and water sports. We stay at Point Comfort and Moffitt Beach State Park. It's also dry camping.
I just love the idea of having one vehicle to take the camper and boat. We take the camper off during our stay to make boat launching and errands easier.
Corey Humphrey
2018 Chevy 2500
2000 KZ Sportsman
2001 Lund Pro V SE 1900

PIC

Above: St Ignace, Michigan
After camping in Michigan's Upper Peninsula, we stopped on our way home in St. Ignace. There we launched the boat and went to Mackinaw Island. It is a stunningly beautiful body of water with a great view of the Mackinac Bridge. It was an awesome trip.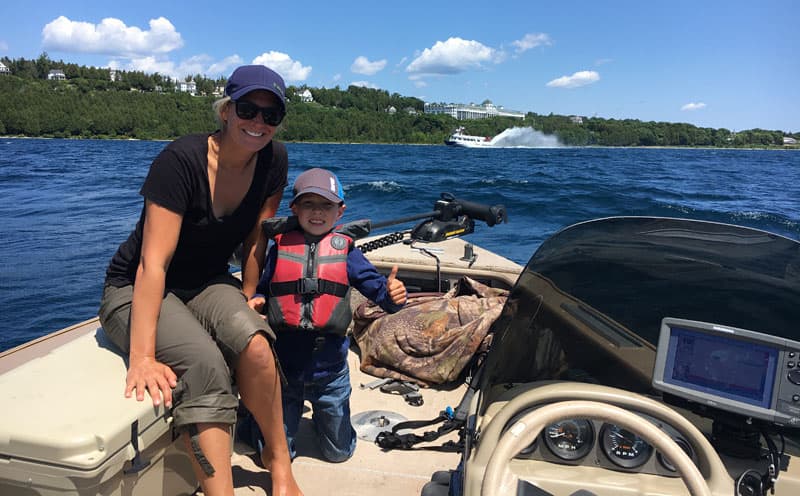 This adventure was not planned; just a last-minute beautiful day decision. It really solidified that there has to be a boat behind the camper whenever possible! Looking at it is fine but being on it is the best.
We camped at Wilderness State Park. There was lots to do there but, for this trip, we only overnighted.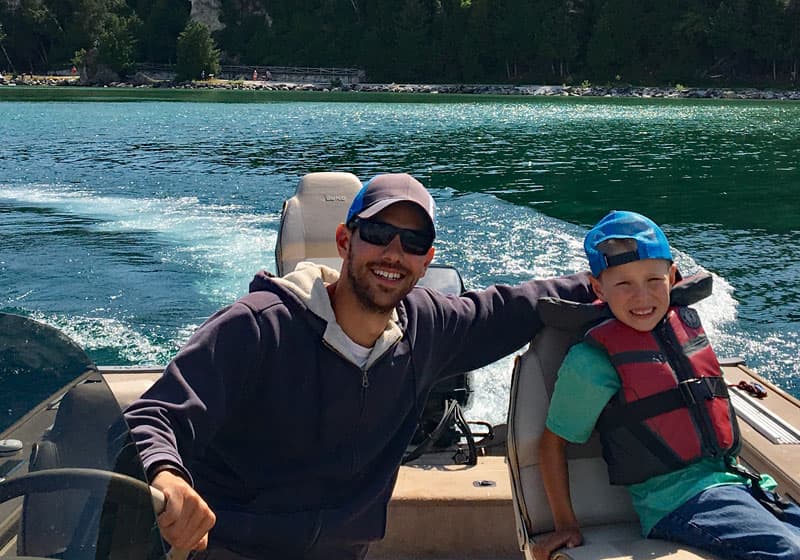 Having the boat while camping opens up an entire new world while on the road. We love it so much that even for the times we don't bring the boat we bought a small covered trailer to bring the kayaks and bikes. No matter what, we can get out there!
Anyone planning on bringing a boat to any of the Great Lakes must ensure they are equipped with the proper boat and safety equipment. You should be personally knowledgeable and safely capable of being out there.
John and Ricki Hogan
2014 Ram 3500
2016 Westland 95SS
2010 Seadoo Challenger 210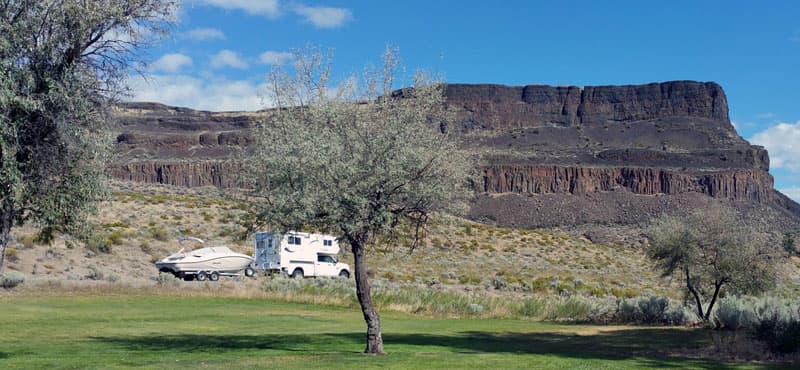 Above: Steam Boat Rock, Washington
We like to go boating at Two Rivers in Washington State, which is near Davenport. We start our trip from our home on Vancouver Island, British Columbia.
The trip itself is a wonderful experience. We take a two-hour ferry from Vancouver Island to the mainland in Tsawwassen, British Columbia, and head to the Peace Arch.
Once we get to the US border, we travel down the I-5 to Highway 22 with a stop for the night in Coulee City near Banks Lake. In the morning, we get up and travel to Davenport to do our grocery shopping for three weeks.
Then we head to our destination of Two Rivers Campground where we are ready for our adventure to begin. It usually takes us a couple of hours from the point of check-in to mooring the boat to setting up camp.
We are usually the first to arrive because we like to be prepared to help our friends arriving at later times. There are anywhere from 15 to 20-friends who join us, and up to four boats.

The Two Rivers Campground is on Lake Roosevelt which is 75-miles long. There are waterfalls, beaches, beach barbecues, water skiing, tubing, kneeboarding, wakeboarding, and swimming.
You can even boat to wineries. On land there's hiking and live music.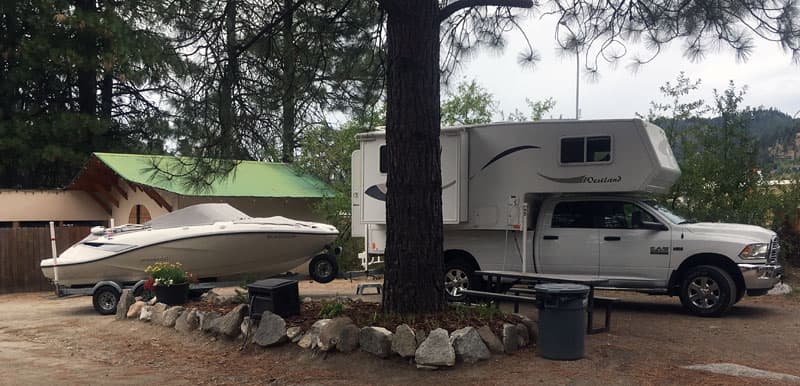 Above: Leavenworth Campground, Washington
So, after our fulfilled camping trip of catching up with friends, sunshine, water, food, and laughter, we head home starting with an overnight in Leavenworth to enjoy schnitzel and beer, and a lovely walk around the Bavarian town.
To see more truck camper and boat rigs, take a look at Truck Campers Go Boating Part 1 and Part 2.