As a kid growing up in the 1970s, I loved watching Mr. Rogers.  For reasons I cannot fully explain, listening to Mr. Rogers sing, "Won't you be my neighbor", watching him feed his fish, and that trolley in his house was the pinnacle of fascination when I was a preschooler.
Of course the best part of Mr. Rogers Neighborhood were his field trips.  Mr. Rogers would go to bakeries, shoe stores, and various factories.  The factories really got my attention.  The idea that there were places that made candy, Legos, or furniture totally blew my mind.
And it still does.  I may no longer watch Mr. Rogers (which is still on PBS despite Fred Rogers passing in 2003), but I still love factory tours.  If there's a factory tour on television, I'm in.  If there's a factory tour available during our travels, we go.  Something about seeing how a product is made is just as interesting to me today as it was 40 years ago.
This explains my enthusiasm for visiting every truck camper factory from coast-to-coast shortly after launching the magazine in 2007, and again in 2010, and again whenever possible.
We have also toured the GM Flint Truck Assembly Plant in 2011, the Ford Kentucky Truck Plant in 2012, and the Toyota Texas Truck Plant earlier this year.  All of these factory tour stories and photography are on tap in our Factory Tour section.
To broaden our RV manufacturing knowledge, Angela and I have also toured Winnebago, Airstream, and several other RV manufacturing plants.  Obviously these tours don't make the magazine, but they give us additional perspectives on the the RV industry in general.
Beyond RVs, our favorite factories to tour are food factories.  For example, the Jelly Belly factory tour in Fairfield, California was great fun.  The sweet sugary smell was almost overpowering.  And yes, they had samples at the end of the tour, along with the ubiquitous gift shop.
We really enjoyed the Celestial Seasonings free factory tour in Boulder, Colorado.  The tour showcases the raw tea ingredients and how they're stored, and the processing and packaging process.  The access and visibility of the process and excellent, and there's as much to smell as there is to see.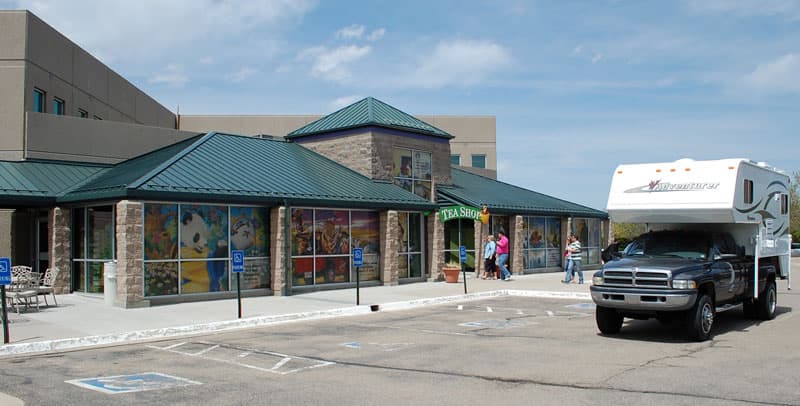 Above: Celestial Seasonings has a free factory tour.  Unfortunately, no photography was allowed during the tour.
In fact, the highlight of the Celestial Seasonings tour is the Mint Room.  The mint smell is so strong that they warn sensitive people not to go too far into the room.  The further you go into the mint room, the more powerful the experience becomes.
Angela and I went to the furthest back of the Mint Room.  We figured if one of us didn't survive there was always Match.com.  Well, we survived, and the mint was so powerful that it cleared our sinuses, made our eyes tear, and made our skin tingle.  Now that's some serious mint!
If I had to recommend one factory tour to fellow truck campers, it's the Celestial Seasons tour.  Pin that one on your Google Map, and let me know how the mint room hits you.
Celestial Seasonings is located at 4800 Sleepytime Drive, Boulder, Colorado, 80301.  Parking our rig was easy in their large parking lot.  Admission was free.
This week's Question of the Week is, "What's your favorite factory tour from the road?"
Was there a factory tour that you would enjoy going back to again?  Recommended factories should have lots of parking for truck camper rigs.
If possible, include the name, address, and price of admission (if there is one) for the factory.  We can't wait to read your suggestions.
This QOTW is closed.  Click here to read about great factories to visit on the road.