Truck Camper Magazine readers recommend their favorite factory tours from the road including John Deere in Iowa, Corvette in Kentucky, Sierra Nevada Brewing Company in North Carolina, Bush's Beans in Tennessee, Ben and Jerry's in Vermont, Makers Mark in Kentucky, Tillamook Cheese in Oregon, Smokejumper Canter in Montana, and more.  Get your Google Map out now.
This week's Question of the Week was, "What's your favorite factory tour from the road?"
"I grew up on a dairy farm and our equipment was mostly John Deere.  When we were out in Iowa in 2009, we visited the John Deere factory in Waterloo, Iowa.
The admission was free and it was run by retired John Deere employees.  We visited the engine works, the tractor works and cab and tractor works.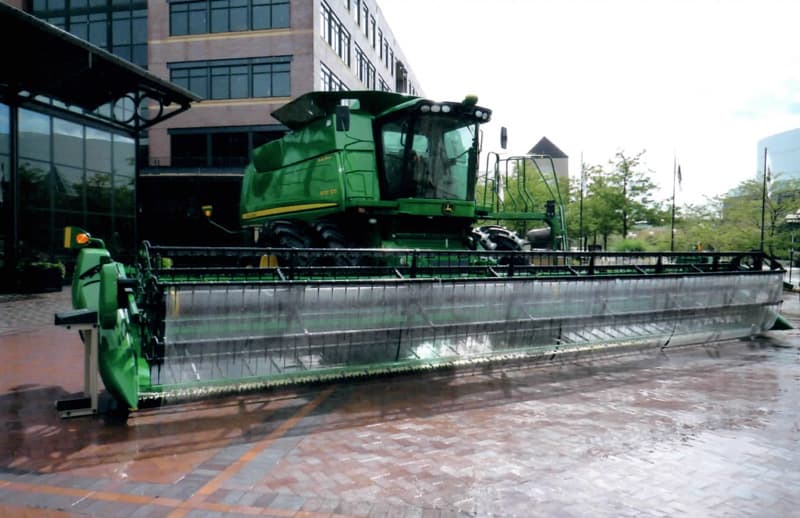 Then we drove to Moline, Illinois and visited the John Deere harvester works.  This is where they manufacture the large combines/harvesters.
They had a laser cutter that went clear to the ceiling of the factory.  Once loaded with flat metal sheets, it could run for three weeks unattended.  If a problem came up with the cutter, the cutter would call an assigned technician, who could be anywhere in the world, and 90% of the time he/she could fix the problem over the phone!
We also watched a harvester being painted and it was cleaned and primed by being dipped in one of the four football field-sized tanks.  Then it was dried and sprayed with polyurethane paint.  John Deere wants the harvester to still look new after being outside for ten years." – George Visconti, 2015 GMC 3500 HD, 2016 Arctic Fox 990
"The Toyota manufacturing plant in Georgetown, Kentucky is like a Disney World ride for adults.  They produce Toyota Camrys and Avalons.  After you sign-in (and after they confiscate all phones and cameras), they load you up in trams and whisk you all around the plant where you can see every stage of development from sheet metal to the final assembly.  The level of coordination is insane and I was mesmerized for the entire hour.
Another favorite was the factory tour of Oliver molded fiberglass Travel Trailers in Hohenwald, Tennessee.  They happily offer private, very personal tours and allow photography.  It was so refreshing to see the build process of a high quality RV.  They manufacture walk-in bathtubs as well, which was a cool bonus!" – Caitlin Donovan, 2017 Toyota Tundra, 2013 Escape 5.0 (formerly 2010 Four Wheel Camper Eagle)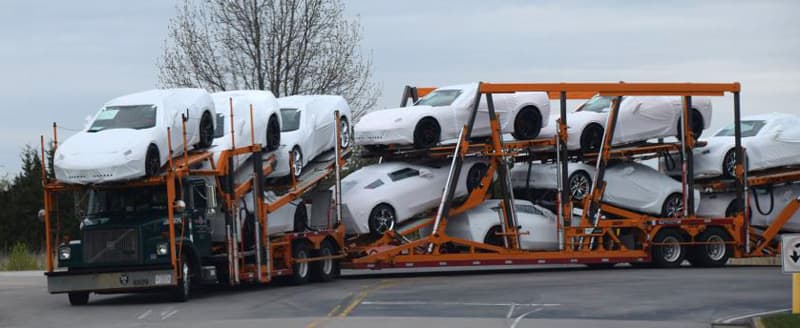 "One of my favorite factory tours was right next to the National Corvette Museum in Bowling Green, Kentucky.  Besides having a great museum filled with every Corvette ever made, they also have the assembly plant right next door which allows you to see Corvettes being made.
During this factory tour, you are allowed to walk right up to the moving assembly line and see first hand how people and robots put the cars together.  The amazing thing is how close you can get to the moving cars.  You actually get so close that the tour guide states that all wives should watch their husbands and help keep them from touching the cars!  Being a 1982 Corvette Stingray owner, this was a must see on our bucket list!
The factory tour was $7 per person and they had plenty of parking for RVs." – Charles Coushaine, 2001 Ford F350, 2012 Chalet DS116RB
"I enjoyed the Sierra Nevada brewery in Mills River, North Carolina – obviously very tasty!  I have also been to Airstream and the Ford F-150 plant at the Rouge Complex.  The tour starts from the Henry Ford Museum (another great stop) in Dearborn, Michigan!" – Laurie Brokaw, 2006 Ford F250, 2010 Lance 850
"Bush's Beans Visitors Center in Chestnut Hill, Tennessee is a place that you can learn all the events that took place leading up to making Bush's Beans today.  This was a wonderful place to spend a couple of hours, and it is free.  Lots of parking is available.  We loved it." – Dale Gould, 2016 F250 Ford, 2016 Palomino HS8801
"New Belgium Brewery in Fort Collins, Colorado is the best beer tour that I have ever been on.  It's an employee owned brewery and everyone there was super nice.  It's a very detailed tour where you get beer samples throughout the tour." – Ellen Wilson, 2017 Chevy Silverado, 2003 Lance 1121
"My favorite has to be the Ben and Jerry's Ice Cream Factory Tour in Waterbury, Vermont.  You get a free sample at the end.  If you are in a small tour group and so inclined (as I was) you'll get seconds.  If the sample isn't enough, they have a full service scoop shop on site.
The address is 1281 Waterbury-Stowe Road (Route 100), Waterbury, Vermont 05676.  Admission is $4 adult, $3 senior, and kids 12 and under free.
There is marked parking for RVs, but no overnight parking.  In the busy summer and fall they have parking attendants for the RV and coach parking.  There is lots more information on their website benjerry.com.  Stop and say hi to the live cows pastured near the RV parking!" – Brett Burguard, 2017 Ford F-350, 2012 Northstar 9.5 Igloo U
"A few weeks ago when we were roaming around Wyoming we happened to come across an annual event that was going on in the town of Buffalo, Wyoming.  It was the annual NABO festival.
NABO stands for the North American Basque Organization.  We learned the Basque people came from the Pyrenees Mountains of northern Spain.  They came to the United States looking for freedom and settled in this area of Wyoming.  The Basque are sheepmen and they excel in this profession.  We enjoyed the Basque parades, dancing, and foods.
There we heard of a small family owned wool mill that gave tours.  Its name is Mountain Meadow Wool and it's at 22 Plains Drive, Buffalo, Wyoming.  The parking is large enough for all size of rigs and the local livestock auction is next door, so there is ample room to park there as well.
We were brought around the small mill by the owner's son and he explained the wool history in Wyoming and how the fleece goes from sheep to fine wool yarn.  They have a website, mountainmeadowwool.com.
The tour fee is $5 per person.  It is a real family business from toddlers to grandparents." – Jerry Bonneau, 1995 Ford F350 SD, 2002 Lance 1061
"Liberty Orchard's Aplets and Cotlets factory in Cashmere, Washington is great!  There are free samples, easy parking, and it's in a great location on the way to some of the best places to camp in Washington.  The tour is free and well worth the stop in this great little town!" – Greg Armstrong, 2011 3500 HD, 2008 Northern Lite 8-11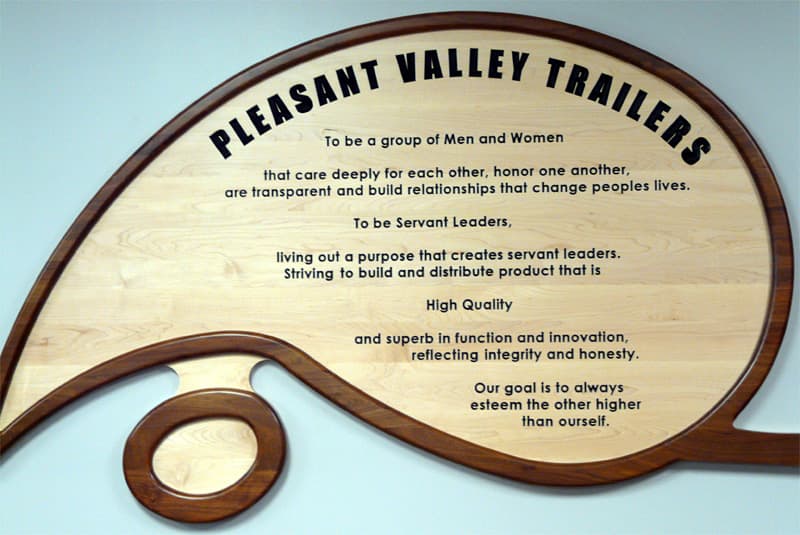 "I visited the nuCamp factory in Sugar Creek, Ohio.  Their facility and product line is extensive, but their teamwork philosophy and culture is like a family run business.

The plant is clean and well organized." – Gerald Kato, 2012 GMC 2500HD, 2017 Cirrus 820
"One of my favorite factory tours was at Northstar Campers.  I called a few days ahead of when we would passing through Waterloo, Iowa and made arrangements.
Rex Willett, President of Northstar Campers, personally took us through the manufacturing facility and process.  His tour was very informative and definitely a hands-on tour – unlike many factory tours that are too far from what's going on to see or learn anything.  I now know what will most likely be our next truck camper." – Matt Arnold, 2013 Ram 3500, 2016 Arctic Fox 990
"Not sure if it counts as a factory tour, but the Caterpillar welcome center in Peoria, Illinois is a must.  We showed up with our rig and they promptly opened the employee only parking area so that we could park with ease.
There are lots of fun interesting gadgets and machines that you can actually touch and play with as well as a brief history tour of the company.  It starts off with a movie in the back of a 440 ton dump truck and carries on from there.  It made our kids day." – Steve Wood, 2011 Ford F350, 2015 Arctic Fox 990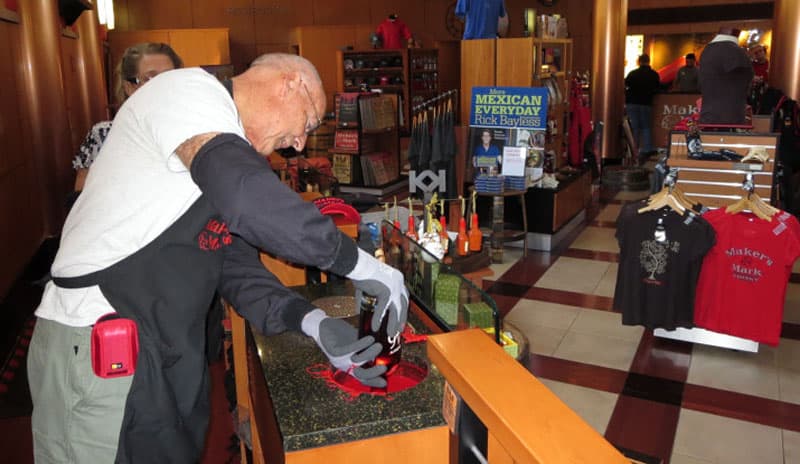 "One of my favorite factory tours is Makers Mark Distillery in Loretto, Kentucky.  They have a beautiful facility and the drive to get there is through some of Kentucky's prettiest countryside.  It is located at 3350 Burks Spring Road, Loretto, Kentucky.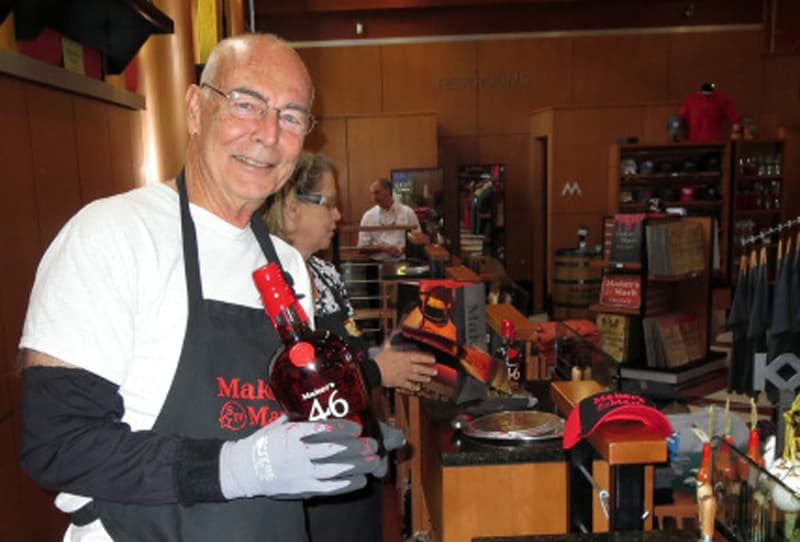 Above: Eldon Rhodes dips his own bottle in the Makers Mark wax.
I have been there twice and would go again if I was in the area.  The tour is about an hour long and costs $12.  It includes a tasting of some of their bourbons.  They will even let you dip your own bottle in their signature red wax if you purchase it in their gift store.  There is plenty of free parking for your truck camper." – Eldon Rhodes, 2008, Chevy, 3500 HD, 2011 Lance 1050
"Whenever we go to the northern Oregon coast, the Tillamook Cheese Factory is a must stop.  It's a free tour and has great samples as well as an ice cream shop and store to purchase all their products and other local items.
The factory is currently undergoing renovations until Summer 2018, so it's not worth the stop this year.  It should come back even better than before." – Katja Micklethwaite, 2002 Dodge Ram 2500, 2006 Pastime M-980SC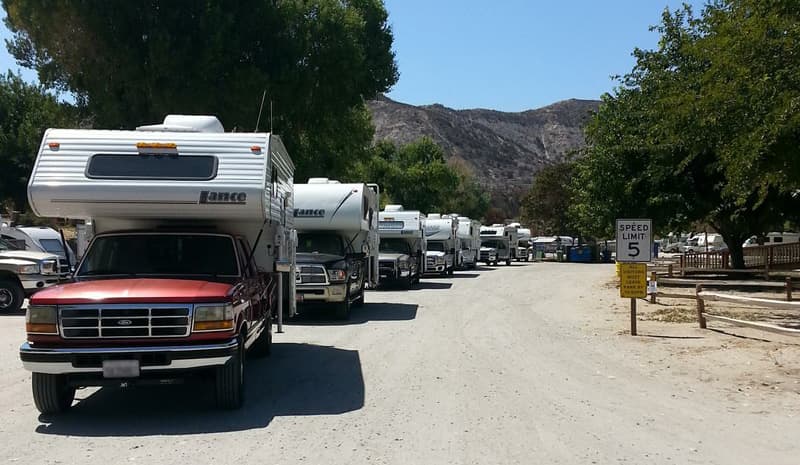 "I've only attended the Lance Owners of America, Lance factory tour last year.  We all traveled together from the campground to the Lance factory.  They gave us a tour and fed us great meal.  They also had a few vendors and giveaway items.  It was a very fun camp out and an interesting factory tour." – Ron Williams, 1997 Ford F250, 2003 Lance 1010
"I recommend the Tabasco Factory Tour on Avery Island in Louisiana.  The tour is now self-guided, but you still get free samples of hot sauce at the end.
The tour covers the history of Tabasco as well as production.  There is an excellent gift store and a restaurant.
As an added bonus, there are the Jungle Gardens and Bird City to visit as well; a beautiful garden and bird sanctuary that visitors drive through.  It's a great way to spend a day." – Judi Sutherland, 2016 Ford F350, 2014 Adventurer 86SBS
"I enjoyed the Corvette Museum and Plant factory tour.  The location of the museum is 350 Corvette Drive and the plant is 600 Corvette Drive, Bowling Green, Kentucky 42101.  It's exit 28 off I-65.
The hours are 8:00am to 5:00pm Central Time, seven days a week.  The last admission tickets are sold at 4:30pm.  It is closed on New Year's Day, Easter, Thanksgiving Day, Christmas Eve, and Christmas Day.
Admission prices are $10 for adults, $8 for seniors, $5 for youth (6-16), and under the age of 6 are free as well as active military.  Various discounts and coupons are available.  Discounted rates are offered for registered groups of 15 or more people.
You can even ride in your choice of Corvette!  That's offered on weekdays, Monday-Friday beginning at 10:00am Central Time.  It's $20 a ride for a three-mile loop (10-15 minutes). Current choices of Corvettes include 1966 Rally Red Convertible 327, 1979 Corvette Red Coupe, or 2003 50th Anniversary Convertible.  Reserve your ride at the admissions counter upon arrival." – Michele Bigelow, 2014 GMC 2500 HD, Northstar Igloo 8.5
"Some might feel I'm stretching a point of including the Smokejumper Center in Missoula, Montana as a favorite factory tour.  If you were to tour the center, you would understand.  The center is not only for smokejumper training, but they design and manufacture most of the specialty equipment they use.  When is the last time you saw smokejumper gear on a Walmart shelf?
I have toured the center several times and will again whenever I find myself in Missoula.   The Smokejumper Center is located near the Missoula Airport at 5765 West Broadway and is the nation's largest training base for smokejumpers.  Visitors to the center will find displays, dioramas and videos related to the lore of America's legendary parachute wildfire fighters.
Guided tours of the parachute loft and training facilities are available Memorial Day through Labor Day, 8:30 AM – 5:00 PM.  Visitors will learn the storied pasts of some of the Rocky Mountain West's bravest men and women.  It is time well spent." – Bob Lick, 2003 Dodge 3500, 1993 Alpenlite 11′ SK