Truck Camper Magazine tours the Toyota Motor Manufacturing Texas (TMMTX) plant in San Antonio, Texas.  See truck bodies grabbed by Godzilla and Tacomas and Tundras made by man, machine, and a precision-guided fleet of roving robots.

In the spring of 2014, we contacted Toyota Motor North America to request a tour of the Toyota Motor Manufacturing Texas (TMMTX) plant in San Antonio, Texas.  Specifically, we asked for an extended guided tour with unrestricted photography access for a feature story in Truck Camper Magazine.
Our original request was denied on several grounds.  First, we hadn't allowed for enough time for the required approval process.  Toyota advised us to resubmit our request at least 90-days in advance the next time we would be in Texas.
Second, it was almost unheard of for outside media to be granted unrestricted photography access.  We later learned that many major media outlets had been denied photography access and were provided Toyota approved photography for their visits.
Fast forward to the spring of 2017.  We were scheduled to tour Capri Campers in Bluff Dale, Texas and attend the Texas Truck Camper Rally.  Since we were already going to Texas, we once again engaged Toyota for a factory tour.
This time our request was granted, with two restrictions.  I had to complete a Toyota security camera pass application right down to the camera model and serial number.  The pass was only for my Nikon DSLR as no camera phones are allowed.
Additionally, there was a detailed safety dress code for the plant; no skirts, no shorts, no exposed midriffs, and no heels taller than one-inch.  Well there goes the standard Truck Camper Magazine uniform!
1 Lone Star Pass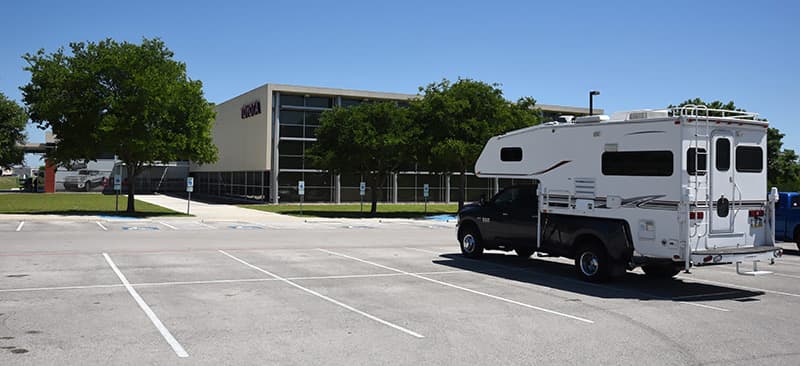 With the required forms submitted and the Stilettos safely back at the ranch, we arrived at 1 Lone Star Pass in San Antonio, Texas on April 3rd, 2017.  After winding our way around the 2,000 acre Toyota Motor Manufacturing Texas (TMMTX) complex, we parked towards the back of the visitor's center.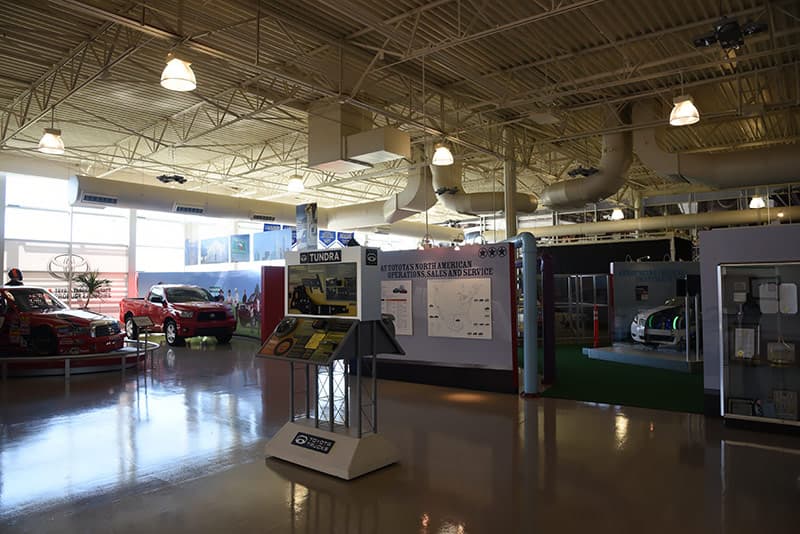 A few minutes later we were greeted by Melissa Sparks, External Media Affairs for Toyota Motor North America.  Melissa handed me a laminated, signed, and date-restricted camera security pass with my full name and aforementioned camera serial number.  Then she said, "If anyone asks you about your camera, show them this."  That's right people.  TCM got a unrestricted photo pass!
Melissa then had us board a 2017 Toyota Tundra, one of many Toyota trucks used around the TMMTX facility.  She explained that these trucks were referred to as, "scrap" or text vehicles and had no VIN numbers.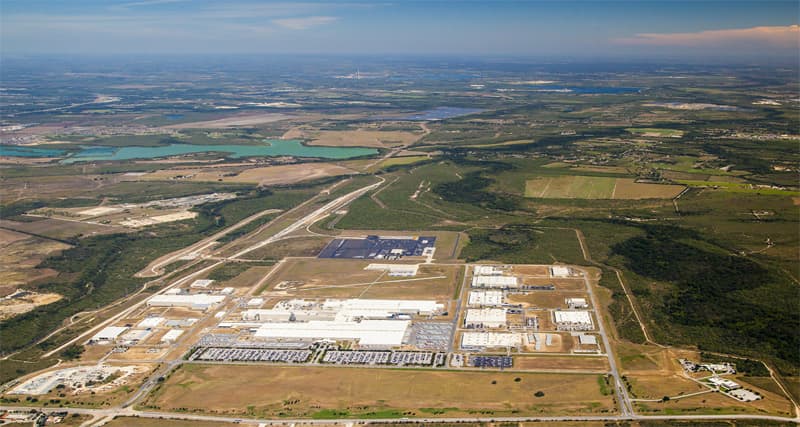 Above: The TMMTX campus – photo provided by Toyota Motor North America
About thirty seconds later we were driving past the Toyota Family Heath Center, an on-site medical group practice for Toyota employees and their dependents including primary care, optical, dental, physical therapy, and a pharmacy.
The fact that Toyota made a medical facility part of their facility really impressed us.  The $5 co-pay completely blew us away.  If every major company took this forward-thinking approach to health care in the United States, we would have a much better health care situation today.
Two Story Truck Trains