For Behind the Shot Part 1, we are featuring photos and stories from Shagwong Point, Pacific Coast, French Guiana, and many more!  Click here to participate in the 2021 Truck Camper Magazine Calendar Contest and be considered for a Behind the Shot feature.
Jeff Wright
Shagwong Point, Montauk, New York
2011 Ford F-350
2015 Palomino HS2910
Camera Used – iPhone XS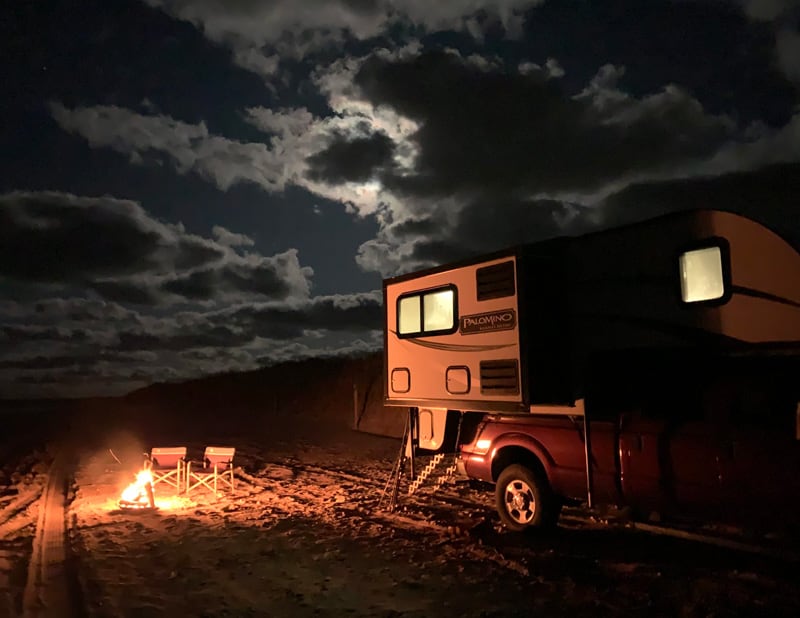 November 9th is the last day that Shagwong Point is open for camping.  We spend just about every weekend and whatever time we have off camping at this beach.  It's approximately 60-miles from our house and provides a great getaway and a great view.
It was 34-degrees out when this picture was taken.  I had just started the fire while my wife, Amy, was starting to cook dinner inside.  I was watching the clouds move and was wishing I had my camera.  The iPhone XS did a great job.
Teresa and Lynn Skinner
Route 30, Downsville, New York
2017 Ford F-350
2018 Lance 1172
Camera Used – Phone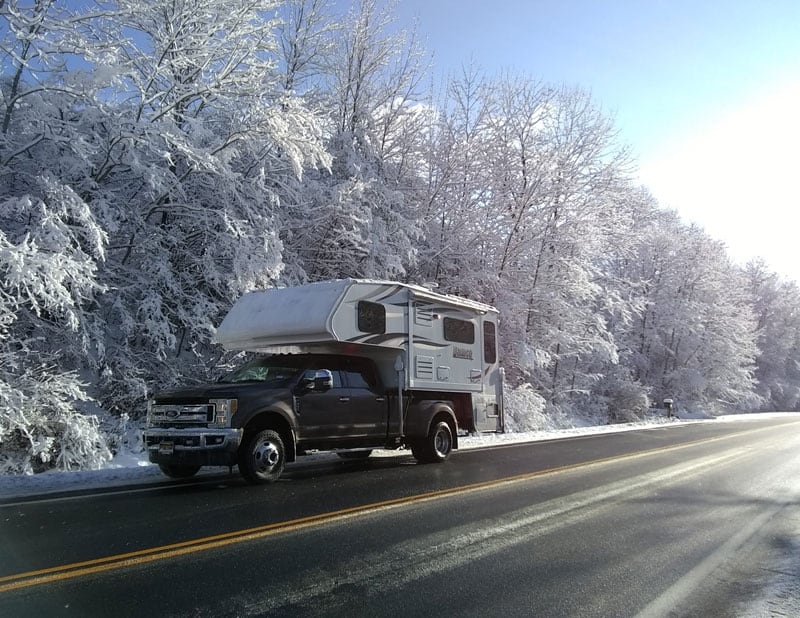 We were leaving for Florida after receiving 11-inches of snow at our home on December 3, 2019.  It was a crystal perfect picture along the east branch of the Delaware River.  There is great fishing and a bald eagle spot we like.  We love traveling and camping in our Ford and Lance.
Randy Crumley
Pacific Coast, Oregon
2004 GMC 2500HD
2005 Northern Lite 8-11
Camera Used – iPhone 10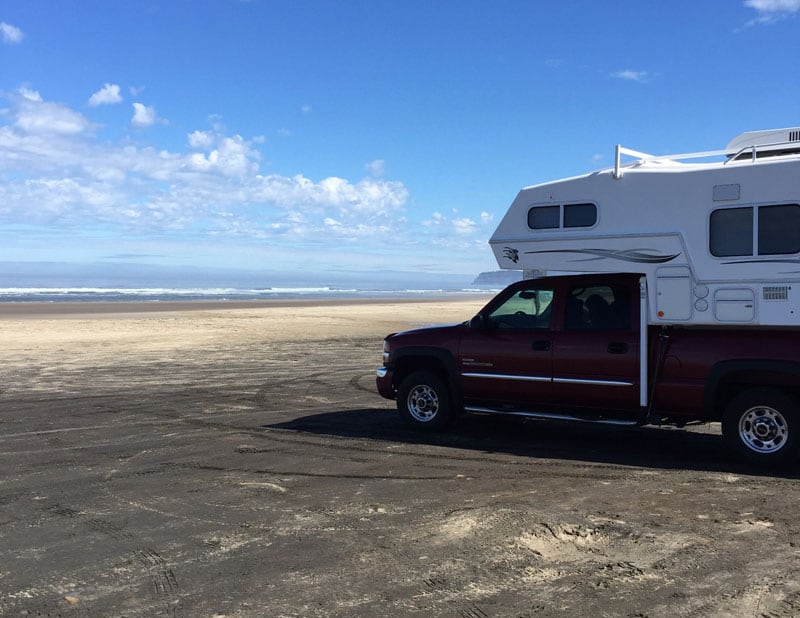 After spending the night in Oceanside, Oregon, we stopped for lunch at a beach pull out.  The views and waves were awesome.  We walked along the beach and ended up spending all afternoon looking for sea shells.
Geneva and Mike Saint-Amour
French Guiana
2013 GMC 3500
2005 Northstar Arrow
Camera Used – iPhone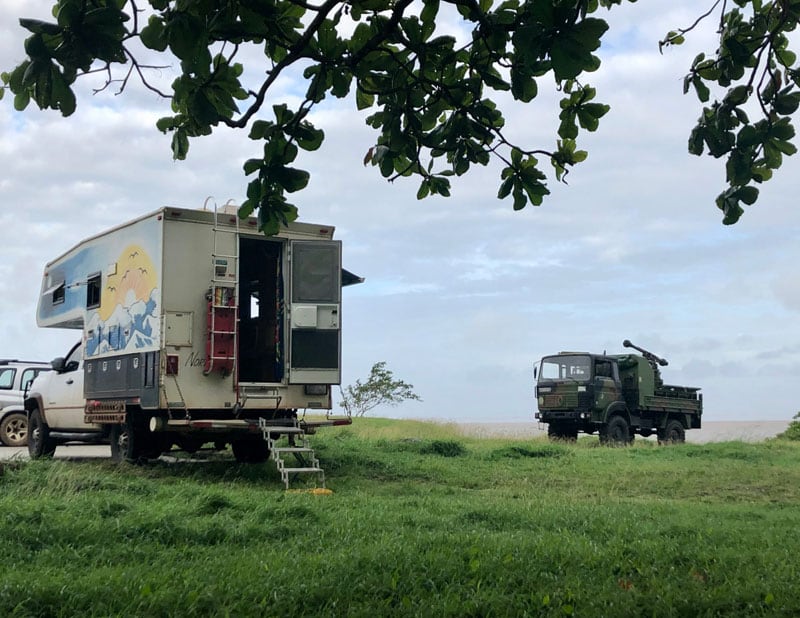 We were camped in a parking area near the beach waiting for the launch of the Ariane5 space launch in French Guiana, South America.  The military arrived with a stinger missile truck to establish the safety perimeter for the launch fly zone.
Timothy Hutchinson
Medusa, New York
1992 Chevrolet 3500
2004 Lance Lite 1025
Camera Used – Galaxy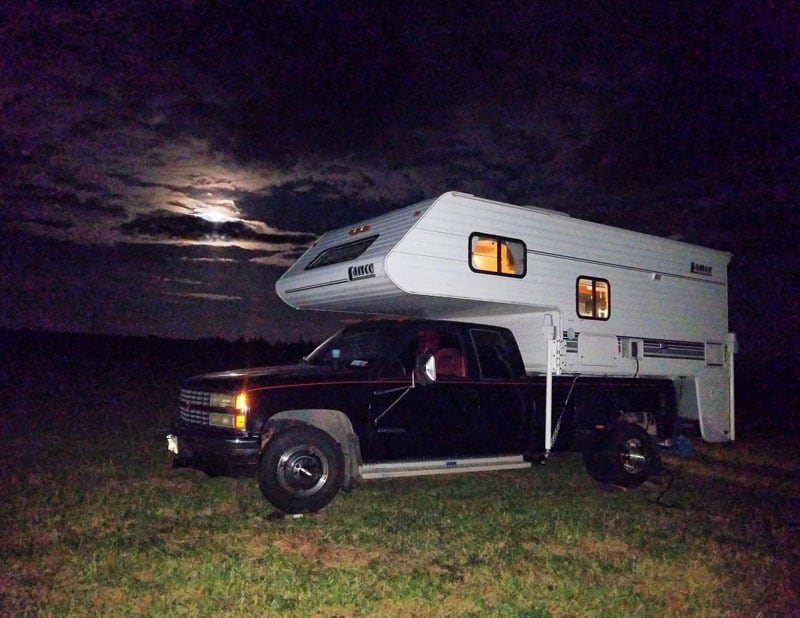 This was our first camping trip with our new to us truck camper.  Our rig is a 2004 Lance Lite 1025 on a 1992 Chevy 3500 dually with 52,000 miles on her.  We put this package together coming in under our meager budget for my wife's retirement trip to Alaska this summer.
The picture was taken at my wife's cousin's property in Medusa New York at their annual Rest Fest weekend.  The Fall weather was cool and called for a chance for light rain, but as you can see by the photo, the mixture of moon and partial clouds made for pleasing night shot with my cell phone and fill flash.
It was fun to hear the positive comments on how well laid out and cozy the camper is compared to the compact campers some of them had.  Plus the fact that we pulled in, threw a few blocks down to level and were camping.
Kristina Nelson
Bow, Washington
1996 Ford F-250
1990 Cascade Camper
Camera Used – Phone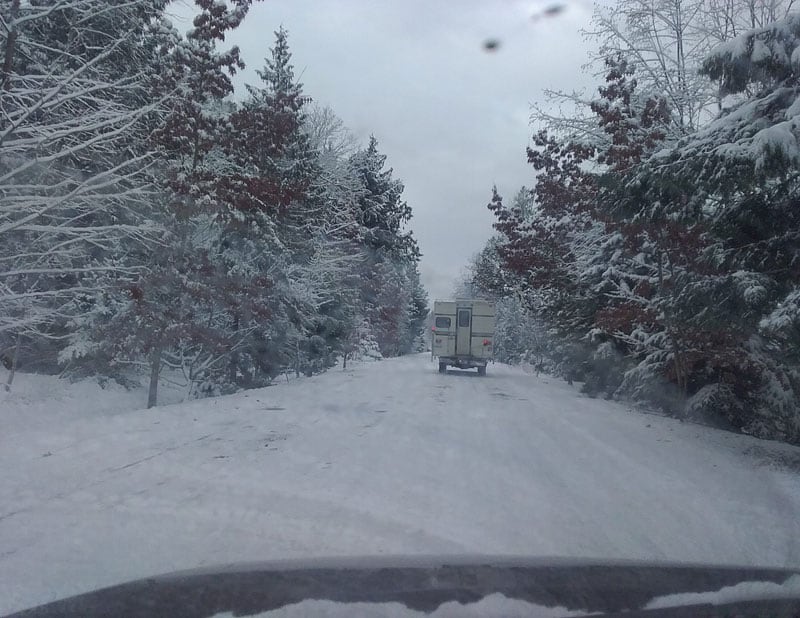 We've been living mobile since July 2019.  We bought a Thousand Trails membership to start living mobile after the camp fire in Paradise, California happened.  That's when we decided to live mobile.
We are now in Upper Washington living in our truck camper.  We stay two weeks in one of three Thousand Trails parks and also boondock a week using our local casino's parking lot.
January 11 and 12th we were caught in a snowstorm and we almost didn't make it to Mount Vernon Thousand Trails.  They were actually trying to call us on our phone to tell us they were closing the park and they would not let us in.  The campers could not go up the hill because it was too slick.
Thanks to the great customer service of Mount Vernon, we were able to get into the park.  Within hours of parking our truck camper the snow came down.  We were stuck in the park for two days. This was the first snow storm that we have had in this truck camper.  She held up well.  I love my truck camper.
The picture was taken right at the entrance of Mount Vernon's Thousand Trails park before the massive snowstorm hit.
Bill Berry
Lubec, Maine
2012 Chevy 3500
2012 Northstar American Hero
Camera Used – Samsung Galaxy S10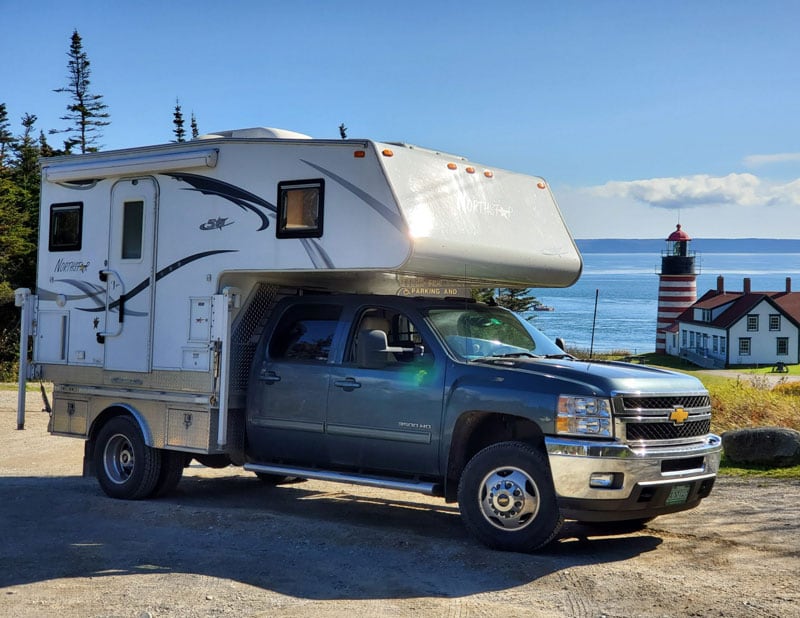 We were on our return trip from Prince Edward Island and decided to go down the coast of Maine instead of going directly home to Vermont.  Our first stop was in Lubec at West Quoddy Head Lighthouse, the Eastern most point in the United States.
Colton Jernigan
Greene County, Tennessee
2002 Chevy Silverado 2500HD
2017 Eureka Camper
Camera Used – Moto z4 Phone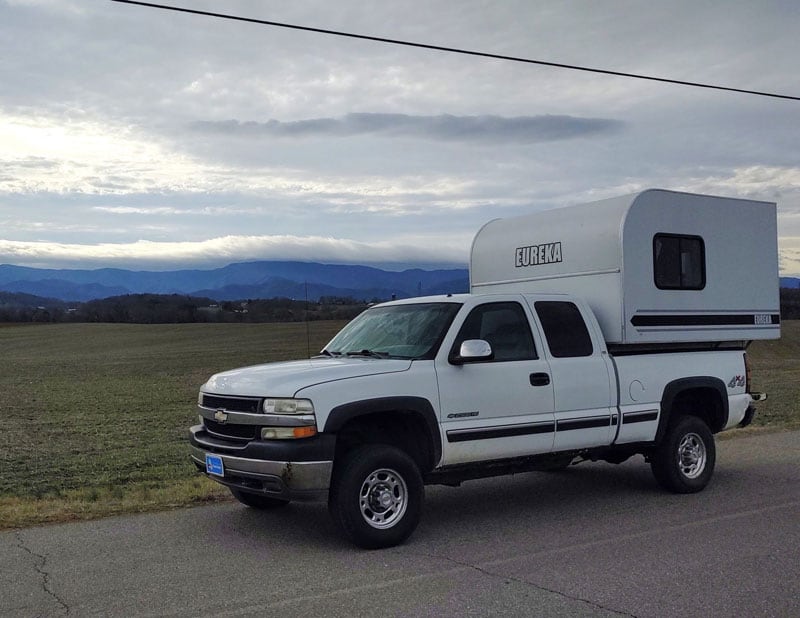 We visited a friend in Greeneville, Tennessee and we stayed at David Crockett Birthplace State Park.  When we left, we saw this view about a mile after leaving the campground.  I just stopped in the road to get the picture, and happened to get a great shot.
Greg Gabert
Great Slave Lake, Northwest Territories
2015 Ram 3500
1998 Northstar TC800
Camera Used – Samsung Active 7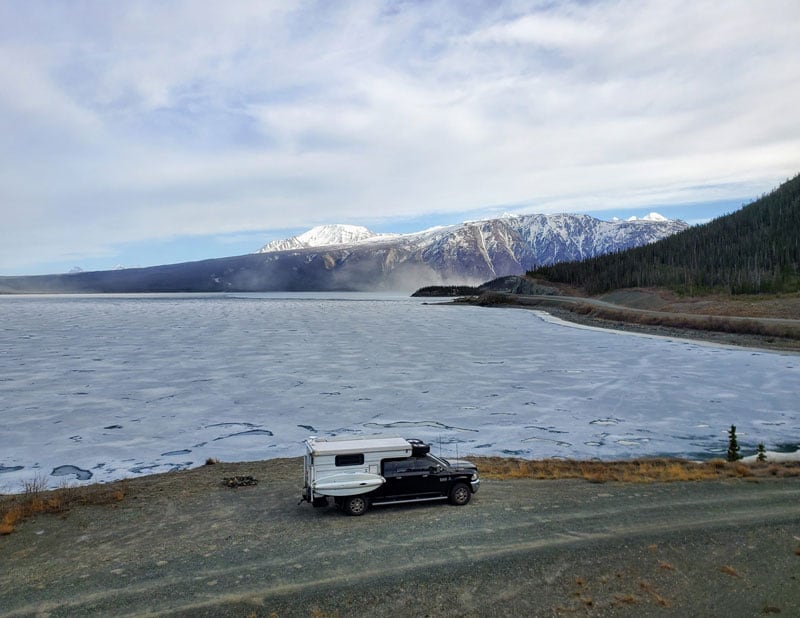 I had been driving many hours, and I was tired.  I found this little path off the highway.  What an incredible boondocking location!  There was a ten-foot diameter fire ring.  I could have spent a week here but needed to press on to Alaska.
I have two 225-watt solar panels, two L-16 Lifeline batteries, and a 2500-watt inverter.  I never run out of power.  The propane generator is used for the air conditioner when needed.  I camped here on the way back to Florida.
Kelly Hooton
Monument Valley, Utah
2017 Ford F-450
2020 Eagle Cap 1200
Camera Used – Canon EOS 5DS R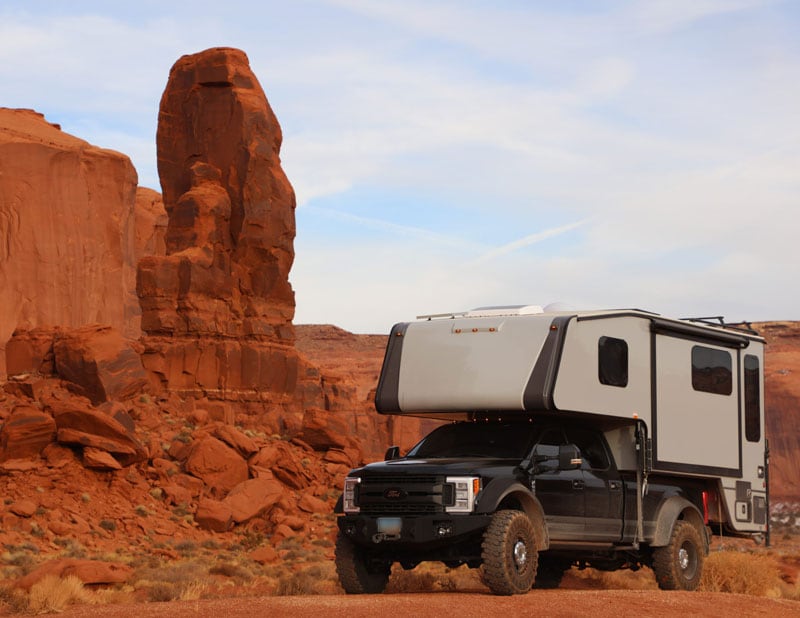 My husband, Tony, and I were camping near Monument Valley, Utah for a long weekend in January 2020.  We were enjoying the scenic loop at the site and came across a perfect photo spot next to some beautiful rock formations.
The sun was beginning to set giving the already glowing red rocks a deeper glow.  The sky was clear and no dust was blowing to alter the colors.  It became a perfect opportunity to capture the scene with our truck looking like it belonged right there.
We captured the attention of a tour bus going by and many photos were taken by the tourists on the bus as well.  They noticed the setting was wonderful and took the opportunity to enjoy it as we did.  We will definitely be returning during the warmer months and try to capture a shot with the many stars that shine over the valley.
Dominik Knapp
Mojave Desert, California
2016 Ford F-350
2018 Lance 1172
Camera Used – Sony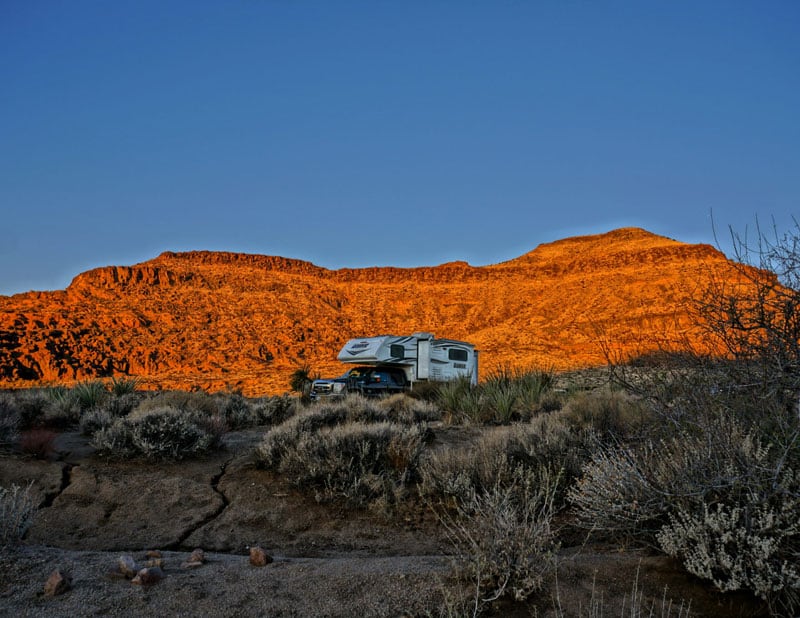 There is incredibly dry camping in the Mojave desert.  Twenty-miles on a dirt road will get you to this gem in the desert.
Randy Pike
Leavenworth, Washington
2011 Ram 3500
2018 Arctic Fox 811
Camera Used – Phone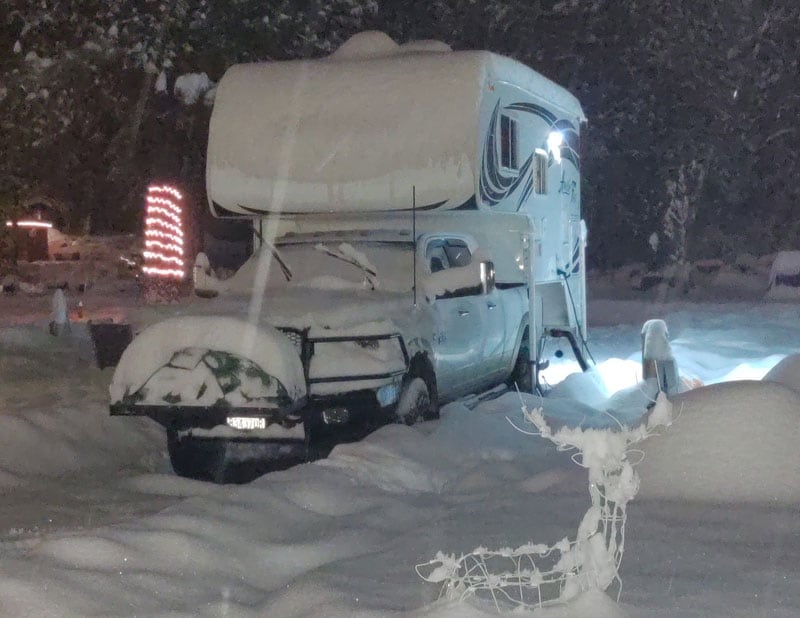 Almost 17-inches of snow in Leavenworth, Washington makes for great winter camping.
Tom Baker
Colorado/New Mexico state line
2019 Ram 3500
2019 Arctic Fox 811
Camera Used – iPhone XR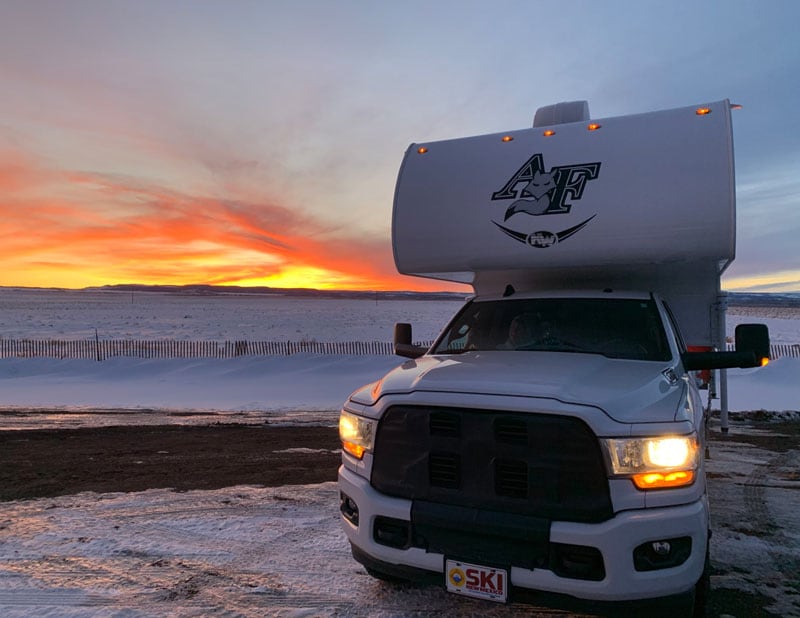 We were on a weekend ski safari.  We were on our way to South Fork, Colorado to ski Wolf Creek after boondocking/skiing at Taos Ski Valley, New Mexico, and couldn't pass up the photo op with an amazing mountain sunset.
Duane Seitz
Snoqualmie Pass, Washington
2019 Ram 3500
2019 Capri Retreat 50th Anniversary Edition
Camera Used – iPhone 11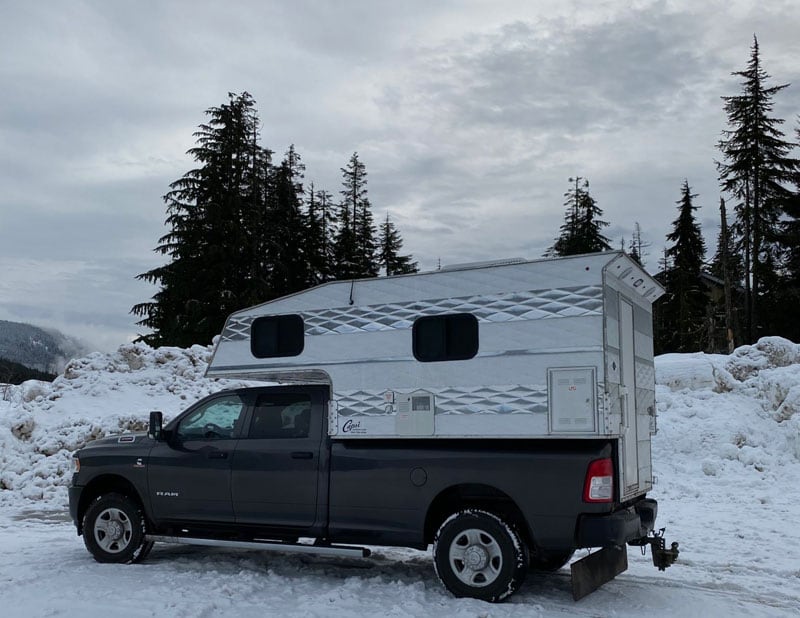 I work as a transporter traveling the country and just happened to come through after a big storm.  This is the deepest we have seen in our travels.
We get to see a lot of beautiful country in our travels that most people just hear about.  The Capri gives all the comforts of home whether it is below zero or 122 in the summer in Arizona.  I am usually staying in the camper a week or two at a time.
Thomas Monday
New Mexico
2014 Chevy 3500HD
2019 Northern Lite 10-2EX
Camera Used – Samsung S10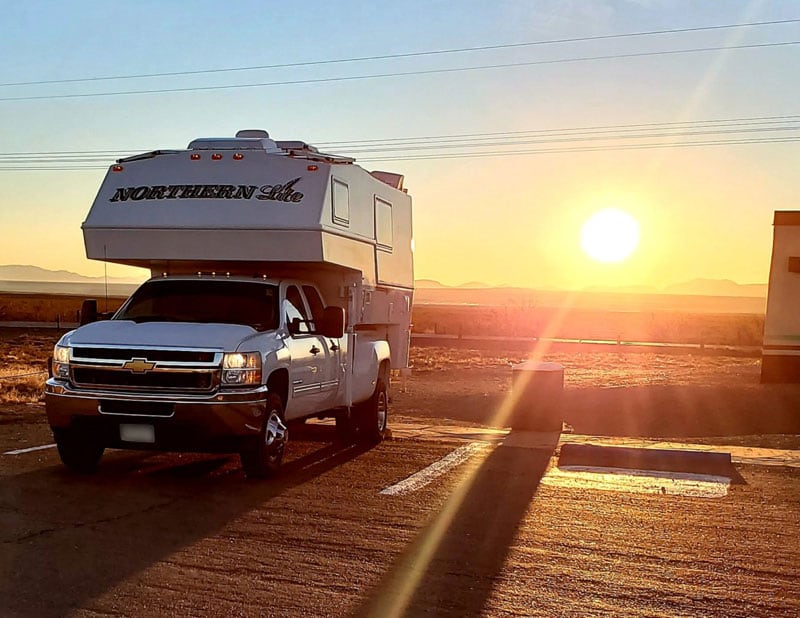 This was a rest stop along I-25 in New Mexico.  I was getting an early morning start.  The sunrise light made the whole world look fresh and new.
Click here to see all of the photos entered so far in the 2021 TCM Calendar Contest.  Enter your truck camper photos today!