Thirty-seven fellow truck campers recommend specific backup cameras and solutions. From safely backing into a campsite, to better rear driving visibility, to nighttime security, two solutions and a few models stand out.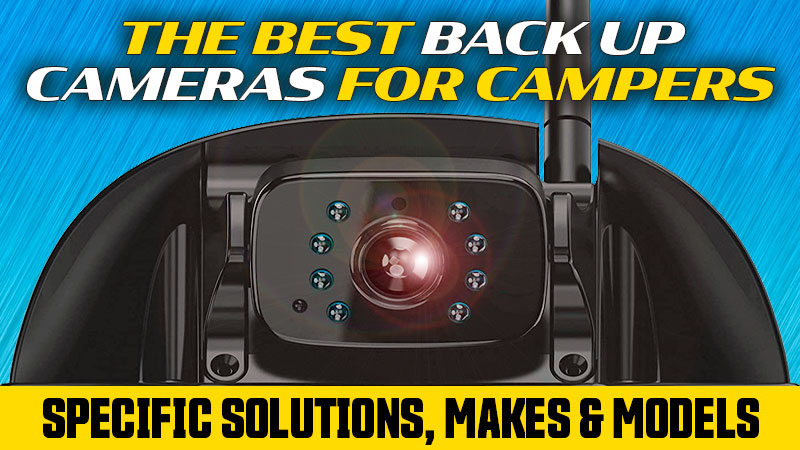 There are two rather obvious stand-out solutions for adding a backup camera to a truck camper rig. The first and most seamless solution is to purchase an additional factory rear view camera and wire it into the truck's existing factory screen and system. This approach eliminates the need for a second device and screen in the truck cab and the associated wiring and mount; it's clean and neat.
While that approach offers the tidiest installation, not everyone has a late model truck with a built-in screen and backup camera system. And some of us might prefer to have a backup camera system that's completely independent of our factory truck electronics. Furthermore, some third-party backup camera systems have features that factory cameras do not.
With all of that in mind, we have separated the backup camera responses into two categories; factory cameras by truck brand, and third-party by camera brand. If you're shopping for the best solution for your truck and truck camping lifestyle, we recommend reading them all as there's a lot of hard-earned wisdom throughout.
TIP: Scroll to find your factory backup camera and truck brand. Then scroll further for third-party solutions and backup camera brands.
GM Trucks: Factory Camera Solutions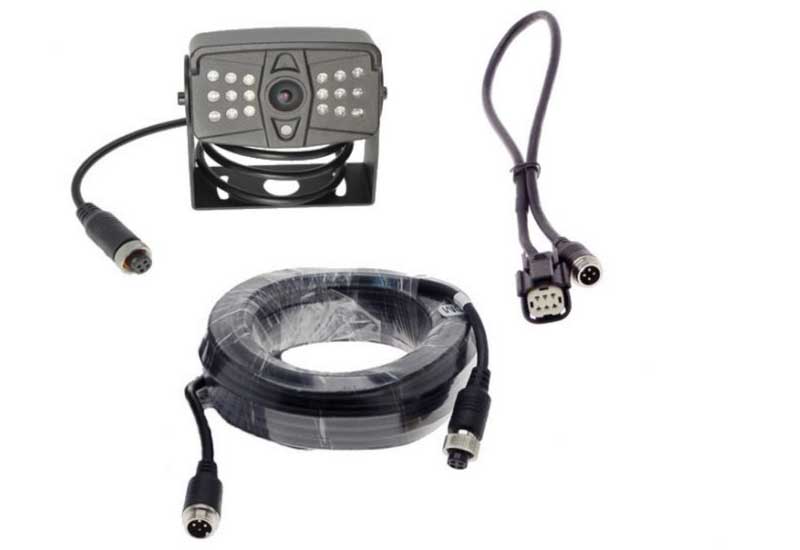 "I have a plug-and-play commercial-grade camper camera kit for 2014 and 2015 GM truck) from CameraSource.com. The camera connects to the same connector my tailgate camera attaches to and activates when I shift into reverse.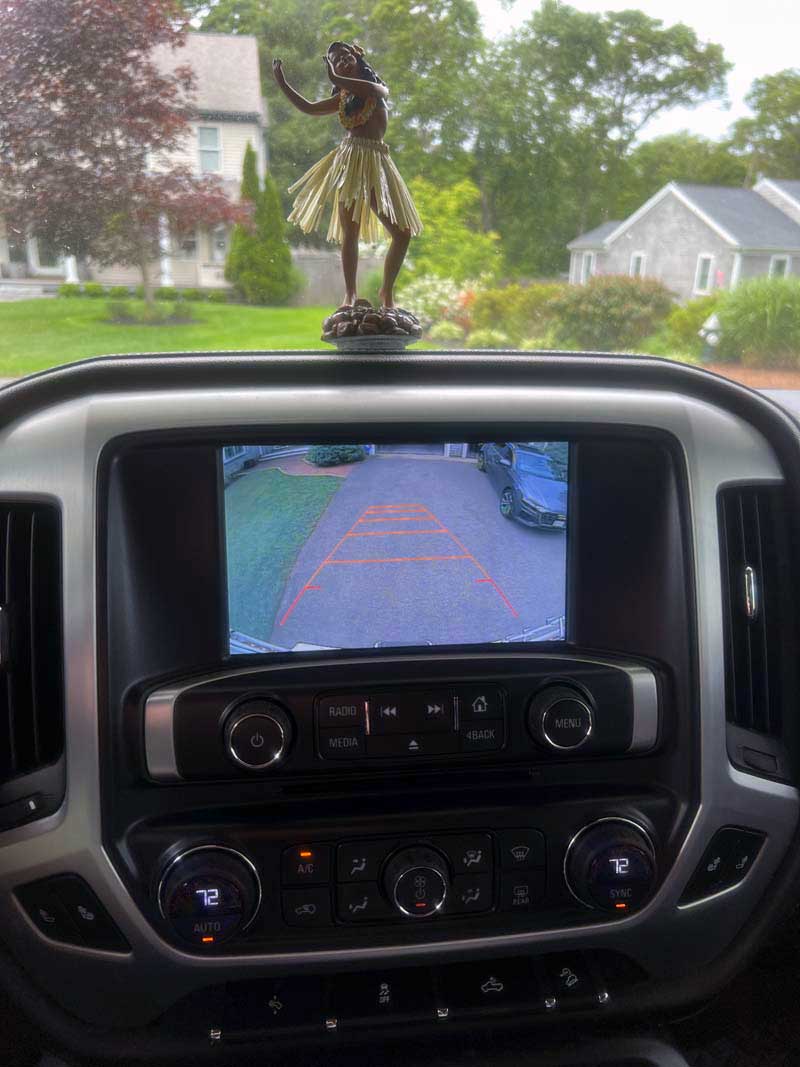 It displays through the onboard infotainment system and makes parking and backing up a breeze.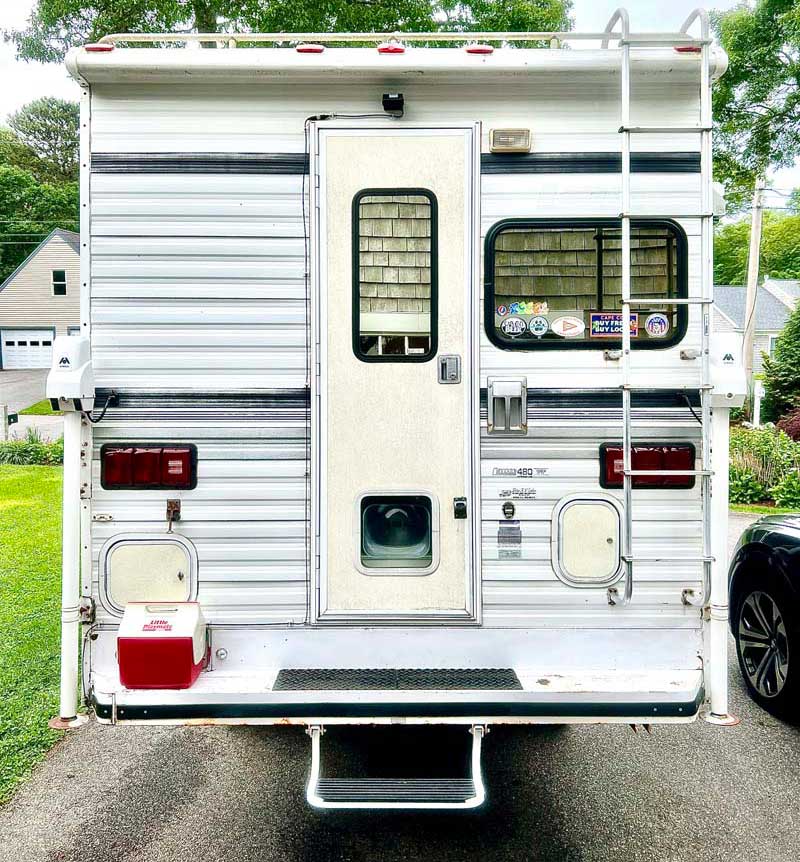 Having an older Lance camper, I still have the advantage of seeing through the cab with a fresnel lens on the rear door to keep an eye on traffic behind me." – Todd Marcus, 2015 GMC 3500HD, 1997 Lance 480
"I use a stock GM camera from the tailgate-mounted on a bracket attached to the license plate holes. In the winter the tailgate goes back on. The camera angle isn't great but it makes connecting a trailer way easier and it's very helpful for tight quarters." – Andrew Brink, 2015 Silverado 3500, 2010 Arctic Fox 811
"I purchased a camera and harness from Camera Source. They called it a waterproof salt spreader camera. To install the camera, I drilled into the aluminum rear camper bumper (where the black hose is stored), installed two rivnuts, and secured the camera mounting bracket.
I then plugged in the camera and discovered the image was upside down. I turned the camera around to correct the image. I then backed my camper up to my garage and adjusted the camera so that the warning lines coincided with the distance.
It works perfectly. I use it when backing up my canoe trailer and when I am parking my truck camper. It gives me extra peace of mind when backing up against objects." – George Visconti, 2015 GMC Sierra 3500 HD, 2016 Arctic Fox 990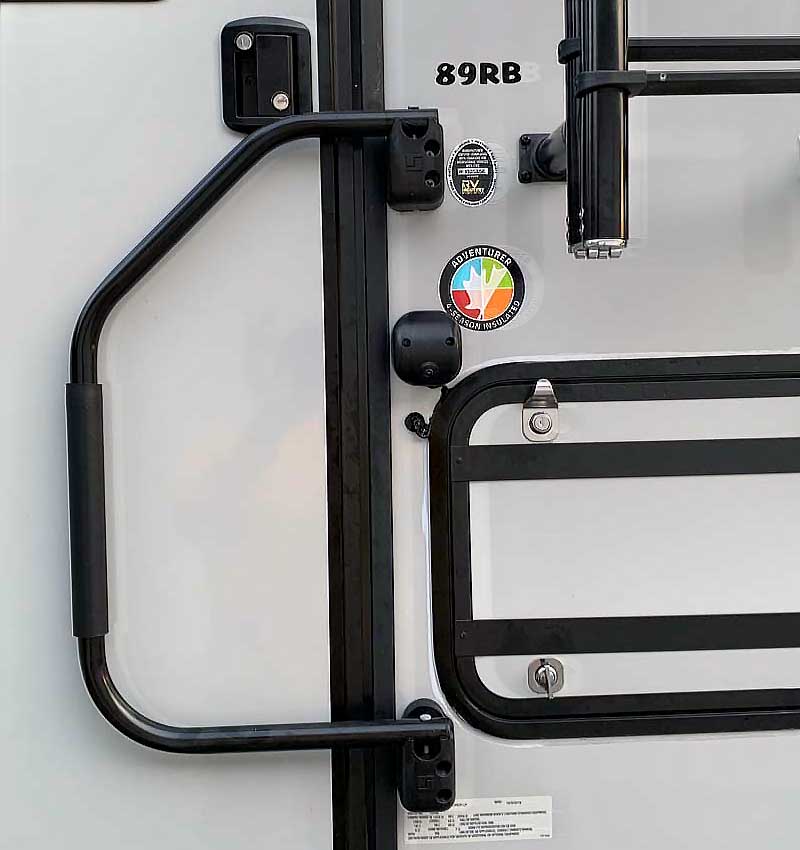 "I have a backup camera relocation kit from CameraSource.com. The specific model is the Relocation Kit with the camera included and the non-surround view. It fits 2020-2022 GM 2500 and 3500 trucks. It replaces the camera in the tailgate and uses the 8-inch factory screen. There are several options to choose from depending on the factory camera options.
With the camper on the truck, the camera being mounted higher than where it was in the tailgate provides me with a 180-degree view when backing up in a parking spot or campsite." – Richard Cousineau, 2020 Silverado 3500 HD, 2020 Adventurer 89RB
"Our Host Mammoth came with a rear view camera system installed that connects remotely to a receiver screen system in the cab of the truck, but it was a royal pain to set up and use, and the picture quality was quite poor.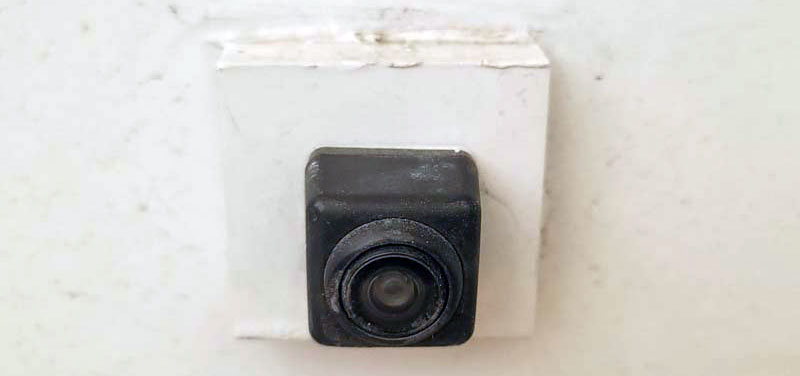 The backup camera that came built into our truck tailgate is very good and easy to use with the screen in our dash. I ordered that exact same camera from a GM parts supplier and mounted it to the rear of our camper. I then spliced in the extra length of wire needed to reach the plug where the tailgate camera plugs in under our truck bumper. Now, once the camper is loaded onto the truck, I just need to lay down under the rear bumper and plug in the camera plug. Every time I put the truck into reverse now I automatically get a good picture of what is behind me.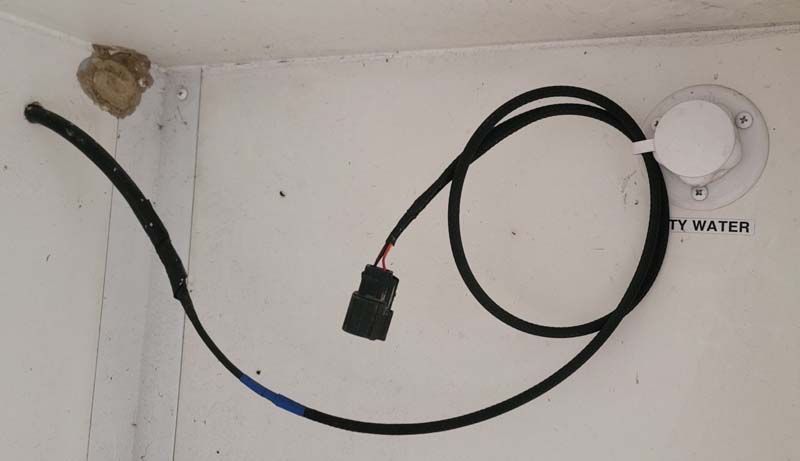 I use the camera just as I use the backup camera in the tailgate when the camper isn't on the truck. It is very easy, and I'm no longer asking my wife to guide me, or hopping in and out of the truck every few feet to check on how close I'm getting to what's behind me. This is so easy and works so well. It should be an option to order on your camper when you buy it, matched to your pickup brand and model. I just have to make sure to unplug it before unloading the camper from the truck each time." – Ken Southworth, 2015 GMC Sierra 500HD, 2018 Host Mammoth
RAM Trucks: Factory Camera Solutions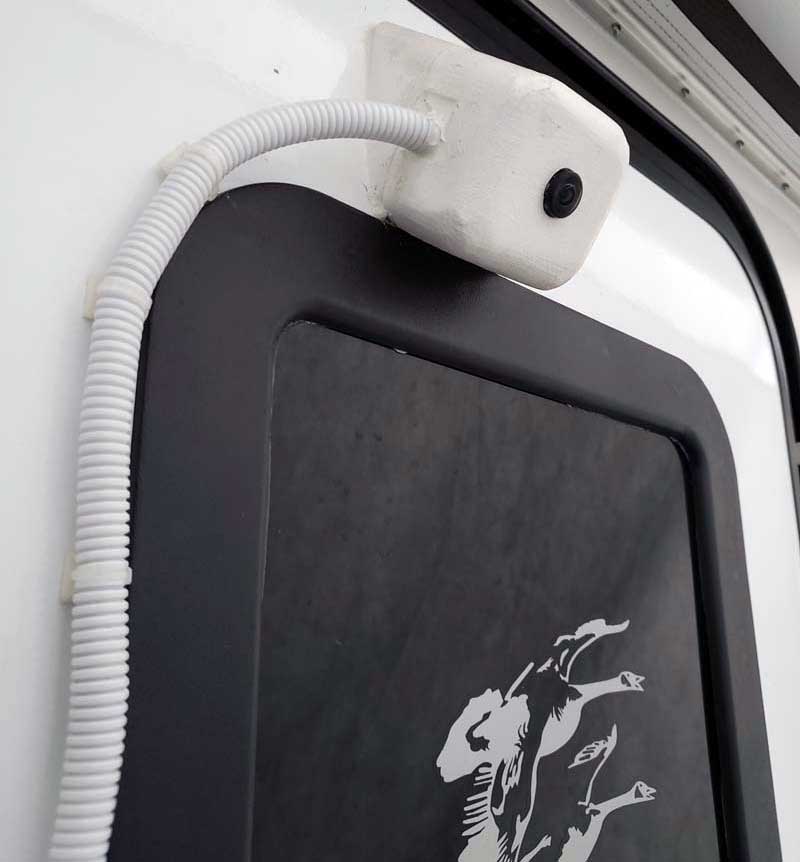 "I have a Ram 3500 replacement tailgate backup camera. I built an enclosure for the camera and mounted it at the top of the camper door. I extended the wiring harness so it plugs into the truck's tailgate harness and displays on the built-in dash display.
One reason we bought our camper was to take our boat on multi-day fishing trips. With the camper on the truck, we couldn't see the boat except through the small centered windows of the camper. With the backup camera, we can now see all around the boat and it makes it very easy to back the boat straight down the launch ramps." – Tim Ward, 2018 Ram 3500, 2019 Northern Lite 8-11
"I bought a second Ram (Mopar) tailgate camera and harness and mounted it in the hitch receiver extension. It plugs into the tailgate harness to view the Uconnect display. It prevents backing over low things like campsite number signs and the virtual guiding lines make it easy to back into parking spots." – Dave Thalman, 2013 Ram 2500, 2013 Northstar 850SC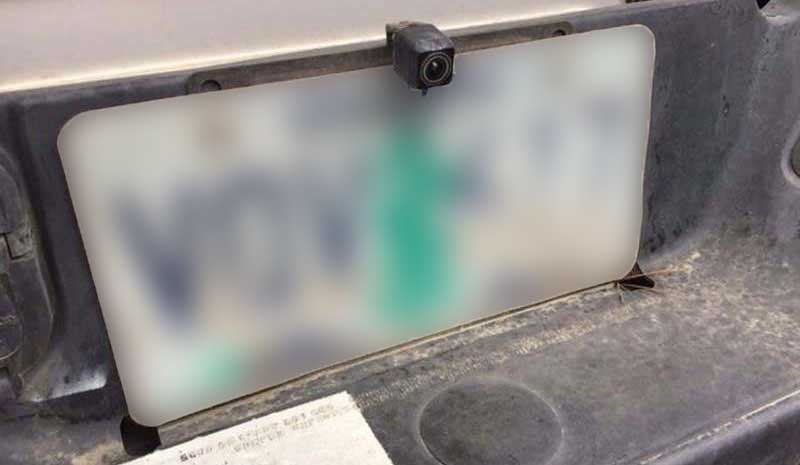 "I have a Camera Source camera for Ram trucks (#CS-DTRSK-LP). When backing up, the camera makes it easier to avoid rocks and stumps in campgrounds and rough country. However, our Ram's in-cab display is inside the rear-view mirror. The image is too small to be of much general use, but it is better than nothing.
The camera itself is mounted at the license plate and is easily fouled by road dirt, especially in wet weather. Fortunately, it's easily cleaned with a thumb-wipe. The camera has worked well but failed after a year. We had excellent service from the company who replaced it with no hassle, and have had no further problems in the two years since." – Kurt Herzog, 2018 Ram 1500, 2018 Custom Phoenix Pop-up
"I bought an extra factory Mopar camera and extra cable mounts. I use it instead of the one in the tailgate handle, which stays with the tailgate. I fabricated an extension so that the camera sits at the license plate. It works well and goes through the vehicle's display. The camera is quick and easy to take off.
At around $240, the factory Mopar camera was actually the cheapest option I could find. I use it for safety; primarily not backing over something. I depend on my mirrors and my wife the most when backing up. It is really the third or fourth option when backing up. I like it, but it isn't needed – if I'm patient." – Aaron R., 2019 Ram 3500, 2021 Adventurer
Ford Trucks: Factory Camera Solutions
"I installed the backup camera accessory made by Ford for 2017-2022 Super Duty trucks. It plugs into the truck's wiring system and displays on the in-cab infotainment system. Because it is hard-wired, it has a very clear image. It is much better than most wireless products and does not require an additional display monitor.
I use it when backing out of parking spots and fuel islands, and when backing into campsites. My wife seldom has to get out to guide me." – Mike Stanbro, 2007 Ford F-350, 2017 Eagle Cap 1200
"I installed a Camera Source backup camera. It comes with a cable that attaches to the Ford factory plug for the tailgate camera. It works the same as the factory backup camera when the vehicle is in reverse but does not include the guide lines on the screen. I installed it about 3.5 years ago, and it has been working fine so far.
This works the same as the factory camera when the vehicle is in reverse.  It's nice to have since with the camper on since the direct rear view is non-existent.  It's very nice to have when backing up or backing into a parking space." – John Littrell, 2017 Ford F350, 2012 Lance 865
Third-Party Solutions: Garmin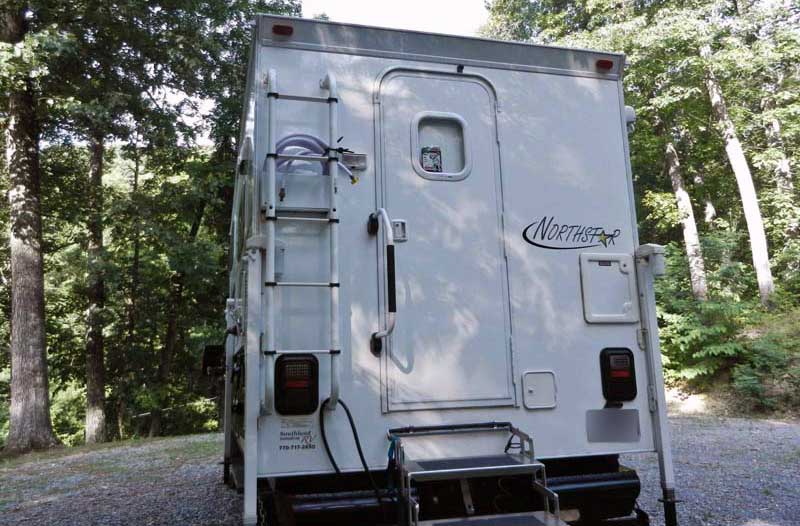 "I use a Garmin BC 50 backup camera that links wirelessly to the Garmin GPS on our dash. It is easy to switch between the mapping and the rear camera view.
When we're camped, we simply take the dash Garmin into the camper, plug it in, and we have a rear view security system with night vision. The camera is mounted and centered above the door on the back wall of our camper. It allows us to keep an eye on our flat towed Jeep. Having the added security is a plus." – Steve Savage, 2012 Ford F-350, 2019 Northstar Laredo
"We looked at everything that I could find about three years ago.   The problem we ran into was the quality of the wireless versus the wired systems.   With the wired system, everyone was questioning the connection between the camper and the truck and the ability to disconnect from the camper.
Then I ran into the Garmin 780 RV and the dealer at the time told me to use the new BC 40 wireless camera.   It was a big improvement in wireless camera quality over the BC 20 and didn't have the wiring issues of the BC 30 cameras.   Garmin's official statement was that the BC 40 was not compatible with the 780RV.  I went back and forth between Garmin and the dealer and finally just bought one to try.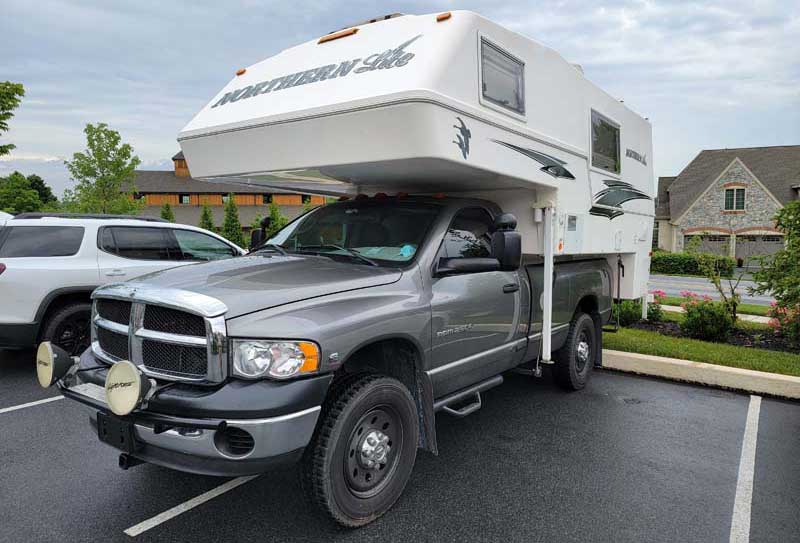 I found it worked great with the 18-feet I needed with my fiberglass Northern Lite 10.2 EX CD camper and my regular cab Dodge Cummins.
When I told Garmin it worked great, they challenged engineering as to why it wasn't listed as compatible. They found that engineering figured out the effective range was about 25-feet and that wasn't long enough for most motorhomes or trailer applications. They now list it as compatible with a 25-foot range.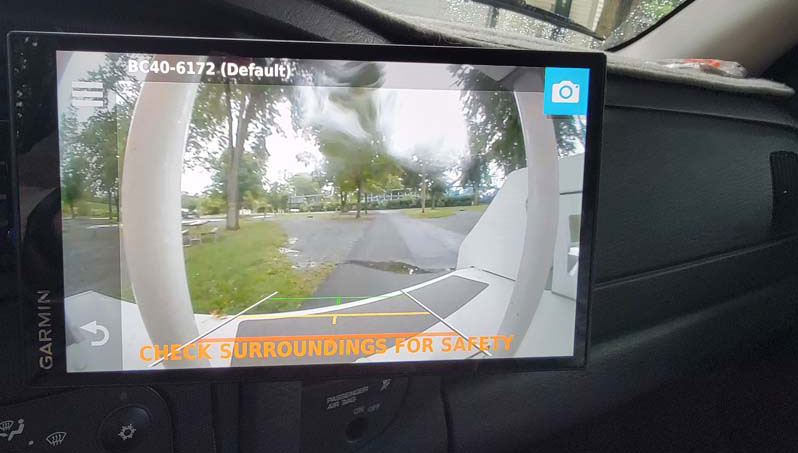 The quality of the picture is very good.  However, the refresh rate can sometimes be a little delayed, but it's not a big issue.
I mounted it on the license plate frame from Garmin and move it from trunk to camper when I move the license.  This does mean that it is difficult to back up in close quarters since the camera is offset.   You just use your mirrors for side-to-side.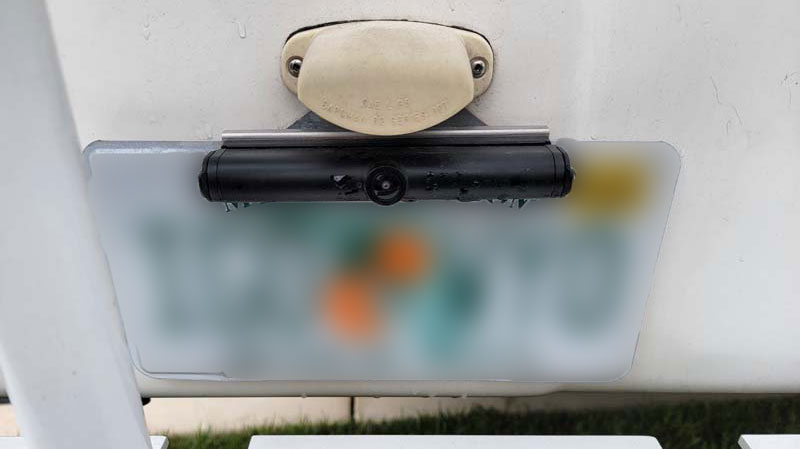 I actually bought two cameras when I bought the Garmin with the idea of using the second camera to help me with mounting the camper. I found that I didn't need it with the laser mounted on the side of the truck instead of the middle. The Garmin 780RV will recognize several cameras and you can toggle between. " – Mark Harrison, Dodge 3500, Northern Lite 10.2 EX CD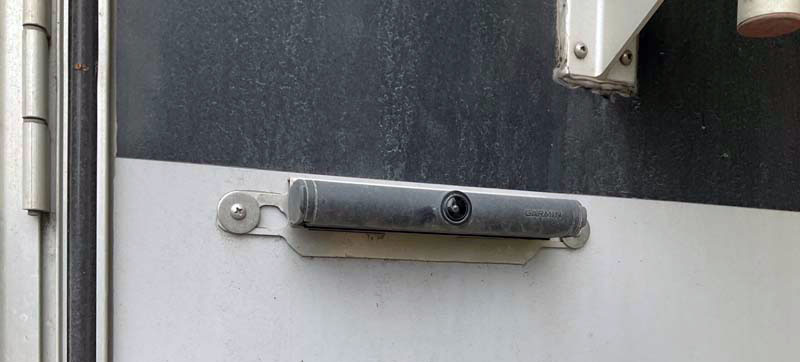 "I have the Garmin BC 40 wireless backup camera and Garmin DriveSmart 66 GPS Receiver.
Our camper came with a factory-installed wireless camera that's mounted above the rear door. The screen was incredibly large and clunky making it very awkward to use. I also wanted to have navigation capability since our truck does not have that built-in.
The Garmin products combine both functions into the same unit. I mounted the camera lower on the camper's rear wall. This gives a better perspective for backing up. We use the camera for backing up (obviously) and for a rear view while driving.
The system has some drawbacks. It can take a few seconds for the camera to connect to the GPS, and the camera doesn't automatically switch on when shifting into reverse. But, generally, it works well and it was very easy to install." – Doug Braddock, 2021 Ford F-350, 2019 Cirrus 820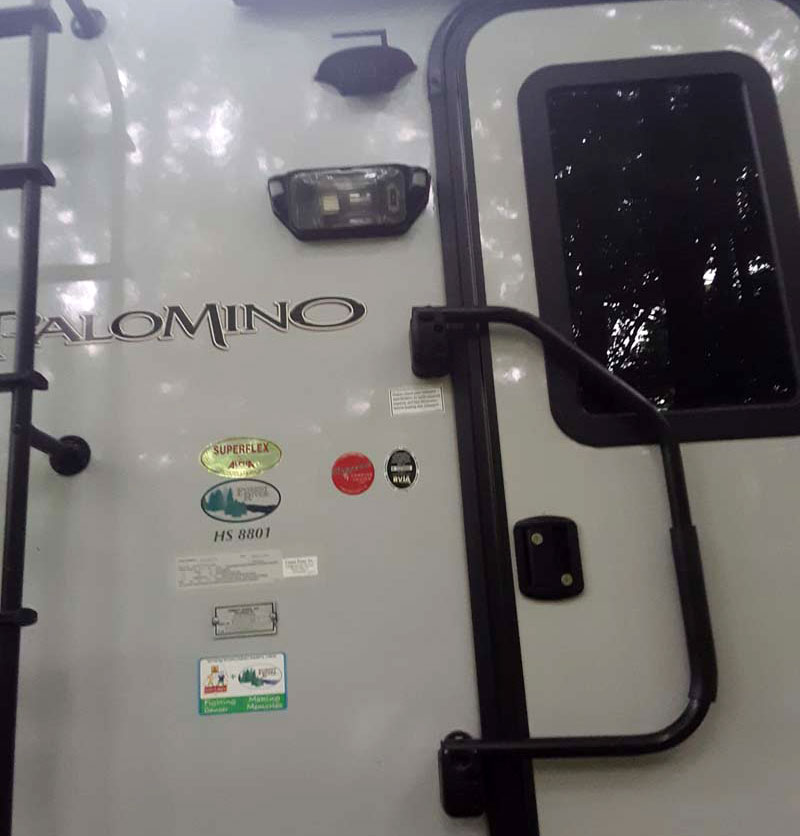 "I have two backup cameras; the Furrion that came with the camper and a Garmin add-on camera and transmitter (model BC 30) that displays on my Garmin GPS. The Furrion is on when driving and the headlights are on. It acts as my rear view mirror. It is mounted high on the camper.
The Garmin is on when the truck is in reverse. It is mounted under the bumper for a better back up view." – Howard Bisco, 2015 Ford F-250, 2020 Palomino HS-8801
Third-Party Solutions: TadiBrothers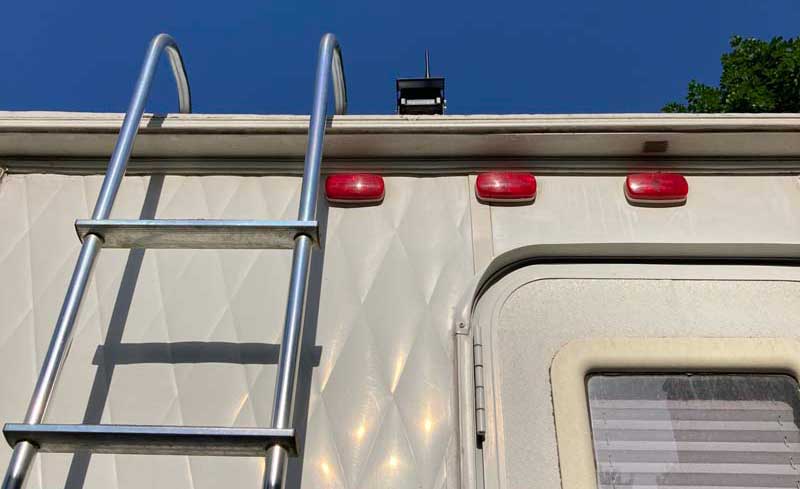 "We use the TadiBrothers digital wireless rear view system with the 7-inch screen. I mounted the camera on the top rear edge of my camper in the center. I wired it to the 12-volt lines running to a closet light along with a switch.
It makes lane changes easy. I like being able to see fully behind me to ensure I'm not holding up traffic, for the safety aspect, and for better all-around visibility. Prior to departure, I just turn the camera on and run it continuously until we stop for the day. I can also use the monitor inside the camper to observe outside if needed." – Russ Megargle, 1987 Ford F-250, 1999 SunLite 1055-SS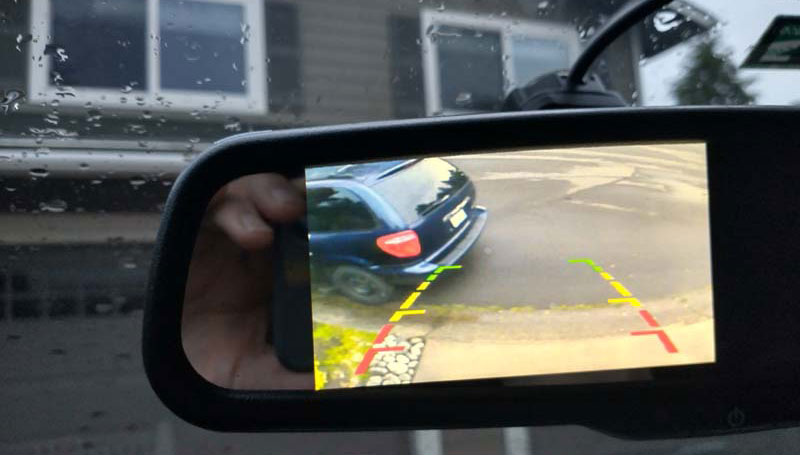 "I have a TadiBrothers wireless RV camera. I use it to see behind my rig.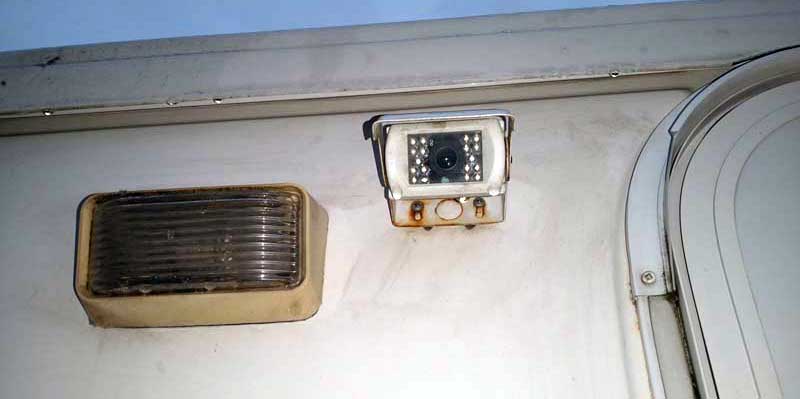 It reduces the chance of hitting a tree, mailbox, or another car." – Donald Hanley, 2005 Dodge 2500, 2009 Hallmark Guanella
"A Tadibrothers wireless mounted camera is attached to the back of my camper. It remains on while driving and it is invaluable while backing up." – Terry Berg, 2013 GMC 3500, 2013 Arctic Fox 992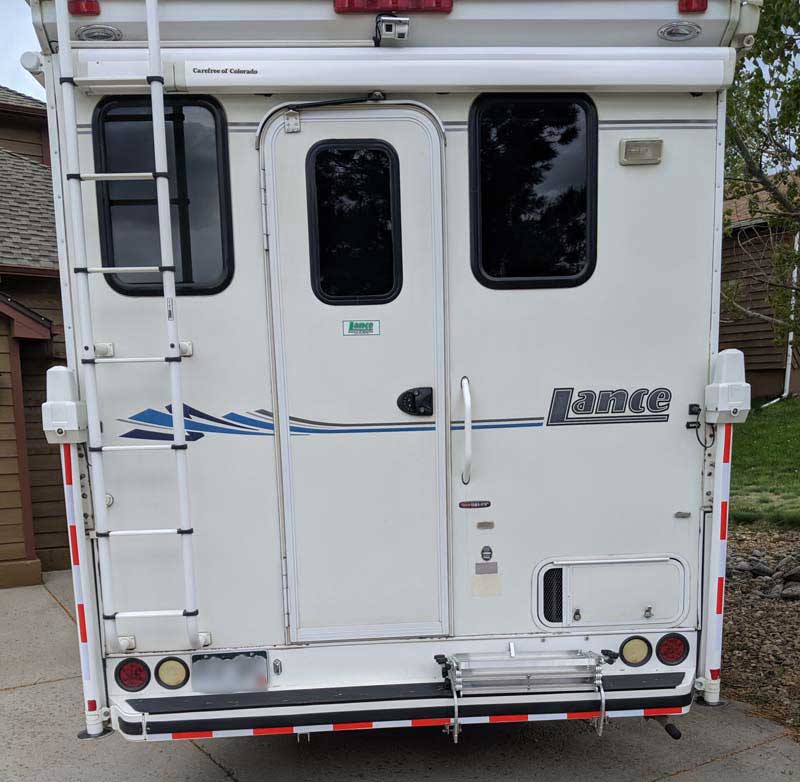 "I have been using Tadibrother's dual-camera RV system on my camper. I chose to use the hardwired version. When I purchased my camera system, the wireless technology wasn't as good as it is now.
The dual-camera setup has been fantastic for many years. I have one camera pointed down as a hitching camera and the second camera pointed behind the camper to be used as a rear view mirror (driving) camera.
Whether I'm with or without the trailer, the always-on rear view camera makes driving a large truck camper much easier. I have wired my camera into my aftermarket truck head unit (stereo). I have the ability to enable the camera at any time.
Additionally, I have added front, side, rear (license plate), and loading cameras to my setup. It has been very convenient and gives an older truck a pleasant technology upgrade. I can easily select any camera or multiple cameras as desired." – Mark Joslin, 2006 Ram 3500, 2005 Lance 1181
Third-Party Solutions: Haloview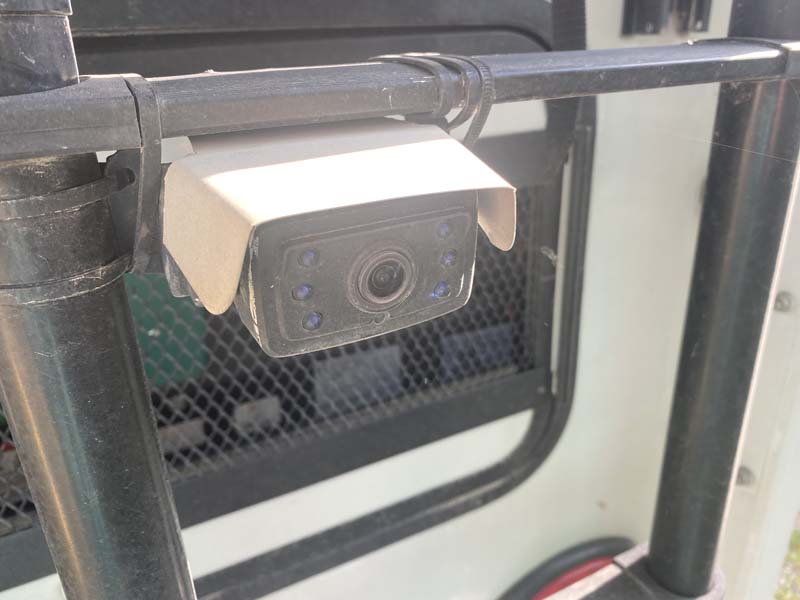 "I researched rearview cameras and settled on the Haloview RD10. The RD10 was easy to install and easy to setup. It came with a micro SD card for continuous front and rear video recording. The image quality is good day or night. Best of all is that I am no longer surprised by fast-moving vehicles coming up behind or passing me.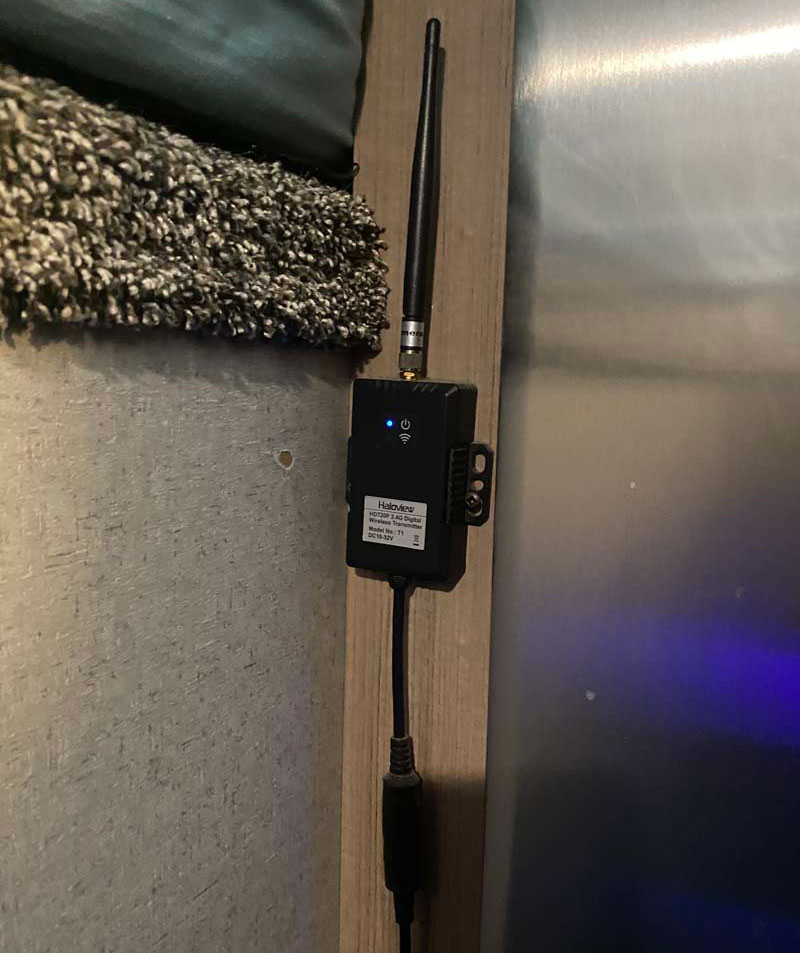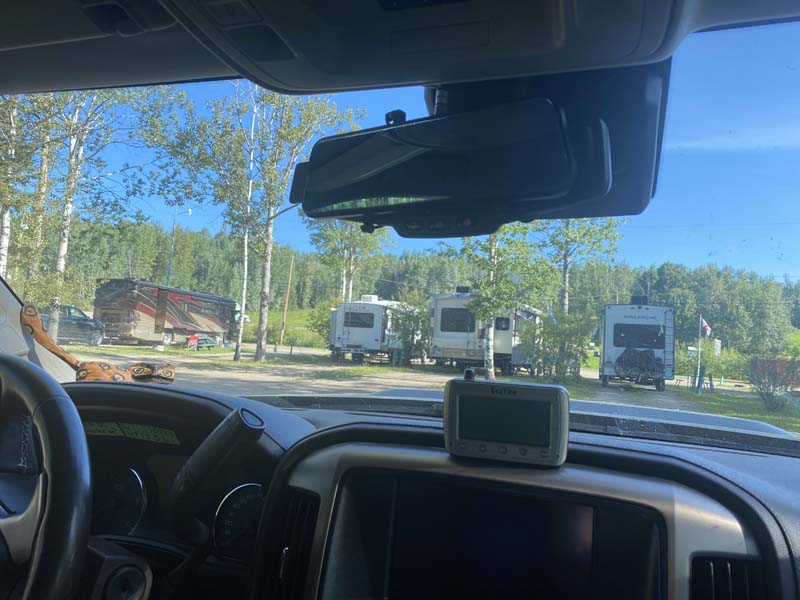 The only problems I've had with it are when driving in 100-degree temperatures and with the sun shining directly on the camera. It can overheat and shut down. I solved this with a white-colored shade." – David Anderson, 2018 GMC HD3500, 2020 Adventurer 89RB
"I have a Haloview Wireless Rearview Observation Mirror Dashcam, model MC10. Without it, I have about 25 percent rear vision with my side mirrors. With it, I get about 85 percent. The picture gets a little jumpy in real-time once in a while but it is a big improvement overall. The monitor straps on to my front rearview mirror, so it does not feel out of place using it." – Mark Trunkwalter, 2003 Ford F-250, 2021 Palomino SS-1251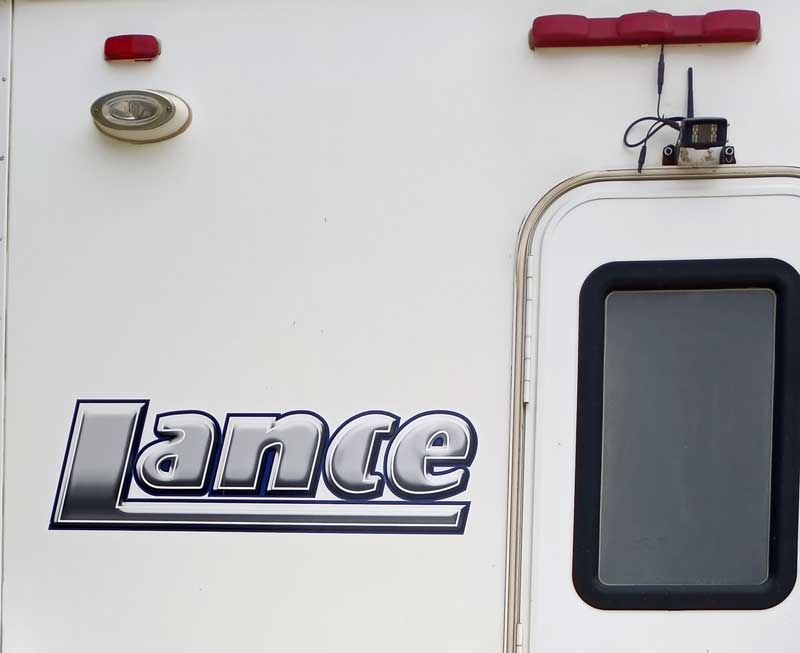 "I bought a Zeroxclub two-camera system. One camera provides a rear view and the second looks forward to tree branches that could hit the air conditioner. The rear camera provides a better view than the rear window in my truck camper door. Its view is wide enough for launching a boat." – Philip Tron, 2009 Chevy 3500, 2012 Lance 1050
Third-Party Solutions: Yakery
"After backing into a light pole and mashing up one of my jacks, I decided I needed some help seeing behind me. I had no clue what I needed, or what was involved. I picked up an inexpensive unit by Yakry on Amazon, and I've been completely satisfied. I had to get an extension cable in order to enable connecting it beside my pigtail. The Yakry is still available on Amazon.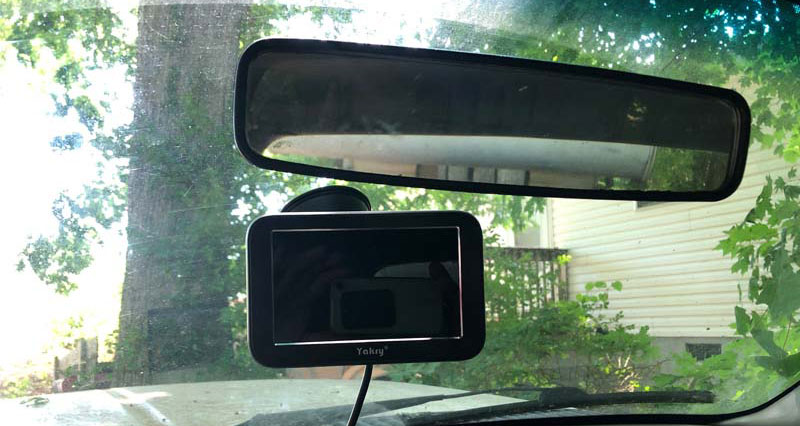 What amazed me about the price was the night vision ability. I didn't even think of it until I was backing into a spot in the dark and realized I could see just fine. Overall the difference of having a backup camera is amazing. All I have are the stock extendable mirrors the truck comes with, so the camera is a huge help when driving and especially when parking.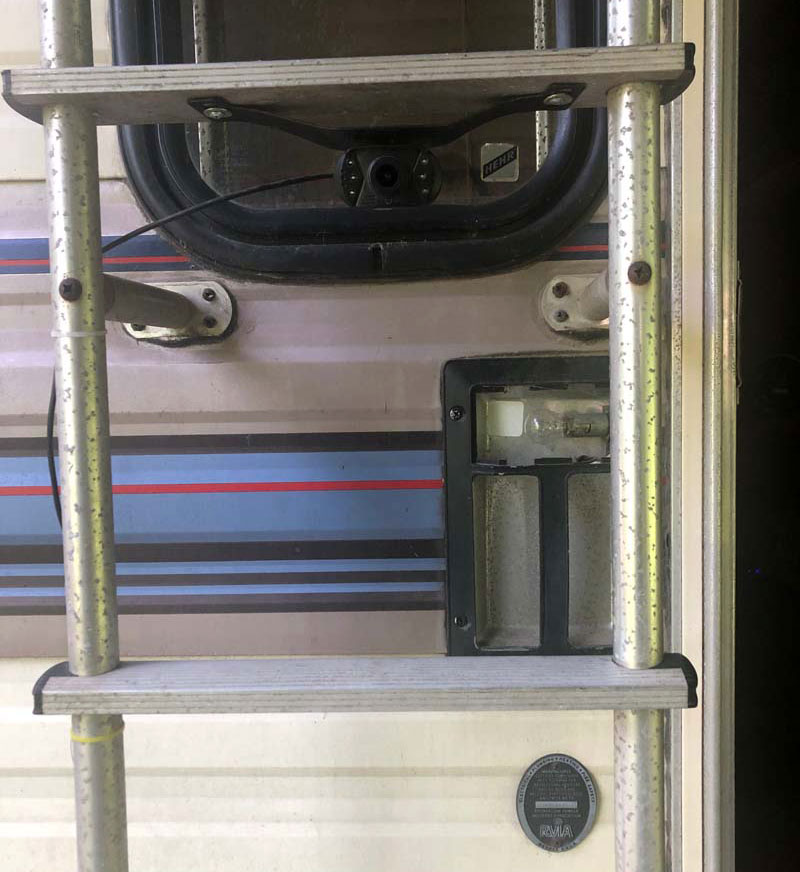 I didn't want to drill any holes in my camper, so I just mounted it to my poor abused ladder. It's the classic case of something being permanently temporary.
I also didn't like having the screen just rattle around in my truck when not in use, so my wife knitted a cool cozy for it. It slips down next to my seat and stays there perfectly along with the cables.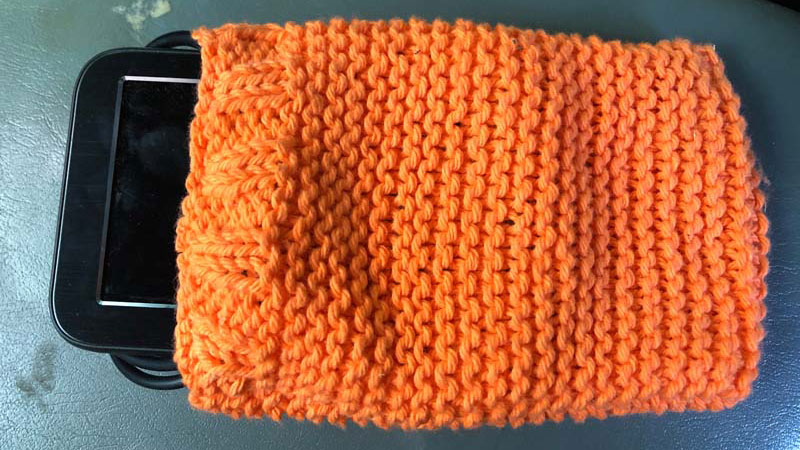 The ability to check on my tow rig is very reassuring. It took me a while to get used to that jerk in the 4×4 who kept tailgating me, though." – John Johnson, 2000 Ford, 1992 Caribou
"I have a Yakry wired model 8542135292. It is mainly used for safe backing and seeing the traffic behind my rig. The installation was super easy. Not having to fool with wireless issues was a big plus." – John Cook, 2017 Ford F-350, 2018 Northstar Laredo SC
Third-Party Solutions: Voyager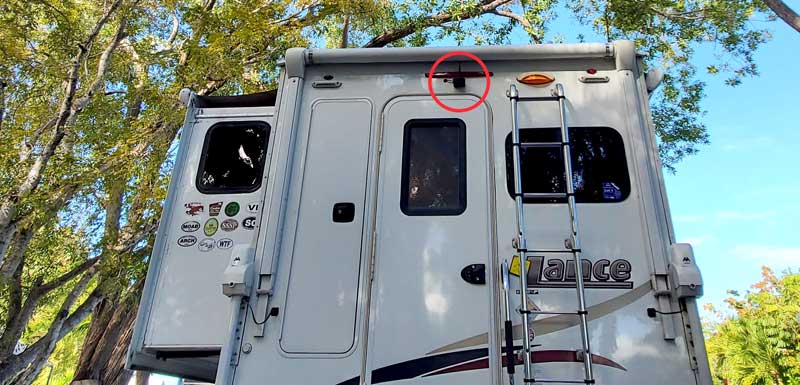 "My Lance came with a Voyager WVOS541 wireless camera system. I use it all the time. It acts as a rearview mirror for me. When highway driving, I use it to make sure I'm clear before changing lanes. When parking I use it to see the space behind me. I use it for monitoring the Jeep I flat tow behind me as well. It's very helpful for pulling into back-in campsites and lining up to the picnic table and service pole." – David Fradkin, 2017 GMC Sierra 3500, 2017 Lance 975
"I have a Voyager model WVOM43. This was the system installed on the camper when I bought it. It has failed this year and I am actively searching for a replacement. I used it all the time on the road. I pull a small cargo trailer, so I can keep an eye on it and see if anything is coming up behind us." – Ian Chegwidden, 2020 RAM 3500, 2018 Cirrus 920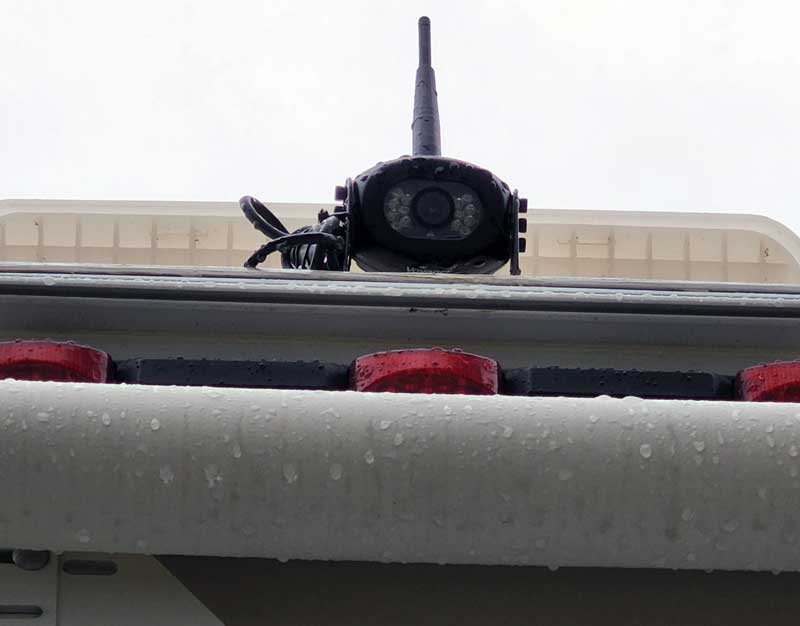 "I have a Voyager rearview camera; model WVOM541AP. This specific model has been superseded by other similar models that can be found on the Voyager website. There are four camera and screen combinations listed under the RV section.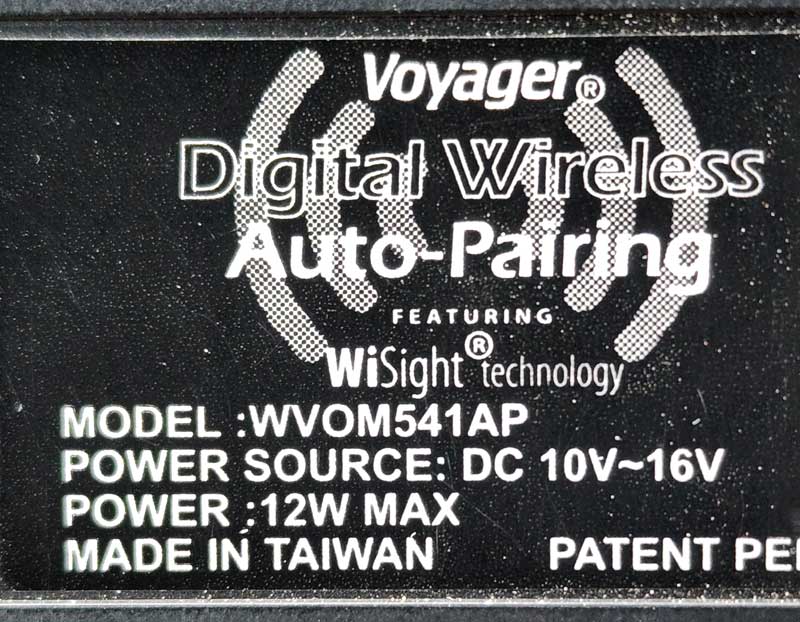 We use it primarily during travel, although it has some utility for backing up into campsites as well. When we travel we almost always have a boat trailer or vehicle behind us. Having the camera makes it possible to keep a watchful eye on the towed items. It's also very useful for keeping track of the traffic behind us, and our blind spot.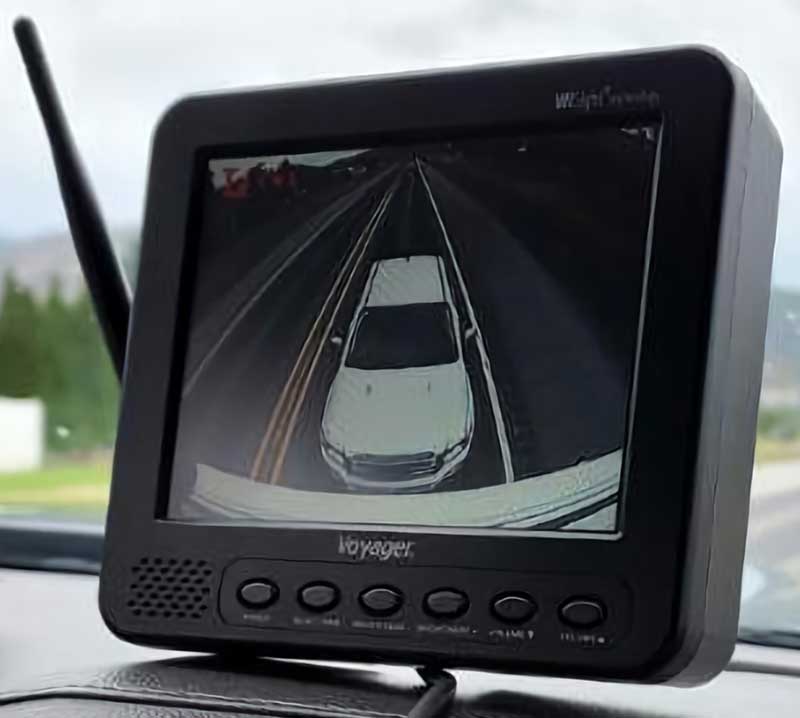 Making the move back into the right lane can be a bit tricky, but with the combination of camera and mirrors, the move is much less difficult. All in all, we love the camera and always use it when traveling. My only minor complaint is that the suction device that attaches the monitor screen to the windshield can be a bit finicky at times." – Dave Riddle, 2015 Chevrolet 3500, 2017 Host Mammoth
Third-Party Solutions: Furrion
"I have a Furrion camera that was installed by Northern Lite as an option. The Northern Lite does have a window in the front of the camper and I can see through and out the back with the truck's inside rear view mirror.
I rarely use the backup camera on the road. It has to be turned on in the camper, so it's either on all the time or I have to get out and turn it on before backing into a campsite. The receiving unit is small and has no legs, pegs, or any means to stand it up on the dash or center console. As a result, it is awkward to use. Holding it in your hand is the only way to see it.
It is useful when backing into a campsite or parking space when I am alone and don't have a passenger to make sure I don't back into anything, but as that is rarely the case, I think I could get by without it." – Garry Morgan, 2022 Ford F-350, 2022 Northern Lite 8-11
"The Furrion Vision S wireless camera system came with our camper. I also bought a Camera Source mini universal plug-and-play camera that plugs into the tailgate harness of the truck so the built-in display continues to work.
On my old truck and camper, I purchased an inexpensive wired camera system from the Quartzsite RV show. On my old unit, the wired camera system had two cameras. One I attached above the door of the camper and the other I attached to the rear of the trailer I pulled. The trailer camera helped when changing lanes in traffic. The camper camera allowed me to check on the trailer as it is narrow and is not always visible from the mirrors. Both are useful in backing up to check blind spots, but the mirrors are my main source of information for reversing. I still get out of the truck to verify where I am backing up into.
On the new truck and camper, the wireless camper allows me to change lanes easier and helps me keep track of the trailer, but its display screen is small and grainy. However, it can be on all the time. The info center camera can only be toggled on while driving, but it has a clearer image." – Eckhart Franz, 2021 Chevrolet 3500HD, 2022 Northern Lite 10-2 EX LE dry bath
"I have a Furrion and it is mounted where my rearview mirror is located. I use it just like the mirror." – Jeff Smith, 2017 Chevy 3500, 2008 Lance 861
"I have a Furrion Vision 4.3. I mainly use it for backup clearance and trailer hook-up. It has simplified backing and minimized the number of times I place the truck in park and jump out for visual verification." – Brian Dunn, 2010 Ford F-350, 2022 Northern Lite 9.6
Third-Party Solutions: Other Brands
"I have a Rear View Safety system (model RVS-770613-213). This is a direct wire and not a wireless connection system. Replacement wires are becoming harder to find as wireless units gain in popularity. I have used it constantly with or without the camper on the back. I love it and I am constantly glancing at my rear camera as I drive.
I have several different cameras that I connect based on the configuration of my truck and camper. I have a camera in the tailgate of my truck, a camera mounted high on my camper, and a camera that attaches to my boat trailer or box trailer. They make tracking a trailer easy as I often can not see a trailer in my mirrors. I chose a camper so I could pull a trailer as well as have an RV unit.
If I could make a suggestion to the backup camera industry it would be to make their units dual function; a backup camera while driving and a 360-degree security camera while stationary from inside the camper or RV trailer." – Dave Gibson, 2014 Ford F-250, 2017 Northern Lite 9-6Q SE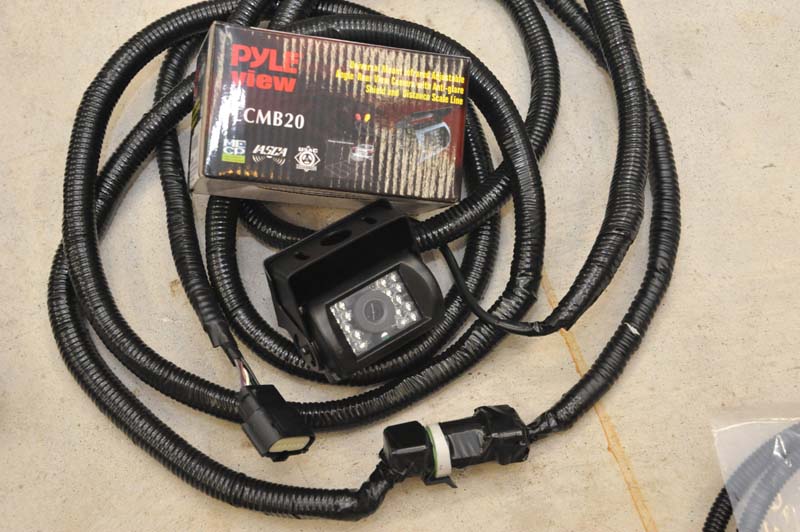 "When you remove the truck tailgate, you also lose the factory-installed backup camera. Then the question becomes how can you continue to use the built-in monitor in the dash?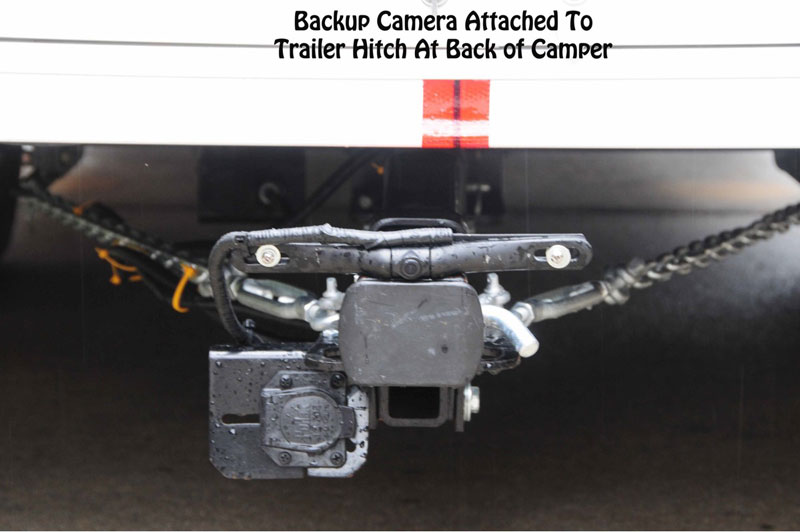 I purchased a Pyle PLCM18BC backup camera and a Plye PLCM 20 universal mount IR backup camera.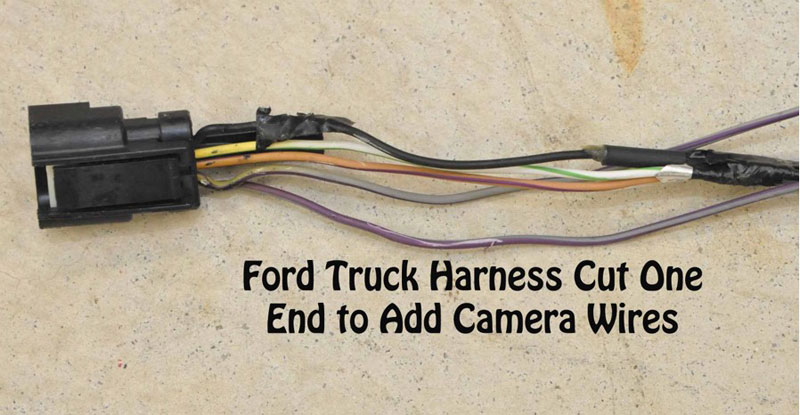 Both came with wires to plug into an existing camera system. The cost for both was about $60. Ford has a wire harness that allows miniature wire connections (Crimp-Type D-Sub Connector Pins).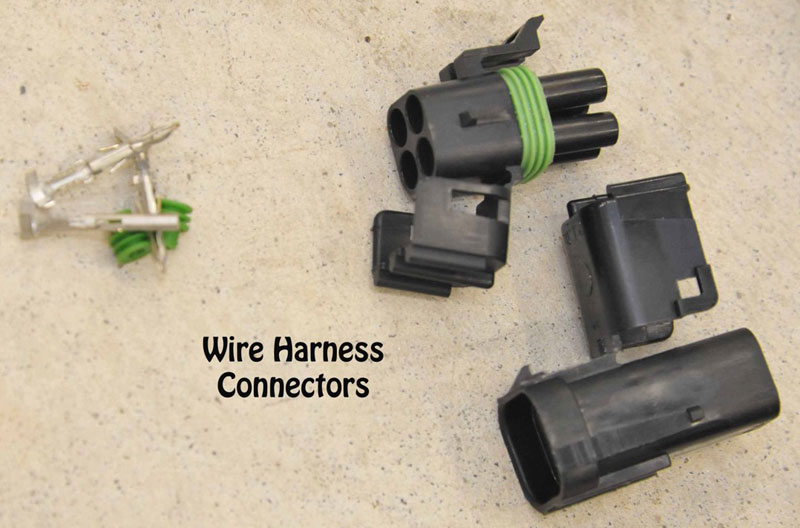 I now have the ability to use the Ford in-dash monitor to assist me in backing up my truck without the original camera attached to the tailgate.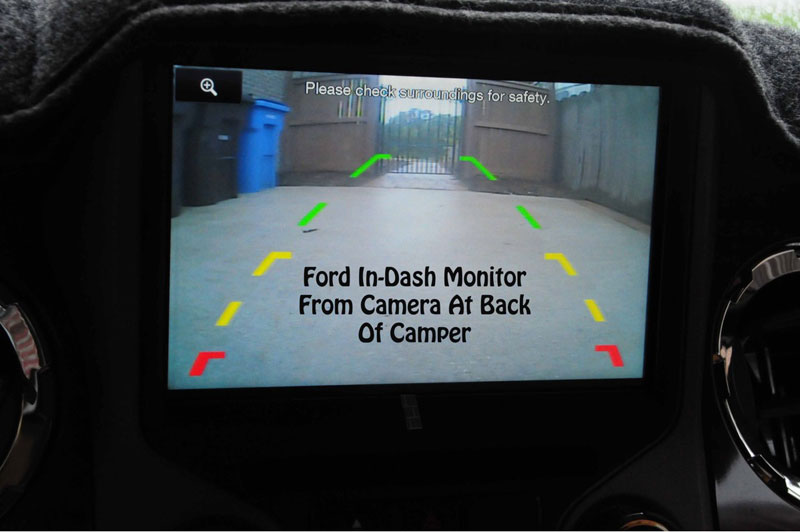 The second camera is used just for loading the camper. This way the backup camera attached to the rear of the camper can remain attached, other than unplugging the harness.
I have typed up a PDF document describing how to make up the Ford harness." – Donald Fox, 2015 Ford F450, 2017 Arctic Fox 990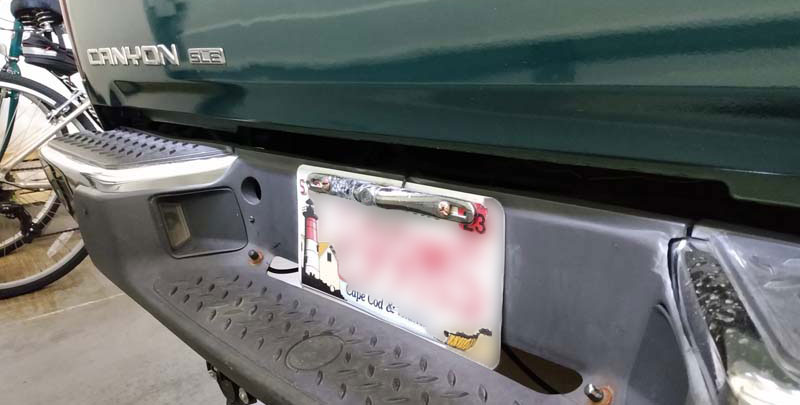 "We purchased a Boss GPS/Audio system from Crutchfield, the current version of which is Boss BN965BLC. Crutchfield packages it with a license plate mount rear-view camera and offers a pre-built conversion harness and panel trim kit that fit our truck.
Installation was a snap compared to our earlier GPS/Audio systems. The most difficult part is stringing the long camera cable from the dashboard to the back of the truck. It includes Bluetooth phone and audio connectivity, etc. The whole setup runs around $400.
It's been great for backing up the camper. My wife or I don't need to get out of the truck to see what's behind us when the camper is loaded, which had been the case. A key criterion for us was to ensure the GPS has a self-contained database, not requiring a cell signal for updates in remote areas. Touch-screen sensitivity is just right." – Bruce Gordon, 2004 GMC Canyon, 2010 Home Built
"I have an Amtifo backup camera. I can use the camera for backing up or for observation of traffic while driving in heavy traffic. It has improved my driving control." – Doug Udell, 2007 Dodge Ram 2500, 2020 Four Wheel Camper Hawk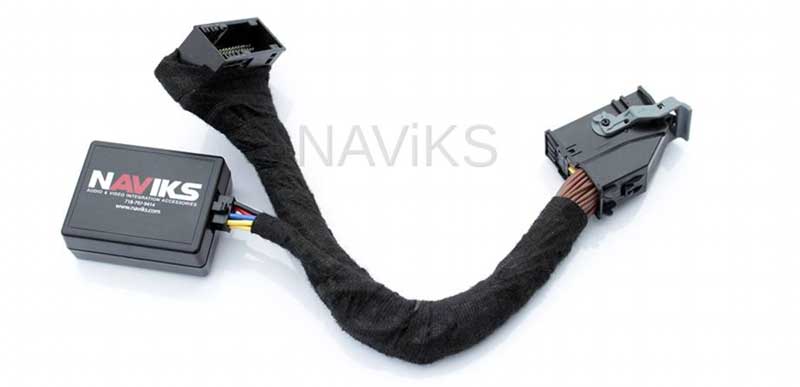 "I have a 2020 Ford F-450 Platinum with an Ultimate Trailer Tow Camera from Naviks.com. I use it with my Lance 1062 rear camera on all the time.
This system works and makes blind spots disappear. I thought it was a bit pricy, but that too changed when it was installed. Now, I will not drive without it working. This device and the CCM adaptive cruise make me safe even when pulling a 30-foot glider trailer in downtown Atlanta.
Getting to the campsite safe is what makes camping in a truck bed camper experience great. I lock onto a SEMI doing the speed limit stay exactly 100-yards behind slowing down when they slow down. And changing lanes with a side and rear camera view is like having eyes in the back of your head, as my mom would say.
I am not stressed when I get to my campsite. Being able to see moving forward and backward all the time is best of all worlds." – Allan Reeves, 2020 Ford F-450, 2020 Lance 1062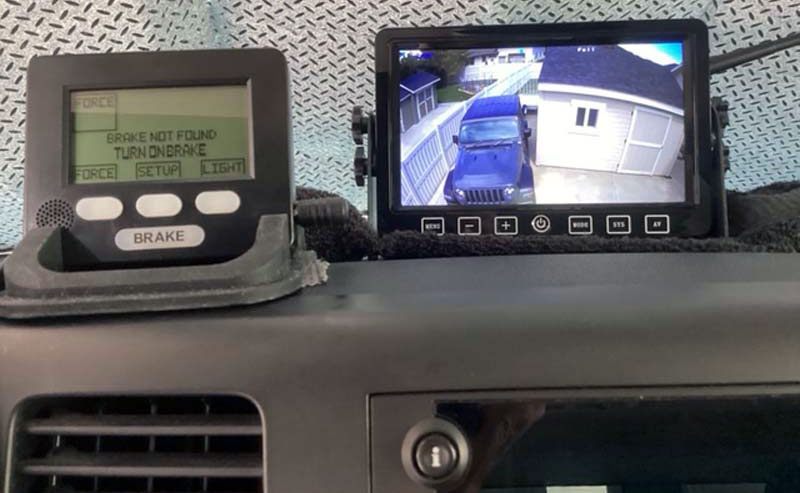 "I purchased a Fookoo backup camera with a 7-inch monitor on Amazon a couple of years ago. It is still available on Amazon. The price has gone down to $160. They have several models with additional cameras and features.
I used to look through the camper's back door to view behind the rig. Once I started flat towing a Jeep, I needed a backup camera. It is also very useful when I am not towing the Jeep. I use it any time I am backing up.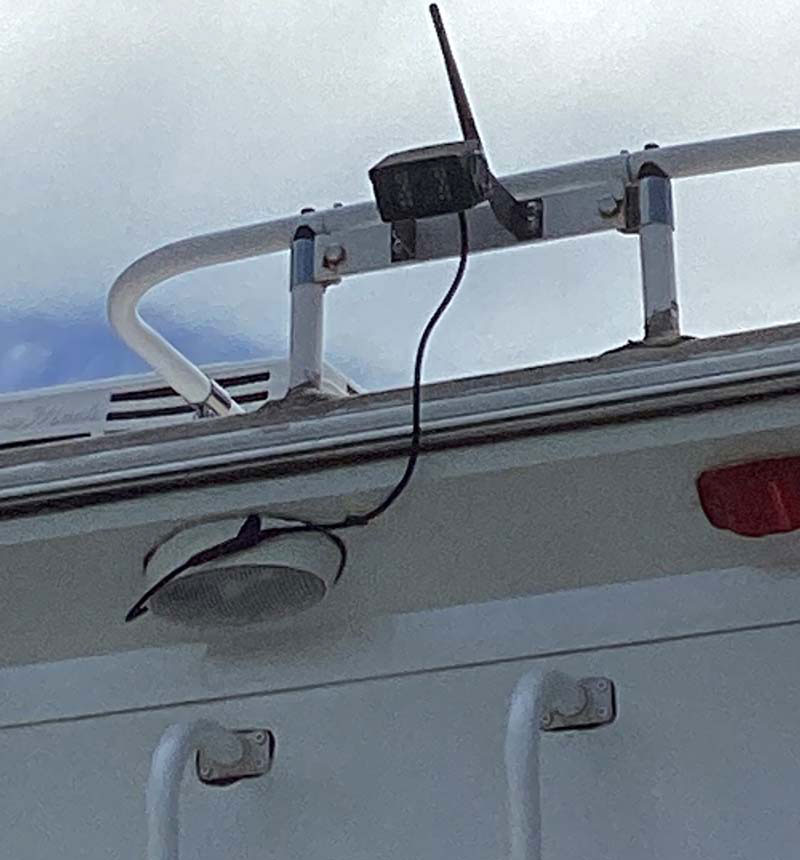 The rear view is very good out to about 150 to 200 feet. Beyond that, the cars behind are very small and hard to see. On a two-lane road, this is not a problem. On the freeway driving 65 miles per hour in an 80 mile-per-hour zone, you really need to use your mirrors. The vehicles approaching are seen in the mirrors long before you can see them on the monitor." – Bryce Dillree, 2007 GMC 2500HD, 2013 Wolf Creek 850
"My camera is hardwired into the truck. It is an aftermarket brand that I screwed to the back of the camper above the door. Then, I ran the wire externally to the underside of the bumper and into the truck wiring harness.
When I take the camper off I have to unclip that each time. It's okay. When it is working, it is great. Having Bluetooth would be great, but having the backup camera on the tailgate being disabled is a problem for the truck's software so it is always searching for the camera.
When I hardwire in the camera and have it mounted up high on the back of the camper, things work fine until a little bad connection or corrosion happens taking the camper off and on. I also tried plugging in a camera and mounting it on the bumper and covering it with tape to black it out. My truck reads an error.
If you are taking the camper off and on a lot, the wired-in camera kind of stinks because the connectors and wire are very small and more fragile.  They will not last very long with lots of manipulation, especially when it's below freezing.
I love it best when the connection is good.  It's better if you leave your camper on your truck most of the year." – Scott Runde, 2020 GMC 3500, 2020 Arctic Fox 990
"I have a Pioneer stereo system in the truck, and the camera links only to the back bumper. The system is hidden with the camper on. It is not yet upgraded for camper use. I was swapping the camera with the extended wiring to a license plate mount on the camper but found I was not using it that often. We take our camper off the truck as part of our typical camping set up and the camera mount is one less item to set up." – Bob OReilly, 2016 Ford F-250, 2004 Lance 915