It's time to reveal the three mystery campers from this week's old school truck camper challenge.  For the photograph posted on Tuesday, we removed the front camper brand ornaments to make it even more challenging.
Here's the picture with the ornaments in-place: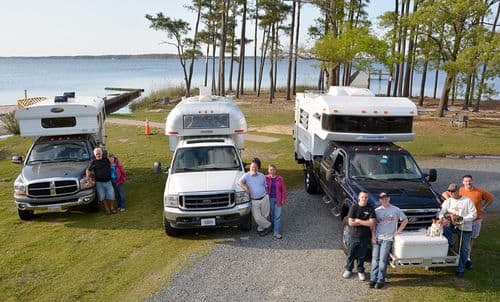 Left to right: 2013 Alaskan, 1967 Avion, and 1976 Amerigo.  Click to super-size.
We had dozens of readers guess the year and make of these campers, but only Dave MacQuaid and Bradley C. Cutter nailed it.  Our intensive investigations into these correct responses revealed two interesting facts.  First, both correct guessers were at the Mid-Atlantic Truck Camper Rally.  And second, both were actually at the photo shoot.  One was the owner of the 1976 Amerigo for crying out loud.  Is this cheating?  Since we didn't set any rules, not really.
After the photograph was taken, D suggested Angela drive the truck, with me on the roof, into a different position.  This might be the stupidest thing I've ever done for a Truck Camper Magazine photograph, but it sure was fun to be up there as the rig moved.  And I tell folks not to ride "in" a camper!  That's just funny.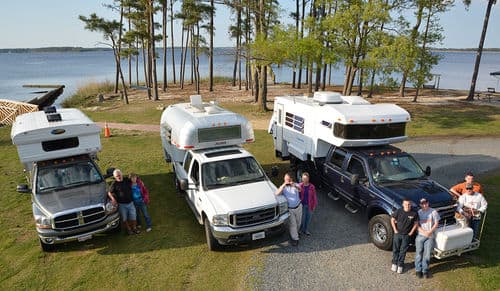 Above: Gordon was driven to take a different angle.  Click to super-size.
When the shoot was over, I climbed down the Northstar ladder and took a few more photos around the three rigs.  From any angle, these campers are really impressive.
Above: These photos were taken immediatley after the shoot.  Click to enlarge.
We want to thank Dave and Nancy Carvalho (2013 Alaskan), D. Gorton and Jane Adams (1967 Avion), and Dave MacQuaid (1976 Amerigo) for helping to make this all possible.  It was great fun.
The Winners
Two Truck Camper Magazine readers guessed correctly.
"2013 Alaskan, 1967 Avion, 1976 Amerigo" – Dave MacQuaid
"2013 Alaskan, 1967 Avion, 1976 Amerigo" – Bradley C. Cutter
Here are all of the truck camper guesses.  Thank you for participating.
"2010 Alaskan, 1967 Avion, 1971 Amerigo " – Dean Geisenhaver
"2013 Alaskan, 1969 Avion, 1976 Amerigo" – Sean
"Alaskan camper, I can't see if is a 10 or 8 footer from maybe 1994, Avion 10 foot camper maybe from 67 or 68, Amerigo 10 1/2 footer from 1974 to 76" – Kevin Pinassi
"Alaskan from the 1980s, Avion from the 1960s, Amerigo from the 1970s" – Karen Smith