"Just like you and Angela, we are bare bones with two folding lawn chairs.  We have an awning (bag awning) that gets deployed for sitting under in the lawn chairs and cooking outside on a fire in the evening.
We both like food prepared on an open fire because it tastes better.  Being an Eagle Scout years ago, I like cooking meals on a fire or in the coals (we have a dutch oven).  About the only luxury item we have is out trusty Coleman gas lantern.  Everything does double duty if possible.
There are not a lot of storage options in a pop-up, so we pack just what we need and nothing extra.  Extra stuff equates to extra weight.  I like running as light as possible since we mostly camp disbursed off road.  In fact I don't believe we have ever camped in a commercial campground in 30 years.  We're not fond of neighbors." – Daryl Davis, 1997 Ford F350, 2014 Palomino SS-1500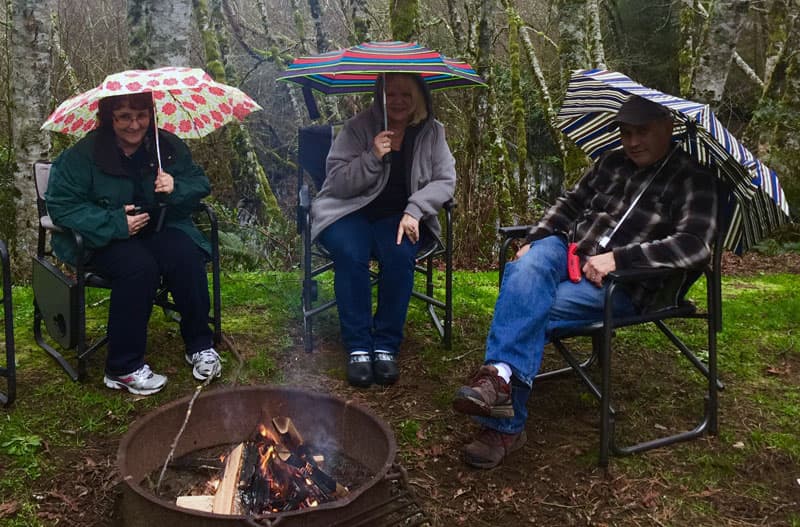 "Sorry to say, but we go all out with food tents, eating tents, a dishwashing station, wood for campfires, propane stoves, BBQ grills, and two picnic tables – one for kids projects.  We are spoiled rotten.  I forgot we also have an oven smoker.  Yes, we smoke fish while camping.  When we do, we have lots of people stopping by." – Bruce Erickson, 2006 Dodge Ram, 2016 Adventurer 8.6FB
"We are very similar to you folks, except for the cat.  Turn the ignition key to the left, unlock the camper door, lower the bumper step, and it's cocktail hour." – Bob Lick, 2003 Dodge 3500, 1993 Alpenlite 11-foot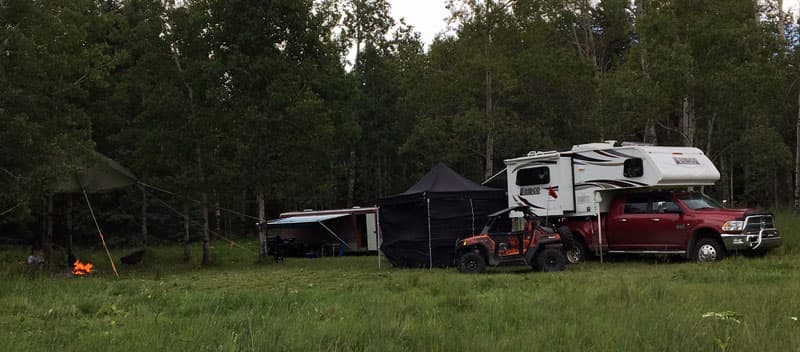 "There normally is a few of us camping together.  We are almost always are camping in the bush in the middle of nowhere.
We try to set up in a wagon train.  Being in the bush means we have room to set up our cook tent and lights so we can see at night.  We have outdoor games we play and always set up our chairs around a fire pit.
Sometimes we cover the fire pit with a parachute depending on the weather and time of year.  And, if its a new place we are trying, I have arrows to point the way down the bush roads to our campsite.  That way all our friends can find us if their GPS batteries go dead." – Ken Leona Atamaniuk, 2012 Ram 3500, 2016 Lance 855S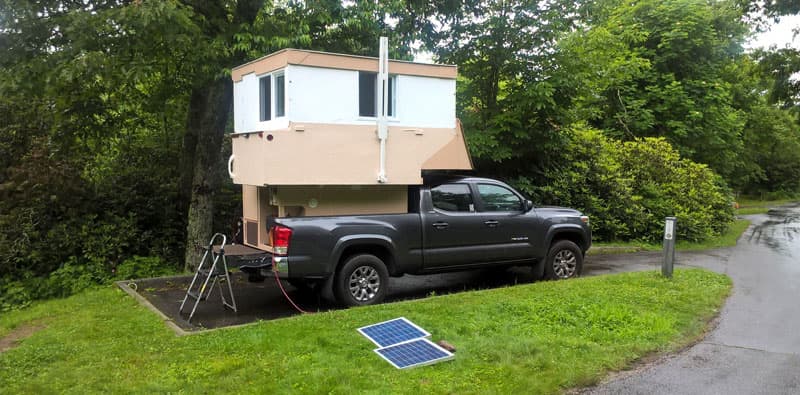 "I carry solar panels that I set up at the campsite and plug into a pre-wired controller in the camper.  After that, I go exploring!" – Dieter Karaluz, 2017 Toyota Tacoma, 2017 home built hard side pop-up
"We think less is more.  We have two chairs, a small round table, and a carpet to try to limit the dirt getting into the camper.  We are prospectors so, when we are out on a prospecting trip, our campsite is more like a mining operation than a camp site!" – Warren Sidney, 2006 Chevy Silverado 2500, 2015 Arctic Fox 811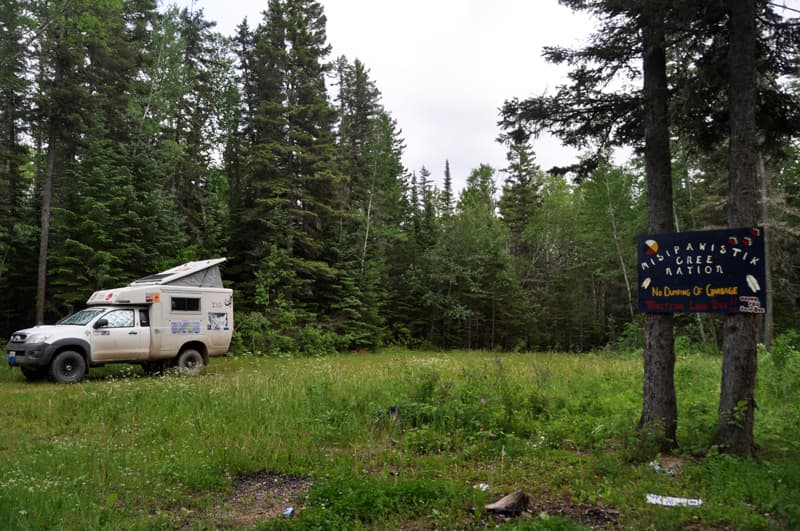 "We are usually minimalists like you.  Once we put up the flag of our small country of Catalonia (Spain)." – Frederic Amorós, Toyota Hilux, PSI-Azalaï (French Fix Cell)
"We park without making a fuss, set the camper, pull two chairs, grab a book, needle works, and the binoculars.  If we are boondocking we go from truck cab to camper; no jacks, no blocks, no noise, and no shining light inside or out.  We are in stealth mode most of the time." – Jake and Sylvie Mathis, 1994 Dodge Ram, 2005 Northern Lite 9 Q
"If we're in a spot for more than a day, then the stairs go down, the oilcloth goes on the table, and the clothesline goes up – in that order.  We like to travel and golf so we don't usually spew ourselves too much around at the campsite.  It all has to go back in before we can take off for the golf course for the day.
Boondocking however is different.  It's our home, rain or shine, and we make it so since we like to be outside." – Cathryn Curtis, 2010 Chevy 2500, 2008 Bigfoot 25C9.4