Fellow truck campers share detailed laundromat strategies, studied time-to-stink ratios, and a myriad of portable cleaning devices including washboards, washing machines, and tactical wash bags. One recommended solution: Go commando!

At the Florida Super Show a couple years ago, Angela and I marveled at the washer and dryer stacks installed in several of the Class A motorhomes we walked through. It seemed ridiculous to commit that much space, weight, and cost to something that can be done in one to two hours every week or two at a campground or private laundromat, to say nothing of the water and power those machines require.
With the amount of time and miles we travel, I must admit the convenience of an on-board washer and dryer has crossed our minds. Of course the real question is, "How can we extend and improve our clothing situation while traveling?" If only there was a way to ask lots of fellow truck campers how they wash it on the road. Oh wait!
In addition to laundry tips, we were also curious about how many days worth of clothing folks pack and where everyone does their laundry while traveling.
Here are the poll results to those questions.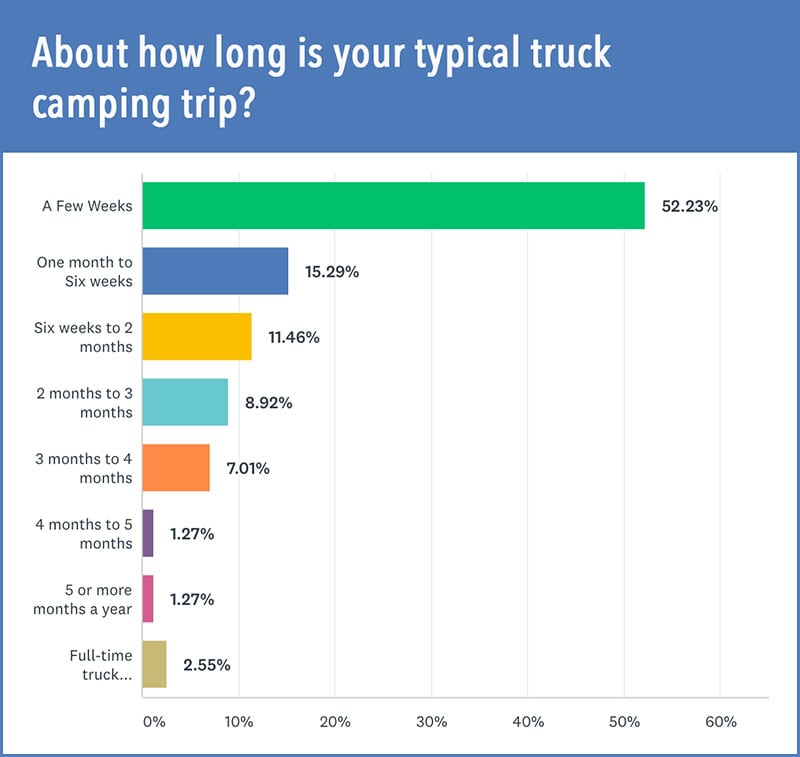 It's interesting that (a) most of us go out for a few weeks when we go on a longer truck camping adventure and (b) very few of us go out for more than 4 months – just over 5-percent including full-timers.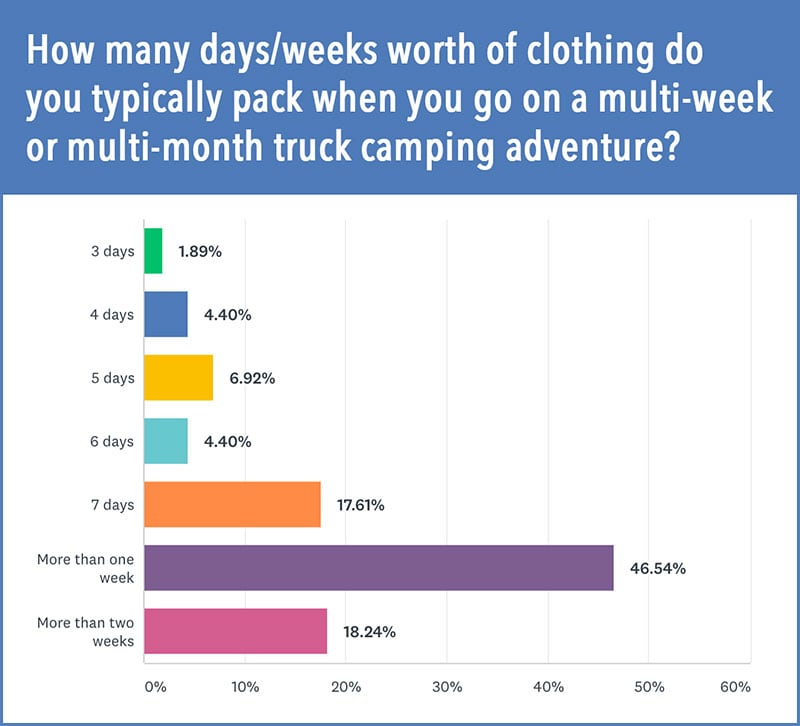 Apparently some of us (17.7-percent to be exact) are brave enough to pack less than a week's worth of clothing, but most of us pack for a week – or more.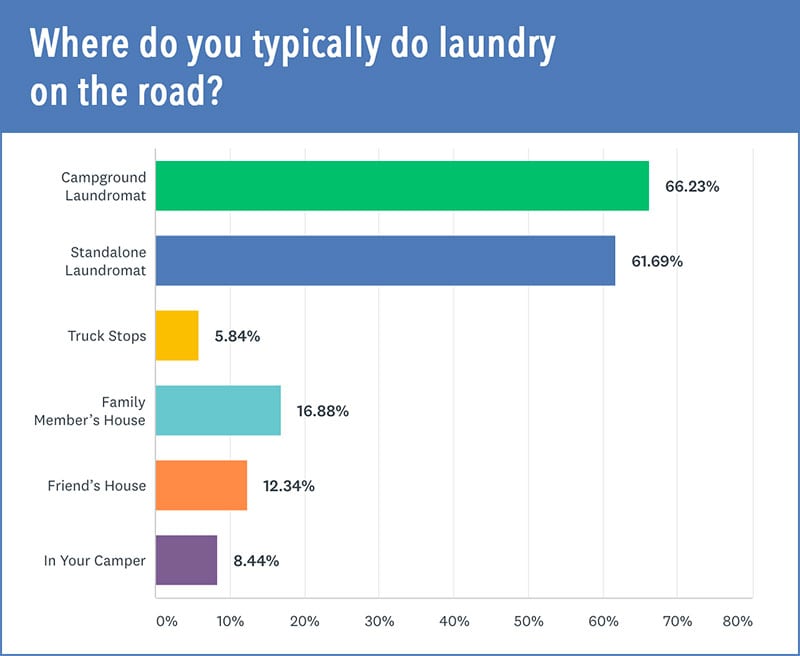 Laundromats rule. The survey stated that you could "click all that apply" so it's highly likely that about 60-percent clicked on campground and standalone laundromats. That's us too. Quarters are a precious commodity in our rig.
In addition to the above poll questions, we also asked, "What laundry extension tips do you have for a long trip on the road?"
Warning: Do not attempt to drink coffee while reading these responses.
"I've tried all the tricks, even using a 5-gallon pail with a handle suspended on a bungee for agitation as I'm traveling down the road. That actually worked quite well.
I've found that an old fashion washboard and eco-friendly detergent also works well. Drying is easy enough with a small makeshift clothesline and a few plastic clothespins. I also bring plenty of socks and underwear which I clean when I get home." – Eddie Cano, 2012 Chevy Silverado 2500, 2013 Northstar Igloo 9.5
"When contemplating our two year cross country trip, we quickly realized that we didn't want to waste a day per week doing laundry in some laundromat! Therefore, being a mod-maniac, I installed an apartment sized washing machine in our truck camper right beside the kitchen sink. Now, each day when in a campground, we do a small load of wash while eating breakfast and then hang it out to dry as we sightsee all day. This way it doesn't take away any valuable exploring time and frees up a day a week for more fun exploring!
To see my washing machine install, watch my video above." – Charles Coushaine, 2001 Ford F350, 2012 Chalet DS116RB
"We can easily pack ten days worth of clothes and usually do our laundry at a campground where we, like Gordon and Angela, dump and charge." – Eddie Fort, 2016 Ford F-350, 2016 Hallmark Everest
"We know that when we are on an extended road trip, laundry is a given. We both have certain clothes that we like to wear. If you spilled coffee on your favorite pants while driving or noticed yesterday's ice cream cone drip on that fabulous new t-shirt, well, you find time to do a laundry stop. And lets not forget clean undies and socks always feel good after a hot shower.
I found the perfect backpack laundry bag at Bed-Bath and Beyond. It easily holds seven to ten days (or more) of dirty stuff. An outside zipper pocket holds detergent and spray and wash. The bag loads from the top with very secure buckles to keep everything from spilling. Sling it on your back or carry it with your choice of two handles on the side or on the top. Ohhhh, I'm a happy camper now, and can't wait to hit the laundromat." – Roger and Elaine Odahl, 2008 Dodge Ram 3500, 2004 Eagle Cap 950
"I use non-fully cotton underwear that can be washed by hand and dried in the camper (Tilleys, Smartwool, Icebreaker). I use shirts and pants that are no more than 50-percent cotton. In a pinch they can be washed by hand.
Also, I have two wool polo shirts that are relatively cool in the spring and fall and a good base layer in winter. Wool socks can be hand washed and don't stink until they've been worn for at least three days.
I carry four sets of underwear, three pairs of socks, and three long sleeve shirts that can be rolled up to make short sleeve (Exofficio, LL Bean, Cabelas). Three pants (less than 50-percent cotton), one pair of jeans, and one pair black Carheart bib overalls (for dirty jobs) are also in the camper.
Plus, I have one set of funeral clothes. That is for me. My wife always takes more and insists that I need to take more clothes. We wash clothes about once a week." – Firman Schiebout 2017 Ford F-350, 2013 Northstar Igloo U, 9.5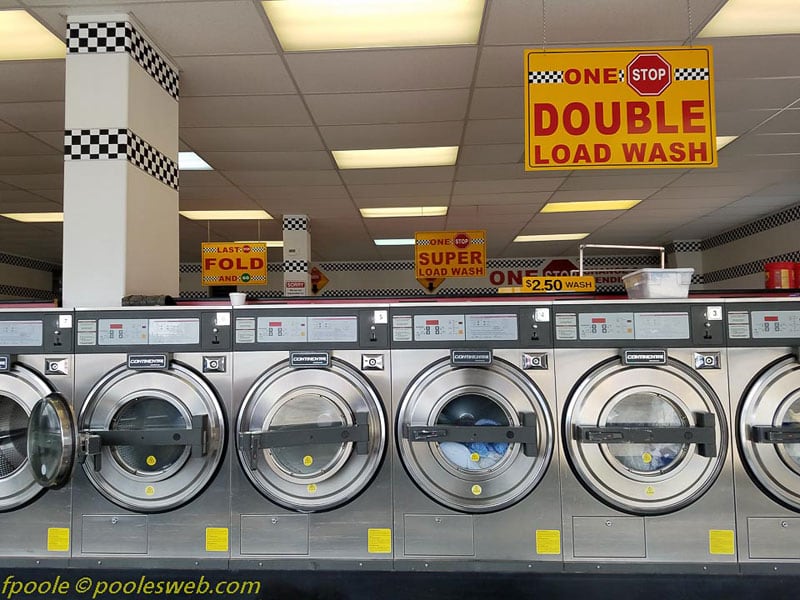 "I'm camping solo out in the boonies, so I don't really need to wear a black tie tux. Typically, I change out every two to three days depending upon the activity.
I do laundry about every three weeks or so when I do my weekly dump and fill. I have a two to three week backup in clothes, like Levis and T-shirts since I don't need to impress anyone by myself. When laundry bag gets full, I'll find a laundromat nearby. I did a 60-mile round trip in one case.
I've found there are cycles in the morning and afternoon, so I plan on doing laundry between 12:00-noon and 2:00pm so it's not crowded. Most of the time it works.
Some laundromats are better than others. I still get conflicting information on the double/triple washers on the number of laundry soap pods to use." – Frank Poole, 2016 Ram 5500, 2016 Arctic Fox 990
"Every year I buy one new piece that dries quickly. On laundry day, I set up the drying rack in our wet bath and hang anything that dries quickly or didn't dry completely in the dryer." – Anja Franczek, 2011 Ford F250, 2014 Lance 865
"I do laundry each week at the Washeteria." – Robert Cabral, 2014 Toyota Tacoma, 2016 CampLite 5.7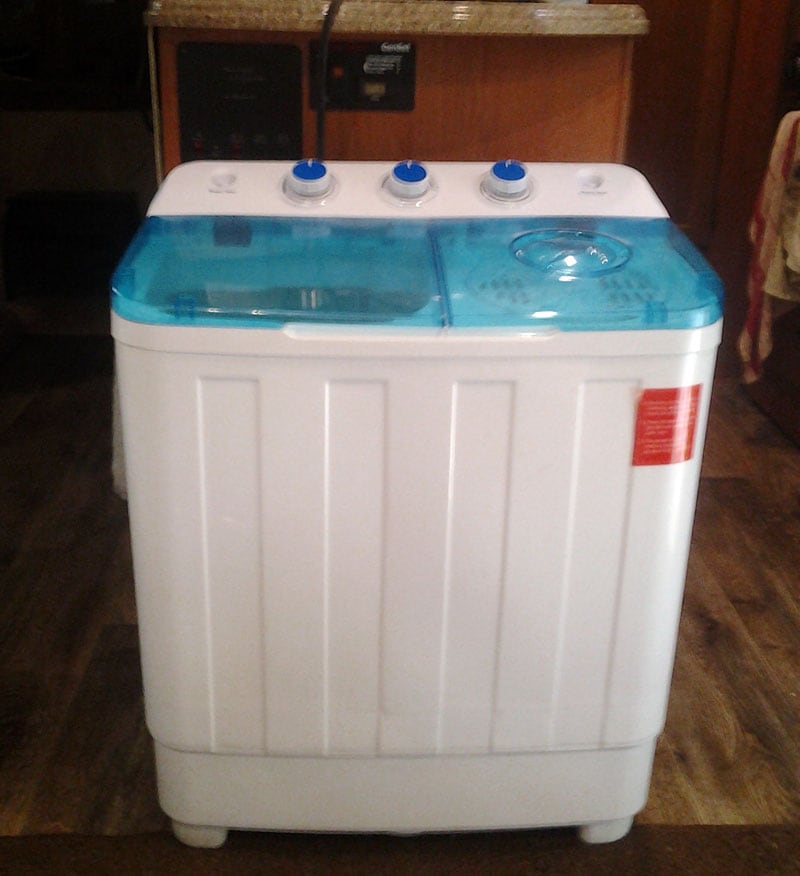 "I have a Best Choice portable washing machine that will wash ten pounds of wet clothes and spin dry five pounds to being just damp. I put it in the shower stall of our camper when traveling and when I do the wash.
The washer sits perfectly at the end of my kitchen island and can also serve as a shelf. I have a fold up rack that I use to dry underwear. I hang the shirts on my awning pole.
The portable washer is the best investment I have ever made. I am now looking at portable dryers that run on 110-volts.
I am taking out my dinette and building a cabinet for extra storage. That is where I will put the dryer with a vent. I will have a table that slides out of the cabinet with room for two separate chairs for my eating area." – Greg Vickery, 2015 Chevy 3500, 2016 Eagle Cap 1165
"When we first started full-time truck camping we brought way too many clothes, as well as many other things we found that we never used.
We do laundry about every ten days wherever we can find a clean washer and dryer. On nice days we hang any damp clothes and towels outside (usually from swimming or being out in the rain). We always seem to have something hanging inside overnight." – Steve and Dorothy Paushter, 2016 Ram 3500, 2016 Northstar Arrow 8.5U
"I'm on the road full-time for life, so I keep laundry simplified. I'm a Levis and T-shirt guy. My wardrobe consists of four pairs of Levis jeans, ten T-shirts, fourteen pairs of socks, extra bedding, hiking gear, and motorcycle off-road riding gear.
I don't use underwear. I keep that area clean via a homemade bidet, eliminating underwear to wash and tank clogging toilet paper cost.
I do all my laundry on a three-week average using a 110-volt portable washer/spin dryer operated inside or outside the camper depending on environment. A clothesline is strung on the side of my truck.
My laundry trick: I find that because I am living a stress-free truck camper lifestyle, my stressed-out body odor is no longer a factor. That allows me to go odorless for days with the same clothing, having only dust and dirt to contend with." – Gaston Belanger, 2017 Ram 3500, 2017 Northern Lite 9-6 QSE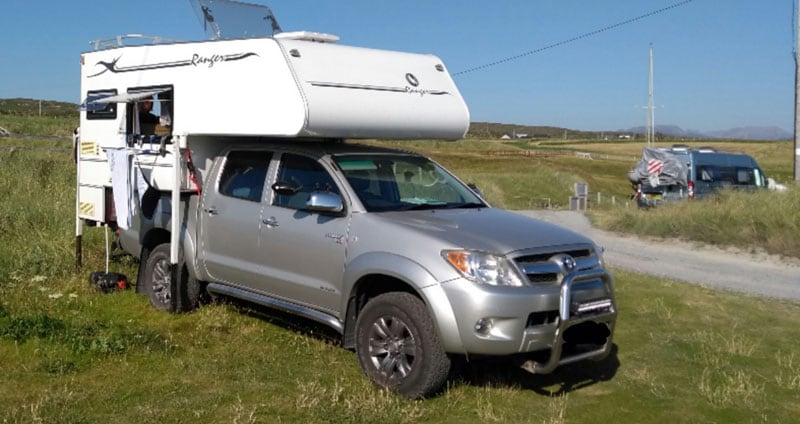 "I have a radiator laundry drying rack and hang it out the window for drying stuff.  The above picture is wild camping in the not so emerald Isle of Ireland during the hottest summer for forty-years this past June." – Peter Darroch, 2006 Toyota Hilux, Ranger Camper
"We carry roughly five to six days of clothing, generally changing every other day, but I have been known to go longer.
We generally call ahead to see if we can reach a live body, which is almost never. We ask if their machines take money or if we have to purchase a card. The cards are only good at that location, and generally must be increased in $5 increments.
More than once the washer/dryer didn't work but it did clear the amount off the card. So, we had to add another $5 to the card when only another $0.75 of drying was needed. If there is no attendant, you are out of luck. We have given away many cards upon finishing.
Caite always smells the washer for bleach (yes, it has happened) and the dryer for sharp edges/objects (yes, it has happened). We always compliment a nice laundromat." – Glenn Blount, 2012 Ford F350, 2017 Lance 1172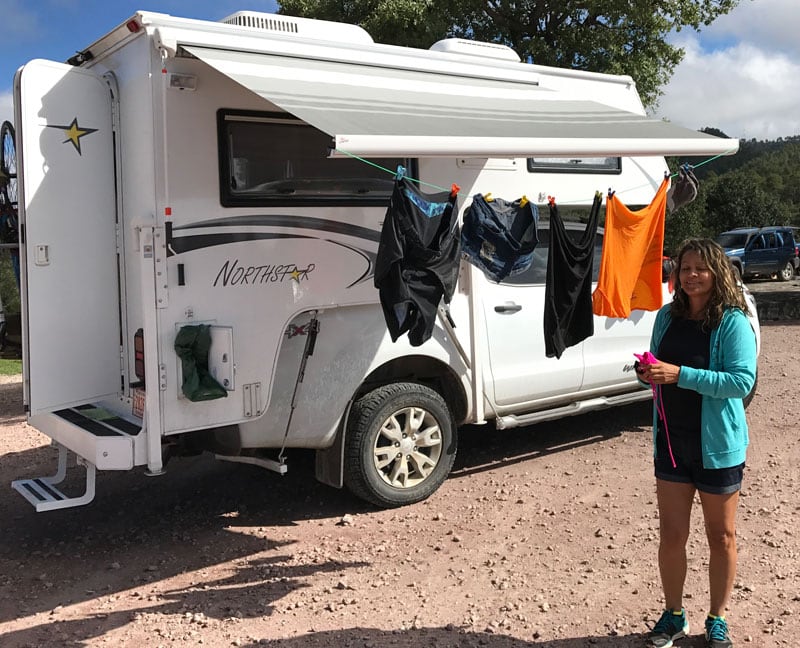 "Sometimes we do intimate clothes and socks in the camper letting them soak at night and hanging them outside the next morning. In Mexico and Central America we use rivers every now and then. The above photo was taken at Copper Canyon, Chihuahua, México." – Alex Salas, 2015 Ford Ranger, 2017 Northstar 600 ATV
"We usually use the RV parks to do laundry," – Jim Furubotten, 2018 GMC Sierra 3500, 2014 Northern Lite 10-2CD SE
"We take ten days worth of clothes and plan to use the campground facilities every seven days. The extra three days worth of clothes is for insurance since having facilities at the seven day mark is not always guaranteed, especially since we are really into boondocking." – Glenda Dwyer, 1997 Ford F-250, 2018 Arctic Fox 990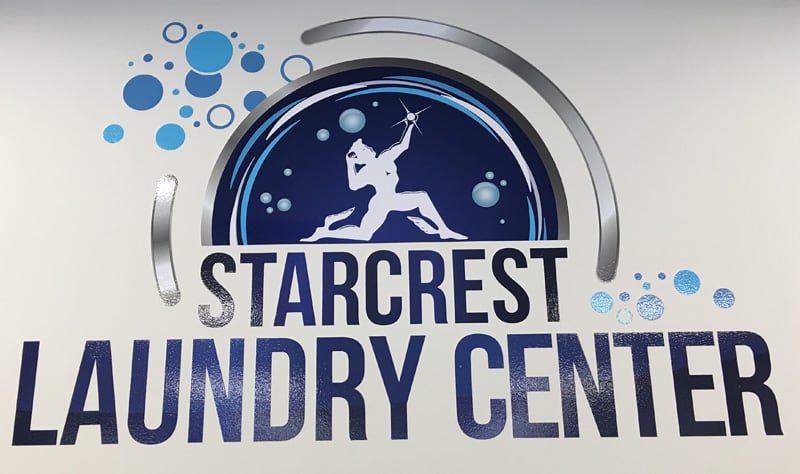 "I have been wearing the shirts (about three days each) I wore at work before retiring, and disposing of them along the way. Kira washes a few girl wear things in the shower, and dries them on a hanger in or out of the camper.
We wash other items in laundromats and have learned correlation. If the laundromat parking lot is clean, then the washers and dryers inside are clean.
I washed the camper carpet in an eight load (80-pounds) washing machine recently. It came out great, and only shrunk a bit in the dryer. I have worn the same pair pants, on few occasions, for so long that they could almost stand-up on their own.
Biokleen Bac-Out Stain+Odor Remover is the best stuff we have ever used to get that funky, moldy, smell out of outdoor/sporting clothing, and towels/washcloths. The photo above is the coolest laundromat logo seen." – Bill and Kira Jones, 2017 Ford F-350, 2018 Northern Lite 9-6Q SE
"I bring about four days worth of clothes and about eight days of socks and undies. I also bring an apron for chores and messy foods!
I hand wash my smalls and hang them outside in good weather or in the bathroom during rain. This way I can visit a laundromat only every second week.
Before leaving, I have my daughter install four to five contour sheets on my mattress, inside out. That way I can pull the binding tab to remove the top one easily.
I travel with many towels because I have two swimming dogs. I keep drying them on the hot hood of the truck until the next laundry day. My own towel is a travel towel that I rinse and dry daily.
I wash the sheets as I go but have a friend or relative put them back on the bed as my arthritic hands can't do it. I travel with all coordinating clothes to aid in efficiency." – Michele McLeod, 2013 Ford F150, 2000 Travel Hawk 9.5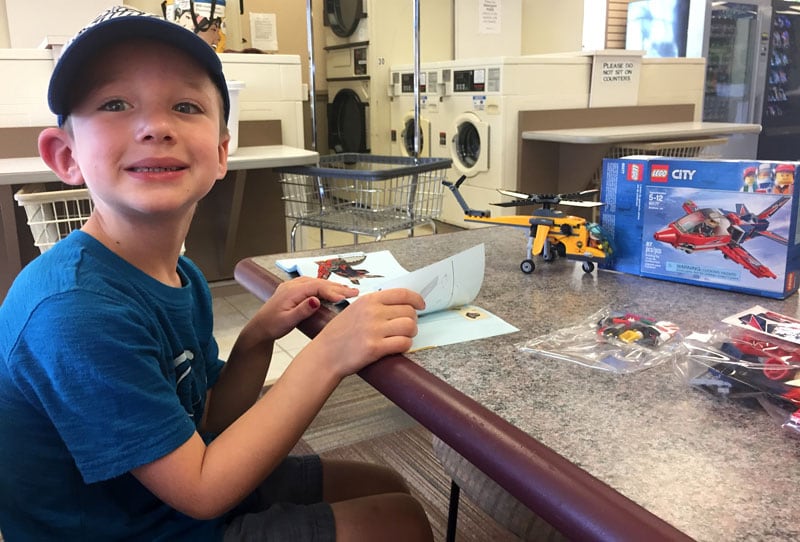 "No tricks. We just wear outer clothes (pants/shirts) more than once, unless we have an obvious food stain. My standards are higher than my husbands. I try to bring detergent and dryer sheets as it's much less expensive than buying them at the laundromat. Our grandson was along for part of our trip so got his first laundromat experience. It's more fun if you're playing Legos while the dryers spin." – Marla Gilbertson, 2013 Ford F-250, 2017 Wolf Creek 850
"We just got home from a three-month trip to the Canadian Maritimes. My wife and I both brought at least three-weeks worth of socks and underwear. We also brought enough shirts and pants for at least the same amount if we wore them two or three times.
We would do laundry when we were at a campground that had equipment that looked decent. We have run across dryers that almost incinerated our clothes to hardly drying them. That's when the inside of the camper looked like a Chinese laundry.
At some campgrounds my wife would be racing other campers in our group to the laundry room as most only have two or three machines of each in them." – Erwin Greven, 2002 Chevrolet 2500HD, 2002 Lance 921
"We try to hit full-service campgrounds on the weekend to acquire our needs and to wash our rig and clothing. Alicia usually does the laundry on Saturday, if she can squeeze it in. If not I'll do it around 2:00 or 3:00am.
If we have the unusual laundry facility issue like the Whites did, we'll push it off a week since we pack enough for two-weeks. We tightly roll our clothing to pack in the limited space and spray ourselves with wrinkle release and rub it in prior to going somewhere public." – Maro Chiappetta, 2012 Ford F350, 2019 Arctic Fox 990

"We've only had our camper since April, but we've logged 8,000-miles in three trips. I can pack light; two jeans, four pair socks, six pair underwear, four Tt-shirts, and a couple light or heavy jackets. My husband is learning. He's not quite bringing everything he owns now!
At first we did laundry in campgrounds every week. Then every ten days. This last trip was all boondocking (until the breakdown and then the hospital trip, but that's a different story), and we camped by rivers. It was perfect." – Margie Geiser, 2017 Ford F250, 2019 Northstar 850SC
"We have a portable hand-driven washer tub and an old-fashioned wringer-style contraption. We don't wring clothes which leaves them creased. We follow the sun so our clothes are dried outside on a line and dry in a few hours or less." – Lesley Heath, Trailblazer, 2008 Australian-made camper
"We carry twelve days of clean clothes. We dry towels using the shower/hangers and open the bathroom window and the front camper window as we travel.
If that doesn't work, we put an electric forced-air room heater in the bath with an open bath vent. We always use a clothesline on a sunny day if we are stopped." – Tom Scholtens, 2010 Silverado 2500HD, 2013 Bigfoot 25C10.4
"I carry a small duffle bag of extra underwear and extra deodorant." – Richard Ward, 2006 Ford F-250, 2007 Arctic Fox 990
"We usually bring eight to ten days of clothing. I can stretch shirts by wearing a T-shirt underneath, but underwear is only worn once! We primarily do laundry in commercial laundromats as we typically camp in fairly primitive campgrounds that don't have such amenities. We use them if they are available.
The challenge of a laundromat is that it will take at least a couple of hours. Typically we mostly dry stuff and then hang it in the camper or put up a clothesline in the evening when we camp to do the final drying.
We have had "fun" a couple of times when the dog vomited on the bed. One time we were able to clean the bedding with the outdoor shower and hang it up, but another time we were camped outside of Whittier, Alaska and it was pouring rain. What a mess!" – Steven Merrill, 2009 Silverado 3500, 2007 Lance 992
"We usually start our trips in cold weather (Cape Cod) and head for hopefully warmer climates. Last year was a challenge. We always have clothing for all temperatures in the rig. We were gone five months last trip and did laundry five times.
We carry a good supply of socks. We have some favorite laundromats in Texas and Arizona. Polly points out that we don't sweat so much in the dry Arizona air. Snow in Florida and temperatures in the teens in Texas last year also limited our strenuous outdoor activity. Except for the occasional towel or two, we would never think of drying our laundry in the rig.
There are no real secrets. We just wear our clothes a little longer than we normally would. We enjoy a close relationship and have never been asked to leave a public place because we stink." – Frank and Polly W., 2016 Ford F-350, 2016 Northstar 8.5 Arrow U
"I typically do fall, winter, and spring trips, so I don't get clothing too sweaty or dirty. I purchased a bunch of used outerwear clothing from the local Goodwill, so I'm not too concerned about messing them up.
I purchased a Scrubba Tactical Wash Bag. It works great for smaller items. I hang it outside or inside to dry. If the smell gets too offensive, I'll go to a local laundry, which takes about two hours out my schedule. I also take a laundry bag to keep dirty clothes in. The laundry bag goes between the wheel wells and camper sides. I tie it down with a bungie cord." – Curtis Ray, 2017 Ford F350, 2017 Arctic Fox 990
"We pack two to two and a half weeks of the essentials and undergarments. I also have rainwear and other clothing based on expected climate. If for some odd reason we couldn't get to the laundry we resort to our swimwear. If necessary, a person can always hand wash a few items to get by, just like they did in the old days." – Charles Book, 1999 Ford F350, 2001 Lance 1121
"I hate doing laundry. To minimize how often I have to do laundry, I carry about two weeks worth of clothes with me (mostly underwear and socks). I also have some quick drying clothes that I can hand wash in a sink and air dry overnight in the camper if the need arises." – Max Jones, 2008 GMC Sierra HD, 2008 Lance 825
"I use laundry pods which have less weight than liquid soap and are easier to store since I take them out of the original container and put them into a plastic baggie.
If an item does not dry thoroughly, I wrap it in a towel and place it on the seat of a chair in the sun or on the back of the chair. The wrapped item should take less than an hour to dry. If item is really wet I would dry it again or hang it on the shower rack." – Helen Scurzi, 1991 Chevrolet 3500, 2008 Lance 981
"I'll wear T-shirts more than one day and usually buy one or two as well. I have plenty of socks and underwear to last at least ten days. A couple pairs of jeans and one pair of flannel-lined jeans, plus shorts suffice." – Bill Head, 2007 Toyota Tacoma, 2016 Four Wheel Camper Fleet
"I pack a few nice things to wash and wear for each family member. The rest of our travel attire consists of clean, cheap yard sale or worn/ stained clothes. These are worn on driving days and may be worn twice (maybe not consecutive days). Then, they are tossed into trash, therefore lightening our load. No stale laundry piles up and less space is taken by a hamper." – Jennifer Potts, 2015 GMC Sierra, 2009 Lance 845
"No big tricks here. Just be flexible, and take advantage of clean, modern equipment when you find it. Also, toss a load in before you're desperate. We pour a month's worth of laundry detergent into a one quart plastic pop (soda) bottle with marker lines down the side indicating one load allotments. I've been known to rinse a few things out in the sink, twist the moisture out in a bath towel, and drape the camper decoratively while we drive." – Karen Crichton, Ford F150 2012, 2017 Palomino popup
"Better answer for question number 2 is "too many!" Having recently returned from a 3-month trip to Alaska I found that many clothes I took "in case" were never worn. Be realistic about anticipated weather and activities. Only pack what you're really going to use.
We put our campfire clothes in a plastic bag and stored them in the outside compartment to not stink up the inside of our camper. If they weren't otherwise dirty we would wear them again for the next campfire rather than getting another set smoky." – Craig Brueckman, 2015 Ford F350, 2013 Lance 1191