Fellow truck campers share detailed laundromat strategies, studied time-to-stink ratios, and a myriad of portable cleaning devices including washboards, washing machines, and tactical wash bags. One recommended solution: Go commando!

At the Florida Super Show a couple years ago, Angela and I marveled at the washer and dryer stacks installed in several of the Class A motorhomes we walked through. It seemed ridiculous to commit that much space, weight, and cost to something that can be done in one to two hours every week or two at a campground or private laundromat, to say nothing of the water and power those machines require.
With the amount of time and miles we travel, I must admit the convenience of an on-board washer and dryer has crossed our minds. Of course the real question is, "How can we extend and improve our clothing situation while traveling?" If only there was a way to ask lots of fellow truck campers how they wash it on the road. Oh wait!
In addition to laundry tips, we were also curious about how many days worth of clothing folks pack and where everyone does their laundry while traveling.
Here are the poll results to those questions.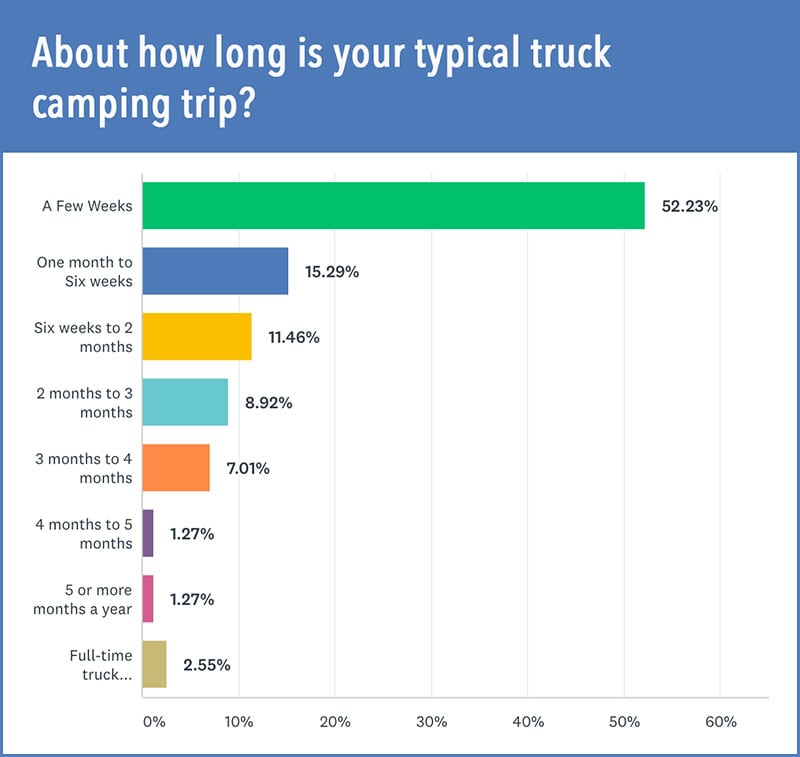 It's interesting that (a) most of us go out for a few weeks when we go on a longer truck camping adventure and (b) very few of us go out for more than 4 months – just over 5-percent including full-timers.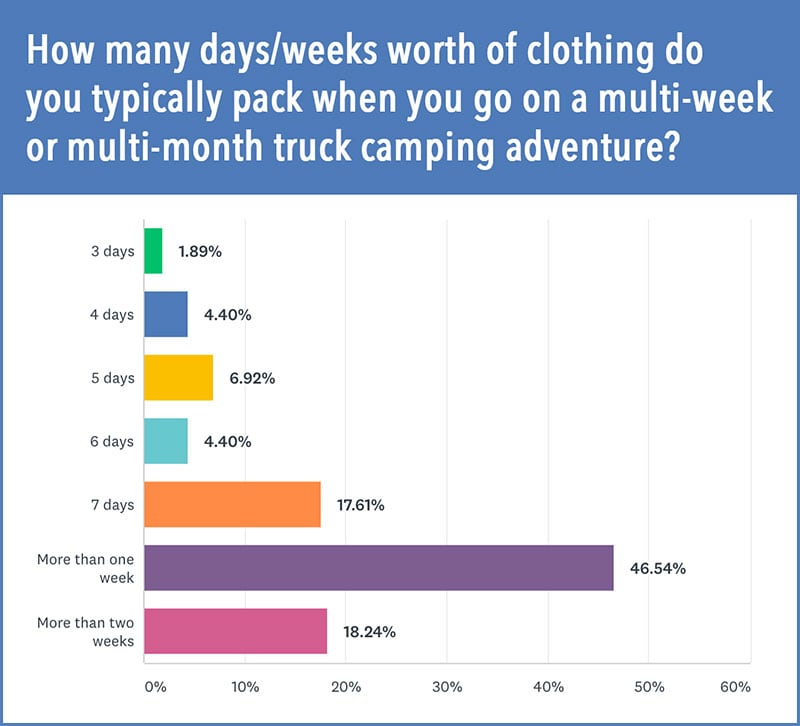 Apparently some of us (17.7-percent to be exact) are brave enough to pack less than a week's worth of clothing, but most of us pack for a week – or more.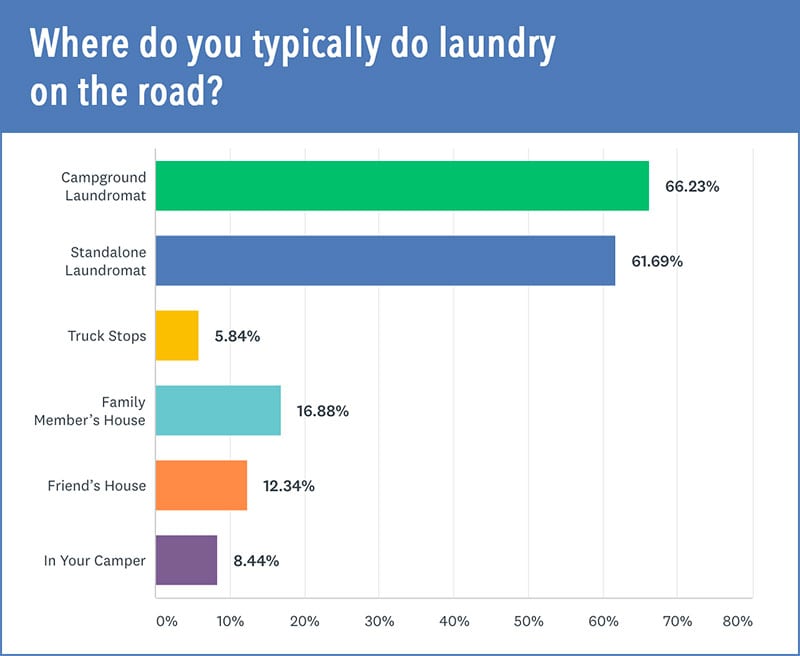 Laundromats rule. The survey stated that you could "click all that apply" so it's highly likely that about 60-percent clicked on campground and standalone laundromats. That's us too. Quarters are a precious commodity in our rig.
In addition to the above poll questions, we also asked, "What laundry extension tips do you have for a long trip on the road?"
Warning: Do not attempt to drink coffee while reading these responses.
"I've tried all the tricks, even using a 5-gallon pail with a handle suspended on a bungee for agitation as I'm traveling down the road. That actually worked quite well.
I've found that an old fashion washboard and eco-friendly detergent also works well. Drying is easy enough with a small makeshift clothesline and a few plastic clothespins. I also bring plenty of socks and underwear which I clean when I get home." – Eddie Cano, 2012 Chevy Silverado 2500, 2013 Northstar Igloo 9.5
"When contemplating our two year cross country trip, we quickly realized that we didn't want to waste a day per week doing laundry in some laundromat! Therefore, being a mod-maniac, I installed an apartment sized washing machine in our truck camper right beside the kitchen sink. Now, each day when in a campground, we do a small load of wash while eating breakfast and then hang it out to dry as we sightsee all day. This way it doesn't take away any valuable exploring time and frees up a day a week for more fun exploring!
To see my washing machine install, watch my video above." – Charles Coushaine, 2001 Ford F350, 2012 Chalet DS116RB
"We can easily pack ten days worth of clothes and usually do our laundry at a campground where we, like Gordon and Angela, dump and charge." – Eddie Fort, 2016 Ford F-350, 2016 Hallmark Everest