If you haven't told us what you tow behind your truck camper by now, you're too late.  Over the past few weeks, we have asked about towed boats, utility trailers, scooters, mopeds, motorcycles, Jeeps, inflatable boats, canoes, and kayaks.
This week we went for broke and asked, "Tell us what you tow behind your truck camper".  What follows is a real a drag out, pull down, tug around, lug here, yank there, all out truck camping tow-tacular.  Here we go, with one more tow.

"I have a personal watercraft, a Yamaha WaveRunner, towed with a simple 18-inch extension.  I also use a front hitch to maneuver the WaveRunner into a parking spot at home.  I could launch it with the front hitch if a situation called for it.

My personal watercraft is used to explore lakes we visit.  We mainly just go on pleasure cruises around the lake, to swimming spots, and to and from another family members pontoon boat.  This particular personal watercraft has faithfully followed me around in my first and second truck campers." – Tim Holman, 2013 Ford F350, 2014 Wolf Creek 850, 2008 Yamaha VX Cruiser
"I tow a horse tandem axle trailer, an open pit car trailer with a Toyota FJ Cruiser, a 10-foot John boat single-axle flat trailer, or a single-axle flat trailer with Polaris Razr.
The FJ does off-road and backwoods touring day trips where we'd rather not take the camper, or goes into town when we're staying long term somewhere." – Cheryl Nelson, 2004 Chevy 3500, 1990 Shadow Cruiser 9.5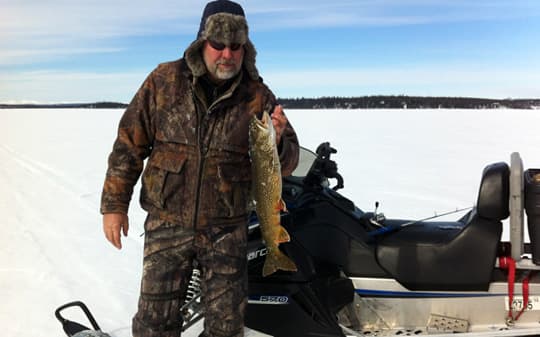 "We tow an Arctic Cat Bearcat snow machine on a two-place tilt snow machine trailer in the winter months.  We also tow an Arctic Cat Prowler UTV on a twin-axle cargo trailer when there's not enough snow.

We live in Eagle River, Alaska, just outside of Anchorage.  When we're not working, we spend a lot of time 150 to 180 miles north of Anchorage depending on the time of year.  Spring through Fall, most trips are on the Glenn Highway and the Lake Louise road area.  We use the UTV to go fishing, hunting, blue berry picking, gold panning, shooting, and just hanging out and enjoying the outdoors.  In the winter we like to take the snow machine to the Lake Louise area to ice fish for lake trout and Burbot to hunt caribou.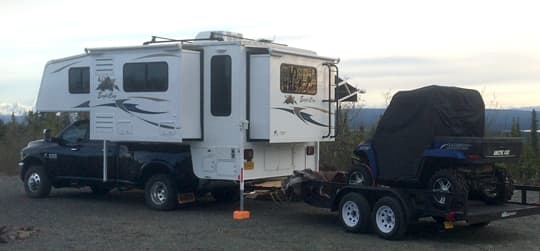 One of our favorite June hot spots is the Klutina River off the Richardson Highway for sockeye salmon fishing.  We stock our freezer with sockeye salmon for the winter.  It's the best eating salmon for sure.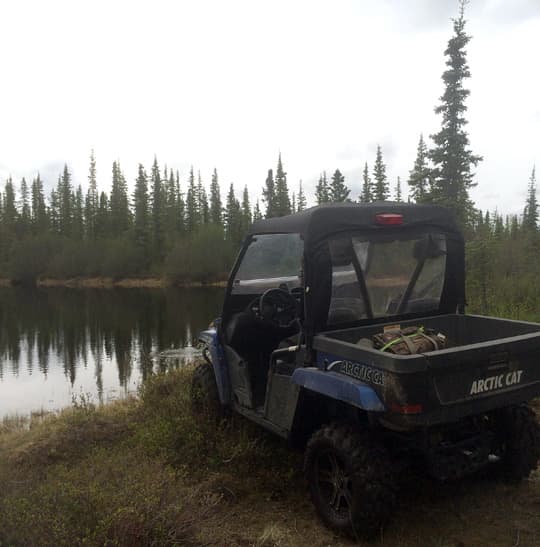 We spend a week in October with the UTV, after moose season closes, to hunt black and grizzly bears.  After this hunt, it's time to winterize the camper and get the snow machine ready for use." – Tom and Doreen Warren, 2013 Ram 3500, 2013 Eagle Cap 1160
"My trailer is used to carry ATVs, long kayaks, and motorcycles.  I have the Torklift 48-inch extension off the Torklift SuperHitch.  Truck camping allows me to bring the ATVs up north and stay out off-the-grid." – Tom Chappuis, 2006 Dodge Ram 3500, 1989 Lance 9000, 20-foot flat deck trailer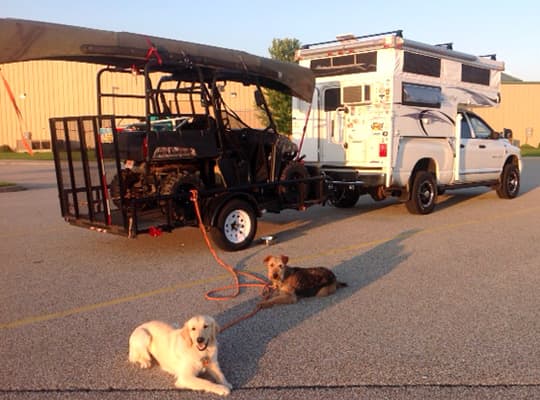 "We tow our Polaris Ranger 570 UTV behind our truck on a utility trailer.  The trailer itself has been modified with the addition of a lockable steel box on the tongue area ahead of the bed of the trailer.
This extra storage space is used for a couple military gas cans, a propane tank, a Dutch oven and other bulky, hard-to-stow items.  We have added a canoe rack to the Ranger so we can bring that with us as well.  Also, our generator rides in the bed of the UTV, which we secure with a cable and padlock.