If you haven't told us what you tow behind your truck camper by now, you're too late.  Over the past few weeks, we have asked about towed boats, utility trailers, scooters, mopeds, motorcycles, Jeeps, inflatable boats, canoes, and kayaks.
This week we went for broke and asked, "Tell us what you tow behind your truck camper".  What follows is a real a drag out, pull down, tug around, lug here, yank there, all out truck camping tow-tacular.  Here we go, with one more tow.

"I have a personal watercraft, a Yamaha WaveRunner, towed with a simple 18-inch extension.  I also use a front hitch to maneuver the WaveRunner into a parking spot at home.  I could launch it with the front hitch if a situation called for it.

My personal watercraft is used to explore lakes we visit.  We mainly just go on pleasure cruises around the lake, to swimming spots, and to and from another family members pontoon boat.  This particular personal watercraft has faithfully followed me around in my first and second truck campers." – Tim Holman, 2013 Ford F350, 2014 Wolf Creek 850, 2008 Yamaha VX Cruiser
"I tow a horse tandem axle trailer, an open pit car trailer with a Toyota FJ Cruiser, a 10-foot John boat single-axle flat trailer, or a single-axle flat trailer with Polaris Razr.
The FJ does off-road and backwoods touring day trips where we'd rather not take the camper, or goes into town when we're staying long term somewhere." – Cheryl Nelson, 2004 Chevy 3500, 1990 Shadow Cruiser 9.5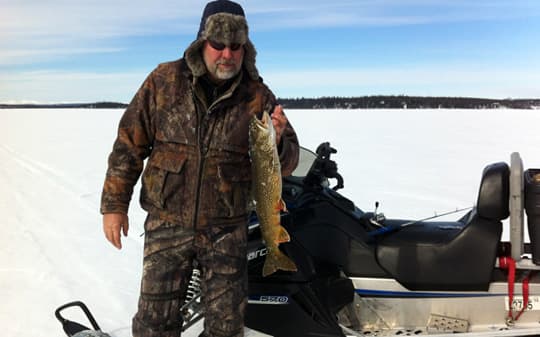 "We tow an Arctic Cat Bearcat snow machine on a two-place tilt snow machine trailer in the winter months.  We also tow an Arctic Cat Prowler UTV on a twin-axle cargo trailer when there's not enough snow.

We live in Eagle River, Alaska, just outside of Anchorage.  When we're not working, we spend a lot of time 150 to 180 miles north of Anchorage depending on the time of year.  Spring through Fall, most trips are on the Glenn Highway and the Lake Louise road area.  We use the UTV to go fishing, hunting, blue berry picking, gold panning, shooting, and just hanging out and enjoying the outdoors.  In the winter we like to take the snow machine to the Lake Louise area to ice fish for lake trout and Burbot to hunt caribou.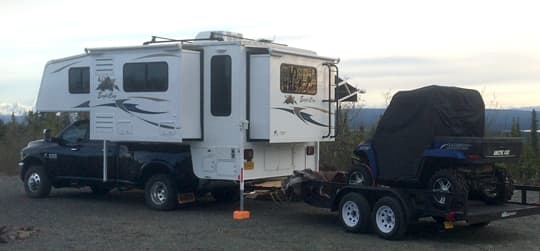 One of our favorite June hot spots is the Klutina River off the Richardson Highway for sockeye salmon fishing.  We stock our freezer with sockeye salmon for the winter.  It's the best eating salmon for sure.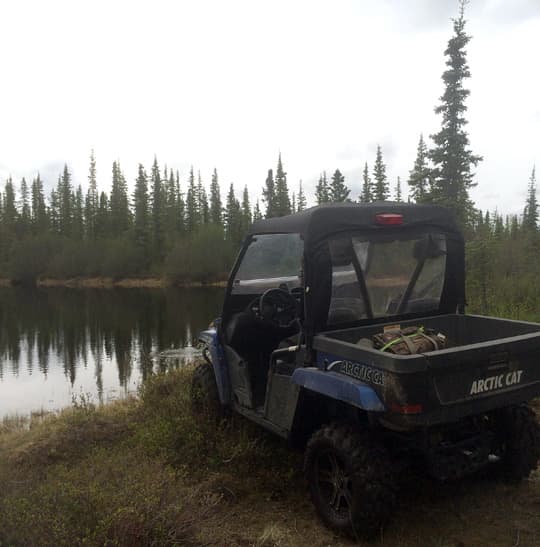 We spend a week in October with the UTV, after moose season closes, to hunt black and grizzly bears.  After this hunt, it's time to winterize the camper and get the snow machine ready for use." – Tom and Doreen Warren, 2013 Ram 3500, 2013 Eagle Cap 1160
"My trailer is used to carry ATVs, long kayaks, and motorcycles.  I have the Torklift 48-inch extension off the Torklift SuperHitch.  Truck camping allows me to bring the ATVs up north and stay out off-the-grid." – Tom Chappuis, 2006 Dodge Ram 3500, 1989 Lance 9000, 20-foot flat deck trailer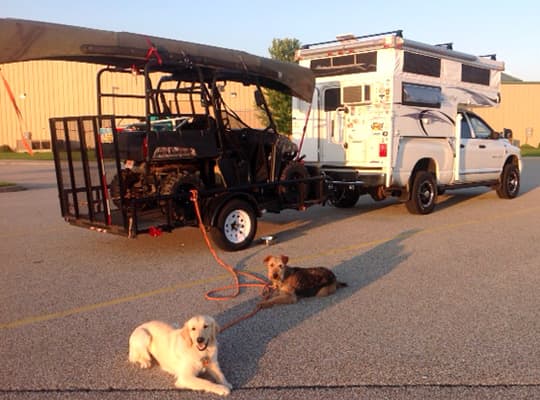 "We tow our Polaris Ranger 570 UTV behind our truck on a utility trailer.  The trailer itself has been modified with the addition of a lockable steel box on the tongue area ahead of the bed of the trailer.
This extra storage space is used for a couple military gas cans, a propane tank, a Dutch oven and other bulky, hard-to-stow items.  We have added a canoe rack to the Ranger so we can bring that with us as well.  Also, our generator rides in the bed of the UTV, which we secure with a cable and padlock.
Taking our Ranger with us has really opened our horizons when camping in Big Horn National Forest in Wyoming, our favorite mountainous area in which to camp and explore.
When plated, tagged, and properly equipped, we can take our UTV on most roads in the Big Horns and it lets us access some beautiful areas by using forest service roads, which typically are little more than glorified trails.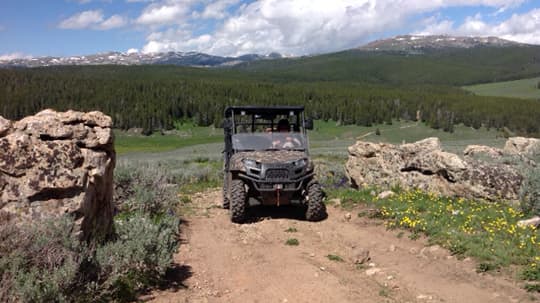 We often travel as much as thirty or more miles deep into the mountains beyond our primitive camp sites.  Not only do we enjoy the thrill of exploring, but also see more wildlife and fish some tipsily remote trout streams that see very little pressure.
Because the forest service roads that we travel are often very rough and not maintained, we often leave our trailer at a campground or trailhead, load the gear from the storage box into the bed of the UTV, and drive it to our destination.
Before exploring the backcountry, be sure that your ATV/UTV is properly maintained and equipped with emergency gear, food, water, and so on in case of a breakdown or similar emergency." – Nick Rukavina, 2006 Dodge Ram 2500, 2012 Northstar TC 650, 2013 Polaris Ranger 570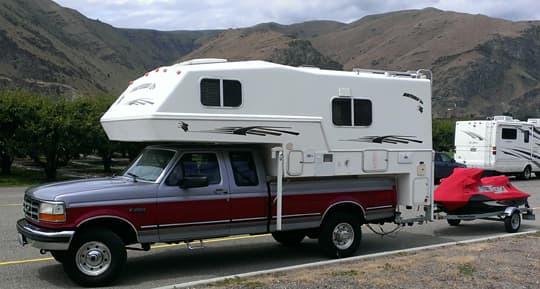 "I tow a three seat jet ski watercraft behind our camper.  I use a custom 24-inch hitch extension to clear the camper's rear overhang.  I've also towed a 12-foot cargo trailer to University of Washington football games for tailgating.  We'll haul the television, generator, tables, and even a sectional sofa.
One of the reasons we bought our camper was so we could camp at different lakes with our jet ski.  We had tried tent camping a couple of times, but we really needed a kitchen when we traveled and having a real bed was appealing.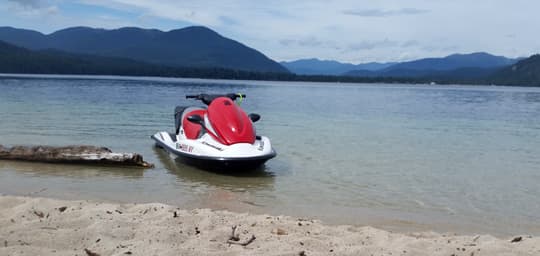 We like to go to the different lakes in Eastern Washington.  Lakes Chelan, and Wenatchee, along with Columbia River reservoirs Entiat, and Wannapum are some of our favorites.  We usually go for the weekend and stick to places we can get to within a few hours." – Steve Schons, 1995 Ford F250, 2002 Northern Lite 10-2000RR, 2008 Kawasaki Jet Ski STX-15F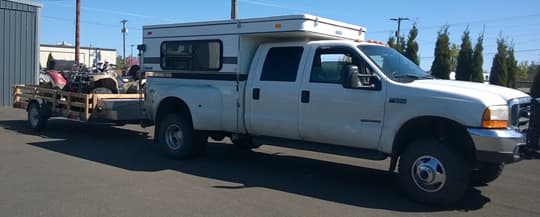 "Not only do we tow a boat and Jeep, but we also tow a horse trailer and have a flat bed for our utility quads.

With the horse trailer we travel to high school rodeos with our daughter who just finished senior year in high school. She barrel races and goat ties.  We take our quads to the dunes along the coast and/or go ride at the various OHV parks in Oregon." – Rich Spofford, 2000 Ford F350, 2005 Four Wheel Camper Grandby, horse trailer and quads
"I haul my Can Am Outlander 1000XT four wheeler on a 12-foot single-axle tilt-flatbed trailer.  I tow it behind my truck with a Torklift SuperHitch Magnum and a custom welded truss that I built myself (the truss handles my large and very heavy boat as well).
I haul my quad to go riding at several different OHV parks all over Oregon and the dunes on the Oregon coast.  It's a great way to see the backcountry and have a blast with friends at the same time." – Cam Stanyk, 2011 Ford F450, 2012 Lance 992, 2013 Can Am Outlander 1000XT four-wheeler/ATV

"We tow two to three horses in our bumper pull horse trailer for trail rides and training clinics.  We have pulled our horses to ride Rocky Mountain ranges in Wyoming and Montana, different camps in the Smoky Mountains of North Carolina, and rode in the Gypsum Hills of central Kansas, Kentucky, Tennessee, Pennsylvania, and Illinois.  We live in southeast Ohio and have many state-sponsored horse trails with camping available to use.
We also drove our truck with camper (sans trailer) to Northern California, British Columbia, the Yukon Territory, and Alaska.  We followed the Alaska Highway its entire distance from Delta Junction, Alaska to Dawson Creek, British Columbia, then back to the United States through Montana and home in Ohio.  That was an 11,000 mile trip. Will do that one again!" – Pete and Linda Clark, 2006 Dodge 3500, 2008 Snowriver 10'2″, 2009 Featherlite three-horse trailer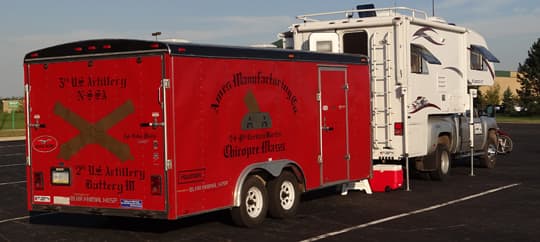 "We tow a Haulmark enclosed car hauler modified to handle a full size Civil War artillery piece (10-pounder Parrott Rifle) and it's support vehicle (called an Artillery Limber). In addition, all of our uniforms and period camping gear accessories are stored up front on clothes rails and/or bungie hooks.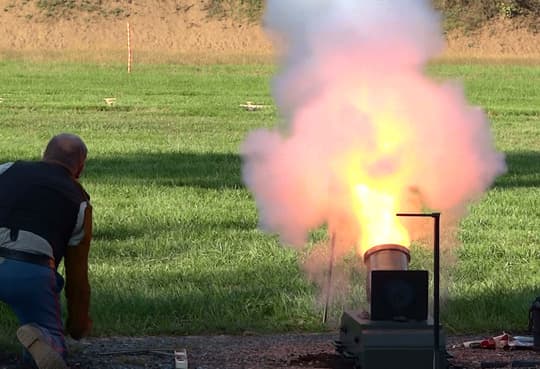 We also shoot a Civil War 24-pounder Coehorn Mortar in competition, so the mortar and its ammunition chest also travel in the trailer with the big gun.  Occasionally guests come along and have the option to sleep under the gun.  Don't sit up too fast, it WILL leave a mark!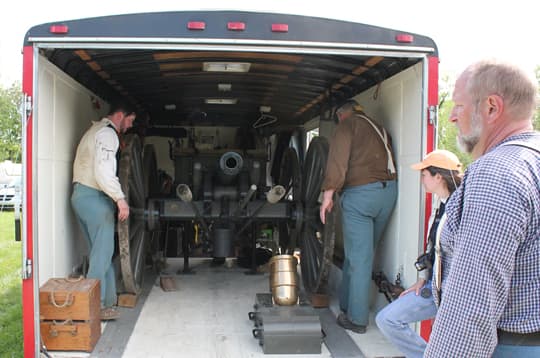 We travel to North-South Skirmish Association competitions (www.n-ssa.org for more information) as well as an annual Long Range Historic Artillery Match held on the National Guard base in Grayling, Michigan.  All are open and FREE to spectators.
This year's Grayling match will be held July 18-19, 2015.  We also do some living history events and the occasional reenactment.  We'll be camped at the Pennsylvania Monument on the Gettysburg Battlefield for a National Park Service living history weekend, and in downtown Manassas, Virginia August 21-23 for their living history." – John and Marylou Wells, 2011 Chevy 3500, 2012 Chalet Ascent S100F, 1997 Haulmark Thrifty Hauler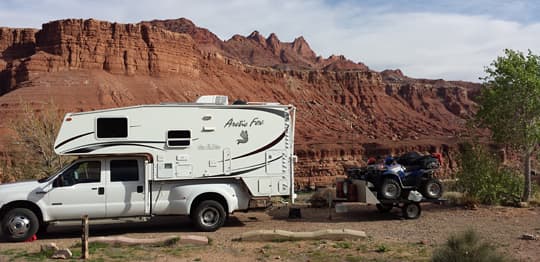 "For four years, we have towed a small 8×8 open trailer with two ATVs to Arizona from Colorado.  It's easy to pull and I don't know that it's even back there.  We can park anywhere, like visitor's centers, shopping centers, and on streets in front of residential areas.  It's hardly ever unhooked the three months when we're down there.  It would be nice to have an enclosed trailer, but the extra weight and size just isn't worth it.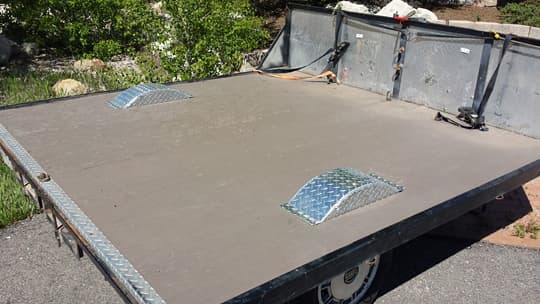 I bought the trailer used.  It was home made.  It had 12-inch by 4-inch tires and I would wear out a new set of tires in 4,000 miles.  I just found a pair of Volvo 14′ wheels and hub caps with new Michelin tires for free and bought adaptors to mount them on the hubs.  I had to cut holes in the floor and make small fenders so the larger tires had room under the bed.  This should really help carry the load since I was already maxed out on weight.
We love boondocking.  Out of eighty nights away from home this year, we spent a total of $62 for camping.  A couple of times it was to use the dump and to camp at national monuments, which are half price for seniors.  So life is great.  We love our set up.
I rode the ATV over 1,350 miles all over the southern Arizona last season.  We have met many people doing the same and end up riding with them and becoming friends and seeing some amazing country.  The last group picture before we left this year were six couples from six different states in front of a very unusual cactus.  That took 1,300 miles to find.  You really don't see the desert until you get out and ride the desert." – Frank and Lynn Niehus, 2007 Ford F350, 2007 Arctic Fox 1150, home made trailer

"I'm constantly stopped by those surprised that anyone makes a camper for a Tacoma.  I get even more questions when they see me flat towing a 1988 Suzuki Samurai because they didn't believe the Tacoma had enough power.  We flat tow the Samurai mostly to Death Valley.  It tows great on the washboard roads." – Jim Massopust, 2013 Toyota Tacoma, 2012 Four Wheel Campers Eagle
"My open trailer frees up space and weight in the truck and camper.  I carry tools, fuel, chairs, bicycles, collapsible tables, and emergency equipment.  I use one large weatherproof locking box, plus several ActionPackers that have been weatherized.  My open trailer has multiple tie-downs to strap things down, and is very lightweight." – Bill Peters, 2013 Chevy Silverado, 2013 Four Wheel Camper Hawk, open utility trailer
To join in the discussion about towables, click over to the TCM reader responses on our Facebook page.