Readers reveal the must-see destinations in their home states and provinces.  Peel those state and province stickers unless you've been here, and done this.
This week's question of the Week was, "What's one place someone should see before saying they have visited your state or province – and why?"
Canadian Provinces
Manitoba: Getting Off The Trans-Canada Highway
"Manitoba is the province that people drive through to get from the mountains to Ontario, but there are lots of great parks here.  I would say that you can't say you have been to Manitoba unless you have gotten off the Trans-Canada Highway.
If you really want to experience Manitoba you need to head north for some of the best camping and fishing in the country.  My son's specific favorite is Wekusko Falls Provincial Park and my husband's is Riding Mountain National Park.  Mine is anyplace without traffic." – Tricia Mason, 2009 Ford F350, 2008 Montana Ponderosa
Nova Scotia: Peggy's Cove
"I recommend Peggy's Cove in Nova Scotia because it's unique, and the Cabot trail because it's scenic." – Mike Chesnutt, 2010 Toyota Tundra, 1995 Hide Away 855
Ontario: Point Pelee National Park
"In Ontario you need to see Point Pelee National Park which is Canada's southernmost point with the Carolinian forest; a birding paradise in May.  Then don't miss the wineries on Lake Erie North shore." – Tim Averill, 2010 Ford F150, 2011 Palomino Bronco
Ontario: Upper Canada Village
"Upper Canada Village, east of Morrisburg, Ontario has a "working" museum of 19th century heritage.  There is a lot of history from the building of the St. Lawrence Seaway, including some buildings that were moved from the villages that were flooded over." – Eleanor McMillan, 2007 GMC Sierra, 2000 Citation Globetotter
Prince Edward Island: Gulf Shore Parkway
"As Canada's smallest province, you can drive Prince Edward Island tip to tip in one day.  I think one of the best drives is along the Gulf Shore Parkway in PEI National Park with gently rolling farmland on one side and the red sandstone cliffs and blue water of the Gulf of St Lawrence on the other.  The parkway ends at Cavendish Beach and Anne of Green Gables House, made famous by Island author Lucy Maude Montgomery." – Jamie Rea, 2012 Ford F350, 2012 Lance 855s
The United States
Alaska: Hyder
"Nobody should say they have visited Alaska they haven't been to Hyder, Alaska.
Hyder is off the Cassiar Highway 37A in British Columbia Canada.  You go Hyder down a paved road for probably 40 or 50 miles.  As you drive into the Hyder, Alaska from Canada, you expect the normal US Customs to be there.  It isn't!  However, to get back into the Canada, you pass through Canadian Customs!
Hyder has maybe 100 folks in it but the Fish Creek Bear observation area is a real gem.  We observed many bears from the observation deck.  There were both Grizzlies and Black Bears feeding on the King Salmon when we were there about a month ago." – William Chiles, 2015 RAM 3500, 2013 Lance 1050S
"I think you should camp out at least one night to count a state/province." – Jim Carpenter, 2009 Ford F150, 2005 Starcraft Pine Mountain (pop-up)
California: One and Only Places
"This question is so impossible!  You can't ask fifth generation Californians to name only one.  Since California has so many one and only places, here are my ones:
*The highest mountain (in lower 48) Mount Whitney; you don't have to climb it, just camp in view of her stark beauty.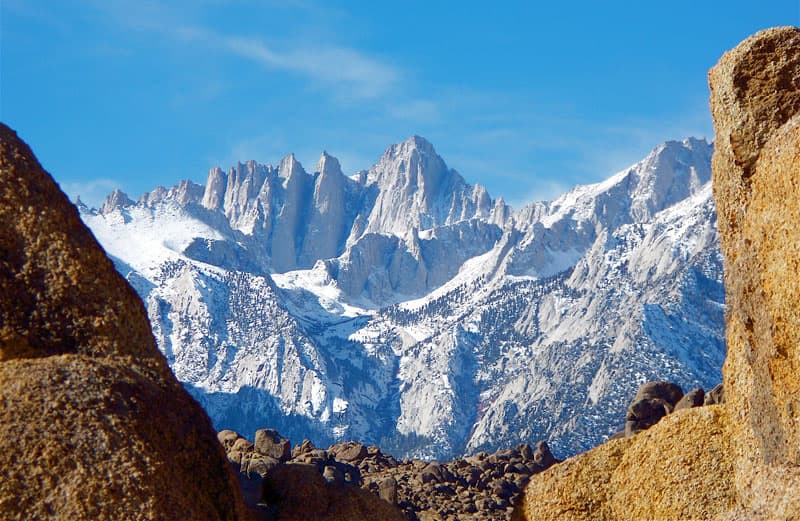 *The lowest place in the United States; Death Valley.
*The oldest living organisms on earth in Ancient Bristle Cone Pine Forest.  Nevada may argue that theirs are older, but I have yet to see the evidence and I'm not counting weird fungus that is now a contender.
* The tallest living thing in Redwood National Park and biggest tree in the world at Sequoia National Park.
*The most wine in the United States so take a tasting tour of central coast or Napa area wineries.
*The biggest waves in the 48.  Check out the surfers at Maverick's just north of Santa Cruz.
*The world's largest land locked harbor and lots of other fun in San Francisco.
* The tallest waterfall in the United States requires a visit to Yosemite National Park.
My California one and only place list could go on but suffice it to say that it would require more than a lifetime to see all that California has to offer.  So pack your parkas and your bikinis y'all and give her at least six months to do right by her.  I promise she won't disappoint.  My driveway can park at least five truck campers so come visit!" – Darcy Hubbard, 2014 Ram 3500, 1998 Lance Legend
Florida: Overseas Highway To Key West
"You haven't visited Florida if you haven't driven the Overseas Highway to Key West.  It's the only place in North America that you can island hop by truck camper!" – Harry Woodworth, 2001 Dodge Ram 3500, 2000 Snowbird
Georgia: Rosevelt's Little White House
"I recommend Roosevelt's Little White House and FDR State Park in Warm Springs and Pine Mountain, Georgia.  The history is great.  This was where FDR loved to spend his time.  The museum and area are beautiful.
The town of Pine Mountain is fun for a day and there are good restaurants.  Callaway Gardens is nearby for a bike, walk, nature, and the butterfly center.  The campground at the state park is very nice with more than 20 miles of hiking.  It's worthy of an extended visit." – Carol Bowman, 2005 Dodge 3500, 2014 Lance 1191
Indiana: Duck Creek Aqueduct
"In Indiana, I recommend the Duck Creek Aqueduct in Metamora.  It's a section of the old Whitewater Canal divides this small southeastern Indiana town.
The canal passes 20-feet above Duck Creek by means of an 90-foot long aqueduct.  Think of a covered bridge, but instead of a road, canal water passes through.  This National Historic Landmark site operates a short horse-drawn canal boat ride for passengers.  It is the only operating aqueduct in the United States." – Mark Combs, 2011 Ford F150, On the edge of buying
Kansas: I-70 End to End
"The one place is actually a long stretch; I-70 from end to end across the state.  Kansas is not a state of huge mountains, waterfalls, or coastlines.  We have many subtle jewels in all parts of the state that someone who loves to put in a little effort and explore, will find.  The joy is in the hunt." – John Bull, 2004 Dodge 3500, 2015 Arctic Fox 990
Maine: Maine State Museum
"I would encourage visitors to stop in Augusta for a visit to the Maine State Museum. There are numerous displays relating to the many industrial and ocean related occupations that helped the state thrive over the years.  There are even belt driven machines driven by water power (visible below the equipment) driving the mechanisms that convert water power to the equipment.
There are displays about quarrying granite, cutting and storing ice prior to electric refrigerators, lumber harvesting (including video of loggers running trees down river), exhibits about lobstering and sardine packing, and excellent exhibits of sailing ships including a cut-away display of hull construction.
There is also another excellent museum in Bath, the Maine Maritime Museum, which is down the street from Bath Iron Works.  If you like trains and related items, visit the Seashore Trolley Museum in Kennebunkport.  Another great museum, near Rockland and Camcen is the Owlshead Transportation Museum.  And of course, Maine has hundreds of miles of beautiful seashore, and glorious fall foliage inland." – Bob Edgarton
Maine: Cadillac Mountain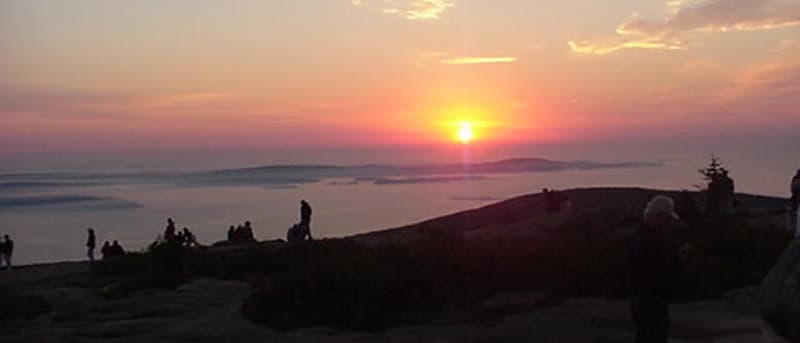 "I recommend visiting the summit of Cadillac Mountain at sunrise.  Much of the year this is the first place to see the sun in the United States." – Sue Graf, 2008 Ford F350, 2013 Arctic Fox 865
Michigan: Mackinaw Bridge
"Michigan is a big state, so it seems burdensome to ask someone to see only one place in order to say, "I've been there".  That said, the most iconic symbol of Michigan is the Mackinaw Bridge, which spans the Straits of Mackinaw between the Upper and Lower Peninsulas.  If you've been there you've definitely been to Michigan.
Personally, when it comes to traveling with my truck camper, I don't put a state or provincial decal on the camper unless I've actually camped in the state or province." – Roger Garner, 2014 Ram 1500, 2016 Northstar Vista
Missouri: The Gateway Arch
"In Missouri we recommend the The Gateway Arch in St Louis.  It's an amazing structure and the views from the top are wonderful.  It includes western expansions, Louis and Clark, and the Pioneers." – Russell and Gretchen Berquam, 2014 Ford F350, 2015 Arctic Fox 1140
Montana: Grant-Kohrs Ranch National Historic Site
"Of all of the things that Montana has to offer, for us the must-see is the Grant-Kohrs Ranch (National Historic Site) located just north of Deer Lodge.  This ranch in its heyday was over one million acres.  It is now managed by the US National Park system.  It is an open air museum with live demonstrations and fun for everyone." – Jan Van Hoven, 2002 Ford F-250, 2001 Pastime 800FD
New Hampshire: White Mountains
"If you haven't been to the White Mountains, you haven't seen New Hampshire!  While the beaches are nice, the lakes are crystal clear and the forests are spectacular.  The White Mountains are the heart of New Hampshire.  The White Mountains are known for natural splendor, historical charm and recreation.  It has some of the most beautiful scenery in the eastern United States.  The White Mountains Trail is a designated National Scenic Byway and encompasses all these aspects over the course of its 100-mile route, so get off the interstate and explore.
If you have young kids, visit Story Land which is the children's theme park where fairy tales come to life or visit Santa's Village and enjoy the rides and shows, gingerbread cookies, elves, Santa, and his reindeer.  If you are a railroad buff, take a ride on the Conway Scenic Railroad for an old-fashioned railroading experience or ride the Cog Railroad to the top of Mount Washington on the world's first mountain-climbing cog railway—built in 1869.
Want some adventure?  Try ziplining, off-road adventures, backcountry snowshoe, nature hikes, and more! You can visit the Polar Caves; granite boulder caves formed by a continental glacier 50,000 years ago.  There's also the Lost River with jagged rock walls, gigantic boulders, rock-strewn glacial caves, and cascading waterfalls.  And there's so much more!" – Jeannie Coushaine, 2001 Ford F350, 2012 Chalet DS116RB
New Mexico: Los Alamos
"I recommend Los Alamos, the Valles Caldera, and Bandelier National Monuments in New Mexico!  Los Alamos is the gateway to the Valle and Bandelier, both amazing scenic and cultural visits, but Los Alamos is steeped in WWII history.  It was home to the top secret Manhattan Project, where scientists lived in secrecy.  The Bradbury Science Museum is great for both adults and children.
Bandelier is a must-see canyon full of Anasazi cliff dwellings.  There's easy to difficult hikes, and truck campers can camp in Juniper and Ponderosa campgrounds.  The Valles Caldera requires reservations but, oh my goodness, the scenery!  It's the caldera of the USA's largest super volcano and an amazing place in fall to see aspen colors and hear the elk bugle.
Northern New Mexico is the southern spur of the Rockies and home to Santa Fe, Taos, and Georgia O'Keefe country, and well worth a tour!" – Karen House, 2005 Ram 2500, 2005 Lance 811
New York: The Finger Lakes
"There are several areas I like in New York, but I always look forward to getting back home to the Finger Lakes area.  The rolling hills dotted with beautiful clear lakes make driving the area fun and scenic.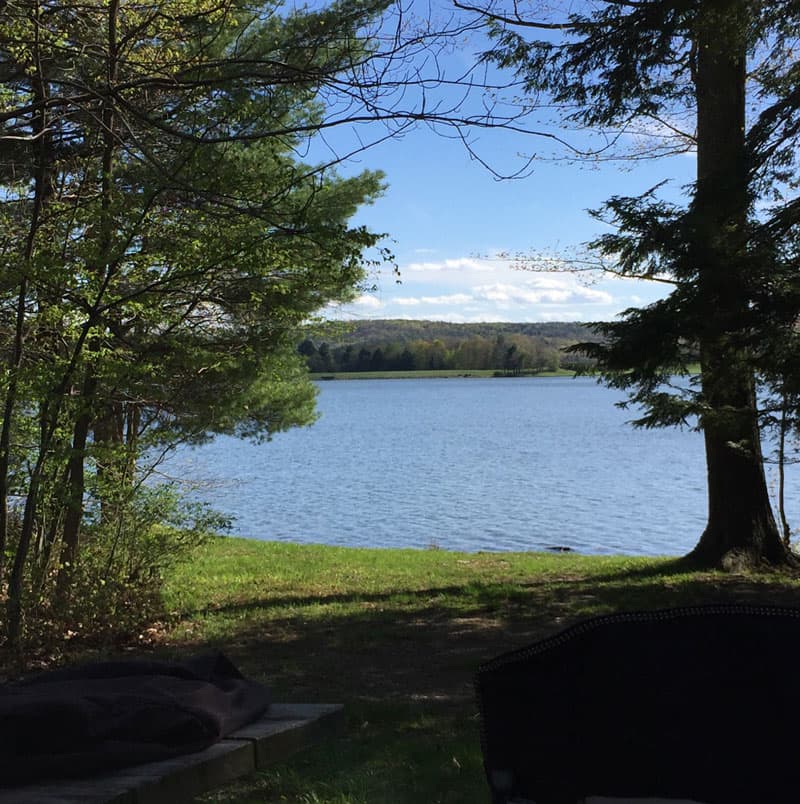 In the fall the colors are hard to beat.  Add gorges to climb, wineries and distilleries to visit, lakes and rivers to kayak and play on and in, trails to hike and bike, small towns to visit and explore, and historical sites to see.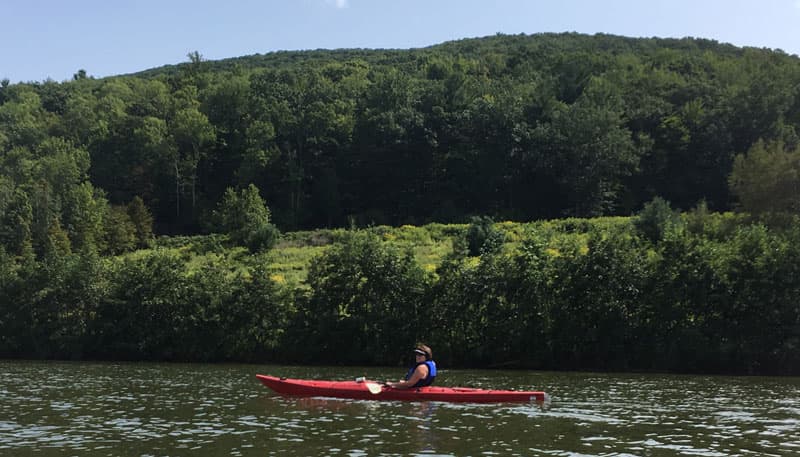 You can find a festival celebrating something (lilacs, apples, wine, race cars, various ethnic gatherings, hot air balloons, even cardboard boats) just about every weekend.  It's an area with something for everyone." – Janet Joki, 2016 Ram 3500, 2016 Northstar Laredo
North Carolina: Cape Hatteras Lighthouse
"If you haven't been to the Outer Banks, Cape Hatteras lighthouse, and Ocracoke Island in particular, you have missed North Carolina.  Cape Hatteras lighthouse is iconic and the Ocracoke beaches are pristine.
I have nothing against the beautiful Smokey Mountains and Pisgah National Forest on the other end of the state but, if I had to pick one, it's got to be Hatteras Lighthouse.  Make sure to try the pork barbecue, eastern style with vinegar based sauce!" – Randy Smith, 2001 Ford F350, 2017 Adventurer 910DB
North Carolina: North Carolina Zoo
"You should see the North Carolina Zoo located in Asheboro.  As I understand it there is only one other zoo that compares to it in the United States.  The North Carolina Zoo boasts more natural habitats for the animals.  From Polar Bears to Giraffe it's a great way to spend an entire day or two." – Adam Hurley, 2015 GMC Sierra 2500, 2002 Lance 835
North Carolina: Holly Trinity Church Fresco
"If you have every traveled the Blue Ridge Parkway you may never have known one of the finest examples of fresco artwork is just a short trek off the parkway.  I never knew about this artwork, located in Glendale Springs, North Carolina until a fellow motorcyclist and friend showed it to a group of us.
You will find it between mile marker 250 and 260 right off the Northwest Trading Post location.  Go west on Trading Post Road into Glendale Springs, go right and head to the Holy Trinity Church.  In that church you will see a fine example of fresco art in the depiction of the Last Supper.
The story behind the artwork is a great read or listen, if you have someone there at the time you stop by.  It was an extremely time consuming effort to make this Fresco.
We have gone up there numerous times just to see the artwork and have always been able to get into the church.  A second work is located at St. Mary's in West Jefferson.  Here is an article and pictures of the frescoes." – Mark Dyvig, 2001 Ford F250, 1969 Avion C-11
North Carolina: Beautiful Lighthouses
"Just choosing one is difficult.  The beauty of North Carolina ranges from the Blue Ridge Parkway to the wonderful coast line.  Choosing one (cheating) would be the beautiful lighthouses on Atlantic Beach/Shackleford Island and the wild horses." – Nancy Roberts, 2014 Ram 1500, 2018 Northstar TC800
North Carolina: Asheville and Beaches
"The mountains of Asheville and the town is fun and beautiful for everyone.  There are microbreweries, good food, a drum circle on Friday night and a hippyish laid back atmosphere.  On the east coast is Cape Hatteraus and Ocarcoke island with beaches for miles, great seafood, and graveyard of the Atlantic." – Doug and Andrea Caruolo, 2001 F350, 2016 Eagle Cap 1160
Ohio: United States Air Force Museum
"My recommendation is the United States Air Force Museum in Dayton. The awesome display of aviation history is free!" – Charles Wade, 2016 Dodge 3500, 2016 Northern Lite 10-2
Oregon: Crater Lake National Park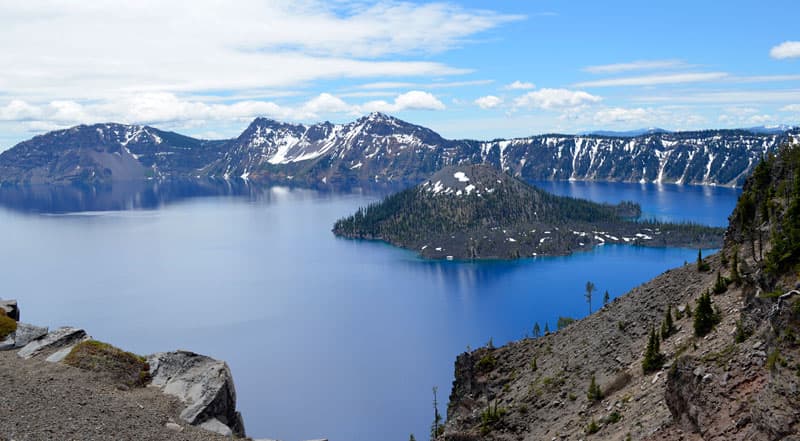 "Crater Lake is the only national park in Oregon and a gem of a place.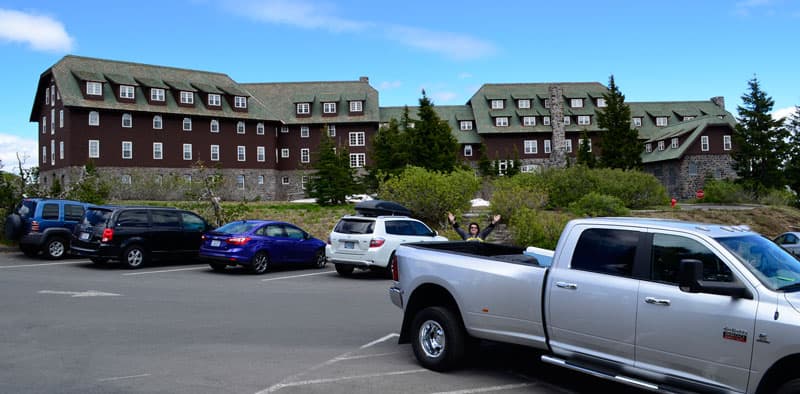 The lodge was built built by the CCC and the views are spectacular." – Rod Fosback, 1999 Ford F350, 2008 Snowriver 10'8″ DS
Oregon: Multnomah Falls
"Multnomah Falls in the Columbia Gorge is a must in Oregon.  It's claimed to be the second tallest year-round waterfall in the United States at 620-feet." – Ean McClane, 2017 Ford F350, 2011 Lance 1191
Rhode Island: Beavertail State Park
"I recommend Beavertail State Park.  They call Rhode Island the Ocean State for a reason." – Richard Lescroart, 2009 Chevy Silverado 2500HD, 2008 Lance 915
South Carolina: City of Charleston
"I recommend the city of Charleston, Fort Sumter, the battery, and Rainbow Row in South Carolina." – RJ B, 2007 Dodge 2500, 2003 Palomino Mustang 1000
South Dakota: Black Hills Region
"The Black Hills region of South Dakota is our vote for South Dakota!  There's Mount Rushmore, Crazy Horse carvings, Badlands National Park, Sturgis, Deadwood, Patriot Missile Silos and even Wall with it's famous drug store.  There are a lot of interesting, historical and educational reasons to visit that part of the state." – C&J Ramsey, 2012 Chevy Silverado, 2014 Adventurer 116DS
Vermont: Northeast Kingdom
"My state is beautiful everywhere!  I have no one specific place to see in Vermont, but the Northeast Kingdom area (the northeast corner of Vermont) is rural and a pleasure.
I think everyone should stay at least one night in a state or national campground of their choice to consider that they visited that particular state.  At that campground, be sure to talk with others about local must-see attractions." – Bill Lenz, 2014 Ford F150, 1992 Shadow Cruiser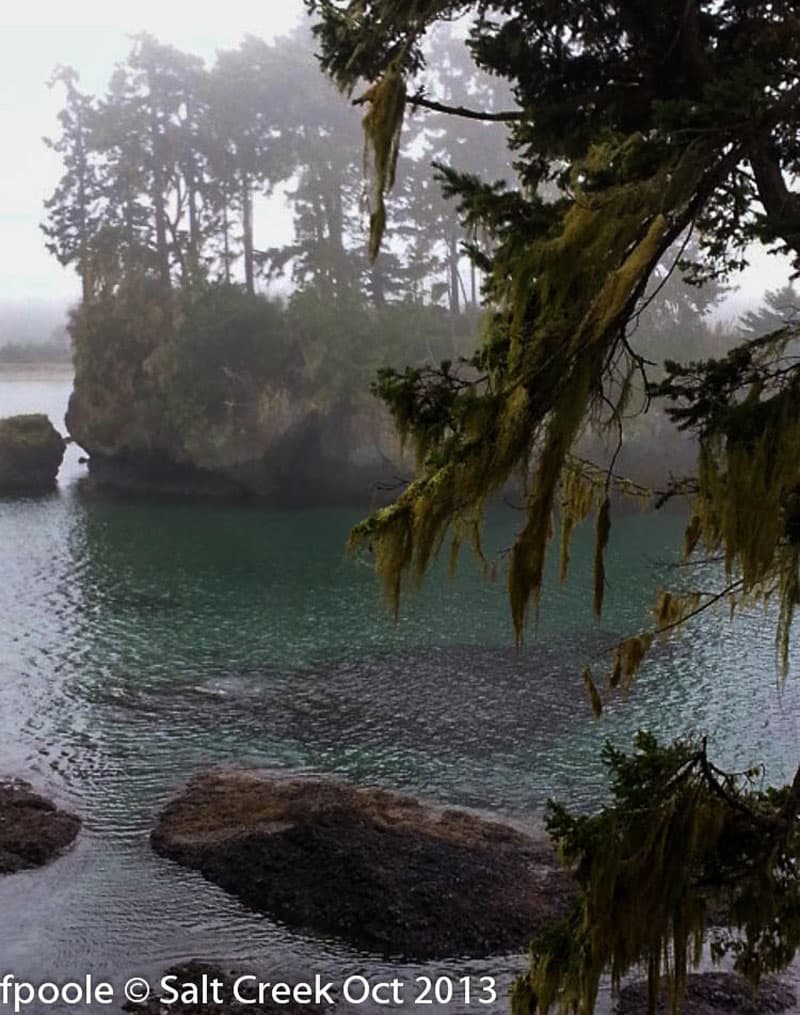 Washington: The Olympic Peninsula
"In Washington, at the top of the list would be the Olympic Peninsula along the coast. It's basically a loop, one road with sights along the way; Salt Creek, Neah Bad, Hoh Rain Forest and the Coastal towns.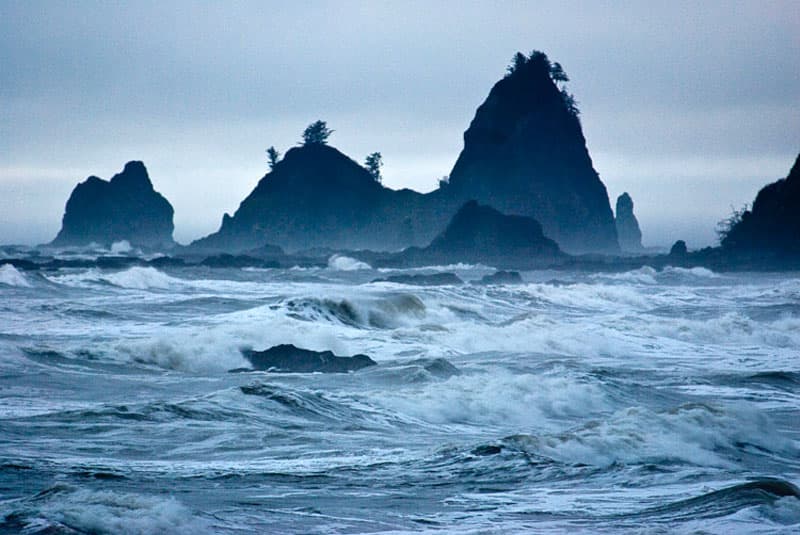 Above: LaPush, Washington
Warning: Don't go to Forks at night (just joking)." – Frank Poole, 2016 Ram 5500, 2016 Arctic Fox 990
Washington: Winthrop
"Winthrop, Washington is a little town at the base of the North Cascades.  It has an American Old West Theme that the town is very strict on enforcing.  It has the wood sidewalks and western fronts on all the stores.
This is also where the North Cross State Highway 20 begins to go over the Cascade Mountains from Eastern Washington to Western Washington.  During the summer months when the highway is open, it is the most beautiful drive I have ever been on. This is a must see.
Another must see is Leavenworth, Washington which is only 100 miles or so west of Winthrop.  It is on Highway 2 on the Cascade Loop.  The entire town center is modeled on a Bavarian village.  It really comes alive in the winter with the Christmas and Holiday lighting.
Eastern Washington doesn't get the rain that western Washington does and is known for.  We usually get lots of snow and cold weather in the winter and sometimes it gets really hot in the summer." – Mike Mauk, 1998 Chevy 3500, 2014 Palomino Maverick 8801
Washington DC: Ethnic Restaurant of Choice
"The biggest problem with Washington DC is that you can't actually can't (legally) camp in the district – no public campgrounds.  But, past all the obvious things to see – National Mall, Capitol, the National Archives, etc. – I don't think you can say you've visited the District until you've eaten at least one restaurant serving an ethnic cuisine that you have never eaten before!
We have everything from Afghan to Venezuelan and could probably go to Z if I could think of it!  Going to a chain restaurant does not count.  When you get home you have to be able to say, 'Yes, the memorials on the mall were cool, but the best part was the most amazing [Ethiopian, Baltic, Peruvian…] meal that we had at this little hole in the wall restaurant'." – Jennifer Kiel, 2007 Toyota Tundra, 2012 Phoenix Camper