Consumers have access to many extended bumper and step solutions when they purchase a new truck camper.  Adventurer and Eagle Cap have their Comfort Step.  Lance has their Ultra Deck Plus.  Palomino has their Landing Pad.  Arctic Fox and Wolf Creek have their Fox Landing.  Northern Lite has a folding bumper step system.
In other words, you can get some of the comfort and storage the following custom decks and porches provide straight from the factory.  Naturally, the custom bumpers offer details the industry does not, and vice-versa.
If you need something really specific, like the ability to also carry your motorcycle, you're going to need a professional custom fabricator, or have the abilities of a professional custom fabricator.
For now, here's more food for thought on what truck camper porches and decks can be.  Maybe the industry can pickup a few ideas.  All we know is that the utility these systems provide is fantastic, as long as they don't over-stress your truck's payload or center of gravity.  Always safety first.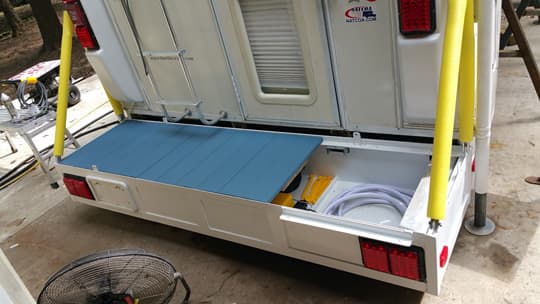 "We custom fabricated an all-aluminum deck with storage.  It has as a depth of 9-inches, a width of 8-feet, and is 24-inches front to back.  Since we pull a boat, we are limited on its size  We built LED tail lights into the deck, side markers, and a license plate holder.  As an added benefit, we reduced the amount of weight by a few pounds building the deck vs the OEM steel bumper.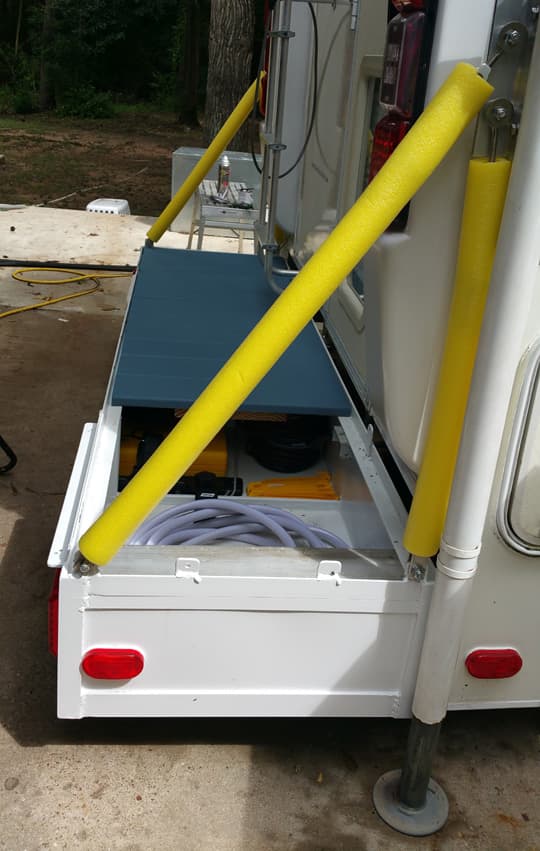 As with every truck camper, storage is an issue.  To solve our problem, we built are deck/storage to hold all items that are used outside of the camper; electrical cords, sewage lines, water hoses, awning mats, cooking items, and the list goes on." – Scott Vallie, 2008 Dodge 2500, 2003 Sun Lite
"Nothing fancy for my porch.  We simply spec'd our camper to be short enough to retain the tailgate.  Tailgate open: Porch. Tailgate closed: Extra security door.  With the addition of an AMP Research tailgate step, getting in and out of the rig is no issue.
We started overloading and camping with our FJ80 Land Cruiser, which has a tailgate.  We used the tailgate for a bench, kitchen, "lookout", shoe rack, and more.  So, when we moved up to the Tundra and truck camper, we wanted to retain that functionality.  We rotate between the two rigs, so there's a familiarity." – Warren Chatterley, 2012 Toyota Tundra, 2013 Phoenix Pulse pop-up
"I built my own aluminum 7-foot by 5-foot back porch. It is attached to a custom built aluminum box with doors on each side, which is bolted at several locations to the camper. The platform swings up when traveling long distance.  For added safety, I installed two LED turn signals.
Majority of my camping is at the beach.  The additional room and box was a must have for brushing of sand and storing rod holders, etc.  Especially nice is the fact that aluminum doesn't hold heat like steel.  After being in the sun all day, it's still not hot to the touch.  The porch also keeps a tremendous amount of sand out of the camper and gives more room for coolers when folded down." – Jason Cain, 2011 Ford F250, 2011 Palomino 8801
"My camper is only 8-feet wide, so my porch is just my tail gate in the down position with folding steps mounted to it.  I have an indoor/outdoor rug attached to the tailgate for sand removal.  The rug can be removed in ten seconds to shake it off.
It's a great place to sit down outside without hauling out the chairs.  We enjoy it when we pull into overlooks to take a break, or along a beach somewhere." – Rag, 2003 Chevrolet Silverado, 1980 Sportsman 8-foot SD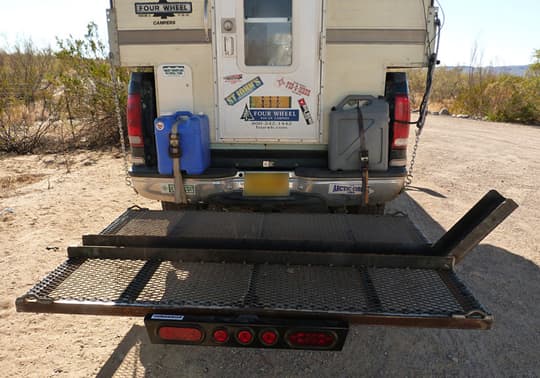 "My porch rack is attached with a dual two-inch receiver and holds a 650cc dual-sport motorcylce and still allows the camper door to open fully.  My mechanic/fabricator built it, and the dual-tubes make it difficult to connect, but very strong.  I added airbags on the back of my truck, and E-rated tires.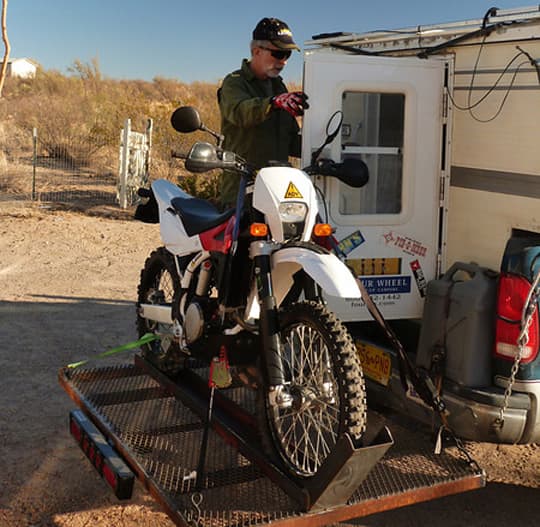 My rig now carries a good-sized motorcycle with a great deal of stability and allows easy access in and out of the camper for our dogs.  We can also carry other gear with the porch.
Since adding the porch, I upgraded to a 9-foot Hallmark pop-up truck camper.  If I want to continue using the rack I will need receiver extensions, but I'm concerned about the weight being too far back.  I have a receiver hitch up front so I can carry a smaller motorcycle up there.  Of course the porch makes getting in and out more convenient." – John Irvine, 99 Ford F250 7.3, 98 Four Wheel Grandby now replaced with a Hallmark Cuchara XL
"The porch is built out of aluminum and compost board with a seat on each side for storage and seating.  It's great for seating and watching the ocean.  The porch is attached to the camper and hung from the jacks,  When extended, it has a brace on each side." – Ronald Engle, 2001 Ford F350, 2008 Host