Consumers have access to many extended bumper and step solutions when they purchase a new truck camper.  Adventurer and Eagle Cap have their Comfort Step.  Lance has their Ultra Deck Plus.  Palomino has their Landing Pad.  Arctic Fox and Wolf Creek have their Fox Landing.  Northern Lite has a folding bumper step system.
In other words, you can get some of the comfort and storage the following custom decks and porches provide straight from the factory.  Naturally, the custom bumpers offer details the industry does not, and vice-versa.
If you need something really specific, like the ability to also carry your motorcycle, you're going to need a professional custom fabricator, or have the abilities of a professional custom fabricator.
For now, here's more food for thought on what truck camper porches and decks can be.  Maybe the industry can pickup a few ideas.  All we know is that the utility these systems provide is fantastic, as long as they don't over-stress your truck's payload or center of gravity.  Always safety first.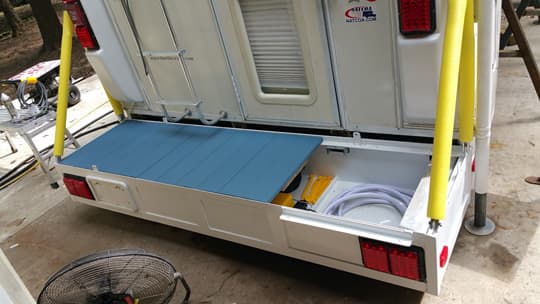 "We custom fabricated an all-aluminum deck with storage.  It has as a depth of 9-inches, a width of 8-feet, and is 24-inches front to back.  Since we pull a boat, we are limited on its size  We built LED tail lights into the deck, side markers, and a license plate holder.  As an added benefit, we reduced the amount of weight by a few pounds building the deck vs the OEM steel bumper.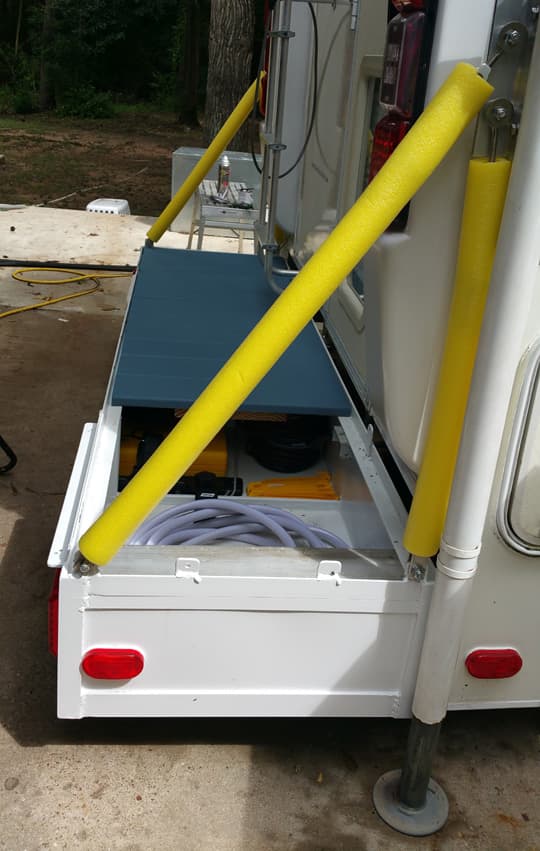 As with every truck camper, storage is an issue.  To solve our problem, we built are deck/storage to hold all items that are used outside of the camper; electrical cords, sewage lines, water hoses, awning mats, cooking items, and the list goes on." – Scott Vallie, 2008 Dodge 2500, 2003 Sun Lite
"Nothing fancy for my porch.  We simply spec'd our camper to be short enough to retain the tailgate.  Tailgate open: Porch. Tailgate closed: Extra security door.  With the addition of an AMP Research tailgate step, getting in and out of the rig is no issue.
We started overloading and camping with our FJ80 Land Cruiser, which has a tailgate.  We used the tailgate for a bench, kitchen, "lookout", shoe rack, and more.  So, when we moved up to the Tundra and truck camper, we wanted to retain that functionality.  We rotate between the two rigs, so there's a familiarity." – Warren Chatterley, 2012 Toyota Tundra, 2013 Phoenix Pulse pop-up
"I built my own aluminum 7-foot by 5-foot back porch. It is attached to a custom built aluminum box with doors on each side, which is bolted at several locations to the camper. The platform swings up when traveling long distance.  For added safety, I installed two LED turn signals.
Majority of my camping is at the beach.  The additional room and box was a must have for brushing of sand and storing rod holders, etc.  Especially nice is the fact that aluminum doesn't hold heat like steel.  After being in the sun all day, it's still not hot to the touch.  The porch also keeps a tremendous amount of sand out of the camper and gives more room for coolers when folded down." – Jason Cain, 2011 Ford F250, 2011 Palomino 8801
"My camper is only 8-feet wide, so my porch is just my tail gate in the down position with folding steps mounted to it.  I have an indoor/outdoor rug attached to the tailgate for sand removal.  The rug can be removed in ten seconds to shake it off.
It's a great place to sit down outside without hauling out the chairs.  We enjoy it when we pull into overlooks to take a break, or along a beach somewhere." – Rag, 2003 Chevrolet Silverado, 1980 Sportsman 8-foot SD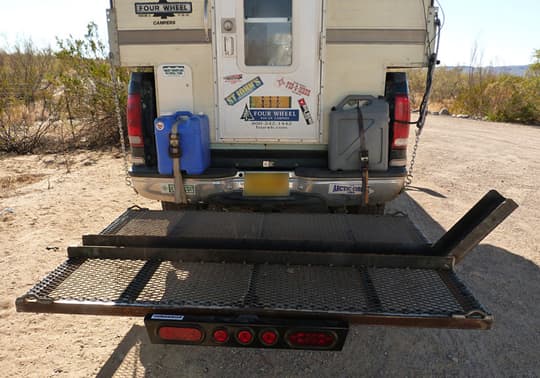 "My porch rack is attached with a dual two-inch receiver and holds a 650cc dual-sport motorcylce and still allows the camper door to open fully.  My mechanic/fabricator built it, and the dual-tubes make it difficult to connect, but very strong.  I added airbags on the back of my truck, and E-rated tires.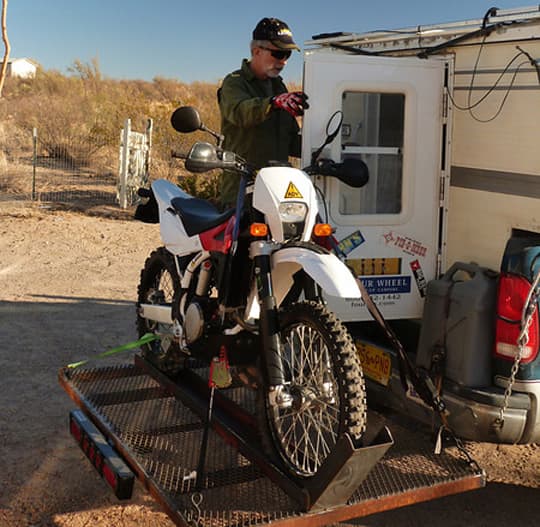 My rig now carries a good-sized motorcycle with a great deal of stability and allows easy access in and out of the camper for our dogs.  We can also carry other gear with the porch.
Since adding the porch, I upgraded to a 9-foot Hallmark pop-up truck camper.  If I want to continue using the rack I will need receiver extensions, but I'm concerned about the weight being too far back.  I have a receiver hitch up front so I can carry a smaller motorcycle up there.  Of course the porch makes getting in and out more convenient." – John Irvine, 99 Ford F250 7.3, 98 Four Wheel Grandby now replaced with a Hallmark Cuchara XL
"The porch is built out of aluminum and compost board with a seat on each side for storage and seating.  It's great for seating and watching the ocean.  The porch is attached to the camper and hung from the jacks,  When extended, it has a brace on each side." – Ronald Engle, 2001 Ford F350, 2008 Host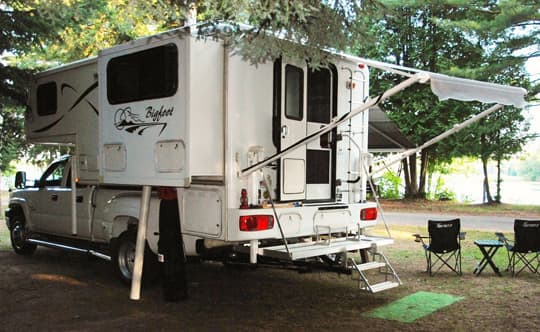 "Our Bigfoot 30C10.11SL came with folding scissor steps.  Our previous campers had pull-out steps.  After suffering with the wobbly folding steps, I decided to build a deck and steps.
The deck is made from two pieces of 2-inch by 10-inch mill finish aluminum plank.  The deck frame is made from quarter inch aluminum angle extended under the camper to provide additional cantilever support. The frame is mounted to two quarter inch angles fastened to the two lower bolts on the jack support brackets.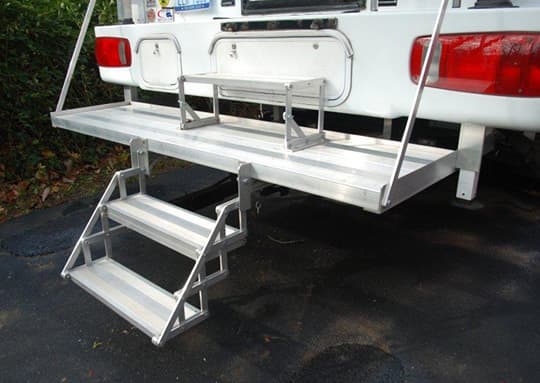 Additional support is provided by two quarter inch by 1-inch arms connected to the top jack support bolts. I salvaged the old step treads and some of the arms to build the new fold-up steps.  It has worked well and provides a safe and sturdy entry.
My wife and I have been truck camping since 1983.  This is our third truck camper.  Unfortunately, due to my wife's hip injury, we are selling our camper and truck, and we sure will miss it." – Arthur Davidson, 2007 Chevrolet 3500 Silverado DWR 4X4, 2003 Bigfoot 30C10.11SL
"Yes, I have a porch.  It is 30-inches by 66-inches, and made of aluminum.  It hinges off of the existing bumper and provides access form the back or either side of the camper.
I designed and made it myself.  It provides great and easy access for all of my summer or winter activities; boating in the summer, and snowmobiling in the winter.
The porch is especially nice in the winter as it gives me easy access to the camper in deep snow conditions.  Also, it can be used with the snowmobile trailer still hooked to the camper rig." – Monty R. Boyd, 2004 Chevrolet Silverado 3500, 2008 Artic Fox 1160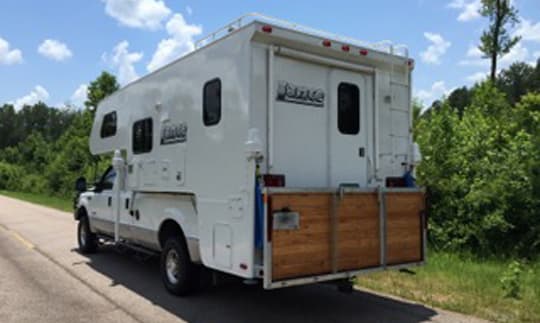 "After looking at several designs on the internet I designed my porch with using 2×2 aluminum angle which I already had.  I took my aluminum to welding shop and had them weld frame to my specifications.  After the welding of the frame was complete I purchased other hardware and started the assembly.  I purchased two additional hangers  (U-shaped channels that rear folding step hangs from ) from Lance to have all hangers match the under rear bumper.
Then I mounted the painted chain from the top support of the rear lift by replacing the bolt with an eye bolt.  Where ever possible I used heavy duty clips to make raising and lowering the deck easier.  I also installed foam water wennies from the Dollar Store over the chain to prevent the rattling of chain while traveling.  Foam adds a little color to deck area.  They come in many colors.
I decked the frame with Western Red Cedar and gave it a good coating of Thomson Water Seal to help it from weathering.  After the mounting of the deck I discovered that when deck was folded up for transport that I had partially obstructed my tail lights.  I purchased two LED turn signals and a LED tag light/bracket online.  I simply wired them with a trailer four pin plug and plugged that into my rear hitch electrical.  I also mounted a lighted tag mount to display the tag while traveling.  The deck also covered the tag location on camper while it was folded up.  All my mounting hardware except for the Bumper Step Channels, which I purchased from Lance, were purchased from local hardware stores; Tractor Supply, Lowes, and Home Depot.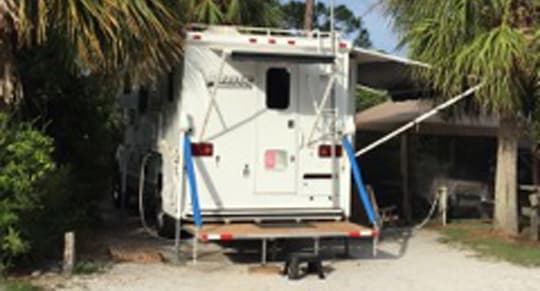 While both of us are still very active and in good health, we have found that stepping in and out of camper with food, plates, groceries, etc. was very awkward and tricky at times.  By having a porch on the camper it allows an easier transition from the camper to the ground and the ground to the camper.  We have taken two camping trips over last few months and have found deck a wonderful addition to our truck camper.  The deck is large enough for both of us to sit on with our folding chairs, having our breakfast outdoors.  The grandkids also love the deck!" – Dan McMichael, Lance 1121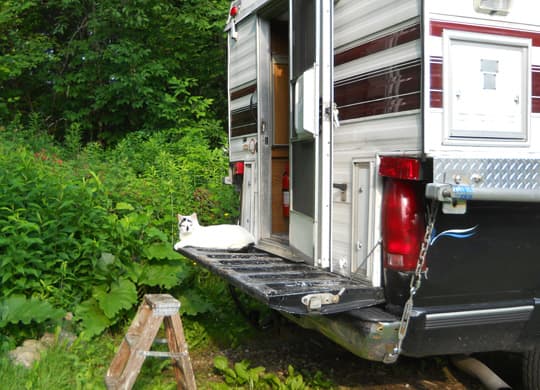 "I just like to relax with a book and a beverage and check out the wildlife or the scenery.  I keep my binoculars handy for looking at birds. It's pretty much what I do in my backyard which is where the picture was taken.
Actually, this is my first camper.  I got tired of using a tent, especially in the winter months.  I've even slept out with just a sleeping bag in the desert in California and it gets pretty cold on those crystal clear nights.  There are spectacular stars, but 32 degrees is quite a change from 110 degrees during the day.
When I decided to get a slide-on camper I wanted to leave the tailgate on my truck.  It didn't make sense to take it off.  If I needed to use the truck without the camper, then stuff could slide off the back.  So, when I bought the truck one of the requirements was an eight foot bed.  And voila!  I had a porch also.
My first trip will be this July to the New Jersey Pine Barrens where I will be helping as a staff member for a 100 person Vision Quest.  My next adventures will be to visit family in the United States and Canada.  With my camper I will have my own accommodations." – Marcia Liedigk, 2000 GMC K3500, 1996 Fleetwood Elkhorn