Four Wheel Campers and Torklift International participate in one of the biggest bug out vehicles ever.  Introducing the Survivor Truck!

The Survivor Truck Bug Out Vehicle
The Survivor Truck is not a true truck camper rig.  Yes, there is a Four Wheel Camper pop-up truck camper and a set of Torklift GlowSteps in there, but the camper is not demountable, nor is the Chevy C70 anything that resembles a pickup truck.  No need to write us letters stating that we've forgotten what a truck camper is.  We know.
That said, there are a lot of interesting design and product decisions in the Survivor Truck.  Some of these elements are sure to give you ideas about how to make a truck camper better for boondocking, or escaping the apocalypse du jour.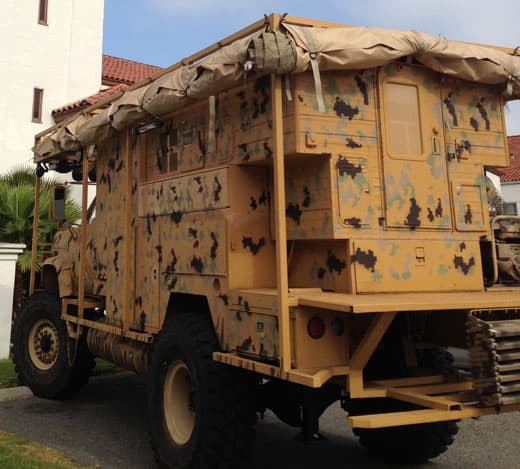 What Is A Bug Out Vehicle?
We have long referred to truck campers as Family Emergency Vehicles, or FEVs.  Just like a FEV, a bug out vehicle is the ultimate family survival and family support tool.
The Survivor Truck is the brain child of professional security consultant Jim DeLoziers.  Jim wanted a vehicle that could quickly evacuate his family in an emergency situation, and keep them safe and comfortable for weeks at a time, no matter what.  When he couldn't find a vehicle that satisfied his requirements on the market, he made one.
OTHER EXTREME VEHICLES – Fire Truck Camper | Unimog Campers  | Freightliner Rig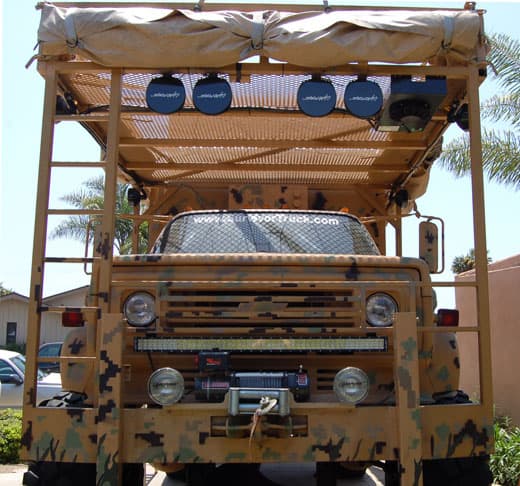 Vision For The Survivor Truck
On numerous occasions, I took my crew cab half-ton truck to pick up some ammunition, water, or gear and maxed out the truck's payload capacity.  Through these experiences I realized it wasn't enough for my needs.
Then I started looking at three-quarter and one-ton pickup trucks and military surplus vehicles.  When I realized the three-quarter and one-ton trucks were not going to be big enough, or offer enough payload, the project hit a turning point.
I had originally wanted the new truck to be a daily driver, but anything bigger than a one-ton truck was not going to be practical as a daily driver.  If the truck was not going to be a daily driver, I could go even bigger.  The Chevrolet C70 I eventually settled on is a thirteen-ton truck.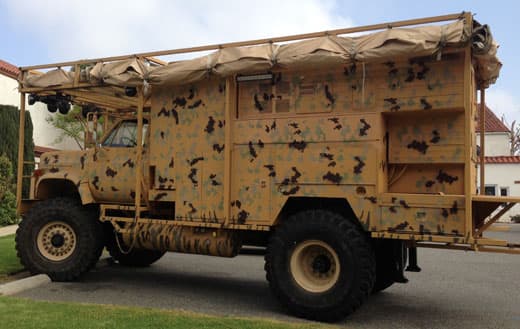 Ammunition Will Overload Half-Ton Truck
At the time, I ran a gun store.  When I picked up ammunition, I was getting 38,000 rounds.  I have since closed the store, but those experiences showed me how limited a half-ton truck's payload really is.  If I needed to use the truck as a bug-out vehicle, I would have to choose between taking my family, or the needed food, water, and gear.  Clearly that's not a choice at all, and I needed a truck with more capacity.
The Survivor Truck is designed to be the ultimate bug out vehicle.  We have enough water, gear, clothing, food packs, to support a family for weeks or months.  There's a lot to consider during a evacuation or survival event.  The Survivor Truck is ready.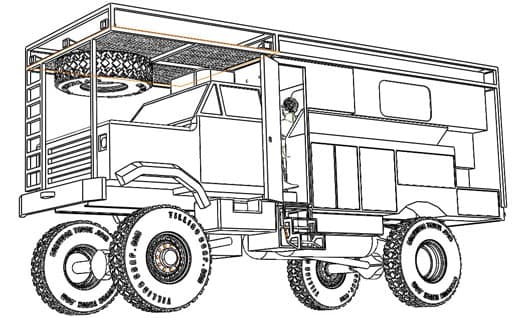 Purpose of the Survivor Truck
When I was designing the Survivor Truck, I was thinking what my family would need in various emergency situations.  I also wanted to keep my wife and children comfortable.  Those were my personal goals for the Survivor Truck.
I am a professional security consultant.  With that perspective I designed the rig to accommodate the needs of the security industry, small police and military strike and surveillance teams, the border patrol, and firefighters working wildland forest fires.
"It also features an active faraday cage to protect its occupants and the communication equipment, cameras, monitors, and computers from lightning, EMP, high voltage lines, and electronic eves dropping."
The Survivor Truck can be configured to their needs allowing them to get to where they need to go and do what they need to do, unsupported, for weeks at a time. It's an all-purpose vehicle platform built to their specific needs.