Four Wheel Campers and Torklift International participate in one of the biggest bug out vehicles ever.  Introducing the Survivor Truck!

The Survivor Truck Bug Out Vehicle
The Survivor Truck is not a true truck camper rig.  Yes, there is a Four Wheel Camper pop-up truck camper and a set of Torklift GlowSteps in there, but the camper is not demountable, nor is the Chevy C70 anything that resembles a pickup truck.  No need to write us letters stating that we've forgotten what a truck camper is.  We know.
That said, there are a lot of interesting design and product decisions in the Survivor Truck.  Some of these elements are sure to give you ideas about how to make a truck camper better for boondocking, or escaping the apocalypse du jour.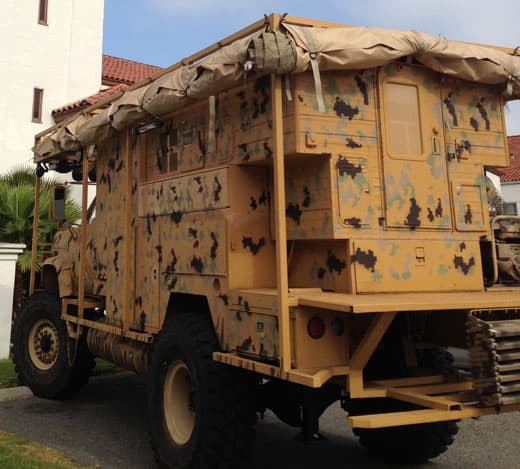 What Is A Bug Out Vehicle?
We have long referred to truck campers as Family Emergency Vehicles, or FEVs.  Just like a FEV, a bug out vehicle is the ultimate family survival and family support tool.
The Survivor Truck is the brain child of professional security consultant Jim DeLoziers.  Jim wanted a vehicle that could quickly evacuate his family in an emergency situation, and keep them safe and comfortable for weeks at a time, no matter what.  When he couldn't find a vehicle that satisfied his requirements on the market, he made one.
OTHER EXTREME VEHICLES – Fire Truck Camper | Unimog Campers  | Freightliner Rig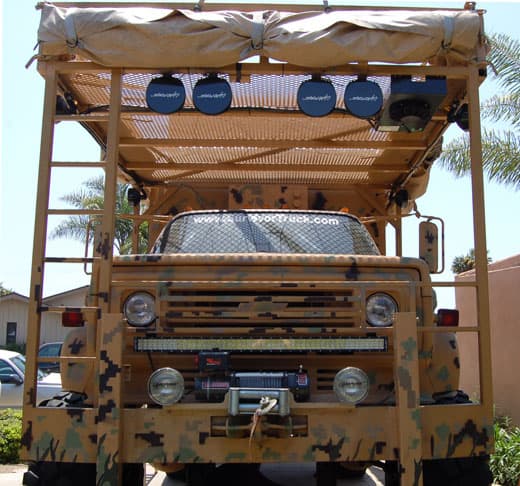 Vision For The Survivor Truck
On numerous occasions, I took my crew cab half-ton truck to pick up some ammunition, water, or gear and maxed out the truck's payload capacity.  Through these experiences I realized it wasn't enough for my needs.
Then I started looking at three-quarter and one-ton pickup trucks and military surplus vehicles.  When I realized the three-quarter and one-ton trucks were not going to be big enough, or offer enough payload, the project hit a turning point.
I had originally wanted the new truck to be a daily driver, but anything bigger than a one-ton truck was not going to be practical as a daily driver.  If the truck was not going to be a daily driver, I could go even bigger.  The Chevrolet C70 I eventually settled on is a thirteen-ton truck.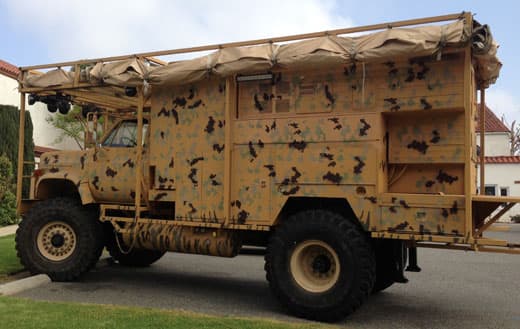 Ammunition Will Overload Half-Ton Truck
At the time, I ran a gun store.  When I picked up ammunition, I was getting 38,000 rounds.  I have since closed the store, but those experiences showed me how limited a half-ton truck's payload really is.  If I needed to use the truck as a bug-out vehicle, I would have to choose between taking my family, or the needed food, water, and gear.  Clearly that's not a choice at all, and I needed a truck with more capacity.
The Survivor Truck is designed to be the ultimate bug out vehicle.  We have enough water, gear, clothing, food packs, to support a family for weeks or months.  There's a lot to consider during a evacuation or survival event.  The Survivor Truck is ready.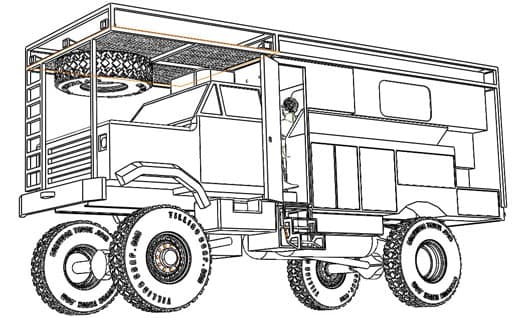 Purpose of the Survivor Truck
When I was designing the Survivor Truck, I was thinking what my family would need in various emergency situations.  I also wanted to keep my wife and children comfortable.  Those were my personal goals for the Survivor Truck.
I am a professional security consultant.  With that perspective I designed the rig to accommodate the needs of the security industry, small police and military strike and surveillance teams, the border patrol, and firefighters working wildland forest fires.
"It also features an active faraday cage to protect its occupants and the communication equipment, cameras, monitors, and computers from lightning, EMP, high voltage lines, and electronic eves dropping."
The Survivor Truck can be configured to their needs allowing them to get to where they need to go and do what they need to do, unsupported, for weeks at a time. It's an all-purpose vehicle platform built to their specific needs.
The Best Vehicle For The Survivor Truck
When I was designing the Survivor Truck, I looked at fire trucks, armored cars, military vehicles, utility and service trucks, and various motorhomes.  Nothing offers the versatility and capability of the Survivor Truck.
If there had been something like the Survivor Truck on the market, I would have bought it.  When I realized I couldn't find something that met my requirements, I created the Survivor Truck.
OTHER EXTREME VEHICLES – Semi Truck Build | Triple Slide On A Class 5  | Fuso Camper
Survivor Truck Sponsorships
I could not have afforded to do this on my own.  About eighty percent of the build has been sponsored by approximately eighty sponsors.  One of the first companies to join the project as a sponsor was Tilling Consulting.  They helped me to design and engineer the Survivor Truck and incorporate the products the other sponsors sent in.
"If you start with an older vehicle, like this one, the whole rig would be around $225,000."
Through the sponsorships, we have been able to greatly expand what the Survivor Truck can do.  Our philosophy is that it's better to have something and not need it, than need something and not have it.  With such a large vehicle platform, we can have everything we could possibly need.
The Survivor Truck Is A Chevy C70
We actually did not specifically seek out this truck.  We were originally looking for a diesel, crew cab, but ended up with a gas, standard cab.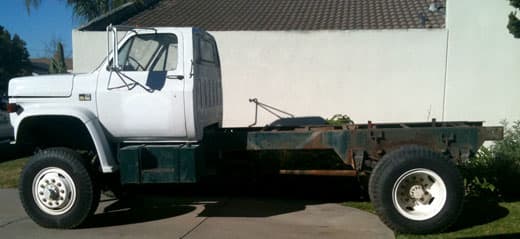 Ultimately it was the right vehicle.  We knew we wanted a multi-fuel vehicle, but they are not as readily available as I had hoped.  Diesel engines cannot run on propane as their primary fuel and propane is ideal.  It can be stored in large quantities, and lasts forever.  The Chevy C70 ran on gasoline and we set it up for propane through Carb and Turbo.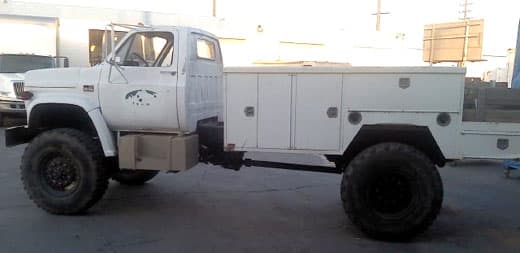 The GM 366 Tall Block was very popular for school buses that ran on propane so it is a tried-and-true system.  I don't have it set up for natural gas but I could.  In the event of emergency situation, I believe that diesel will be harder to find than gas.  I think propane will be most readily available.
Bullet Proof Command Center
Where the crew cab would have been we designed our own secondary cab area as a command center.  The command center acts as a lock-down bullet-proof safe area in between the truck cab and the camper.  It gives the truck a sleeping and comfort area and people can also work in the command center at the same time.
The safe room is armored with steel and fiberglass.  It also features an active faraday cage to protect its occupants and the communication equipment, cameras, monitors, and computers from lightning, EMP, high voltage lines, and electronic eves dropping.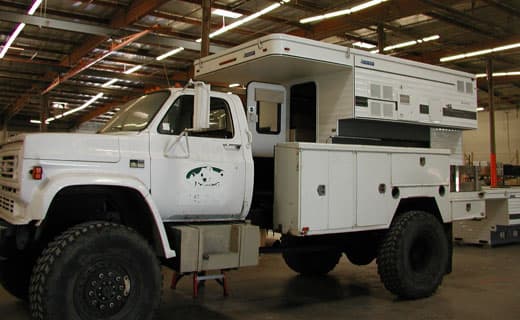 Best Camper For The Survivor Truck
In order to keep the vehicle signature and center of gravity as low as possible, I went with a pop-up truck camper.  The Four Wheel Camper seemed to be the best fit because they are designed for off-road and off-the-grid four-wheel drive applications.  For the quality, craftsmanship, and off-road design, Four Wheel Campers was the right choice.
Four Wheel Camper Keystone Model
It's basically the Keystone model, but it was customized for us.  We went to the factory and worked with Tom Hanagan, President of Four Wheel Campers, and his team.
The main custom change is a door in the front and the back of the camper.  They had to reinforce the frame to have egress into the command center.  Four Wheel Campers then had to move the bench from the front and redesign some of the interior because of the second door.
Other custom aspects include removing the fresh water holding tank and moving it to the truck.  The Survivor Truck has a fifty gallon water tank as its primary water tank.  It also has other supplemental water tanks.  The big water tank is actually below the bed of the truck.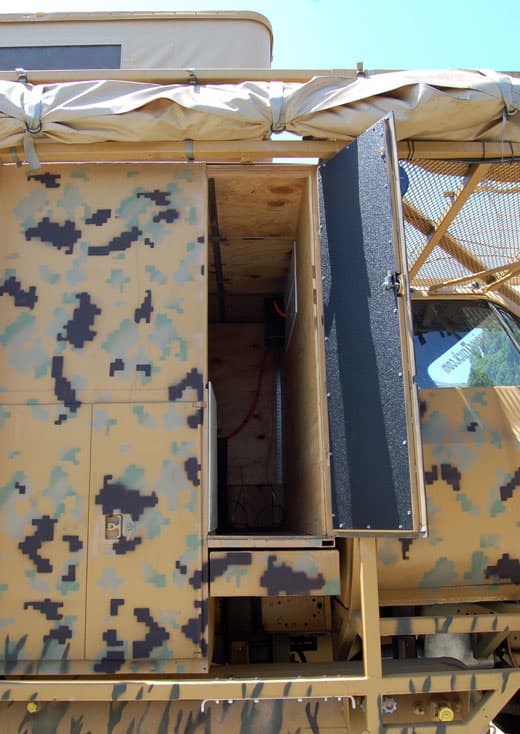 The truck bed has a sixteen-inch riser system which gives us thirty-eight cubic feet of additional storage under the camper.  There is also a four drawer system, with two of the drawers being accessed from inside the command center.  The water system is then below that.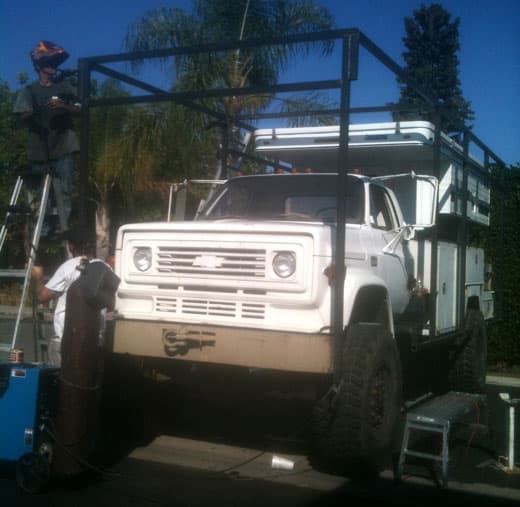 Fitting the Four Wheel Camper
We used a standard utility bed on the Survivor Truck.  It's the same width as a regular truck bed.  The Four Wheel Camper was one of the first things we decided upon.  Once had that done, it was just engineering and fitting things.
Everything in the Survivor Truck was scanned into SolidWorks.  Before we even went to Four Wheel Camper, we had the Keystone in SolidWorks and made sure it was going to fit.  We designed the utility bed around that, and then the bed was modified after the camper was on to get even more storage.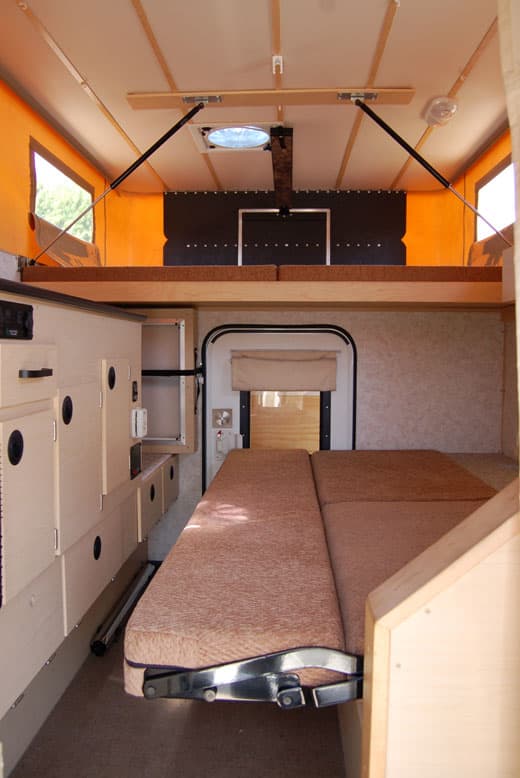 Four Wheel Campers put just about every option they offer on this camper.  We have the cassette toilet, refrigerator, two burner stove, sink, water heater, and a water pump.  The shower is a shower pan with an attachment, curtain, and drain.  We have the queen bed extension, air conditioning, heat, and solar on the roof.  We essentially have everything they offer, including the cold weather soft wall insulation pack.  They did it right.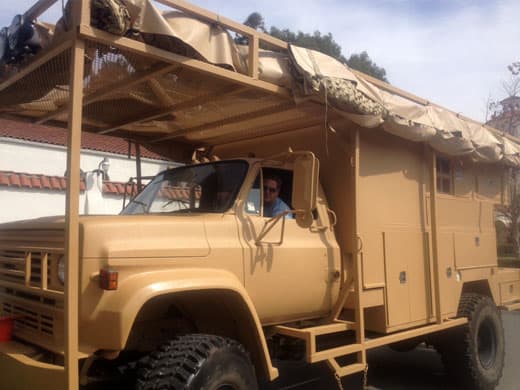 Modifications to the Four Wheel Camper
The camper is completely coated in Rhino lining, but is otherwise stock as it came from the factory.  We are adding an entertainment module at some point.  It's permanently bolted to the truck.
Initially we were going to build our own camper, but  the with the attention to detail Four Wheel Campers offers, there was no need.  This camper works perfectly for our needs.
We have talked to them about future Survivor Trucks and they have agreed to help us with that.  They also make a hard sided version of the Four Wheel Camper, which expands the potential.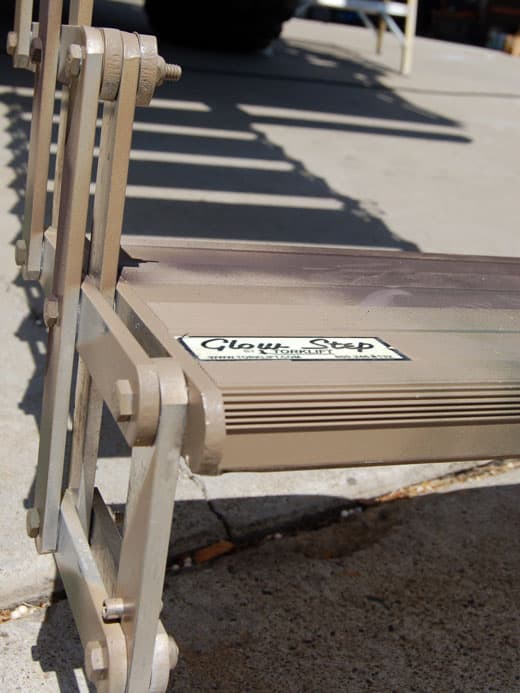 Torklift Glowsteps on The Survivor Truck
We contacted Torklift International and they were happy to work with us.  The Torklift Glowsteps were a simple application that I installed myself.
Since that first Glowstep installation, the vehicle was lifted four and a half inches and taller tires were added.  With these changes, the rig is actually a foot taller than it was originally.  To add an additional foot, Torklift built me a new Glowstep system.  They've been terrific.
During the SEMA show, I would be busy talking to someone and there would be two or three people standing on the Glowsteps at the same time.  There have been thousands of people up and down those steps at shows.  I go up and down all the time with heavy stuff.  I've overtaxed those steps on dozens of occasions and they've survived.  Torklift's product is great.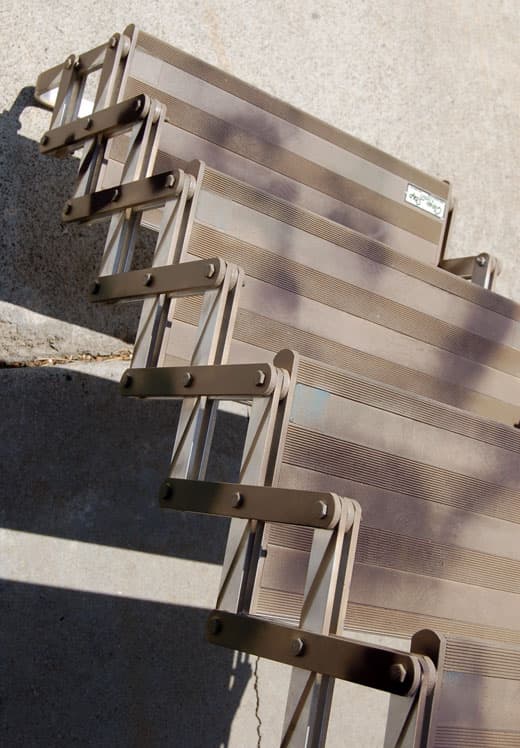 Above: Torklift Glowsteps looking down from the camper
There's actually two sets of Glowsteps on the Survivor Truck.  The second set is on the side leading to the command center.  The rear Glowstep system also features the Glowguide handrail system.  The Torklift Glowsteps and Glowguide have taken a lot of abuse and they've performed flawlessly.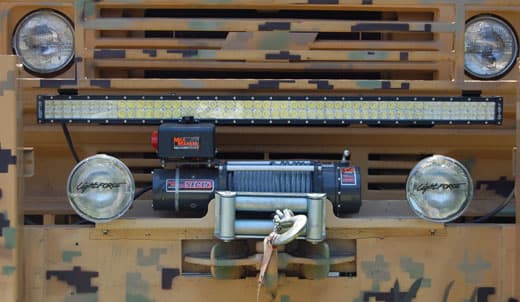 The MileMarker winch and crane hook, Bulldog Lighting 50″ LED combo-beam light bar and the LightForce 170 Stryker lights.
It's very close to being complete, but there are some things left.  I am getting a new air conditioner from Dometic for the command center.  I am also re-doing the entire dash of the truck with VDO Gauges and I want to improve the surveillance system.  It should all be done before the Overland Expo.
Taking a step back, the Survivor Truck has already exceeded my expectations.  In terms of the vehicle itself, it has surpassed what I wanted it to accomplish.
Total Cost of the Survivor Truck
If I was to build one for someone, it would cost less than it cost me because I have done all of the engineering and fabrication.  The total cost depends on the chassis we start with.  If you start with an older vehicle, like this one, you can find a truck for about $10,000 to $12,000.  Then the whole rig would be around $225,000.
If you want thermal imaging and night vision, it would be about $300,000, depending on the level and sophistication.  If you want an armored vehicle, you need a permit.  It's really all up to how big and how bad you want to make it.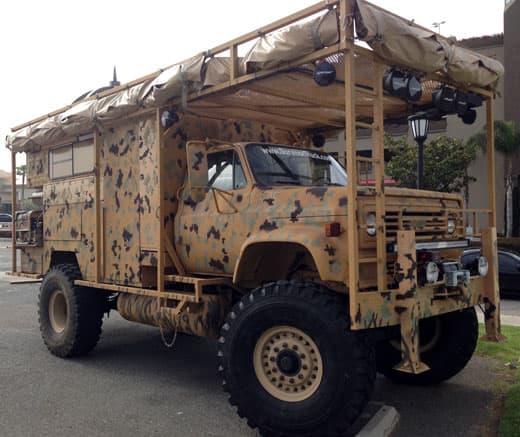 It is an event to take the Survivor Truck out.  I have to be careful when I'm driving as people will step into the road to photograph or video the rig.  Honestly, it's not a big deal when you're camping.  We go camping like everyone else, we just have a cooler camper.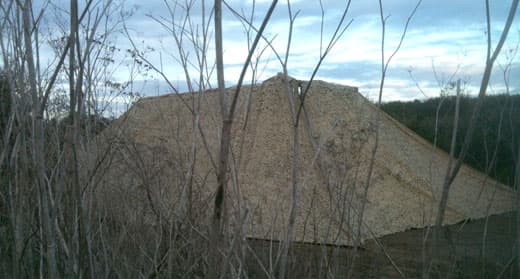 Security During An Emergency Situation
Security is not a concern.  It is what it is.  If the rig is moving it's fine.  When we are stationary, we have cameras and camouflage nets.  We throw down the equalizer system and the camo nets and we look like a mound of dirt in the background.  We become almost invisible.  Even if someone sees us, we look like a hardened target.
Next For The Survivor Truck
In a couple of weeks I'm taking my family camping in the Survivor Truck.  It's a great camper.
We just filmed a segment for the Travel Channel's Extreme RVs show.  That will air in the next few months.  We will be at the Prepare 2 Endure emergency preparedness expo in June, a gun show at end of June, and some other events.  We'll keep the ball rolling and see what happens.  The truck cannot be ignored.  It also drives traffic to the SurvivorStuff.com website where we have products like water purification systems food and other things we carry on the truck.
The truck has forced me to meet people who introduce me to other people that I need to meet.  It's been a great experience.
OTHER EXTREME VEHICLES –  The Amphicamper  |  World Ready Rig |  Flatbed Truck Camper