Richard and Karen Parsons share their story of assembling a Northstar American Hero flatbed truck camper with a Chevy Silverado 3500HD crew cab flatbed truck.
For the past five years or so, a few truck camper manufacturers have been building their multi-slide basement models above the side rails.  This means the floor of the truck camper is literally above the side rails of the truck giving these models significantly wider floor plans and enormous basements.  With no wheel wells or side rails in the way, everything is wide open.
Unfortunately, building above the side rails also means raising the center of gravity and adding material (increasing cost and weight) to these designs.  Furthermore, the higher center of gravity and additional material necessary to build these campers mean you'll need a serious truck.  Don't even think of anything less than a late model one-ton Ford or Chevy dually.  A Ford F550 would be an even better idea.
What if there was another way to get the wider floor space without the high center of gravity, additional weight, and higher cost of building above the rails?
The simple answer is to build a flatbed truck and truck camper.  With a flatbed truck, there are no side rails.  The truck deck is essentially the full width of the truck, at wheel well height.  It's like building above the rails, if the rails were the same height as the wheel wells.  In theory, all you lose are the truck rails.
When we met Richard and Karen Parsons at the North-East Truck Camping Jamboree in Gettysburg, Pennsylvania, we were very exited to see their Northstar American Hero flatbed truck camper rig.  Like many folks at that rally, we were full of questions.  What does it take to actually put together a flatbed truck and camper?  Are there some strategies involved when ordering the truck?  What's it like to load?  Thankfully, Richard and Karen agreed to an interview so we could share their story.
TCM: How did you get into truck camping?
Karen: We are fairly new to the world of truck camping.  We have always been tenters and canoe campers.  As we got older, tenting and canoe camping become more and more difficult.  In the summer of 2010, we decided to go a different route and purchase a truck camper.  We already had a Chevy Silverado 1500.  After researching truck camper dealers in our area, we purchased a Northstar Freedom.
Dick: The Northstar Freedom was the smallest hard side truck camper Northstar made at that time.  We had already purchased a truck and then decided to get a truck camper.  It would have been much better to choose our truck camper first, and then get the truck we needed for that camper.  We did it backwards.
We live in the Adirondacks.  We are often gone for a week at a time.  We love camping and the truck camper seemed to fit our need to get into four wheel drive places in the wilderness.  Plus being able to drop the camper and drive the truck away was attractive.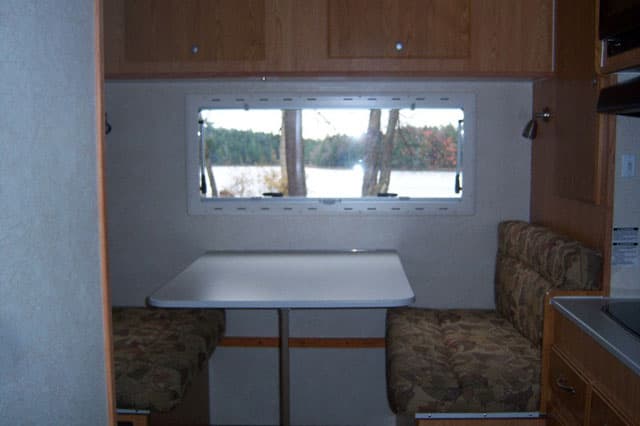 Above: The dinette of the flatbed camper is in the rear so the Parsons back up and face the water when camping
TCM: The Northstar Freedom is a nice camper.  What made you change to the Northstar American Hero flatbed camper?
Dick: We needed more room, but we're not crazy about slide-out model truck campers.  A flatbed truck camper gives us the additional room and floor space without slides.  Some of the people I've talked to who have owned slide-out truck campers have had problems, like the slide-out motors seizing up and having to crank the slide-out in by hand.
Karen and I get into tight spaces while truck camping.  Some of those places do not have room to put out a slide.  We also felt more comfortable with a non-slide camper like the American Hero.  The dinette is in the back, so when you back up and face the water you've got the big window to look at the lake.
TCM: Once you realized you wanted a flatbed truck camper rig, how did you go about designing and choosing a flat bed truck?
Dick: I got a lot of information about flat bed trucks from Rex Willett, Vice President of Northstar.  Talk about a guy who went above and beyond.  He went through fifty to sixty pictures of trucks, and gave us websites to pick out different models of flat bed outfits.  From the pictures and information he sent, we picked out what we wanted.
The flatbed I chose is really nice because it has four storage boxes, two on each side.  It's great having extra exterior storage space.  Our two Shetland Sheepdogs take up the crew cab, so some things would have otherwise been piled into the camper.  I can also take firewood in the flat bed storage boxes.  For the first time, we have ample space for what we want to take.  Rex took care of it all.