Richard and Karen Parsons share their story of assembling a Northstar American Hero flatbed truck camper with a Chevy Silverado 3500HD crew cab flatbed truck.
For the past five years or so, a few truck camper manufacturers have been building their multi-slide basement models above the side rails.  This means the floor of the truck camper is literally above the side rails of the truck giving these models significantly wider floor plans and enormous basements.  With no wheel wells or side rails in the way, everything is wide open.
Unfortunately, building above the side rails also means raising the center of gravity and adding material (increasing cost and weight) to these designs.  Furthermore, the higher center of gravity and additional material necessary to build these campers mean you'll need a serious truck.  Don't even think of anything less than a late model one-ton Ford or Chevy dually.  A Ford F550 would be an even better idea.
What if there was another way to get the wider floor space without the high center of gravity, additional weight, and higher cost of building above the rails?
The simple answer is to build a flatbed truck and truck camper.  With a flatbed truck, there are no side rails.  The truck deck is essentially the full width of the truck, at wheel well height.  It's like building above the rails, if the rails were the same height as the wheel wells.  In theory, all you lose are the truck rails.
When we met Richard and Karen Parsons at the North-East Truck Camping Jamboree in Gettysburg, Pennsylvania, we were very exited to see their Northstar American Hero flatbed truck camper rig.  Like many folks at that rally, we were full of questions.  What does it take to actually put together a flatbed truck and camper?  Are there some strategies involved when ordering the truck?  What's it like to load?  Thankfully, Richard and Karen agreed to an interview so we could share their story.
TCM: How did you get into truck camping?
Karen: We are fairly new to the world of truck camping.  We have always been tenters and canoe campers.  As we got older, tenting and canoe camping become more and more difficult.  In the summer of 2010, we decided to go a different route and purchase a truck camper.  We already had a Chevy Silverado 1500.  After researching truck camper dealers in our area, we purchased a Northstar Freedom.
Dick: The Northstar Freedom was the smallest hard side truck camper Northstar made at that time.  We had already purchased a truck and then decided to get a truck camper.  It would have been much better to choose our truck camper first, and then get the truck we needed for that camper.  We did it backwards.
We live in the Adirondacks.  We are often gone for a week at a time.  We love camping and the truck camper seemed to fit our need to get into four wheel drive places in the wilderness.  Plus being able to drop the camper and drive the truck away was attractive.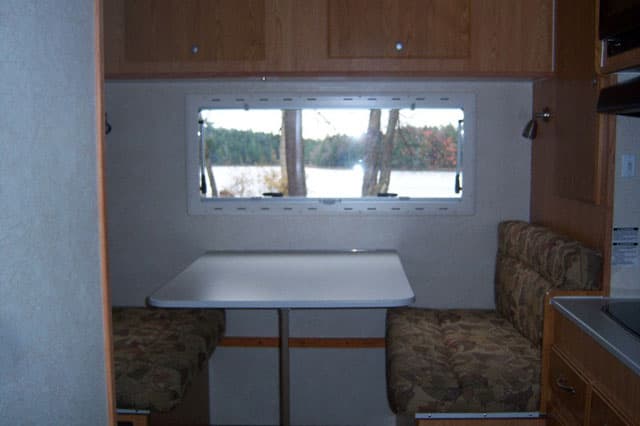 Above: The dinette of the flatbed camper is in the rear so the Parsons back up and face the water when camping
TCM: The Northstar Freedom is a nice camper.  What made you change to the Northstar American Hero flatbed camper?
Dick: We needed more room, but we're not crazy about slide-out model truck campers.  A flatbed truck camper gives us the additional room and floor space without slides.  Some of the people I've talked to who have owned slide-out truck campers have had problems, like the slide-out motors seizing up and having to crank the slide-out in by hand.
Karen and I get into tight spaces while truck camping.  Some of those places do not have room to put out a slide.  We also felt more comfortable with a non-slide camper like the American Hero.  The dinette is in the back, so when you back up and face the water you've got the big window to look at the lake.
TCM: Once you realized you wanted a flatbed truck camper rig, how did you go about designing and choosing a flat bed truck?
Dick: I got a lot of information about flat bed trucks from Rex Willett, Vice President of Northstar.  Talk about a guy who went above and beyond.  He went through fifty to sixty pictures of trucks, and gave us websites to pick out different models of flat bed outfits.  From the pictures and information he sent, we picked out what we wanted.
The flatbed I chose is really nice because it has four storage boxes, two on each side.  It's great having extra exterior storage space.  Our two Shetland Sheepdogs take up the crew cab, so some things would have otherwise been piled into the camper.  I can also take firewood in the flat bed storage boxes.  For the first time, we have ample space for what we want to take.  Rex took care of it all.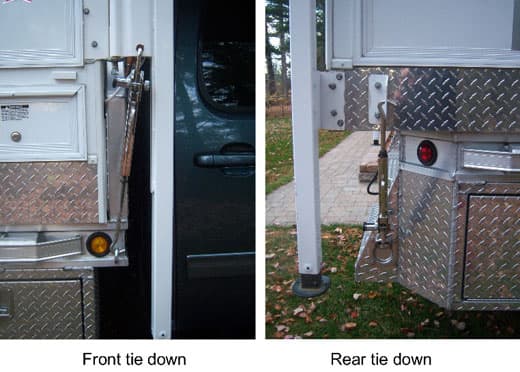 Rex also made suggestions for where the tie-downs should be.  We needed the Torklift Fastguns to go in the right place.  He oversaw the entire rig coming together.  The camper may not have fit properly without his guidance.  That's one of the reasons I stayed with Northstar.  There's no way I'd do business with anyone else.  I have never dealt with anyone where I could just call up the Vice President or President.  They guided us through the process and bent over backwards for us.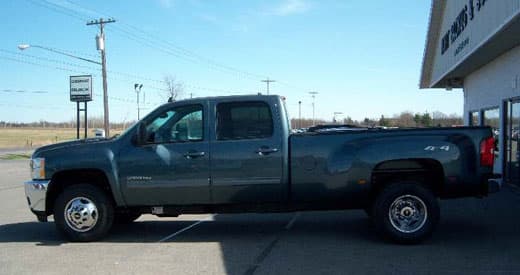 Above: Chevy Silverado 3500, dually, 4×4 before the box came off
TCM: How did you go about ordering the truck for the Northstar American Hero flatbed truck camper?
Dick: Instead of purchasing a cab and chassis, we purchased a Chevy Silverado 3500HD with dual rear wheels and four wheel drive.  The first dealer I went to didn't seem too eager to sell me a 3500 and take the box off.  If you just order the cab and chassis you lose things.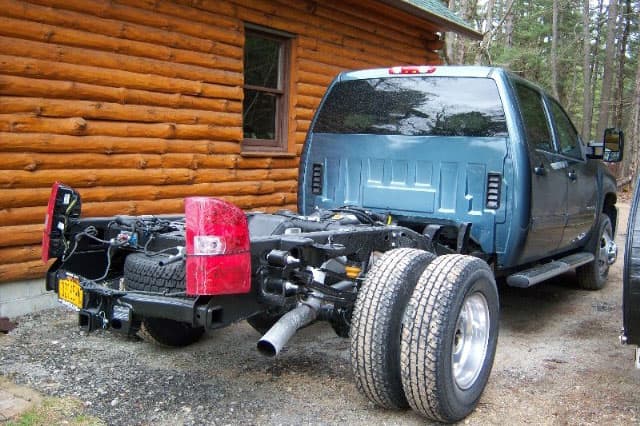 Above: The Chevy without the bed; they got to keep the spare tire and holder, the hitch, and the wiring
I eventually found a dealer in New York who agreed to buy back the bed which allowed us to keep the spare tire and holder, the hitch, and the wiring.  These items do not come with a truck chassis.  By buying the truck and having the bed removed we didn't lose things we needed.  The Chevy dealer gave us $500 for the bed.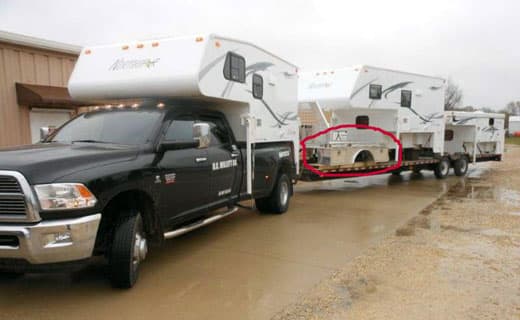 Above: Their flatbed was shipped with a load of Northstar Campers
TCM: That's an excellent point; to not assume that a cab and chassis is the better option.  And selling the truck bed back to the dealer you bought the truck from is an interesting option.  How did you go about selecting the flatbed itself?
Dick: Rex recommended a company called Alum-Line that specializes in manufacturing aluminum flatbeds and trailers.  Alum-Line is located in Iowa about an hour and a half from Northstar Campers which allowed Rex to make everything fit together perfectly.  Once ordered, it was about five weeks before the flatbed was ready.
When the flatbed was completed, it was picked up and put on with a load of new Northstar truck campers going to Truck Camper Warehouse in New Hampshire.  Bill Penney, Owner of Truck Camper Warehouse, spent a couple of days installing it on our truck.  There was some tweaking that had to be done and Bill made sure everything was to our satisfaction.
TCM: It sounds like the flatbed needed adjustments to make it work right with the truck.
Dick: The only hang up was to modify some things on the bed.  Bill took it down the road to a welding shop and was back in a half hour.  Bill had installed a few flatbeds before, but they were not as complicated.  Truck Camper Warehouse did a great job.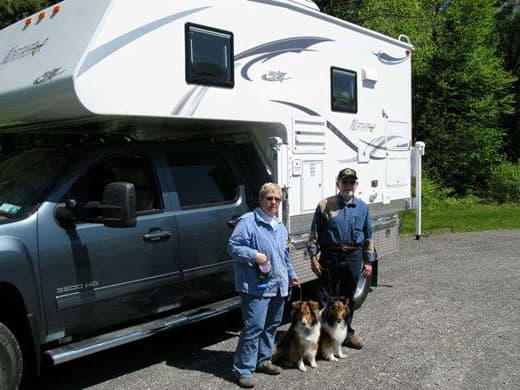 Above: Karen, Dick, and their two Shetland Sheepdogs at Truck Camper Warehouse
I would definitely do it again.  Rex and Bill knew what they're doing, so getting their expertise was vital.  It was an easy process.
TCM: Let's back up and talk about how you ordered the Northstar American Hero flatbed truck camper.  Where did that begin?
Dick: In early 2012 we began thinking about a larger camper.  We decided to stay with Northstar and were particularly interested in the flatbed American Hero as it offered much more floor space than the traditional truck camper without having slide-outs.
We contacted Northstar to see if there might be one at the February RV Show in Springfield, Massachusetts that we could look at.  Rex responded that there would be an American Hero at the show in Truck Camper Warehouse's booth.  He also said that he would be attending the show and was looking forward to meeting us.
At the show, we fell in love with the American Hero, especially all the extra floor space.  We debated whether to wait a year, but decided to buy the demo at the show.  We placed a down payment and Bill Penney agreed to hold it for us.
Karen: I really like the European sink.  With the glass top, I get even more space.  We also have more wardrobe space and the refrigerator and freezer are so much bigger.
Above: Flatbed camper off the truck, Forked Lake in Adirondacks, New York
TCM: Is it easy to load and unload your flatbed truck camper?
Dick: It's very easy because you don't have to worry about getting in between the wheel wells.  In fact, it's much easier loading the American Hero flatbed camper than loading a traditional camper.  We don't hesitate to take it on and off.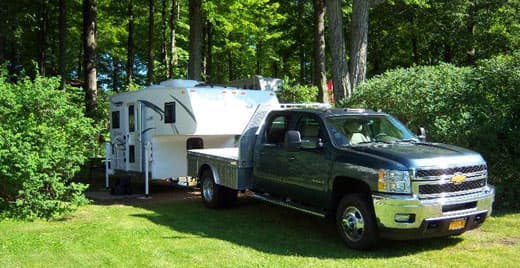 Above: Flatbed in Clayton, New York
Most of the time we have the camper off the truck.  If we stay one night, we keep it on.  If we stay more, we take it off.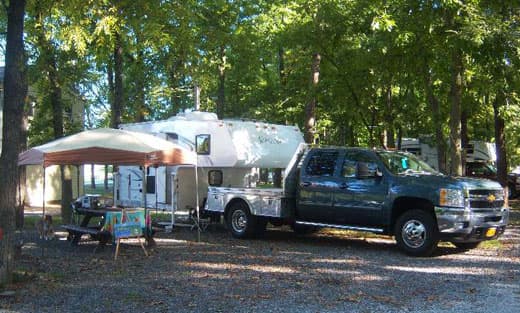 Above: Dick and Karen's rig at the NE Jamboree in Gettysburg, Pennsylvania
TCM: You haven't had the American Hero for very long.  Has it been on a few adventures yet?
Dick: Yes, we have taken several trips with our new Northstar American Hero.  We've gone about 3,000 miles this past spring and fall.  The rig certainly turns a lot of heads.
Our last trip was to the Northeast Truck Camper Jamboree in Gettysburg.  We were quite an attraction as very few people had seen a flatbed camper.  We gave many tours and answered many questions.  The most asked question was "How do you keep it on?".  Jokingly we'd say "Elmers and duck tape".  Of course it has tie-downs like any other truck camper.
TCM: We get that question about what keeps the camper on with regular truck campers all the time and like to joke, "Chewing gum and gravity".  You should see the looks we get before we show them the tie-downs and turnbuckles.  I hope we can catch up with your adventures down the road and learn more about what it's like to use a flatbed truck camper in practice.
Dick: We highly recommend looking into a flatbed truck camper.  We love our American Hero.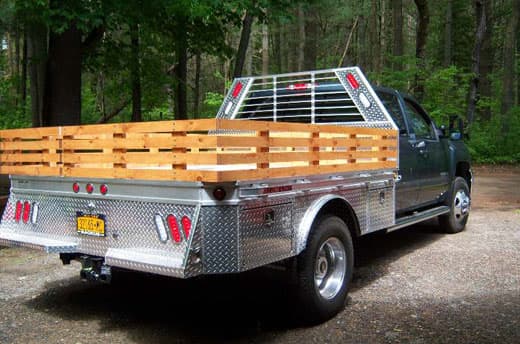 Above: The flatbed truck is versatile; the Parsons had a bed rack made so they could use the truck when the camper was not being used.
Truck: 2012 Chevy Silverado 3500, crew cab, dual rear wheel, long bed, 4×4, gas
Camper: 2012 Northstar American Hero
Tie-downs and Turnbuckles: Torklift Fastguns
Suspension Enhancements: Firestone Airbags
Gear: Aluminum storage bed