Bruce and Kim Scott (Spott) share their winter truck camping advice from staying warm, to driving and towing in winter conditions, to hiking, sledding, and a crock pot.

Truck Camping in the Winter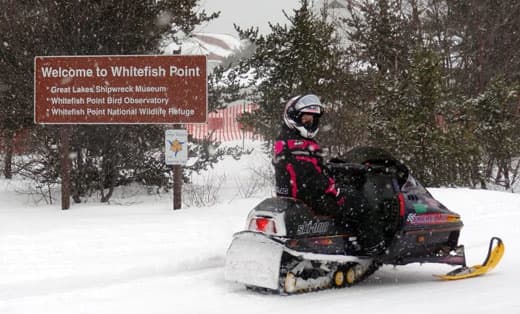 Kim: I love driving to where the snow is and we both enjoy the outdoors.  We have always liked to go sledding and riding snowmobiles.
Our first truck camper was small, and it wasn't suited for winter camping.  When we started to look for our second truck camper, we wanted something we could camp in year round.  Our idea was to travel north to the Upper Peninsula of Michigan in the winter to see the sights and play in the snow without the crowds.
Staying Warm in the Truck Camper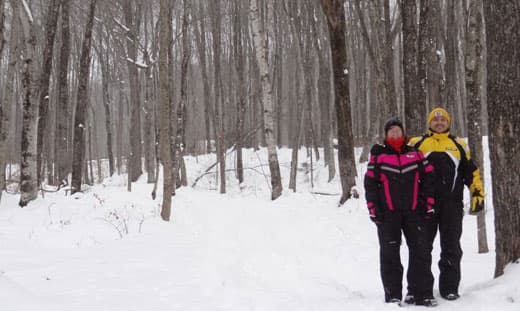 Kim: When we go north in the winter, we don't know if it's going to be cold or if it's going to be really cold.  Usually the weather is sunny, and it's really pretty with the snow, but it's always cold.  Rule number one is to dress right.
We layer our clothing.  We may even feel overdressed sometimes, but we're warm.  Our layers are typically undershirts, sweatshirts, a winter coat and boots, and then, if we're snowmobiling or sledding we'll add bibs and heavier boots.  If we start to get warm, we take off a layer or two.  Freezing is no fun.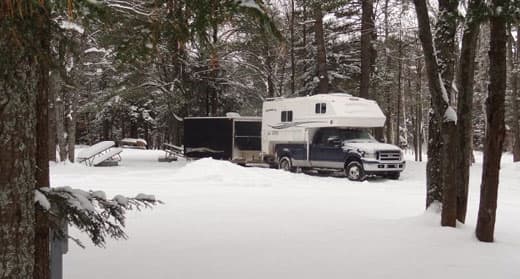 We keep our camper at 70 degrees, so it's nice and warm inside.  We want to be comfortable.  Because of how well insulated our Northern Lite is, and with Bruce's modifications, we are able to be in jeans and t-shirts inside the camper.  Since we are on vacation when we are winter camping we want to be relaxed and comfortable.  We do not want to worry about how much propane we're using.
Winter Check Lists and Gear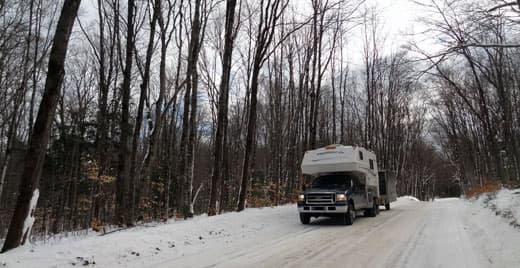 Bruce: We have a winter checklist for the truck, camper, house, and snowmobiles.  In the summer we also have checklists for the dune buggy and boat.  We really like our toys, and our lists.
For the house we always turn the water off when we leave.  If the house were to freeze, the pipes may still break, but it's not going to flood.
Kim: The only special items we bring with us are heavy duty boots and snowmobile suits.  We have two big duffle bags with our snowmobile helmets, coats, bibs, multiple pairs of gloves, hats, scarves, and other winter clothing items.  Everything is always ready to go in the duffles.  Then we bring our layering clothes.
Bruce: In the winter, we make sure to keep a snow shovel in the truck. In the past I have used it to get unstuck.  I have also used the shovel to level the camper by finding out which wheel is too high and digging a hole to drive into.  I don't like messing with blocks, and don't use them if I don't have to.
Driving the Camper In Winter Conditions