Bertram and Kare Furman report on their experience on the White Rim Trail with a Northstar TC800 pop-up camper.  Turn hard at Hardscrabble, gun the diesel, and don't look down.

First, I must say, "Wow", the White Rim Trail is big!  When you are down in the canyon, it is difficult to gauge the scale of the formations around you until you see a truck or a person for perspective.  Even then the distance and size can be deceptive.
Above: To watch the above White Rim Trail video in HD, press play, click on the quality "gear" symbol in the lower right corner, and select 720p or 1080p.  HD video takes longer to load and play.  Click on the box in the lower right corner to view the video in full screen.
The White Rim Trail has been on my list for a long time.  I didn't want to do it alone as the trail is far from help, if needed.  Luckily, my friend Dave has also been interested in doing the White Rim Trail for a long time and worked very hard to get permits.  There are not many campsites down on the trail, so access is very limited.  Maybe one to four sites per camp zone.  As the trail is in Canyonlands National Park, it is highly regulated.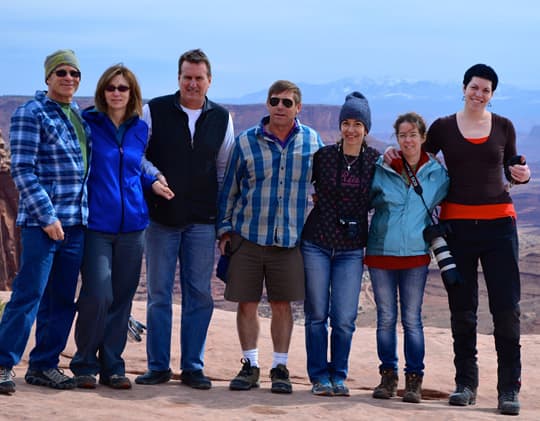 Above: The group that tackled the White Rim Trail.  Bertram and Kare are on the far left.
Dave, our team leader, has an 1987 Toyota Land Cruiser FJ60, a classic.  He outfitted a screen safety door on top of his racks to use as a platform to carry much of his gear.  He needed to do this because his wife invited two of her friends to join us; two women from Sweden who were originally from Cuba and Czechoslovakia.  One was here for a conference.  For the other, this would be her first time to the states.  What a cool way to see our country!  She rode with Eric in his 2008 Dodge 2500 CTD with a Four Wheel Hawk, which is a perfect set up for this trail.  A light camper on a powerful truck.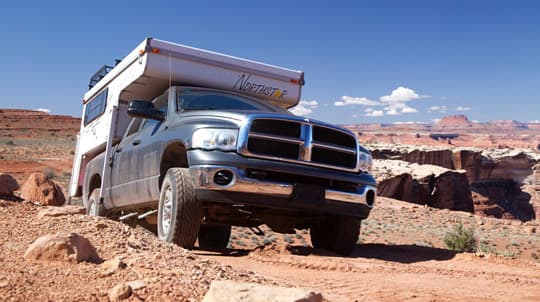 My rig is a 2004 Dodge 2500 Cummins turbo diesel with a Northstar TC800 pop-up.
There were a lot of logistics to the trip.  For starters, I needed to make sure my truck was ready.  I took my truck in for fluids, a new air filter, and to check for any loose bolts and fittings.  I thoroughly inspected the truck as well.  My nine year old tires were looking a little dry-rotted, so I replaced them with Bridgestone All-Terrain E-rated tires.  I thanked myself many times on the trail for doing this.
The drive out to the White Rim Trail from San Diego was a two-day drive, seven hours per day.  It took some planning to determine where our layover days would be.  We expected to be on the trail for six days, and we needed to have enough food and energy.  Typically, we can go two to three days on our one battery before using the generator, and we can pack about three days of food in our refrigerator.  Also, many of our longer trips bring us through towns to restock.
This time we took a large cooler with both block and cubed ice.  Because we were driving every other day, my batteries would get re-charged by the truck alternator.  This worked out.  The other fellow with a camper coming with us, Eric, had a solar panel on his camper and a twelve-volt cooler to supplement his refrigerator.  I envied his solar.  Dave was using dry ice for cooling, and was tenting.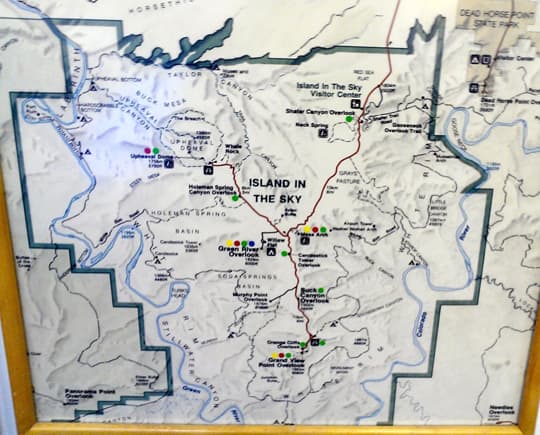 Above: The White Rim Trail is in Canyonlands National Park, Utah
The entrance to the White Rim Trail is Shaffer Road, which was built in the early 1900s to get to Uranium that was supposed to be in the canyon.  As I understand the history, some was found, but not that much.
The road is on a layer of White Rim Sandstone deposited some 220 million years ago.  The depth of these canyons goes back 320 million years.  For perspective, the deepest canyons where we live near Anza Borrego State Park go back about eight million years.
The Canyonlands National Park canyons are huge, both in breadth and depth.   And also in beauty!   The views were stunning.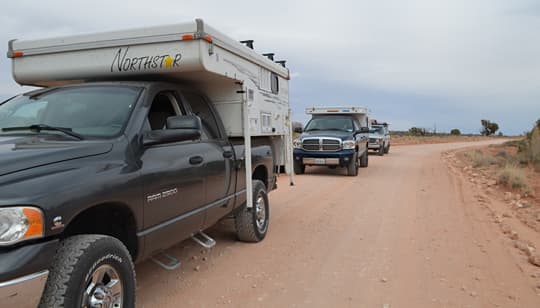 Above: The three rigs that tackled the White Rim Trail