With two kayaks strapped to the roof of their Northstar TC650, Stu and Karla Dekkenga seek out off-road opportunities and discover their fair share of bear.

There should be a stern warning on every tent sold; Tent camping is a known gateway drug that can directly lead to truck camping, a highly addictive form of outdoor recreation that results in a fun, fulfilling, and otherwise fantastic lifestyle.
It's true.  Our own studies have proven that tent camping, especially under the right circumstances, can compel one to purchase a truck camper almost immediately.  For example, tent camping on hard surfaces, during intense rain storms, or in extreme heat or cold can all result in an instant truck camper purchase.  It's that serious.
Stu and Karla Dekkenga represent what happens when this phenomenon strikes even the most steadfast and level headed citizens.  After a particularly heated tent camping experience, the Dekkengas resisted the overwhelming urge to purchase a truck camper, but soon it became inevitable.  Today, the Dekkengas are on their second truck camper, hopelessly addicted.
Let the Dekkenga's story be a warning for anyone who is considering experimenting with tent camping.  Sure, it may look cool, and maybe all of your friends are doing it, but don't give into peer pressure.  Unless you want to end up like the Dekkengas – visiting National Parks, exploring backroads, enjoying the many wonders of nature, and generally ziplining your life away – just say no to tent camping, and walk away.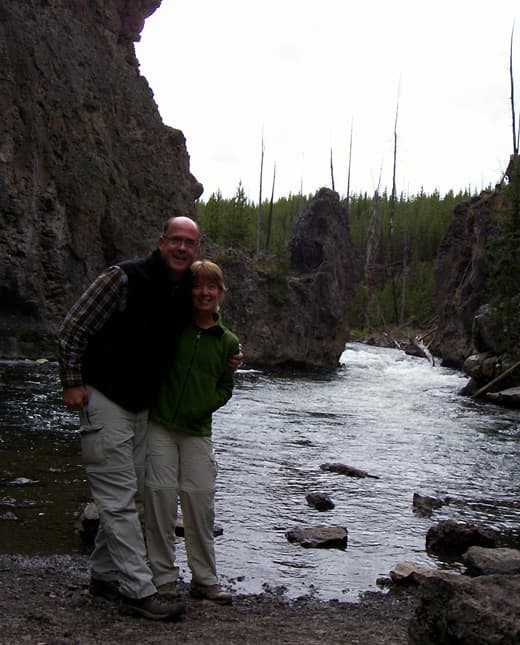 Above: Stu and Karla at Firehole Canyon
TCM: How did you get into truck camping?
Stu: We have always loved camping, especially with our horses.  Sometimes we pull our horse trailer to a local campground that has horse corrals and ride the nearby hills.
Before we bought our truck camper, we were hard core tent campers.  The last time we went tent camping it was about 95 degrees and humid at 11pm.  We were lying in the tent sweating and unable to sleep.  All around us we could hear air conditioners running in the horse trailers with living quarters.  That's when we looked at each other and said, "We're done with this".
Karla: At that point I was looking for a gooseneck horse trailer with living quarters.
Stu: We looked at different solutions for about two years.  Finally I said to Karla, "Let's try a pickup camper".  We could use the truck with and without the horse trailer.  We went back and forth with the idea, but kept thinking of everything we could do with one.  Eventually, I wore her down and she gave in.
Above: The Texson adventures in Yellowstone and the Grand Tetons
Karla: He made me promise to try it for one season.
Stu: I knew a friend, who knew someone, who knew someone with a pickup camper for sale.  This was a trial thing and I didn't want to spend a lot.  We found a 1990 Texson TC700 pop-up truck camper.
We took this little camper home.  It was almost in pristine condition.  We called Northstar and they sold us a kit to put a small air conditioner unit in the back window.  The camper was designed for a mid-size truck, so we built a platform under the camper to raise it about six inches to clear the truck cab and box sidewalls.  Finally, we extended the camper jacks out to the side to clear the wheel wells.  It was a bit of a Jed Clampett look.
We worked on the Texson camper for a few months and then took it to Yellowstone and the Grand Tetons to see if we liked truck camping.  We had a great time with that little camper.
Karla: At that point we gave up on the horse trailer with living quarters idea.  We were impressed with the quality of the Texson and wanted more information on a new Northstar.  I called Northstar and Rex answered the phone, which impressed me.  He said, "If you're in the area, you can come take a tour and see how our campers are made."
Stu: When we owned the Texson (now known as Northstar) I made simple modifications.  While making those modifications, I saw how the camper was put together and was impressed.  The other thing that sold us on Northstar is that they are built in Iowa, three hours away from us.  Also, when we were walking through the factory with Rex, he gave us a thorough tour of their production line, detail by detail.  We were very impressed with the whole process.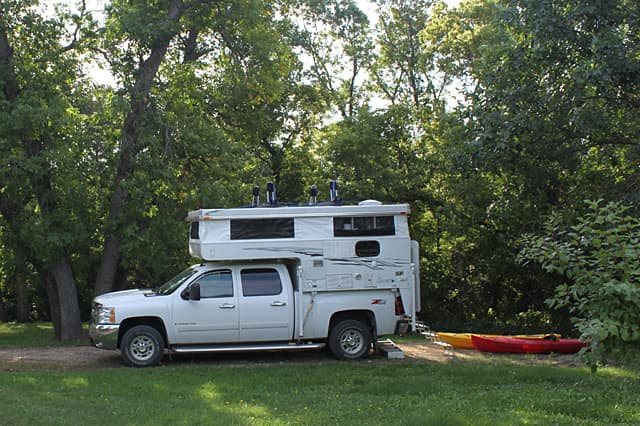 Above: Stu and Karla's Northstar TC650 in South Dakota
TCM: Why was a pop-up truck camper the right choice for you?
Stu: We liked the low profile advantage of a pop-up truck camper.  We also wanted a camper that would fit in the box of the truck.  We didn't want the camper to go past the bumper because at times we tow a horse trailer or a boat.  It's always just the two of us, so we don't need a lot of room.  We are typically only in the camper to prepare meals and relax before bed.
Karla: We also wanted a pop-up camper because of fuel efficiency, and they are lighter weight.
TCM: Last summer you went out in your Northstar for its first long trip.  Where did you go?
Stu: Glacier National Park was the major trip of the year for us.  We had been to Yellowstone National Park the year before, and people said that we had to go to Glacier.  Karla did quite a bit of research in the winter months.
Karla: We thought we would spend maybe three to four days in Glacier and then we would go back to Yellowstone and the Tetons.  But once we got to Glacier, we stayed.  We didn't see half that we wanted to see.  I want to go back this summer.
Above: Flathead Lake and Upper Whitefish, Montana
Stu: We spent the first night of the trip in Billings, Montana and the second night in Whitefish, Montana.  We like to hit the backroads, get off the interstate, and get off the paved roads if we can.
Karla: The next day we went zip-lining at Whitefish Mountain Resort.  After zip-lining, we took the gravel forest roads north of Whitefish to Upper Whitefish Lake in the Flathead National Forest, and camped at a beautiful remote primitive site.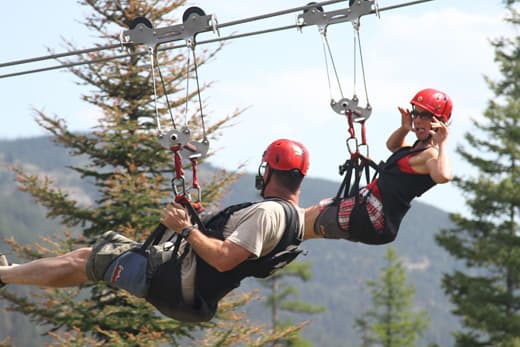 Above: Stu and Karla zip-lining at Whitefish Resort, Montana
TCM: Tell us about zip-lining.  It sounds fun, and a little insane.
Karla: It is so much fun!  You basically are screaming down a huge steel cable from one point on the mountain to another.  You hang under the cable and are attached by a harness to really fast trolleys that roll on the cable.  Some of the lines are very high off the ground.  Whitefish Resort had one line that was over 300 feet off the ground.
Stu: We've been rock climbing and rappelling for years.  Several years ago, we went on a big zip-line in Banff, Canada that crossed over a river.  That got us hooked.  Now, before we head somewhere, we check to see if there's a zip-line in the area.
Above: West Glacier campground, Montana
TCM: Tell us about your visit to Glacier National Park.
Karla: From Upper Whitefish Lake, we went northeast to Polebridge, which is on the northwest side of Glacier.  That was better than going through the front gate.  There are miles and miles of gravel roads to get into the northwest entrance of Glacier.  On the old forest roads, the fastest we could go was about fifteen miles per hour.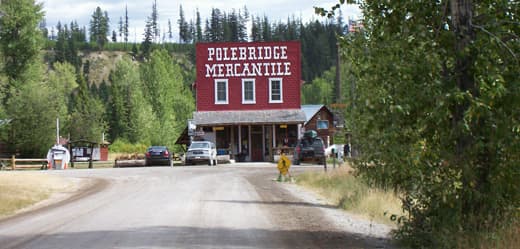 Above: A trip to northwest Glacier wouldn't be complete without the pastries at Polebridge Mercantile
Stu: Driving on that road, the rocks were so big that it felt like it was shaking the truck to pieces.  On the west side of the park, there's a place called Polebridge Mercantile, a small historic shop in an old red building.  It's just an amazing little place, completely off the grid, that runs off solar and propane generators.  And there's a bakery with great pastries for sale.
The Polebridge entrance of Glacier National Park is down gravel road a little, at the ranger station.  Once in the park, we went north to Bowman Lake.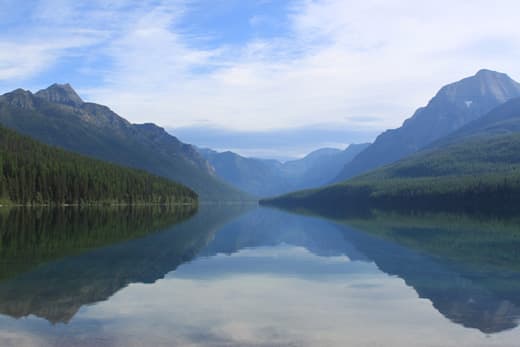 Above: Picturesque Bowman Lake, Glacier National Park
Above: Bowman Lake kayaking and hiking, Glacier National Park
Karla: That was slow going.  It was only about six miles of gravel, but it took us around an hour to get there.  Once we got to Bowman, the camp host had an army tent set up as a small information stand with maps and brochures about the area.  Bowman Lake campground did not have electricity or water hook-ups.  When doing research on Glacier, we wanted to go to the remote campgrounds.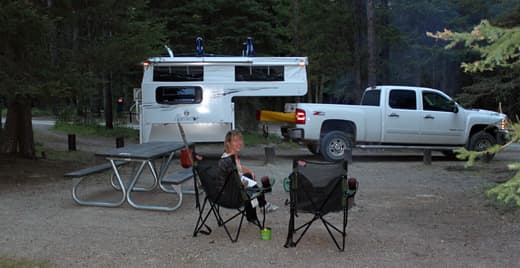 Above: Bowman Lake campground, Glacier National Park
The first night we were at Bowman we found our campsite.  We took a walk to the lake because we had been sitting for so long, got a feel for where things were, fixed supper, and enjoyed a fire.
Stu: That afternoon, we took our camper off the truck, threw the kayaks in the back of our pickup, drove to the lake, and paddled for an hour or so.  It was about a half mile from campsite.  But, because we had the truck, we didn't have to carry our kayaks.  The electric jacks and smaller size of our camper make it ideal for camping off the truck.  It is easy to take off and easy to put back on.  The next day, we took a 6.2 mile hike to Lower Quartz Lake.
When we left Bowman, we had to stop by Polebridge again to get more pastries.  We got back on some paved roads and wound up in the town of West Glacier.  We camped at Glacier Campground just outside the park for the night and got more supplies.  The next day we went to Glacier's Apgar visitor's center, and talked to the ranger about driving the Going-to-the-Sun Road with the camper and kayaks on top.  The ranger told us that he wouldn't do it because of the rock overhangs and narrow tunnels.  He thought we would rip a kayak off the top if we hit something or do damage to the camper.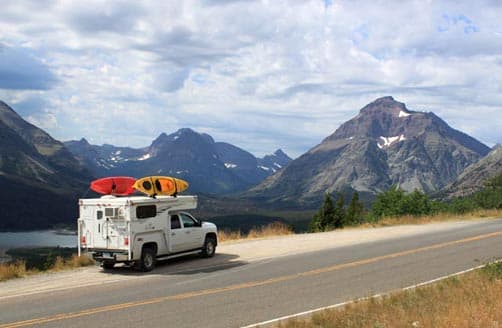 Above: The June TCM calendar winning photo, south of Glacier National Park
Karla: It was a blessing in disguise because we wound up taking Highway 2 that circles the bottom of Glacier National Park, to highway 49 and on to highway 89.  That's where we shot the calendar photo that got us the June spot in your calendar.  It was breathtaking!
Above: Many Glacier Campground and Grinnell Glacier, Glacier National Park
The northeast area of the park features the Many Glacier Campground.  The campsites were nice, but still primitive with no water or electrical hook-ups.  We saw several grizzlies every day.  There were frequent bear jams on the road.
Above: Cracker Lake horseback ride, Glacier National Park
While we were camping at Many Glacier, we took an all day (total eight hours) horseback ride to Cracker Lake.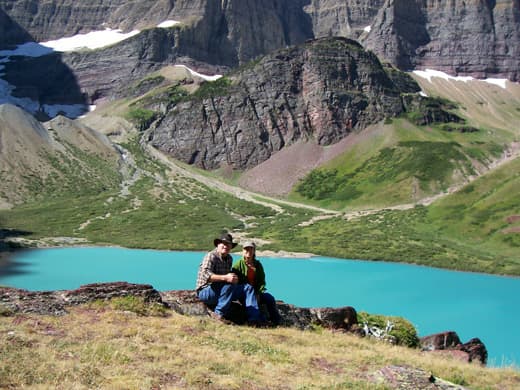 Above: Cracker Lake, Glacier National Park
The glacier is gone, but Cracker Lake was a glacial lake, so it has that amazing cloudy aqua color.  It's above the tree line and it's incredibly gorgeous!
Stu: We stayed at Many Glacier the longest.  We kayaked there on the Swiftcurrent Lake and went on a couple of hikes.  Grinnell Glacier was an eight hour hike.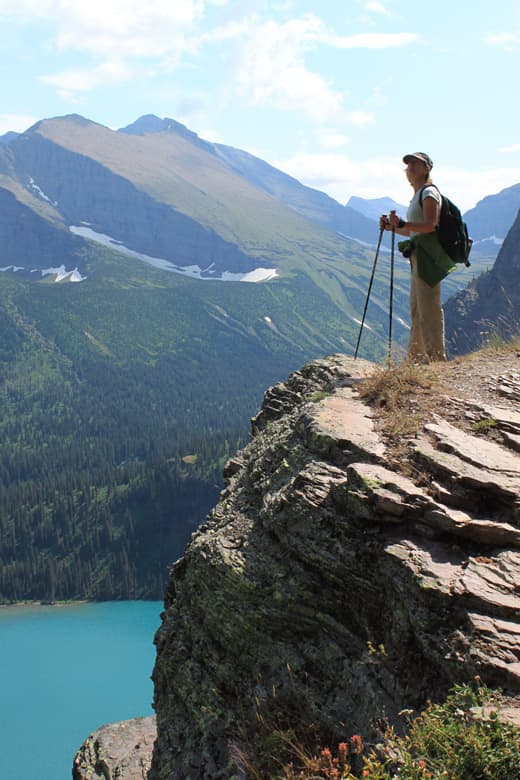 Above: Karla during the Grinnell Glacier hike, Glacier National Park
That was our most memorable grizzly bear day.  It took us four hours to get to the glacier.  On the way back we were in an area by Josephine Lake and came across a guy with a big camera.  He pointed to a mother grizzly with two cubs forty to fifty yards up the hill.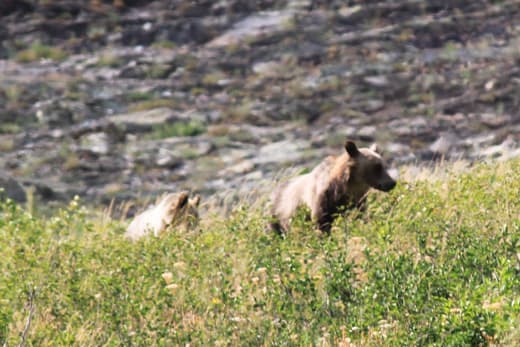 Above: Grizzlies at Josephine Lake, Glacier National Park
Karla: My hands were shaking as I changed camera lens to take pictures.
Stu: We teamed up with a couple from Ohio.  There's safety in numbers, right?  We wanted to get our pictures.  We also wanted to get out of there safely.  We did what the professionals tell you to do; we talked loudly to make sure the bears knew where we were.  We had been told that most bear attacks occur when humans surprise the bears.  We got our pictures and we all headed on down the trail.  The bears were moving off in the same direction.  That was the closest we got to grizzlies and that was close enough.
TCM: Were you able to go on the Going-to-the-Sun Road with your camper?
Stu: No, we decided not to take the camper.  We had taken the camper off and drove the Going-to-the-Sun Road with our truck.  It was the day after the Grinnell Glacier hike.  We went from Many Glacier to West Glacier and back.
Karla: We drove the whole park and it was amazingly beautiful.  We spent so much time there and feel as though we didn't even scratch the surface.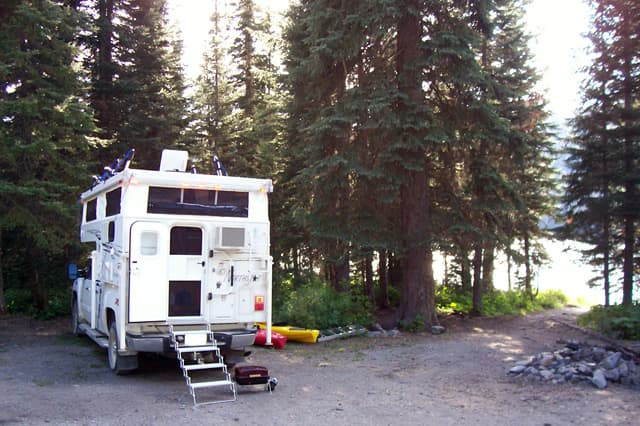 Above: The Northstar TC650 camped out at Upper Whitefish Lake
TCM: Were you concerned about the pop-top camper with the bears?
Karla: Not really.  The year before when we went to Yellowstone and one campground wouldn't let us camp there because of the soft wall of our pop-up.  That was ironic because we saw more bears in Glacier than we saw in Yellowstone and the Tetons.
We followed the directions of what to do regarding encounters with bears.  When we went on the Bowman Lake hike no one else was around.  We purchased those silly little bear bells and learned how to identify grizzly scat and black bear scat.  We had our bells and bear spray, and did a lot of loud talking to each other.  It seemed dumb to be doing that in the pristine forest, but when bears hear you singing songs, especially when approaching corners on the trail, they will avoid you, so we took it seriously.
Stu: I think our singing scared most of them away.  There were spotters in the campground with huge spotting scopes looking up the mountainside identifying bears.
TCM: How do you use your truck camper closer to home?
Stu: We will take local trips on the weekend within seventy to eighty miles of our house.  There is a nice campground about fifteen miles away we go to just to get away from home.
Karla: Our maiden voyage in the Northstar TC650 was last year on Mother's day.  We went to an old campground with old growth oak trees in the hills that very few people use.  We went mountain biking that weekend.  It was fun trying out our new camper nearby.
TCM: Sometimes it's just fun to be out in the camper.  Is there anything else that you would like to add to your interview?
Stu: It's a challenge with a small camper to find where to put things.  Last year we took the backseat out of our pickup.  I built a platform on the floor and that's where we store things that we don't use every day like boots and our small propane grill and an extra cooler.  I've got plans of building a better platform this year.  We don't have years and years of experience like other people.  We're still developing our own style and we're finding out what we like to do and what works for us.
Karla: We always take more than what we need.  We figure it is better to be over prepared than underprepared.
Stu: We found out at Bowman Lake that the smoke detectors in the Northstar work really well and are very loud.  We had been sitting out having a campfire, and wanted to have Jiffy Pop popcorn, so we tried it on the stove in the camper.  There were other campsites maybe forty to fifty yards away.  We were making the Jiffy Pop, got a rip in the bag, and dumped corn kernels in the stove.  Next thing we know the smoke alarm went off, and I couldn't get that alarm off the ceiling quick enough.
Karla: We were so embarrassed.  Here we are with Jiffy Pop and the smoke alarm.  No more Jiffy Pop inside the camper for us.
TCM: Everyone has done that.  We have set off our smoke alarm and embarrassed ourselves plenty of times.  We even did it once with Jiffy Pop.  Thanks for your story.
Stu and Karla: You're welcome.
STU AND KARLA DEKKENGA'S TRUCK CAMPER RIG
Truck: 2008 Chevy Silverado 2500HD, crew cab, single rear wheel, short bed, 4×4, gas
Camper: 2011 Northstar TC650
Tie-downs and Turnbuckles: Torklift Fastguns/bracket turnbuckles
Suspension Enhancements: N/A
Gear: Pro Rack, Thule rack for kayaks