With two kayaks strapped to the roof of their Northstar TC650, Stu and Karla Dekkenga seek out off-road opportunities and discover their fair share of bear.

There should be a stern warning on every tent sold; Tent camping is a known gateway drug that can directly lead to truck camping, a highly addictive form of outdoor recreation that results in a fun, fulfilling, and otherwise fantastic lifestyle.
It's true.  Our own studies have proven that tent camping, especially under the right circumstances, can compel one to purchase a truck camper almost immediately.  For example, tent camping on hard surfaces, during intense rain storms, or in extreme heat or cold can all result in an instant truck camper purchase.  It's that serious.
Stu and Karla Dekkenga represent what happens when this phenomenon strikes even the most steadfast and level headed citizens.  After a particularly heated tent camping experience, the Dekkengas resisted the overwhelming urge to purchase a truck camper, but soon it became inevitable.  Today, the Dekkengas are on their second truck camper, hopelessly addicted.
Let the Dekkenga's story be a warning for anyone who is considering experimenting with tent camping.  Sure, it may look cool, and maybe all of your friends are doing it, but don't give into peer pressure.  Unless you want to end up like the Dekkengas – visiting National Parks, exploring backroads, enjoying the many wonders of nature, and generally ziplining your life away – just say no to tent camping, and walk away.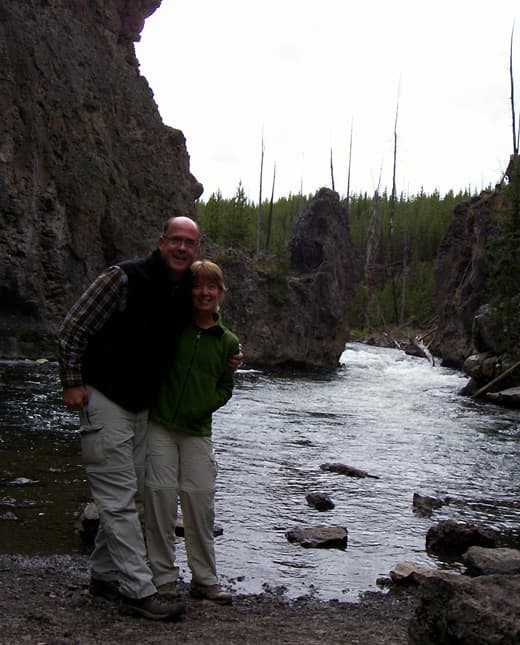 Above: Stu and Karla at Firehole Canyon
TCM: How did you get into truck camping?
Stu: We have always loved camping, especially with our horses.  Sometimes we pull our horse trailer to a local campground that has horse corrals and ride the nearby hills.
Before we bought our truck camper, we were hard core tent campers.  The last time we went tent camping it was about 95 degrees and humid at 11pm.  We were lying in the tent sweating and unable to sleep.  All around us we could hear air conditioners running in the horse trailers with living quarters.  That's when we looked at each other and said, "We're done with this".
Karla: At that point I was looking for a gooseneck horse trailer with living quarters.
Stu: We looked at different solutions for about two years.  Finally I said to Karla, "Let's try a pickup camper".  We could use the truck with and without the horse trailer.  We went back and forth with the idea, but kept thinking of everything we could do with one.  Eventually, I wore her down and she gave in.
Above: The Texson adventures in Yellowstone and the Grand Tetons
Karla: He made me promise to try it for one season.
Stu: I knew a friend, who knew someone, who knew someone with a pickup camper for sale.  This was a trial thing and I didn't want to spend a lot.  We found a 1990 Texson TC700 pop-up truck camper.
We took this little camper home.  It was almost in pristine condition.  We called Northstar and they sold us a kit to put a small air conditioner unit in the back window.  The camper was designed for a mid-size truck, so we built a platform under the camper to raise it about six inches to clear the truck cab and box sidewalls.  Finally, we extended the camper jacks out to the side to clear the wheel wells.  It was a bit of a Jed Clampett look.
We worked on the Texson camper for a few months and then took it to Yellowstone and the Grand Tetons to see if we liked truck camping.  We had a great time with that little camper.
Karla: At that point we gave up on the horse trailer with living quarters idea.  We were impressed with the quality of the Texson and wanted more information on a new Northstar.  I called Northstar and Rex answered the phone, which impressed me.  He said, "If you're in the area, you can come take a tour and see how our campers are made."
Stu: When we owned the Texson (now known as Northstar) I made simple modifications.  While making those modifications, I saw how the camper was put together and was impressed.  The other thing that sold us on Northstar is that they are built in Iowa, three hours away from us.  Also, when we were walking through the factory with Rex, he gave us a thorough tour of their production line, detail by detail.  We were very impressed with the whole process.